50+ Vegetarian Recipes For Two
Looking for yummy vegetarian recipes for two? From easy weeknight dinners to mouthwatering sandwiches, light snacks, and of course desserts you'll find over 50+ perfectly-portioned recipes to fill you up without packing the fridge full of leftovers!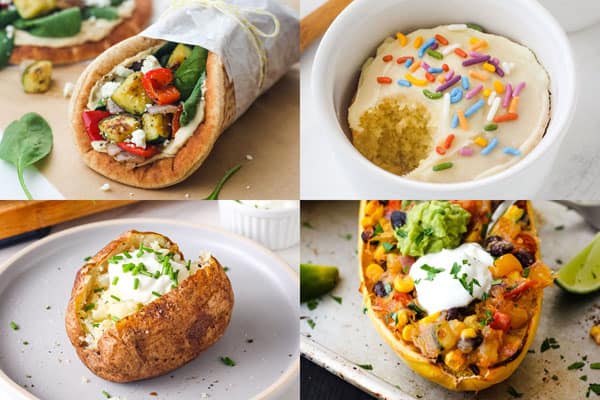 If you're cooking for one or two people it can be challenging to downsize your favorite recipes or come up with fresh ideas to keep things exciting.
To make your life simpler (at least the cooking portion that is) we've pulled together our most popular vegetarian recipes for two. They've been cut down in size but are still big in flavor!
Load up on veggies with a quick lemony pasta or try something new like a pair of cheesy spaghetti squash burrito bowls. For a light dinner that's full of flavor you can't beat our veggie hummus pitas, they're ready in 30 minutes and easy to customize with whatever vegetables are in season.
Do you have to use a toaster oven?
Nope. We love cooking with our toaster oven (it heats up fast and is more energy efficient than our gas oven) but the recipes can also be cooked in a traditional big oven.
If you love to bake but have been avoiding it because of all the leftovers, you'll find lots of fun desserts and small-batch baking recipes.
From toaster oven chocolate cookies to a mini banana bread that calls for just one banana, and even a small no-knead bread (yep, you can make artisan bread for two!) all of the recipes are sized to feed your smaller household.
Let's get cooking!
New to cooking for two? We've got lots of fun resources to help you eat better and waste less.