Strawberry Lime Yogurt Bark
Strawberry Lime Yogurt Bark is the perfect snack to cool you off on a hot summer's day. It's sweet, tangy, and so refreshing!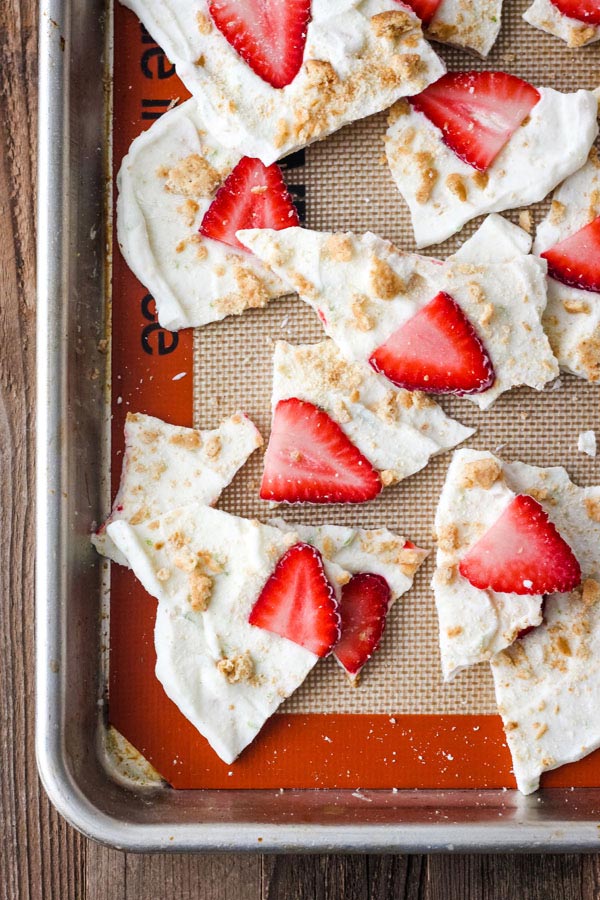 This year I've been trying to eat snacks and desserts that are lower in added sugar. Things like baked pears, toaster oven pita chips, and these sweet and savory rosemary cashews.
My newest addition to that healthy-ish list: A cool and creamy Strawberry Lime Yogurt Bark Recipe. With frozen Greek yogurt and a refreshing key-lime-pie-style flavor, it's the perfect high-protein hot weather treat.
Since our household is small (it's just the two of us + Benji), I make our yogurt bark in smaller batches. The bark freezes faster and doesn't create a ton of leftovers. This means you can try different flavor combos more often!
If you've got lots of hungry bellies in your house, you can always use a larger baking sheet and double or triple the recipe.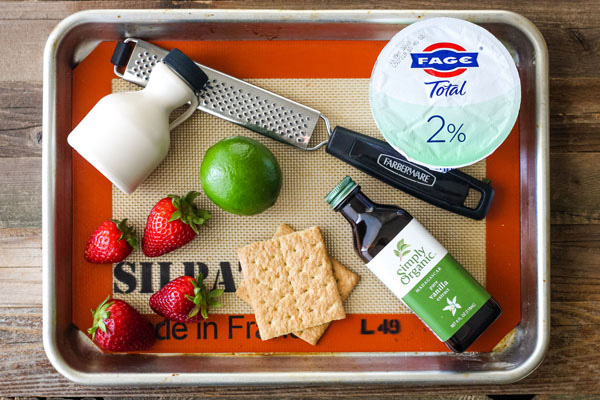 Ingredients
Plain Greek Yogurt. We liked the low-fat or full-fat varieties. The batches we made with fat-free yogurt were way too icy.
Sweetener and Flavorings. For this recipe, I used a little maple syrup, vanilla extract, and a fresh lime (zest + juice). Just a tiny bit of maple syrup or honey keeps the bark from being too tart.
Fresh or Frozen Fruit. Fresh juicy strawberries are delicious when in season. In the winter months, you can substitute frozen raspberries or blueberries.
A Graham Cracker. The crumbled graham cracker gives the bark the most delicious pie-vibe. If graham crackers aren't your thing, try it with a few tablespoons of your favorite granola.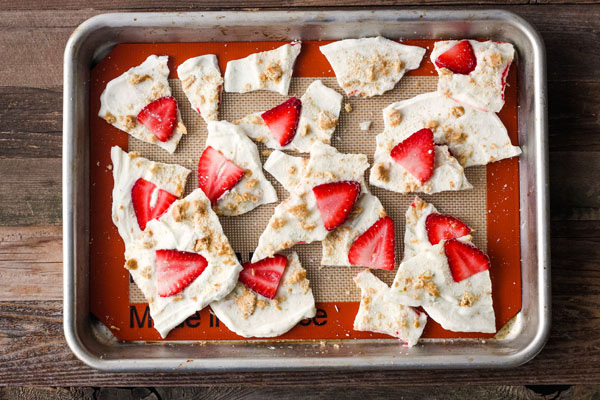 Step-By Step-Instructions
1. Start by lining a rimmed quarter sheet pan with parchment paper or a silicone baking mat. This keeps the yogurt from sticking to the pan.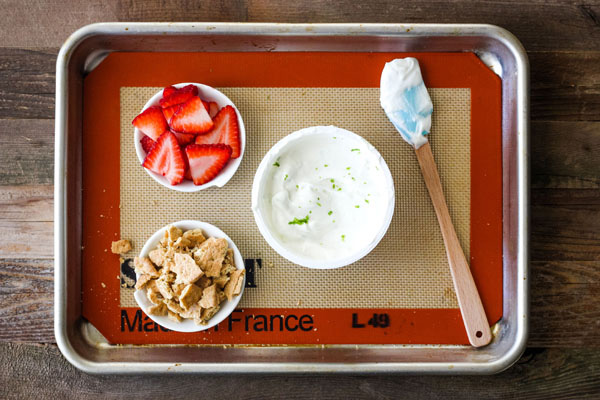 2. Next, whisk together the yogurt, lime zest and juice, maple syrup, and a splash of vanilla extract. I like to add half of the crushed graham crackers to the yogurt. The pieces soften slightly and remind me of graham cracker pie crust.
3. Now, spread the yogurt into an even thin layer on the lined pan. Sprinkle the remaining crumbled graham cracker over the yogurt and top with strawberry slices.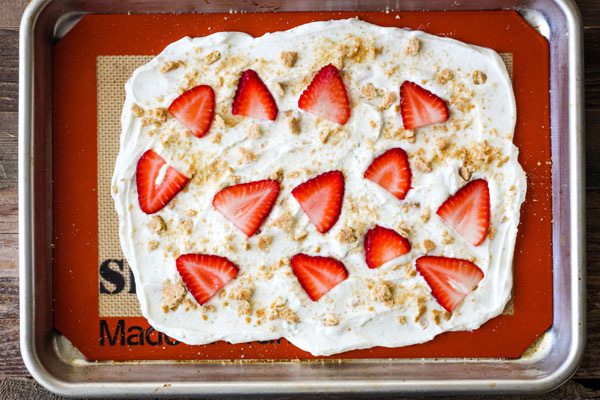 4. All that's left is to freeze the yogurt. It will take about 2 hours for the bark to freeze completely. Then comes the fun part…breaking it into pieces for nibbling on!
5. Once you've gotten your fill, transfer the bark to a plastic bag or container. Then store it in the freezer for an easy summertime snack or dessert.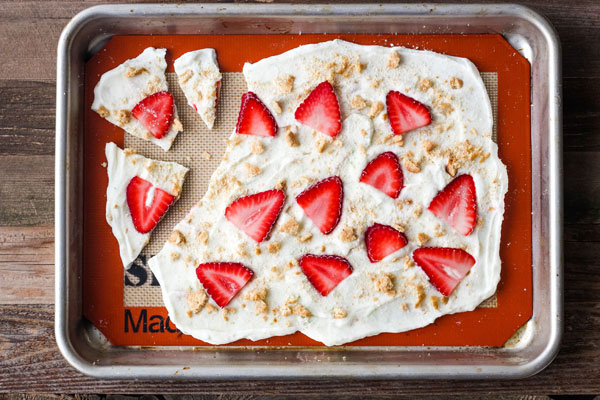 More Tasty Snack Inspiration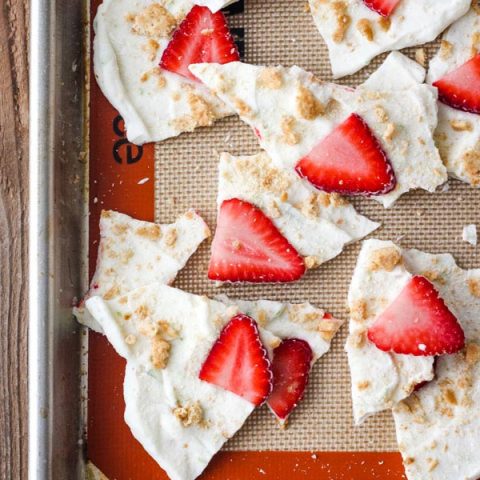 Strawberry Lime Yogurt Bark
Total Time:
2 hours
10 minutes
A fun and refreshing frozen Greek yogurt treat for two.
Ingredients
7 ounces Plain 2% Greek Yogurt, (a little more than 3/4 cup)
1/2 teaspoon Lime Zest
2 teaspoons Lime Juice
1/2 teaspoon Pure Maple Syrup
1/8 teaspoon Pure Vanilla Extract
1 sheet Graham Crackers, crushed and divided
4 Small Strawberries, thinly sliced
Instructions
Line a quarter sheet pan with a silicone baking mat or parchment paper.
In a small bowl, whisk together the Greek yogurt, lime zest, lime juice, maple syrup, vanilla, and half the crushed graham cracker. Taste and adjust sweetness as desired.
Scoop yogurt mixture onto the center of the prepared pan and use a rubber spatula to spread into an even layer.
Top with strawberry slices and remaining crushed graham cracker.
Freeze until firm, about 2 to 3 hours.
Once frozen, break into pieces and enjoy.
Notes
Storage
Store bark in a sealed container in the freezer for up to 2 months.
Nutrition Information:
Yield:

2
Serving Size:

Half of Recipe
Amount Per Serving:
Calories:

156
Total Fat:

3.5g
Saturated Fat:

1.4g
Cholesterol:

10mg
Sodium:

112mg
Carbohydrates:

22g
Fiber:

1.7g
Sugar:

10.1g
Protein:

11g