Kale and Feta Egg Muffins are an easy toaster oven breakfast that take less than 30 minutes to make.  Served warm or cold they're perfect for brunch and lunch too!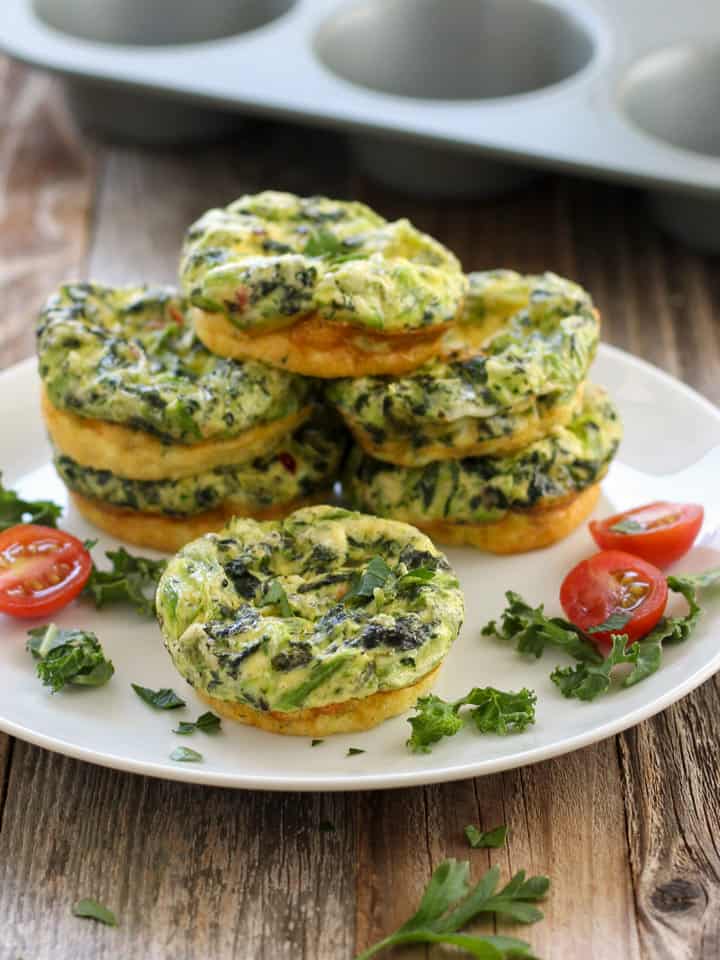 Have you seen these little egg muffins before? Sometimes they're called muffin-tin frittatas or mini quiche muffins. If you're only cooking for one or two people you might have skipped on this awesome breakfast because most recipes make at least a dozen or more.  I imagine the thought of consuming a small army of baked egg muffins all by yourself might feel…Oh just a wee bit overwhelming.

Feeling that pressure (even with two people to eat a whole big-batch) we created this simple recipe which makes just six toaster oven baked Kale and Feta Egg Muffins! These little eggy muffins come together quickly in about 5 minutes and take only 20 minutes to bake.  They're a great way to easily add veggies, protein and most importantly flavor to your breakfast routine.
And by making the eggs in small batches you get to explore different ingredient combos without a bunch of leftovers. One week go Southwestern with black beans, salsa and jalapeños. The next Mediterranean with Kalamata olives, feta and roasted red pepper. If you're working on trading a regular Starbucks and muffin breakfast habit for healthier homemade options this kind of VARIETY might be your best friend, it was for us.
Feeling like six might still be too many?  Don't worry, once baked your savory muffins can be stored in the fridge for up to 4 days. They're yummy warm straight from the toaster oven but our favorite way to enjoy them is cold stuffed in a whole wheat pita with salsa, crisp greens and juicy grape tomatoes.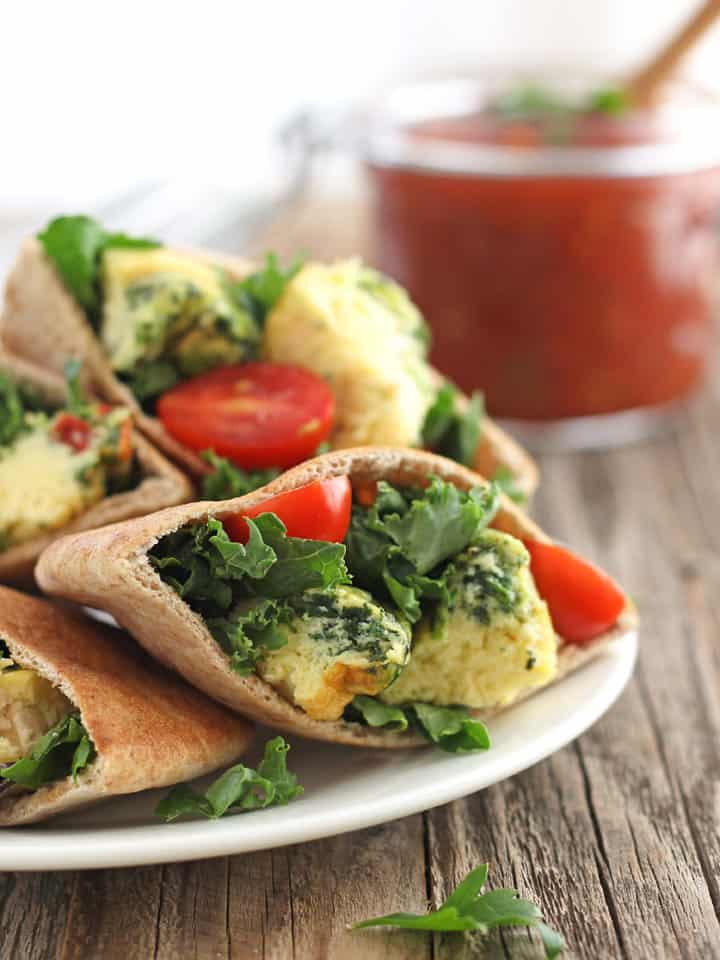 The only trick to making this recipe is that you MUST grease the muffin tin well. It makes sense when you think about how much eggs stick to an ungreased frying pan. You can use cooking oil spray or pour a little oil on a paper towel and rub it into each muffin cup. Starting with a nonstick muffin tin is helpful too.
Like with these Baked Egg Tostadas and our Toaster Oven Veggie Nachos this recipe is ideal for cleaning out the fridge.  Leftover roasted vegetables that have been finely chopped are a particularly good addition.  Spicy Jalapeño Roasted Cauliflower, Brussels Sprouts or sweet Spaghetti Squash will taste fantastic.
Prefer more egg whites than yolks? Just substitute two egg whites for one of the whole eggs.  And while chopped frozen kale and a flavored feta is our favorite combo, you might prefer something totally different.  It's really hard to make these savory muffins wrong so feel free to get creative.
Ways to Customize Your Egg Muffins:
Wake up your taste-buds with a teaspoon of hot sauce or Sriracha
Not a kale fan? Substitute frozen chopped spinach
Increase the protein with 1/4 cup cooked black beans
"Herb it Up" and add 1 or 2 teaspoons of finely chopped fresh parsley, basil, oregano or thyme
Spices! Add a pinch of garlic powder, cumin, cayenne pepper or our favorite Za'atar
The flavor possibilities feel pretty endless!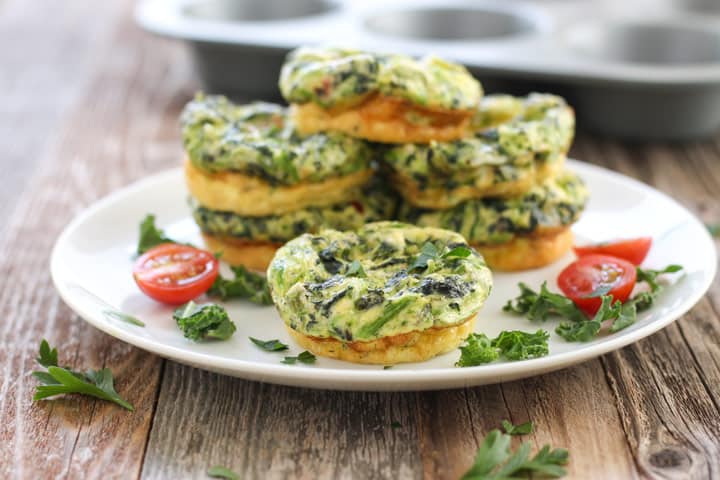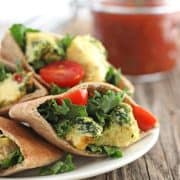 Kale and Feta Egg Muffins
An easy toaster oven breakfast that take less than 30 minutes to make. Delicious served warm or cold!
Ingredients
Cooking oil or spray for greasing the muffin tin

4

large eggs

1/4

cup

non-fat milk

1/4

cup

tomato basil flavored crumbled feta cheese

(see notes)

3

ounces

(about 1/2 cup) frozen chopped kale, thawed and squeezed dry

Salt and pepper
Instructions
Preheat your toaster oven to 350 F and grease a 6-cup muffin tin very well.

In a medium bowl whisk together the eggs and milk until well combined. Whisk in the feta cheese, kale, salt and pepper. Ladle mixture into the prepared muffin pan filling each cup about halfway.

Bake for 20 minutes, turning the pan halfway through cooking, until the eggs have puffed and the edges are golden brown.

Remove pan from the toaster oven, don't worry when the eggs immediately start deflating. Run a small offset spatula or knife around the edges of each muffin and transfer to a plate for serving.

Enjoy egg muffins warm or cold.
Recipe Notes
Using a flavored cheese add lots of seasonings to your egg muffins, try substituting shredded pepper jack cheese for a spicy kick.
To keep these muffins vegetarian look for cheese that is animal rennet-free and made with vegetable/synthetic enzymes.
Refrigerate leftovers in a sealed container for up to 4 days.
Nutritional information is an estimate for 1 of 6 egg muffins.