Egg Muffins With Kale and Feta Cheese
Toaster Oven Egg Muffins are an easy breakfast that takes less than 30 minutes to make. Served warm or cold they're perfect for brunch and lunch too!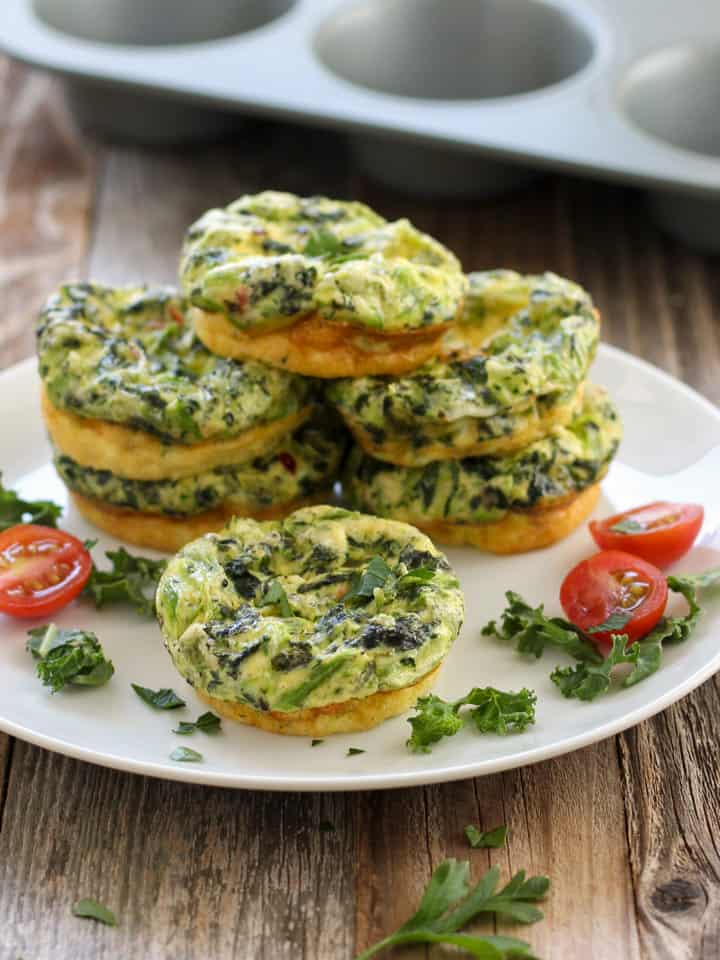 This post contains affiliate links, read our disclosure to find out what that means.
Have you seen these little egg muffins before?
Sometimes they're called muffin-tin frittatas or mini quiche muffins. They're small bites of flavorful baked egg and a great way to add veggies, protein, and flavor to your breakfast routine.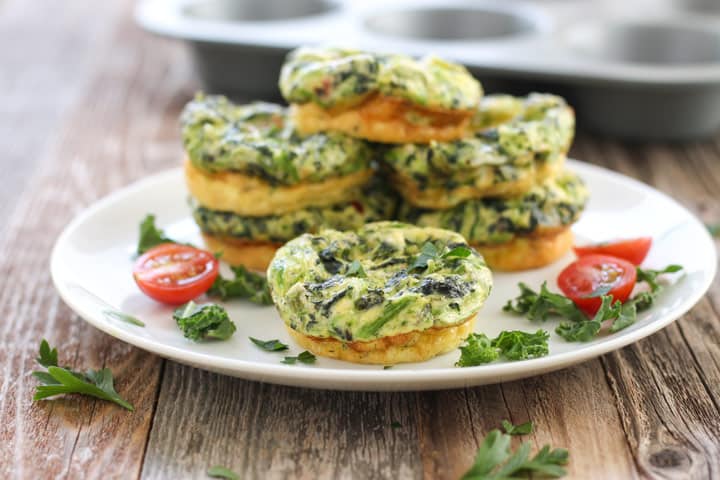 The only trick to making this simple toaster oven recipe is that you MUST grease the muffin tin. A lot.
You can use a cooking oil spray (the one with flour works great), melted butter or oil.
Starting with a nonstick muffin tin, like the one in this popular Chicago Metallic Toaster Oven Pan Set (affiliate link) is helpful too. The pan is approx. 11.5 L x 7.75 W x 1.5 D.
Because of the extended handles, you'll want to measure your toaster oven to make sure it will fit before purchasing.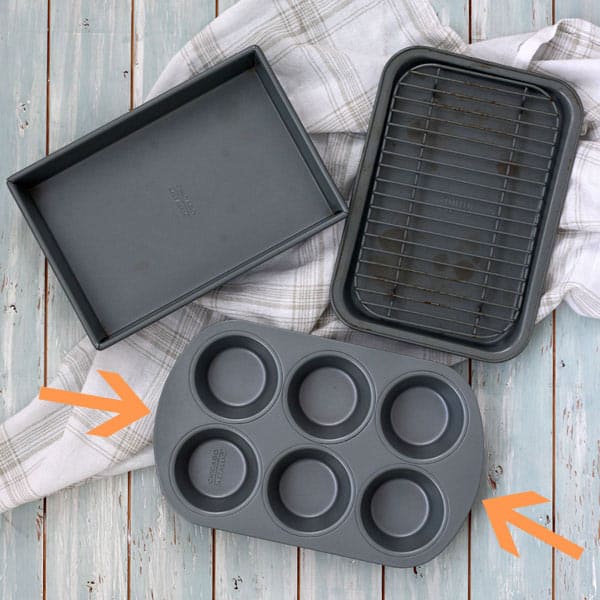 The handles on that pan can make it too big for some smaller toaster ovens, like our little Oster. For that toaster oven, we've been using this muffin pan from CasaWare (affiliate link). It measures approx. 10.5 x 7.125 x 1-inch.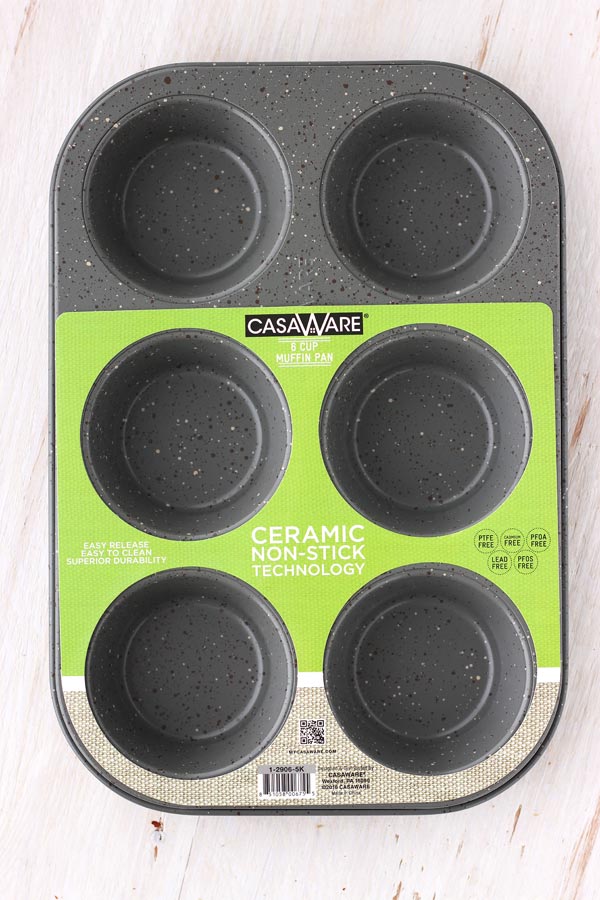 Clean Out The Fridge
Like with these Baked Egg Tostadas this recipe is ideal for using up leftovers.
Roasted vegetables that have been finely chopped are a particularly good addition. Spicy Jalapeño Roasted Cauliflower, Brussels Sprouts or sweet Spaghetti Squash will taste fantastic.
Do you prefer more egg whites than yolks?
Substitute two egg whites for one of the whole eggs.
And while chopped frozen kale and a flavored feta is our favorite combo, you might prefer something totally different.
Customize Your Toaster Oven Egg Muffins:
Wake up your taste-buds with a teaspoon of hot sauce or Sriracha
Not a kale fan? Substitute frozen chopped spinach
Increase the protein with 1/4 cup cooked black beans
"Herb it Up" and add 1 or 2 teaspoons of finely chopped fresh parsley, basil, oregano or thyme
Spices! Add a pinch of garlic powder, cumin, cayenne pepper or our favorite Za'atar
Once baked and cooled, you can store your muffins in the fridge for up to 4 days.
They're yummy warm from the toaster oven or cold from the fridge. Our favorite way to enjoy them is in a whole wheat pita with salsa, crisp greens and juicy grape tomatoes.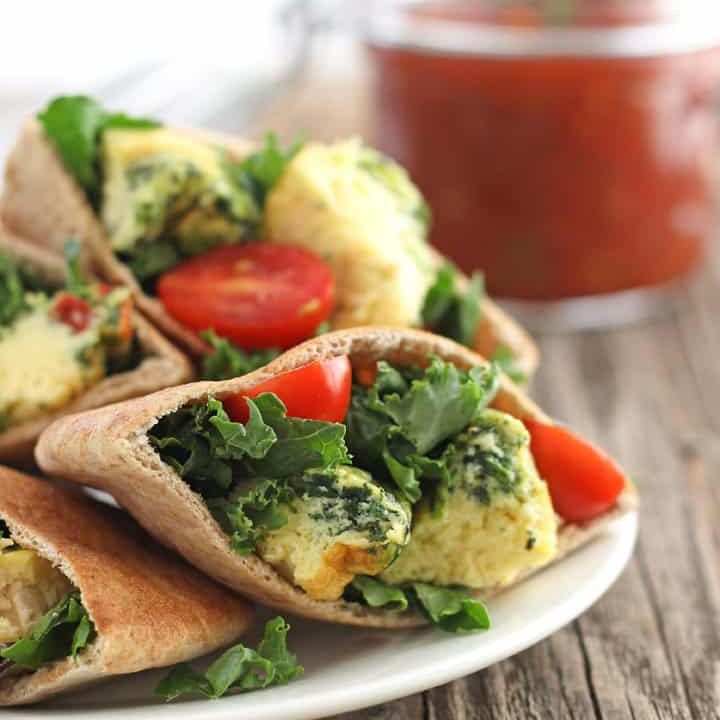 Toaster Oven Egg Muffins With Kale and Feta Cheese
An easy toaster oven breakfast that take less than 30 minutes to make. Delicious served warm or cold!
Ingredients
Cooking oil or spray for greasing the muffin tin
4 large Eggs
1/4 cup Skim Milk
1/4 cup flavored crumbled feta cheese, (see notes)
3 ounces (about 1/2 cup) frozen chopped kale, thawed and squeezed dry
Salt and pepper
Instructions
Adjust your toaster oven's cooking rack to the middle position and preheat to 350 F. Grease a 6-cup muffin tin very well.
In a medium bowl whisk together the eggs and milk until well combined. Whisk in the feta cheese, kale, salt and pepper. Spoon mixture into the prepared muffin pan filling each cup about halfway.
Bake for 20 minutes, turning the pan halfway through cooking, until the eggs have puffed and the edges are golden brown.
Remove pan from the toaster oven, don't worry when the eggs immediately start deflating. Run a small offset spatula or knife around the edges of each muffin and transfer to a plate for serving.
Enjoy egg muffins warm or cold.
Notes
Using a flavored cheese add lots of seasonings to your egg muffins, try substituting shredded pepper jack cheese for a spicy kick.
To keep these muffins vegetarian look for cheese that is animal rennet-free and made with vegetable/synthetic enzymes.
Refrigerate leftovers in a sealed container for up to 4 days.
Nutritional information is an estimate for 1 of 6 egg muffins.
Nutrition Information:
Yield:

6
Serving Size:

1 Egg Muffin
Amount Per Serving:
Calories:

73
Total Fat:

4.6g
Saturated Fat:

2g
Cholesterol:

129.9mg
Sodium:

100.7mg
Carbohydrates:

2.2g
Fiber:

0.5g
Sugar:

1.2g
Protein:

5.8g