Baked Eggs and Green Beans
Baked eggs and green beans are the perfect way to start your day. With just 7 simple ingredients and the help of your toaster oven, this healthy breakfast cooks up in 20 minutes!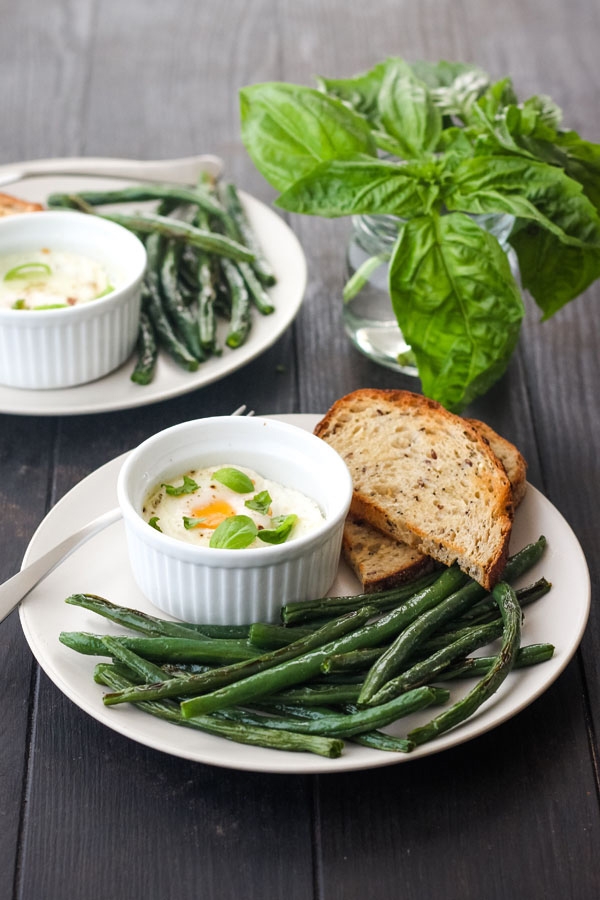 Dreamy cream baked eggs, crisp-yet-tender roasted green beans, and toast for dipping – I'd happily eat this baked eggs and green beans dish every day.
Based on how much you guys enjoy a good toaster oven frittata, I've got a feeling you're going to love it too.
Recently, we've had this recipe on repeat for weekend breakfasts and even a few light lunches. If you want to mix things up, try swapping the green beans for sweet bell pepper slices or broccoli, both taste great with eggs.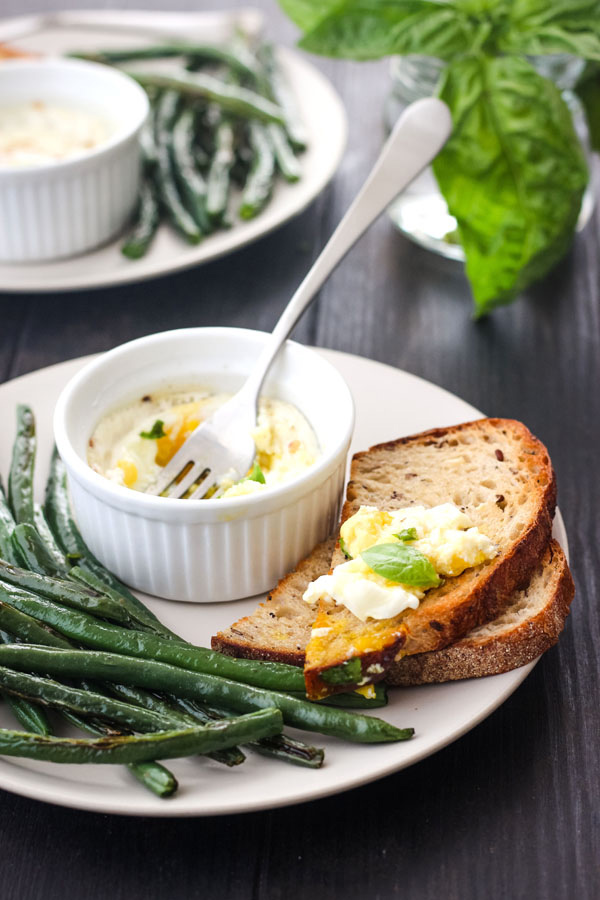 Here's what you'll need for this easy toaster oven recipe:
Fresh Green Beans. If you want to make things super easy – snag a bag of precut, washed, and ready-to-cook beans.
Half and Half. Your eggs will have a seductively creamy texture courtesy of this stuff.
Cheese. Vegetarian parmesan is the #1 pick in our house but crumbled feta tastes great too.
Eggs. Cold, straight from the fridge is fine.
Fresh Herbs. Not required, but a nice touch.
Bread. Because what good is a jammy yolk if you don't have toast to dip in it?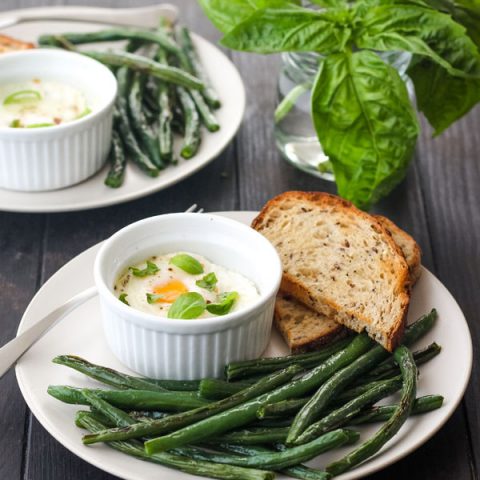 Baked Eggs and Green Beans
A filling breakfast for two of creamy baked eggs, toast, and vegetables. The perfect way to start your day!
Ingredients
8 ounces Fresh Green Beans, washed and dried
1/2 teaspoon Olive Oil or Grapeseed Oil
2 Eggs
2 tablespoons Half & Half
4 tablespoons Grated Vegetarian Parmesan Cheese
Salt and Pepper, to taste
2 slices Whole Grain Bread
Fresh Basil, Parsley, or Chives
Instructions
Adjust the cooking rack to the bottom position and preheat the toaster oven to 425°F.
While the toaster oven preheats trim the ends of the green beans. Combine the beans and oil on a baking sheet and season with salt and pepper.
On the same baking sheet add two lightly oiled 3-ounce ramekins. Add 1 tablespoon half and half and 2 teaspoons cheese to each ramekin. Crack an egg into each ramekin and season with salt and pepper.
Place pan in the toaster oven and cook for 6 minutes.
After 6 minutes, carefully remove the pan and stir the beans. Place bread slices on the edge of the pan and return to the toaster oven.
Continue cooking until the whites of the eggs are set and the beans are a little wrinkled but still crisp-tender, about 6 to 7 minutes more.
Top eggs with fresh herbs and serve warm.
Notes
The recipe timing is for jammy-style yolks (for dipping toast in). If you prefer a hard-cooked yolk bake the eggs for a few minutes longer.
Nutrition Information:
Yield:

2
Serving Size:

1
Amount Per Serving:
Calories:

259
Total Fat:

10.6g
Saturated Fat:

4.3g
Cholesterol:

176mg
Sodium:

369mg
Carbohydrates:

25.4g
Fiber:

8.9g
Sugar:

4.9g
Protein:

15.8g
Photos and Tips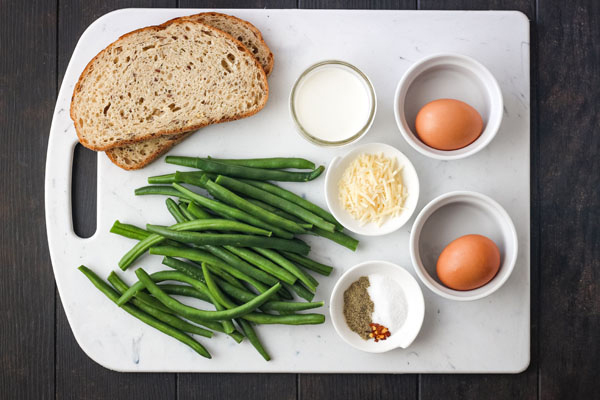 Start by preheating your toaster oven to 425 degrees F and grabbing a toaster oven-sized pan.
I usually reach for the roasting pan that came with our Breville Smart Oven Pro (BOV845BSS). It helps the beans get those dark roasted spots that always taste so good.
Next, trim the ends of your green beans. Place them on the pan and drizzle (lightly) with oil.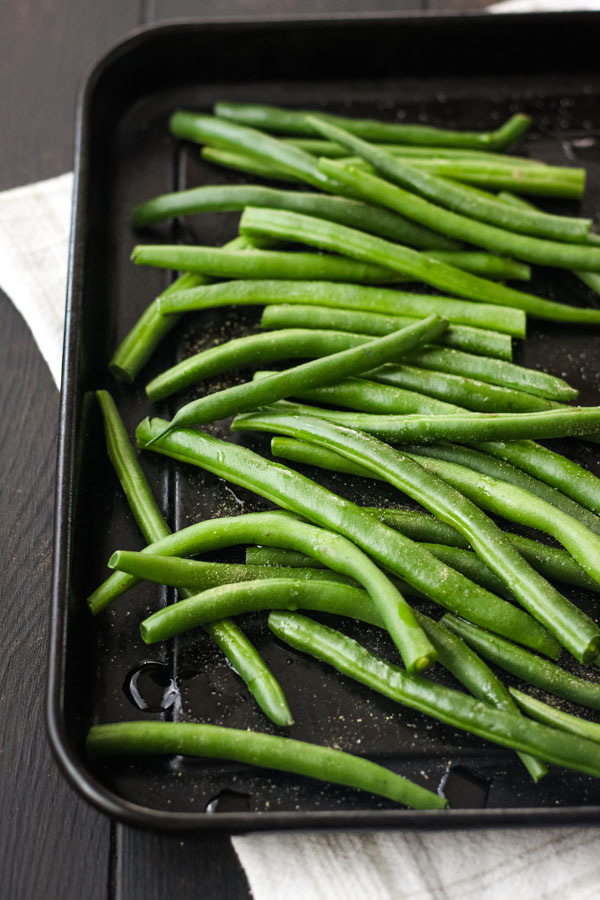 Seasoning comes next.
Salt and pepper applied with a heavy hand is always a winner. Everything Bagel Seasoning is also delicious though it does come with a side of garlic breath.
Now, scooch those beans to one side of the pan. Spray two 3-ounce ramekins with oil and place them on the other side.
Divide the half and half (or heavy cream if you're feeling indulgent) and your cheese of choice between the ramekins. Sprinkle with salt, pepper and, red pepper flakes if you like a spicy kick with your eggs. Now, crack an egg into each one.
Bake for about 6 minutes, then carefully remove the pan so you can add the bread to toast.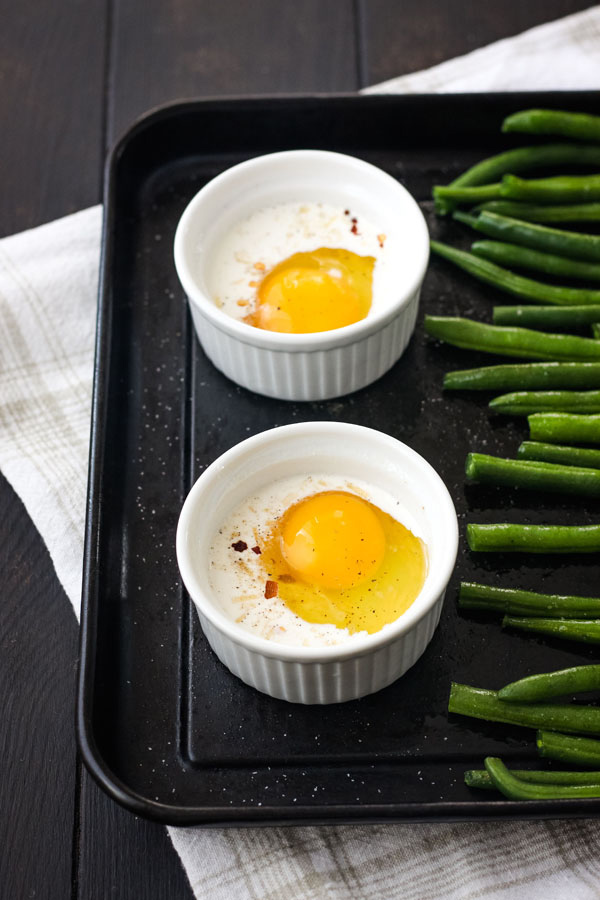 If you've got a second rack in your toaster oven you can just leave the pan where it is and add the bread there.
We've only got one rack so I prop our bread on the sides of the pan. This way it doesn't cover the beans and cause them to steam instead of roast.
Full disclosure: the bread won't get super browned but it does get toasty. If you're picky about your toast, just make it before you cook the eggs and beans.
Now, pop the pan back into your toaster oven to cook a bit longer, about 6 to 7 minutes more.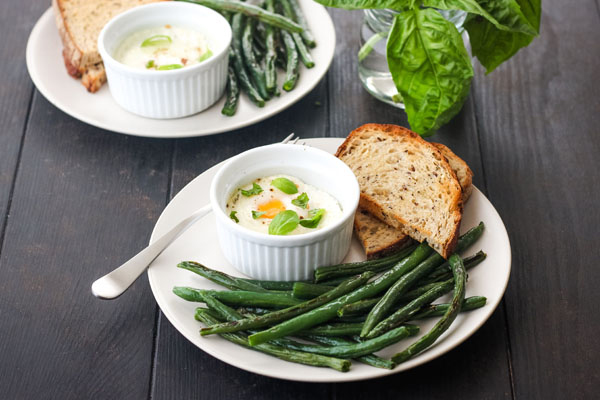 Just like with these baked egg tostadas and bell pepper baked eggs, you're looking for the whites to be set with the yolks cooked to your liking. Jammy yolks (for dipping toast in) are my preference but if you like a hard yolk cook the eggs a few minutes longer.
Lastly, sprinkle on some fresh basil or chopped parsley and dig in!