Are you new to cooking for two after years of feeding a big family? Starting out on your own for the first time? Or are you just looking for a little mealtime inspiration?
These Cooking For Two Cookbooks will help you get dinner on the table without leaving you stuck eating a bunch of leftovers all week.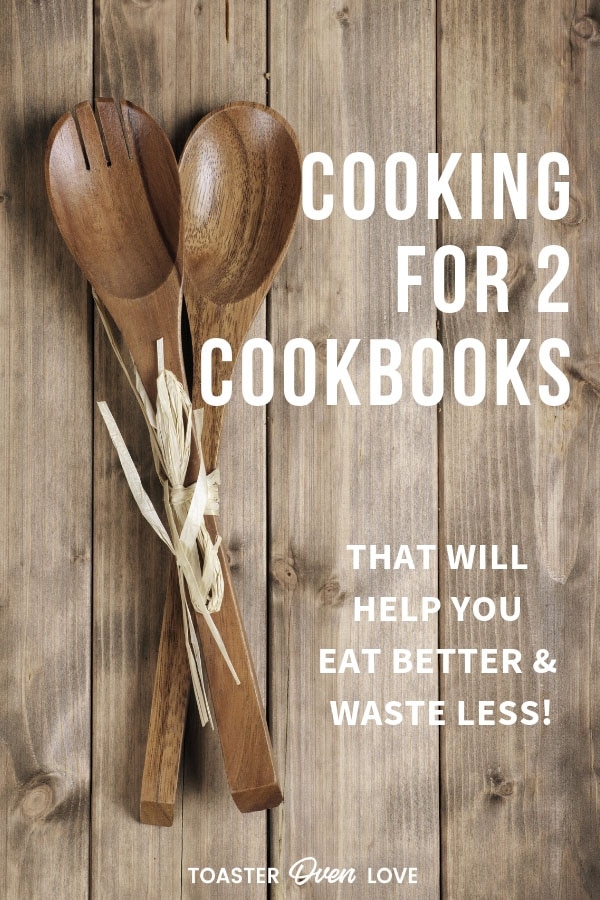 Today I'm sharing my favorite Cooking For Two cookbook plus a few others I think you might enjoy. You'll find a little about the recipes and stuff you should know before purchasing.
Since we can't all be looking for the same thing in a cookbook, I've included a section for who will get the most out of each book.
We've also put together a list of Cooking For One Cookbooks for those days when mealtime is just for you!
(A quick heads up: this post contains referral links for books we think you'll enjoy. As an Amazon Associate, we earn a commission from qualifying purchases.)
Cooking For Two Cookbooks
If you're cooking for two people and own an instant pot or just bought one (we're newbies ourselves) then you need to check out The Ultimate Instant Pot Cookbook For Two cookbook by Janet A. Zimmerman.
In just one weekend we tried Lentils with Red Peppers and Feta, Brown Rice and Broccoli Cheese Casserole, Steel-Cut Oatmeal with Cranberries and Almonds, and Coconut-Vanilla Rice Pudding (← Tim liked it so much, we made that one twice!).
Chapters & Recipes: There are 9 chapters total with the first one focusing on Instant Pot and Cooking For Two Basics. Things like terms, accessories, help to choose a model, troubleshooting, and tips for scaling down recipes are covered in a comprehensive but easy to digest format.
The remaining 8 recipe chapters cover breakfasts, veggies and sides, beans and grains, meatless mains, seafood and poultry, beef and pork, desserts, and kitchen staples.
The recipes have nutritional information, make just 2 servings (though we did find the lentil servings very generous), and work in either a 3 quart or 6 quart instant pot.
Things You Should Know: There are almost no photos. Also, some of the recipes call for specialty ingredients like pine nuts, sun-dried tomato paste, and malt vinegar. Substitutions or homemade options are suggested when possible.
While there's a variety of recipe types, I'd describe the majority as comfort food. That said, after trying the initial recipes as written, we had no trouble substituting lighter ingredients or adding more vegetables when desired.
Extras: If you struggle with food waste (who doesn't really?) there are "Use It Up" notes directing you to other recipes where you can put leftover ingredients (like half a can of diced tomatoes) to use. Also, if a recipe is suitable for doubling that will be noted along with any required adjustments to the ingredients or cooking time.
Lastly, the Cooking Time Charts at the end have basic guidelines for a variety of foods from vegetables and beans to seafood and beef. Yes, you can find these things online but it's super convenient to have them all in one place.
Skill Level: Beginner
Recipe Effort: Easy to Medium
This Cookbook Is For:
Couples looking for Instant Pot recipes that won't create a bunch of leftovers.
Anyone who wants to get more acquainted with their 6-Quart or 3-Quart Instant Pot.
---
The Complete Cooking For Two Cookbook by America's Test Kitchen is one of my all-time favorite cookbooks. It's written specifically for small households and includes shopping tips along with ideas for using up ingredients.
Chapters & Recipes: There are 17 chapters and 650 recipes designed to feed two people. For omnivores, there are chapters dedicated to chicken, beef, fish, and grilling.
There's a nice variety of recipes in the vegetarian mains chapter too. But nothing too funky. Most of the recipes call for common meatless proteins like beans, quinoa, tofu, and tempeh.
In addition to main dishes for two, there are chapters for soups, salads, burgers and sandwiches, slow-cooker, vegetable sides, grains, and breakfast. If you enjoy baking there are chapters with quick breads, pies and tarts, and cookies and cakes.
It truly is a complete collection of recipes for two.
Things You Should Know: Some of the recipes do seem overly complicated and dirty more than a few dishes.
Also, while the majority of the recipes use pantry staples some do call for specialty ingredients. Things like miso paste, sesame oil, liquid smoke, and saffron.
Extras: Sprinkled throughout the book you'll find lots of how-to photos for certain instructions and cooking methods. There are also notes explaining the why's of each recipe and information about different ingredients.
The 'Basics Of Cooking For Two' area has everything you need to set up your kitchen. Including tips for purchasing and storing items, using up ingredients, and the best kitchen equipment for small households.
Skill Level: Beginner to Intermediate
Recipe Effort: Medium
This Cookbook Is For:
Couples and singles looking for a wide variety of recipe ideas that won't leave them with lots of leftovers.
Empty nesters that want to make smaller portions of their family-favorite recipes.
Anyone learning to cook for themselves for the first time.
P.S. America's Test Kitchen published an All-Time Best Dinners for Two Cookbook. Looking through the reviews it appears all the recipes are from The Complete Cooking For Two Cookbook. Given that, we'd get the full cooking for two cookbook, as it's a better value for your dollars.
---
One Pan, Two Plates: Vegetarian Suppers by Carla Snyder has over 70 one pan vegetarian dinner recipes designed to make just two servings. The recipes are meant to be quick, easy, and with very little cleanup, so you can actually cook them on a weeknight!
Chapters & Recipes: A wide variety of meatless dinner recipes can be found throughout the book's 6 chapters. There's warming soups, hearty grains and beans, super veggie-focused meals, unique pastas, easy egg dishes, exciting pizzas and savory tarts.
The recipes use lots of fresh vegetables and healthy proteins like eggs, beans, grains and a few with tofu. But don't worry, there are plenty of yummy recipes for cheesy comfort food too.
Things You Should Know: The recipe format is a little tricky. With the ingredients side-by-side above the recipe directions (which are also side-by-side). In my experience, it's easy to skip an ingredient or recipe step with this style.
Also, a lot of the recipes take 40 minutes or more. Depending on your schedule these might not qualify as weeknight cooking for you.
Extras: There are so many special touches in this cookbook. One of my favorites is the conversational headnotes that make you feel like you're cooking with a friend.
If you've got a healthy appetite you'll enjoy the 'Extra hungry?' section on the recipes. Each one has tips for making the meal more filling. It's nice for those days when one of you wants something a little heartier.
Carla's included a few pages of great weeknight cooking tips at the beginning of the book. But what you'll like even more is the 'It's that easy' area on each recipe. They've got info about unique ingredients, cooking tips, and alternative serving ideas.
Skill Level: Beginner to Intermediate
Recipe Effort: Easy to Medium
This Cookbook Is For:
Your favorite vegetarian couple or single friends that loves to cook.
Anyone cooking for one or two that's interested in eating more meatless meals.
P.S. If you're digging this one-pan cooking for two style make sure to check out Carla's other cookbook One Pan, Two Plates: More Than 70 Complete Weeknight Meals for Two. It's mostly meat and chicken recipes but there are some vegetarian recipes too.
---
Gluten-Free Cooking For Two by Carl Fenster is (as the name implies) a cookbook focused on gluten-free recipes designed to feed two people.
Chapters & Recipes: The recipes are mostly for familiar comfort foods but do include some adventurous dishes too. There are chapters for breakfasts and brunches, soups and sandwiches, main dishes (40 recipes!), sides, breads, and desserts (including 7 small-batch cookie recipes).
What You Might Like About This Cookbook:
The cookbook is available for your Kindle or in paperback. The paperback measures a small 7 x 9-inches, the perfect size for keeping on your kitchen counter.
Inside there's beautiful photography for most but not all of the 125 recipes.
Nutritional information is included for every recipe.
The headnotes are fantastic. They include serving ideas along with substitutions and customizations for the recipe.
Many of the recipes have tips for storing and using up leftover ingredients like egg whites and half a can of beans.
The introduction covers the best appliances, pans, and utensils for setting up your cooking-for-two kitchen. If you're new to gluten-free cooking, there's a primer on flours and cross-contamination. Plus resources to learn more about celiac disease and gluten-free living.
Things You Should Know:
There are 40 main dish recipes but only 5 are vegetarian and none are vegan.
Like most gluten-free cookbooks, the gluten-free flour used in the baking recipes is the author's special blend. Though it has minimal ingredients, you will need to buy and store one flour and two starches.
In the introduction, it's suggested you purchase a special set of measuring spoons. If you have a 1/8 teaspoon measuring spoon (like the one in my favorite set), I think you can get by fine without them.
Some of the baking and sauce recipes contain small amounts of xanthan gum. Xanthan gum is on the more expensive side and some people have sensitivities or allergies to it.
Skill Level: Beginner to Intermediate
Recipe Effort: Easy to Medium
This Cookbook Is For:
Your favorite omnivore that's following a gluten-free lifestyle and cooking for only one or two people.
Anyone interested in learning to cook gluten-free without making large amounts of food.
Cooking For Two Cookbooks On My Reading List:
What is your favorite Cooking For Two cookbook? What would you add to this list? Please share your suggestions in the comments!