One Pan Roasted Gnocchi and Vegetables
One pan roasted gnocchi and vegetables is an easy weeknight dinner for two that comes together in a snap. There's no special bakeware required, just the pan that came with your toaster oven. Make sure to check out the veggie-swapping tips…asparagus tastes fantastic!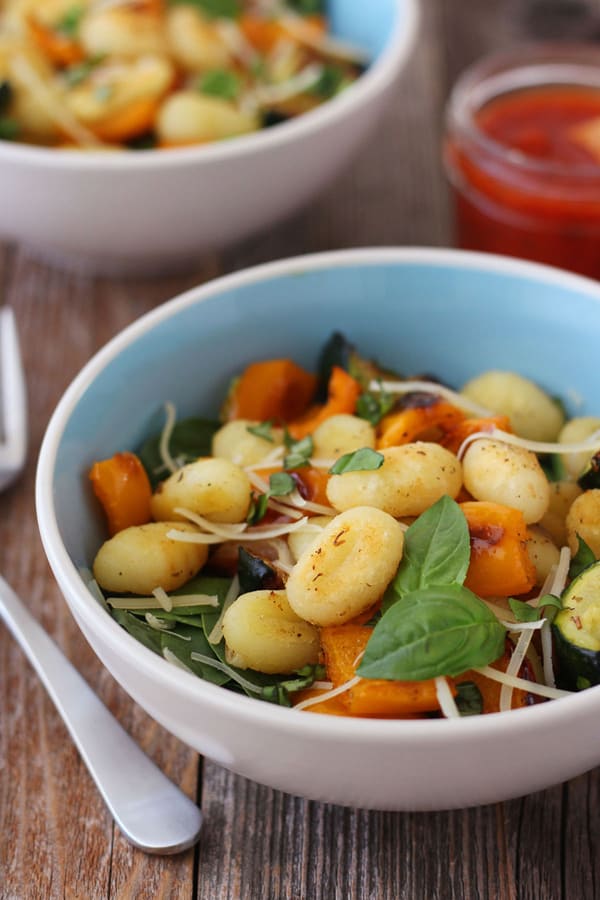 In our house, weeknights are not for trying new recipes. I save those kinds of risky gambles for the weekend.
The few times I've attempted to change up our weeknight salad or toaster oven baked potato routine with some new and exciting recipe it's always ended the same.
Me: elbows deep in dirty dishes at 10 pm.
Sweet but very hungry hubby: snacking on a box of peanut butter Puffins.
Dinner: still not ready.
Well, that all changed when I stumbled across a genius sheet pan dinner on The Kitchn's website that called for shelf-stable gnocchi (already in the pantry!), a few herbs and fresh veggies.
It was such a neat and simple idea, I was ready to roll the dice and try it that night…a weeknight.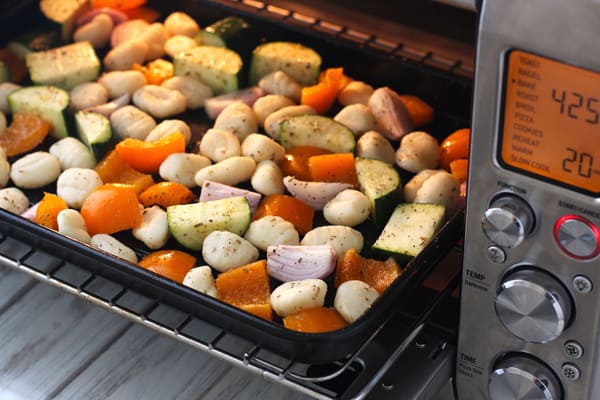 The Problem Was
The recipe was too big.
Just like the recipe that inspired this tasty lemon blackberry baked pancake, and pretty much ALL the good recipes in this "Big Oven" world we live in, it needed a few adjustments to be toaster oven-friendly.
After reducing, swapping out and eliminating some of the ingredients, taking the temperature down a bit and skipping the parchment paper (since that's something you shouldn't put in a toaster oven) I was finally in business.
And let me tell you, it was so worth the effort.
~ Keep scrolling for cooking tips after the recipe ~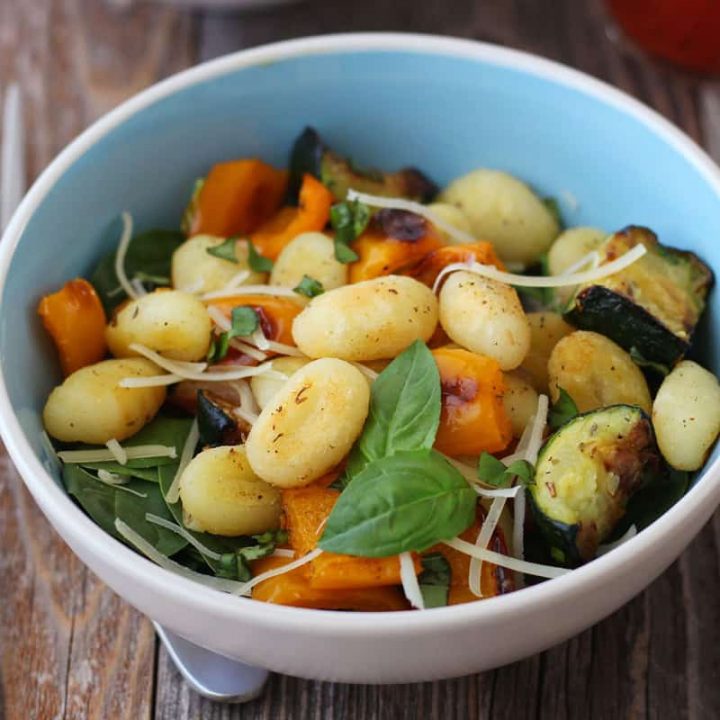 One Pan Roasted Gnocchi and Vegetables
A simple but delicious sheet pan supper for two made with pantry staples and fresh vegetables.
Ingredients
4 teaspoons Olive Oil, divided
1/2 16 ounce package Potato Gnocchi, shelf-stable, not frozen
1 medium Orange Bell Pepper, chopped into 1-inch pieces
1 small Zucchini, sliced in half lengthwise and chopped into 1-inch pieces
2 small Shallots, quartered
1/2 teaspoon Dried Oregano
1/4 teaspoon Fine Sea Salt
1/8 teaspoon Black Pepper
For Serving
1/4 cup Marinara Sauce
2 cups Fresh Baby Spinach
Fresh Basil
Grated Parmesan Cheese
Instructions
Adjust your toaster oven's cooking rack to the lowest position, preheat to 425°F on the "Bake" setting. Rub a toaster oven baking pan with 1 teaspoon of the oil.
Place the gnocchi, bell pepper, zucchini, and shallots in a large mixing bowl and toss with the oregano, salt, pepper, and remaining olive oil.
Spread everything in a single layer on your prepared pan.
Add to the toaster oven and cook for 10 minutes, carefully stir the pan and continue cooking until the vegetables are tender and the gnocchi is crisp on the outside, about 10 minutes more.
Serve warm tossed with marinara sauce and baby spinach.
Top with fresh basil and parmesan cheese, or your favorite pasta toppings.
Notes
The recipe calls for half a package of gnocchi, you can store unused gnocchi refrigerated in a sealed container for up to 3 days.
To cook in a Convection Toaster Oven, keep the temperature at 425°F but start checking for doneness after 15 minutes, adding more time as needed.
Nutrition Information:
Yield:

2
Serving Size:

Half of Recipe
Amount Per Serving:
Calories:

349
Total Fat:

11g
Saturated Fat:

1.6g
Cholesterol:

1mg
Sodium:

743mg
Carbohydrates:

57.5g
Fiber:

3.9g
Sugar:

6.9g
Protein:

8.6g
What Does Roasted Gnocchi Taste Like?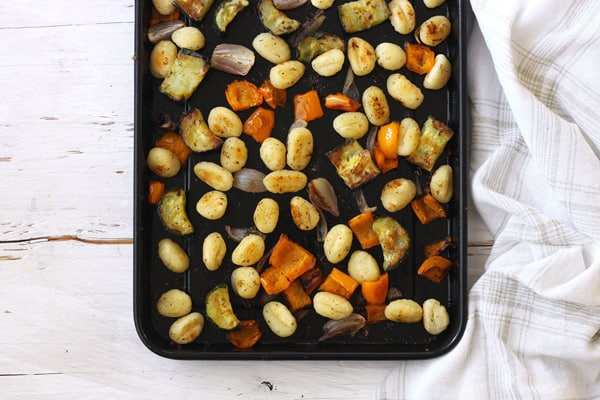 Having never roasted gnocchi before I wasn't sure what to expect but the crispy outside-chewy inside texture was a fun surprise.
I can imagine making a whole pan of just crispy gnocchi to chow down on while watching the Big Game. Maybe drizzling buffalo sauce over the pan and serving it with the blue cheese dip from these buffalo broccoli cauliflower bites.
It's not just about the gnocchi though, the roasted vegetables are delicious too!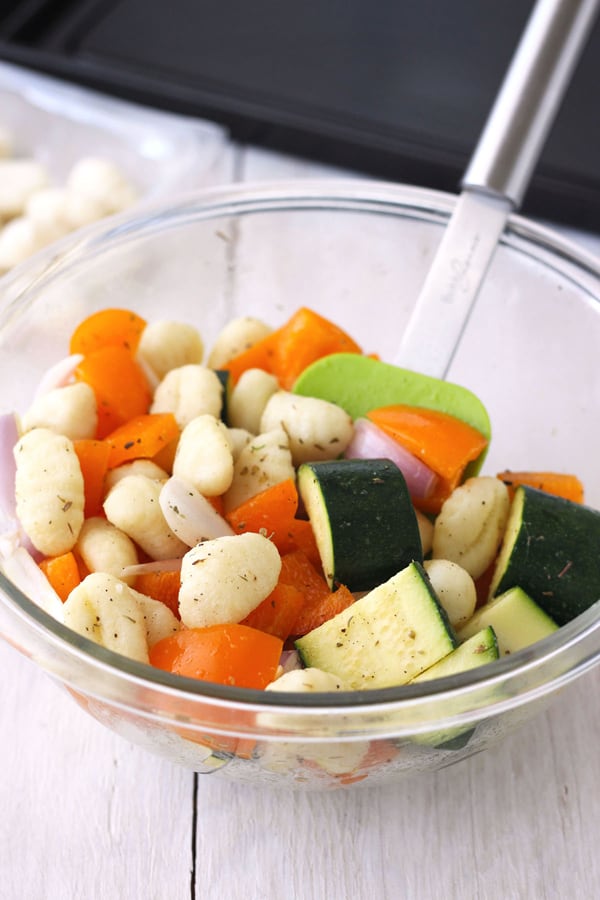 We like using an orange or red bell pepper with zucchini and a few shallots. Shallots are the best when you're only cooking for two – no leftover onion to use up!
But I've made this recipe a bunch in the last few weeks and it's super flexible.
How to Substitute Different Vegetables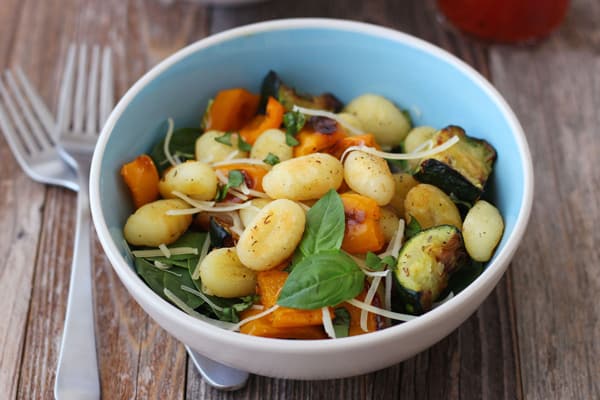 Asparagus or sliced cremini mushrooms are fun, just add them halfway through the cooking time since they don't need as long in the toaster oven.
Broccoli, cauliflower and Brussels sprouts work too but only if you cut them into smaller pieces.
Half a seeded and chopped delicata squash tastes great though I'd avoid harder squashes like butternut or acorn, they won't cook fast enough.
To help balance out that heavy feeling that sometimes accompanies a belly full of gnocchi I like to serve ours with a few handfuls of fresh baby spinach. The mix of roasted and fresh vegetables adds a nice blend of different textures too.
Lastly, to really deliver a strong pasta-vibe add marinara sauce (a few spoonfuls of ricotta if you're feeling indulgent), fresh basil and a sprinkle of parmesan cheese.
I hope this sheet pan roasted gnocchi and vegetables is a weeknight hit in your toaster oven lovin' household too.