Toaster Oven S'mores are ooey-gooey summertime bliss that you can enjoy all year. There's no campfire needed for this tasty treat. You can bake one, two, or a few in just 5 minutes with the help of your little oven (using the Broil, Bake, or Air Fry setting).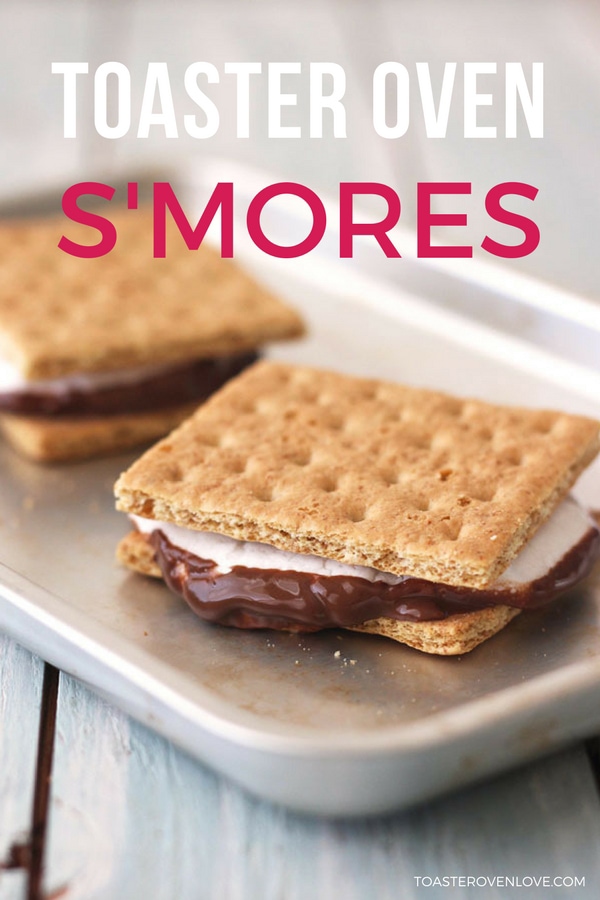 Move over small-batch cookies, cupcakes, and hand pies. This is the toaster oven dessert to end ALL toaster oven desserts!
These easy indoor smores have it all: rich melted chocolate, toasty marshmallows, and crumbly sweet graham crackers.
So what do you say, want to make some?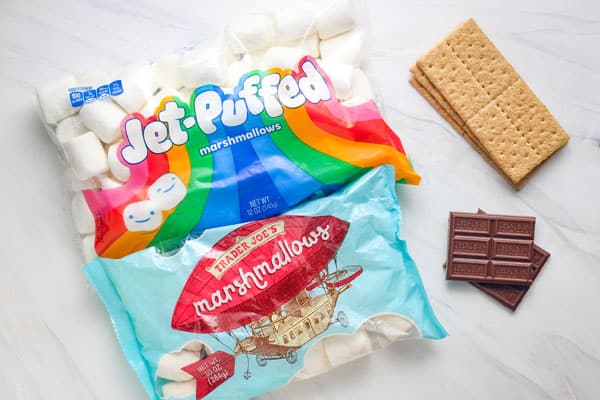 Ingredients
Marshmallows: Both traditional and vegan marshmallows will work. The vegan ones will be less puffy and a bit crispy on the outside.
Graham Crackers: Plain, honey, or flavored graham crackers all taste great, cinnamon's my personal favorite.
Chocolate Bar: Classic milk chocolate is always a hit with kids but dark chocolate or a caramel-filled chocolate bar would also taste delicious.
How To Make S'mores In The Toaster Oven
1. Break a graham cracker sheet into two squares and place them on your toaster oven baking pan.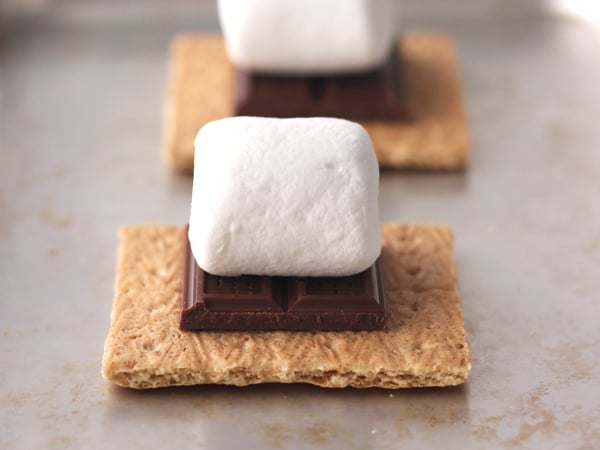 2. Top each graham with a square of chocolate and a marshmallow.
3. Place the pan inside of your toaster oven. But before you turn it on, take a quick peek to make sure you've left plenty of space between the heating elements and the marshmallows.
The marshmallows puff up and if they're too close to the elements they can catch on fire. Yep, that helpful nugget does come from personal experience 😉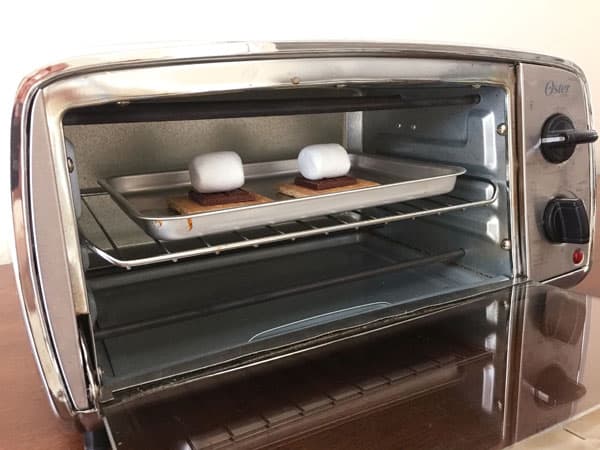 4. Set the toaster oven to Broil and cook until the marshmallows are puffed and golden on top, about 2 to 3 minutes (the time will vary depending on your toaster oven).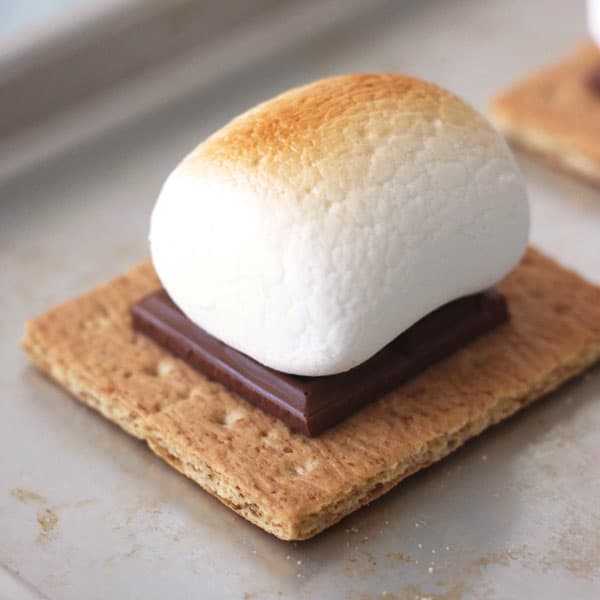 Similar to toasting coconut, not much happens at first but once the marshmallows start to brown they can become burnt quickly so don't walk away.
5. Remove the pan and top with the remaining graham crackers. I like to press the graham down lightly to really smoosh the marshmallow into the chocolate. Then…DIG IN!
My marshmallows keep burning, what can I do?
Some toaster ovens and countertop ovens have very intense broil settings. If your marshmallows are browning too fast there are two things you can try.
Move the rack to a lower level.
If your oven has an adjustable broiler, turn the temperature down.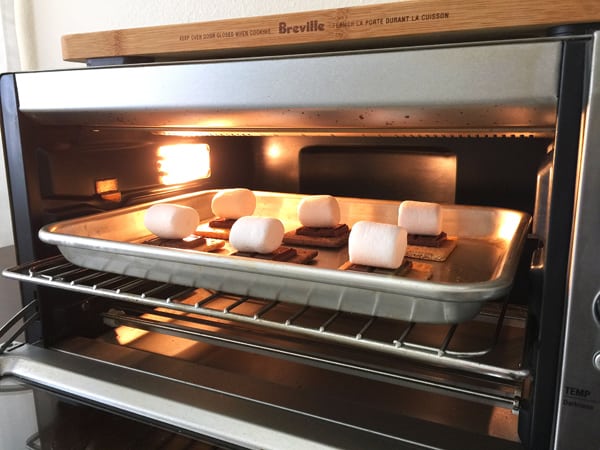 On our large countertop oven, we like to turn the Broiler temperature down to 400°F (or medium option) and use the middle rack placement. The s'mores take about 3 minutes to brown.
If these options are not possible or they don't work for you, try baking instead of broiling the smores.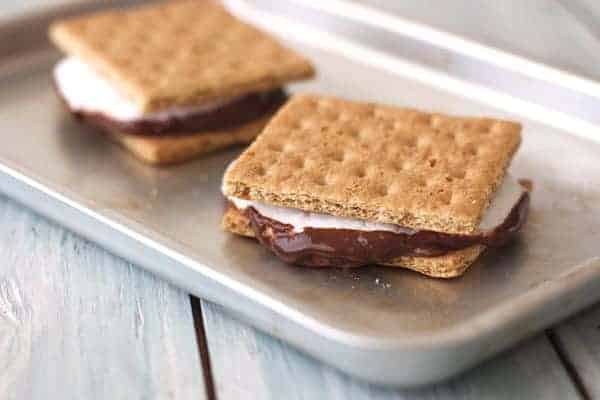 Baked Smores
While you're assembling the s'mores, preheat the oven to 400°F (or 375°F if you're using a convection toaster oven) using the BAKE setting. Bake the smores until puffed and toasty, about 3 to 4 minutes.
If you're feeling super impatient you can add the s'mores to the toaster oven while it preheats. Just remember to set a separate timer for 3 to 4 minutes so you don't forget about them.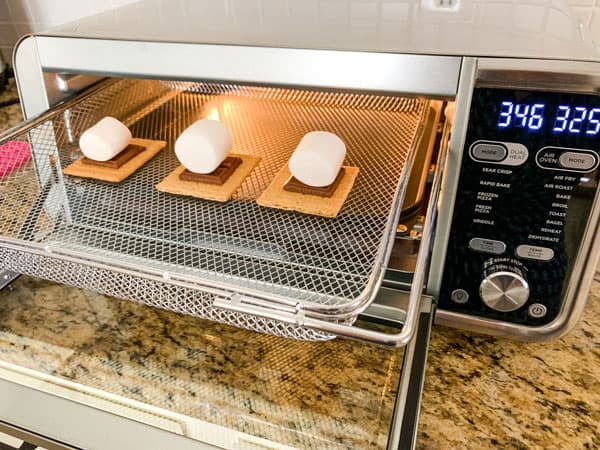 Air Fryer Toaster Oven Smores 
If your toaster oven has an air fryer setting, you might want to give it a try. We've made a few batches in our Ninja Foodi air fryer oven and they've turned out pretty tasty.
We set the temperature at 325°F and after 90 seconds the marshmallows were puffed and golden (though the vegan one did brown a lot less), the chocolate was warm and melty, and the graham crackers were beginning to brown around the edges.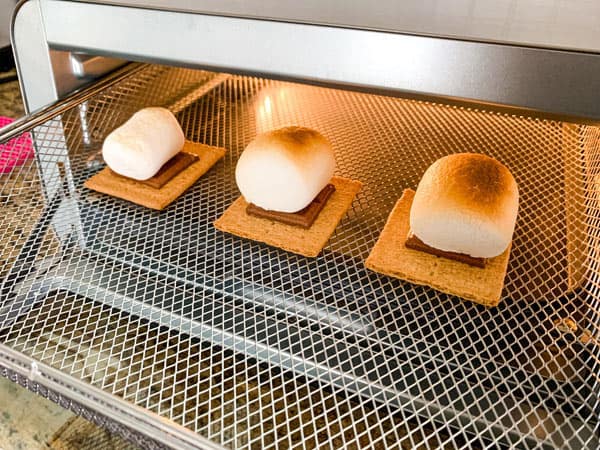 In this particular oven, the elements are much closer to the food so it tends to cook things faster. Your air fryer oven might take a little longer. But probably not a lot longer, so don't walk away from it.
While the air fryer s'mores were yummy we thought they were missing that toasty campfire flavor that you get from using the broiler. Not bad, just different.
Learn more about air frying here >>> Air Fryer vs. Toaster Oven Air Fryer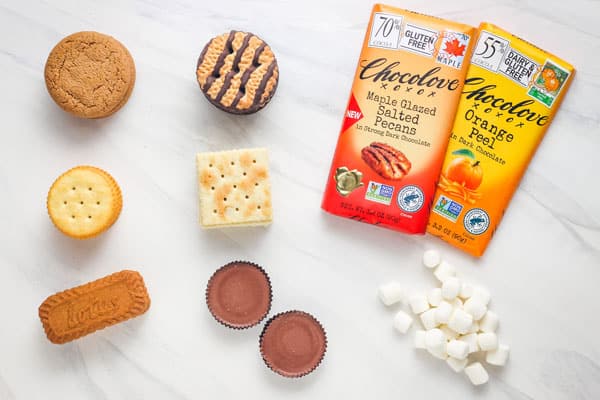 Tips and Variations
Try Crackers: If you haven't had a s'more made with saltines (or soda crackers) you are missing out. The cracker's salty flavor and flaky texture balance perfectly with the gooey marshmallow and sweet chocolate.
Mini Marshmallows: These little guys puff up and brown faster than the larger marshmallows. Also, they may move around a little if you're using the Air Fryer function.
Use a Different Cookie: Ginger snaps or Biscoff cookies are fun for a spiced s'more with a crunchier texture. Fudge-striped cookies are messier but add lots of tasty chocolate flavor.
Chocolate Options: Flavored bars or leftover candy (like peanut butter cups, mini Twix bars, or an Almond Joy) are an easy way to take your s'mores up a notch.
BP + Fresh Fruit: Banana slices or fresh berries combined with a drizzle of crunchy peanut butter is an irresistible combo!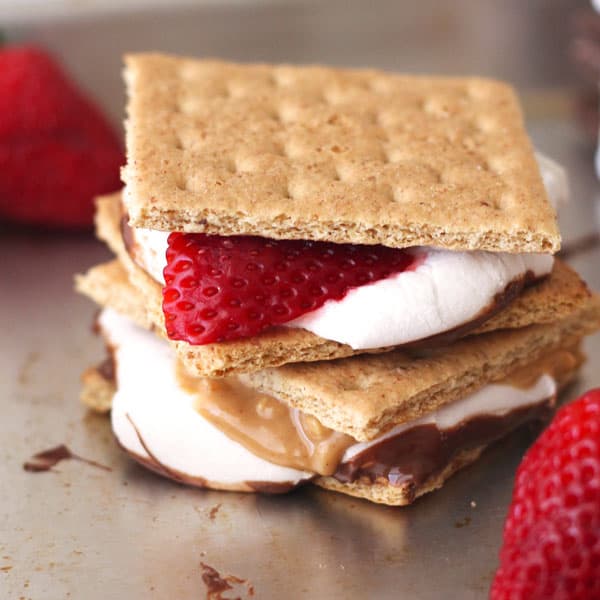 More Easy Toaster Oven Desserts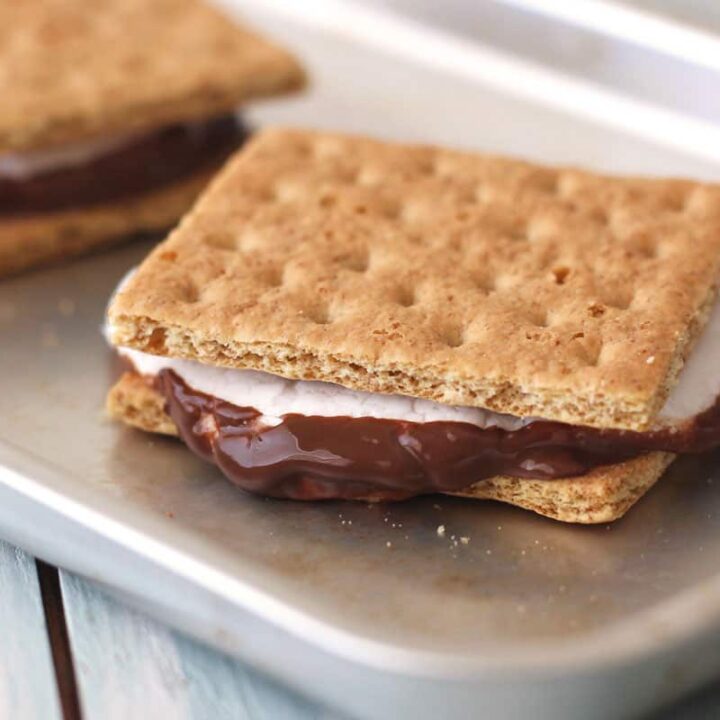 Toaster Oven S'mores
Ooey-gooey summertime bliss that you can enjoy all year!
Ingredients
2 Graham Cracker Sheets, divided
2 Chocolate squares
2 Marshmallows, vegan or traditional
Instructions
Break a graham cracker sheet in half and place on your toaster oven baking pan.
Top each graham with a square of chocolate and then a marshmallow.
Set your toaster oven to Broil, insert pan and broil until the marshmallows are golden on top, about 2 to 3 minutes.
Carefully remove the pan, top with remaining graham crackers, and enjoy your toaster oven s'mores!
Notes
Make sure there are at least a few inches of space between the heating elements and the marshmallows before broiling.

Bake Option: Bake the assembled s'mores in a preheated 400°F toaster oven until the marshmallow is puffed and toasted, about 3 to 4 minutes. If using a convection toaster oven, reduce the temperature to 375°F.

Since all toaster ovens are different, watch the marshmallows closely for browning and adjust the cooking time as needed.
Nutrition Information:
Yield:

2
Serving Size:

1
Amount Per Serving:
Calories:

214
Total Fat:

6.7g
Saturated Fat:

2.2g
Cholesterol:

3mg
Sodium:

176mg
Carbohydrates:

38.2g
Fiber:

1.3g
Sugar:

19g
Protein:

3.1g