Portobello Mushroom Sandwich
Loaded with savory roasted vegetables and melted provolone cheese, this Portobello Mushroom Sandwich is so satisfying even meat-eaters will love it. Perfect for your next Meatless Monday!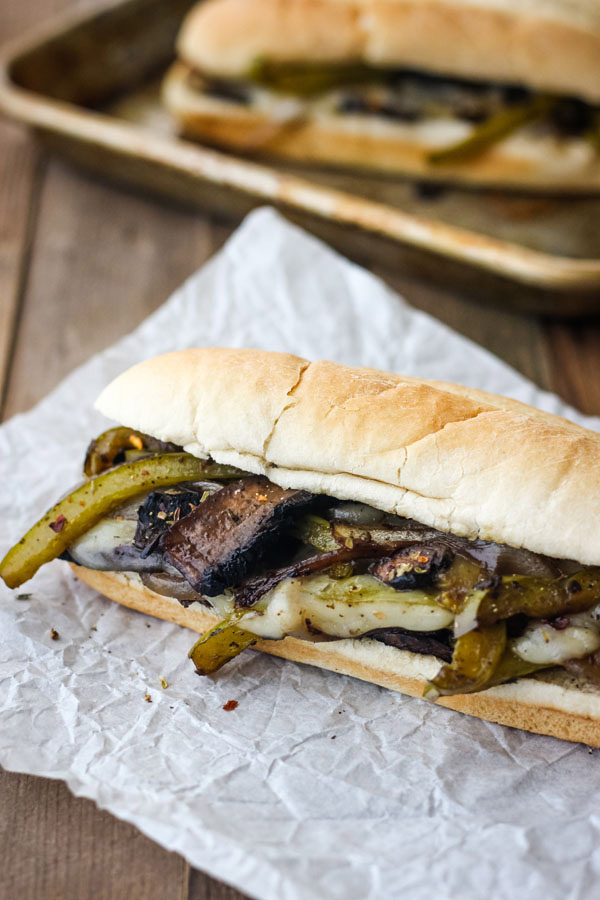 We've shared a lot of sandwich recipes on the site but I think this Portobello Mushroom Sandwich might be my all-time favorite. In the last month, Tim and I have made it over 5 times and we're still not sick of it.
A few things that make this a great weeknight dinner recipe:
Everything is toasted and roasted in the toaster oven or oven, so it's EASY to throw together.
Lots of yummy veggies: juicy portobello mushroom, sweet roasted onion, and crisp bell pepper. (I love the slight bitterness of green peppers but you can use a sweeter red, orange, or yellow pepper instead.)
It's loaded with a crazy amount of salty, earthy, rich umami flavor.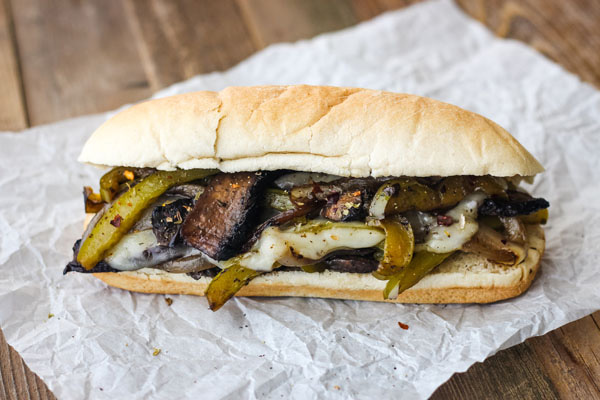 If you've tried one of our other vegetarian sandwiches, like this popular Roasted Red Pepper, Carrot and Hummus Sandwich a Grilled Cheese with Apple and Havarti, or any of these 20 Healthy Vegetarian Sandwiches then you know we take our sandwich game pretty seriously.
And these cheesy mushroom melts are no exception. They're incredibly delicious and you need to make them tonight.
Step-By-Step Instructions
STEP 1: Toast Your Rolls While You Preheat
Start by lowering the rack in your toaster oven to the bottom position, place your rolls (unsplit) on the rack and preheat to 425°F on the BAKE setting.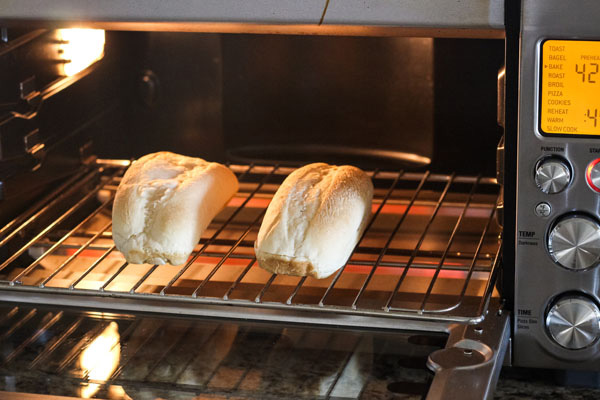 One of the best parts of this sandwich is the rolls – they're crunchy and toasted outside but soft and warm inside. To achieve this awesomeness, just warm and toast the rolls while your little oven preheats.
If your toaster oven only has a traditional temperature dial, set a timer for about 4 to 5 minutes.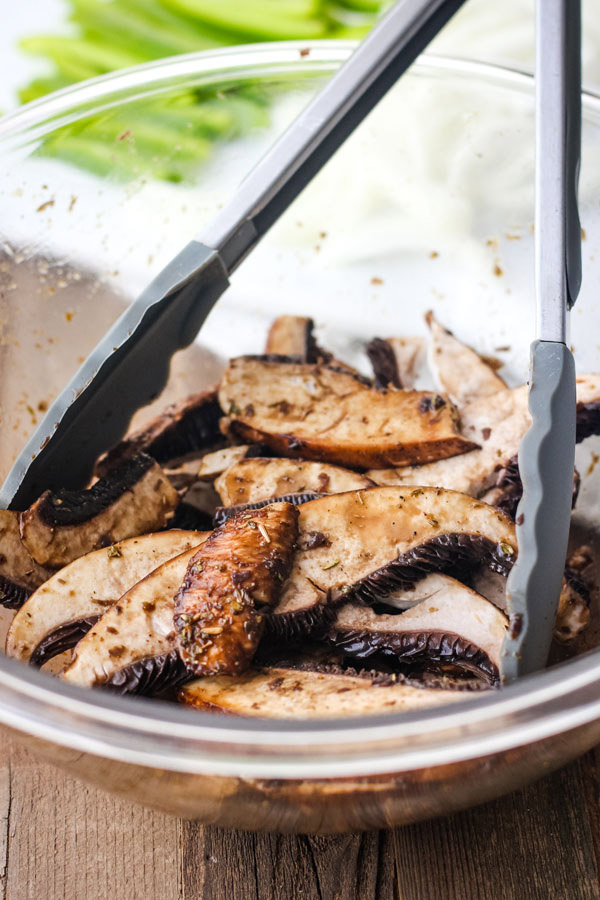 STEP 2: Make the Marinade
The quick marinade for the vegetables is simple: olive oil, balsamic vinegar, soy sauce, and a few spices. To make it, dump everything in a large bowl and whisk together.
Add the mushrooms to the marinade solo, this gives them a chance to soak up most of it first. Then toss in the pepper and onion slices.
Lastly, rub a rimmed sheet pan with a little oil and pour the veggies onto it.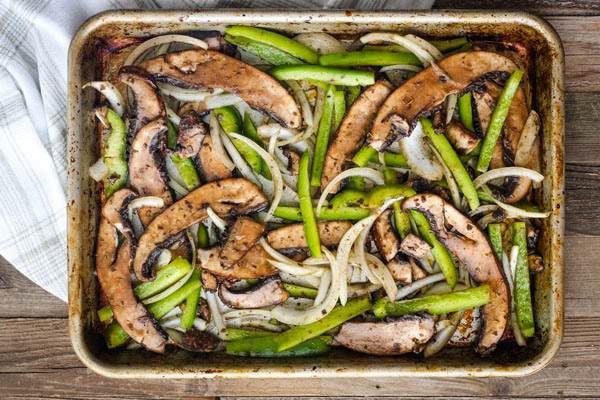 STEP 3: Roast The Vegetables
Right about now, the toaster oven should beep that it's ready. Remove the rolls, set them aside, and add the vegetables.
Stir the pan once or twice while it cooks. Around the 7 minute mark, the mushrooms will begin to release a lot of liquids and your house will start smelling very good.
After about 15 to 18 minutes a little of the liquid will remain but the onions, mushrooms, and peppers will be brown on the edges and have a delicious tender-yet-toothy texture.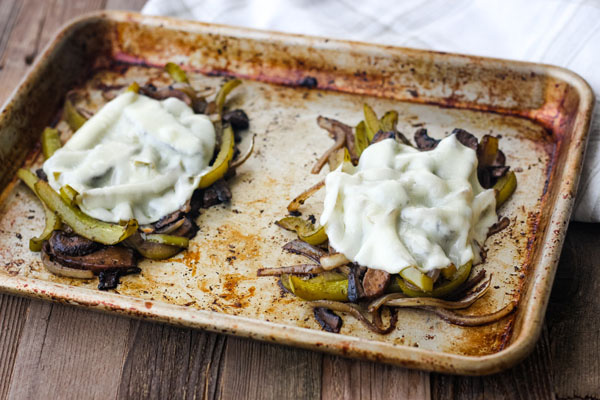 STEP 4: Get Melty
Put on a pair of oven mitts and carefully remove the hot pan. Use a spatula to scooch the roasted vegetables into two piles and top each one with a slice of smoky provolone cheese.
To melt the cheese, return the pan to the toaster oven for 2 to 3 minutes.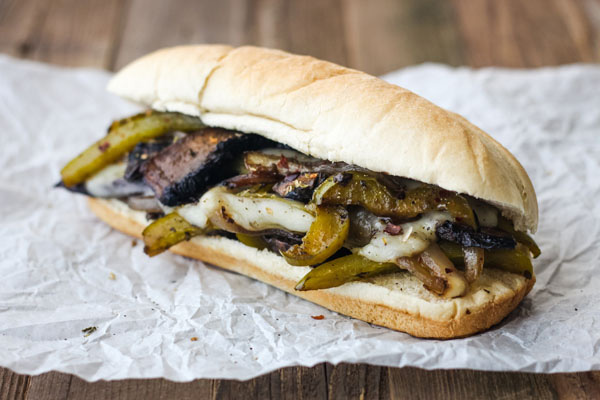 STEP 5: Assemble Your "Meaty" Meatless Sandwiches
Split the rolls in half and scoop the filling into each one. For a little spicy kick, sprinkle on a pinch of red pepper flakes. Then grab a few napkins, and enjoy!
Are You Cooking For One?
Toast a single roll and save half the roasted vegetables. You can use the leftover veggies to make a toaster oven frittata, throw them on a veggie hummus flatbread, or whip up another Portobello Mushroom Sandwich for lunch or dinner the next day.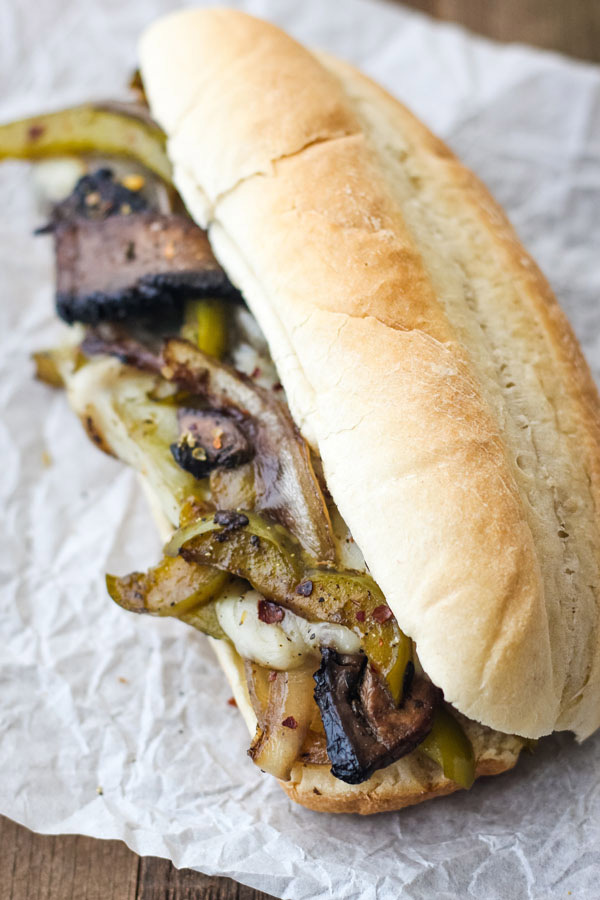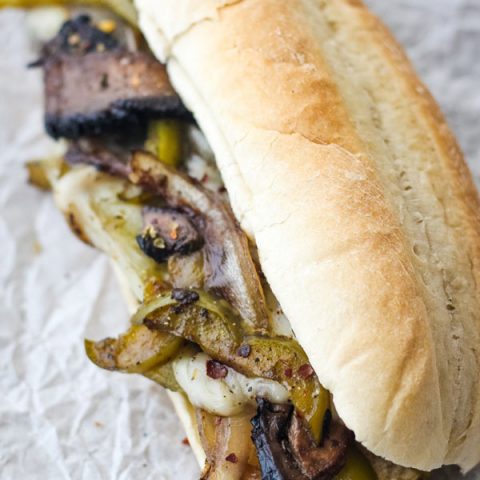 Portobello Mushroom Sandwich
Savory roasted veggies and melty cheese make these sandwiches so satisfying even meat-eaters will love them!
Ingredients
2 Sandwich Rolls
2 teaspoons Olive Oil, divided
1 tablespoon Balsamic Vinegar
2 teaspoons Low Sodium Soy Sauce
1/2 teaspoon Dried Oregano
1/4 teaspoon Garlic Powder
1/4 teaspoon Black Pepper
1 large Portobello Mushroom, thinly sliced
1 small Bell Pepper, seeded and thinly sliced
1/2 small Onion, thinly sliced
2 slices Provolone Cheese
Instructions
Adjust the cooking rack to the bottom position and preheat your toaster oven to 425°F. While the toaster oven preheats, place the sandwich rolls inside to warm and toast.
Rub a rimmed sheet pan with 1 teaspoon of the oil.
In a large bowl, whisk together the remaining 1 teaspoon olive oil, balsamic vinegar, soy sauce, oregano, garlic powder, and pepper. Add mushrooms and stir to coat well with the sauce. Stir in bell pepper and onion. Pour vegetables onto the prepared pan.
Once the oven has preheated, remove sandwich rolls and add vegetables.
Roast vegetables, stirring occasionally, until fork-tender, about 15 to 18 minutes minutes.
Carefully remove the pan and divide the veggies into two piles on the pan. Top each pile with a slice of provolone cheese. Return pan to the toaster oven and cook until the cheese is melted about 2 to 3 minutes.
Split the rolls in half, scoop the filling into each one, and dig in!
Notes
Mushrooms: The gills inside the mushrooms are edible and do not need to be removed. If they bother you, use a spoon to scrape them out before slicing the mushroom.
Bell Peppers: A Green, Red, Orange, or Yellow bell pepper can be used. The colored peppers will taste sweeter in the sandwich.
Rolls: If you don't have rolls, the peppers and cheese also taste delicious sandwiched between slices of toasted bread.
Alternative Cooking Methods
To use a full-sized oven: Skip toasting the rolls during the preheat. Follow the remaining directions, adding the rolls to the oven during the last 5 to 7 minutes of the cooking time.
To cook on the stovetop: Heat 1 teaspoon oil in a large skillet over medium heat. Add marinated vegetables and sautee for 7 to 9 minutes until softened and browned. Top with cheese and heat until melted, about 2 minutes. Warm buns in the toaster oven or split and toast using another skillet.
Nutrition Information:
Yield:

2
Serving Size:

1 Sandwich
Amount Per Serving:
Calories:

407
Total Fat:

15.5g
Saturated Fat:

5.5g
Cholesterol:

19mg
Sodium:

720mg
Carbohydrates:

51.5g
Fiber:

6g
Sugar:

7.1g
Protein:

16.4g