This mini One Banana Banana Bread is loaded with sweet banana flavor and easy to bake up in your little toaster oven. All you need is a few simple ingredients and one bowl. Make a single mini loaf or a dozen mini muffins with this easy small-batch recipe, the perfect amount if you're cooking for two or just for you!
If you're looking for the Two Banana Bread Recipe that also used to be on this page, you can find it here → Toaster Oven Banana Bread.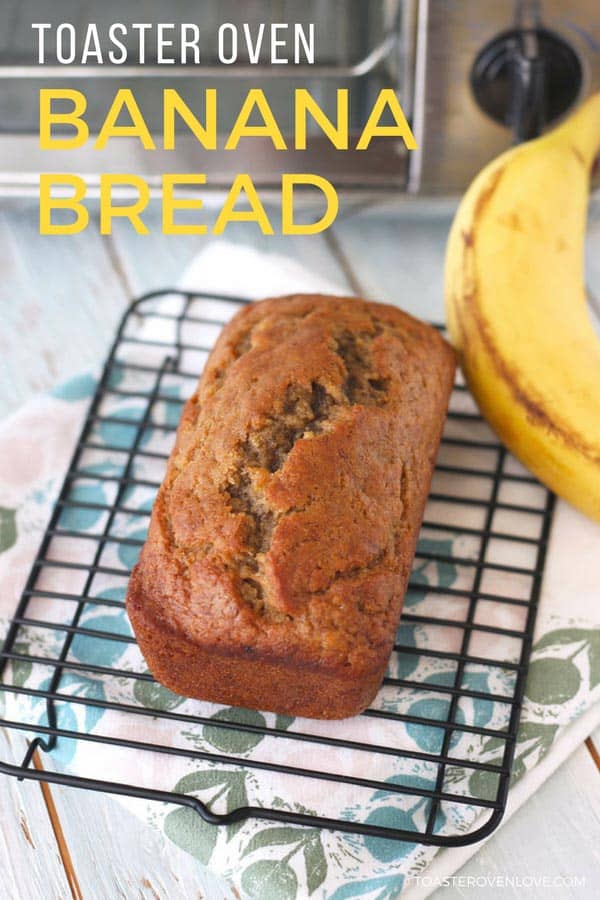 Did you buy too many bananas and are struggling to use up that last overripe one?
Or are you a full-fledged lover of all things banana, just looking to enjoy the yummy goodness of a homemade loaf of banana bread (#1 perk: amazing smelling kitchen) without all of the tempting leftovers?
Either way, this small-batch recipe is for you.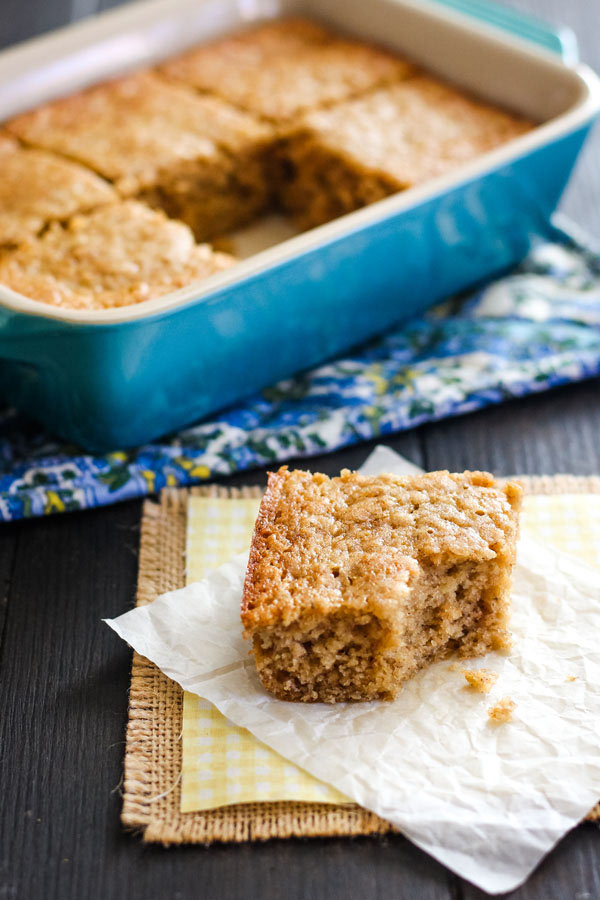 One Banana Bread Tips
To make this recipe you'll need a toaster oven (we like to use our little Oster), one bowl and a single 5-3/4" x 3" x 2" mini loaf pan or two 7-ounce ramekins.
We've also had success making this bread in our favorite
baking dish for small toaster ovens
: a 7 x 5-inch baking dish. The bread cooks a little faster and makes more of a small banana snack cake.
Now, before you jump into the recipe, I have a bit of banana bread advice – always use old bananas.
Overripe older bananas that are freckled with brown spots are much sweeter and full of great banana flavor. Something that's really important in a recipe this small.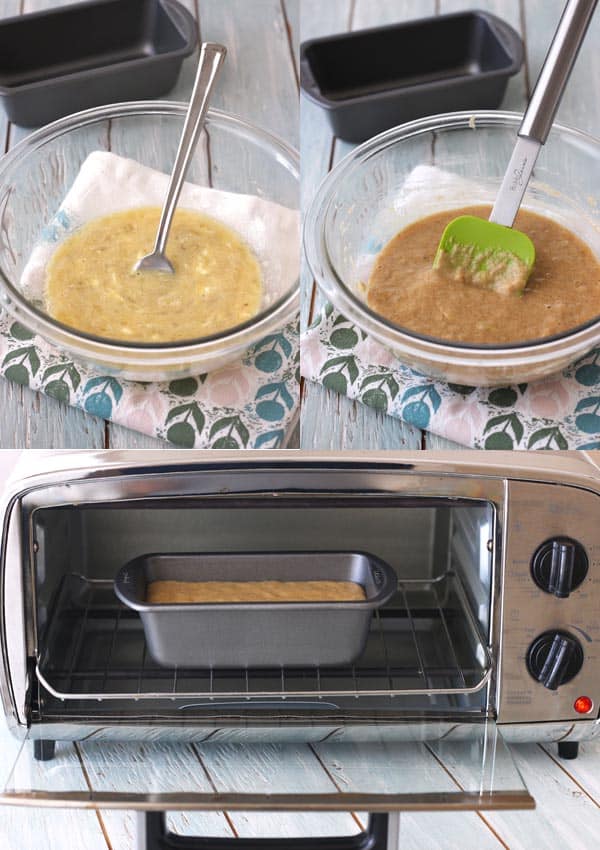 Can You Substitute The Egg?
Unfortunately, we have not had a lot of luck swapping the egg in this recipe.
If you're looking for a no-egg bread, try this Mini Eggless Banana Bread instead. It's just as yummy and also makes a single sweet and moist mini loaf!
Baking With Convection
While I love to use convection to bake cookies and roast vegetables, I usually prefer to bake quick bread without it. Sometimes you can end up with overcooked edges and an undercooked middle.
If convection is your only option, I'd reduce the temperature to 325°F and begin testing for doneness after 20 minutes, adding more time as needed.
Want to learn more about cooking with convection? Check out this post with Everything You Need to Know About Convection Toaster Ovens.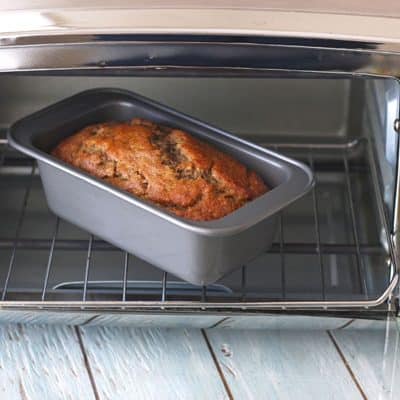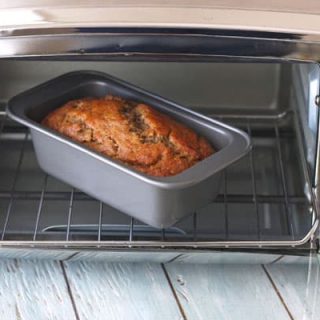 One Banana Toaster Oven Banana Bread
You'll need just one banana and one bowl for this easy mini banana bread that's packed full of flavor.
Ingredients
1 small or medium very ripe banana, mashed, (about 1/4 cup to 1/3 cup mashed)
1 large egg
1 tablespoon plain Greek yogurt*
1 tablespoon canola oil
1/4 teaspoon pure vanilla extract
1/2 cup white whole wheat flour or all-purpose flour
1/4 cup granulated white sugar**
1/4 teaspoon baking soda
1/4 teaspoon ground cinnamon
1/8 teaspoon fine sea salt
Instructions
Adjust your toaster oven's cooking rack to the lowest placement and preheat to 350F on the "Bake" setting.
Grease only the bottom of a 3 x 5.75 x 2.5-in mini loaf pan.
In a medium bowl stir together the mashed banana, egg, yogurt, oil, and vanilla. Add the flour, sugar, baking soda, cinnamon, and salt. Stir until just combined and small lumps remain.
Pour batter into your prepared pan and bake until a toothpick inserted in the center is free of crumbs, about 24 to 28 minutes.
Allow bread to cool for at least 10 minutes before removing from pan to cool completely on a baking rack.
Notes
*Use any yogurt you have on hand, plain or vanilla Greek yogurt or regular yogurt work great, so does sour cream.
**You can substitute coconut sugar, light brown sugar or a mixture of brown and granulated white sugar for the 1/4 cup sugar called for in the recipe. If you use coconut sugar or brown sugar, stir the sugar into the wet ingredients instead of the flour. 
To make in a 7 x 5-inch baking dish, prepare as directed but bake at 350°F for 22 to 25 minutes.
Recipe adapted from the America's Test Kitchen Complete Cooking For Two Cookbook (←affiliate link).
Nutrition Information:
Yield:

5
Serving Size:

1 slice
Amount Per Serving:
Calories:

125
Total Fat:

4g
Saturated Fat:

0.5g
Cholesterol:

37mg
Sodium:

125mg
Carbohydrates:

20.1g
Fiber:

1.5g
Sugar:

11.2g
Protein:

3.3g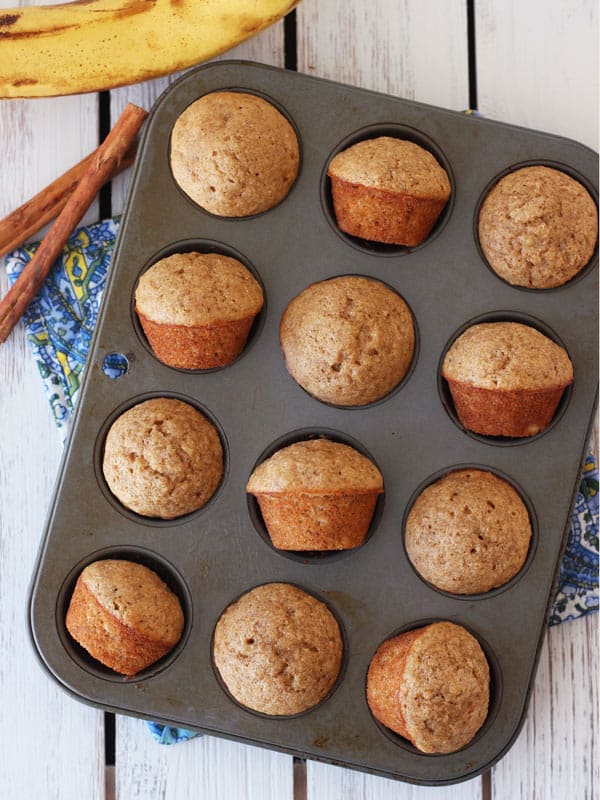 How to Make Mini Muffins
Preheat your toaster oven to 375°F and grease a 12-cup mini muffin pan.
Prepare the batter as directed in the recipe above and spoon it evenly into the mini muffin cups.
Bake until a toothpick inserted in the center of a mini muffin comes out clean, about 8 to 10 minutes.
Working on our upcoming toaster oven muffin guide I've been learning a lot of new tricks…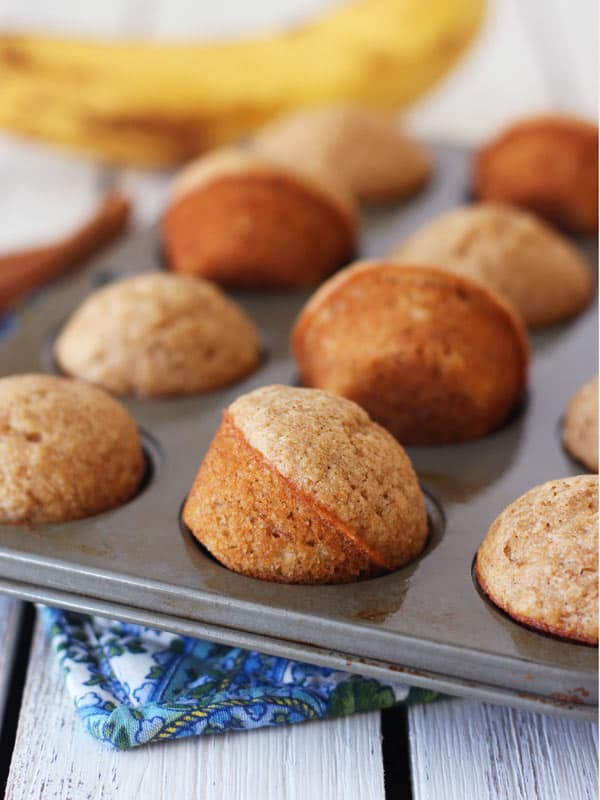 If you've been having trouble with your mini muffins coming out flat try using your convection fan for the first 2 minutes of the bake time.
That little burst of heated air will help the muffin edges to set before the batter can spread and will give your little muffins domed tops.
If it's not easy to switch your convection fan on and off, you can produce a similar effect by preheating your oven to 400°F. Once you've added the muffins, reduce the temperature to 375°F and bake as directed.