This easy banana bread for two recipe makes an adorable mini loaf that's perfect for baking in the toaster oven. It comes together quickly and requires just one bowl, one small banana, and a few pantry staples.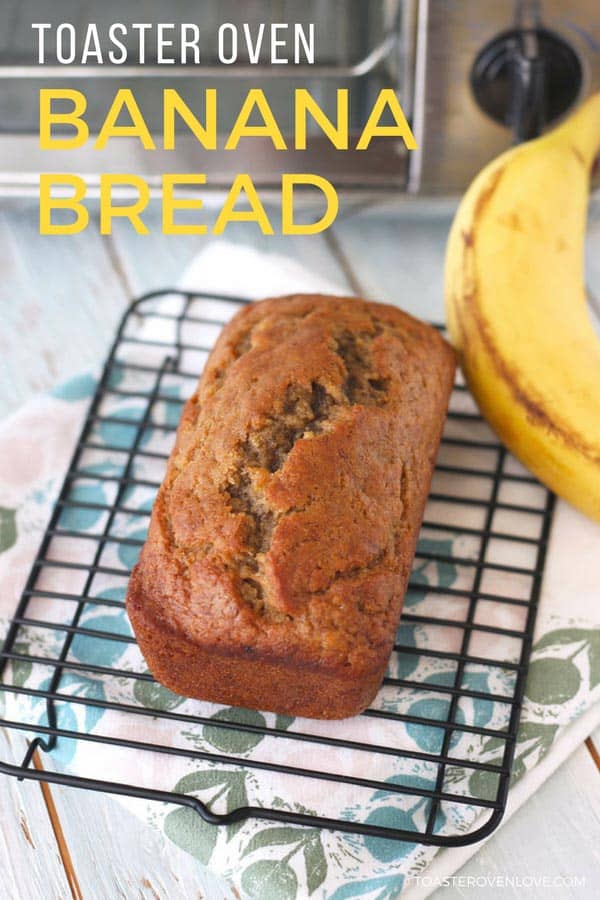 Tender, moist, and full of sweet banana flavor, it's no surprise this mini loaf is one of our more popular recipes. Here's why we love it and think you will too:
It makes just a few servings so you don't have to worry about leftovers if you're cooking for two or just for you.
Is super easy to customize (chocolate chips, yes please!).
You can also use it to make four muffins or a dozen mini muffins.
Trust me, if you've got an old banana on the counter and you haven't tried this small-batch recipe yet, now's the time!
Let's Make a Mini Banana Bread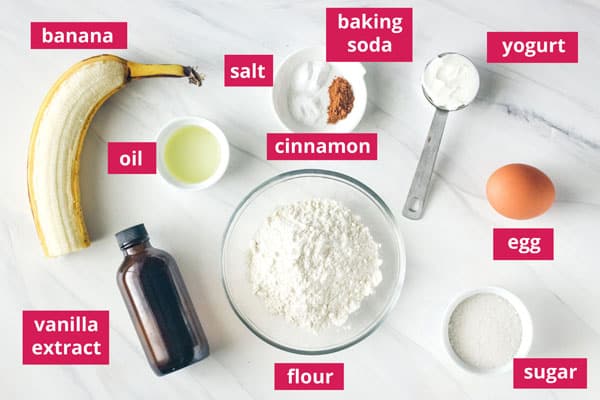 Ingredient Notes
One Banana: For the best flavor, use a very ripe spotted small banana (about 6-inches long). If your banana is larger, just chop some of it off and enjoy the leftovers as a snack. Measuring after mashing? You want at least 1/4 cup but no more than 1/3 cup mashed banana (about 60 to 85 grams).
Sugar: Granulated sugar, brown sugar, or a combination of both. Coconut sugar works too. If using coconut sugar or brown sugar, stir it into the wet ingredients instead of the flour.
Yogurt: This helps to keep the loaf moist and tender. Plain, vanilla, Greek yogurt, or regular yogurt will all work as will sour cream.
Step-By-Step Instructions
1. Adjust the cooking rack to the lower position, select the BAKE setting, and preheat the toaster oven to 350°F. If cooking with a traditional oven, use the middle rack position.
Brush or spray the bottom of a metal 5-¾" x 3" x 2" mini loaf pan with oil. Similar to making brownies, if the sides are left uncoated the edges of the bread have something to cling to as it's rising. If you prefer to coat the whole pan, go for it.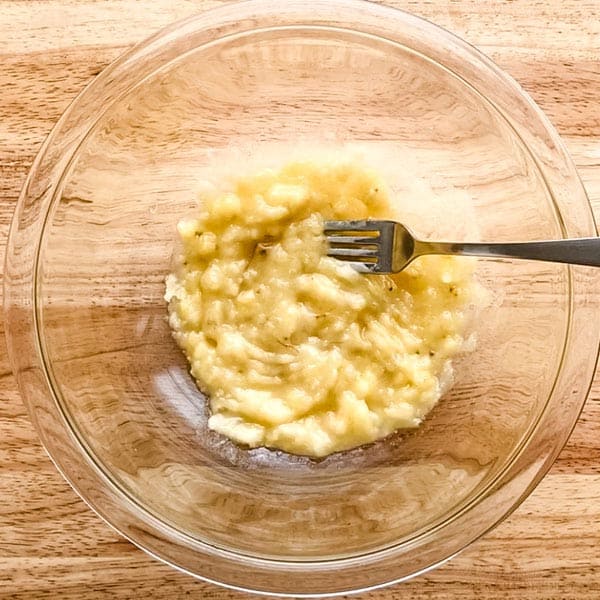 2. In a medium bowl, mash the bananas well with a fork or potato masher. Then mix in the egg, oil, yogurt, and vanilla. Add the flour, sugar, baking soda, cinnamon, and salt, and stir just until combined.
It's okay if the batter has small lumps and looks a little chunky.
Overmixing the batter until it is completely smooth will make the bread dense and tough instead of tender and light.
If you want to add mixins like chocolate chips or chopped walnuts, this is where you'd do it. To keep from weighing down the bread, I usually add about 3 tablespoons of mixins at the most.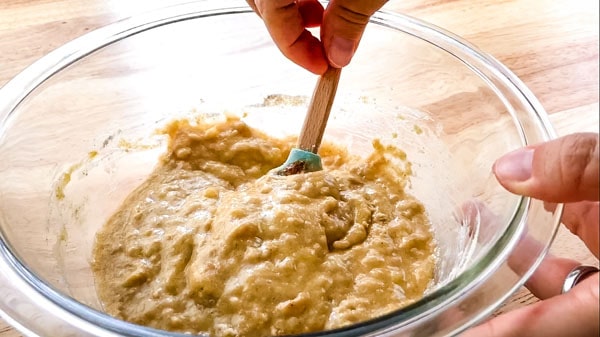 3. Pour the batter into the prepared pan and smooth the top with a rubber spatula.
To make the loaf extra special, try sprinkling a teaspoon of cinnamon sugar or brown sugar over the batter before baking.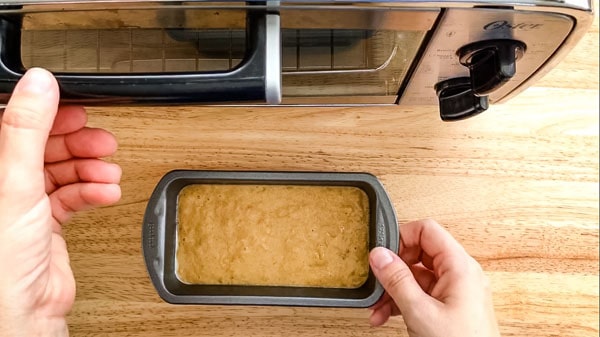 4. Bake until the loaf has risen, is golden brown, and a toothpick (or skewer) inserted in the center comes out clean or with a few crumbs attached, about 24 to 28 minutes.
If you're baking with a convection toaster oven, reduce the temperature to 325°F and check on it early. Lowering the temperature a little will help to keep the edges from overcooking before the center is baked through.
5. Cool the bread in the pan for 10 minutes. Then gently pop it out and set it on a rack to cool completely.
If you have trouble with sticking, run a small offset spatula or butter knife slowly around the edges of the loaf and try again.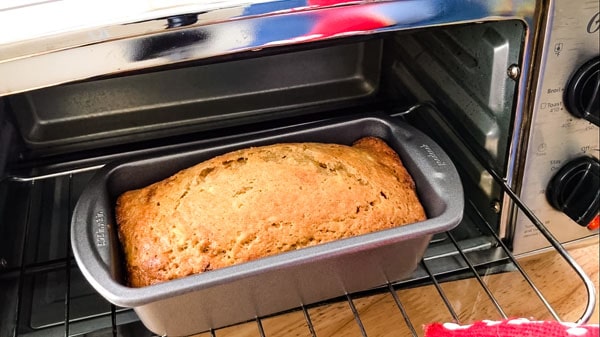 Banana Bread For Two FAQs
Why didn't my loaf rise?
A loaf of squat and dense banana bread is definitely a bummer. There are a few things that can keep a loaf from rising, these reasons seem to be the most common.
Old Baking Soda: Once opened baking soda starts to become less potent. If your baking soda is very old there's a good chance it's the culprit. Want to test if your box is still good? Check out this post from Simply Recipes.
Too Much Banana: This will keep your bread heavy and weighted down. I know it's tough to gauge the size of a banana. To help, we've included weight and cup measurements for the mashed banana in the recipe card.
Using a Larger Pan: If you want your mini loaf to look like the ones in this post you need to use a 5-¾" x 3" x 2" metal mini loaf pan. If your pan is larger, the batter will be more spread out and thus will not rise as tall.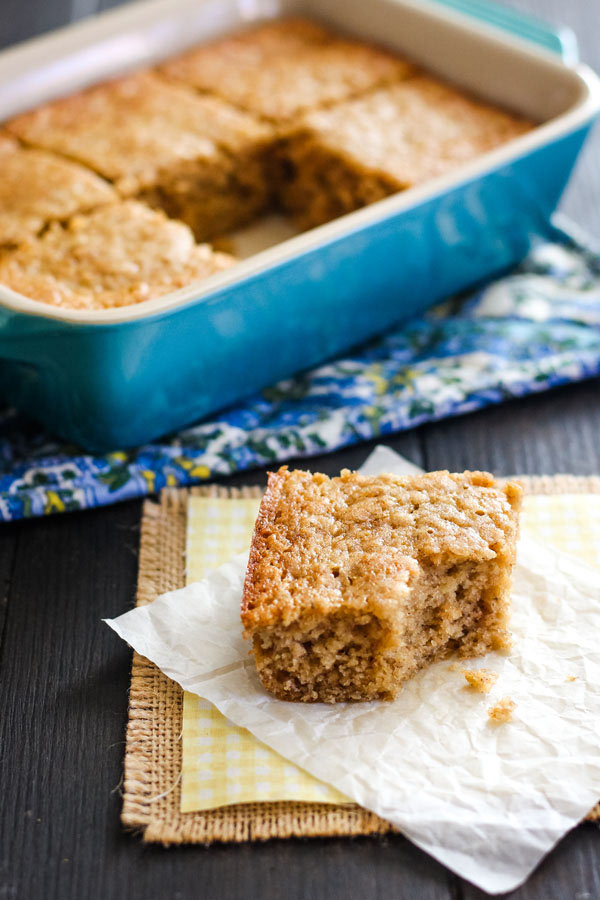 Can I swap the baking soda with baking powder?
Yes, you can omit the baking soda and add ½ teaspoon of baking powder instead. But the banana bread will be much lighter in color (less browning) and have a spongey more cake-like crumb.
The loaves we made with baking powder were not my favorite but Tim really liked them and said they seemed sweeter.
I don't have a mini loaf pan can I use something else?
This recipe can be baked in a muffin tin or mini muffin tin, two 7-ounce ramekins, or as a snack cake in a 7 x 5-inch baking dish or a 6 x 2-inch round pan. The baking time will change depending on the type of pan used (see recipe notes).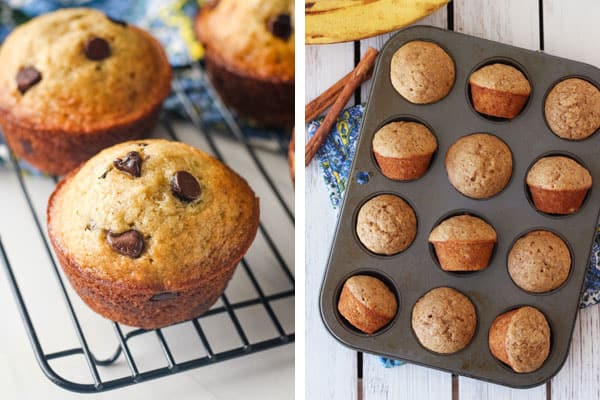 Plant-Based Substitutions
Recently we've been experimenting with plant-based egg and yogurt options and thought it would be fun to try them with this recipe.
We made two batches, both using Silk Dairy-Free vanilla yogurt.
For the first loaf, we substituted the egg with 1 tablespoon of Bob's Red Mill Egg Replacer combined with 2 tablespoons of water.
In the second loaf, we omitted the egg and mixed in 3 tablespoons (44 grams) of Just Egg.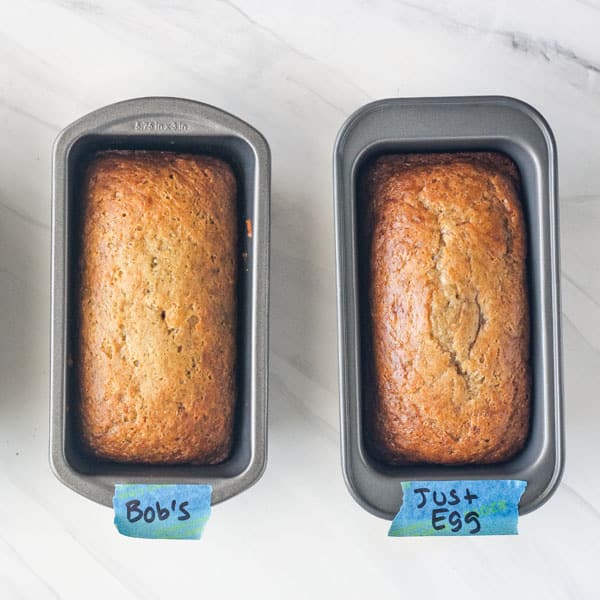 While both loaves baked up nicely, there was a noticeable difference between the two. Similar to the results from baking half a cake mix with these substitutes, the Just Egg version was our favorite.
The Bob's loaf was soft, bouncy, and smelled like banana bread but the flavor was muted.
The Just Egg loaf looked and tasted like the original recipe. It was tender and moist, with crispy edges, and a really good banana flavor.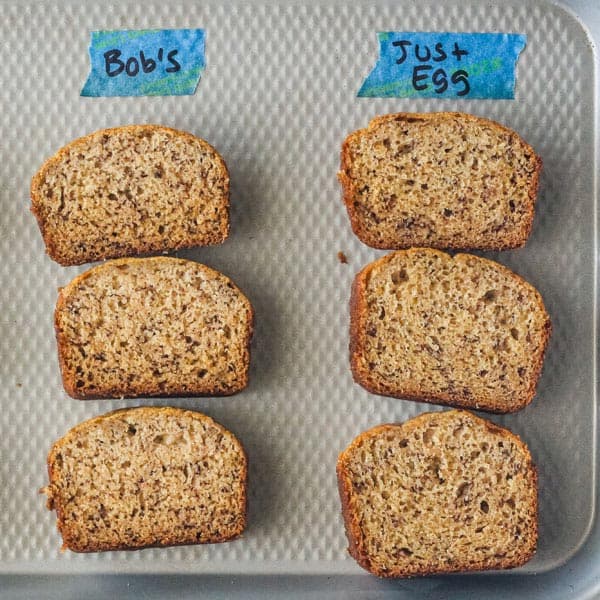 Can you use flax meal instead?
We've had mixed results substituting it in this recipe. Instead, I'd suggest checking out our Mini Eggless Banana Bread Recipe that's made with flax meal. It's super moist and delicious!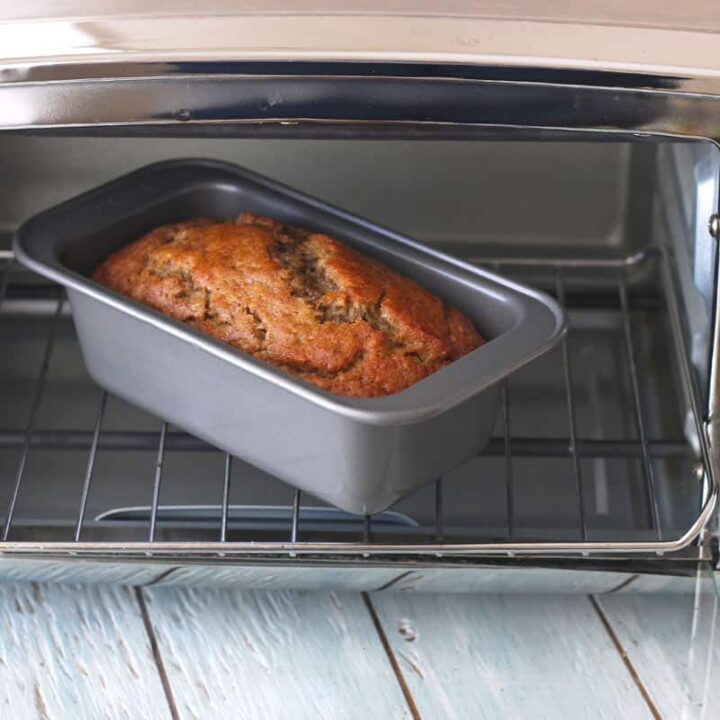 Banana Bread For Two
You'll need just one banana and one bowl for this easy mini banana bread that's packed full of flavor.
Ingredients
1 Small Very Ripe Banana (about 6-inches long, 60 to 85 grams peeled, or ¼ cup to ⅓ cup mashed)
1 Large Egg (50 grams measured w/o shell)
1 tablespoon (15 grams) Plain Greek Yogurt (see note)
1 tablespoon (14 grams) Canola Oil
¼ teaspoon Vanilla Extract
½ cup (60 grams) All-Purpose Flour or White Whole Wheat Flour
¼ cup (48 grams) granulated White Sugar (see note)
¼ teaspoon Baking Soda
¼ teaspoon Ground Cinnamon
⅛ teaspoon Fine Sea Salt
Instructions
Adjust your toaster oven's cooking rack to the lowest placement and preheat to 350°F on the "BAKE" setting.
Grease only the bottom of a 3 x 5.75 x 2.5-in mini loaf pan.
Peel the banana, add to a medium bowl, and mash well with a fork. Add the egg, yogurt, oil, and vanilla, and whisk well to combine. Then add the flour, sugar, baking soda, cinnamon, and salt. Stir until just combined and small lumps remain.
Pour batter into your prepared pan and bake until a toothpick inserted in the center is free of crumbs, about 24 to 28 minutes.
Allow the bread to cool for at least 10 minutes before removing it from the pan to cool completely on a baking rack.
Notes
Sugar: Brown sugar or coconut sugar can be substituted for granulated sugar. If used, stir into the wet ingredients instead of the flour.
Yogurt: Plain, vanilla, Greek yogurt, or regular yogurt will all work as will sour cream.

Mixins: 3 tablespoons of chocolate chips or chopped nuts make a nice addition.
Pan Baking Times
Muffins: Divide batter across 4 greased muffin tins and bake for 14 to 16 minutes.
Mini Muffins: Increase the temperature to 375°F and bake for 8 to 11 minutes.
7 x 5-inch Baking Dish or (2) 7-ounce Ramekins: About 22 to 25 minutes, begin checking after 20 minutes and add more time as needed.
Recipe adapted from America's Test Kitchen Banana Bread.
Nutrition Information:
Yield:

5
Serving Size:

1 slice
Amount Per Serving:
Calories:

125
Total Fat:

4g
Saturated Fat:

0.5g
Cholesterol:

37mg
Sodium:

125mg
Carbohydrates:

20.1g
Fiber:

1.5g
Sugar:

11.2g
Protein:

3.3g
More Tasty Banana Treats