Rosemary cashews are an irresistible snack that's loaded with savory-sweet flavor. Use your toaster oven to make this small batch recipe, it's so easy!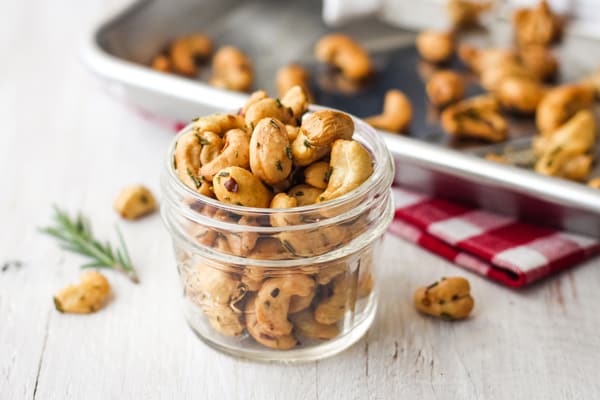 I'm a sucker for salty snacks, but self-control around them has never been my strong suit. So a big pan of seasoned nuts…that's just a bellyache waiting to happen.
Enter these perfectly-portioned rosemary cashews. The small-batch recipe makes just 1 cup of salty flavored nuts!
They're lightly sweetened and mildly spicy. But it's the abundance of fresh rosemary that makes them taste extra special.
Around the holidays, these nuts make a great snack, appetizer, or easy hostess gift. Their savory flavor is a welcome break from all of those sugary treats!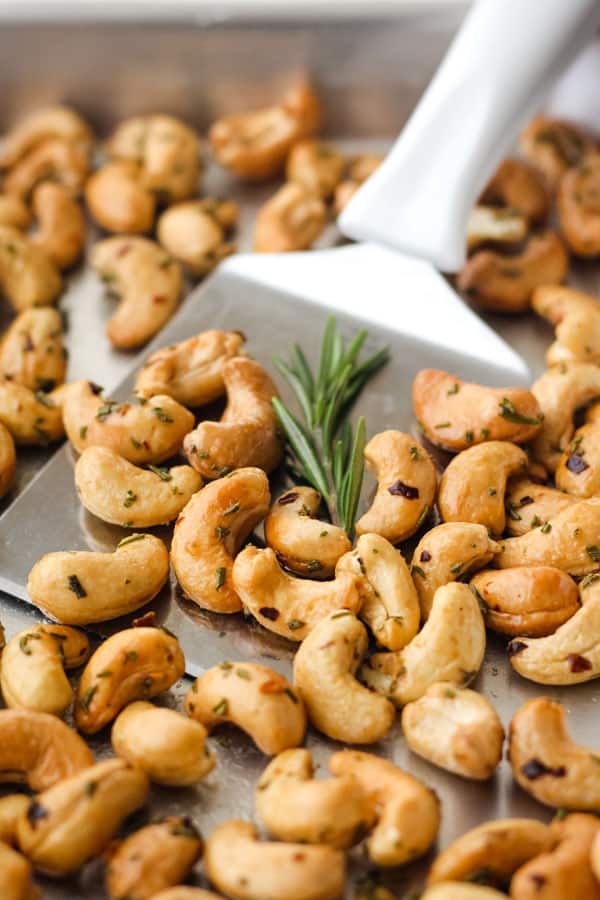 Here's what you'll need to make these sweet, spicy, savory rosemary cashews:
Cashews, of course. Since you'll be toasting the cashews with the seasonings you want the nuts to be whole, RAW (not roasted), and unsalted.
Heaps of fresh rosemary leaves. Finely chopping the rosemary helps it stick to the cashews.
Red pepper flakes for a little pop of spicy flavor.
Maple syrup aka The Good Stuff. I'm talking PURE maple syrup, none of that corn syrup business. It's just a few teaspoons and friend, you are worth it.
Sea Salt, because always salt. Plus it helps to balance the butteriness of the cashews and highlight the other great flavors.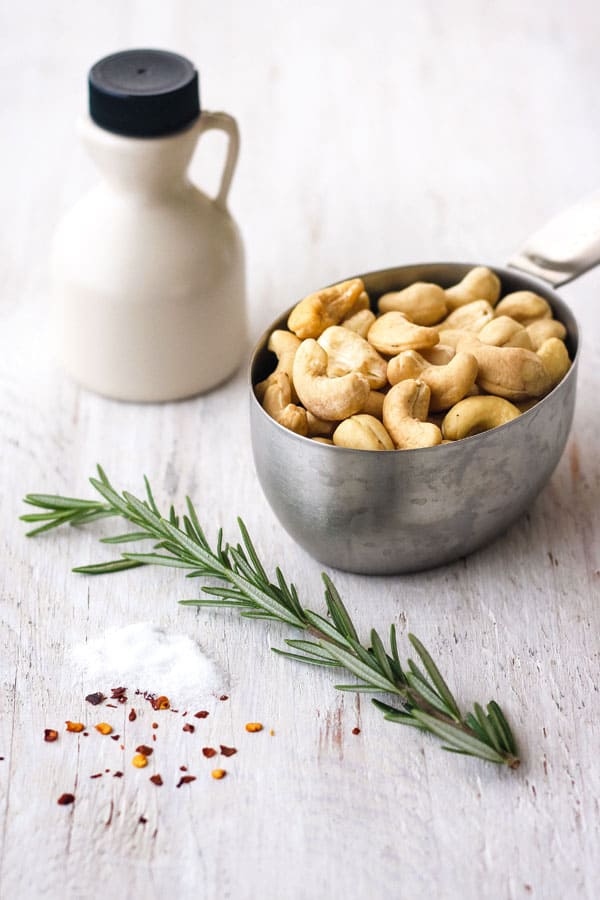 How to Make Rosemary Cashews
First, grease a light-colored small baking sheet with cooking spray and preheat your toaster oven to 325 degrees F.
This Nordic Ware 1/8 Sheet Pan is my new favorite mini pan.
It fits in our smallest toaster oven and is perfect for making a batch of nachos for one, toaster oven grilled cheese sandwich or rosemary cashews!
The exterior of the pan measures 10″ x 7″ x 1″ and I love that it doesn't warp at high temperatures.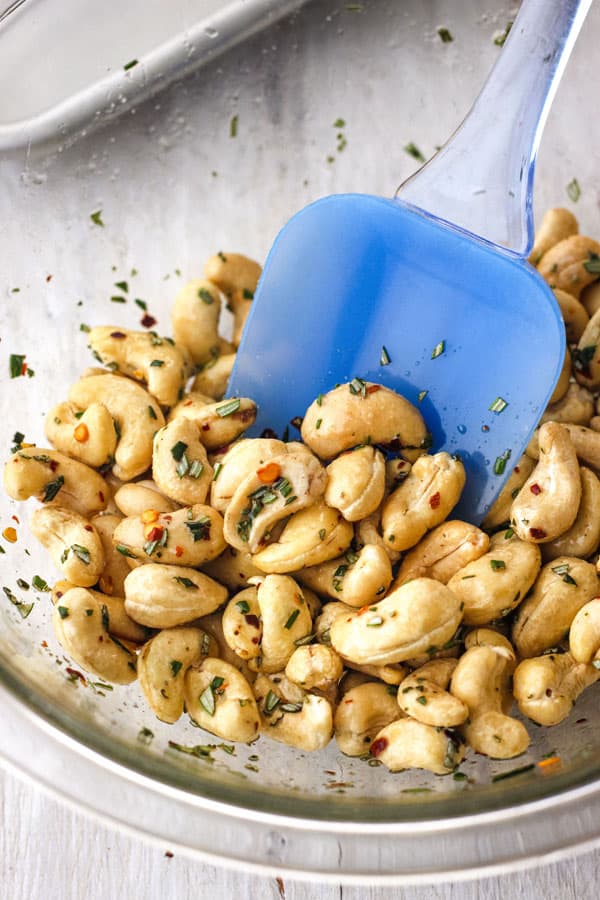 Next, dump the ingredients into a large bowl and mix until all of the nuts are coated.
Pour the nuts onto the pan and spread in an even layer. Make sure to scrape the bowl so you don't leave any of that good stuff behind.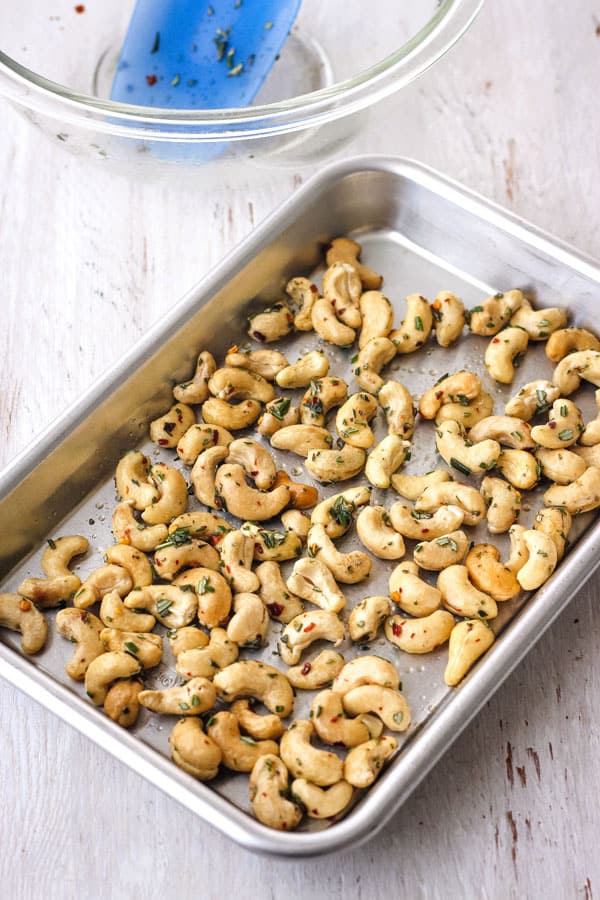 All that's left now is to pop them into your little toaster oven to bake for 14 to 18 minutes.
You'll want to give them a stir after 7 minutes and again at the 14-minute mark. Keep checking on them every minute after that since cashews tend to burn easily.
You'll know the nuts are ready when that great NUTTY AROMA fills your kitchen and the cashews are a golden brown color.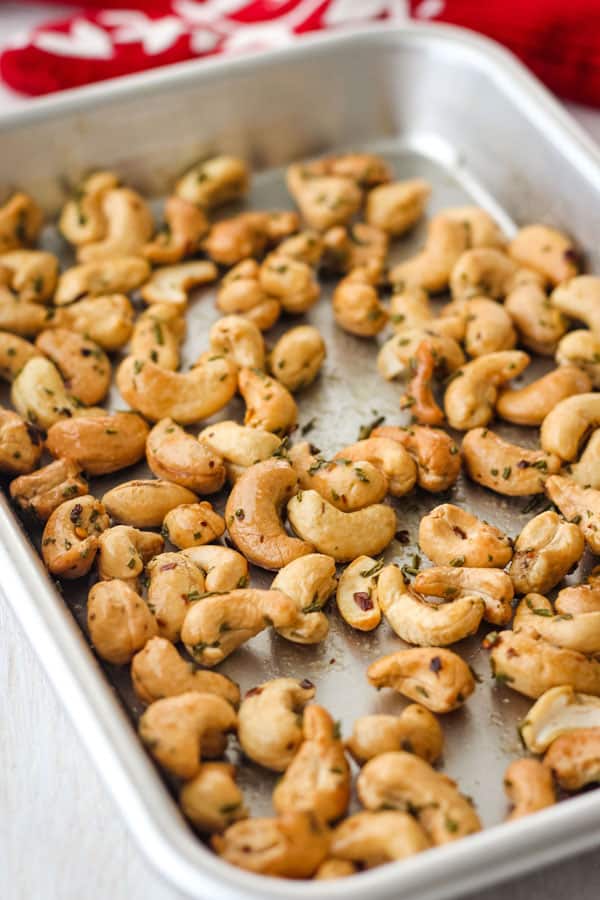 Don't worry if the nuts are still a little wet looking. Similar to toaster oven roasted chickpeas, the nuts will continue to crisp and dry as they cool.
Let the cashews cool on the pan, untouched (minus the few pieces you snag for taste-testing purposes) until dry, crisped, and delicious.
How to Store Fresh Rosemary?
If you've got leftover rosemary, take a few minutes to refrigerate or freeze that extra rosemary so it lasts and you can make these toaster oven rosemary potatoes!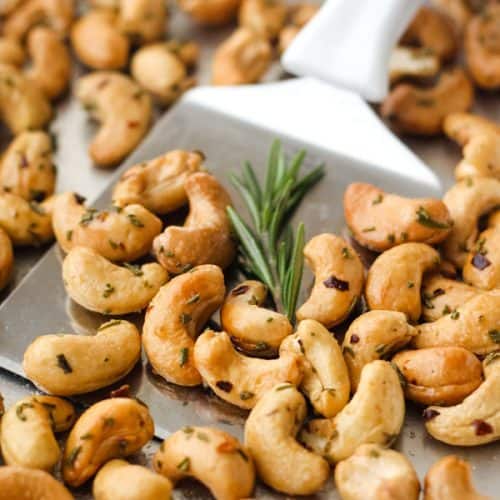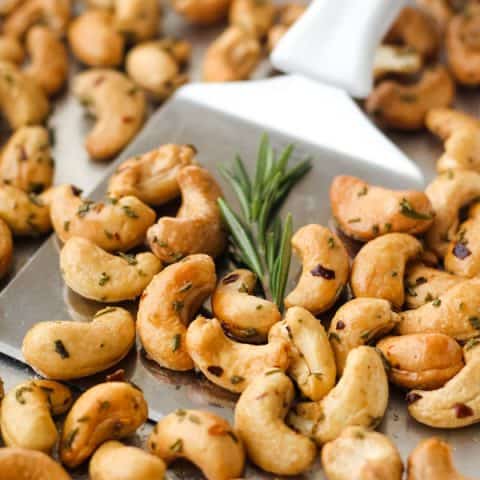 Rosemary Cashews
These seriously delicious seasoned nuts are so easy to throw together. Perfect for snacking, parties or gifting during the holidays.
Ingredients
1 cup Raw Unsalted Cashews
1 tablespoon Fresh Rosemary, (heaping) finely chopped
2 teaspoons Pure Maple Syrup
1/8 teaspoon Crushed Red Pepper
1/4 teaspoon Sea Salt
Instructions
Preheat oven to 325°F. If using a toaster oven, select the BAKE setting and adjust the cooking rack to the bottom position.
Spray a small rimmed baking pan with cooking spray or lightly oil.
In a medium bowl, combine all of the ingredients and stir well to coat the nuts.
Pour nuts onto the prepared pan and arrange in an even layer.
Bake until the nuts are lightly toasted, stirring occasionally, about 14 to 18 minutes. When ready, the nuts will be darker in color but still a little wet or shiny. (They will continue to crisp as they cool.)
Remove the pan from the toaster oven and allow the nuts to cool on the pan.
Once cooled completely, use a spatula to loosen the nuts if necessary. Store in a covered container for up to one week.
Notes
To make a larger batch double all of the ingredients and cook nuts in an even layer on a quarter sheet pan. The cooking time should remain the same.
Nutrition Information:
Yield:

4
Serving Size:

1/4 cup
Amount Per Serving:
Calories:

183
Total Fat:

13g
Saturated Fat:

2.2g
Cholesterol:

0mg
Sodium:

123mg
Carbohydrates:

11.4g
Fiber:

1.4g
Sugar:

4.1g
Protein:

5.4g