Filled with juicy berries and rich chocolate chips, this Mini Berry Skillet Cake is decadent, delicious, and a surprisingly easy dessert for one or two people. It's perfect for Valentine's Day or any time you're craving something sweet. If you don't have a mini skillet, no worries. We've got a few ideas for you!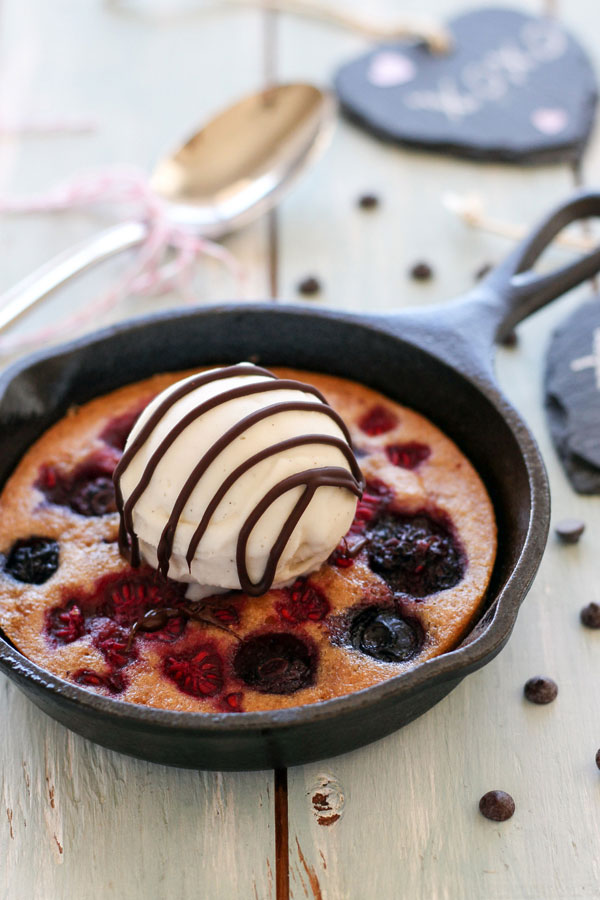 How do you make a mini berry skillet cake?
First, mix up the cake batter in a small bowl.
Pour it into an oiled 5-inch mini cast iron skillet.
Top with frozen berries and a sprinkle of brown sugar.
Pop it in your toaster oven and bake until the cake is golden and the fruit is bubbly. That's it, easy-peasy!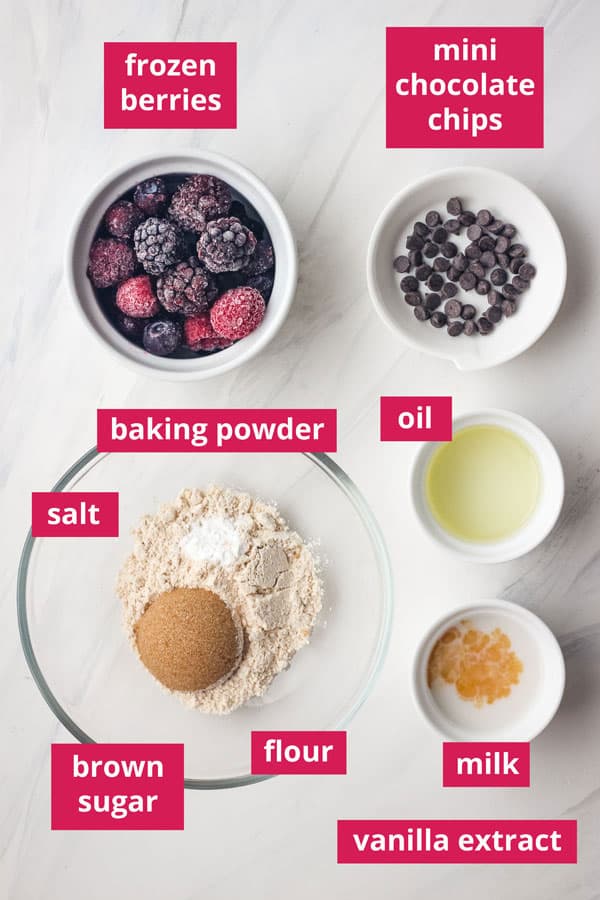 What if you don't have a mini skillet?
If you don't have a mini cast iron skillet you can still enjoy this berry-baked goodness. Just dump the batter into an oiled 7-ounce ramekin or pan.
Recently, I made a batch using one of our mini 4-inch round cake pans. It took a few minutes longer to bake and the texture was more like a dump cake but we both enjoyed it a lot.
Now, that you've got your cake baked, let it cool for a few minutes while you select your toppings.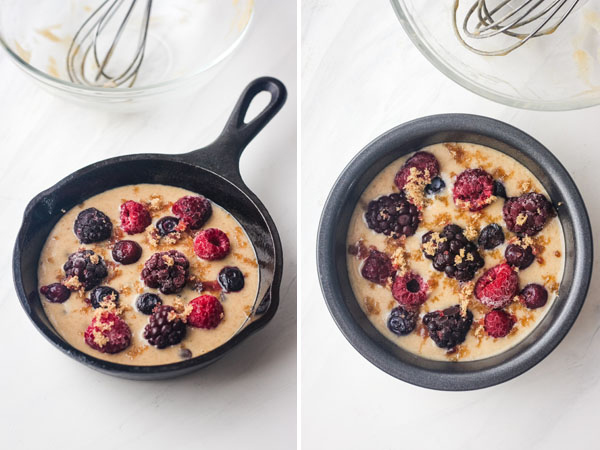 Skillet Cake Toppings
Whipped cream and toasted nuts are never a bad idea.
You can keep things light with a dollop of Greek Yogurt.
Or go all out with vanilla ice cream and a drizzle of chocolate. (This one's my favorite option)
Small-Batch Magic Shell
For a quick and easy Magic Shell-style topping, we like to use a tablespoon of melted Enjoy Life chocolate chips. There's something in the melted chocolate that causes it to harden when it hits the cold ice cream.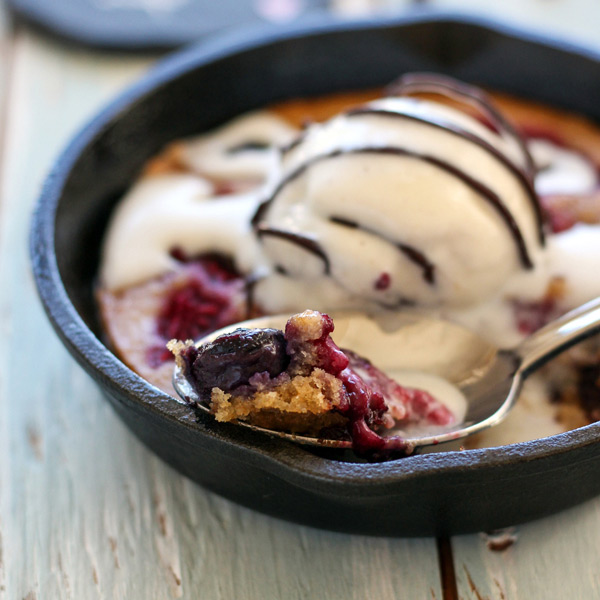 How to make homemade Magic Shell with traditional chocolate:
Combine 1 tablespoon of chocolate chips or chopped chocolate (10 grams or 35 ounces) and 1/4 teaspoon of coconut oil in a microwave-safe bowl.
Microwave in 15 to 20-second increments, stirring after each heating, until the chocolate is melted.
Use a rubber spatula to drizzle over ice cream and enjoy!
One thing to note is that the coconut oil does give the chocolate a subtle coconut flavor. It's noticeable but not overwhelming.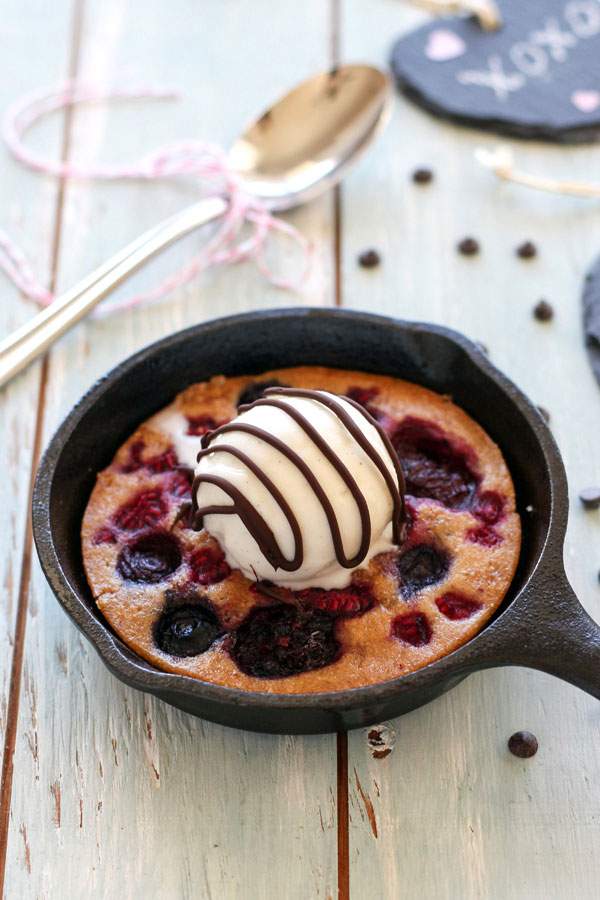 Looking for more small-batch desserts? Here are some of our favorites: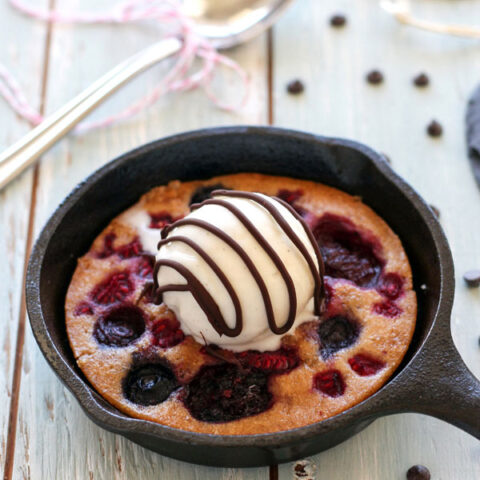 Mini Berry Skillet Cake
Yield:
1 Mini Skillet Cake
Frozen berries and mini chocolate chips take this mini cast iron skillet dessert to the next level. Top with a scoop of vanilla ice cream for a decadent treat that's perfect for one or two people!
Ingredients
2 tablespoons White Whole Wheat Flour
1 tablespoon plus 1/2 teaspoon Brown Sugar, divided
1/8 teaspoon Baking Powder
Pinch of Fine Sea Salt
2 tablespoons Milk, (use non-dairy for vegan)
1/8 teaspoon Vanilla Extract
1 tablespoon Grapeseed Oil (plus more for oiling the pan)
1 teaspoon Mini Semi-Sweet Chocolate Chips, (use non-dairy for vegan)
1/4 cup Frozen Berries, (do not thaw)
Optional Toppings
Ice cream, melted chocolate chips, whipped cream, yogurt
Instructions
Adjust your toaster oven's cooking rack to the bottom position, select the BAKE setting, and preheat to 350°F.
Lightly oil a 5-inch cast iron skillet, set aside.
In a small bowl whisk together the flour, 1 tablespoon brown sugar, the baking powder, and salt until no clumps remain.
Whisk in the milk, vanilla, and oil until smooth. Stir in the mini chocolate chips.
Pour batter into the prepared skillet. Top with frozen berries and sprinkle remaining 1/2 teaspoon of brown sugar over the fruit.
Bake until the cake is lightly golden, browned around the edges, and the fruit is bubbly about 20 to 24 minutes.
Allow the cake to cool until you can safely touch the skillet. Then add your favorite toppings and dig in!
Notes
If you are looking for a really sweet treat or plan to skip the ice cream/yogurt you can add up to an additional tablespoon of sugar to the batter.
*Do not substitute coconut oil, it will solidify when the batter is topped with frozen fruit.
You can also make this cake in a 7-ounce ramekin. Depending on your oven, it may take a little longer to cook. Start checking after 20 minutes, adding more time as needed.
Nutritional information is an estimate for a single Berry Skillet Cake without toppings.
Nutrition Information:
Yield:

1
Serving Size:

1 Mini Skillet Cake
Amount Per Serving:
Calories:

269
Total Fat:

15.3g
Saturated Fat:

2.1g
Cholesterol:

1.3mg
Sodium:

68.6mg
Carbohydrates:

31.6g
Fiber:

2.6g
Sugar:

18.5g
Protein:

3.6g