These mini cheese balls are a smaller version of everyone's favorite party snack. They're flavorful, customizable, and great for the holidays!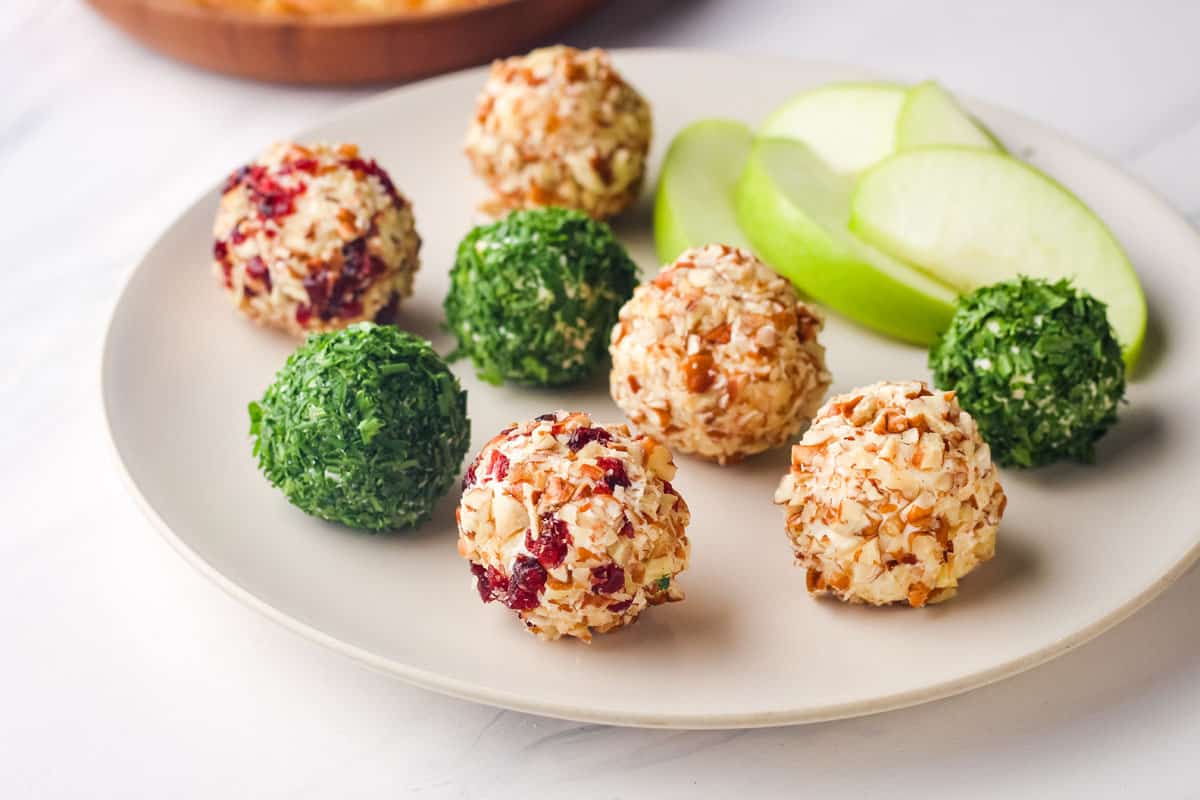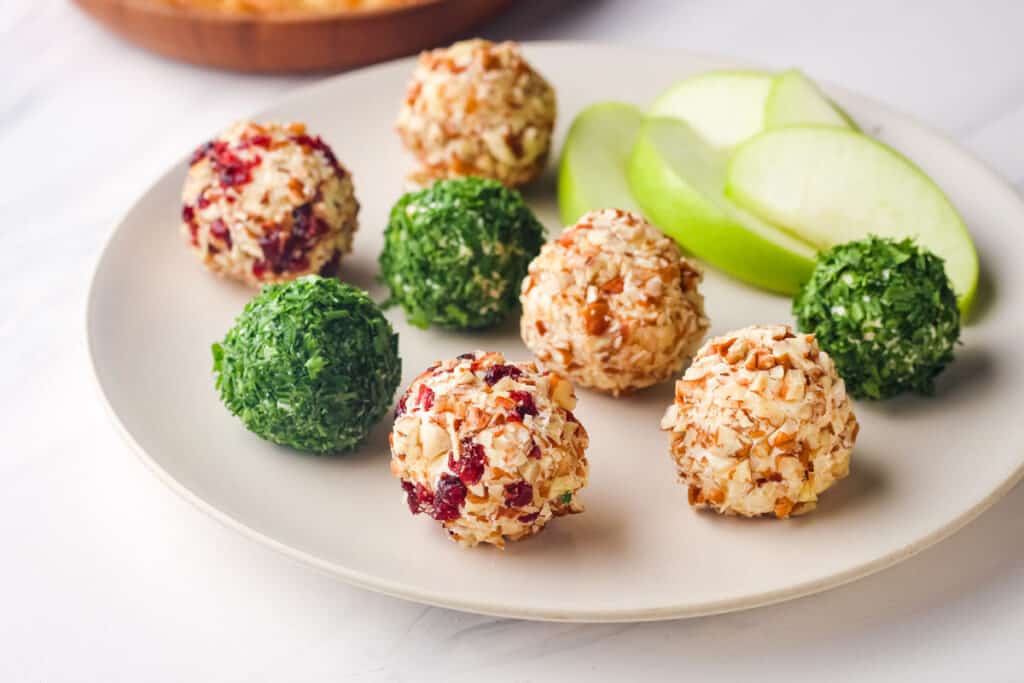 A cheese ball is always a fun addition to any snack table. But right now our parties are smaller, which means our cheese ball needs have also been downsized.
This small-batch recipe makes just 8 mini balls and can easily be divided in half for a party of one or two people.
My favorite thing about these petite cheesy bites is that you can make each one unique by using different coatings. From chopped nuts and fresh herbs to dried fruit, there are lots of opportunities to get creative.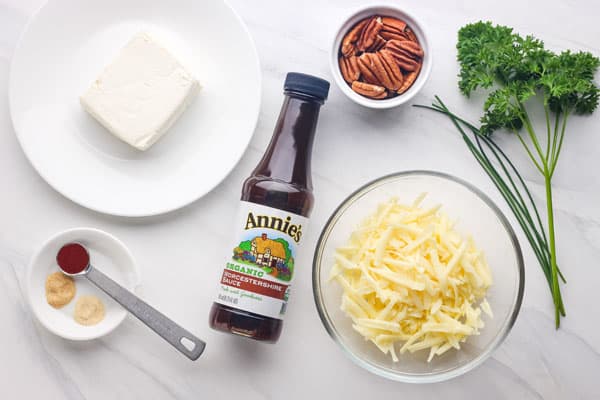 Ingredient Notes
Cream Cheese: Regular or Low Fat will work. Since you can't really taste the difference in a recipe like this, we like to use the lighter Neufchatel cheese.
Freshly Grated Cheese: For a classic flavor, use a sharp yellow or white cheddar. Looking to change things up? Try substituting pepper jack, Havarti, or Gouda.
Worcestershire Sauce: Adds a smoky savory flavor. To keep our cheese ball vegetarian we used Annie's brand. It's vegan and great to have on hand for making small batch Chex mix.
Hot Sauce: It won't make the cheese ball spicy, it just adds another layer of flavor.
Step By Step Directions
1. Start by beating the softened cream cheese until smooth, then stir in the shredded cheese and seasonings, and mix until combined.
If you have any issues with grip strength you can use a hand mixer or a mini food processor for this part.
2. Next, scoop the cheese mixture onto a lined pan and chill for at least 30 minutes to let the mixture firm up.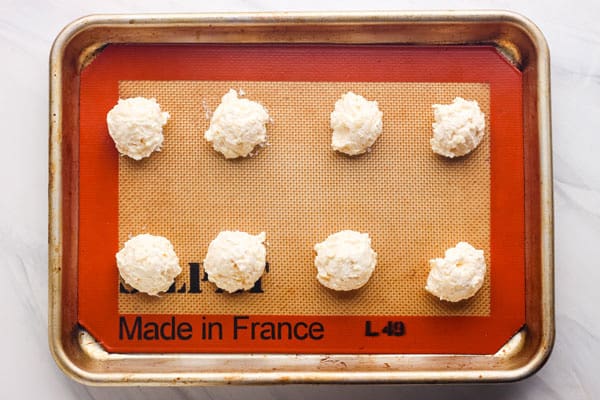 3. Finely chop the nuts and fresh herbs and place them on separate plates. Using clean hands, roll the chilled scoops into smooth balls and then roll in one of the coatings. Once all of them are coated, chill the mini cheese balls until you're ready to serve them.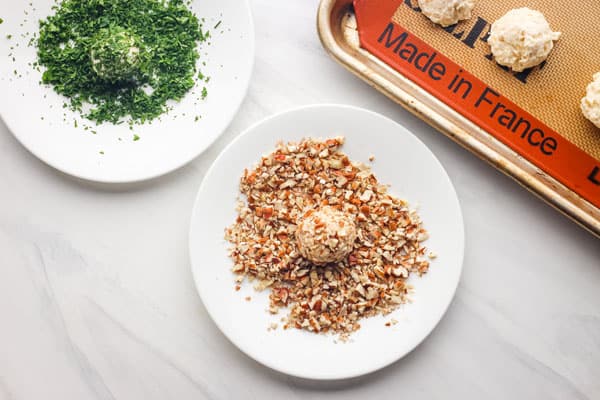 Recipe Tips
For a creamier cheese ball mix in 1 tablespoon of sour cream.
To add a little heat, mix in half a small jalapeno, seeded and diced.
For a crunchier texture stir in a few tablespoons of finely chopped bell pepper.
Frequently Asked Questions
Can I make these bite-size?
Each ball has enough cheese to top about 2 to 3 crackers (depending on your preferred cheese-to-cracker ratio). For smaller bites that can be eaten in a single mouthful use a teaspoon to scoop the balls.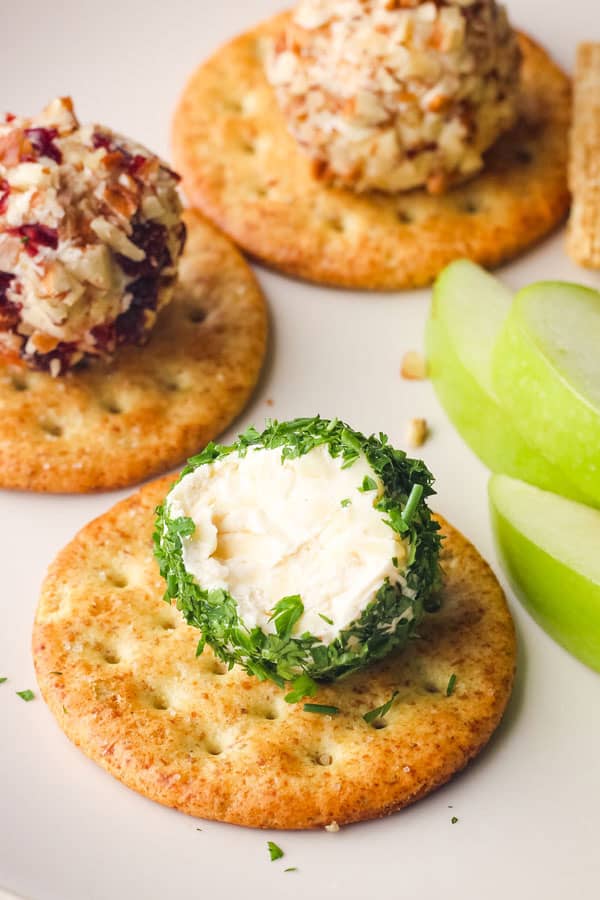 What should I serve with these mini cheese balls?
Crackers are the obvious option but you could enjoy them with baked pita chips, bagel chips, celery and carrot sticks, or my personal favorite – apple slices!
More Tasty Small Batch Appetizers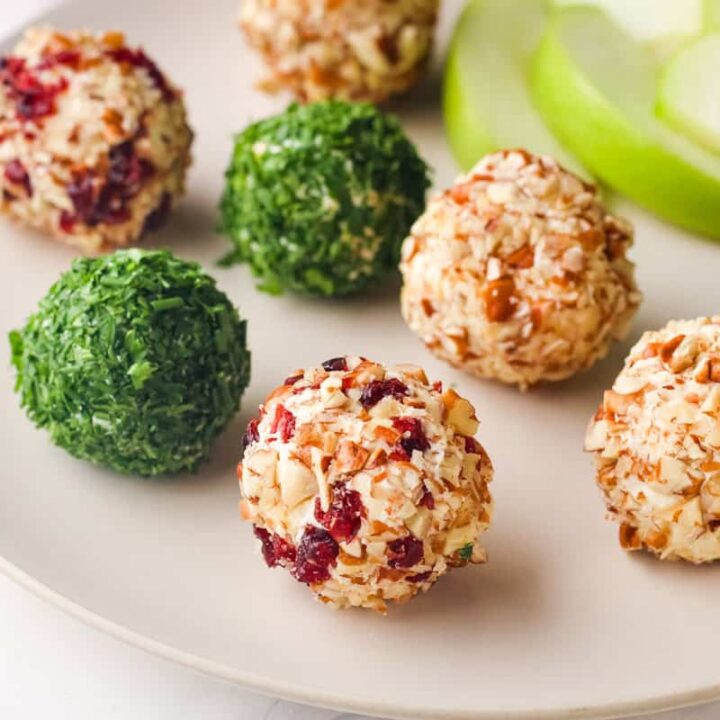 Mini Cheese Balls
Yield:
About 8 Mini Balls
The perfect appetizer for any occasion, these cute little cheese balls are always a hit. Feel free to mix things up and use a variety of different coatings like chopped pistachios, dried cranberries, or your favorite seasoning blend.
Ingredients
4 ounces (half a block) Cream Cheese or Neufchatel Cheese, softened
2 ounces (½ cup) Grated Sharp Cheddar Cheese
⅛ to ¼ teaspoon Vegetarian Worcestershire Sauce (we used Annie's)
⅛ to ¼ teaspoon Hot Sauce (like Tapatío)
⅛ teaspoon Garlic Powder
⅛ teaspoon Onion Powder
For Coating:
¼ cup Pecans Halves
¼ cup Loosely Packed Fresh Parsley and Chives
Instructions
In a medium bowl, beat the cream cheese until smooth using a spoon or rubber spatula. Add the grated cheese, Worcestershire sauce, hot sauce, garlic powder, and onion powder, and stir until blended.
Line a baking sheet with a silicone mat or parchment paper. Using a tablespoon or small cookie scoop, drop scoops of the mixture onto the prepared pan. Chill for at least 30 minutes.
Finely chop the pecans and the fresh herbs and place them onto separate plates or in small shallow bowls.
With clean hands, roll each cheese scoop into a smooth ball and then roll the ball in one of the coatings, gently pressing to get the pieces to adhere if needed.
Arrange balls on a plate and refrigerate until ready to serve or transfer to a covered container for longer storage.
Before serving, let the balls sit at room temperature for about 15 minutes to soften.
Notes
Flavor Adjustments: Worcestershire sauce has a strong savory flavor. If you're not a fan, use the smaller ⅛ teaspoon amount for a milder flavor. Ditto for the hot sauce.

Servings: The recipe makes about 8 individual cheese balls which I'd say is a good amount to feed 4 to 6 adults (since some will want more than one while others won't). You can divide the recipe ingredients in half to make less or double it to make more if needed.

Make-Ahead: You can make the coated balls up to 2 days in advance and store them refrigerated in a sealed container.
Nutritional Information is for one ball coated with chopped pecans. Coated with fresh herbs a single ball has 65 calories, 5.6 grams fat, and 3 grams protein.
Nutrition Information:
Yield:

8
Serving Size:

1 Mini Cheese Ball
Amount Per Serving:
Calories:

92
Total Fat:

8.2g
Saturated Fat:

3.8g
Cholesterol:

17mg
Sodium:

104mg
Carbohydrates:

1.4g
Fiber:

0.3g
Sugar:

0.6g
Protein:

3.4g