Toaster Oven Chocolate Cookies
Toaster Oven Chocolate Cookies are rich brownie-like cookies stuffed full of melty chocolate chips. The easy small-batch recipe makes just 6 indulgent cookies, so go ahead and splurge!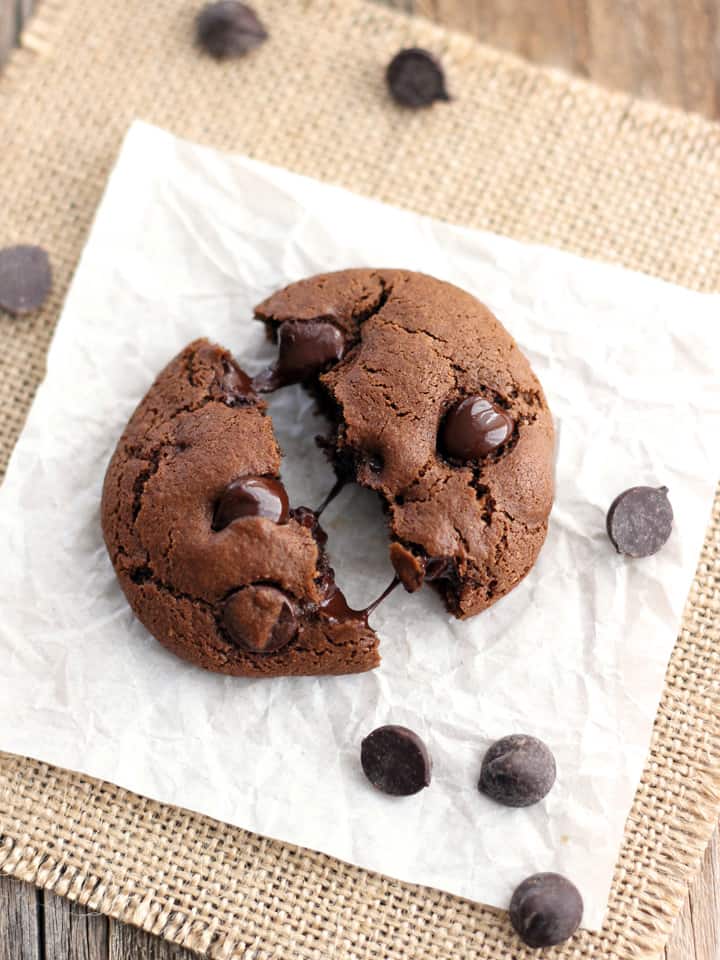 Can you bake cookies in a toaster oven? When we bought our first toaster oven, I couldn't wait to answer that question.
I won't leave you in suspense, the answer is 100% Y.E.S.! The only problem is if you're working with a large recipe, it can take forever to bake all of the cookies.
That's why we prefer small batch cookie recipes that make a dozen cookies or less. They also help with keeping my sweet tooth in check.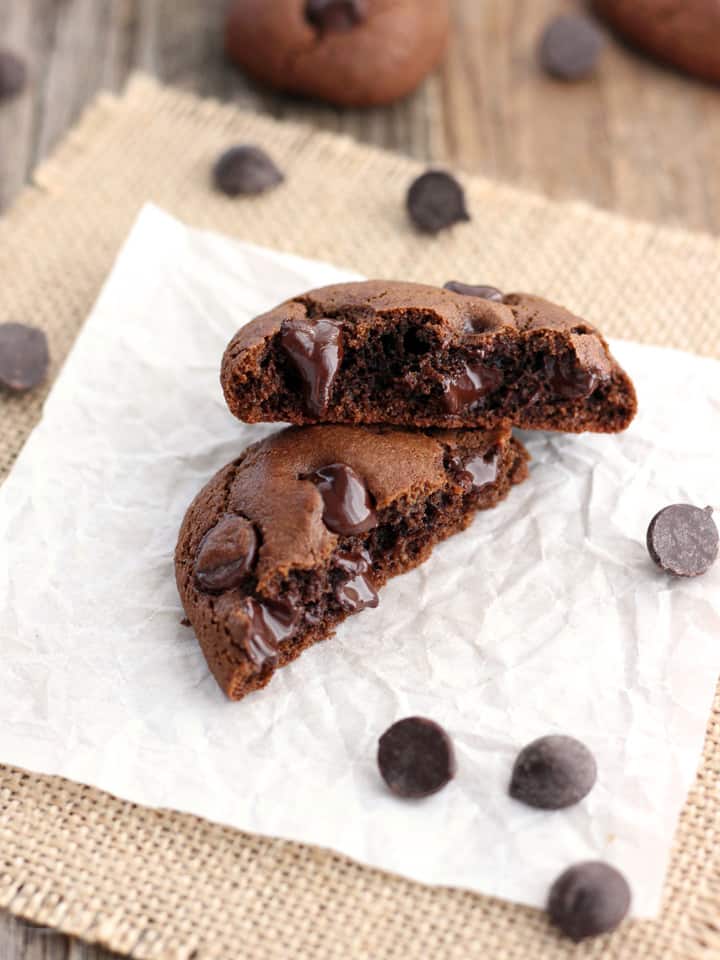 If you love cookies as much as we do, you should check out these spicy triple ginger cookies or this toaster oven oatmeal cookies recipe (it's great for using up a leftover egg white).
We've even got a small batch cake mix cookie bars recipe for those times when you're super short on ingredients.
When it comes to chocolate recipes though, nothing tastes better than these Toaster Oven Chocolate Cookies. They're rich, fudgy, and so easy to make.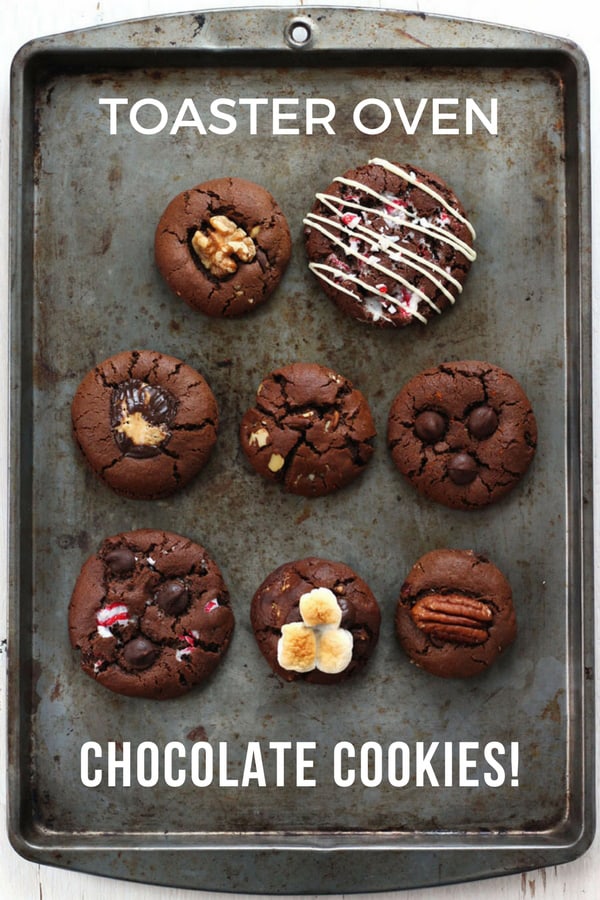 We like these tasty cookies so much, we came up with 8 ways to customize them using different mixins like mini marshmallows and crushed peppermints. You can see all the flavor variations here: Small Batch Chocolate Cookies (8 Ways).
Recipe Tips
Add More Flavor: The dough comes together quickly and can be baked right away. BUT the cookies will have a richer chocolate flavor and crispy edges if you chill the dough before baking. Even just 10 minutes makes a huge difference.
Make Them Mini: If you'd rather have 12 mini cookies instead of 6 regular-sized ones, scoop the dough into 1/2 tablespoon-sized balls and bake for 5 to 6 minutes.
Get Crispy: If you like the crackly edges of a brownie, flatten the dough balls with the palm of your hand right before baking. You'll get a crispier cookie with less of a fudgy middle.
Bake a Test Cookie: A test cookie lets you 'test' out the recipe in your little oven before you bake a whole batch. That way you know if your oven runs hot or if you should use a different rack placement. For directions on baking a test cookie and more check out these 5 Tips That Will Make You a Toaster Oven Cookie Baking Expert.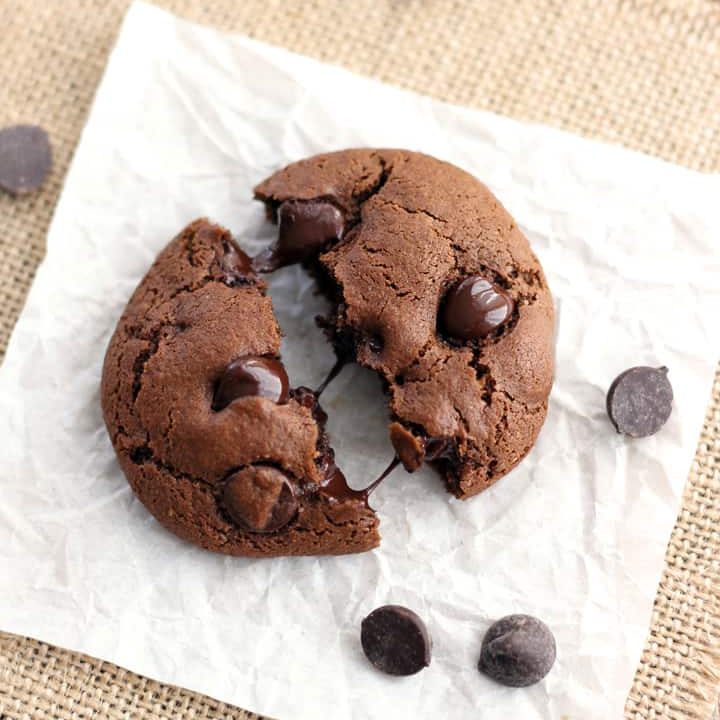 Toaster Oven Chocolate Cookies
A small batch of brownie-like cookies that are crispy on the outside, soft on the inside, and stuffed with melty chocolate chips!
Ingredients
1 1/2 tablespoons Unsalted Butter, softened
3 tablespoons Brown Sugar (see note)
1 large egg yolk, reserve white for another use
1/4 teaspoon Vanilla Extract
2 tablespoons Unsweetened Baking Cocoa, (not Dutch-processed)
1/4 cup White Whole Wheat Flour (see note)
1/4 teaspoon Baking Soda
Pinch Fine Sea Salt
3 tablespoons Chocolate Chips, divided
Instructions
In a medium bowl cream the butter and sugar with a hand-held mixer until light and fluffy (about 2 minutes).
Mix in the egg yolk and vanilla.
Place the mixer on the lowest speed and add cocoa powder, flour, baking soda, and salt. Mix just until combined. Stir in 2 tablespoons of the chocolate chips.
Chill cookie dough in the fridge for at least 10 minutes.
While the dough chills preheat your toaster oven to 350°F. Lightly oil your cookie sheet or line with a silicone baking mat.
Roll chilled dough into tablespoon-sized balls. Place at least 2 inches apart on the prepared pan. Gently press the remaining chocolate chips into the top of the dough.
Bake until the cookies are set but the centers are still puffed and soft, 5 to 7 minutes. The cookies will continue to bake as they cool.
Allow cookies to cool for a few minutes on the pan before transferring to a cooling rack.
Notes
Sugar: We've also made this recipe using granulated white sugar and coconut sugar. Brown sugar gives them the best chocolate flavor but the other sugars work well too.
Flour: An equal amount of All-Purpose Flour can be substituted.
Convection Toaster Ovens: Reduce the temperature to 325°F and begin checking on your cookies after 5 minutes adding more time as needed.
To make 12 smaller cookies roll chilled dough into 1/2 tablespoon-sized balls and bake for 5 to 6 minutes.
Recipe adapted from the AARP Betty Crocker Cooking for Two Cookbook.
Nutrition Information:
Yield:

6
Serving Size:

1 cookie
Amount Per Serving:
Calories:

104
Total Fat:

5.6g
Saturated Fat:

3.2g
Cholesterol:

38.4mg
Sodium:

106.7mg
Carbohydrates:

14.2g
Fiber:

1.5g
Sugar:

9g
Protein:

1.7g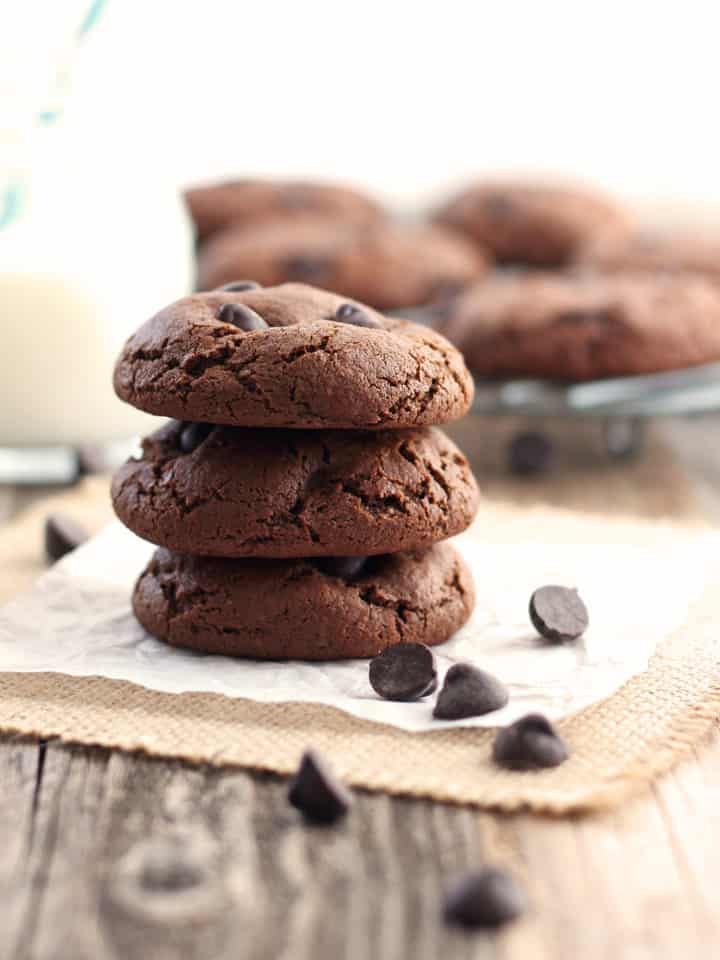 Whatever way you choose to make them, we hope you enjoy these indulgent chocolate cookies!