Six splurge-worthy brownie-like cookies filled with rich dark chocolate chips. Hey, chocolate lovers this Toaster Oven Double Chocolate Cookies recipe is for you!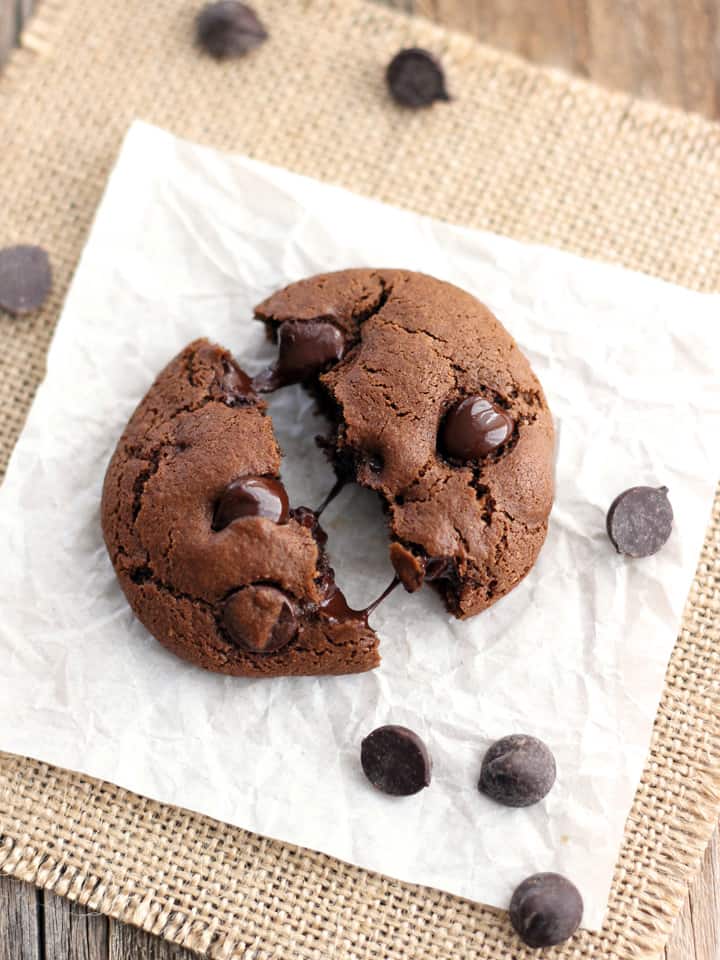 (In addition to a yummy cookie recipe, we're sharing about a fun cooking for two cookbook and including links for purchase. As an Amazon Associate we earn commissions from qualifying purchases.)
Recently, Tim suggested we add a little chocolate to the site.
I know a lot of people are fans of chocolate cookies (I live with one of those people) so last week I set out to create a nice chocolaty toaster oven cookie recipe.
But I'm far from experienced in the double chocolate baking department.
So rather than try to create an entirely original recipe with my limited cocoa experience we adapted a recipe from this AARP Cooking for Two Cookbook.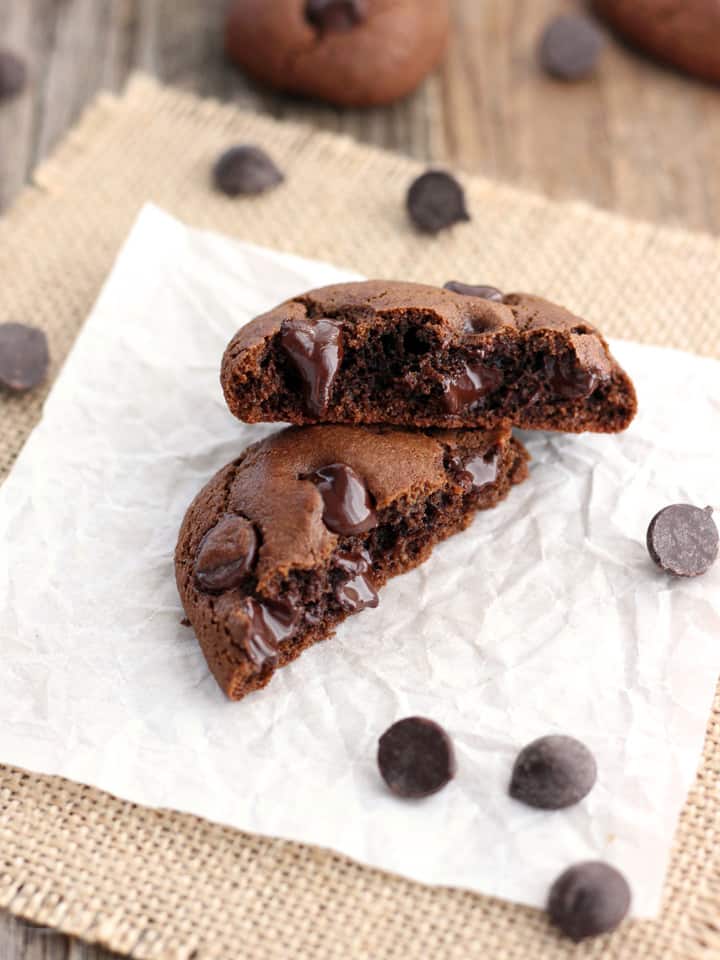 We tested a few batches swapping ingredients like white whole wheat flour and coconut palm sugar.
Then, we whittled down the recipe size just a tiny bit more. The original one made 2 dozen mini cookies, a dangerously tempting amount of fresh cookies.
One last bake of the final recipe and I was sure you would enjoy this small batch of straight-up double chocolate chip cookie deliciousness!
December 2018 Update: Learn how to turn this easy small batch cookie recipe into 8 custom flavors here!
~ Keep scrolling for toaster oven cookie baking tips after the recipe ~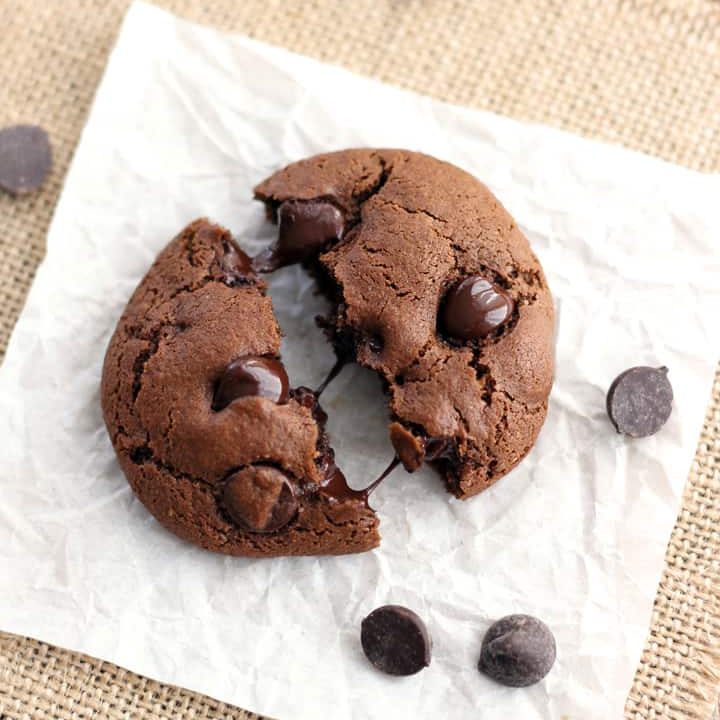 Toaster Oven Double Chocolate Cookies
A small batch of brownie-like cookies that are crispy on the outside, soft on the inside and filled with rich dark chocolate chips.
Ingredients
1 1/2 tablespoons unsalted butter, softened
3 tablespoons coconut palm sugar
1 large egg yolk
1/4 teaspoon pure vanilla extract
2 tablespoons unsweetened baking cocoa, (not Dutch-processed)
1/4 cup white whole wheat flour, (or all-purpose)
1/4 teaspoon baking soda
Pinch of fine grain sea salt
3 tablespoons dark chocolate chips, divided
Instructions
In a medium bowl beat the butter and sugar with a hand-held mixer until light and fluffy (about 2 minutes).
Beat in egg yolk and vanilla.
Place mixer on lowest speed and add cocoa powder, flour, baking soda and salt. Mix just until combined. Stir in 2 tablespoons of the chocolate chips.
Chill cookie dough in the fridge for at least 10 minutes.
While dough chills preheat toaster oven to 350 degrees F and lightly oil your cookie sheet or line with a silicone baking mat.
Roll chilled dough into tablespoon-sized balls and place on prepared cookie sheet at least 2 inches apart (flatten* if desired). Gently press remaining chocolate chips into the top of the dough.
Bake for 5 to 7 minutes until the cookies are set but the centers are still puffed and soft. Allow cookies to cool for 2-3 minutes on cookie sheet before transferring to a cooling rack.
Notes
To make 12 smaller cookies roll chilled dough into 1/2 tablespoon-sized balls and bake for 5 to 6 minutes.
Recipe adapted from the AARP Betty Crocker Cooking for Two Cookbook.
Recommended Products
As an Amazon Associate and member of other affiliate programs, I earn from qualifying purchases.
Nutrition Information:
Yield:

6
Serving Size:

1 cookie
Amount Per Serving:
Calories:

104
Total Fat:

5.6g
Saturated Fat:

3.2g
Cholesterol:

38.4mg
Sodium:

106.7mg
Carbohydrates:

14.2g
Fiber:

1.5g
Sugar:

9g
Protein:

1.7g
Nutritional information provided is an estimate generated by an online calculator. It should not be considered a substitute for advice from a professional nutritionist or your doctor.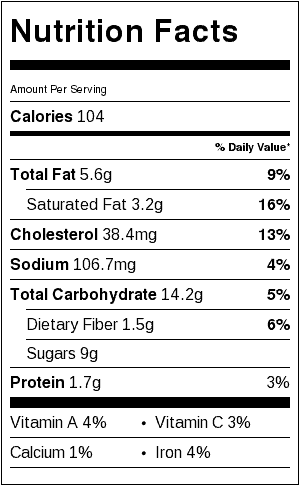 3 More Ways to Bake Your Toaster Oven Double Chocolate Cookies
Bolstered by my chocolate baking success and feeling an America's Test Kitchen vibe we thought it would be fun to try baking the final recipe a couple of different ways and see how it changed the cookies.
The Impatient Batch
Hate waiting for cookie dough to chill?
The just-mixed dough will be super sticky but you can use a measuring spoon to drop tablespoon-sized mounds onto a silicone baking mat lined cookie sheet and bake them.
Verdict: Actually quite tasty* they were a little more blob shaped but texture wise the cookies were soft with just a tiny crispy edge and fudgy middle.
* When tasted next to cookies made with dough that had chilled for 10 minutes it was clear patience gets rewarded. There was a greater contrast of crispy edge to soft fudgy middle and the chocolate flavor was deeper and richer.
You won't believe what a difference 10 minutes can make!
The Minis Batch
If you'd rather have 12 mini cookies instead of 6 medium-sized ones, scoop the dough into 1/2 tablespoon sized balls and bake 5 to 6 minutes.
Verdict: Yummy little cookies, but that was a problem for us. Their tiny size can trick you into eating way more of them then you should – one of us may have eaten 6 in one sitting without noticing it.
The Crispy Edges Batch
If you're the kind of person who likes the crackly edges of a brownie make the cookie dough as written but flatten the dough balls with the palm of your hand just before baking.
Verdict: You'll get a crispier cookie with more crinkled brownie-edge texture and less soft middle. This was Tim's favorite batch.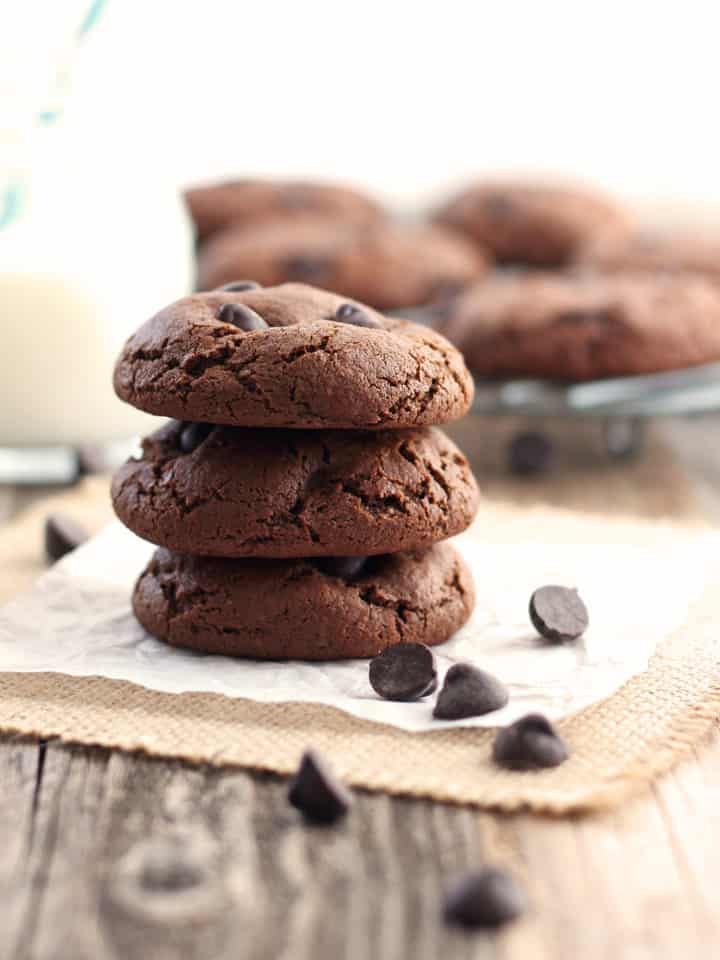 However you choose to make them we hope you enjoy these indulgent toaster oven double chocolate cookies!