Tangy and refreshing, this easy Tzatziki Sauce For Two tastes delicious paired with raw or roasted vegetables, baked pita chips, or falafel.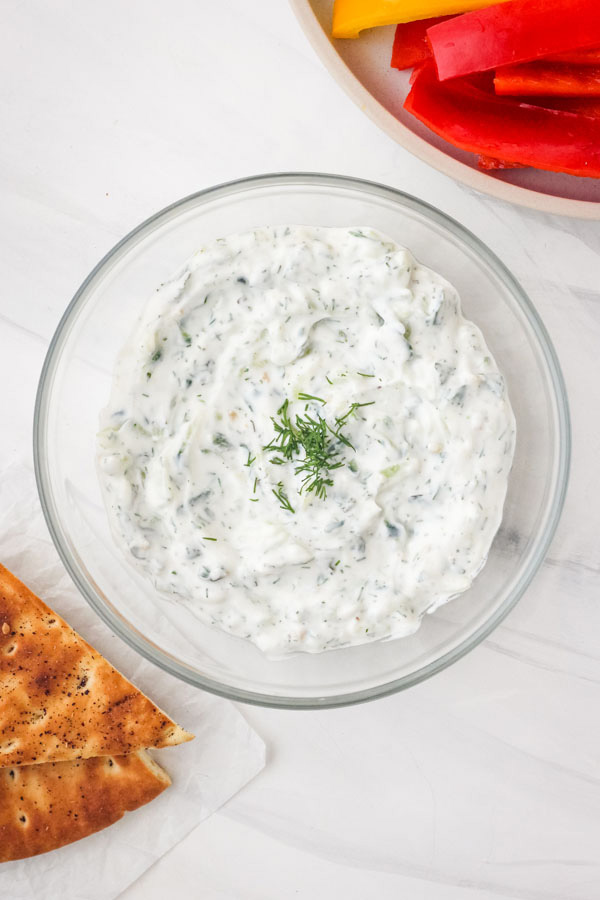 Are you a fan of tzatziki sauce? The refreshing combo of yogurt + cucumber + dill is one of my husband's favorites.
Unfortunately, the pre-made stuff comes in containers that are too large for even a die-hard fan like Tim to finish before it spoils.
If your household also includes a tzatziki addict, I've got some good news! Whipping up a small batch at home is easy and takes just a few minutes to throw together.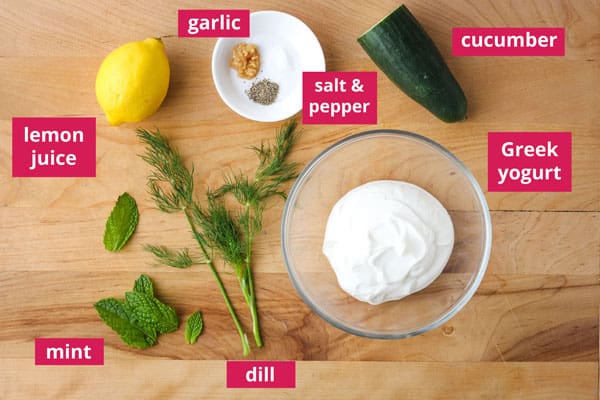 Recipe Notes
Our simple (#notauthentic) tzatziki recipe is made with cucumber, Greek yogurt, garlic, lemon juice, fresh herbs, and a little salt and pepper.
Cucumber: An English cucumber (aka Hothouse cucumber) works best because it has a thinner skin and fewer seeds. If you're using a traditional cucumber, you'll want to scoop out the seeds before grating.
Herbs: Fresh dill and mint taste best but dried herbs can also be used.
Related Reading >>> How to Store Fresh Herbs So They Last Longer
Step-By-Step Instructions
1. Start by grating the piece of cucumber using the large holes on a box grater. Then gather the shredded cucumber in a clean kitchen towel and twist it to squeeze out the excess water.
If you've got any issues with grip strength, you can use a potato ricer or place the shredded cucumber in a mesh strainer and press on it a few times.
Also, if you don't have a grater you can finely dice the cucumber. The dip will be chunkier but still tasty.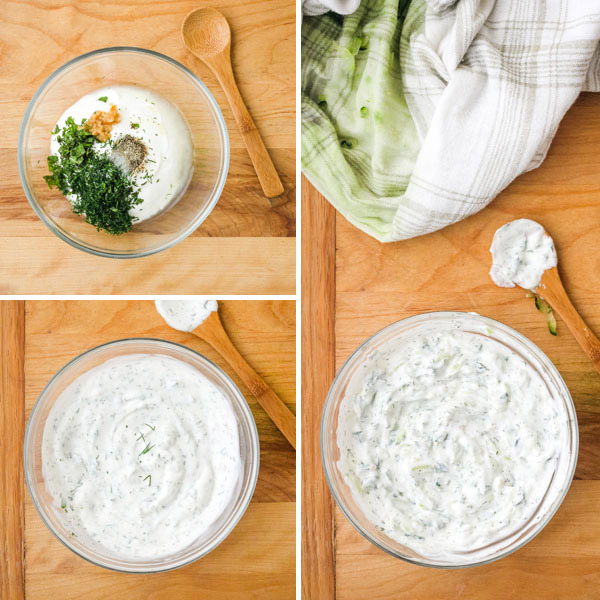 2. Next, combine the yogurt, lemon juice, dill, and mint in a medium bowl. Stir in the cucumber and a pinch or two of salt and black pepper.
Seasoning Tip: I like to go easy on the salt and pepper at first as the flavors will intensify while the dip chills.
3. Now comes the hard part, waiting for it to chill. If you don't have time to wait, you can serve the dip without chilling it just won't have the same depth of flavors.
To chill the dip, cover the bowl and refrigerate for at least one hour to allow the flavors to combine.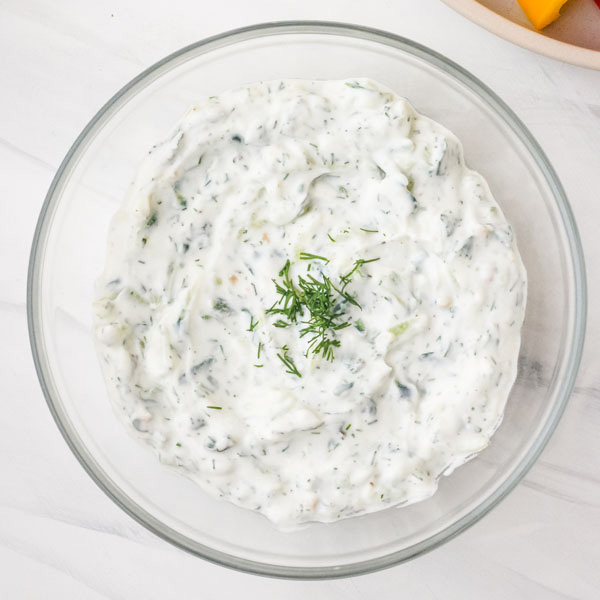 4. Depending on how long your dip has chilled you may see some water on top of it. You can just drain it off and give the dip a good stir.
Before serving, give the dip one last taste and adjust the seasoning with salt and pepper or add a little richness with a quick drizzle of extra virgin olive oil.
While tzatziki makes a great dip for veggies (like these sweet potato rounds or Brussels sprouts) and baked pita chips, we've been loving it generously dolloped on these Zucchini and Hummus Pita Sandwiches.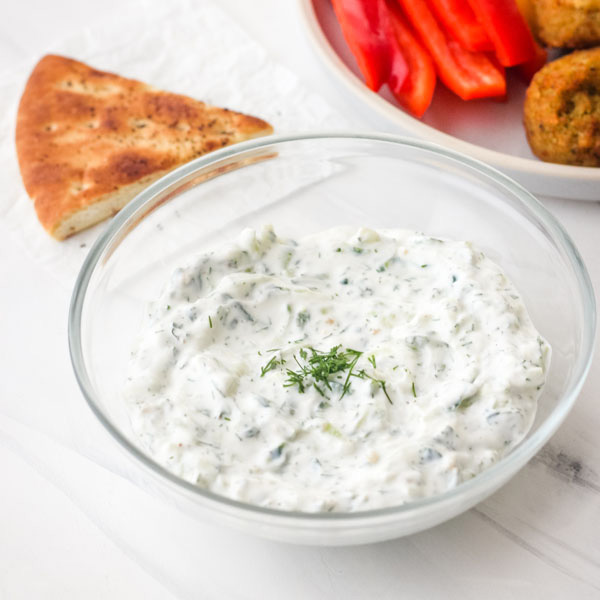 Tips and Variations
Feel free to consider this recipe a starting point for your personal saucy creation. Listen to your taste buds and highlight the flavors that you enjoy the most.
Craving more tang? Add extra lemon juice, lemon zest, or a splash of white vinegar.
Want extra bite? Increase the garlic.
Looking for something richer? Drizzle a little extra virgin olive oil over the dip before serving.
Not a fan of mint? Leave it out!
More Small Batch Sauces and Dips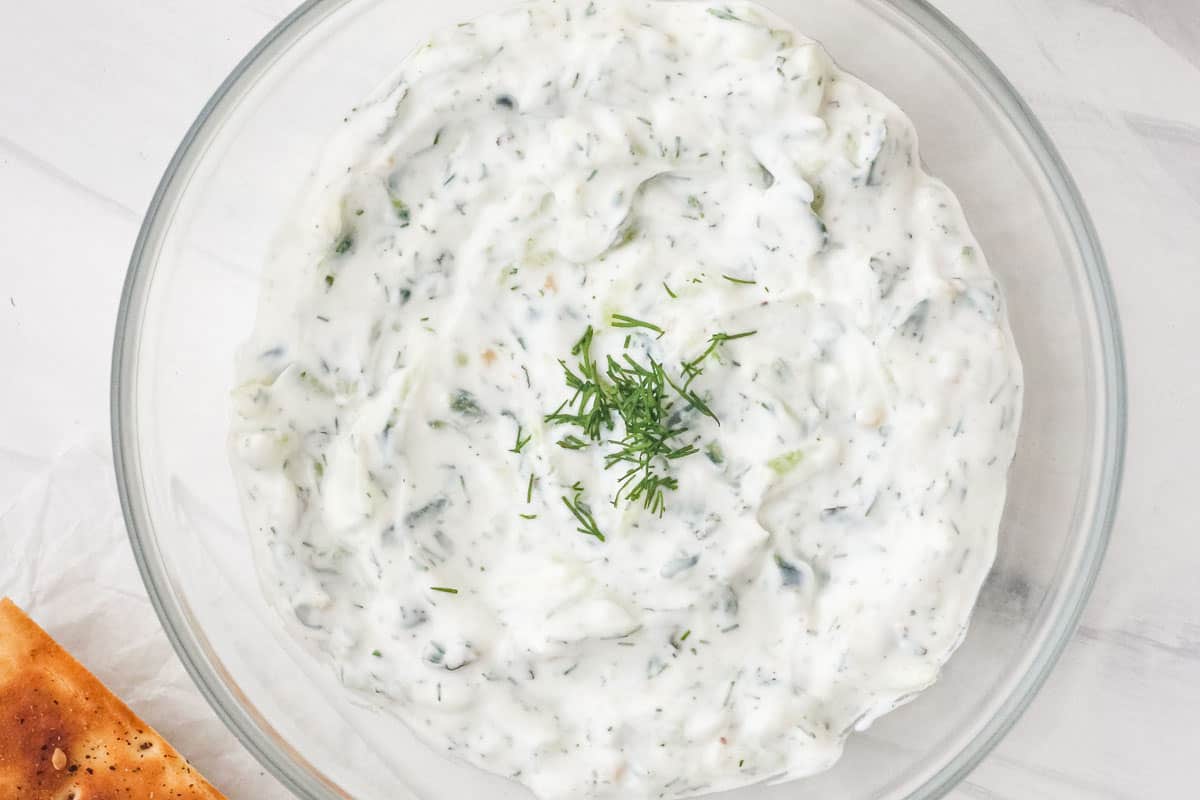 Tzatziki Sauce For Two
Total Time:
1 hour
15 minutes
An easy small-batch version of your favorite creamy cucumber yogurt sauce.
Ingredients
1/4 English Cucumber (about 2.5 to 3 ounces)
1/2 cup Greek Yogurt (we use 2%)
1 teaspoon Lemon Juice
2 teaspoons Fresh Dill Weed, finely chopped (substitute 1/2 teaspoon dried dill)
1 teaspoon Fresh Mint Leaves, finely chopped (substitute 1/4 teaspoon dried mint)
1/4 teaspoon Minced Garlic (about half a clove)
Fine sea salt
Ground black pepper
Instructions
Grate the cucumber using a box grater. Gather shredded cucumber in a clean kitchen towel and twist to squeeze out excess water.
In a medium bowl, combine the yogurt, lemon juice, dill, mint. Add the cucumber and stir well. Taste and add salt and pepper as desired. (We usually add a few pinches of each)
Cover bowl and refrigerate for at least one hour to allow the flavors to combine before devouring.
Notes
Store leftover dip refrigerated in a sealed container for up to 3 days.
Nutrition Information:
Yield:

2
Serving Size:

Half of Recipe
Amount Per Serving:
Calories:

53
Total Fat:

1.2g
Saturated Fat:

0.9g
Cholesterol:

6mg
Sodium:

53mg
Carbohydrates:

4.6g
Fiber:

0.4g
Sugar:

3g
Protein:

6.3g