Grilled Cheese with Apple and Havarti
Grilled Cheese with Apple and Havarti are the perfect quick dinner for two. These easy toaster oven sandwiches come together in less than 15 minutes!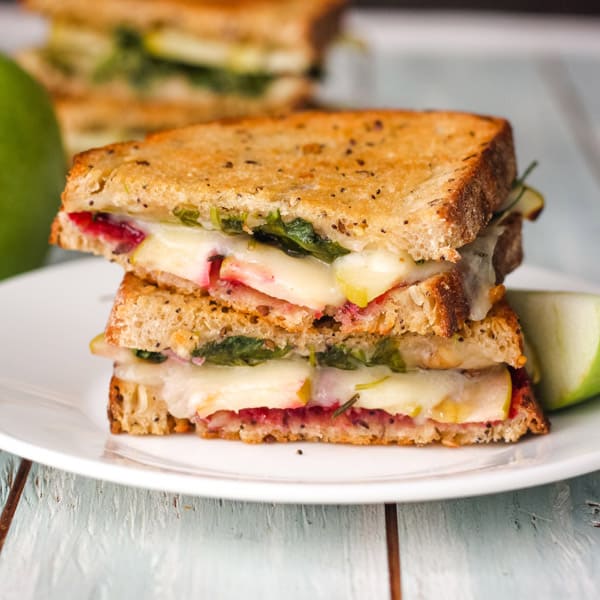 Are you feeling overwhelmed by this year's Holiday Season To-Do List too?
For hectic times like these, sandwiches are my go-to meal. They're the trifecta of low-stress dinners: FAST. EASY. FILLING.
Right now, we've got this ooey-gooey grilled cheese with apple and Havarti on repeat. It's satisfying without being heavy and has a great Fall Harvest Vibe going on.
The recipe's super easy to customize. Here's what we put in ours:
Crusty whole grain bread slices.
Good cheese – I like a creamy Havarti but smoked Gouda or even sharp cheddar would taste fantastic.
Half a crisp Granny Smith apple, the thin slices soften slightly during cooking.
Buttery walnuts for an unexpected crunch.
Greens! Peppery arugula is my favorite but baby spinach is a great option too.
Oh and fresh rosemary if you've got it on hand from making these snackable rosemary cashews.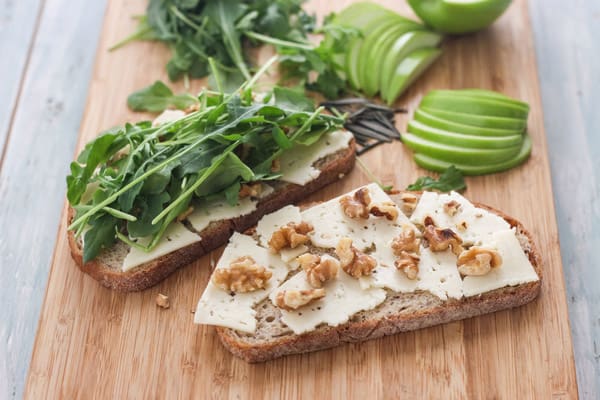 Now, let's talk condiments.
My husband likes a big smear of stone ground mustard on his sandwich. If you like things sweeter, apricot preserves or honey are excellent choices too.
During the holidays, I always reach for the leftover cranberry sauce or these balsamic roasted cranberries. The combination of apples + cheese + cranberries is irresistible!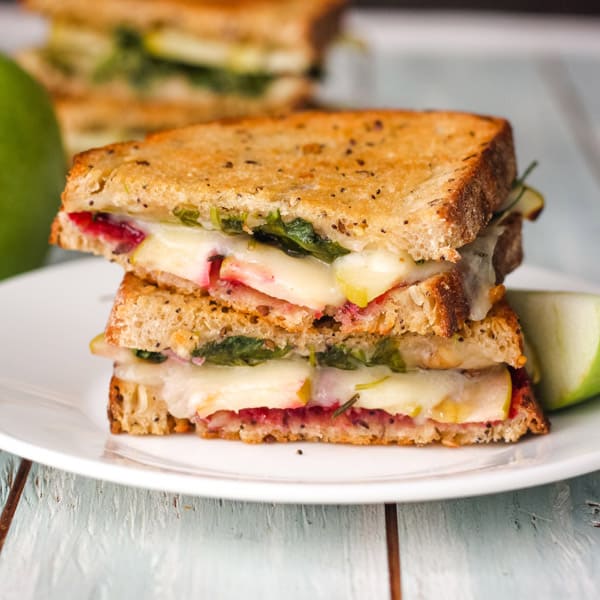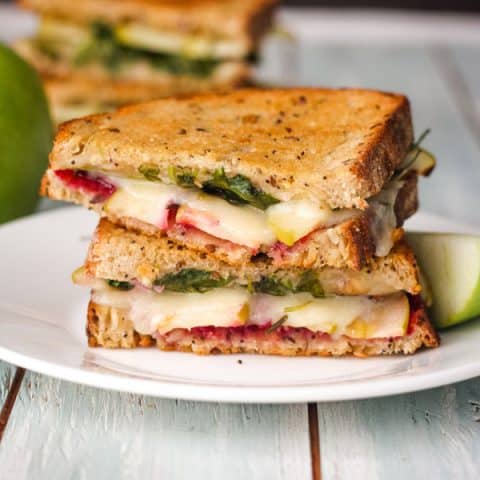 Grilled Cheese with Apple and Havarti
A grown-up grilled cheese with crisp apple slices, arugula, and walnuts.
Ingredients
4 slices Whole Grain Bread
4 teaspoons Salted Butter, softened
3 slices Havarti Cheese
1/4 cup Walnuts, chopped
1 cup Baby Arugula
1/2 Granny Smith Apple, seeded and thinly sliced
Optional Condiments:
Stone Ground Mustard
Apricot Preserves
Honey
Instructions
Adjust toaster oven cooking rack to the lowest position. Place an ungreased baking sheet inside the toaster oven and preheat to 450°F on the "Bake" setting.
Butter two bread slices and place buttered-side-down on a cutting board. Top each with a slice of cheese and layer with the walnuts, arugula, and apple slices. Tear the last slice of cheese into pieces and distribute evenly across both sandwiches. Spread remaining bread with your condiment of choice, place on top and butter outsides.
Using oven mitts, carefully remove the preheated pan. Place sandwiches on the pan and return to the toaster oven.
Cook sandwiches for about 4 to 5 minutes. Carefully remove the pan, flip sandwiches with a spatula and return to the toaster oven. Cook until the bread is golden brown and the cheese is melted about 3 to 4 minutes.
Cool slightly, then devour.
Nutrition Information:
Yield:

2
Serving Size:

1 Grilled Cheese
Amount Per Serving:
Calories:

419
Total Fat:

21.3g
Saturated Fat:

11.8g
Cholesterol:

48mg
Sodium:

497mg
Carbohydrates:

38.1g
Fiber:

11.7g
Sugar:

10.3g
Protein:

16.7g
More Vegetarian Sandwiches
During the summer, these Red Pepper, Carrot, and Hummus Sandwiches or Spicy Chickpea Edamame Salad Pitas are my go-to favorites.
In the Spring, when leftover hard-boiled eggs are easy to come by treat yourself to a Sriracha Egg Salad Sandwich (With Garlic Kale Chips). They're spicy, creamy and good for you too!
But in the cooler fall and winter months, nothing beats a warm and comforting toaster oven grilled cheese sandwich.
If you haven't been using your toaster oven to make grilled cheese, you're missing out.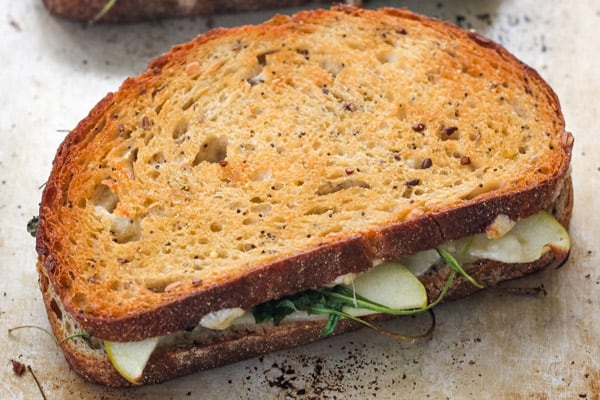 The bread gets golden and toasted while the filling is perfectly warmed through. Plus, once you get the timing down for your little oven you barely have to pay attention while it cooks.
4 Toaster Oven Grilled Cheese Tips
Preheat your pan. You should hear a sizzle (just like the griddle) when you add the sandwich to the pan.
Use a good melty cheese like Havarti or provolone. Avoid shredded cheese, it tends to melt into the bread and disappear.
Don't skip the flip. Flipping the sandwich halfway through the cooking time will ensure even browning and melting.
Layer on the flavor. Feel free to get creative and add your favorite condiments, vegetables, nuts, and fruit.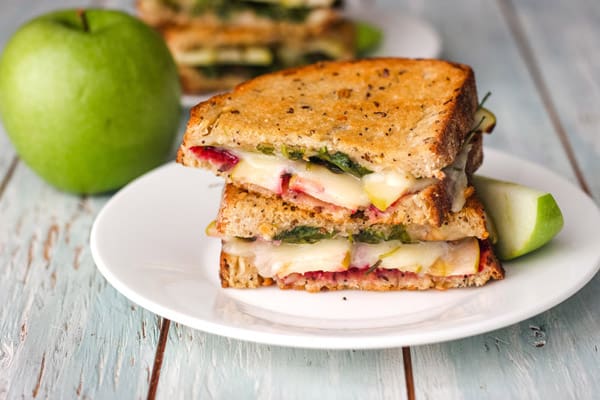 Happy Cooking!