Balsamic Roasted Cranberries
Sweet, tart and tangy these Balsamic Roasted Cranberries make a delicious holiday side or cheese board addition. They're perfect for any special occasion!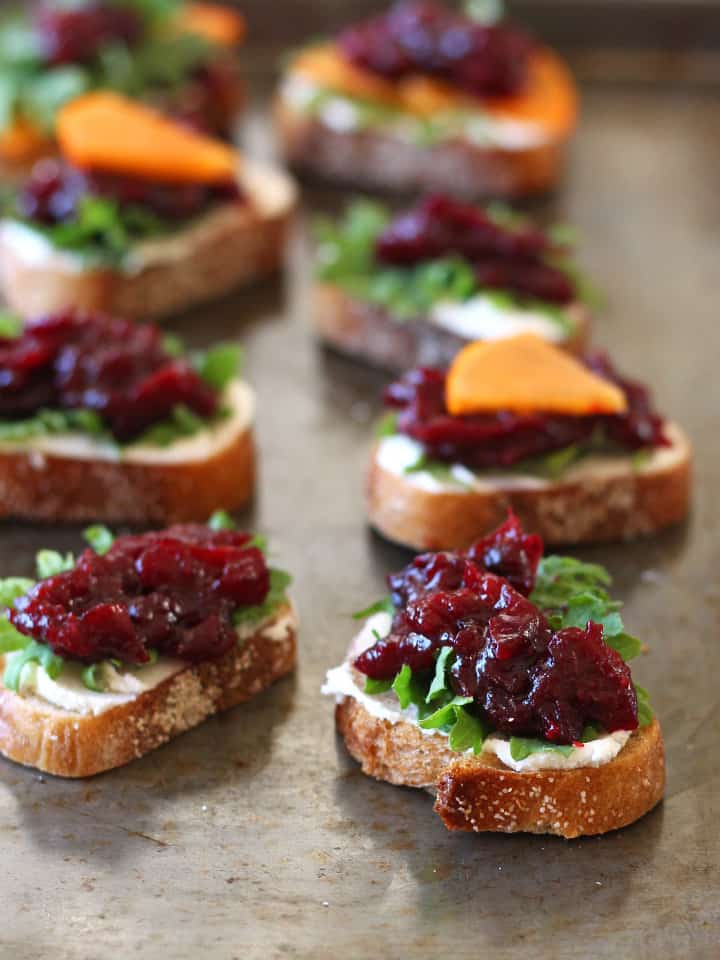 Not Your Mom's Cranberry Sauce
If you're a fan of sugary cranberry sauce, this recipe might not be for you. It's lighter on the sweet, heavier on the tart, and even has a dash of tangy.
We usually make it for Thanksgiving and Christmas. The leftovers are great for topping a plate of roasted sweet potato rounds or slathering on a Havarti grilled cheese sandwich.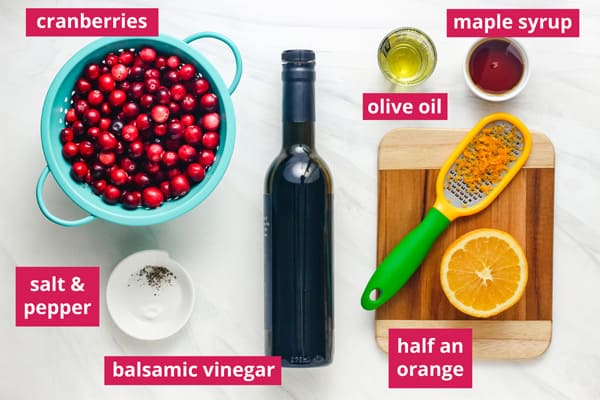 Recipe Ingredients
Similar to roasting vegetables, cooking cranberries at a high heat concentrates their flavor. A splash of balsamic vinegar, olive oil, and bright citrus (juice + zest) balances out the maple syrup-sweetened cranberries.
How to Make Balsamic Roasted Cranberries
There are just a few steps to make this impressive cranberry condiment:
Toss everything into a baking dish, mix, and cover.
Roast the cranberries, stirring them about every 5 to 6 minutes until they have popped to your liking.
Let the sauce cool, it'll thicken up more.
Try to stop yourself from eating the whole dish with a spoon.
Give up and make a second batch!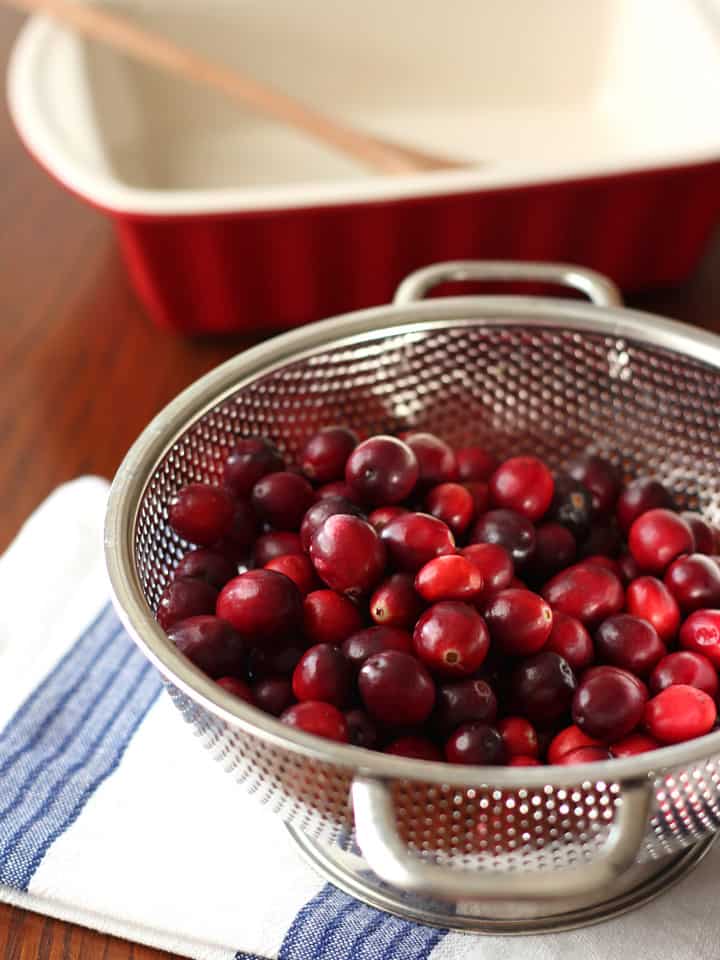 Cranberry Roasting Tips
Tip #1: Rinse Your Cranberries. Although they're sold in a bag, fresh cranberries have not been washed.
Before you get cooking, add them to a colander and give them a quick rinse under cool water. Pour the cranberries onto a clean towel and dry them well.
Lastly, pick out any sad-looking squishy ones.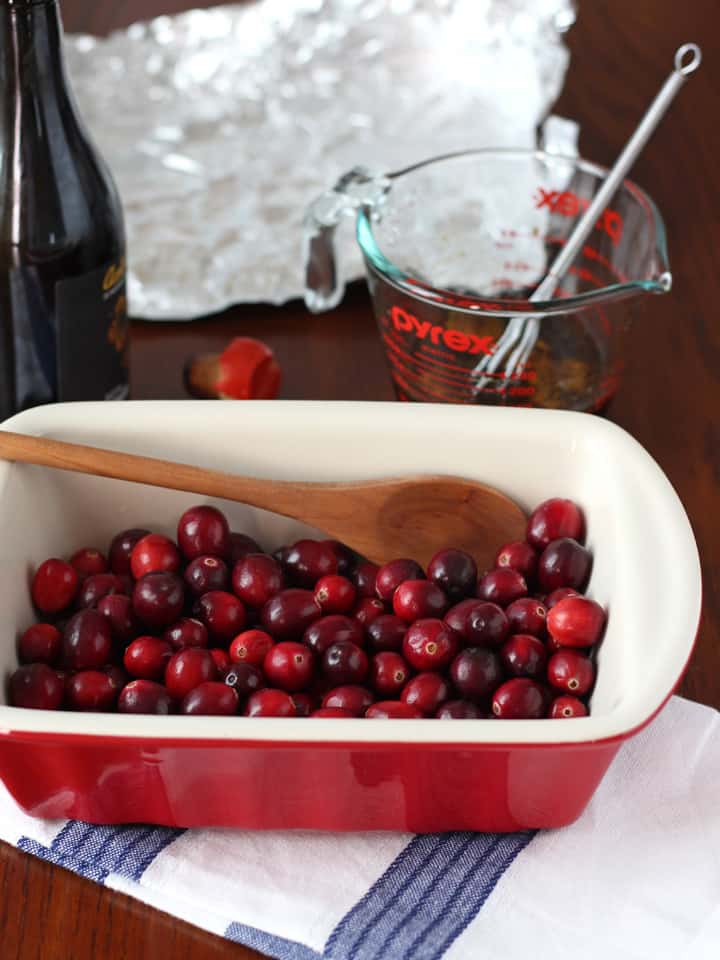 Tip #2: Keep Things Clean. As the cranberries cook they'll pop and spray juice. To keep from covering your oven or toaster oven in sticky cranberry spray use a lidded baking dish or cover your pan.
Also, one reader mentioned they had an issue with the sauce bubbling over during cooking.
We use a 1.5-quart baking dish or our 2-quart dutch oven to make the recipe and haven't run into this ourselves. But if your baking dish is smaller, you might want to put it on a sheet pan to catch any drips.
Tip #3: Don't Fear The Liquid. At some point, it's going to feel like there's too much liquid. At least that's how I felt the first time making this dish.
The picture above is from halfway through the cooking time: pretty unpopped cranberries and LOTS of liquid.
Hang in there! Once the cranberries have popped take the sauce out of the oven and let it rest for about 5 minutes. The natural pectin in the cranberries will cause them to thicken right up and it should look like the photo below.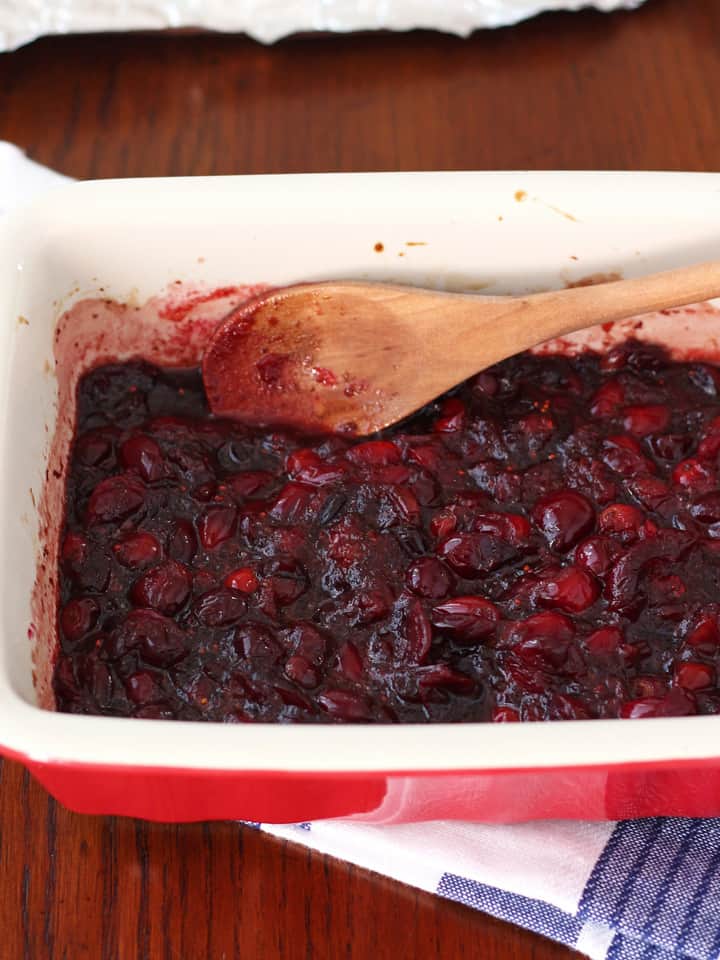 Frequently Asked Questions
Can I make this recipe ahead of time?
Yes! The cooked and cooled sauce can be refrigerated for 3 to 4 days or frozen for up to 3 months.
We like to freeze the cranberries in small cubes (or in an ice cube tray). It makes it easy to grab just a few tablespoons at a time. To defrost the sauce, leave the cubes in the fridge overnight or microwave a cube for 15 to 30 seconds.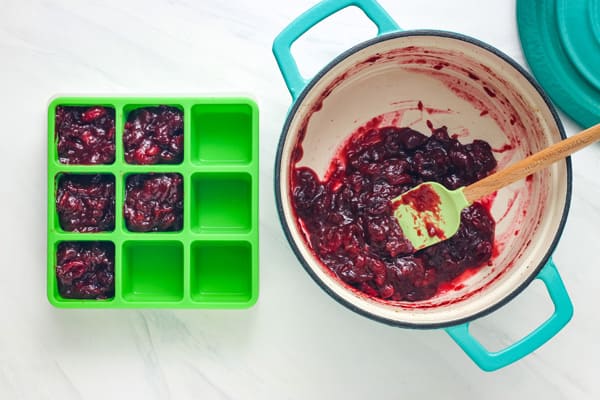 Do I have to use fancy/expensive vinegar?
An aged vinegar that has a richer flavor will taste the best. That said, we've used a $3 balsamic vinegar from Trader Joe's and the cranberries still tasted great. The vinegar flavor was just a little sharper.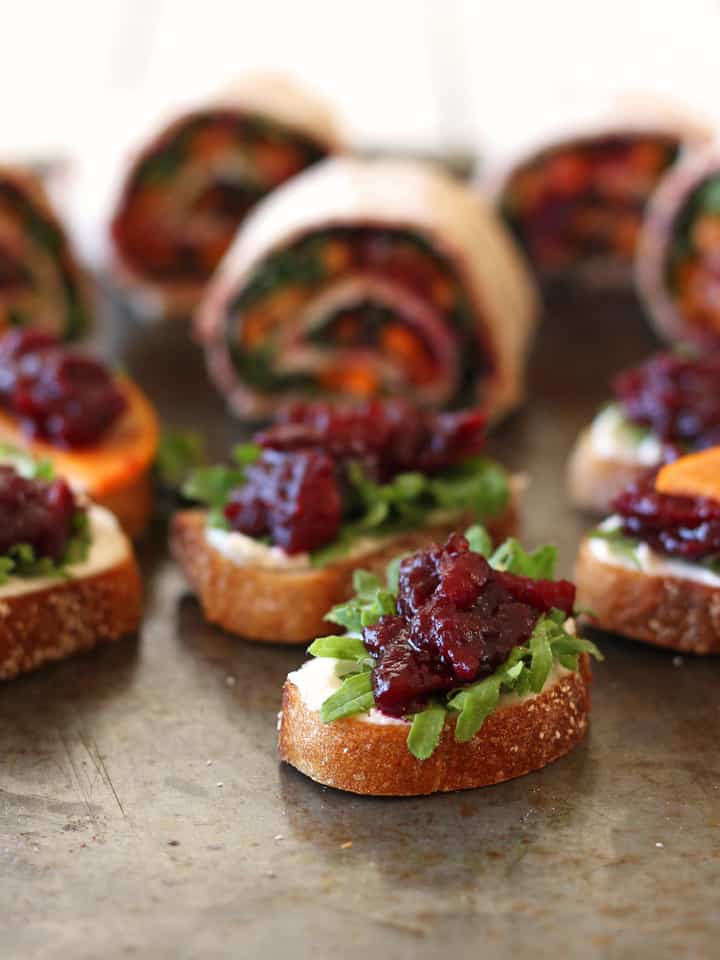 Got any yummy serving ideas?
Whip up crostini: Brush small bread slices with olive and toast until golden (for detailed instructions check out this toaster oven crostini recipe). Spread with goat cheese or cream cheese. Add a few leaves of baby kale or arugula and top with generous spoonfuls of balsamic roasted cranberries.
Or make pinwheels: Switch out the toasted bread for a piece of flatbread. Layer on the cheese, greens, and cranberries. Then roll it up tightly and slice it into pinwheels. 
I'm terrible at getting a tight pinwheel. For pointers on rolling and slicing something that looks truly appetizing check out this recipe for vegetarian buffalo wing pinwheels from Strawberry Blondie Kitchen. Megan knows her stuff!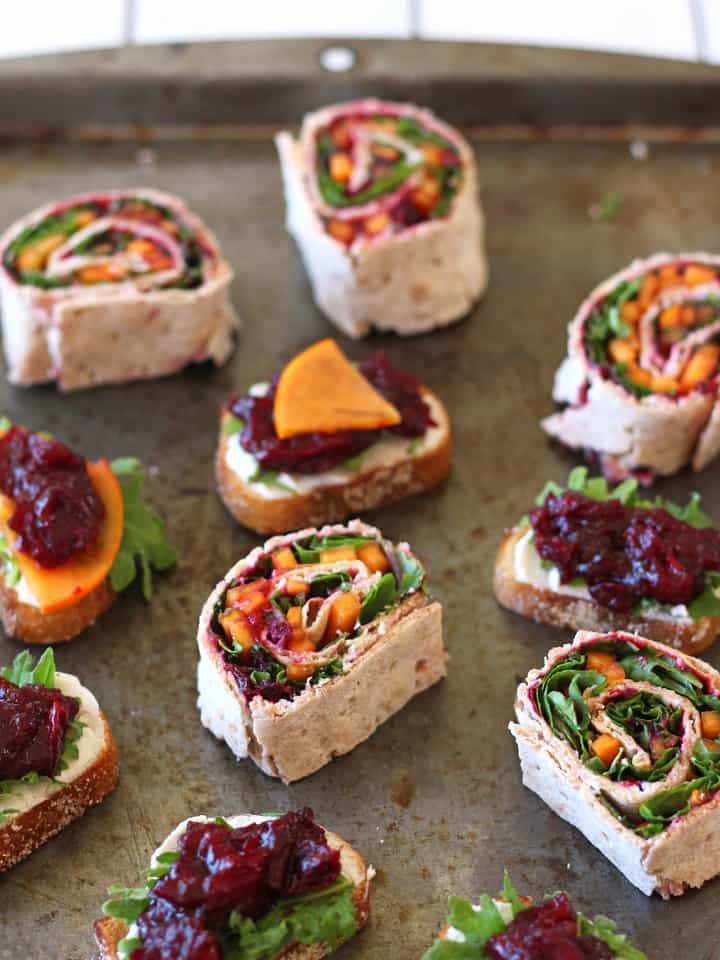 More Tasty Holiday Recipes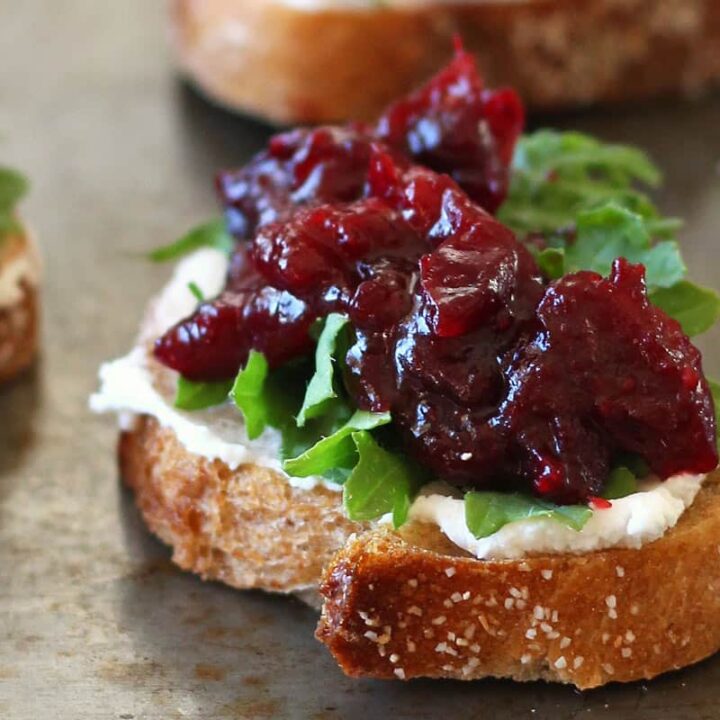 Balsamic Roasted Cranberries
Treat your guest to a sweet, tart, and tangy holiday relish with this easy small-batch recipe.
Ingredients
8 ounces (227 grams) Fresh Cranberries, washed and dried
3 tablespoons (45 grams) Real Maple Syrup
2 tablespoons (30 grams) Balsamic Vinegar (Use the good stuff!)
1/2 teaspoon Grated Orange Peel
1 tablespoon (15 grams) Orange Juice
1.5 teaspoons (7.5 grams) Olive Oil
1/8 teaspoon Fine Sea Salt
Pinch Ground Black Pepper
Instructions
Preheat the oven or toaster oven to 425°F. If cooking with a toaster oven use the bottom rack placement and select the BAKE setting.
Add the cranberries to a 1.5-Quart oven-safe baking dish and set aside.
In a small bowl whisk together the maple syrup, vinegar, orange peel, orange juice, olive oil, salt, and black pepper.
Pour the mixture over the cranberries and stir well.
Cover the pan and add to the heated oven. Every 5 minutes, carefully remove the cover and stir the cranberries. Once most of the cranberries have popped (about 14 to 16 minutes) remove the pan from the oven.
Allow the cranberries to sit uncovered for at least 5 minutes, the sauce will thicken as it cools.
Once cooled, give the sauce a final stir, and dig in!
Notes
Refrigerate any leftovers in a covered container for 3 to 4 days or freeze for up to 3 months.
As written, the recipe makes 20 Tablespoons (about 1 cup plus 1/4 cup). Nutritional Information is an estimate for a serving of 2 Tablespoons.
Nutrition Information:
Yield:

10
Serving Size:

2 Tablespoons
Amount Per Serving:
Calories:

36
Total Fat:

0.7g
Saturated Fat:

0.1g
Sodium:

31mg
Carbohydrates:

7.5g
Fiber:

1.1g
Sugar:

5.2g
Protein:

0.1g