Balsamic Roasted Cranberries. Step away from the stove and treat your guest to a sweet, tart and tangy holiday relish you can make in the toaster oven!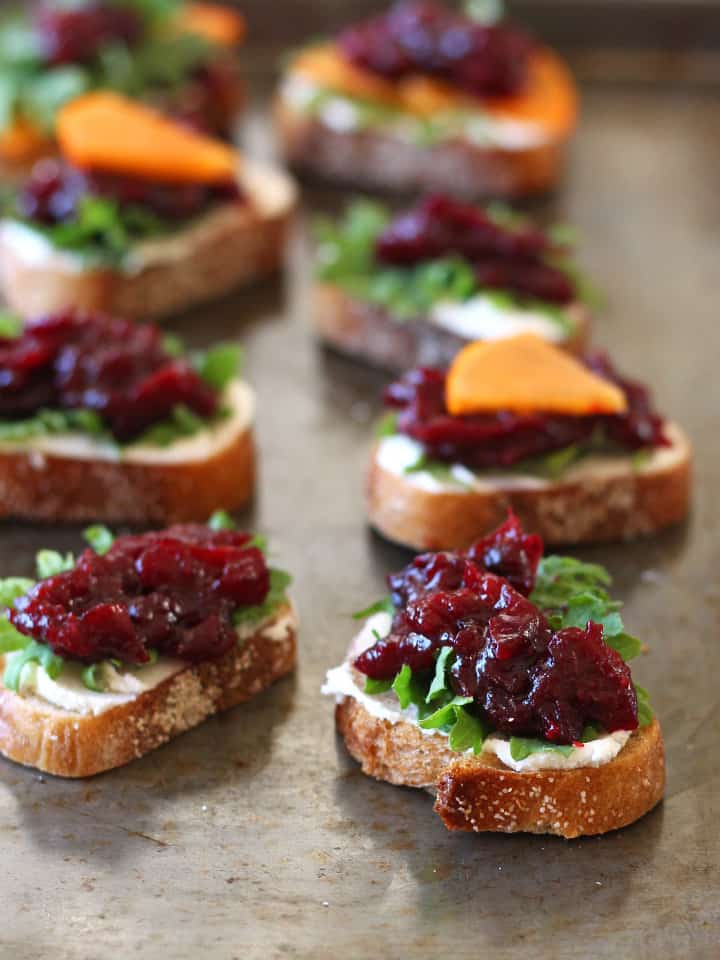 Sweet, tart and tangy! Treat your guests to a different kind of holiday relish with this easy recipe for Balsamic Roasted Cranberries. Delicious by the spoonful but even better as a bold and flavorful appetizer addition.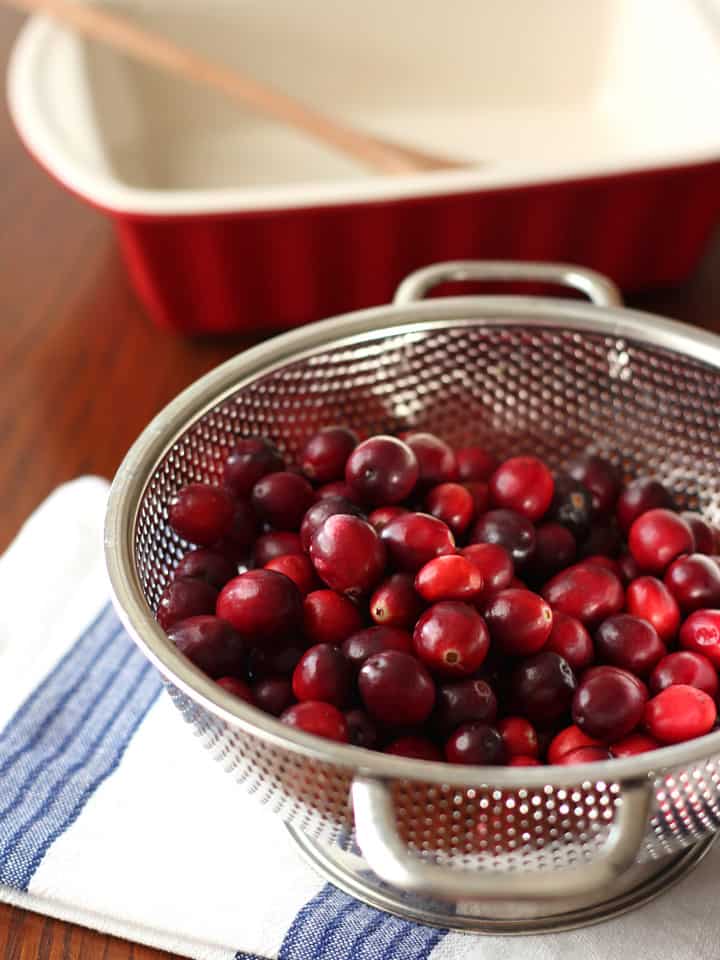 Not to oversell but this recipe is soooooo easy. You really do just toss everything into the pan and roast. Your big effort comes stirring the cranberries about every 5-6 minutes until they have popped to your liking. Sounds like a lot of work right 🙂
Keep your toaster oven clean → The cranberries spray juice when they pop, so you'll want to use a baking dish with a lid or cover your pan with foil*.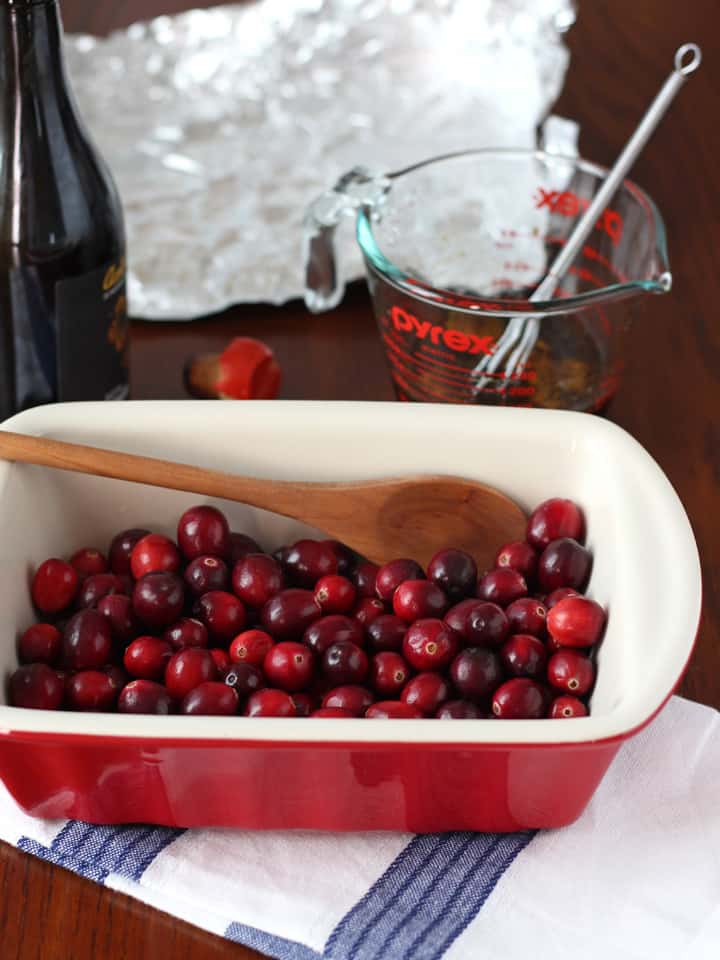 As the cranberries cook, it's going to feel like there is too much liquid, at least that's how I felt the first time making this dish. The picture below is from halfway through the cook time, pretty un-popped cranberries and lots of liquid.

But hang in there, once the cranberries have popped and rested for about 5 minutes to thicken up you will have just a little sauce but lots of yummy chunks. When trying to figure out what to call this pan of tasty tangy goodness we settled on cranberry relish. Not really a sauce or a chutney, spreadable but chunky.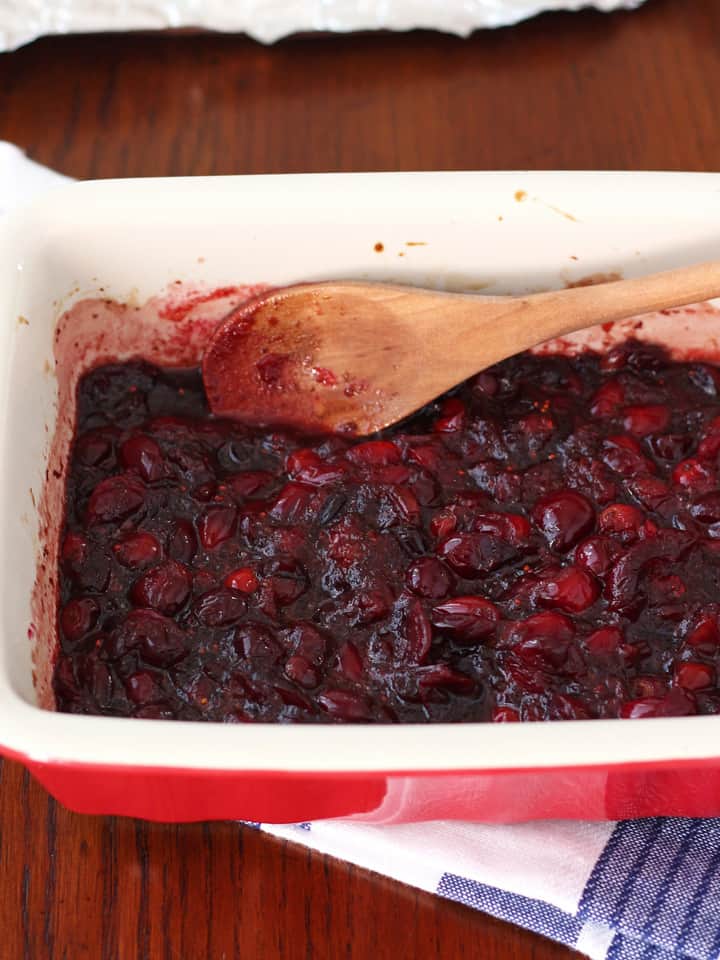 This is not your mom's cranberry relish…bright citrus and strong balsamic flavors are present throughout but don't overpower the lightly sweetened natural cranberry taste. If you're able to stop yourself from eating the whole pan with a spoon it can quickly be turned into an appetizer.
Make a crostini by brushing small bread slices with olive oil and toasting. Spread toasted slices with creamy goat cheese, layer on baby kale or arugula and a generous spoonful of balsamic roasted cranberries. To add sweetness and a pop of bright orange color you can top each crostini with a thin slice of persimmon (use the firmer Fuyu variety).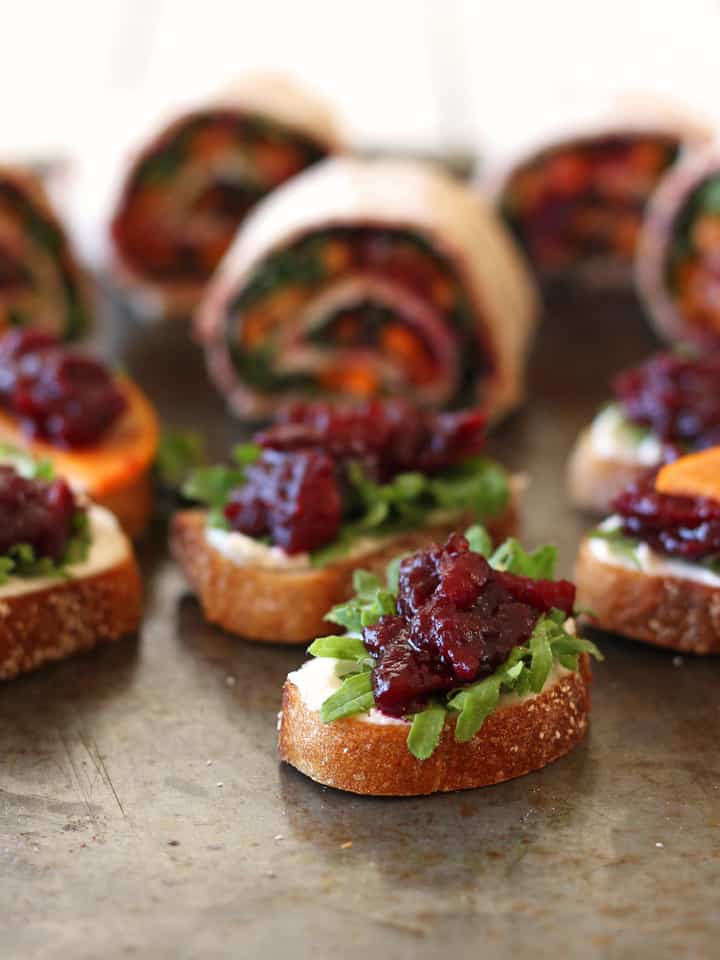 If you're like me and not the biggest goat cheese fan use cream cheese or substitute non-dairy cheese for a vegan crostini. My other favorite option, take those same ingredients but switch out the toasted bread for a piece of flatbread to make a less cheese more fruit and veggie snack.
Spread the flatbread with a tablespoon of goat cheese or non-dairy cheese and at least two tablespoons of balsamic roasted cranberries. Layer with baby kale and the persimmon cut into matchsticks. Roll the flatbread tightly and slice into 2-inch circles for a tangy and sweet pinwheel.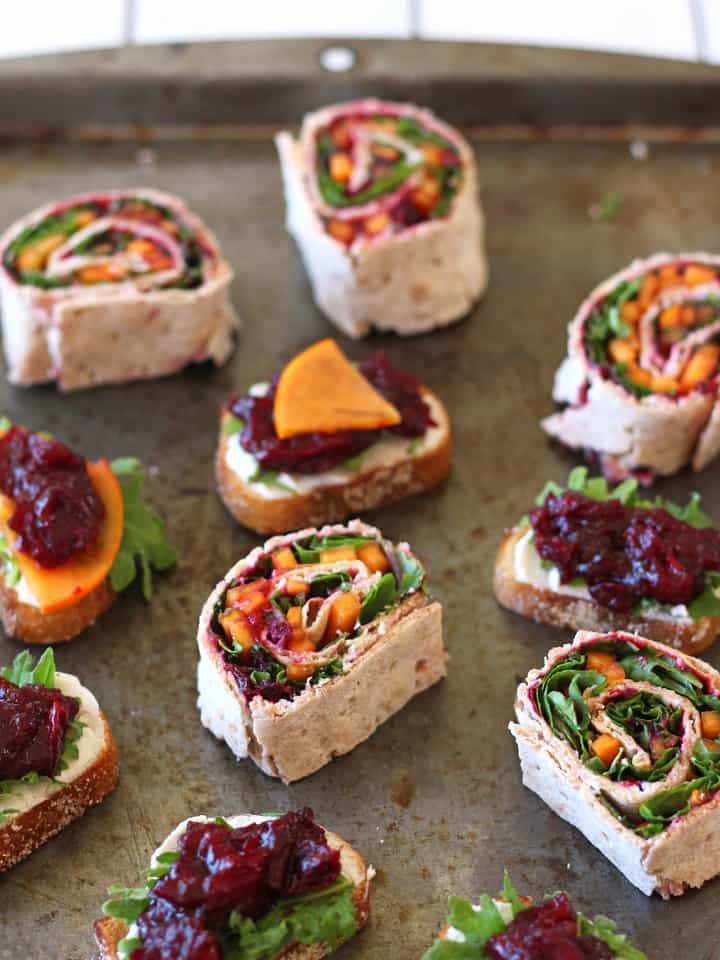 I'm terrible at getting a tight pinwheel, for pointers on rolling and slicing a truly appetizing looking pinwheel check out this post for (vegetarian) Buffalo Wing Pinwheels from Strawberry Blondie Kitchen – she knows her stuff.
Team Toaster Oven Love has a lot to be thankful for this year, especially all of you that read this tiny little blog and the friends we have made from starting it. We wish each of you a very Happy Thanksgiving. May your day be filled with good friends, family and lots of delicious food! – Tim & Brie Norris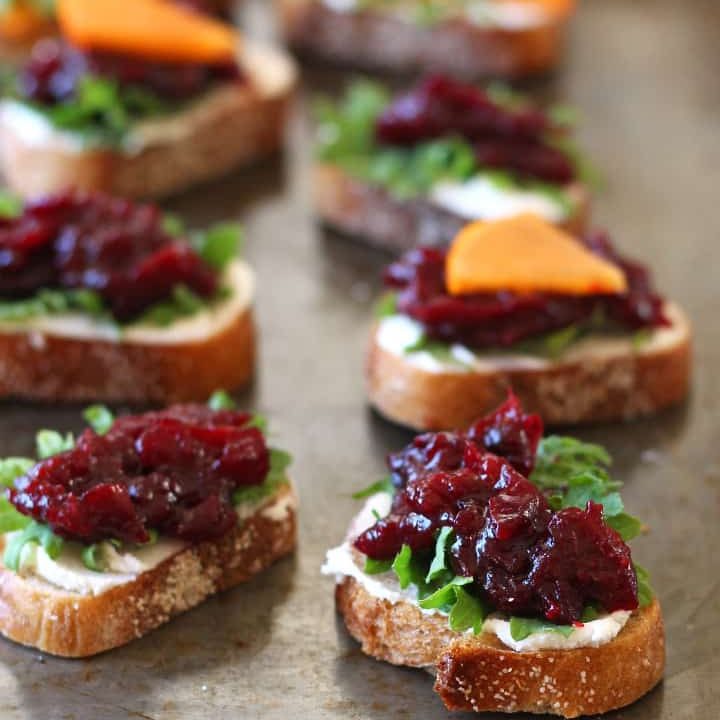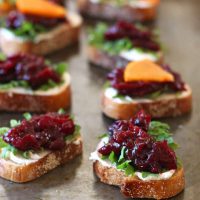 Balsamic Roasted Cranberries
Treat your guest to a sweet, tart and tangy holiday relish with this easy toaster oven recipe.
Ingredients
8 ounces fresh cranberries, , washed and dried
3 tablespoons Grade A dark amber maple syrup
2 tablespoons balsamic vinegar
1/2 teaspoon grated orange peel
1 tablespoon fresh-squeezed orange juice
1.5 teaspoons extra virgin olive oil
1/8 teaspoon fine grain sea salt
Pinch of ground black pepper
Instructions
Preheat your toaster oven or oven to 425 F. Place cranberries in a ceramic toaster oven-safe baking dish that's at least 8x5 inches, set aside.
In a small measuring cup or bowl combine the maple syrup, vinegar, orange peel, orange juice, olive oil, sea salt and black pepper. Whisk well to combine.
Pour sauce over cranberries in baking dish. Stir cranberries to coat well and cover pan.
Roast cranberries at 425 F for 15 to 18 minutes. During cooking, carefully remove lid and stir the mixture about every 5 minutes. Once most of the cranberries have popped, remove pan from oven. Remove lid and stir cranberries. Allow mixture to sit for 5 minutes, it will thicken as it cools, stir again.
Use cranberry relish as a warm topping for goat cheese and kale crostini or allow to cool completely and add to your favorite sandwich wrap. Store leftover cranberry relish refrigerated in a covered container for up to one week.
Notes
Add a peeled and chopped apple halfway through cooking for a crunchier chutney style cranberry relish.
Recipe makes 20 Tablespoons (about 1 cup + 1/4 cup).
Nutritional Information is an estimate for a serving of 2 Tablespoons.
Nutrition Information:
Yield:

10
Serving Size:

2 Tablespoons
Amount Per Serving:
Calories:

36
Total Fat:

0.7g
Saturated Fat:

0.1g
Sodium:

31mg
Carbohydrates:

7.5g
Fiber:

1.1g
Sugar:

5.2g
Protein:

0.1g
Nutritional information provided is an estimate generated by an online calculator. It should not be considered a substitute for advice from a professional nutritionist or your doctor.

Recipe loosely adapted from this recipe from Sauveur and this recipe from The Wicked Noodle.