Baked Oatmeal (Without Egg)
Wholesome and delicious, this baked oatmeal is the best way to start the day. You can bake it as single-servings, in a small casserole dish for two, or double the recipe for meal prepping!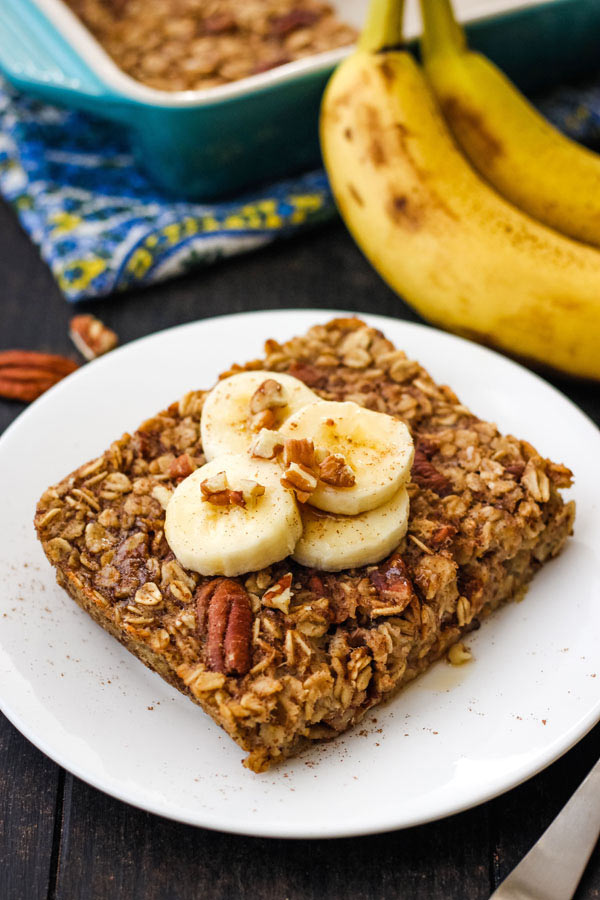 Oatmeal is hearty and filling and unbelievably simple to make in an instant pot.
If you're a fan of oatmeal too or just looking to expand your breakfast choices, this portable toaster oven baked oatmeal is a fun way to change up your regular routine.
Instead of having a creamy texture, the baked oats are tender and chewy. Like a cross between a bowl of oatmeal, a cookie, and a fluffy muffin. Yum!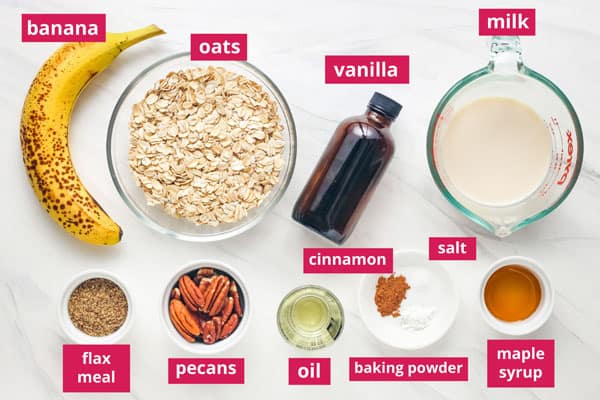 Ingredient Notes
Oats: Heartier old-fashioned oats work the best, quick oats can get mushy.
Oil: A little bit helps avoid that rubbery low-fat texture. If you don't like the flavor of olive oil, you can substitute melted butter or coconut oil.
Flax: This is what binds everything together (since there's no egg in this recipe). If you don't have any on hand, that's okay, the oatmeal will just be a bit squishier and more spoonable.
Step-By-Step Directions
1. Adjust the cooking rack to the middle position and preheat to 350°F. If using a toaster oven, select the BAKE setting and use the bottom rack position.
2. Grab a medium bowl, add your banana, and mash it until smooth. Dump all of the remaining ingredients into the bowl and stir well to combine.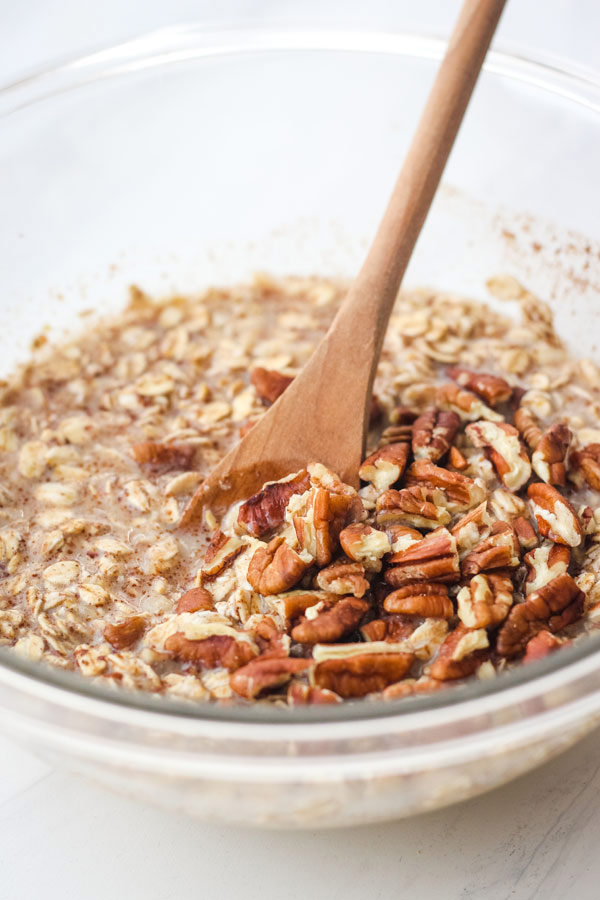 3. Grease a small baking dish and pour the oatmeal mixture into it. I like to use a 7 x 5-inch baking dish, it's the perfect size for most toaster ovens and makes two thick baked oatmeal pieces.
You can also make this recipe in an 8½ x 4½-inch loaf pan (it may bake a little faster so check on it early). For single-serving baked oats, divide the mixture between two 8-ounce ramekins.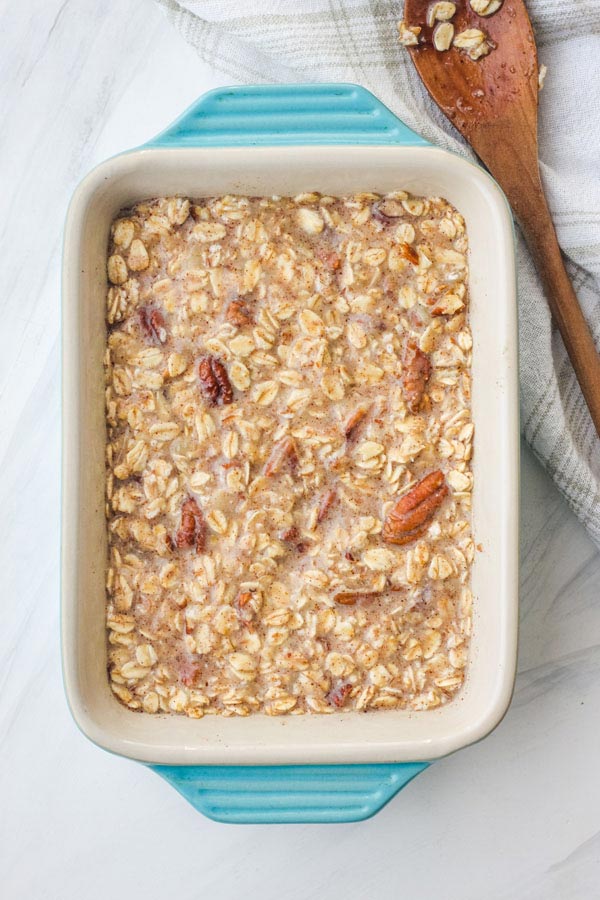 4. Bake until the oatmeal is set and golden brown around the edges:
For a softer scoopable oatmeal bake for about 25 minutes.
For a firmer, hold-it-in-your-hand oatmeal square bake for about 30 minutes.
The total amount of time will depend on the baking dish and ingredients used.
5. Once ready, let the oatmeal cool for 10 minutes before scooping or slicing. Serve with a few dollops of yogurt, a spoonful of peanut butter, or a drizzle of maple syrup.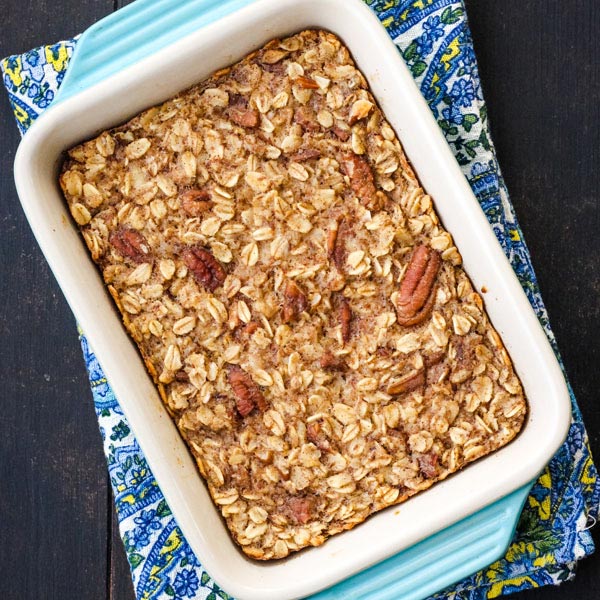 Flavor Variations
The recipe is simple to customize using different spices, fresh or frozen fruits, and even chocolate chips. Here are a few ideas to try:
Blueberry: Add 1/2 cup fresh or frozen blueberries.
Apple Pie: Substitute unsweetened applesauce for the banana, add a pinch of ground nutmeg, and stir in half a chopped apple.
PB and Chocolate: Stir in 1 to 2 tablespoons of mini chocolate chips. Drizzle peanut butter over the baked oatmeal.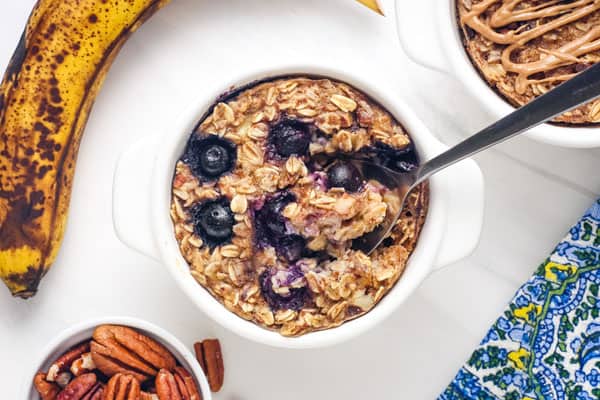 Frequently Asked Questions
Can you double this recipe?
Yes! We made a double batch using our 8.5 x 8.5-inch baker and it turned out great. An 11 x 7-inch pan or a standard 8 x 8-inch pan will also work. The timing is usually the same as the main recipe but it may take a few minutes longer.
How do you store baked oatmeal?
Leftover oatmeal can be stored refrigerated in a sealed container for up to 5 days. To reheat, pop a slice in a 350°F preheated toaster oven for about 10 to 15 minutes.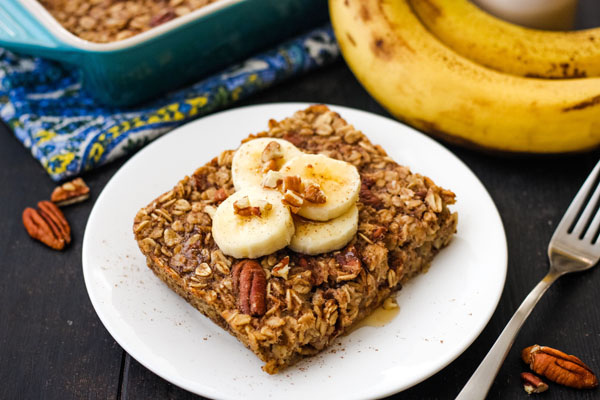 More Easy Breakfast Recipes
Baked Oatmeal Without Egg
A delicious and nutritious breakfast that's naturally vegan, simple to customize, and easy to double for meal prepping.
Ingredients
1 small Ripe Banana, (6 inches long, about 1/4 cup mashed)
1 tablespoon Flax Meal
2 teaspoons Pure Maple Syrup
2 teaspoons Olive Oil
1/2 teaspoon Ground Cinnamon
1/2 teaspoon Pure Vanilla Extract
1/4 teaspoon Baking Powder
1/8 teaspoon Fine Sea Salt
1/2 cup Non-Dairy Milk, plus 2 tablespoons (like Almond Milk or Soy Milk)
1 cup Old Fashioned Rolled Oats
1/4 cup Pecan Pieces, (1 ounce)
Instructions
Adjust the cooking rack to the bottom position and preheat toaster oven to 350°F on the BAKE setting. Grease a 7 x 5-inch toaster oven baking dish.
In a large bowl, add the banana and mash well. Stir in the flaxseed meal, maple syrup, olive oil, cinnamon, vanilla, baking powder, salt, milk, oats, and pecan pieces. Pour mixture into prepared baking dish.
Bake oatmeal until the middle is set and browned on the edges, about 25 to 35 minutes. (For softer scoopable oatmeal bake 25 to 30 minutes, for firm oatmeal bake 30 to 35 minutes.)
Let sit at least 10 minutes before slicing and serving.
Notes
For Single-Serving Oatmeal: Bake in two 8-ounce ramekins.
Store leftovers in the fridge for 3 to 5 days or freeze for up to three months.
Nutrition Information:
Yield:

2
Serving Size:

1
Amount Per Serving:
Calories:

235
Total Fat:

13.2g
Saturated Fat:

1.3g
Cholesterol:

0mg
Sodium:

176mg
Carbohydrates:

28.6g
Fiber:

6.1g
Sugar:

9.7g
Protein:

4.9g