Small Batch Whipped Cream
A small batch of whipped cream is perfect for topping everything from fresh fruit to hot cocoa and coffee, mini cakes, waffles, and more. Making it takes just a few minutes and requires 3 simple ingredients. The results are light, fluffy, and taste so much better than the canned stuff.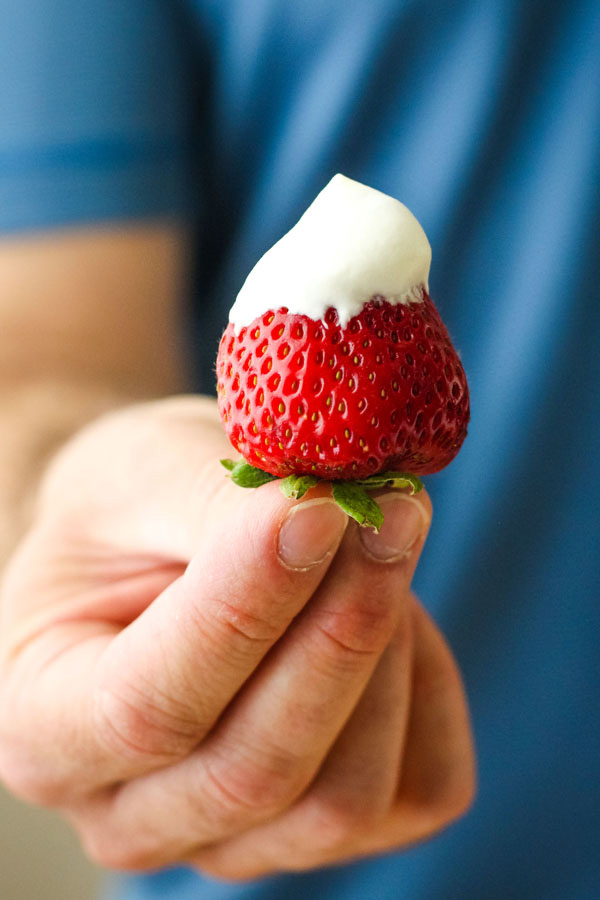 How to Make a Small Batch of Whipped Cream
To get started, grab 1/4 cup or 2 ounces of chilled heavy whipping cream. While everything else is pretty negotiable, you need the cream to be heavy and cold.
Next, choose your whipping tool:
Balloon Whisk: Works great but it takes longer and requires some elbow grease.
Hand Mixer: This is my favorite tool for the job. It takes just a few minutes and I don't end up with a sore wrist afterward. While you can use the basic beaters, our inexpensive hand mixer has a whisk attachment that's perfect for making whipped cream.
Immersion Blender: Even using the tall cup that came with our blender, there's not enough liquid for it to properly whip up. Mostly the blender just sprayed little dots of cream everywhere. If your stick blender has a whisk attachment you may have better luck using it. Otherwise, you'll need to at least double the ingredient amounts so the blender's head is immersed in the cream.
Stand Mixer: We don't own one anymore but I imagine you'll have the same not-enough-liquid issue as the immersion blender.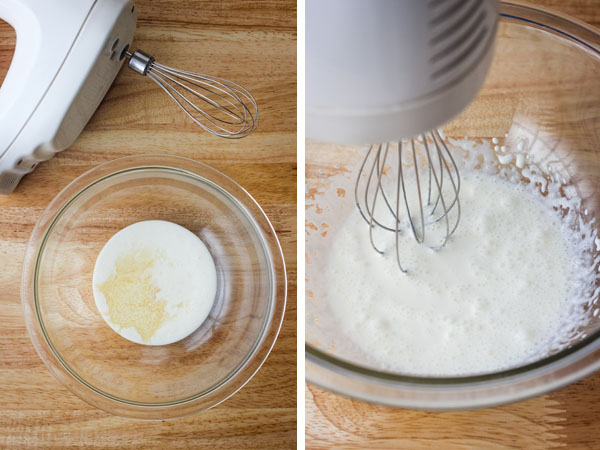 Once you've settled on your whipping tool, add the cream to a clean mixing bowl.
Sometimes, if I know we're not going to eat all of the whipped cream, I'll use a wide-mouth mason jar instead. Then I can easily screw on a lid and pop the leftovers in the fridge.
Next, add 1 teaspoon of sugar and 1/8 to 1/4 teaspoon of real vanilla extract to the cream.
You can use granulated sugar or confectioner's sugar.
The amount of sugar is totally a personal preference. Feel free to adjust it to your liking.
We both like our whipped cream to have a nice vanilla flavor. If that's not your thing, you can reduce or even omit the extract.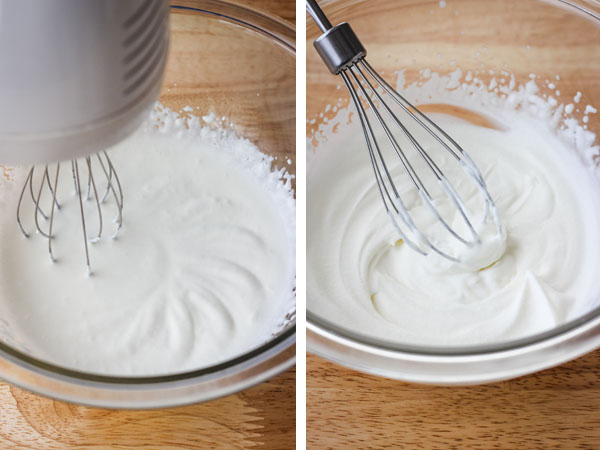 Start the mixer on a low speed and beat until there are lots of small bubbles, this will take about 1 minute.
Then, increase the speed to medium-high and beat until soft peaks form. This usually takes about another minute or two using a hand mixer (or longer if I'm whisking the cream by hand).
How to Test for Soft Peaks
To test for soft peaks, pull the whisk out of the bowl and flip it upright. At the soft peaks stage, the peak will gently fall over.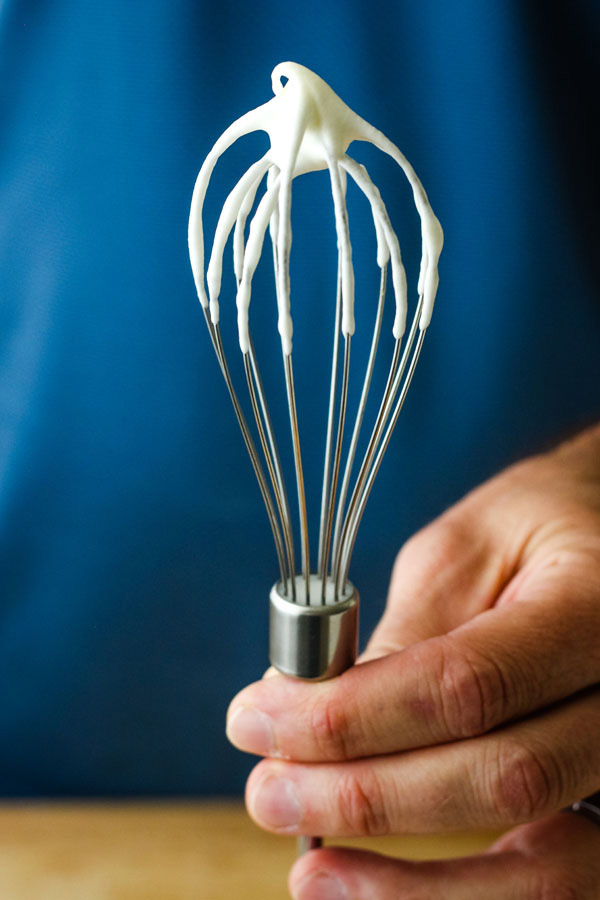 As someone who regularly overshoots the soft peaks stage my best advice is to go slow near the end.
A great tip I picked up from America's Test Kitchen is to remove the whisk attachment from the hand mixer and use it to finish whisking the last little bit by hand.
I usually aim for a medium-soft stage where the swirl marks from the whisk are more noticeable. The whipped cream is still light and pillowy but holds its shape a little better.
I find it's great for dipping Mini Sweet Potato Hand Pies in or topping these Mini Cakes For Two.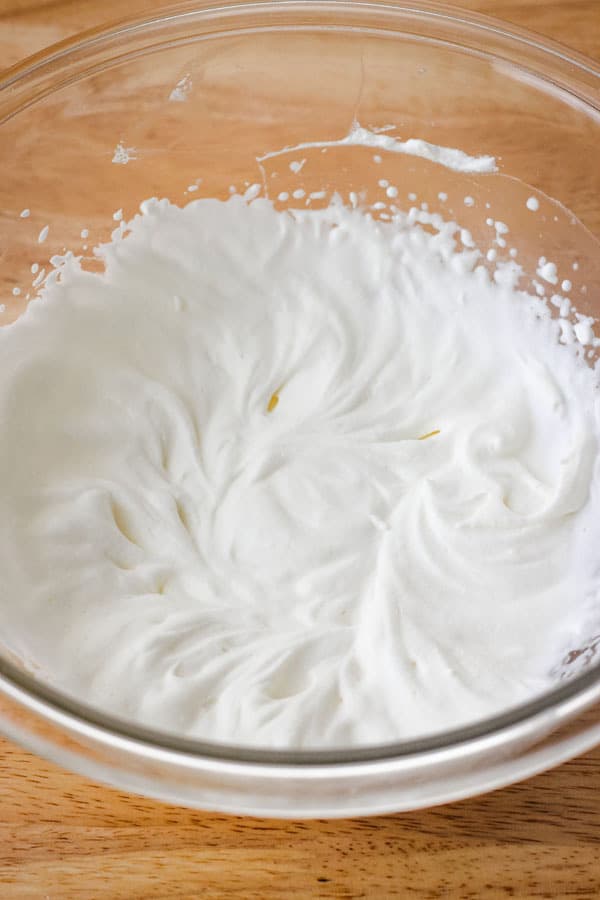 For a firmer whipped cream that's ideal for frosting cakes continue beating the cream for an additional 30 to 60 seconds until stiff peaks form.
To test for stiff peaks, you're looking for the peak to stand upright like the top of a mountain. Take your time, as it's easy to overdo it and end up with clumpy cream that's about to turn into butter.
Unless you need a specific type of peak stage for adding to another recipe, don't stress too much about getting it perfect. The "right" one is the texture you prefer.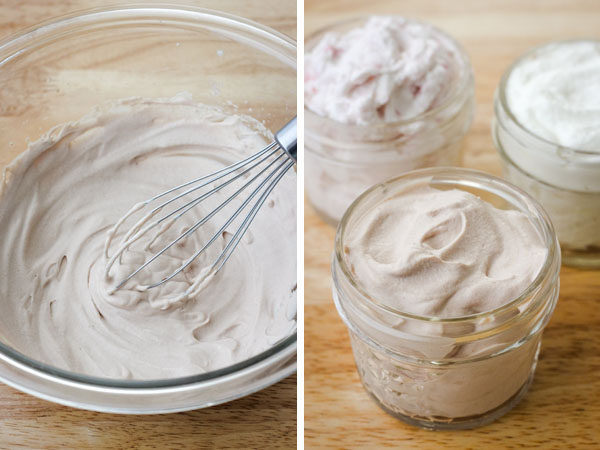 Homemade whipped cream tastes best when it's freshly made but any leftovers can be refrigerated in a sealed container for a day or two.
We like to add the chocolate variety (see notes for recipe) to our morning coffees, a quick dollop instantly makes your basic Folgers feel very fancy.
And if you've got leftover cream to use up, check out this recipe for Toaster Oven Biscuits for Two. It makes two light and tender biscuits that are perfect for strawberry shortcakes!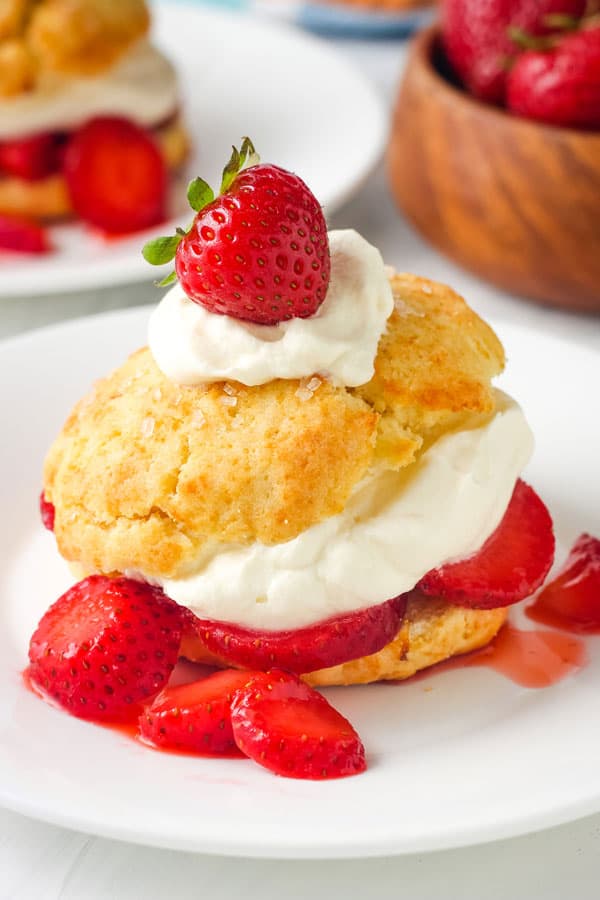 More Easy Small Batch Recipes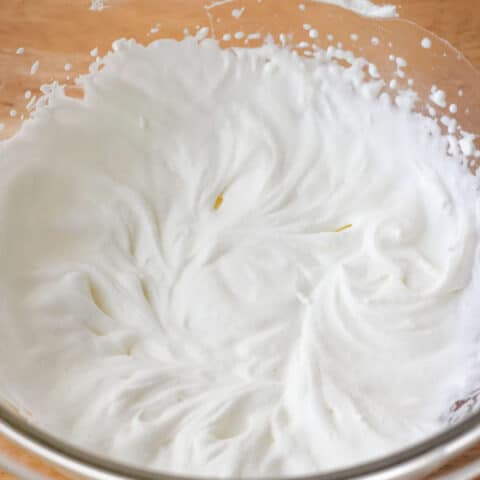 Small Batch Whipped Cream
Yield:
About 1/2 cup whipped cream
Skip the can and make a quick batch of the homemade whipped cream using 3 simple ingredients. It's the perfect sweet and luscious topping for any small dessert.
Ingredients
1/4 cup Heavy Whipping Cream, chilled
3/4 to 1 teaspoon Granulated Sugar or Confectioner's Sugar
1/4 teaspoon Vanilla Extract (for a mild vanilla flavor reduce to 1/8 teaspoon)
Instructions
Add the heavy whipping cream, sugar, and vanilla to a clean glass or metal bowl.
Using a hand mixer beat the mixture at low speed until bubbly and frothy, about 1 minute.
Increase the speed to medium-high and whip the cream until soft peaks form (about 1 to 2 minutes more).
For medium or firm peaks, continue whisking for another 30 to 60 seconds, stopping to check the stiffness of the peaks.
Notes
If whisking by hand, it will take a few minutes longer. Hang in there and keep whisking!
Chocolate Whipped Cream
Before adding the cream, combine the sugar and 1 teaspoon unsweetened cocoa powder in the bowl and mix well. Then add the cream and vanilla and proceed with the recipe.
Strawberry Whipped Cream
Gently fold 1 tablespoon of pureed strawberries into the finished whipped cream. To make the puree I use our mini food processor to process a few strawberries. If you have leftover puree enjoy it with oatmeal or yogurt.
Nutrition Information:
Yield:

4
Serving Size:

2 tablespoons
Amount Per Serving:
Calories:

30
Total Fat:

2.8g
Saturated Fat:

1.7g
Cholesterol:

10mg
Sodium:

3mg
Carbohydrates:

1.2g
Fiber:

0g
Sugar:

1g
Protein:

0.2g