How to Cut a Recipe in Half
Learn how to cut a recipe in half and enjoy your favorite eats and sweets without a bunch of leftovers. In this step-by-step guide, we'll answer all of your resizing questions: from dividing eggs to pan sizes, and if you need to change the cooking time. Plus a heads up about common mistakes to avoid.
Over the years, we've had a lot of practice downsizing recipes for our little two-person household. It's been a fun adventure, with lots of successes and some memorable failures too. Below you'll find our best tips (and lessons learned) to help you divide a recipe and get the results you're looking for.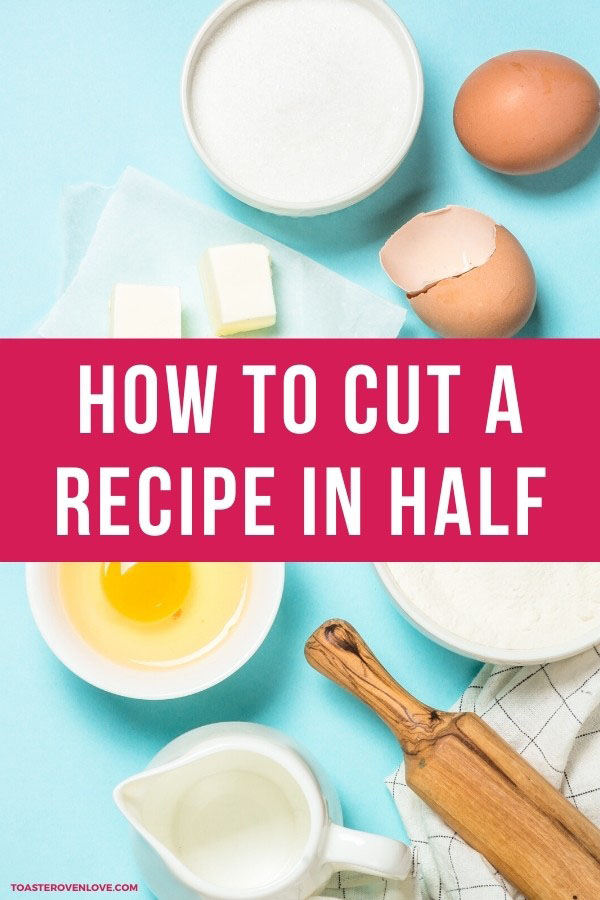 This post contains affiliate links for Thermoworks, we may earn from qualifying purchases. Click here to read our policy and more about affiliate links.
If you're a seasoned recipe resizer, you can ignore this post. Or even better, share your favorite tips in the comments!
But if you're used to cooking for a large family and now it's just the two of you or you're interested in trying a new recipe and don't want to have to eat it all week, we're here to help.
How to Cut a Recipe in Half
When I first started cooking, I misread a recipe and accidentally added a tablespoon of salt instead of a teaspoon. As you can guess, no one wanted to eat that dish.
Nothing is more disappointing than realizing you've used the wrong measurement for an ingredient (especially if that ingredient is salt!). It's easy to do with a standard recipe and even easier when you're making half a recipe.
So instead of resizing on the fly, take a few minutes to divide the ingredients in half before you start cooking.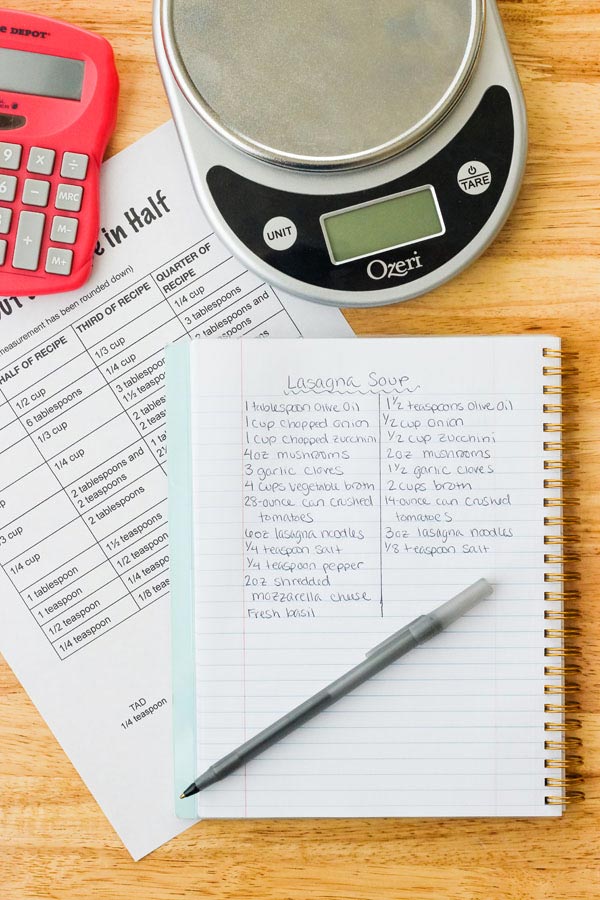 If you like to print out recipes you can write the new amounts directly on the printout.
Otherwise, grab a blank piece of paper and draw a line down the middle.
In the left column, write down the original recipe's ingredients.
Then, divide each ingredient in half and note that amount in the right column.
Okay, But How Do You Divide 1/3 Cup?
Dividing volume measurements (cups and spoons) can sometimes be tricky. If you're having trouble cutting down the amounts we've got you covered.
This Resizing Ingredients Cheat Sheet includes measurements that will help you make half, one-third, and one-fourth of a recipe.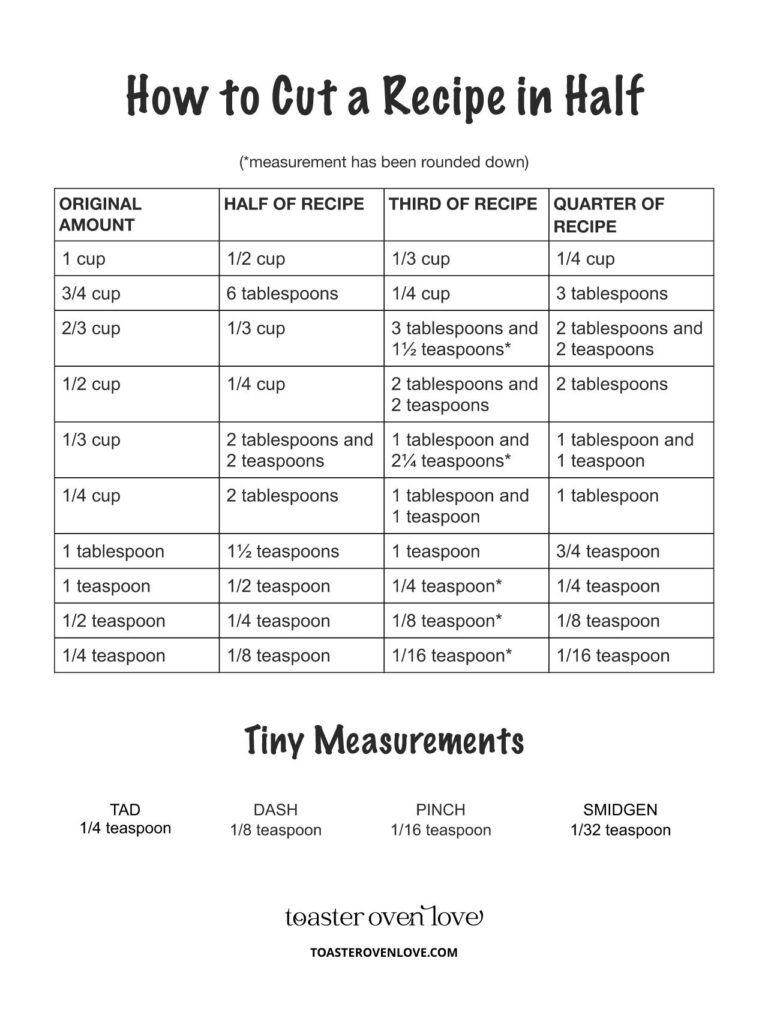 You can Pin the image above to your favorite Pinterest board or click this link to download a PDF version.
Hate Fractions? Use Weight Measurements Instead.
Ingredients that are measured by weight (instead of cups and spoons) are a cinch to resize because there's no fractional math.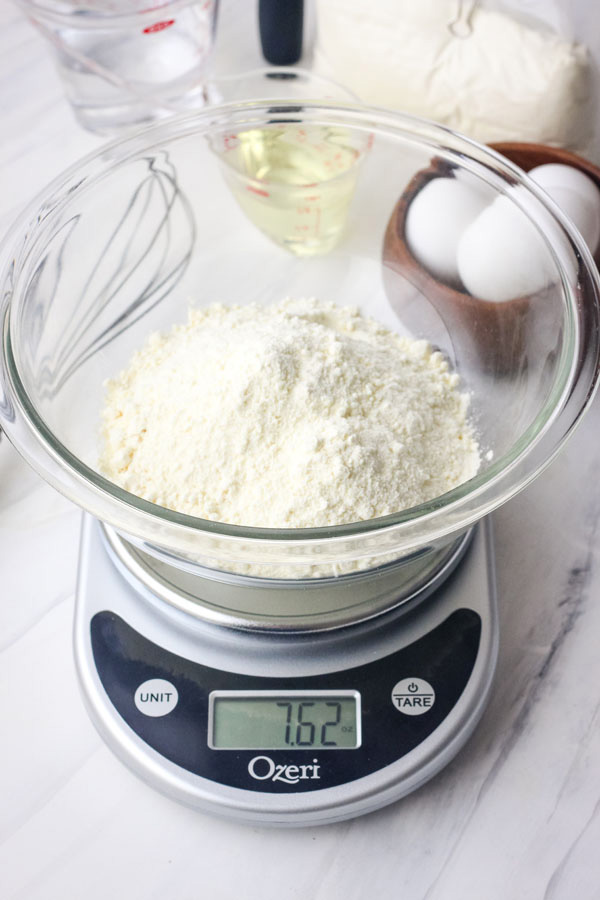 All you need is a calculator and a kitchen scale. And it doesn't have to be a fancy scale either, our little Ozeri ZK14-S Pronto Digital Multifunction Kitchen and Food Scale was less than $15.
If you need help converting your ingredients to weight measurements check out this searchable Ingredient Weight Chart from King Arthur Baking. It's a fantastic resource that you'll definitely want to bookmark.
How do you halve a recipe that has one egg?
In the U.S. a large egg weighs about 50 grams (without the shell) and has a little over 3 tablespoons of egg.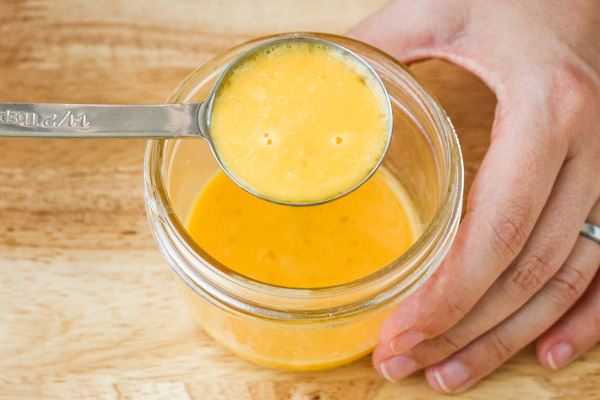 To divide a large egg:
Crack the egg into a bowl and beat the white and yolk together.
Measure out half (25 grams or 1½ Tablespoons).
For step-by-step photos, other "mini" measurements, and ideas for using up the leftover beaten egg peruse this article on How to Measure Half an Egg.
Don't Forget to Check Your Work
Once you've got your resized amounts written down, take a minute to double-check that you've divided ALL of the ingredients. This extra step has saved me so many times from missing an ingredient or accidentally using the wrong amount.
Cooking Half a Recipe FAQs
Can I use the same baking dish or pan?
For stove-top recipes, you'll probably want to use a smaller skillet or pot. If your pan is too large more evaporation will occur, drying out your food and causing sauces to reduce too much.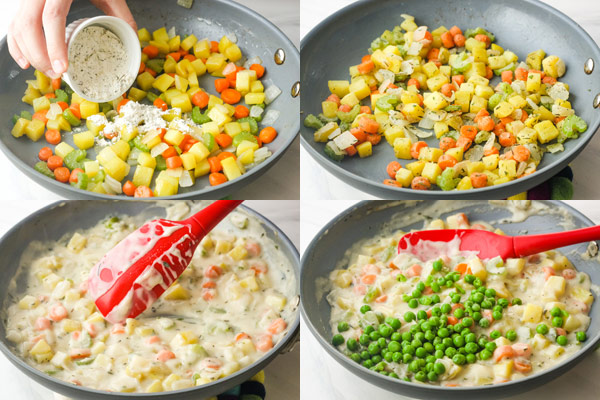 While I still need a 12-inch skillet from time to time, I find our 10-inch skillet is great for making scrambles and skillet meals for two.
A little 1-quart saucepan is a good size for sauces and a smaller 3 or 4-quart dutch oven is perfect for soups, chilis, and pasta dishes. 
When cutting a baking recipe in half, I start with the volume of the pan called for in the original recipe. Then I look to see if I have a pan that holds half of that amount.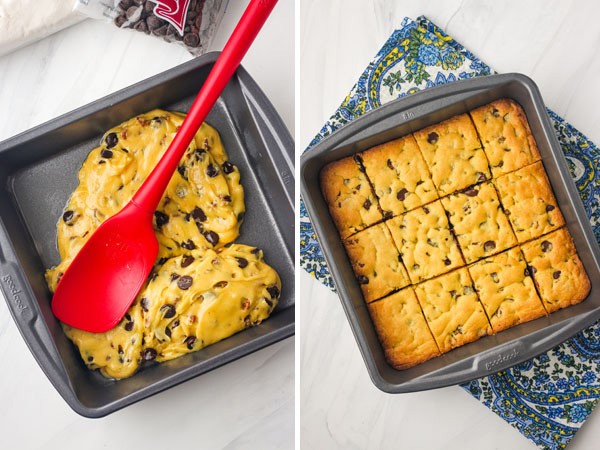 Here's a quick example:
Say I'm making a brownie recipe that calls for an 8 x 8 x 2-inches pan (which holds 8 cups).
To make half of the recipe I'll want to use a pan that holds 4 cups (like an 8 x 4 x 2½-inches loaf pan or a 6 x 2-inches round pan).
If you don't know the volume of a pan, this article on Pan Dimensions and Volumes from Joy of Baking has a helpful list for common pans sizes. In addition, there are directions to help you find the dimensions and volume of any pan you own.
Pro Tip: Don't forget to note the new (smaller) pan that you used on your recipe card from earlier.
Do I need to change the temperature?
You should use the same cooking temperature specified in the recipe.
Will it take less time to cook?
It really depends on what you're cooking. Let's say you're making half a batch of these tasty rosemary roasted potatoes.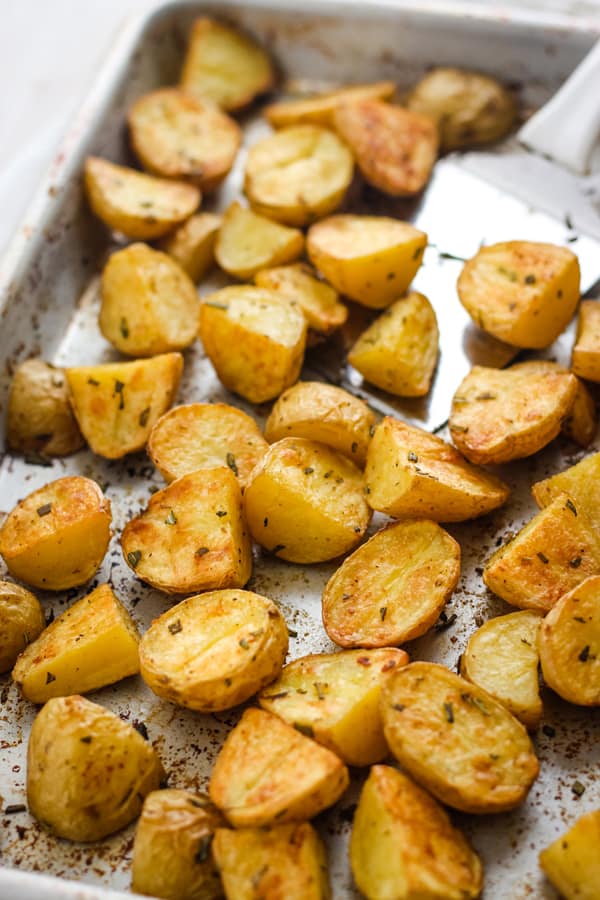 In this case, the potato pieces are still the same size (aka thickness). You're just cooking less of them. So the amount of time they take to cook through should still be the same.
With baking, the halved recipe might take the same amount of time or cook faster than the original full-sized version.
Things like cookies and biscuits are similar to the potato example above and should still take about the same amount of time.
While smaller cakes, casseroles, brownies, and quick bread will usually be done earlier than the original cooking time.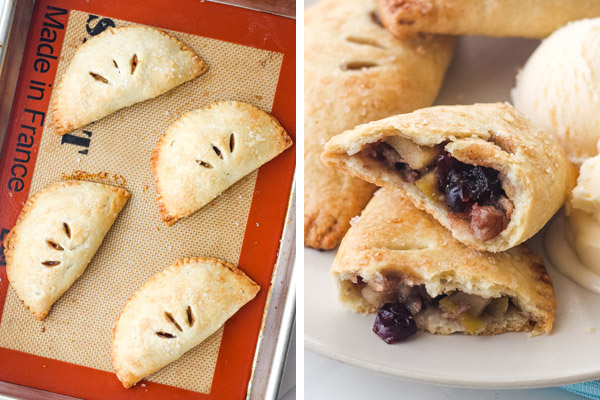 To keep from overcooking any scaled-down recipe, check on your dish early. Set your time for about halfway through the original suggested time.
Most of the time, it won't be ready but this will give you a chance to see how the dish is cooking up. Then you can add more time as needed.
Since our household is vegetarian, we don't have a lot to offer in the meat department.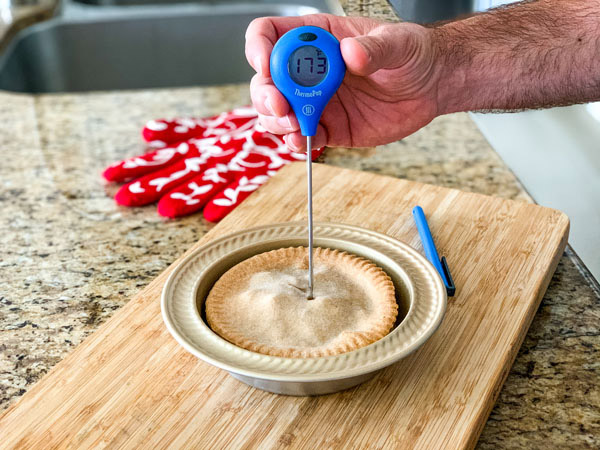 But I have found that for denser items like casseroles, veggie roasts, and pot pies using an instant-read thermometer (like our little ThermoPop by ThermoWorks) is a good way to test for doneness and make sure the item is cooked through. 
Tips for Scaling Down Recipes
1.) Go Easy On The Salt
It can be very potent in a small-batch recipe. If you're normally sensitive to the saltiness of a dish, try using less than half, then add more to taste. 
In general, it's a good idea to sample your dishes often while they cook and adjust the seasonings as needed.
2.) Use Smaller Measuring Tools.
If you're regularly scaling down recipes, having a few smaller measuring spoons and cups in your kitchen drawer will make things easier.
One of my favorite little tools is the OXO Good Grips Mini Angled Measuring Cup. It's great for accurately measuring small amounts of liquids like milk and lemon juice. Our readers like it a lot too. It's one of the most popular items on this list of Handy Small Batch Cooking Tools.
3.) Don't Substitute.
Unless the original recipe includes directions for substituting ingredients, don't do it. Swapping ingredients in any recipe is always a gamble since it can change the texture and flavor of the final dish.
If you substitute and resize at the same time, there's a very good chance your recipe will fail.
With so many changes it'll be hard to determine exactly where things went wrong. This is especially true for baking recipes.
Start with reducing the recipe. If it goes well, then try substituting.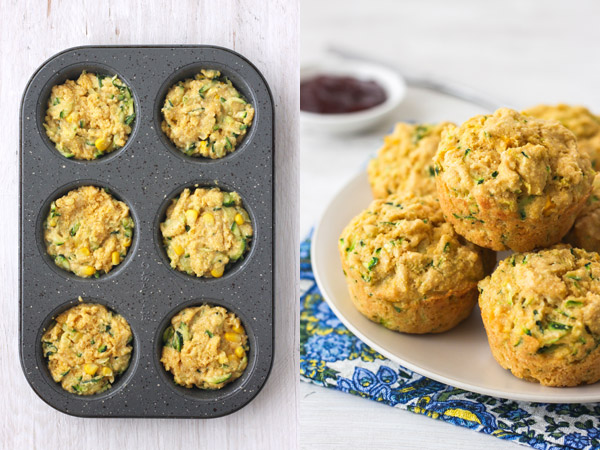 4.) Write Things Down.
This last one is for when you've got a recipe that you know you'll cook again. Take a second to jot down a few notes for things like:
Which baking dish you used.
The total cooking time.
If you cooked the recipe with a small appliance like your toaster oven, note the rack placement and any special functions used (like convection or air-fry).
Trust me, your future self will thank you.
If you've got tips to add, please share them in the comments.
P.S. If you're looking for more ways to avoid leftovers and waste, we've got a whole section of Kitchen Tips and Guides. You'll find articles for How to Make Half a Cake Mix, How to Freeze Citrus, The Best Way to Store Fresh Herbs, and more!