Roasted sweet potato rounds are the easiest toaster oven snack or side dish. Sweet potato slices seasoned with coconut oil, salt and cinnamon then roasted to caramelized perfection. Better make two batches, you won't want to share! Just Added: Scroll past the recipe for 10 more irresistible topping ideas.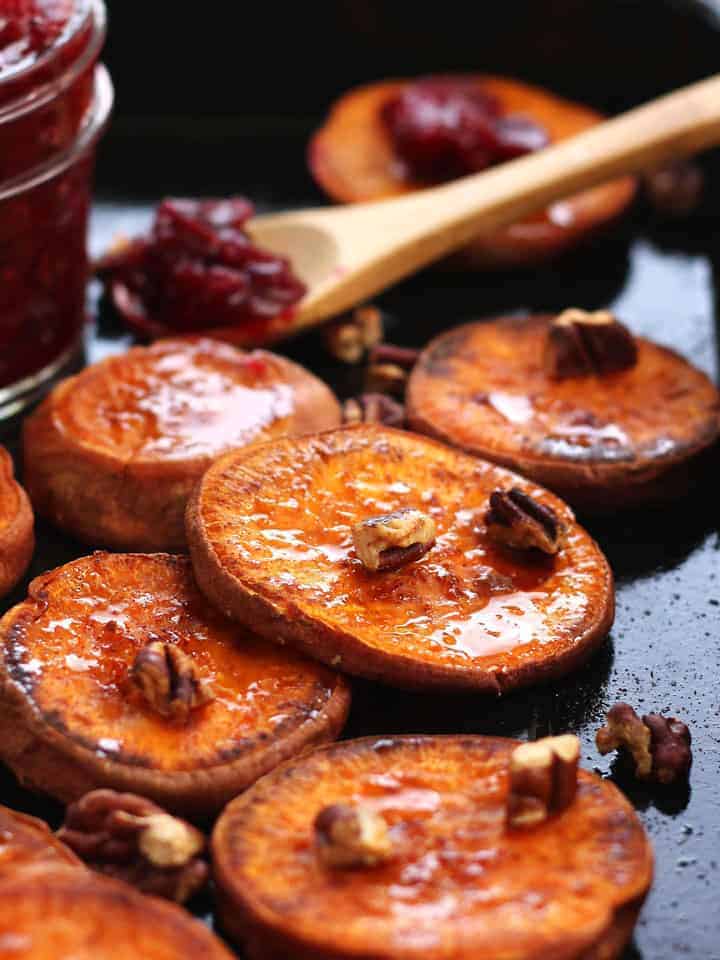 Life Changing, Unbelievably Easy, Ridiculously Delicious, Perfect for Any Occasion Roasted Sweet Potato Rounds.
That was the original title of this recipe. But it's kind of a mouthful.
With recipes like chip-free sweet potato nachos and vegan twice-baked sweet potatoes with pineapple and coconut, you guys know we L-O-V-E baked sweet potatoes.
And, I know you heart them too.
The Problem Is
Baking a whole sweet potato takes forever…Okay, so maybe it's more like an hour.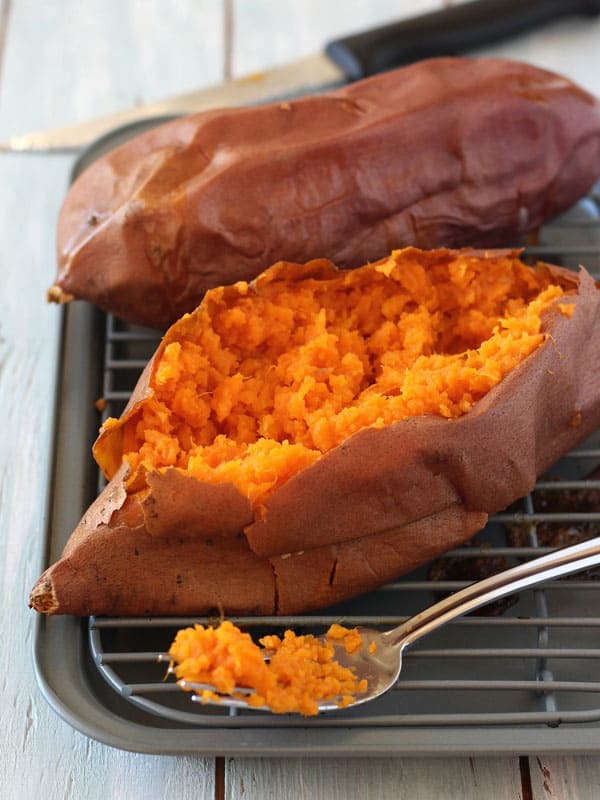 But you know what I'm talking about.
When you're waiting for something you crave, it feels like an eternity before you'll get to dive into that fluffy baked sweet potato.
That's why you're going to LOVE these tasty roasted sweet potato rounds.
They're crispy on the outside – creamy on the inside and take just 30 minutes to make!
 Are They Really That Easy?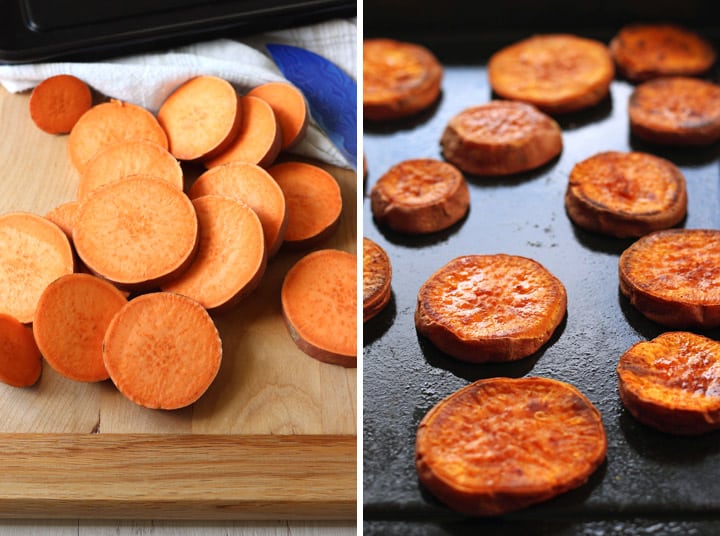 Yep! For plain rounds, it's basically Slice, Oil, Roast and Eat.
We've included helpful tips in the notes section (and topping ideas after the recipe) but it really is that simple.
An Appetizer Everyone Will Enjoy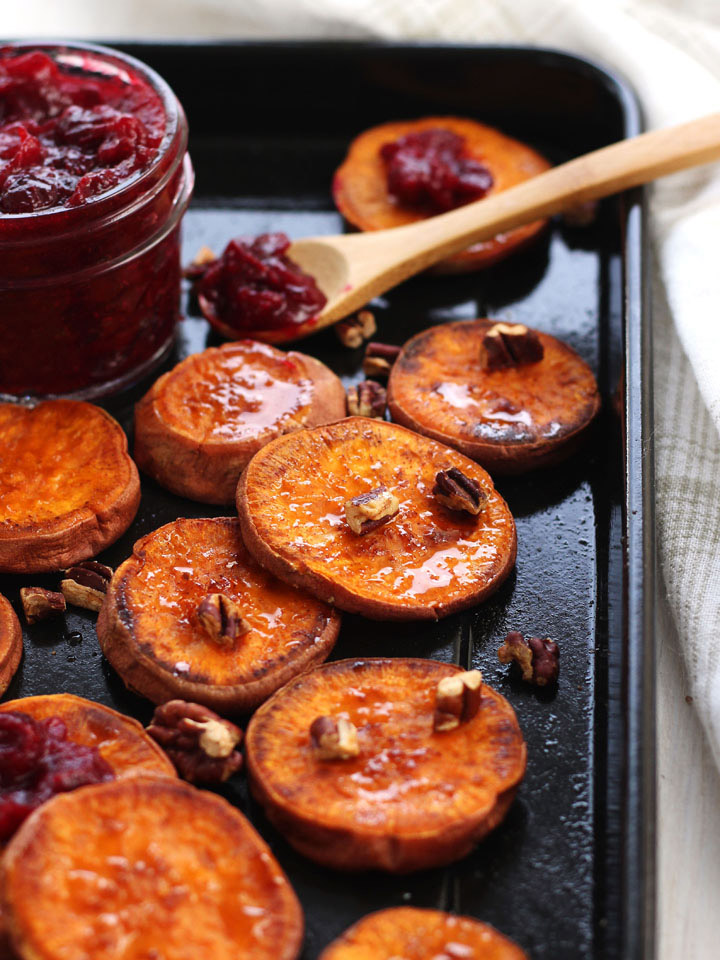 These healthy baked sweet potato slices are sturdy enough to be dippable in guacamole or your favorite hummus and make a great chip or bread substitute in:
I gave this batch a "Thanksgiving Leftovers" treatment with a drizzle of real maple syrup, some of our balsamic roasted cranberries and a few toasted pecan pieces.
They were so yummy, I'm not even ashamed to admit polishing off the whole pan All By Myself!
But I'm pretty sure you could top them with anything in your fridge or pantry and they'll be equally irresistible.
↓Want More Toppings Ideas? Scroll Down After The Recipe↓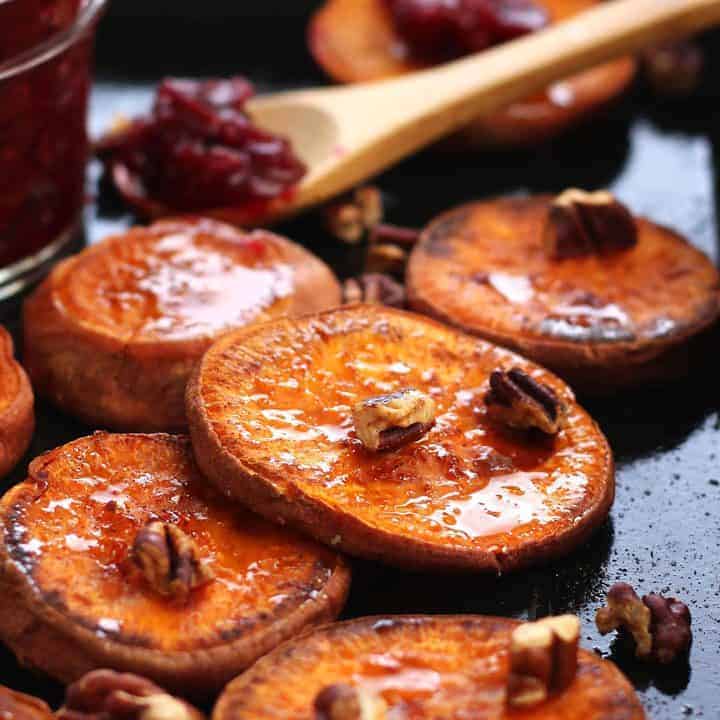 Addictive Roasted Sweet Potato Rounds
These irresistible sweet potato rounds are crispy on the outside, creamy on the inside and so easy to make with your toaster oven.
Ingredients
12 ounces sweet potatoes, washed and dried
2 teaspoons melted coconut oil
1/4 teaspoon ground cinnamon (optional)
1/8 teaspoon fine grain sea salt
Instructions
Adjust your toaster oven (or oven) cooking rack to the lowest placement and preheat to 425°F.
Slice the sweet potatoes into ½-inch rounds. Place rounds on a roasting pan or rimmed cookie sheet.
Brush each sweet potato slice with oil and sprinkle with cinnamon and salt. Flip slices over and repeat.
Roast sweet potato slices for 10 minutes. Remove the pan and carefully flip the rounds with a fork or spatula.
Return to the toaster oven (or oven) and cook for an additional 8 to 10 minutes until golden and caramelized.
Serve rounds plain or with your favorite toppings.
Notes
For the best rounds look for thinner sweet potatoes that are an even width.
Loosely adapted from this recipe
Have fun and experiment with different seasonings and toppings. Try olive oil with chipotle powder or garlic salt for a more savory snack.
Nutritional information is an estimate for 1 of 2 servings without any toppings.
Recommended Products
As an Amazon Associate and member of other affiliate programs, I earn from qualifying purchases.
Nutrition Information:
Yield:

2
Serving Size:

6 ounces
Amount Per Serving:
Calories:

240
Total Fat:

4.8g
Saturated Fat:

4g
Cholesterol:

0mg
Sodium:

52mg
Carbohydrates:

47.5g
Fiber:

7g
Sugar:

0.8g
Protein:

2.6g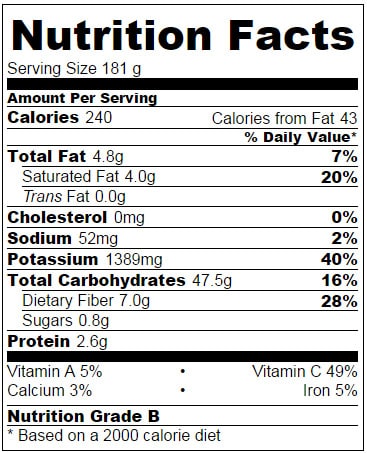 10 More Toppings For Your Roasted Sweet Potato Rounds
*For all of the variations below, omit the cinnamon used in the original recipe.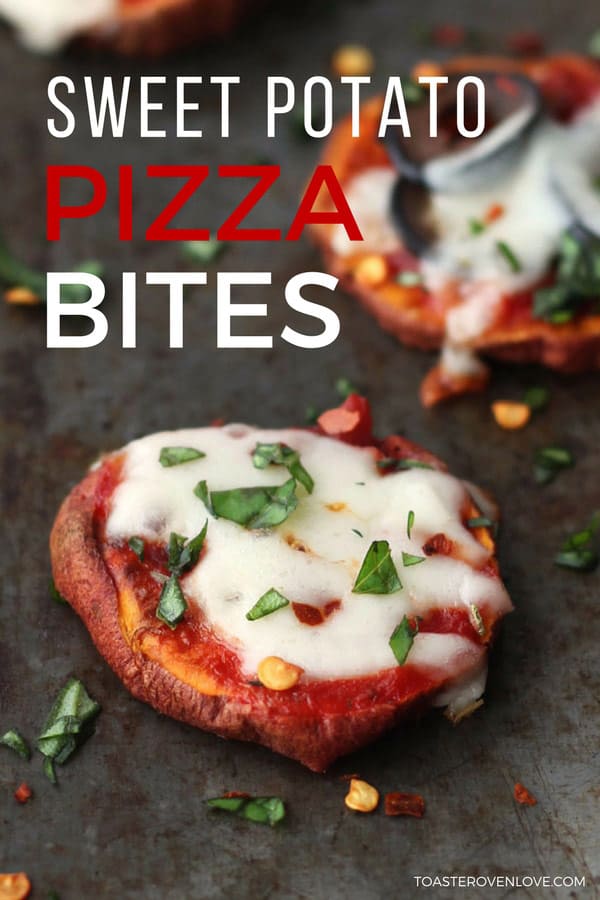 Pizza Bites: Use olive oil in place of the coconut oil in the roasted sweet potato rounds recipe. Spread cooked rounds with pizza sauce, shredded mozzarella cheese, and sliced olives. Broil for 1-2 minutes until the cheese is melted and bubbly. Sprinkle with fresh basil and red pepper flakes.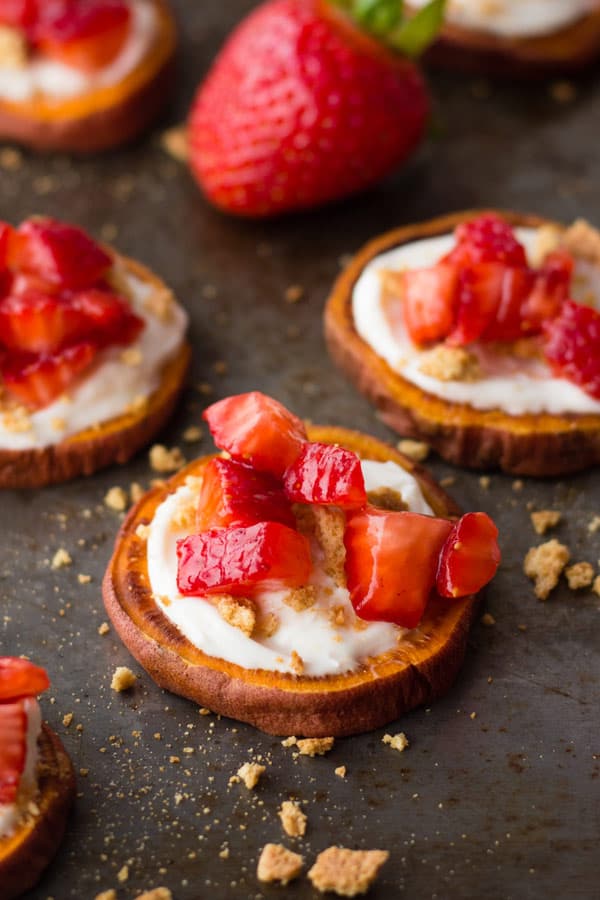 Strawberry Cheesecake: Spread slices with a mixture of 2 ounces softened light cream cheese, 1 tablespoon Greek yogurt, 2 teaspoons honey and 1/8 teaspoon vanilla. Top with 1/4 cup chopped strawberries and half a sheet of graham cracker, crushed.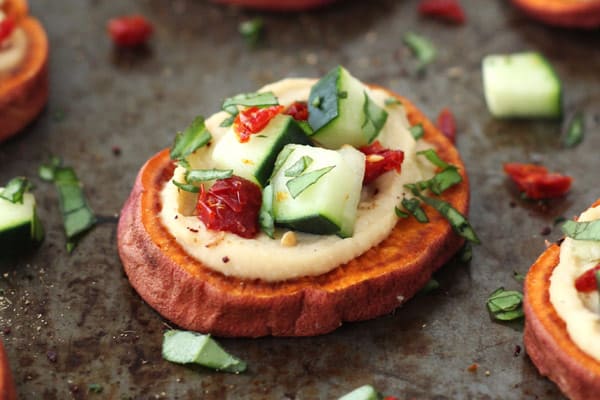 Cucumber Hummus: Top slices with hummus, diced cucumber, chopped sun-dried tomatoes, a sprinkle of Za'atar and fresh basil.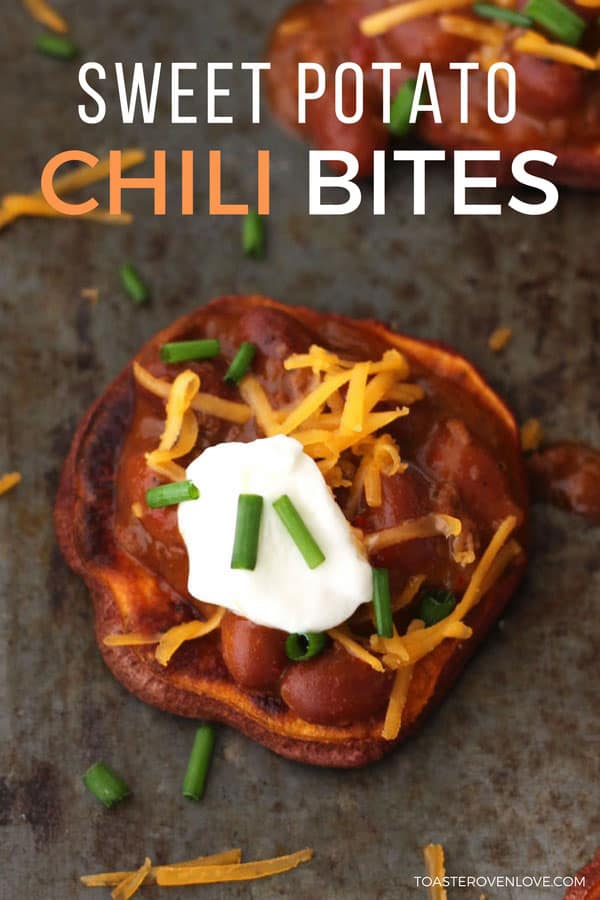 Loaded Chili Cheese: Generously top slices with 1/2 cup of vegetarian chili. Sprinkle with shredded cheddar cheese, small dollops of plain Greek yogurt and chopped chives or green onions.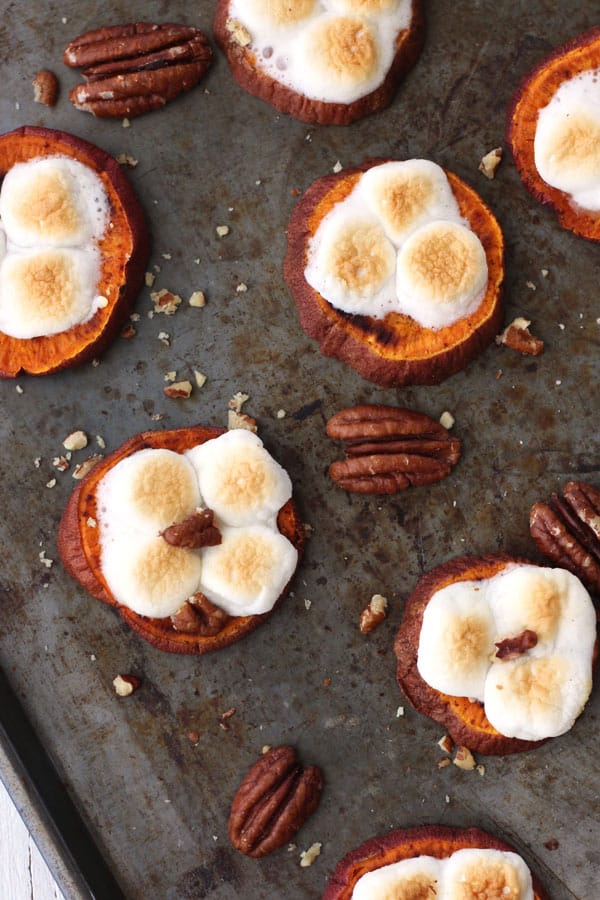 Sweet Potato Casserole: Top baked sweet potato slices with mini marshmallows and broil for 1 minute until puffed and lightly browned. Sprinkle with cinnamon and toasted pecans.
For an epic Thanksgiving S'more sandwich one between two graham crackers.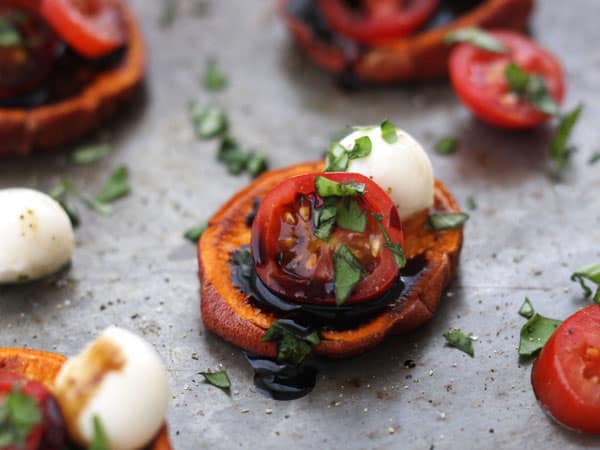 Sweet and Tangy Caprese: Top rounds with mini mozzarella balls, sliced grape tomatoes, torn fresh basil and a drizzle of balsamic glaze.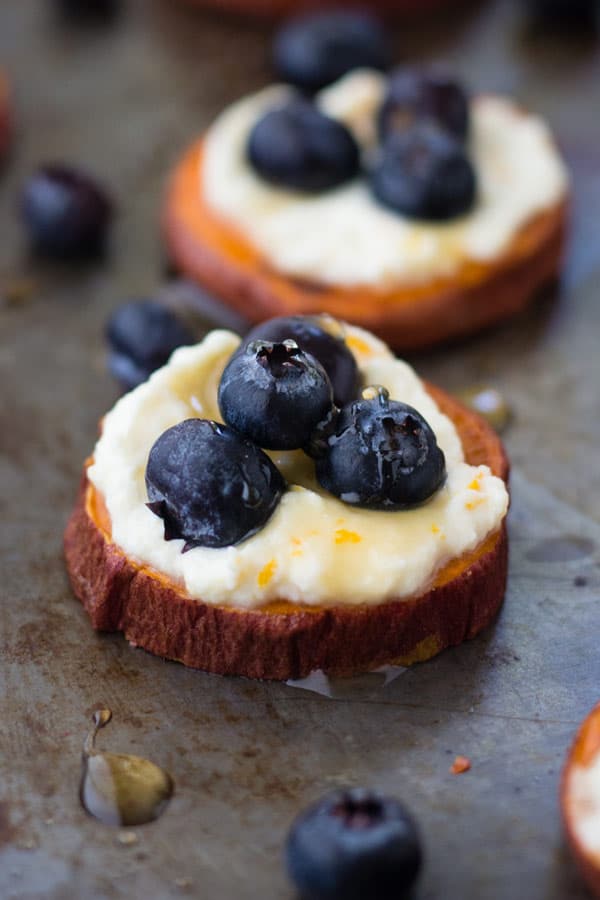 Creamy Blueberry Ricotta: Spread slices with a mixture of 1/4 cup ricotta cheese and 1/4 teaspoon orange zest. Top with 1/3 cup fresh blueberries and a drizzle of honey or maple syrup.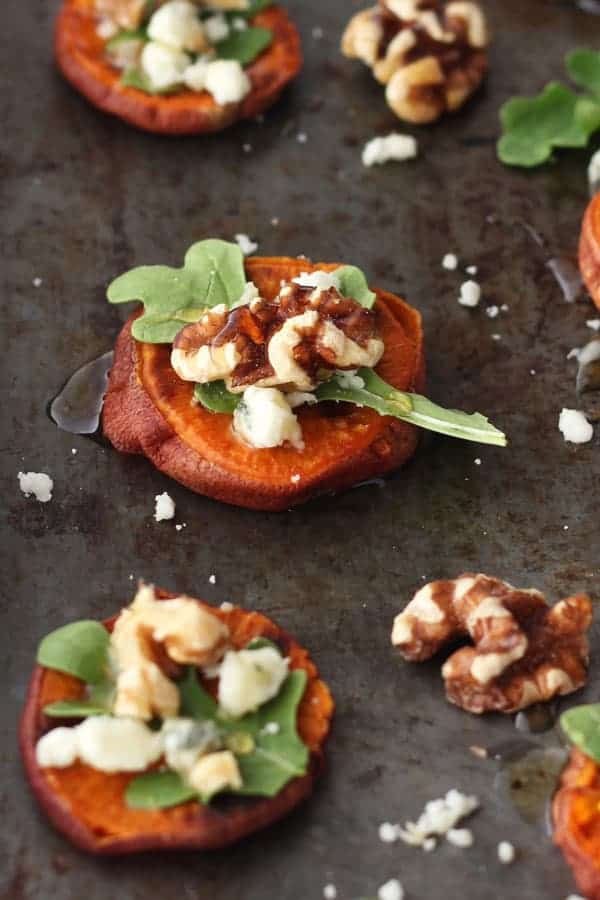 Walnut Blue Cheese: Top roasted rounds with fresh baby arugula, crumbled blue cheese, chopped or whole walnuts and a drizzle of honey.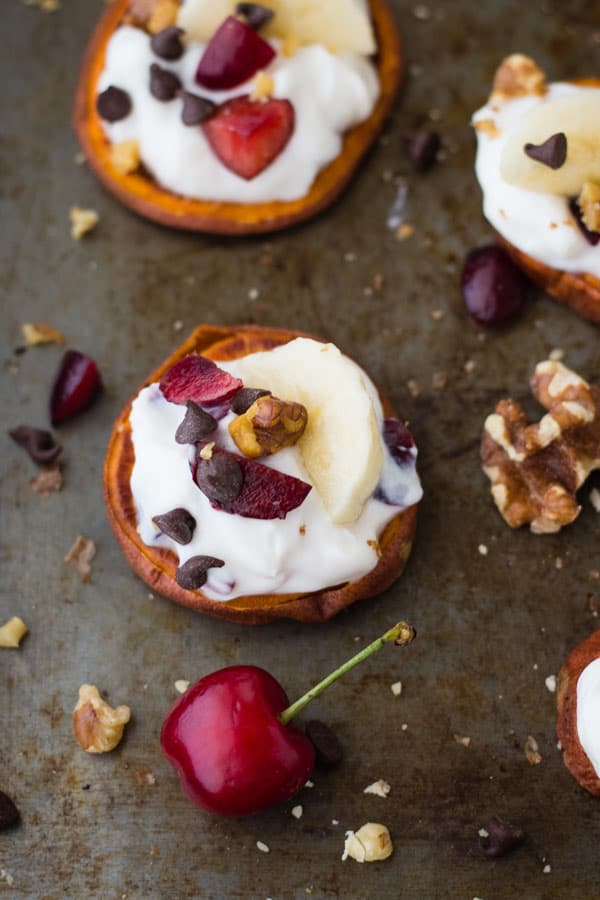 Cherry Banana Split: Dollop a mixture of 1/4 cup vanilla Greek yogurt mixed with 3 tablespoons chopped cherries onto each baked sweet potato slice. Top with banana slices and mini chocolate chips.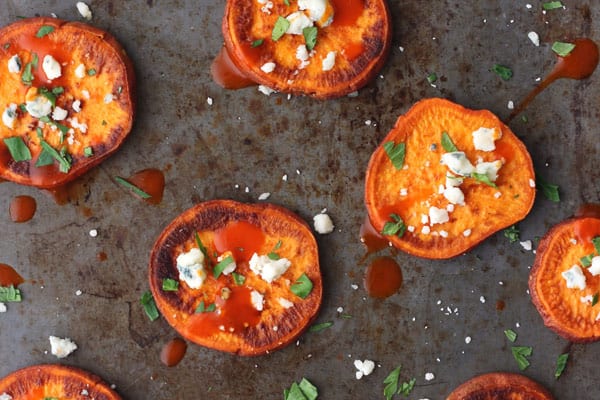 Buffalo Blue Cheese: Substitute 2 teaspoons olive oil mixed with 2 teaspoons buffalo sauce for the coconut oil in the original recipe. Top cooked rounds with crumbled blue cheese and finely chopped celery leaves. Drizzle with more buffalo sauce before serving.