Apple Nachos For Two – crisp apple slices topped with melted chocolate, toasted nuts, shredded coconut, and anything else your taste buds desire. Perfect as a late-night dessert or fun after school treat.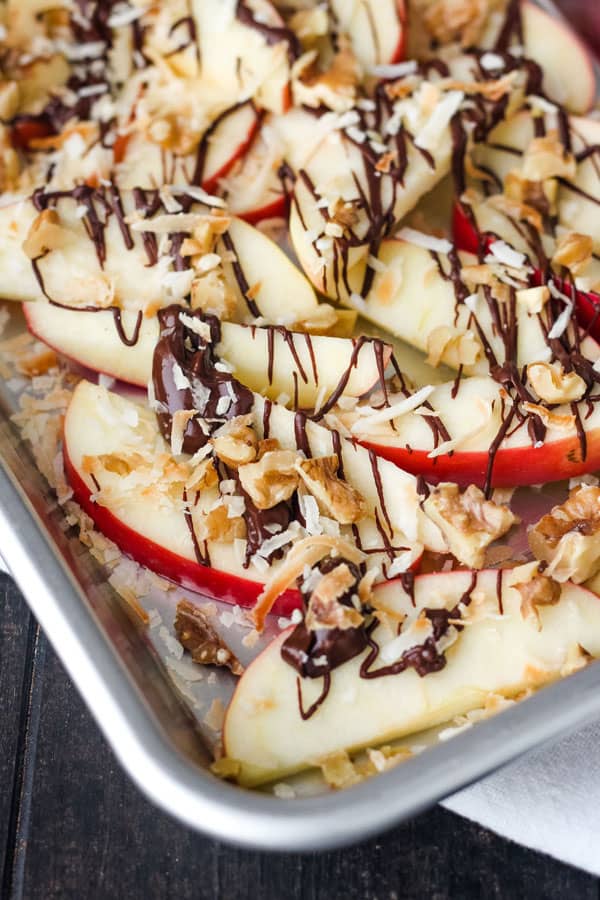 Introducing our new favorite dessert: Apple Nachos For Two.
Like this toaster oven baked pears recipes, they're easy to throw together, loaded with great flavors and textures and the toppings are totally customizable.
We like the combination of chocolate + flaky coconut + chopped nuts. It makes a plate of simple apple slices taste like something from a gourmet chocolate shop.
Apple nachos aren't a new idea but what makes this recipe special is that all of the heating, melting, and toasting happens in your toaster oven! The trick is using low heat to toast the coconut and nuts while the chocolate gently melts.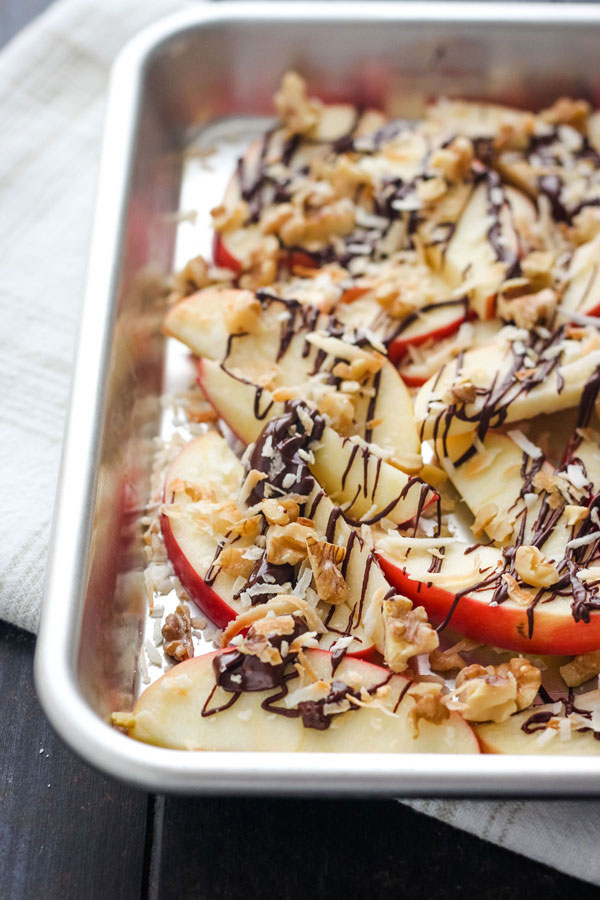 The 4 ingredients you'll need for this quick dessert:
An Apple. Pretty much any CRISP apple variety like Granny Smith, Jazz, Honeycrisp, or Pink Lady will taste fantastic. BTW if you've got an extra apple hanging around I recommend treating yourself to this gooey Grilled Cheese with Apple and Havarti.
Something to Drizzle. I like melted semi-sweet chocolate chips, their flavor is decadent and rich without being overly sweet. If you're looking for a no-sugar-added dessert, swap the chocolate with 2 tablespoons of natural peanut butter – it's delish!
Nuts. Use any kind you want. Walnuts, cashews, peanuts – they're ALL yummy. Just make sure to chop whole nuts into pieces before toasting.
Unsweetened Shredded Coconut. Toasting it takes half the time of the sweetened stuff and it tastes great too.
How to Make Apple Nachos for Two
You won't believe how easy these dessert nachos are to make. To quote Tim "the hardest part is slicing the apple!"
Begin by adding a small baking sheet filled with your coconut, nuts, and ramekin of chocolate chips to a preheated 300 degrees F toaster oven.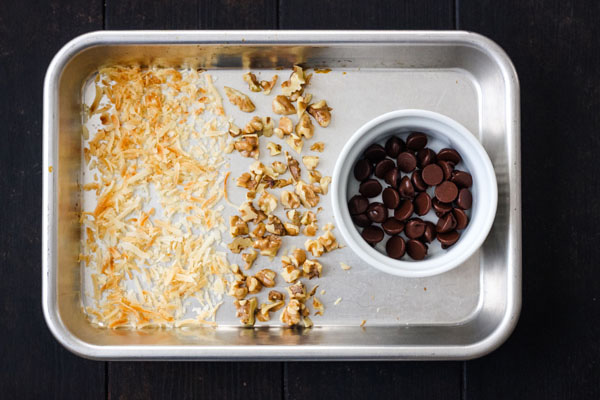 Cook until the nuts and coconut are toasted and the chocolate is shiny about 4 to 5 minutes.
If the chips don't look melted – no worries. Give them a stir and the chocolate will magically turn smooth and ready to be drizzled.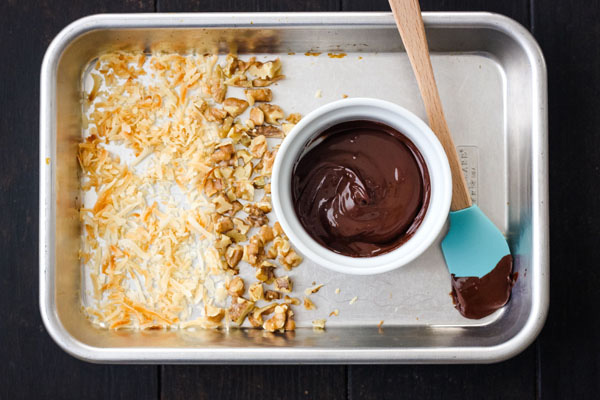 Now, cut your apple into slices and toss on a plate. If you're feeling fancy, you can arrange the slices into a pretty spiral.
The melted chocolate comes next but don't rush yourself. Drizzling it on is almost as fun as eating the nachos.
Lastly, top the slices with the toasted coconut and nuts, grab a big stack of napkins, and dive on in!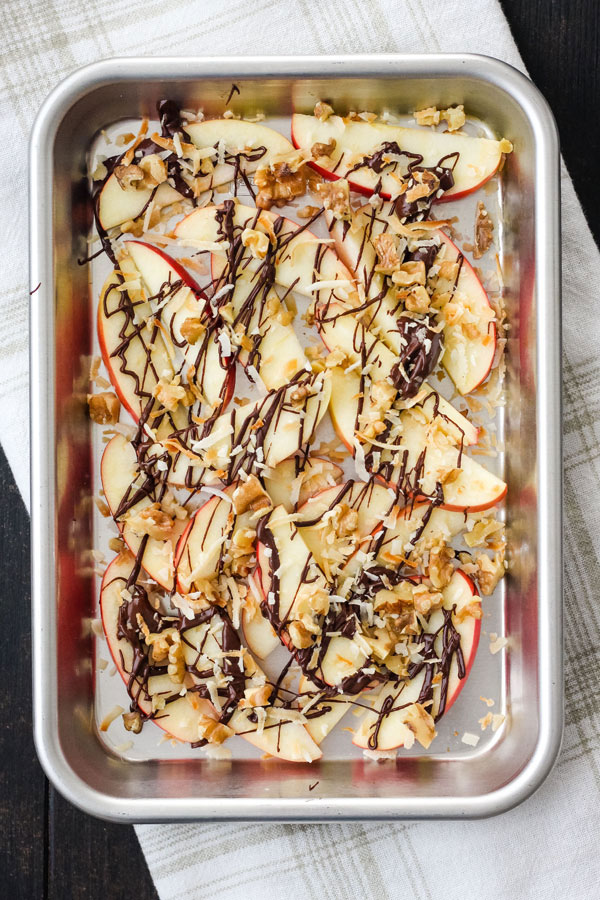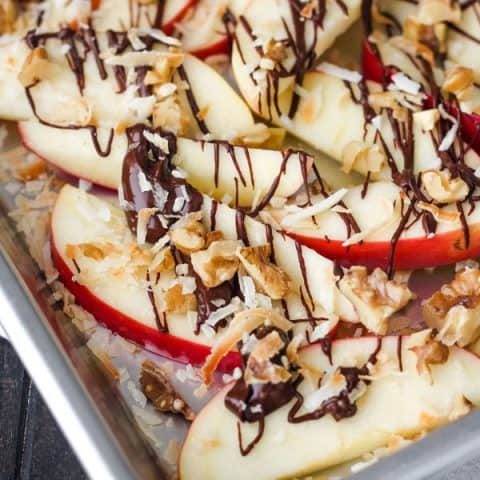 Apple Nachos For Two
A quick and easy dessert for two or just for you!
Ingredients
1 Apple, (Pink Lady or Granny Smith)
2 tablespoons Semisweet Chocolate Chips
2 tablespoons Unsweetened Shredded Coconut
2 tablespoons Chopped Walnuts
Instructions
Adjust the cooking rack to the bottom position and preheat your toaster oven to 300°F.
Place the chocolate chips in a (non-glass) ramekin. On a small baking sheet arrange the coconut and nuts in an even layer and add the ramekin to the pan.
Heat in the toaster oven until the coconut and nuts are toasted, about 4 to 5 minutes. The chocolate chips will be shiny but still in chip form. Give them a stir and the chocolate will melt and become smooth.
Cut the apple into wedges or slices and arrange them on a plate.
Drizzle melted chocolate over slices and top with coconut and nuts.
Notes
For a lower-sugar option substitute 2 tablespoons of natural peanut butter for the chocolate chips and proceed with recipe.
Nutrition Information:
Yield:

2
Serving Size:

Half of Recipe
Amount Per Serving:
Calories:

161
Total Fat:

10.1g
Saturated Fat:

4.4g
Cholesterol:

0mg
Sodium:

2mg
Carbohydrates:

17.3g
Fiber:

4.5g
Sugar:

12.7g
Protein:

2.7g