Bust out your food processor to easily beat kale into tasty salad submission! Treat yourself to a giant Quick Kale Apple Salad filled with Brussels sprouts, apples, pepitas, cranberries, pecans and canned beans. Bigger, better and so much healthier than a bagged salad.

If you're a fan of kale you will love this Quick Kale Apple Salad and if you're not you must give it a try!

Before I get to the kale let's talk chopped salads for a minute. They're full of perfectly sized ingredients ensuring that each one makes its way onto your fork in every single bite. How awesome is that?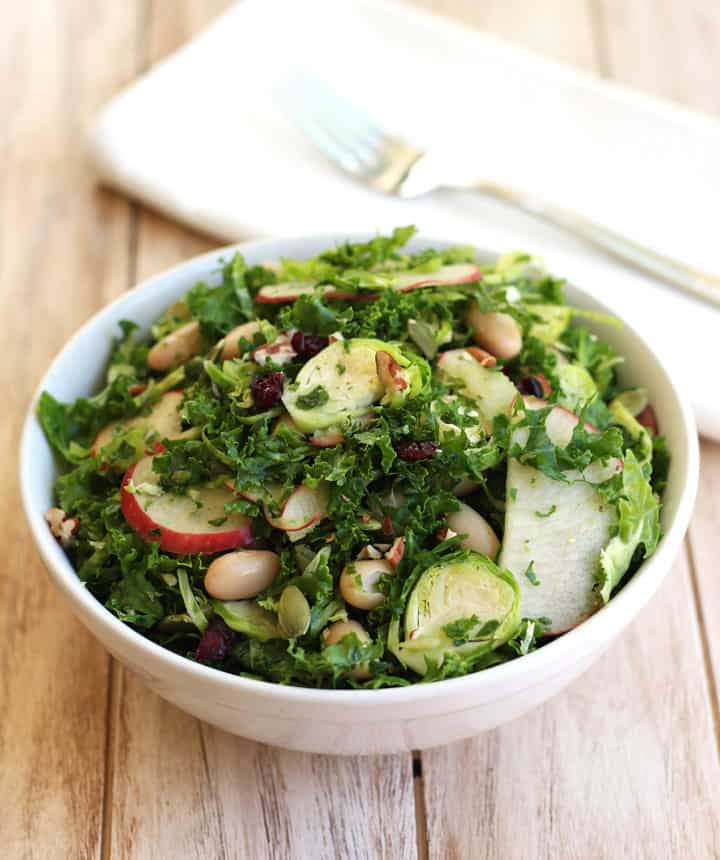 For years we were fans of those all-in-one bagged salads but slowly started to notice the vinaigrette packet getting larger while the salad portion kept shrinking. So we added in our own extra kale or lettuce to beef them up.
Then we started using our Sriracha Vinaigrette instead of the bagged dressing. Around that same time we began really reading ingredient labels and decided the little packets that came in the salad bags full of bacon pieces and croutons weren't things we wanted to eat anymore.
After tossing the vinaigrette and little baggies of seeds/meats we were left with a small pile of overpriced salad greens.

Looking to satisfy our chopped salad fix we pulled out the food processor.
This recipe becomes less quick if you have misplaced the little part the holds up your shredding/slicing plate in the processor. It takes even longer if your spouse starts trying to show you how the chopping blade doubles as the "missing part" implying that part doesn't actually exist. Eventually find it in a drawer and get back to making this super quick salad.
Now that we've got the processor and all it's parts set let's get back to the kale. If you're a big kale fan make sure to check out our Toaster Oven Kale Chips, Quick Peach Avocado Toast and these Mango Sriracha Potato Veggie Bowls served on a bed of kale and red cabbage.
If your first thoughts are Tough and Bitter when you hear the word KALE it sounds like you are in need of a little massage. Ha! Not for you but for your kale. Funny as it sounds there is real science behind the massage advice.

If you give kale a tough massage it helps to wilt the greens and in the process actually sweetens it too. Sounds fun but we have a salad to make and a massage is going to kill the quick part. Great news! The food processor slicing blade not only cuts the kale into perfectly sized pieces it also works in that massage for you.
The result is beautifully shredded slightly less bitter pieces of kale that you no longer have to chew like a Billy Goat. But the slicing blade isn't done yet, it's going to give you crunchy Brussels Sprout coins and thin crispy apple pieces.

Toss in the pepitas, cranberries, pecans, beans and dress with a few tablespoons of our Sriracha Vinaigrette and you've got yourself a Quick Kale Apple Salad that's bigger, better and so much healthier than any overpriced bagged salad.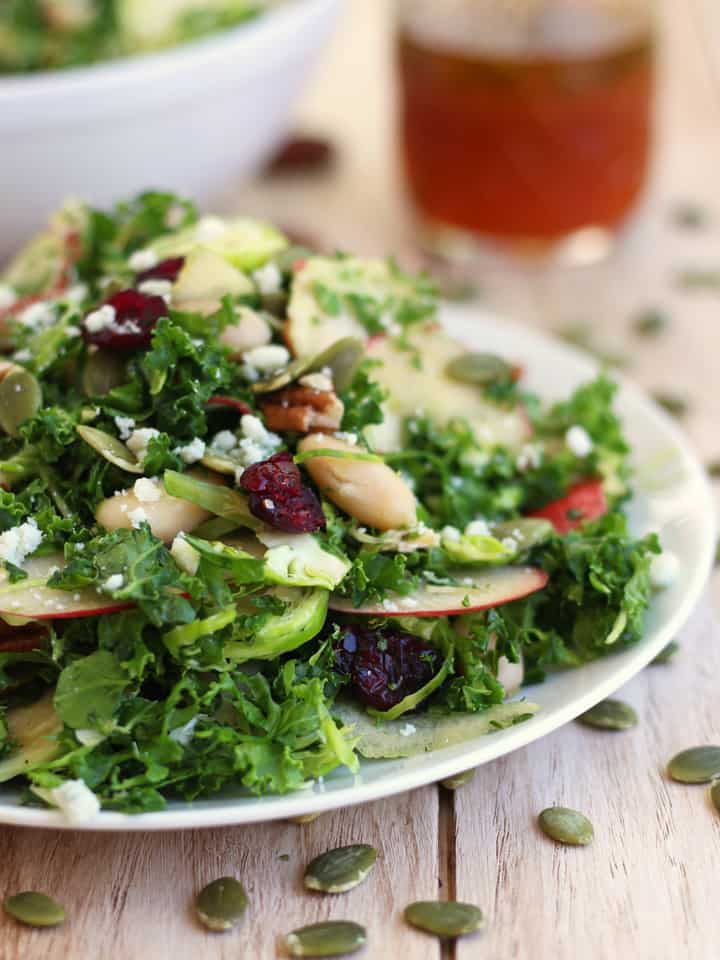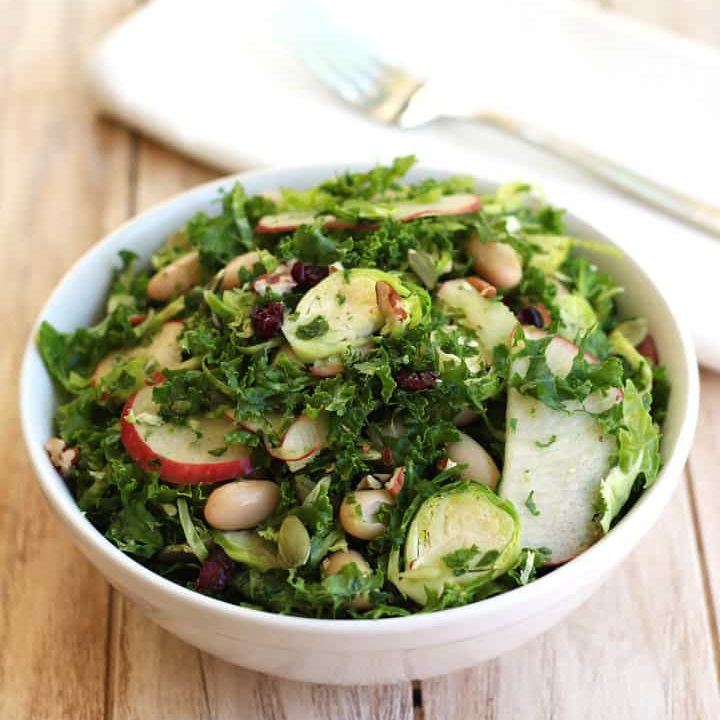 Quick Kale Apple Salad
Yield:
2 Large or 4 Small Servings
Create a healthy chopped salad using your food processor. Full of kale, Brussels sprouts, apples, cranberries, nuts and seeds.
Ingredients
8 large leaves of kale, stems removed and torn into pieces (8-10 cups loosely packed)
7 oz Brussels sprouts, bruised leaves and ends removed
3 tablespoons Sriracha Vinaigrette, (recipe link below) or use your favorite dressing
2 medium apples, seeded cored and cut into quarters (for smaller slices cut into 1/8 chunks)
2 tablespoons raw pepitas
2 tablespoons dried cranberries
2 tablespoons raw pecans pieces
1 cup cooked Cannellini beans
1 teaspoon Gorgonzola cheese crumbles, (omit for vegan)
1/2 a small lemon, sliced into wedges (optional)
Instructions
Place slicing blade in food processor (for very finely chopped kale use the shredding blade). Working in bunches feed kale through processor. Empty sliced kale into a large bowl. Still using the slicing blade feed Brussels sprouts through processor. Empty sliced sprouts into the bowl with kale. Toss to mix. Drizzle with 1-2 tablespoons of Sriracha Vinaigrette and toss well to combine.
Return to food processor (still with slicing blade) and working a quarter at a time slice apples. Empty sliced apples into kale/sprouts mixture, add pepitas, cranberries, pecans and beans to bowl. Drizzle with remaining Sriracha Vinaigrette and toss well.
Divide salad into two bowls and sprinkle with cheese if using. Serve with lemon wedges if desired.
Notes
We used Pink Lady apples for this recipe you can substitute another crispy apple variety like Golden Delicious, Gala, Honeycrisp or Granny Smith if you like something tart.
We used Curly Kale if you would like a softer less bitter kale substitute Lacinato/Dinosaur Kale.
Nutritional Information is an estimate for 1 of 2 large servings without any dressing.
You can find the recipe for our Sriracha Vinaigrette here.
Nutrition Information:
Yield:

2
Serving Size:

1 Large Salad
Amount Per Serving:
Calories:

546
Total Fat:

11.4g
Saturated Fat:

1.8g
Cholesterol:

2.1mg
Sodium:

177.5mg
Carbohydrates:

98.8g
Fiber:

25.8g
Sugar:

38.4g
Protein:

28.3g