Use your favorite boxed mix to make these tasty mini cakes for two in less than 20 minutes. They're light, fluffy, and perfect for baking in your toaster oven!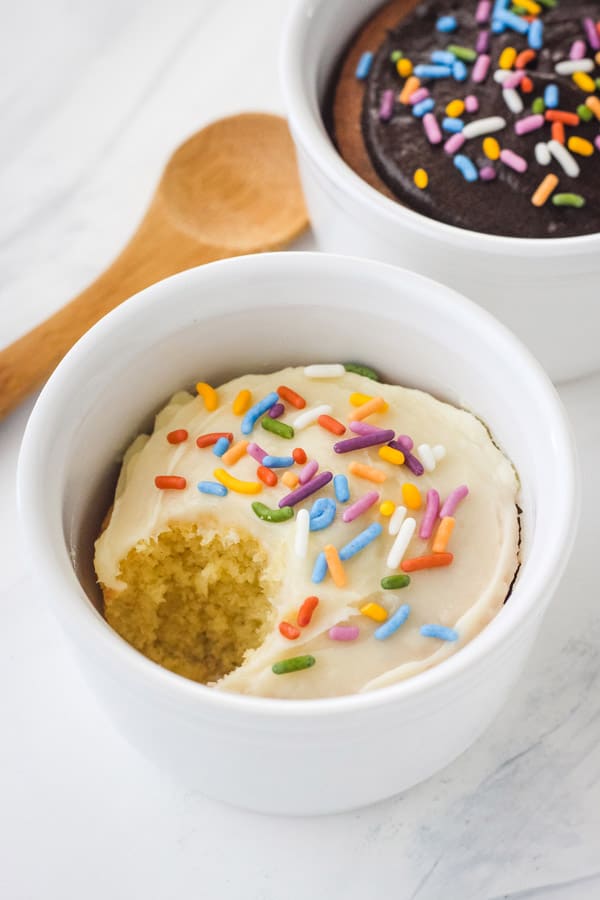 Have you tried making half a cake mix yet? It results in a single layer of cake or one dozen cupcakes, the perfect amount for small celebrations and get-togethers.
Recently, I thought it would be fun to try downsizing the mix into a really little cake recipe. You know, for those times when you're craving something sweet but only want to make enough to feed just one or two people.
After lots of recipe testing, we came up with these yummy 4-ingredient mini cake mix cakes. They're delightfully tiny (each one is the size of a small cupcake) and simple to whip up.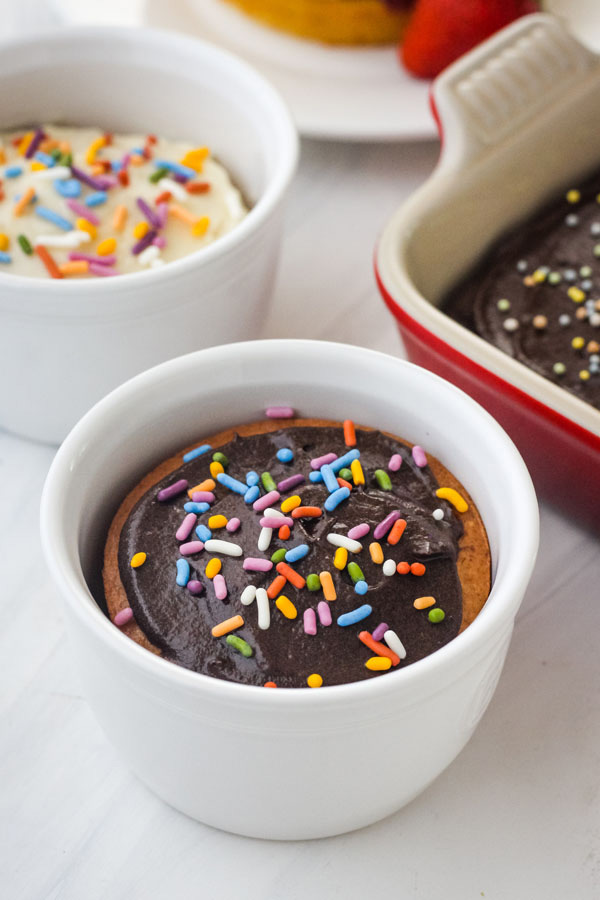 As usual, we got a little carried away trying different egg substitutions and mini pans. To help you navigate all of the great tips in this mega guide, we put together a table of contents.
If you want to skip ahead, click on the part you're interested in and you'll be taken right to it.
Table of Contents
How to Make Mini Cakes For Two
1. Start by measuring out your cake mix. You'll need 6 tablespoons, about 48 grams or 1.69 ounces.
You can measure out 6 individual tablespoons or use 1/4 cup plus 2 tablespoons. But if you're like me and get distracted easily (which leads to you losing count while measuring) consider getting a kitchen scale. They're super accurate and usually result in less dirty dishes too (yay!).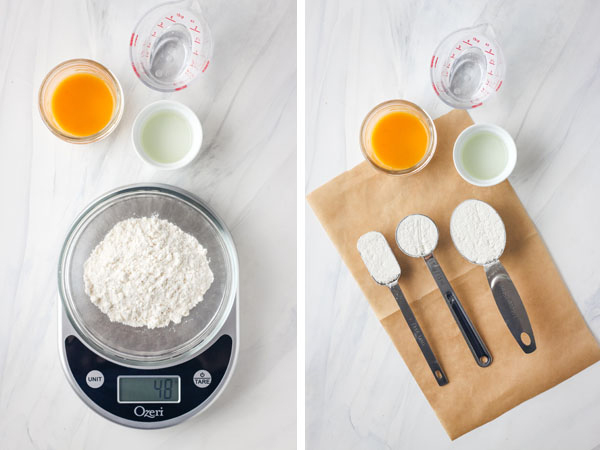 2. Next, add the remaining ingredients:
2 tablespoons water
2 teaspoons neutral oil (like canola or grapeseed)
1 tablespoon beaten egg (do not add the whole egg)
*We've tried this recipe with a variety of flavored cake mixes from Pillsbury, Betty Crocker, and Duncan Hines. The only issue we ran into was with chocolate cake mixes that call for more than 1 cup of water in the full recipe. Those cakes turned out best when we added an extra teaspoon of water to the batter.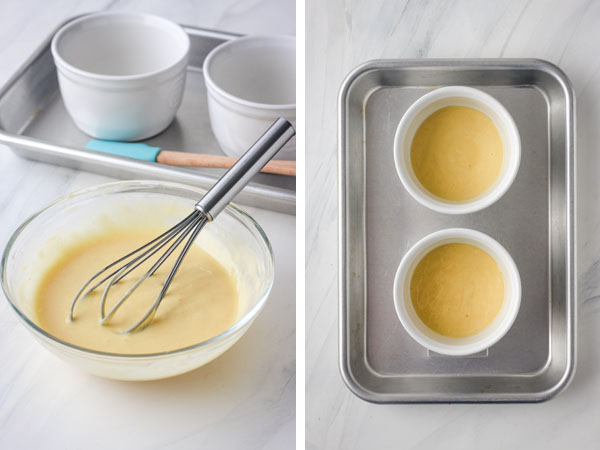 3. Whisk everything together really well and divide the batter between two oiled ramekins. To make the ramekins easy to move in and out of the oven, I like to place them on a 1/8 rimmed sheet pan.
4. Now bake the cakes until they spring back when pressed and a toothpick inserted in the middle comes out clean.
The baking time will depend on the oven and the type of pan used. Using 5-ounce stoneware ramekins our cakes usually take about 12 to 13 minutes in our traditional oven and countertop oven and about 14 to 15 minutes in our smaller toaster oven.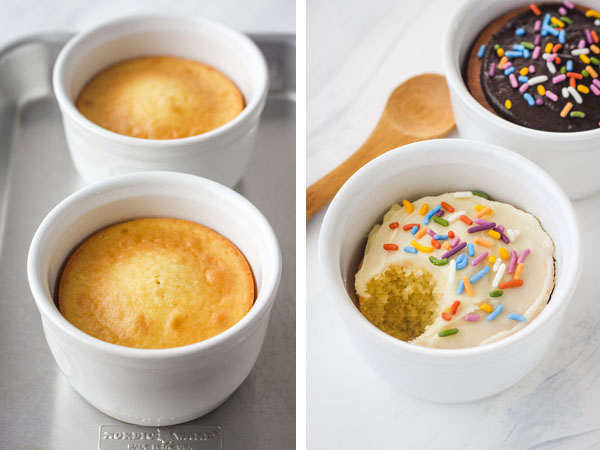 The results: a great smelling kitchen and two sweet and delicious cakes with the same texture and flavor as a full-sized cake mix cake.
Enjoy them served plain, with fresh fruit, or topped with one of these small batch frostings and glazes. For an extra special treat, add a scoop of ice cream and a dollop of small batch whipped cream.
Egg Options and Substitutions
Once we had a solid base recipe we wanted to see if there was an easier but still equally tasty non-partial egg option. So we grabbed a box of yellow cake mix and tried a few different ideas.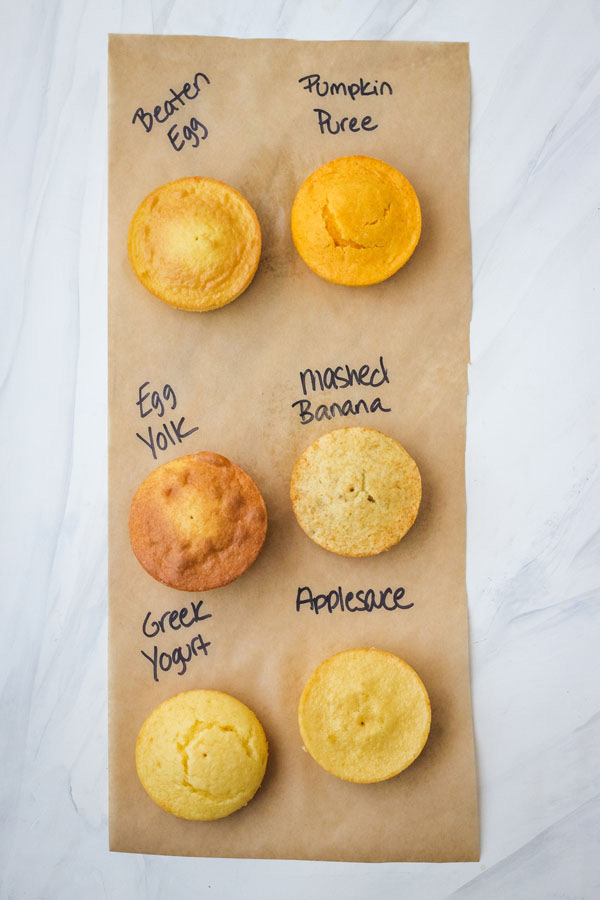 Below are the winners and losers. They're ranked in order from our most to least favorite options.
1. Egg Yolk
First, we replaced the beaten egg with a single large egg yolk.
The results: This cake was Tim's favorite. It had a richer flavor with a texture that's a cross between a sponge cake and a pound cake. Topped with whipped cream and fresh berries, they make a great mini strawberry shortcake cake.
2. Greek Yogurt
Next, we tried replacing the beaten egg with 1 tablespoon of plain 2% Greek yogurt.
The results: The cakes were a little denser compared to the cakes made with the egg. They did not bake up as tall either but were very tender and moist. Definitely, a great option if you don't have an egg or the desire to deal with beating one up.
3. Canned Pumpkin Puree
I remembered using canned pumpkin pretty successfully with cake mix before so we gave it a try and substituted 1 tablespoon of it for the beaten egg.
The results: This cake had the thickest batter yet. I was a little concerned with how orange the final cakes were but you could not taste the pumpkin at all. Like the Greek yogurt option, they were a little denser but still moist and tender.
Pro Tip: Freeze Leftover Pumpkin Puree, the little cubes are easy to defrost and perfect for tossing into smoothies or whipping up a batch of mini cakes.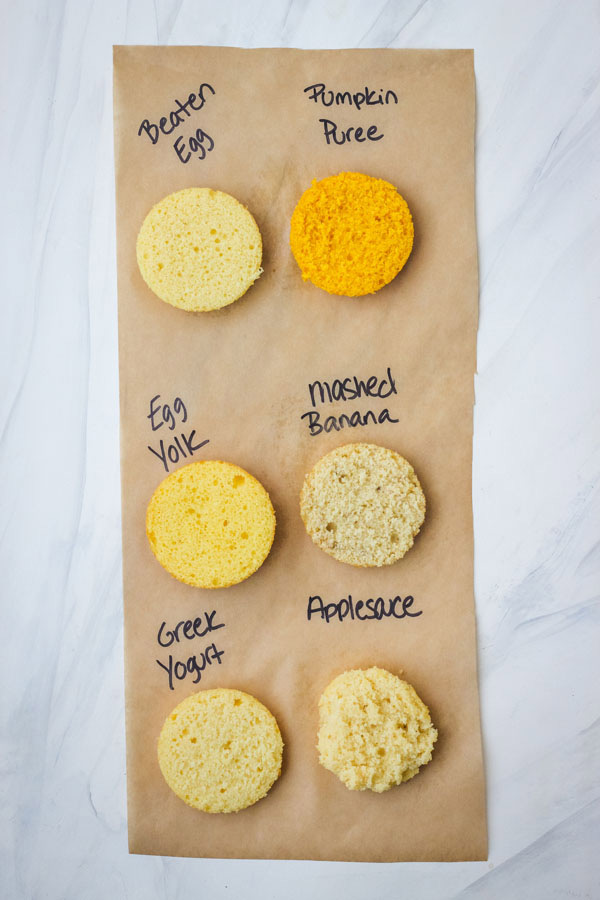 4. Mashed Banana
To try this option, I grabbed 3 slices of frozen banana and let them defrost in a bowl on the counter. After draining off most of the liquid, I mashed the banana and measured out 1 tablespoon to use in place of the beaten egg.
The results: The cakes were very tender and smelled like banana bread with an equally strong banana flavor. While they had less structure than the other cakes they didn't fall apart or turn to mush. They weren't bad but would not be my first choice.
5. Applesauce
Lastly, we omitted the beaten egg and added 1 tablespoon of unsweetened applesauce.
The results: The cakes were incredibly delicate and fell apart when I tried to remove them from the ramekin. While they were fluffy, the cakes immediately turned to mush when eaten. Even unsweetened, the applesauce made the cakes too sweet. Unless you like a mushy, overly sweet cake I'd skip the applesauce and choose a different option.
Mini Cake Pans
Curious how the cakes would bake up if we used something besides ramekins, I grabbed a few of our mini pans and more mix.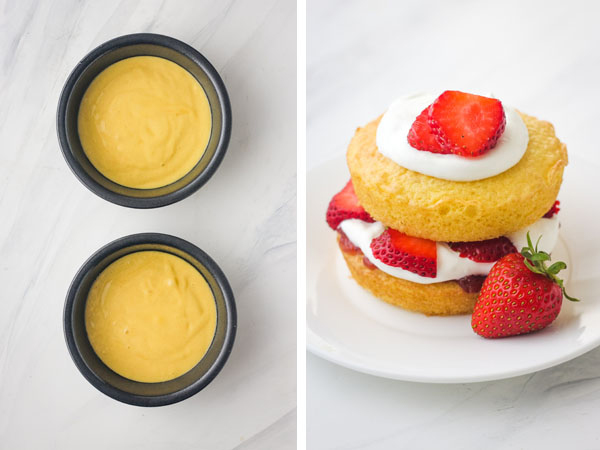 The batter fits nicely into two of the 4-inch round mini pans we use to make berry banana bread. Because the pans are wider, the batter is more spread out and bakes much faster. Our cakes took just 8 minutes.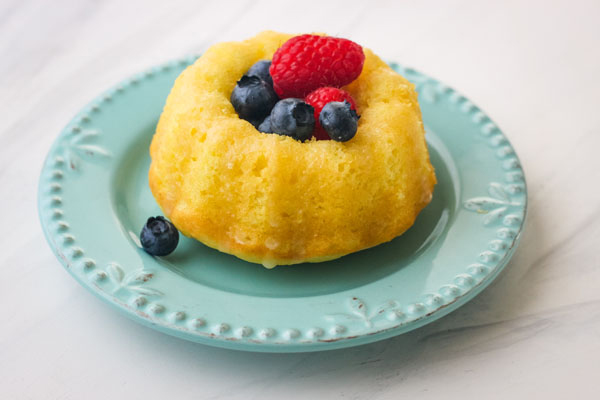 When I tried making bundt cakes with the beaten egg and the egg yolk the batter was just too much for our mini bundt pan.
But the cake made with Greek yogurt worked out perfectly. The bundt cake took the same amount of time as the ramekins and tasted delicious.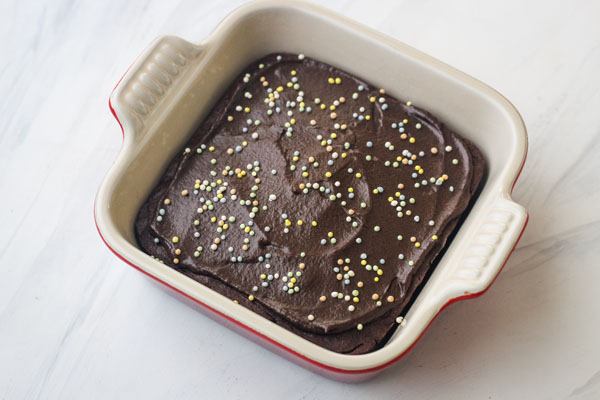 My favorite cake was the one we baked in our 5 x 5 x 1½ stoneware baking dish. It was so cute, tasted fantastic, and was perfect for sharing. Like the round pans, the batter was spread out more so it only took about 11 minutes.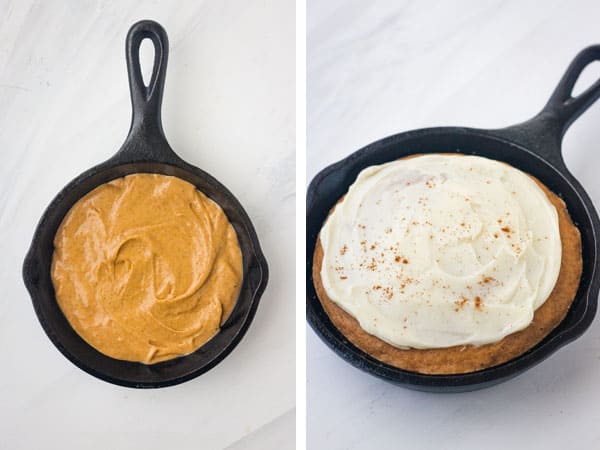 Lastly, I used a 5-inch mini skillet to bake up a spice cake made with the pumpkin puree instead of egg. The cake baked up in about 12 minutes and tasted great, especially with a little cream cheese frosting.
Toaster Oven Baking Tips
If you're cooking with a convection toaster oven, lower the temperature by 25 degrees. This helps to keep the cakes from overcooking at the edges before the middles are baked through. Related: Everything You Need to Know About Convection Toaster Ovens
To test this recipe using convection we baked it a few different ways:
The ramekin cakes were significantly sloped to one side (nothing a little frosting wouldn't fix).
The cakes baked in two mini round pans, and in the 5 x 5 stoneware dish turned out fine with no funky slopes.
All of them were ready about 1 to 2 minutes faster than the original recipe and tasted yummy.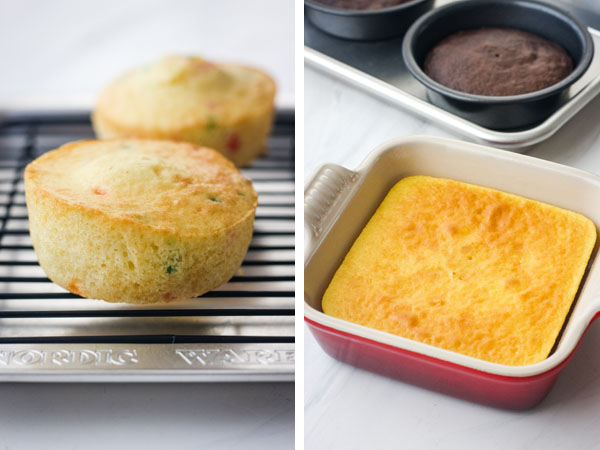 Whether you use convection or not, cakes baked in metal pans will usually cook faster than ones baked in stoneware or ceramic dishes.
*As toaster ovens and baking dishes vary greatly, always refer to the manufacturer's recommendations (for both the oven and the dish) as to what is acceptable for use in your specific oven.
For the best results, remember that recipe cooking times are guidelines, not rules. Check on your mini cakes early and use your senses (touch, smell, and sight) when testing for doneness.
More Tasty Cake Mix Recipes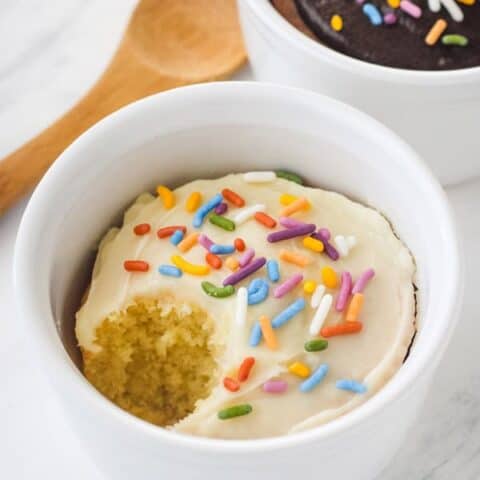 Mini Cakes For Two
Made with boxed cake mix these delightfully small mini cakes are the perfect sweet treat for one or two people. They're light, tender, and taste lovely served plain, topped with whipped cream, frosting, or a scoop of ice cream!
Ingredients
6 tablespoons Boxed Cake Mix (about 48 grams or 1.69 ounces)
2 tablespoons Water
1 tablespoon Beaten Egg (do not use the entire egg)
2 teaspoon Neutral Oil (we used canola and grapeseed oil)
Instructions
Preheat oven to 350°F. If using a toaster oven, adjust the cooking rack to the bottom position, and use the BAKE setting.
Coat two 4 or 5-ounce ramekins with oil or cooking oil spray and place on a rimmed sheet pan.
Combine the cake mix, water, beaten egg, and oil. Whisk until smooth and well combined.
Divide the batter evenly between the prepared ramekins.
Bake until the cakes spring back when pressed and a toothpick inserted into the center comes out clean, about 11 to 14 minutes. Begin checking after 11 minutes, adding more time as needed. (see notes)
Carefully remove the hot pan from the oven. Transfer ramekins to a cooling rack to cool completely.
Once cooled, enjoy plain or topped with your favorite frosting, glaze, or a scoop of ice cream.
Notes
To measure the beaten egg, crack an egg into a small bowl and beat with a fork until the white and yolk are combined. Measure out 1 tablespoon. Refrigerate leftover egg and use within 24 hours.
Baking Times
The ramekin cakes baked in our regular oven and countertop oven took 12 to 13 minutes. In our smaller toaster oven, they took about 15 minutes.
The type of ramekin or pan used will affect the baking time. See post for different mini pan baking time estimates.
Convection Toaster Oven Adjustments
Reduce the temperature to 325°F and begin checking for doneness 2 to 3 minutes earlier than the shortest time listed for your pan type.
Sponge Cake Style Cakes
Omit the beaten egg and add 1 large egg yolk (do not add the white, reserve it for different use). The cakes will be denser with a richer flavor.
Egg Substitutions
See post for a description of the resulting texture for each substitution.
Greek Yogurt - Omit beaten egg and add 1 tablespoon plain Greek yogurt.
Pumpkin - Omit beaten egg and add 1 tablespoon of pumpkin puree.
Banana - Omit beaten egg and add 1 tablespoon mashed banana.
Nutrition Information:
Yield:

2
Serving Size:

1 Plain Mini Cake
Amount Per Serving:
Calories:

150
Total Fat:

7.2g
Saturated Fat:

1.1g
Cholesterol:

28mg
Sodium:

172mg
Carbohydrates:

19.6g
Fiber:

0g
Sugar:

10.6g
Protein:

1.9g