These Spicy Chickpea Edamame Salad Pitas take less than 15 minutes to make with endless ways to customize them. Each pita is filled with a mashed chickpeas salad made with subtly sweet edamame, diced celery, green onions, sun-dried tomatoes, creamy yogurt and spicy Sriracha.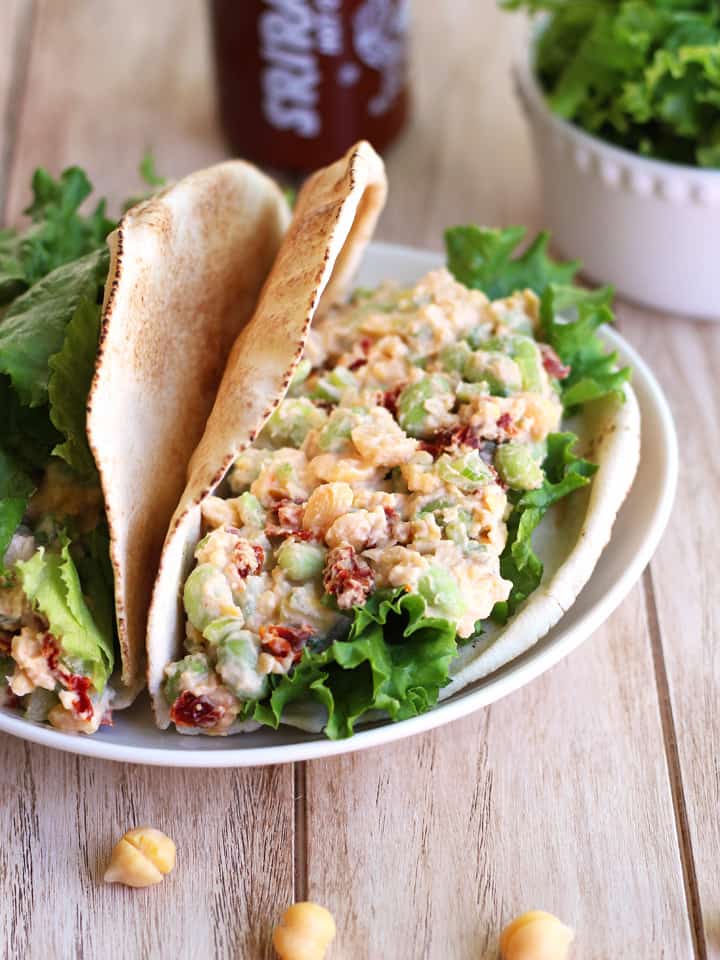 Some people collect Star Wars toys or fancy shoes, around here our collections are always food related. Last week as I was grabbing a bag of frozen veggies from our chest freezer my eye spied not one but four different types of pitas just chilling.
Similar to July's four cans of pumpkin problem that turned into tasty Cinnamon Glazed Whole Wheat Mini Pumpkin Donuts I thought our pita stash could inspire something yummy…Like these Spicy Chickpea Edamame Salad Pitas.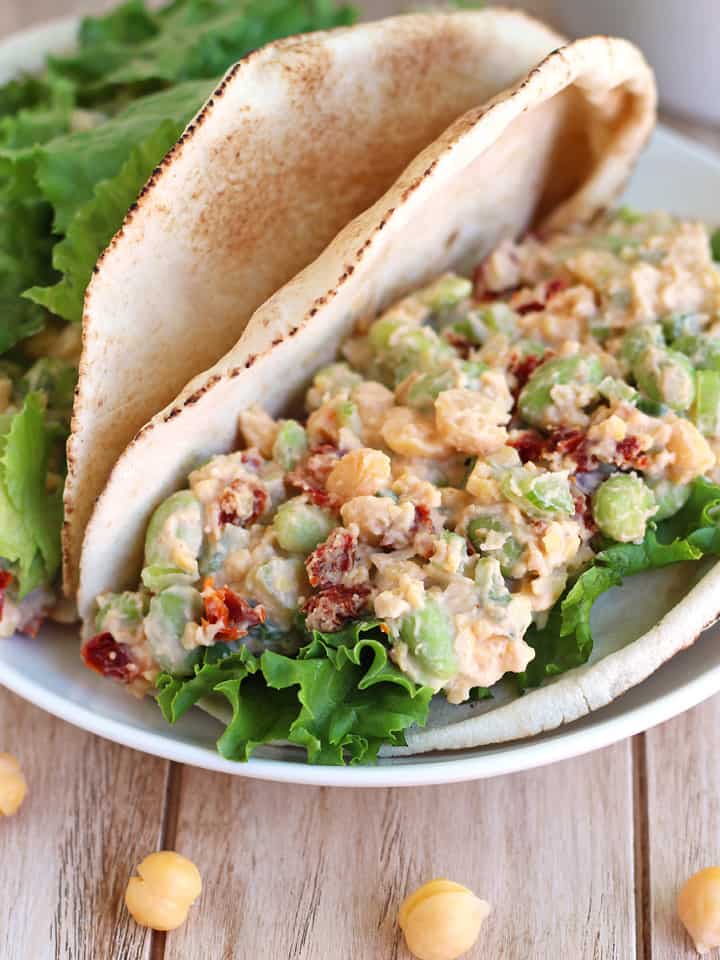 Each one is just over 300 calories and they take less than 15 minutes! Even better – there are a bunch of ways for you to customize the recipe.
Different from pita pockets (which are also in our freezer 🙂 and perfect for making Strawberry Spinach Pita Pockets with) these pitas are thinner with a nice crispy edge and soft foldable middle. A healthy bonus of a thinner pita is they're about half the calories of their pocketed siblings.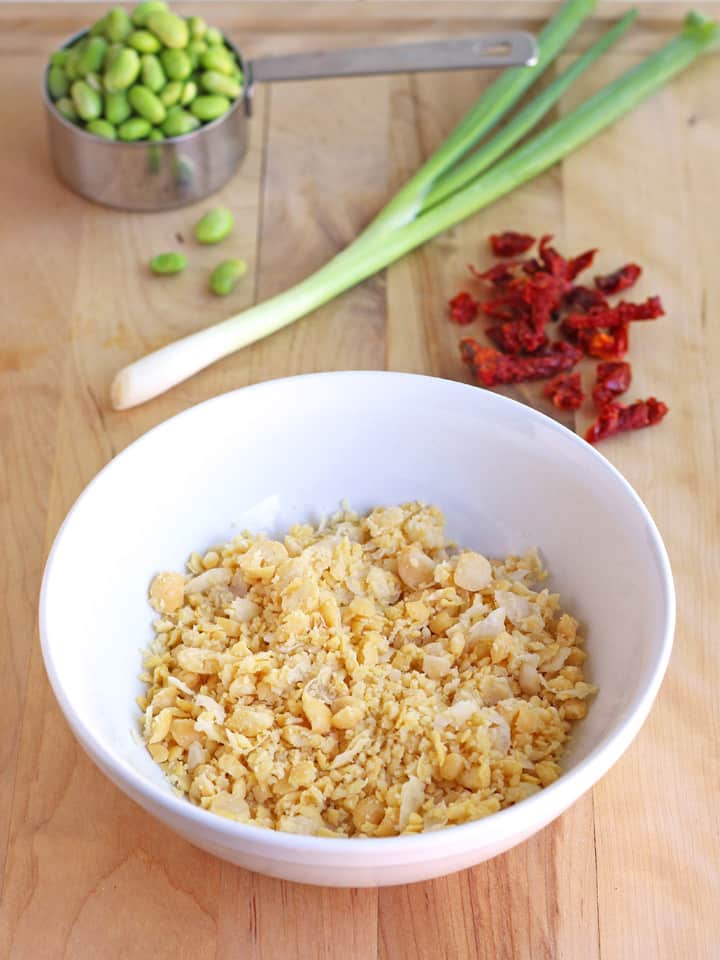 Then there's the high protein filling starting with mashed chickpeas and subtly sweet edamame. Finely diced celery and green onions add a perfect crunch to each bite. A creamy yogurt sauce with a touch of citrus and the heat of Sriracha bring it all together while deeply flavored sun-dried tomatoes provide the finishing touch.
Ideas for customizing your Spicy Chickpea Edamame Salad Pitas:
Skip the edamame and use 100% chickpeas
Load up on extra veggies by adding sliced cucumbers and tomatoes
Add a does of healthy fat with avocado slices or a tablespoon of sunflower seeds
Lose the pitas entirely and scoop it as a dip with celery sticks
The options seem pretty endless….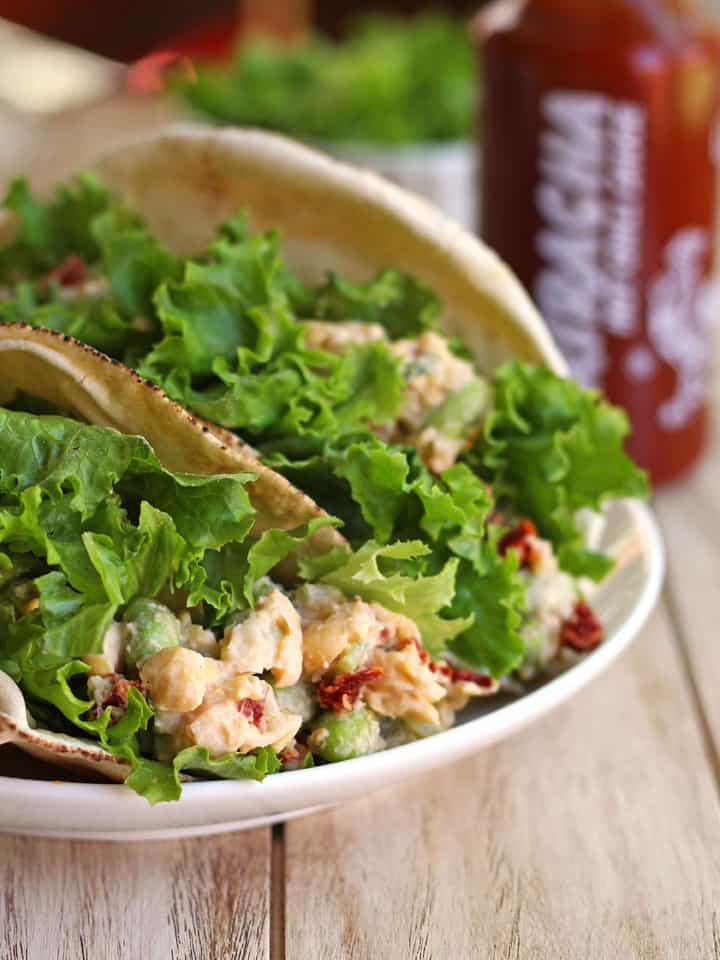 Even if you don't have a collection of pitas filling your freezer I think you should find some sliced bread and top it with this hearty, crunchy, creamy, Spicy Chickpea Edamame Salad.
For even more sandwiches, wraps and pitas check out this Vegetarian Sandwiches & Wraps Roundup featuring 12 ridiculously delicious vegetarian and vegan options!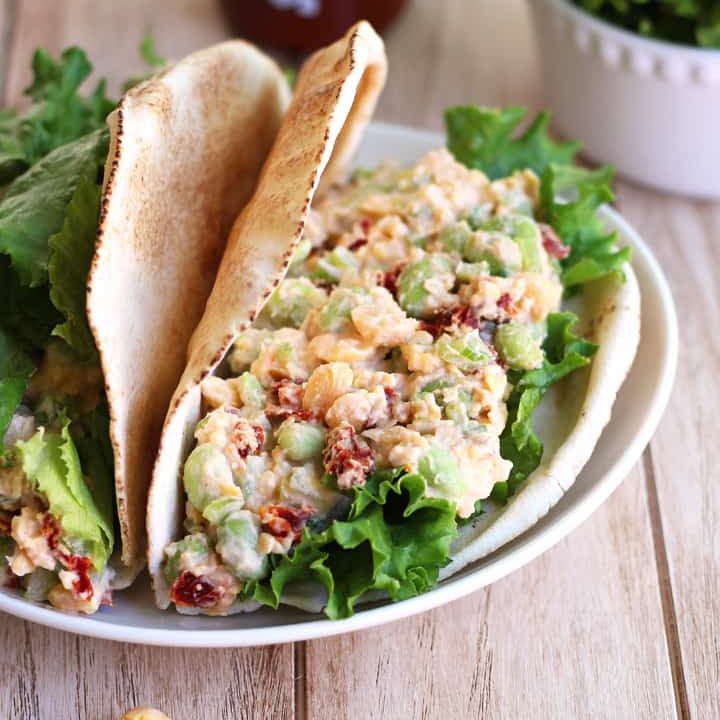 Spicy Chickpea Edamame Salad Pitas
Spicy Chickpea Edamame Salad Pitas. Less than 15 minutes to make and a bunch of ways for you to customize them.
Ingredients
1 cup cooked chickpeas
3 to 4 tablespoons nonfat plain Greek Yogurt
1/4 teaspoon garlic salt
1-2 teaspoons Sriracha sauce, (start with 1 teaspoon and add more to meet your heat preference)
2 teaspoons fresh lemon juice
1/3 cup shelled edamame, (green soy beans)
1 green onion, finely chopped
1 large celery stalk, finely diced (about 1/3 cup)
2 tablespoons finely chopped sun-dried tomatoes
salt and pepper, to taste
1 cup torn curly lettuce
2 thin whole wheat pitas, unsliced
Instructions
Place chickpeas in a medium bowl and mash with a fork until broken up but still slightly chunky. Stir in yogurt, garlic salt, Sriracha sauce and lemon juice until well combined. Stir in edamame, onion, celery and sun dried tomatoes. Taste mixture and add salt, pepper and more Sriracha sauce if desired.
Divide lettuce evenly between pitas, top with salad and enjoy. If you like a little extra zing in your salad serve the pitas with sliced lemons.
Notes
Nutritional Information is an estimate for 1 Filled Pita.
Nutrition Information:
Yield:

2
Serving Size:

1 Filled Pita
Amount Per Serving:
Calories:

328
Total Fat:

15.6g
Saturated Fat:

0.6g
Cholesterol:

1.9mg
Sodium:

289.9mg
Carbohydrates:

53g
Fiber:

10.3g
Sugar:

8.1g
Protein:

20.3g
Nutritional information provided is an estimate generated by an online calculator. It should not be considered a substitute for advice from a professional nutritionist or your doctor.
This recipe was submitted to Meat Free Mondays at the yummy vegetarian blog Tinned Tomatoes – check it out every Monday to easily plan a delicious meat-free week!