Spicy Chickpea Edamame Salad Pitas
These easy to prepare Spicy Chickpea Edamame Salad Pitas are loaded with light and fresh flavor. Ready in 15 minutes and simple to customize, they're perfect for a quick weekday lunch.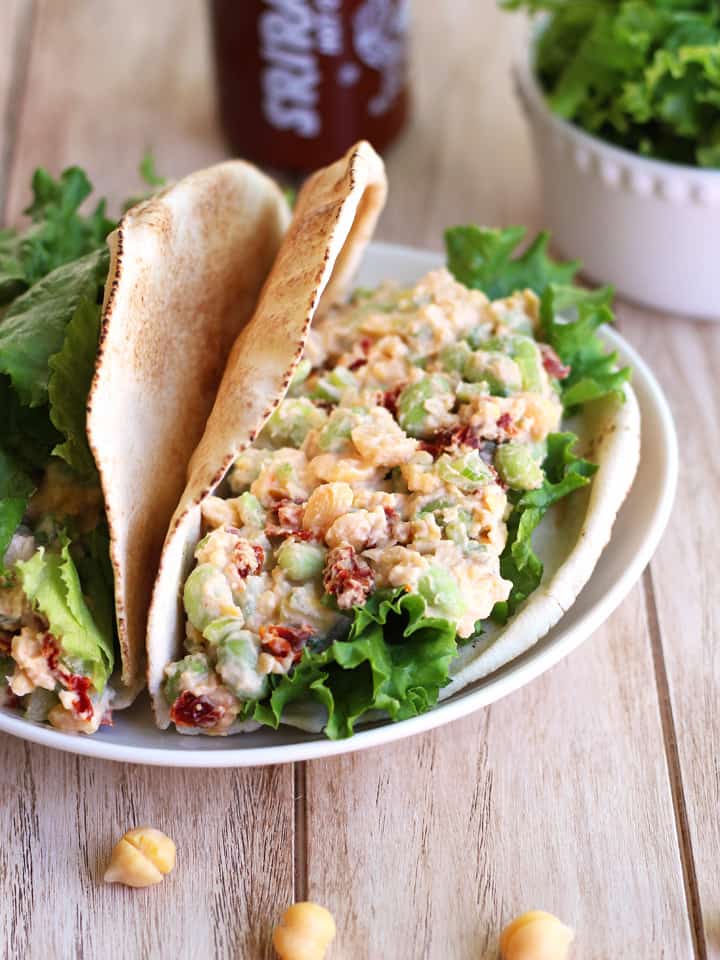 Spicy Chickpea Edamame Salad Pitas
I love a good vegetarian sandwich (we'd also accept wraps, pitas, or flatbreads). Basically, slap a flavorful filling onto some form of bread and I'm in!
If you're a fan of vegetarian sammies too, I think you're going to enjoy these spicy chickpea edamame salad pitas. They're great for when you're craving a substantial meal but don't have much time.
The salad comes together quickly in just 15 minutes.
It's loaded with protein thanks to mashed chickpeas, sweet edamame, and tangy Greek yogurt.
Diced celery and green onions add crunch.
While spicy Sriracha and smoky sun-dried tomatoes provide the finishing touches.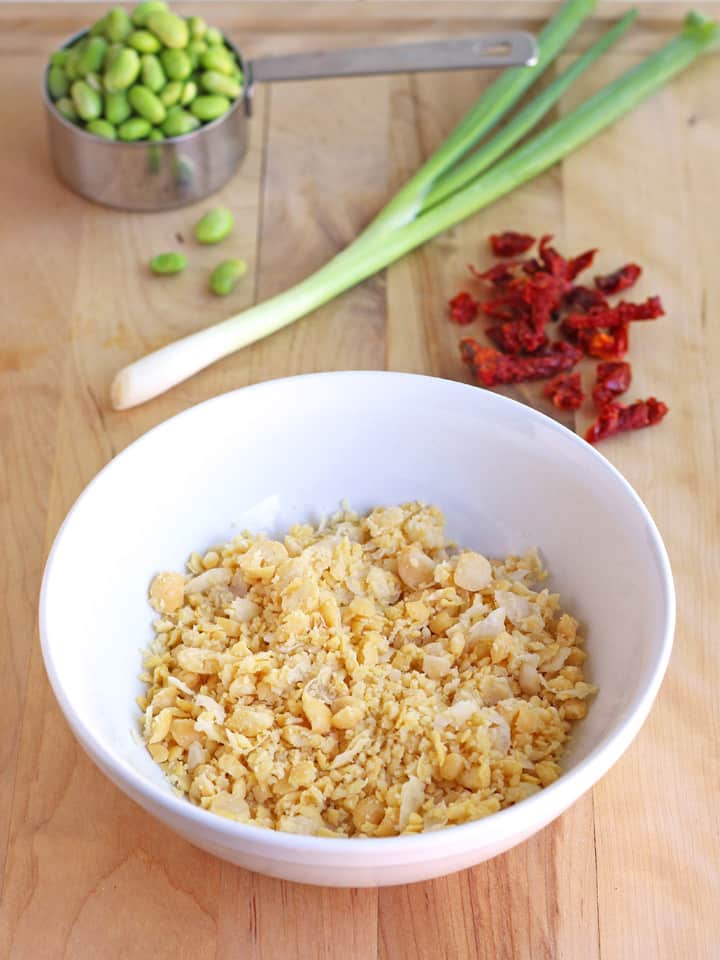 One of my favorite things about this recipe is how easy it is to customize. Below are some of our go-to swaps and additions.
Spicy Chickpea Salad Pita Variations:
Skip the edamame and use 100% chickpeas
Load up on extra veggies by adding sliced cucumbers, tomatoes, or zucchini noodles
Add a dose of healthy fat with avocado slices or a tablespoon of sunflower seeds
Ditch the pitas and just eat it with a spoon.
Have fun making your own custom creation, the options are endless!
~ Keep scrolling for ingredient tips after the recipe ~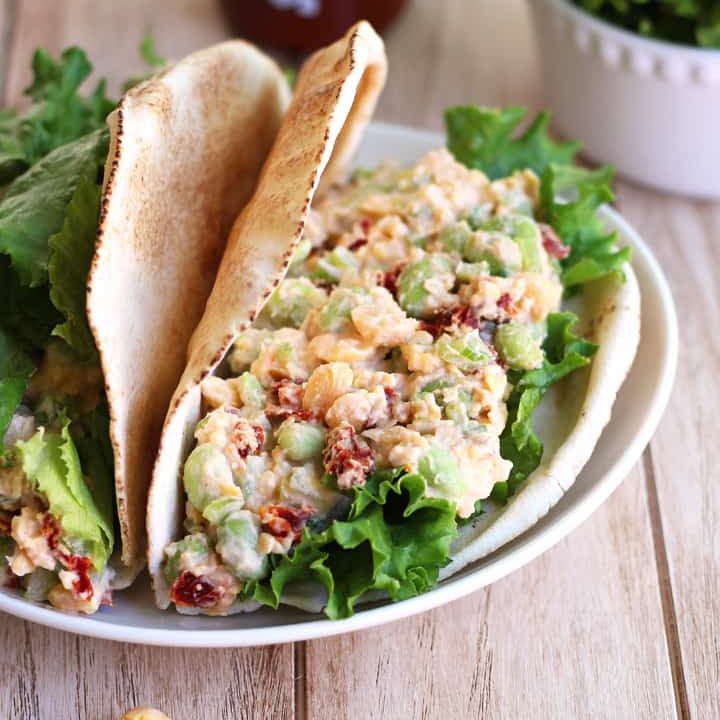 Spicy Chickpea Edamame Salad Pitas
Ready in 15 minutes and simple to customize, these Spicy Chickpea Edamame Salad Pitas are perfect for a quick weekday lunch. 
Ingredients
For The Salad:
1 cup Cooked Chickpeas, rinsed well if using canned
3 to 4 tablespoons Plain Greek Yogurt (we've used nonfat and 2%)
1/4 teaspoon Garlic Salt
1 to 2 teaspoons Sriracha Sauce, (start with 1 teaspoon and add more to meet your heat preference)
2 teaspoons Lemon Juice
1/3 cup (2 ounces) shelled Frozen Pre-Cooked Edamame, thawed
1 Green Onion, finely chopped
1 Celery Stalk, finely diced (about 1/3 cup)
2 tablespoons finely chopped Sun-Dried Tomatoes
Salt and Black Pepper, to taste
For The Pitas:
1 cup torn Curly Lettuce
2 Whole Wheat Pitas, unsliced
Lemon wedges, for serving
Instructions
Place chickpeas in a medium bowl and mash with a fork until broken up but still slightly chunky.
Stir in yogurt, garlic salt, Sriracha sauce, and lemon juice until well combined.
Stir in edamame, onion, celery, and sun-dried tomatoes.
Taste mixture and add salt, pepper, and more Sriracha sauce or Greek Yogurt if desired.
Divide lettuce evenly between pitas, top with salad and enjoy. If you like a little extra zing in your salad serve the pitas with sliced lemons.

Notes
Frozen Edamame: If your edamame is not the pre-cooked variety, follow package directions for cooking before proceeding with the recipe.

Warming The Pitas: You can warm pitas on the stovetop, in the microwaves for 15 to 20 seconds or popped in a 325°F toaster oven for 3 to 5 minutes.

Prep-Ahead Instructions: Make the salad as directed and refrigerate. Store salad, lettuce, and pitas separately until ready to assemble. There may be a little liquid (whey) on top of the prepared chickpea salad, just drain it off and stir salad before assembling.

Nutrition Information:
Yield:

2
Serving Size:

1 Filled Pita
Amount Per Serving:
Calories:

328
Total Fat:

15.6g
Saturated Fat:

0.6g
Cholesterol:

1.9mg
Sodium:

289.9mg
Carbohydrates:

53g
Fiber:

10.3g
Sugar:

8.1g
Protein:

20.3g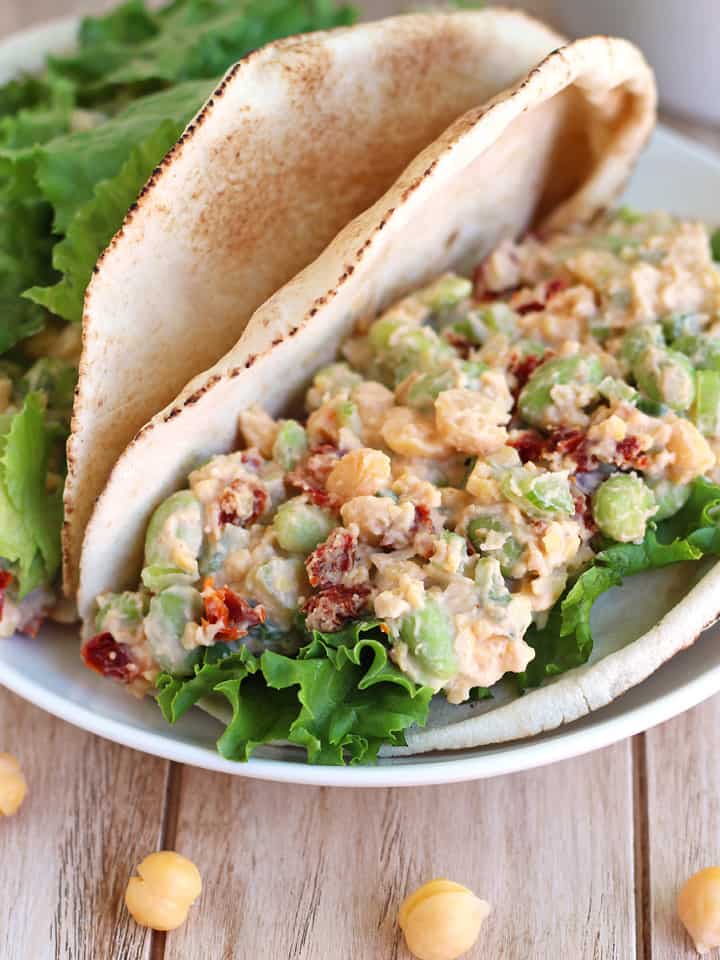 Got Chewy Sun-Dried Tomatoes?
There's a lot to like about these pitas but the smoky-sweet flavor of the sun-dried tomatoes is a standout. When it comes to purchasing sun-dried tomatoes, we like the ones that are not packed in oil.
The trick to keeping dry-packed sun-dried tomatoes more tender and juicy is to store them in the fridge. Whenever I buy a new bag I just toss it in the fridge (even before we've opened it).
If you prefer a softer tomato or yours are really dried out and chewy, no worries they're easy to rehydrate. This article from Cooks Illustrated on The Best Way to Rehydrate Sun-Dried Tomatoes has some great tips like using vegetable broth and a quick 2-minute microwave method.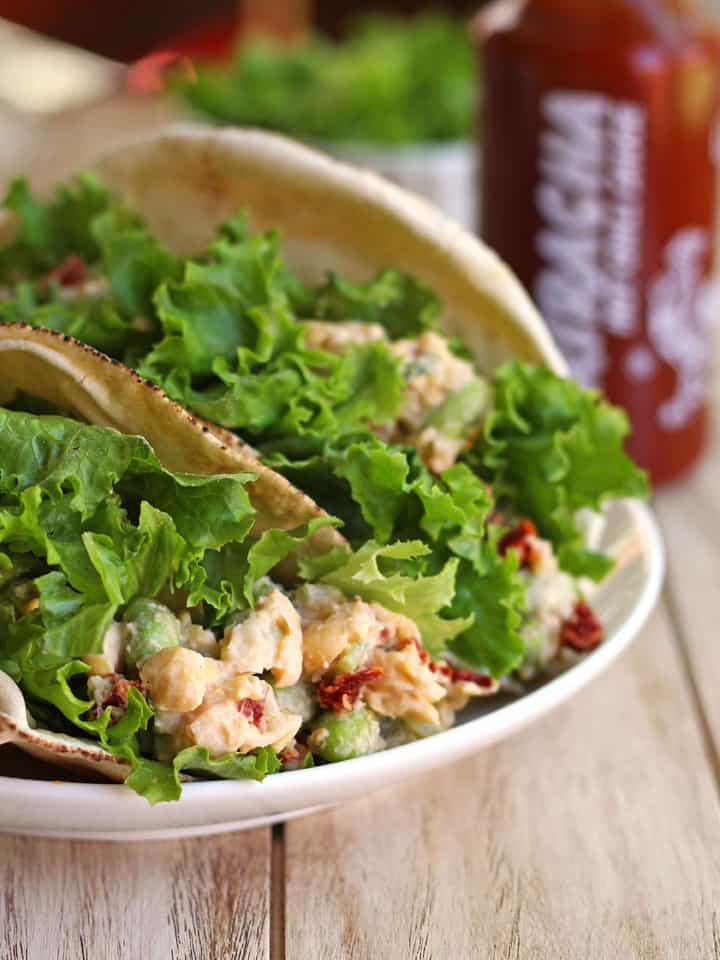 What to Do With Leftover Pitas
Because they defrost quickly, we always keep a bag of pitas in the freezer. Pocketed pitas are great for making these summery Strawberry Spinach Pita Pockets or a batch of crispy Toaster Oven Baked Pita Chips. For this recipe, I like to use pitas without pockets. They're fantastic for whipping up a quick Cheddar Apple Pita Pizza.
For even more sandwiches, wraps and pitas check out this Vegetarian Sandwiches & Wraps Roundup featuring 20 ridiculously delicious vegetarian and vegan options!