Beginner's Guide to Cooking With a Toaster Oven
Did you just get a new toaster oven? Or maybe you're hoping to put one to use that's been collecting dust on the countertop for ages. Either way, you're in the right place and we're so glad you're here!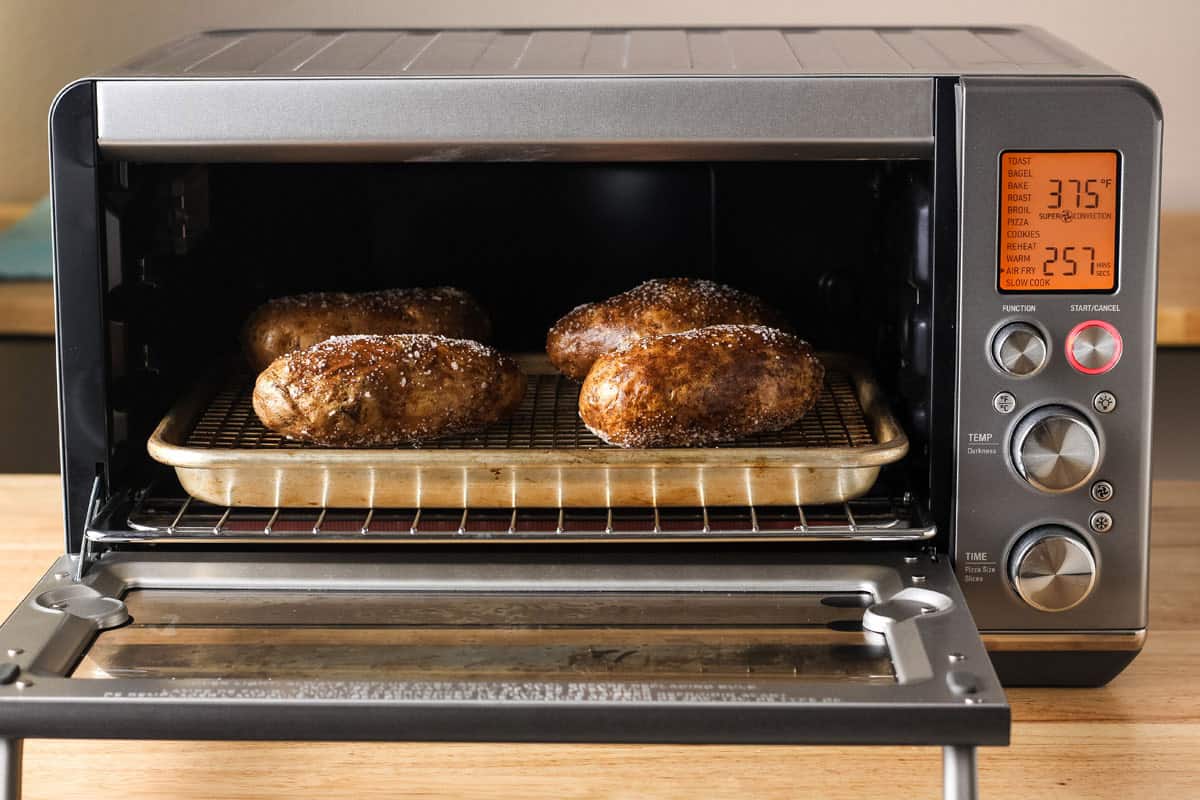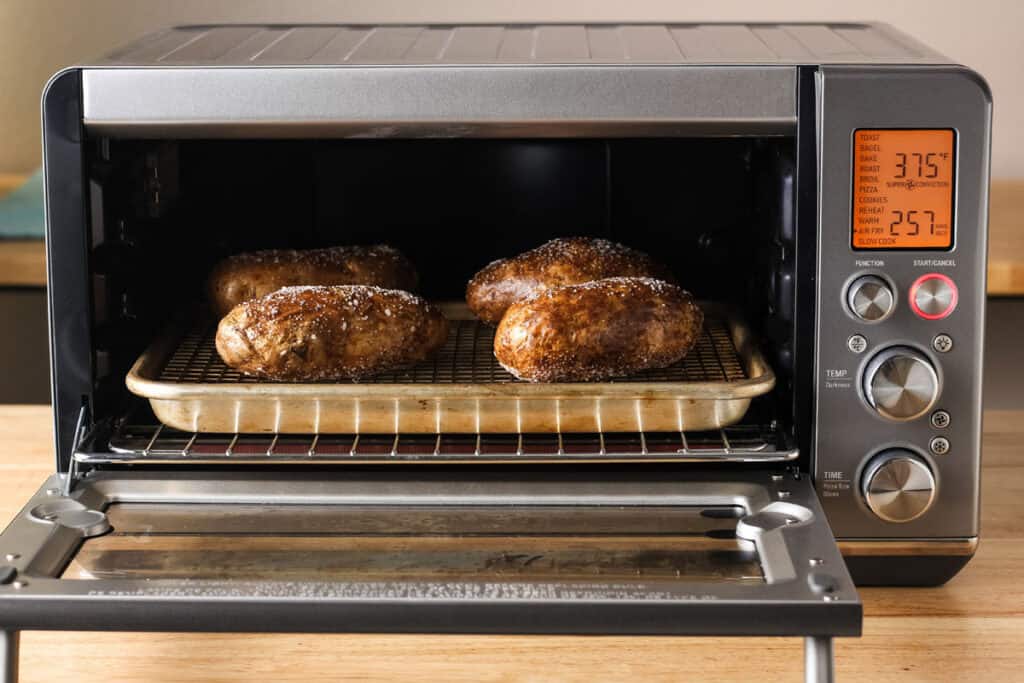 Below you'll find (*almost) everything you need to know to easily cook the food you love with your little oven.
These tips and articles are for all of the things we wish we had known when we first started cooking with our toaster oven over 6 years ago.
*Quick Note: We're vegetarian and have zero experience cooking meat in a toaster oven. All of the tips and information below can be applied to any recipe, but for specific directions on preparing beef, chicken, or fish we'd recommend exploring some of the resources in the More Recipe Inspiration section below.
Table of Contents
Extra Equipment and Accessories (coming soon!)
Getting Started With a New Toaster Oven
These days toaster ovens have a lot of bells and whistles. Settings like Air Fry, Dehydrate, and Griddle sound fun but if you don't actually know how to use them, it can get frustrating pretty quick.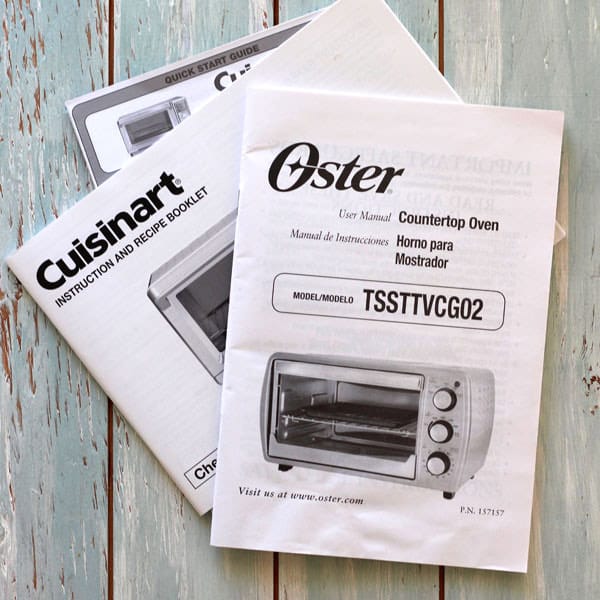 Reading the manufacturer's manual before you begin may help to prevent recipe flops and get you off to a good start. That's why it's one of the 5 Things We Always Do Before Using a New Toaster Oven.
Note: Most manufacturers direct you to run the oven empty at a high temperature before cooking with it to remove any packaging residues. Make sure to do this in a well-ventilated area with the windows open and turn on any fans or venting.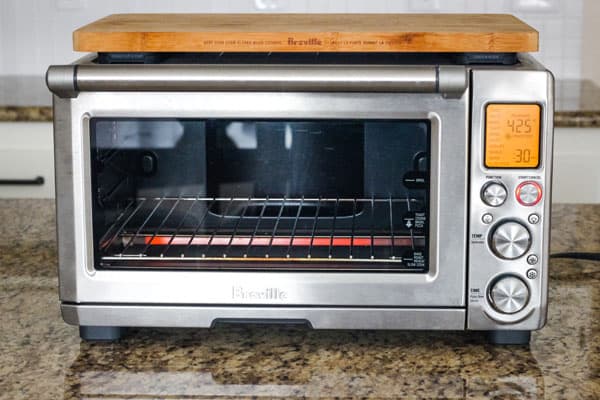 While you're waiting for that burn-off to finish, take a minute and read over this article for the 3 Basic Toaster Oven Settings.
You'll learn about the differences between baking with an oven vs. a toaster oven, how broiling is similar to grilling, and why the toast setting can be a little fussy.
Once your new oven is all set up it's time to get cooking!
Important Tips For Cooking With a Toaster Oven
Remember It's an Oven Not a Microwave. When handling cooked dishes always use oven mitts or gloves. Toaster ovens get hot inside and outside too, so be cautious around the exterior walls of the oven during use.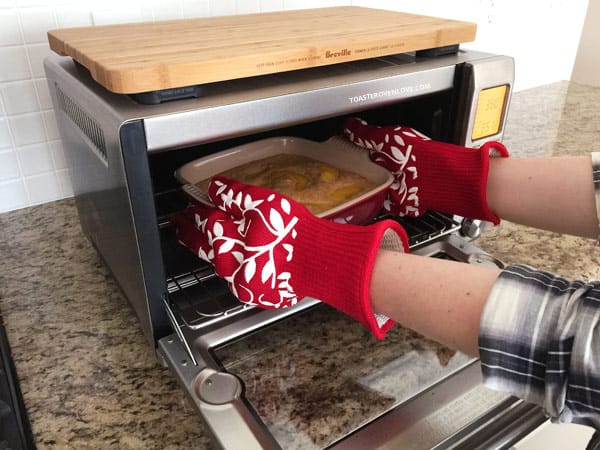 Avoid Papers and Plastics. Don't place any flammable materials inside the oven including paper towels and plates, plastic wrap, cardboard, plastic containers, or anything that can catch fire or melt.
Use Metal Pans. The one that came with the oven is the best place to start. And be cautious when cooking with pans and dishes made of other materials (like glass), some manufacturers have stated their baking dishes are not meant for use in a toaster oven. Related Reading: 4 Surprising Things I'll Never Use in Our Toaster Oven.
Preheat Longer When Baking. Most digital toaster ovens are designed to beep as ready before they have reached the target temperature. According to the manufacturers, this allows the oven's temperature to recover quickly once the food is added.
In my experience, that lower initial temperature can be an issue when baking (and air frying in some ovens). For those functions, we let the toaster oven preheat for at least 5 minutes or until it has reached the full temperature before adding our food.
Same Size, Single Layer. For the best results, chop your food into similarly sized pieces. To keep from overcrowding the pan, cook food in a single layer – not in a big pile.
For Crispier Dishes, Elevate The Food. To make crispy fries and nuggets, use a rack inserted in a rimmed baking pan. The rack elevates the food allowing the warm air to better circulate around it.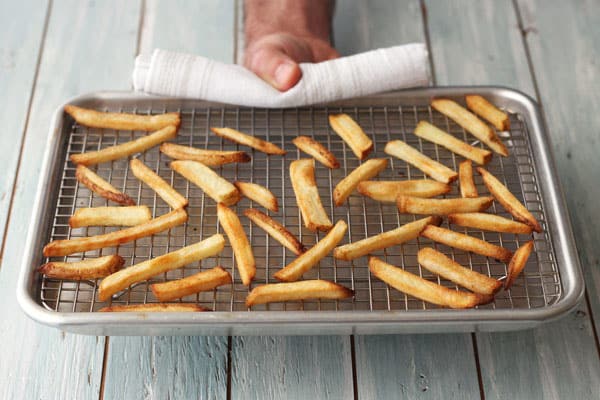 Rotate The Pan. Even out hot spots (areas that are warmer than others) by rotating your pan halfway through the cooking time.
Watch The Food, Not The Clock. Most toaster ovens tend to cook food faster than a traditional oven so it's best to start checking your dishes for doneness about 5 to 10 minutes earlier than the shortest cooking time listed.
If your Brussels sprouts are browning too fast, lower the temperature. If your fries aren't crispy enough, try turning the temperature up!
Since all ovens are different, you'll have the best results if you rely on your senses and intuition too, not just the suggested cooking time.
What Should I Cook First?
Below are our most popular easy toaster oven recipes. Each one uses just a few ingredients and will help you to get more comfortable cooking with your oven's different settings and functions.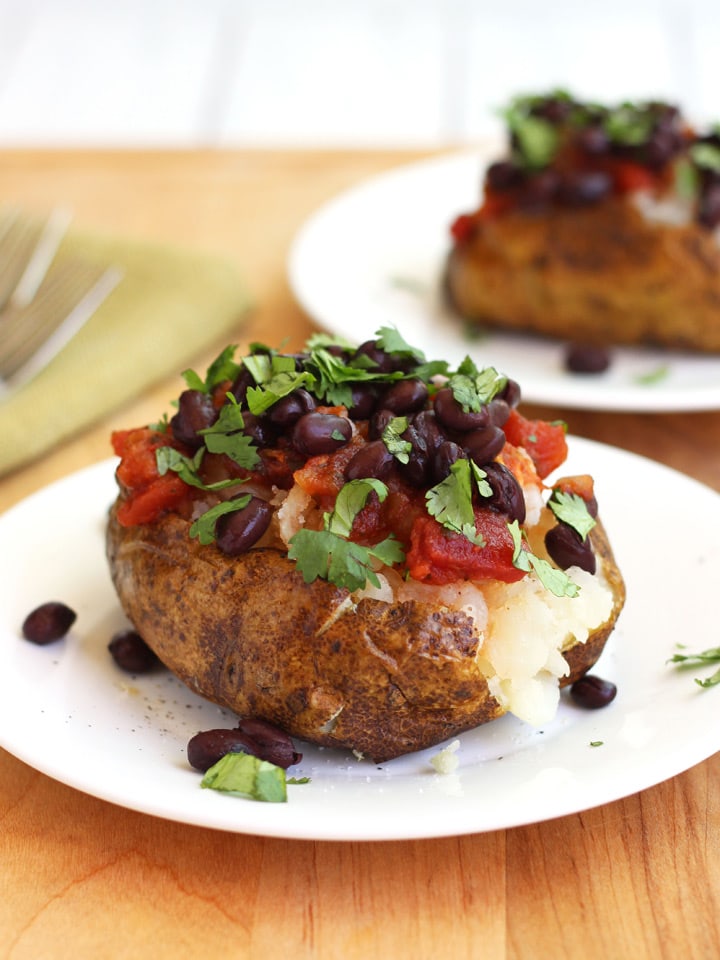 For more simple and tasty recipe ideas check out these 25 Easy Toaster Oven Recipes for Beginners.
Once you're ready to move beyond the basics, you can find all of our Toaster Oven Recipes here. From muffins and quick breakfasts to fun snacks, and filling vegetarian dinners there are over 150 recipes to choose from.
Convection and Air Frying
What is a Convection Toaster Oven? It's a small countertop oven with a fan inside.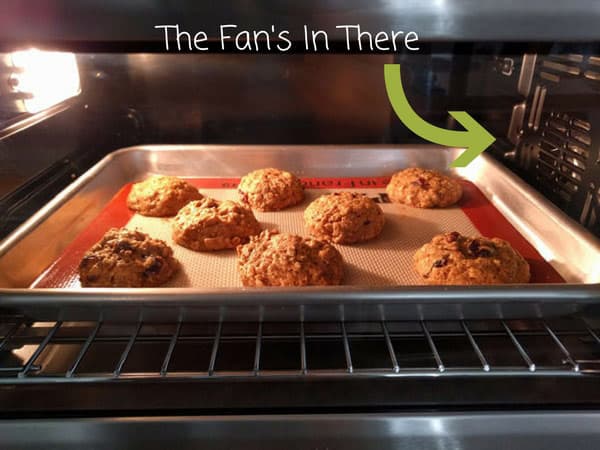 The convection fan circulates heated air around the inside of the oven during cooking. This results in more evenly-cooked foods that get crispy and browned outside while staying tender and juicy inside.
One thing to note about this super-heated environment is that it can cause your food to cook faster.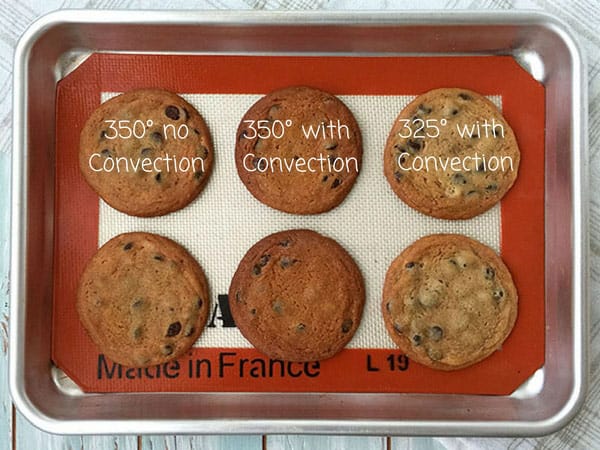 When using a convection toaster oven it's best to:
Lower your toaster oven's temperature by 25 degrees.
Begin checking for doneness 2/3 of the way through the cook time.
Although this is a good starting point, you might need to do some experimenting to find the perfect settings for your little oven.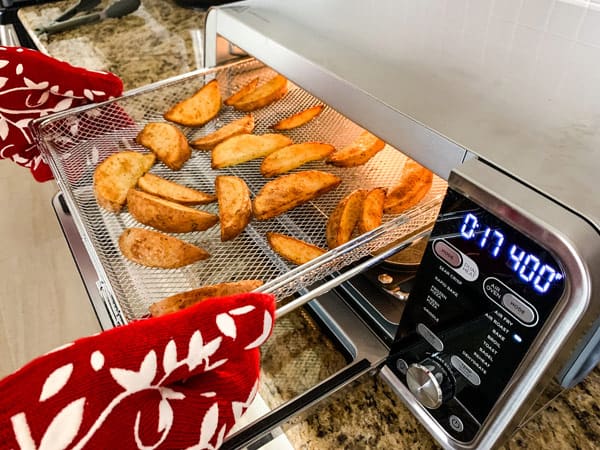 What is an air fryer toaster oven? It's a convection toaster oven where the fan can move at a faster speed.
The higher speed increases the airflow resulting in food that's cooked in a shorter amount of time and with a crispier exterior.
To learn more about cooking with convection and all of the fantastic ways you can use it to make crispy, tender, juicy foods in your toaster oven check out the articles below.
Keeping Things Clean
Your toaster oven will run better and last longer if you clean it after each use. You don't need to do a deep-clean every time but regularly wiping it down will make a huge difference.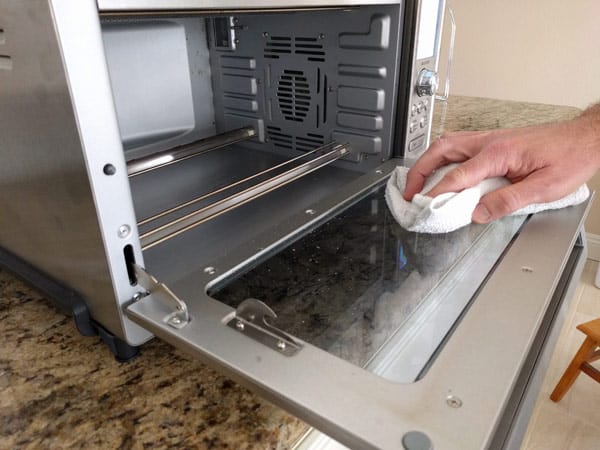 Allow the toaster oven to cool down completely and unplug it.
Wipe away any splatters with a slightly damp sponge or cloth (don't forget the ceiling!).
If you've got spills or crumbs in the bottom, empty and wipe down the crumb tray too.
Lastly, don't forget the glass door. A quick wipe with a Mr. Clean Magic Eraser or some glass cleaner will keep grease from building up on it.
When it comes to deep-cleaning there are a few do's and don'ts you'll want to keep in mind (like don't use oven cleaner). We've tried to cover them all in this post for How to Clean a Toaster Oven.
NOTE: Never line your crumb tray with foil. Covering your crumb tray with anything is a fire hazard and something all toaster oven manufacturers advise against.
Now you're probably wondering can you use foil in a toaster oven? The answer is…maybe.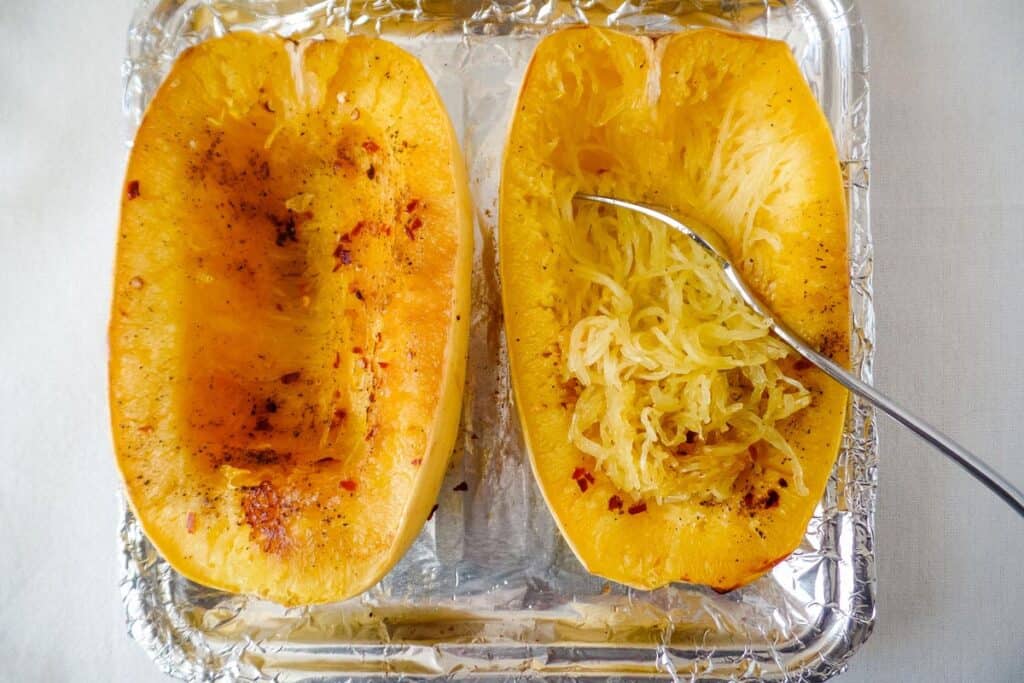 These days, every manufacturer has different directions for using foil in their ovens. To make it even more confusing, sometimes those directions vary across the models they offer.
That's why the best way to know what's recommended for your oven is to check your owner's manual or the manufacturer's website.
Temperature Troubleshooting
If your toaster oven is burning cookies after just a few minutes of baking or your roasted veggies are never browning the first thing you should check is the oven's temperature.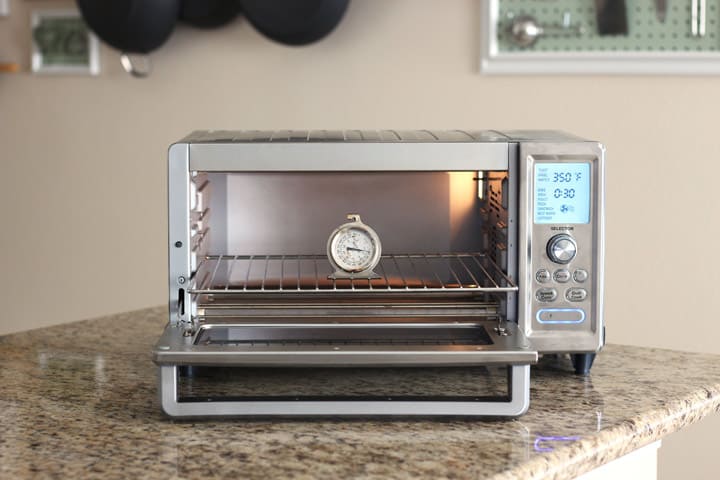 That's because toaster ovens sometimes fib about their temperature.
You can learn more about how to test the accuracy of your toaster oven's temperature here.
That way you'll know what adjustments are needed (longer preheat, lower temperature setting, etc.) to accommodate your little oven's heating quirks.
Toaster Oven Guides and Hacks
You probably already know that toaster ovens are great for cooking frozen pizza bagels but what else can they do? Below are just a few of our favorite ways to use our toaster oven.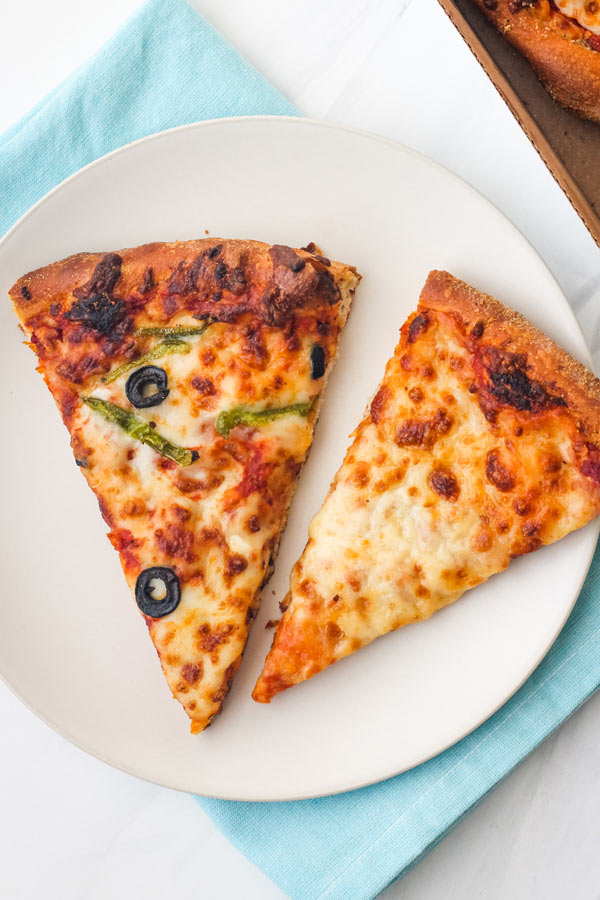 For more fun ideas check out these 11 Surprising Things You Can Do With a Toaster Oven or our collection of Toaster Oven How-Tos.
More Recipe Inspiration
If you're looking for a toaster oven cookbook, we really like America's Test Kitchen's Toaster Oven Perfection.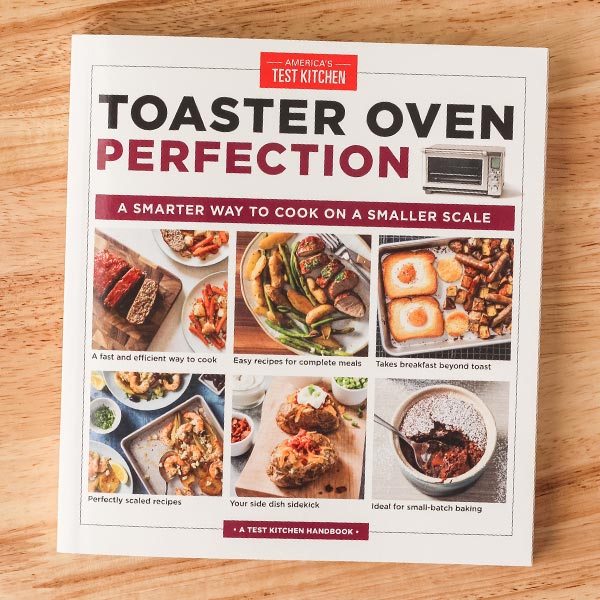 It's got lots of tips and a variety of recipes to suit all types of eaters. You can read our full review of it on our Cooking For Two Cookbooks page.
The Gourmet Toaster Oven by Lynn Alley and The Skinnytaste Air Fryer Cookbook by Gina Homolka also have yummy recipes with great instructions.
Manufacturer Websites can be a good place to find recipes (especially ones that are specific to your little oven). Cuisinart, Breville, Oster, Hamilton Beach, and Ninja all have recipes available on their websites.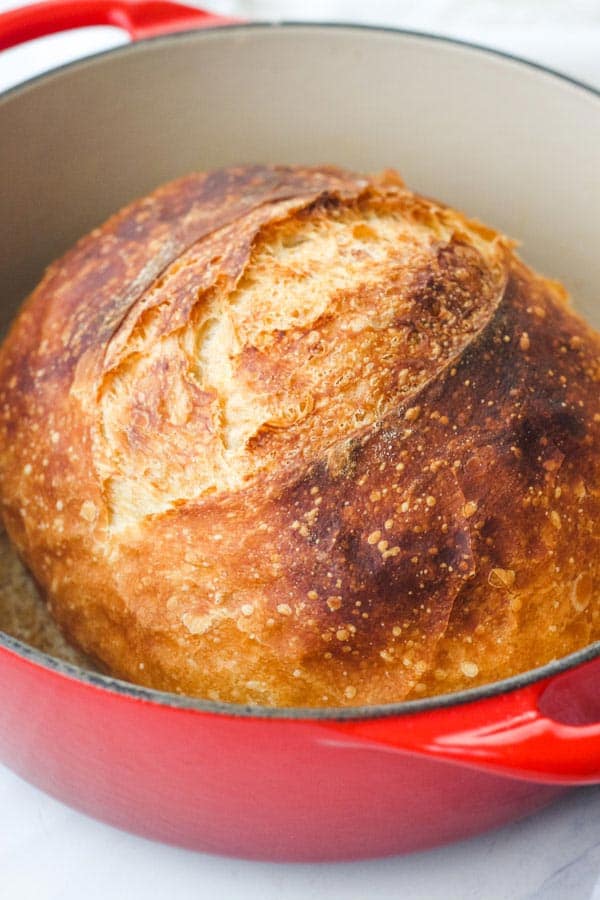 If you like watching people cook, YouTube is full of helpful toaster oven tutorials created by talented cooks. Here are a few to check out:
TosTinMan Easy Cooking: From spaghetti and meatballs to bacon and eggs he cooks all kinds of comfort foods using a Black and Decker toaster oven.
Nutmeg Notebook: Learn how to make plant-based oil-free recipes in the Breville Air Fryer Oven.
Artisan Bread With Steve: Watch him make a loaf of bread and a 9" pizza in his Oster toaster oven.
Lois Dewitt: From lentils to chili and apple crisp, Lois will show you how to make a variety of recipes from her cookbook Pop it in a Toaster Oven.
Depending on the size of your oven, you may not need a smaller recipe at all. Most traditional oven recipes can be prepared in a larger toaster oven or countertop oven.
Have a favorite recipe you want to try making? Use the same cooking temperature, but check on it early and make adjustments (like reducing the cooking time/temp. or changing the rack placement) as needed.
If you have a tip you'd like to share or a question, feel free to drop it in the comments.
Our goal is to make this guide as helpful as possible. We'll be updating it with new resources regularly and are always open to suggestions.
We hope you have lots of fun cooking with your toaster oven!