Chocolate Pumpkin Muffins (Cake Mix Recipe)
Rich and moist, these Chocolate Pumpkin Muffins are a fun cake mix hack that's easy to throw together. The small-batch recipe makes just 6 tasty muffins, perfect for baking in the toaster oven!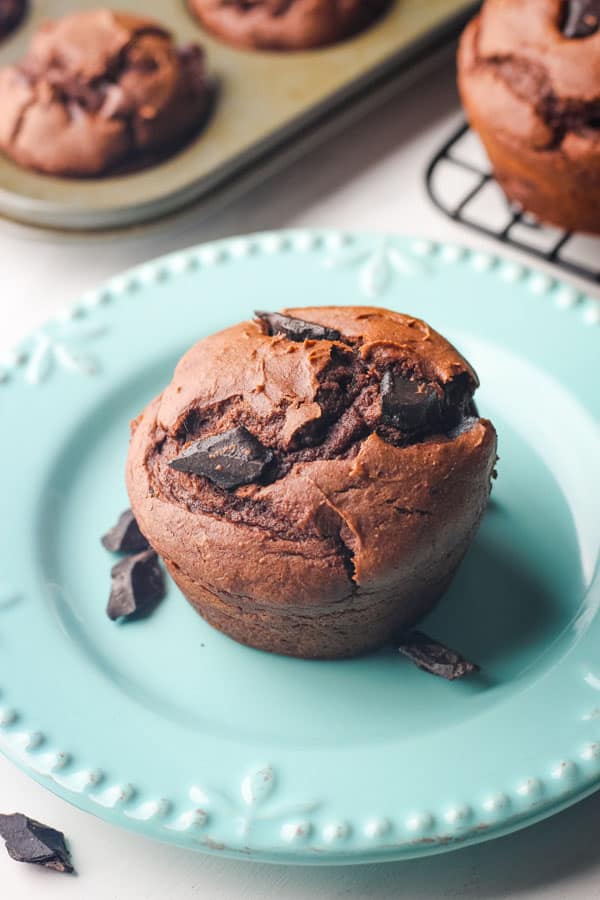 The secret to these decadent 3-ingredient muffins is the pumpkin puree. It replaces the oil, water, and eggs usually called for with a boxed cake mix.
But don't worry, you won't taste the pumpkin.
That's because we're adding an extra boost of chocolaty flavor with a handful of chocolate chips. The result: a fudgy muffin/cupcake situation that's hard to resist!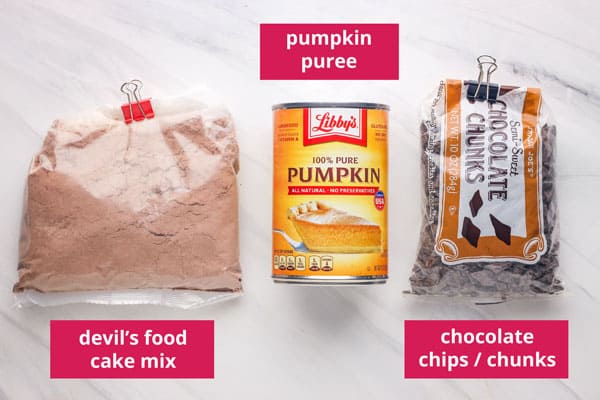 Ingredient Notes
Since it's just the two of us, I like to make a half-batch of muffins. Then I can save the rest of the mix to use in another cake mix recipe like these yummy cake mix cookie bars.
If you're cooking for more people (or just want a lot of muffins) feel free to double the ingredients. Here's what you'll need:
Half a Boxed Devil's Food Cake Mix: We've tried a few other chocolate options but Devil's Food always tastes the best. If you need help dividing the mix, you'll find lots of tips in this post for how to make half a cake mix.
Pumpkin Puree: Make sure it's the regular puree and not the pumpkin pie mix that has added spices and sugar.
Chocolate Chips: For the best chocolate flavor, don't skip the chips. They make this shortcut-treat taste extra decadent, especially if you use chocolate chunks!
Step By Step Instructions
1. Start by preheating the oven to 350°F. I like to use the middle rack placement in our toaster oven to bake muffins. If you only have two rack placements, the bottom rack works fine too. Spray a 6-cavity muffin pan with cooking oil spray.
2. Add the cake mix and pumpkin to a large bowl and beat until combined. I usually bust out our hand mixer for this recipe.
It really helps to make sure there aren't any sneaky lumps of dry mix hiding in the thick batter. But you can stir it by hand if you want. Lastly, fold in the chocolate chips or chunks.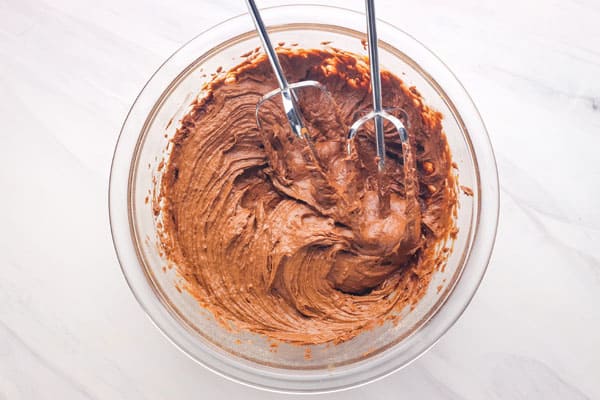 4. Divide the batter between the muffin cups and smooth the tops with a rubber spatula. For a more enticing presentation, I like to top the muffins with a few extra chocolate chips.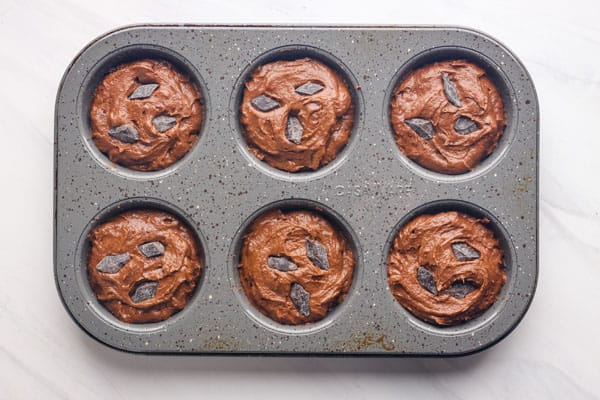 5. Bake the muffins until a toothpick inserted into the center comes out clean or with a few crumbs attached.
Ours usually take about 17 to 20 minutes. Let the muffins cool in the pan for 5 minutes before gently popping them out and transferring them to a rack to cool completely.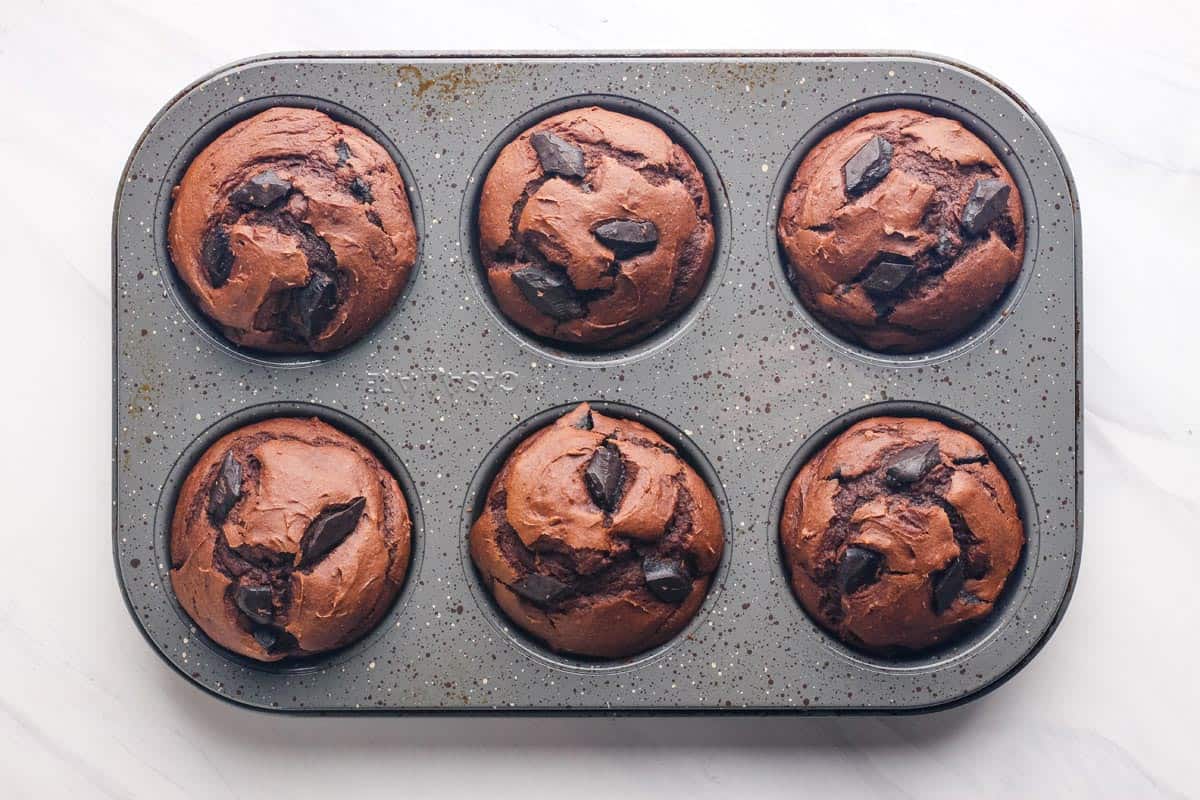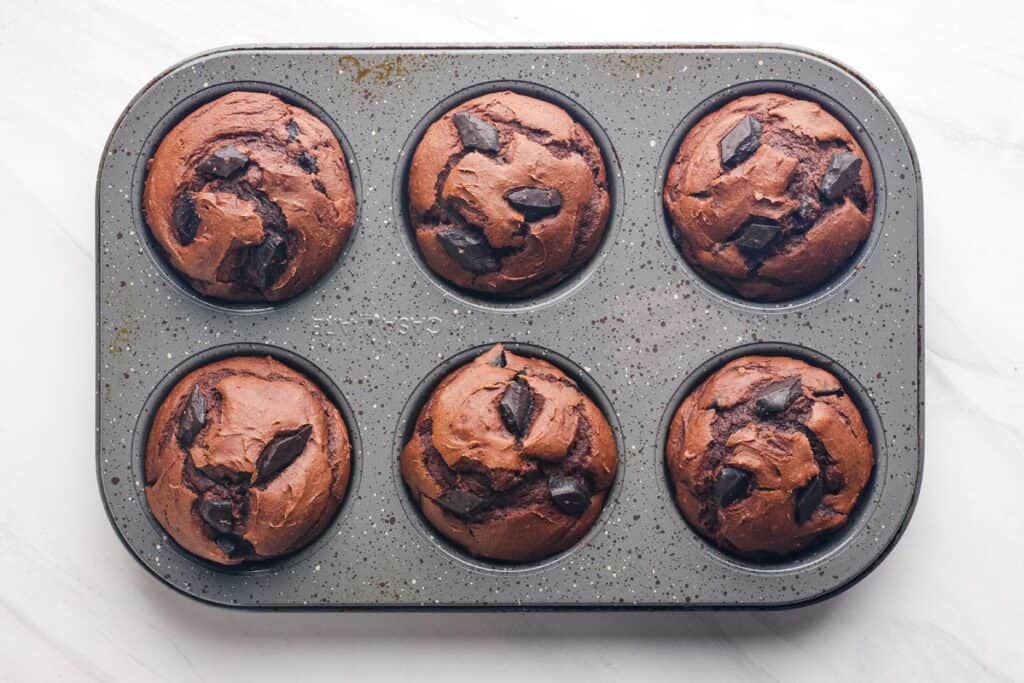 Recipe Tips
Mini Muffins: Swap the regular chocolate chips for 3 to 4 tablespoons of mini chocolate chips. Scoop the batter into a greased mini muffin pan and bake at 350°F for 12 to 14 minutes. Yields 16 to 18 mini muffins.
Storage: Store muffins covered at room temperature for 2 to 3 days. To freeze, cool completely, and place in a freezer bag. Store in the freezer for up to 3 months. Thaw at room temperature for about 20 to 30 minutes or pop in the microwave for 20 seconds.
Leftover Pumpkin: If you've got extra puree, check out this post for how to freeze canned pumpkin so you can make another batch of muffins anytime you want!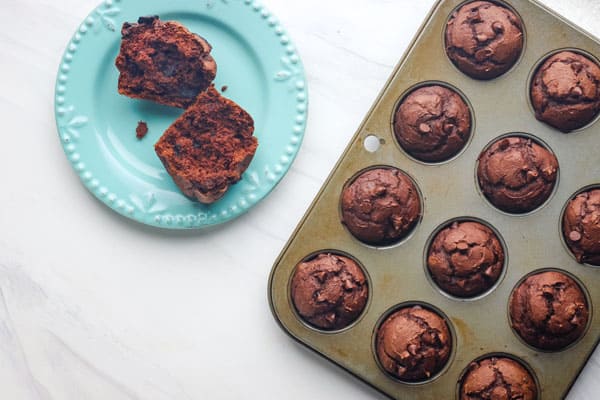 More Yummy Cake Mix Recipes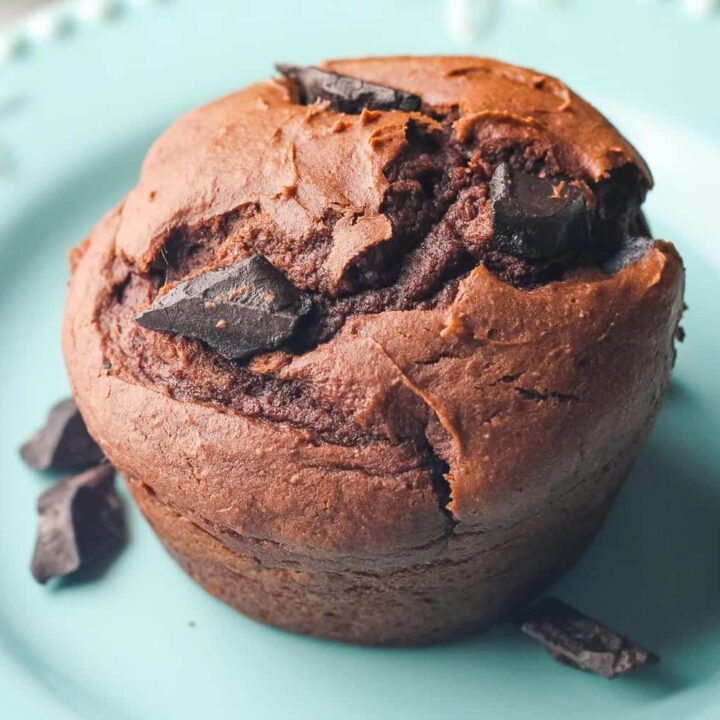 Chocolate Pumpkin Muffins
A downsized version of the classic 3-ingredient cake mix hack that's rich, fudgy, and can be baked as muffins or mini muffins.
Ingredients
Half a 15.25 oz Boxed Devil's Food Cake Mix (216 grams or 7.62 Ounces or 1⅔ cups spooned and leveled)
3/4 cup plus 3 tablespoons (212 grams or 7.5 ounces) Canned Pumpkin Puree
1/3 cup Semi-Sweet Chocolate Chips or Chunks, plus more for topping
Instructions
Adjust oven rack to the middle position and preheat to 350°F. If using a toaster oven, select the BAKE setting and use either the middle or bottom rack positions.
Spray a 6-cavity muffin pan with oil and set aside.
In a large bowl, add the cake mix and pumpkin. Beat until combined and no dry spots or lumps remain. Stir in the chocolate chips.
Divide the thick batter between the muffin cups filling them all the way up. Smooth the tops with a rubber spatula and top with extra chocolate chips if desired.
Bake until a toothpick inserted into the center comes out clean, about 17 to 21 minutes.
Cool muffins in the pan for 5 minutes before transferring to a rack to cool completely.

Notes
Nutritional information is an estimate for one large muffin. Using the same ingredients to make 18 mini muffins, a single mini muffin has about 73 calories, 2.4 grams fat, 12.9 grams carbohydrate, 7.6 grams sugar, and 1 gram protein.
Nutrition Information:
Yield:

6
Serving Size:

1 muffin
Amount Per Serving:
Calories:

220
Total Fat:

7.2g
Saturated Fat:

4.2g
Cholesterol:

3mg
Sodium:

310mg
Carbohydrates:

38.7g
Fiber:

3.5g
Sugar:

22.8g
Protein:

2.9g