Vegetarian Sausage Sheet Pan Dinner
Comforting and filling, this Vegetarian Sausage Sheet Pan Dinner is loaded with savory-sweet flavor and nutritious fall vegetables. Seasoned with thyme, rosemary, and garlic, it's a flavor-packed recipe for two that's great for busy weeknights!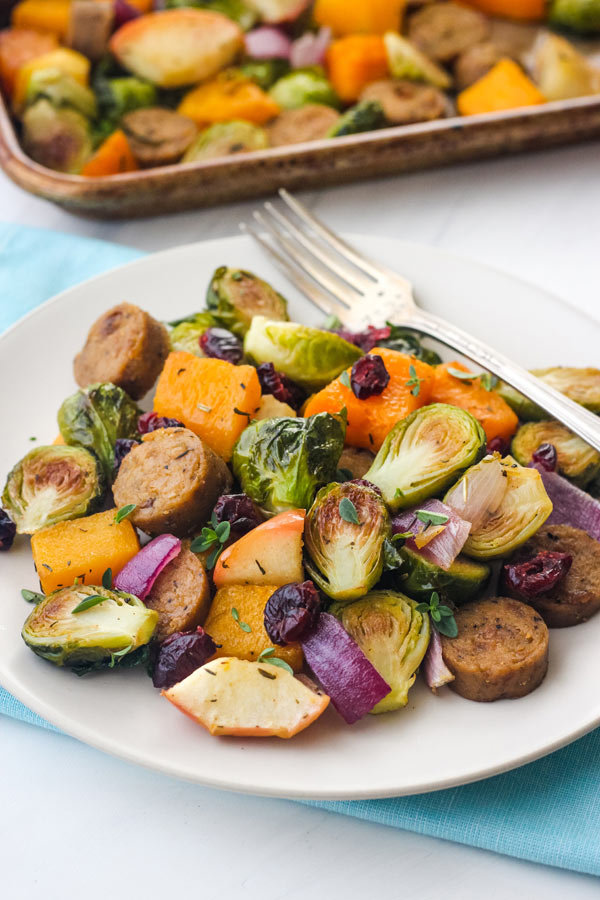 Sheet pan dinners are my favorite easy meals. Recipes like this roasted gnocchi and vegetables, pizza sweet potatoes, and roasted vegetable hummus bowls are quick to throw together and simple to customize. Plus what's not to like about the minimal cleanup?
For this pan of delicious fall flavor, we roasted up some Brussels sprouts, butternut squash, and for a hint of sweetness, half a crisp Pink Lady apple.
If you're not sure what to do with the remaining apple half, I highly recommend this apple and Havarti grilled cheese.
Next, a drizzle of olive oil, and a few sprinkles of rosemary, thyme, and garlic powder. Lastly, to add protein and lots of savory flavor we tossed in vegetarian sausage slices.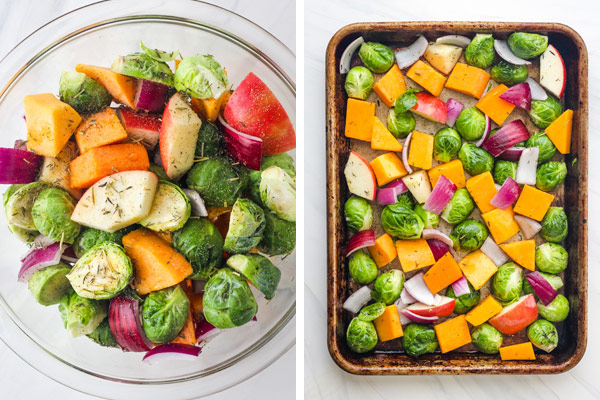 Vegetarian Sausage
Most ready-to-eat vegetarian sausages (like the Field Roast Vegan Sausage and Tofurky varieties) are similar to traditional smoked sausages and don't need long in the oven.
Just a few minutes to get warmed through and browned. So the key to this recipe is adding it at the right time.
You'll want to give the vegetables and apple chunks a head start in the oven first. After about 15 minutes, add the sausage and cook for 10 to 15 minutes more. This way the sausage can get heated and browned without overcooking and drying out.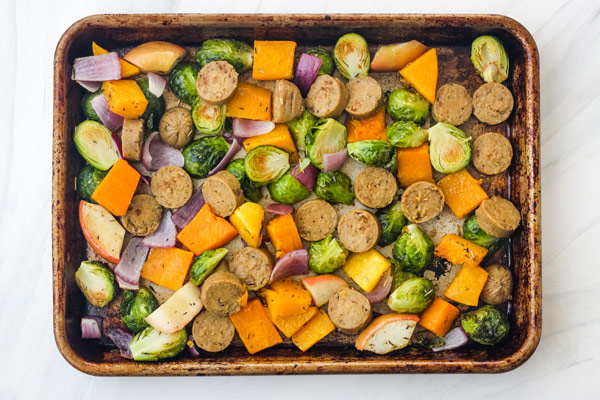 Sheet Pan Dinner Tips
Chop the veggies so they'll cook evenly. Halve the sprouts or slice them into quarters if they're on the larger size. Chop the butternut squash about the same size as the sprouts. You can substitute a small sweet potato or yellow potato for the squash. But you'll need to chop the pieces much smaller than the sprouts. Otherwise, they won't cook fast enough. 
Seed and chop the apple half into larger chunks, this will keep it from becoming mushy.
For a fun finishing touch sprinkle the pan with dried cranberries, toasted pecans, or fresh herbs like parsley or thyme leaves.
Get creative with the spices. Thyme and rosemary give this dish a distinct autumn vibe that we really liked. But a spicy sausage paired with more garlic and some oregano would take it in a totally different (but equally delicious) direction.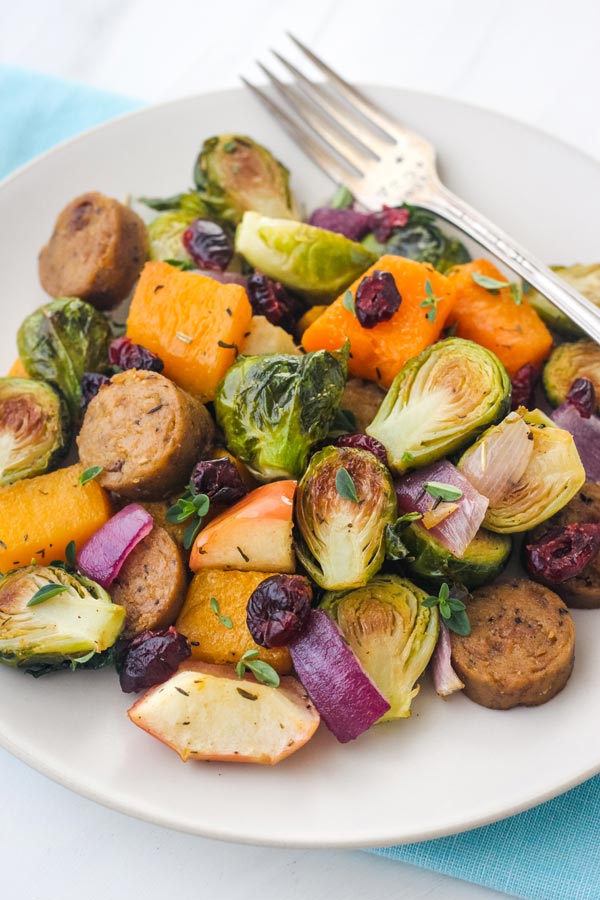 More Vegetarian Dinners For Two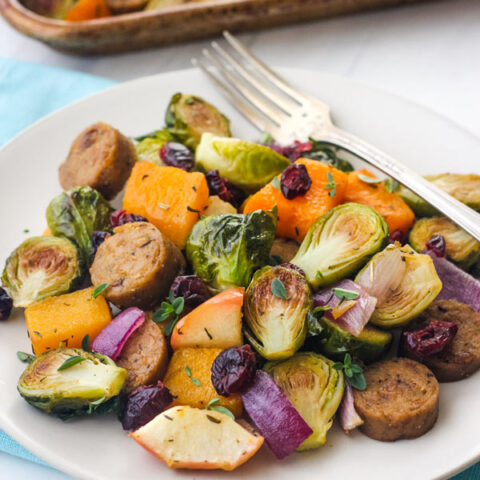 Vegetarian Sausage Sheet Pan Dinner
If you're looking for an easy dinner for two with barely any cleanup, look no further. This satisfying meal comes together on one pan and is loaded with fresh veggies and filling vegetarian protein.
Ingredients
3 teaspoons Olive Oil, divided
8 ounces Fresh Brussels Sprouts, halved
8 ounces Cubed Butternut Squash, about 1-inch chunks
1/2 cup Diced Red Onion (about 1/4 a large red onion)
Half a Crisp Apple, seeded and chopped into 1½-inch thick chunks
1/4 teaspoon Garlic Powder
1/4 teaspoon Dried Thyme Leaves (see note)
1/4 teaspoon Dried Rosemary Leaves (see note)
Salt and Pepper, to taste
2 Ready-To-Eat Vegetarian Sausage Links, about 3.5 ounces each (we used Field Roast Apple Sage Sausage)
Instructions
Preheat your oven or toaster oven to 400°F. If using a toaster oven adjust the rack to the bottom placement and select the BAKE setting.
Rub a quarter sheet pan with 1/2 teaspoon of the oil.
In a large bowl, combine the Brussels sprouts, squash, onion, and apple. Drizzle with 2 teaspoons of the oil and sprinkle over garlic powder, thyme, rosemary, salt, and pepper. With clean hands, toss to coat evenly. Pour onto a quarter sheet pan and arrange in a single layer. Cook until the sprouts are barely starting to brown, about 15 to 17 minutes.
While the vegetables roast, remove the casing from the sausages and slice into ½-inch thick pieces. Add to the large bowl used previously, drizzle with remaining 1/2 teaspoon of oil and toss to coat.
Carefully remove the hot pan. Add the sliced sausage and stir everything.
Continue cooking for about 10 to 15 minutes more. You're looking for the vegetables to be browned and tender and the sausage lightly crisped and warmed through.
Divide the sausage and vegetables across two plates and dig in!

Notes
For the best texture and flavor, crush dried rosemary and thyme leaves by roughly rubbing them between your fingers before adding to the vegetables.
You can use sweet or spicy vegetarian sausages or a combination of both.
Nutrition Information:
Yield:

2
Serving Size:

1½ to 2 Cups
Amount Per Serving:
Calories:

446
Total Fat:

17.6g
Saturated Fat:

2.2g
Cholesterol:

0mg
Sodium:

634mg
Carbohydrates:

46.2g
Fiber:

11.5g
Sugar:

15.5g
Protein:

31.7g