Healthy Snack Ideas For Adults
11 Healthy Snack Ideas For Adults – Tasty single-serving inspiration to satisfy your hunger without ruining dinner. Some are sweet, a few are savory, ALL are super easy to make!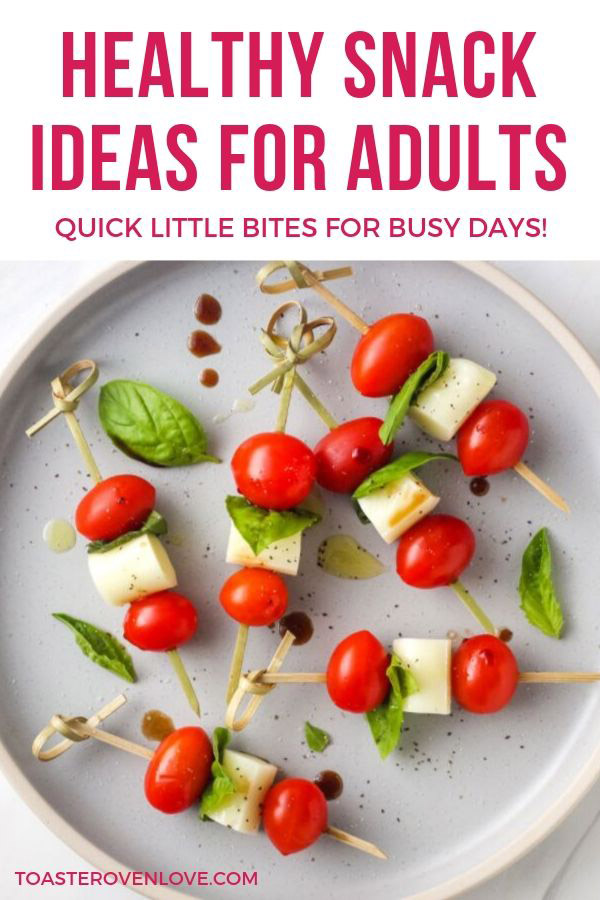 If you suffer from the Midday Munchies, we've got you covered with these fun single-serving ideas. They'll satisfy your inner snack monster and get you through the afternoon (without mindlessly devouring a box of peanut butter Puffins). Don't forget to leave your favorite snack suggestions in the comments below!
P.S. We know 'healthy' means something different to everyone, think of these snacks as a jumping-off point and feel free to modify the ingredients to fit your personal needs.
Healthy Snack Ideas For Adults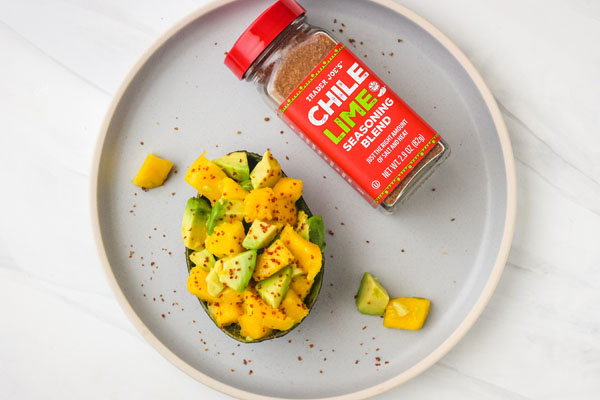 1. Chili-Lime Avocado and Mango
Chop half a small avocado and half a fresh mango into bite-size pieces. Sprinkle with chili-lime seasoning.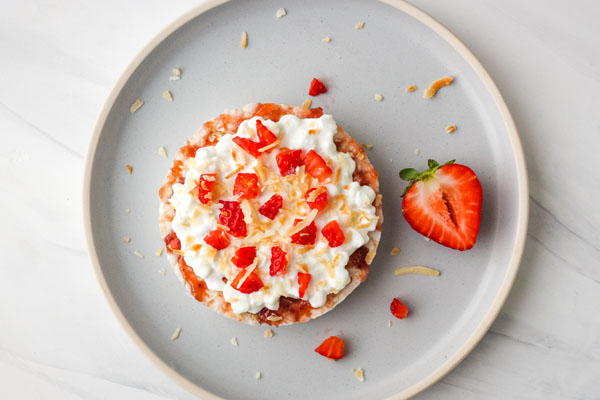 2. Sweet + Salty Rice Cake
Peanut butter topped rice cakes are a go-to snack in our house but some days call for a little zhooshing up!
Spread 1 teaspoon lower sugar strawberry preserves on a plain rice cake. Top with 3 tablespoons cottage cheese, chopped fresh strawberries, and 1 teaspoon unsweetened toasted coconut.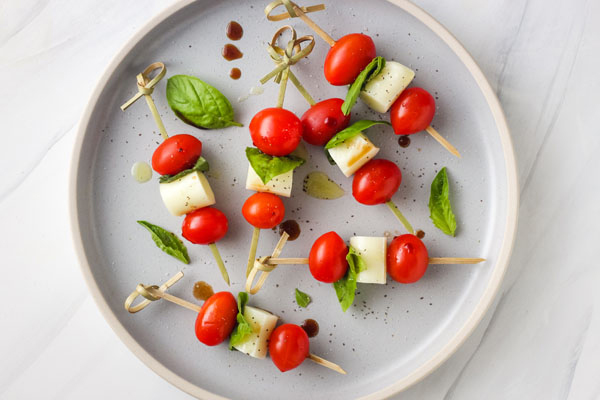 3. Caprese Skewers
Cut a piece of string cheese into ½-inch pieces. Skewer a small grape tomato, basil leaf, piece of cheese, and another tomato onto a toothpick. Repeat with the remaining ingredients. Drizzle bites with olive oil and balsamic vinegar. Sprinkle with salt and pepper.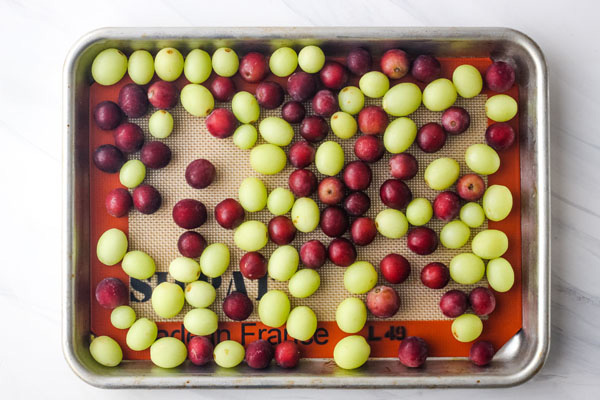 4. Frozen Grapes
Rinse 1 pound of grapes and dry well. Remove grapes from stems and place on a sheet pan lined with parchment or a silicone baking mat. Freeze until solid, about 2 to 3 hours. Store frozen grapes in a freezer-safe bag or sealed container.
Grab a handful of grapes and pair them with a piece of cheese or a cup of yogurt for a tasty snack.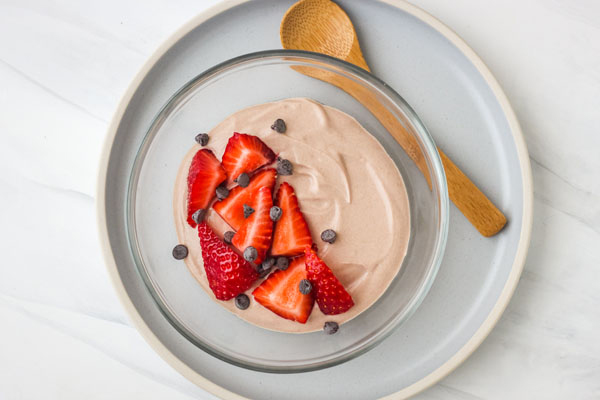 5. Chocolate Greek Yogurt
Combine 1/2 cup Greek yogurt + 2 teaspoons cocoa powder + 1 teaspoon maple syrup (honey or agave) and whisk until smooth. Top with fresh berries and a few mini chocolate chips if desired.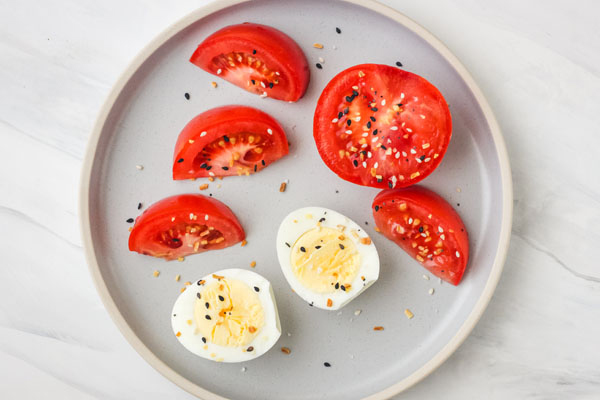 6. Everything Bagel Egg & Tomato
Top a sliced tomato and hard-boiled egg with 1/2 teaspoon Everything Bagel Seasoning. For a more filling snack spread the egg with a tablespoon of hummus and top the tomato with a few avocado and red onion slices.
Related Recipe: Instant Pot Mini Hard Boiled Eggs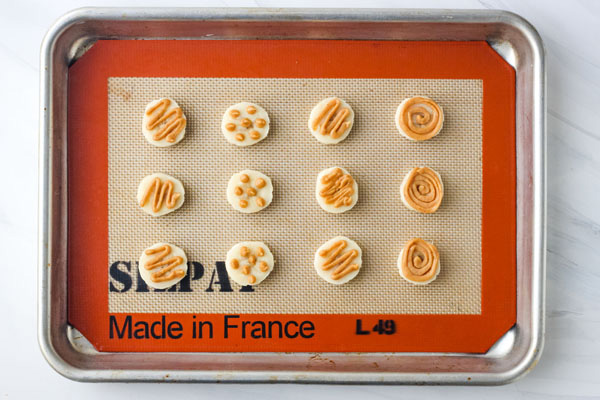 7. Frozen PB Banana Slices
Cut a medium banana into ½-inch slices and place on a sheet pan lined with parchment paper or a silicone baking mat. Spread slices with 1 tablespoon natural peanut butter (or use a plastic bag with the end snipped off to make fun designs). Freeze until solid, about 2 hours.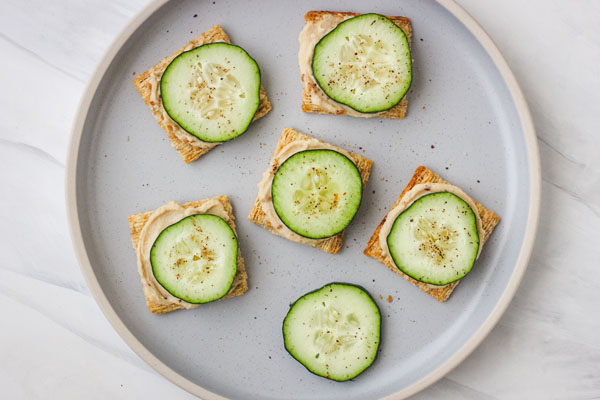 8. Cucumber Hummus Stacks
Spread crackers with plain hummus and top with cucumber slices. Sprinkle with your favorite seasoning, I used za'atar (it's so tasty with hummus) but any seasoning blend will taste great.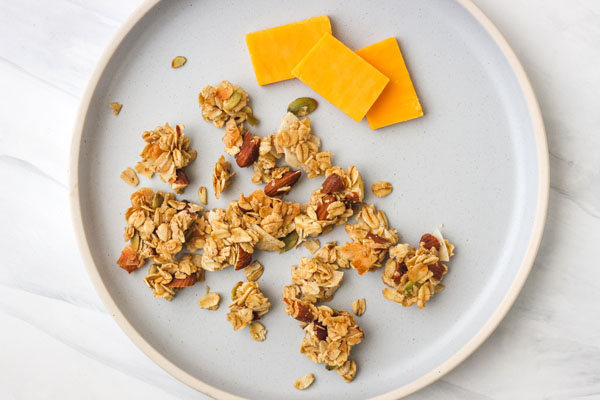 9. Granola + Cheese
Have you seen those snack packs of granola and cheese that are crazy expensive, like $5 for 3 tiny little containers?
You can make them at home by whipping up a batch of easy-to-customize toaster oven granola (or using your favorite bagged granola from the store) and cutting a block of cheese into cubes.
For a quick snack, combine 1 ounce of granola and 1-ounce cheddar cheese or a piece of string cheese.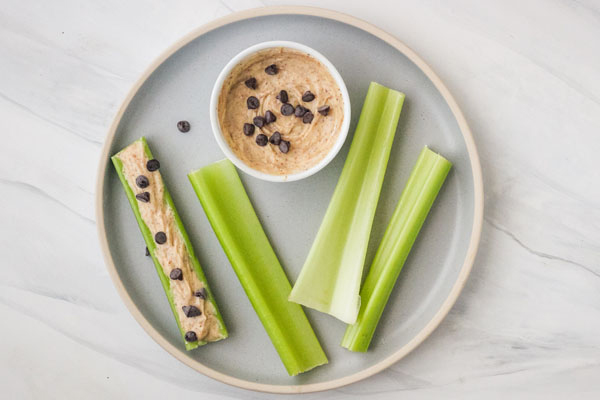 10. Yogurt Celery Sticks
Mix together 2 tablespoons Greek yogurt + 1 tablespoon salted almond butter (or peanut butter) + 1/2 teaspoon maple syrup. Spread on celery sticks and top with mini chocolate chips or a sprinkle of cinnamon.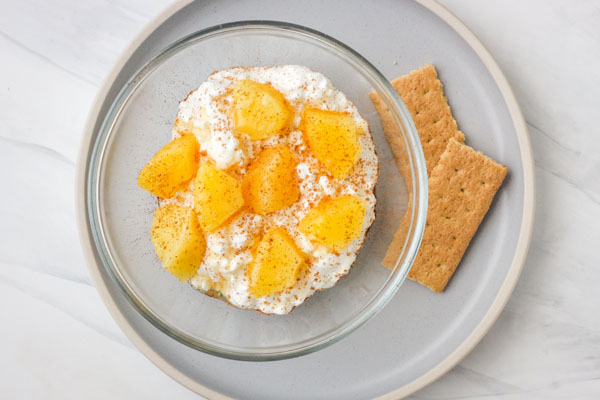 11. Cottage Cheese Parfait
Top 1/2 cup cottage cheese with 1/4 cup pineapple chunks. Sprinkle with cinnamon and drizzle with honey. Enjoy plain or with half a graham cracker for scooping.
More Easy Snacks and Small Bites