Healthy Snack Ideas For Adults
Good snacks make you feel energized and keep you full between meals. But finding a nutritious option that doesn't put your tastebuds to sleep ain't always easy (looking at you raw veggies).
To help we've rounded up 31 of our favorite healthy snack ideas for adults. They feature grown-up flavors, fresh produce, filling vegetarian proteins, and take just minutes to make.
From savory hummus stacks to a lazy egg salad and even sweet treats like chocolate Greek yogurt, you'll find a variety of fun and tasty single-serving recipes.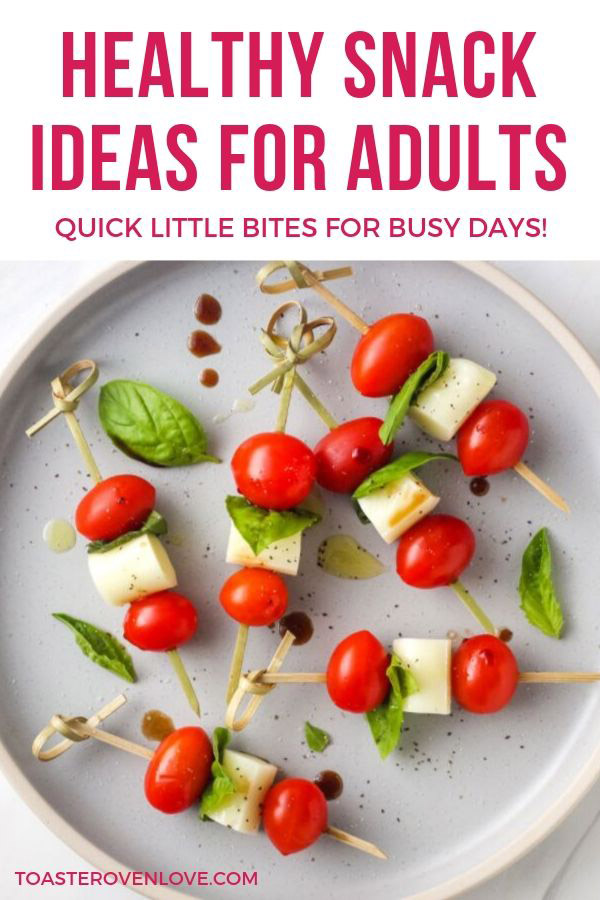 Easy Snack Ideas You Can Make At Home
These quick little "recipes" are great for using up leftover odds and ends. If you don't have the exact ingredients called for or want to modify them to fit your diet or allergy needs, just grab a few things from the fridge and get creative!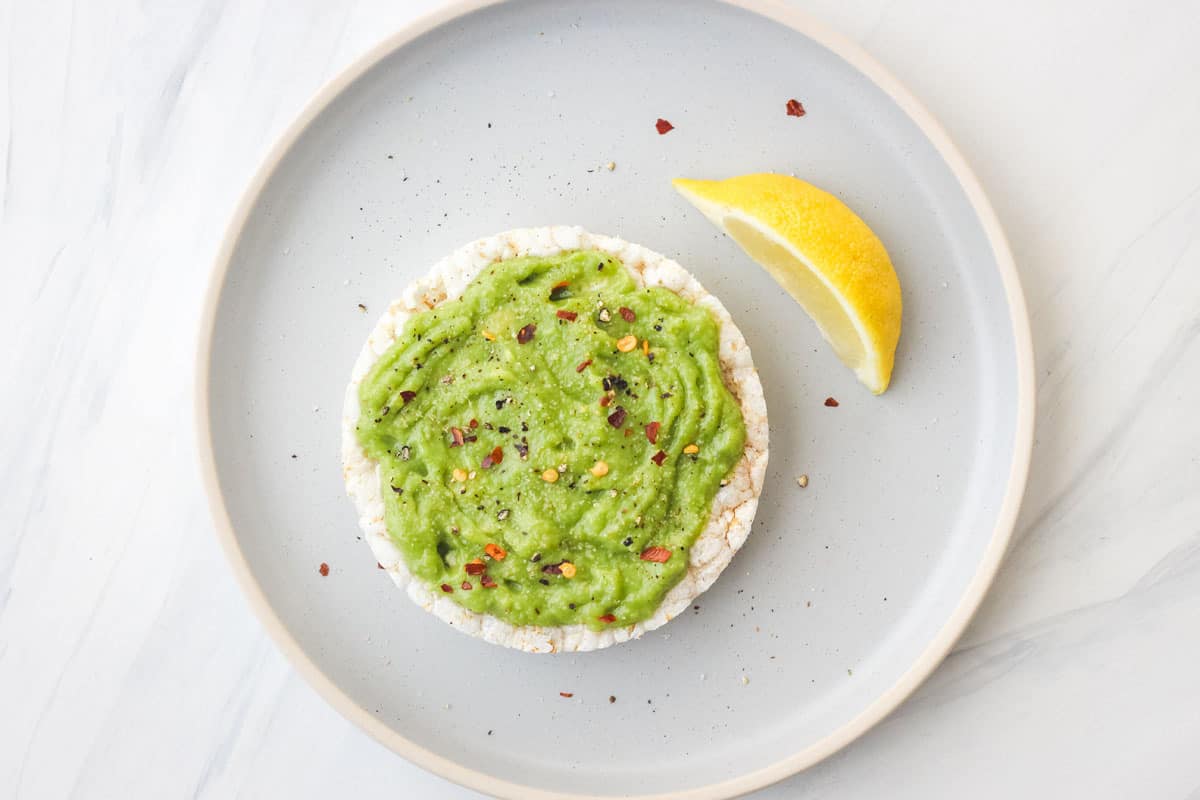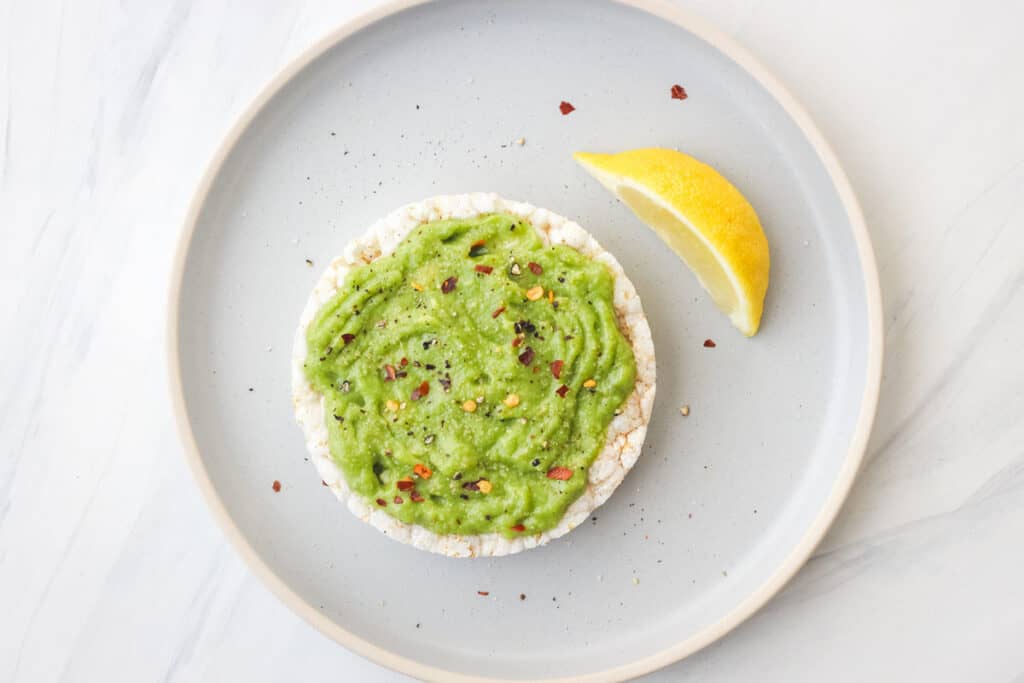 1. Avocado Rice Cake
Spread a rice cake with 2 tablespoons of mashed avocado. Sprinkle with salt, pepper, garlic powder, and a pinch of red pepper flakes. Just before eating, squeeze a small lemon wedge over the avocado and dig in!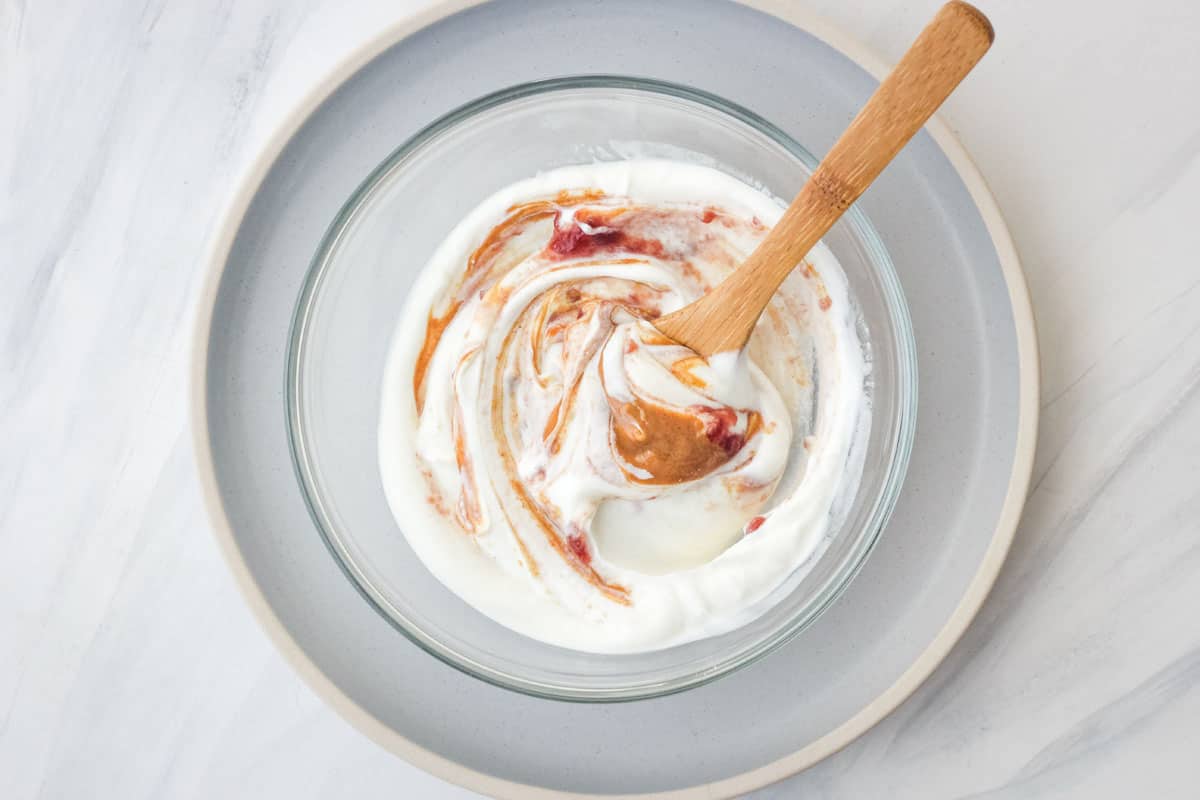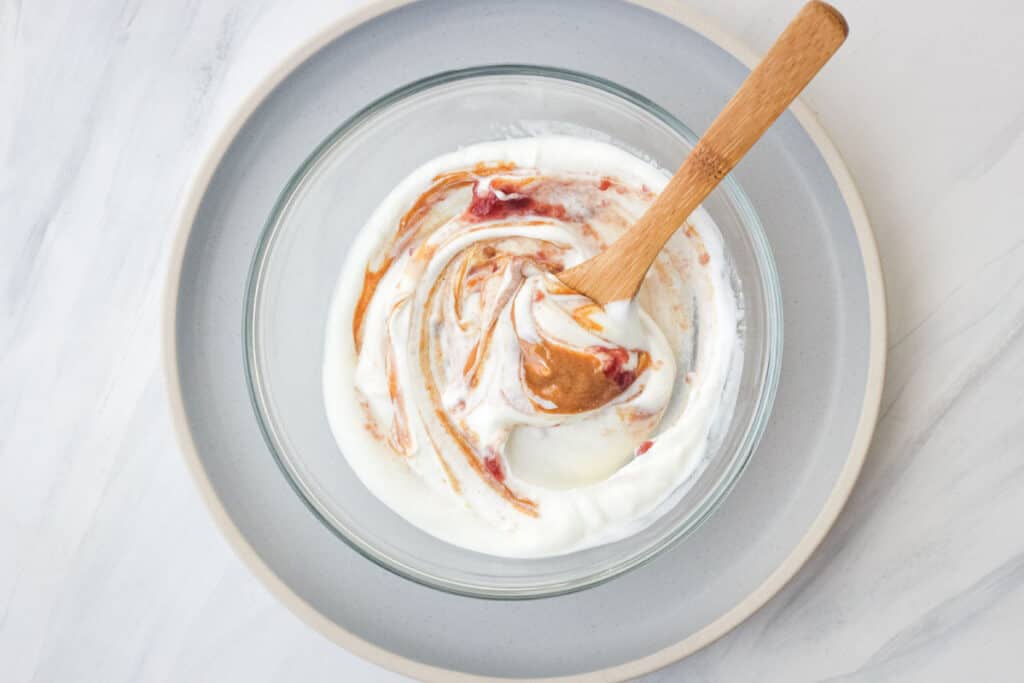 2. Peanut Butter and Jelly Yogurt
Stir together 1/2 cup plain Greek yogurt and 1/8 teaspoon vanilla extract. Top with 2 teaspoons natural peanut butter and 1 teaspoon low-sugar jam. Swirl together with a spoon and enjoy.
Try substituting chopped strawberries or blackberries for the jam. And if you're craving a little crunch, sprinkle with a teaspoon or two of granola or chopped peanuts.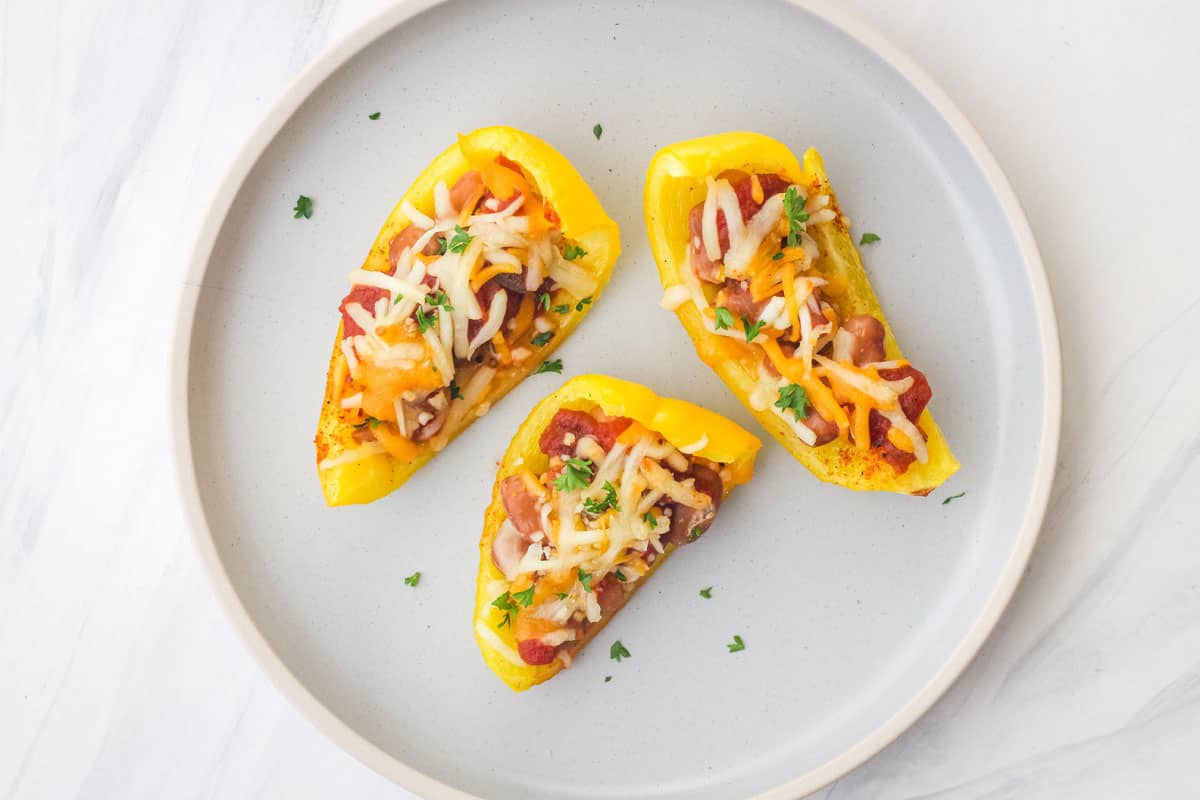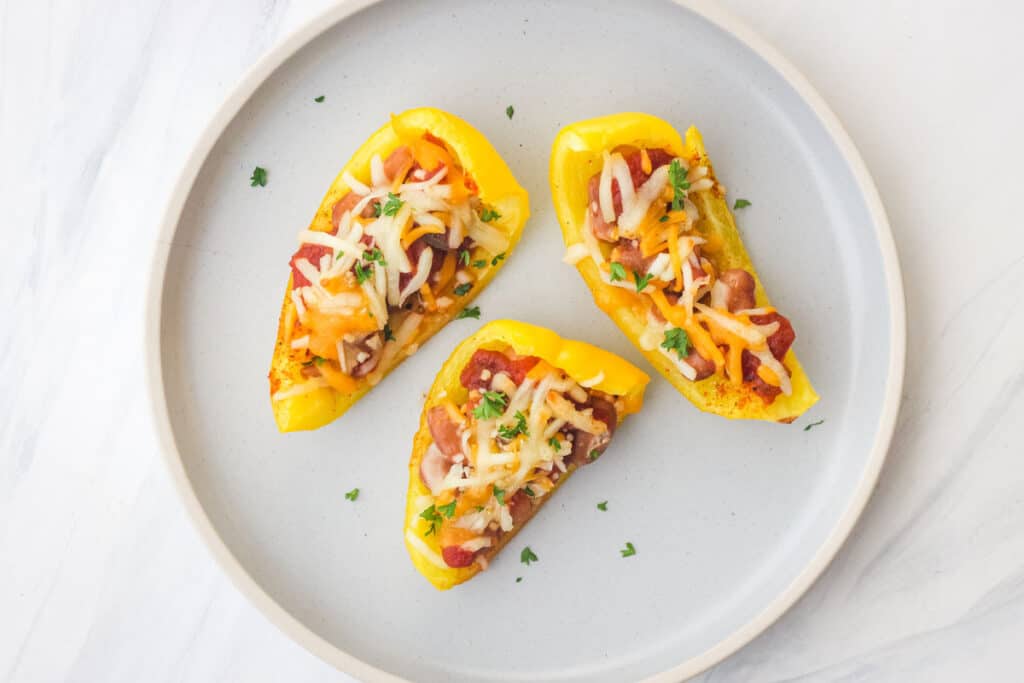 3. Bell Pepper Nachos
Slice half a red, yellow, or orange bell pepper into 3 or 4 wedges. Place on a baking sheet and sprinkle with ⅛ teaspoon taco seasoning.
Top with ¼ cup cooked pinto beans or black beans, 2 tablespoons salsa, and 2 tablespoons shredded cheese.
Bake in a 375°F toaster oven until the cheese is melty and the peppers have softened slightly about 8 to 10 minutes, or microwave for 1 to 2 minutes.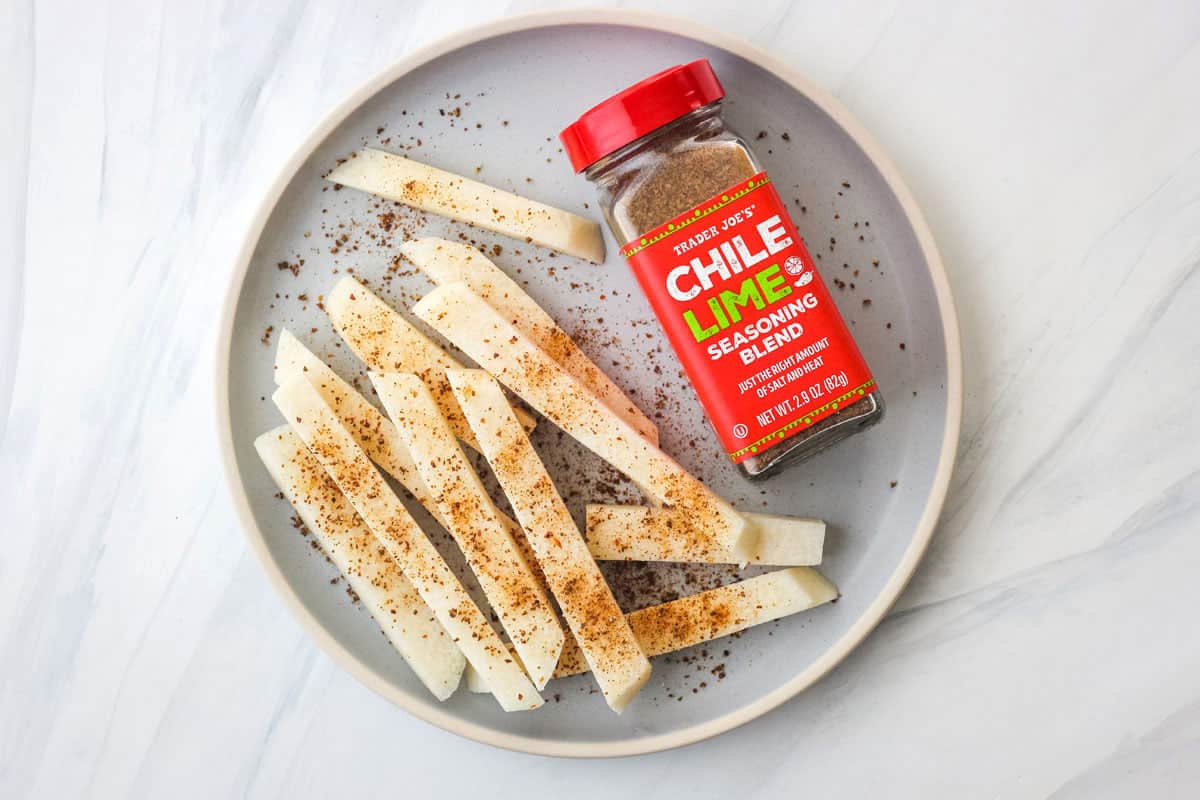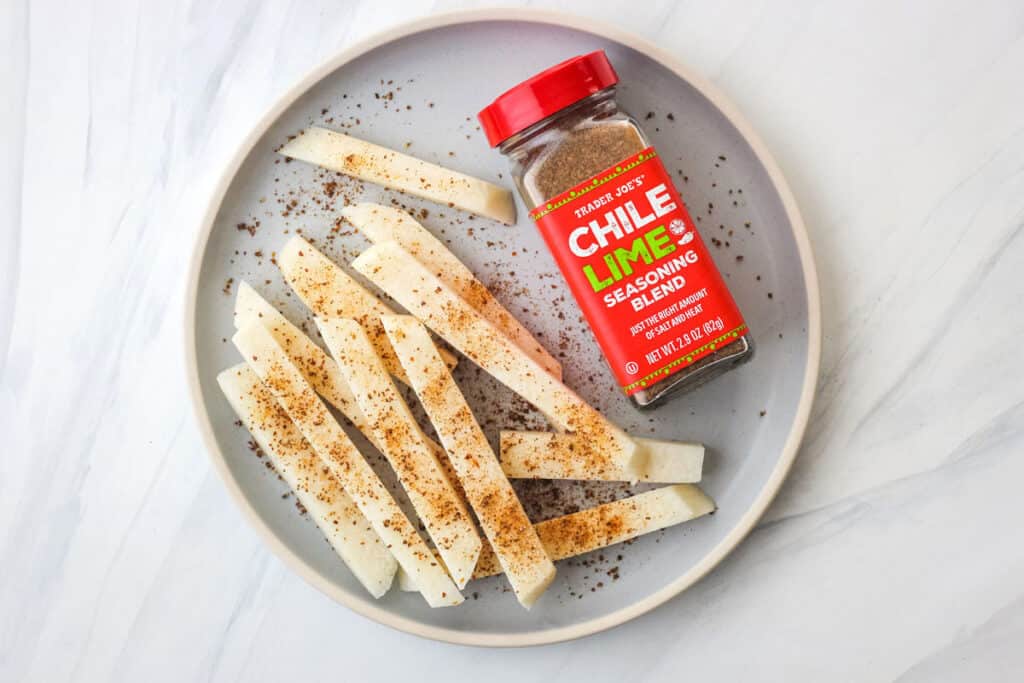 4. Seasoned Jicama Sticks
Juicy, crunchy, and subtly sweet, jicama makes a fantastic snack. Especially when it's sprinkled with some chili-lime seasoning. For a sweeter treat, swap the seasoning for cinnamon or pumpkin pie spice instead.
How to Cut up Jicama: Use a paring knife (or vegetable peeler) to remove the jicama's brown papery skin. Then slice the white flesh into planks, stack a few of the planks, and slice them into sticks.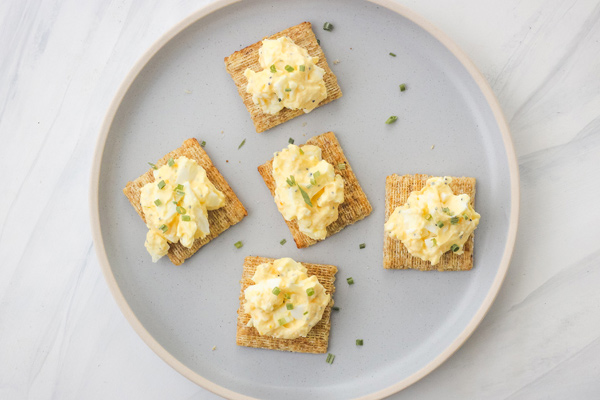 5. Lazy Egg Salad For One
Roughly chop a large hard-boiled egg and mix together with 2 tablespoons plain Greek yogurt and 1/8 to 1/4 teaspoon Everything Bagel Seasoning. Spoon onto crackers and top with fresh or freeze-dried chives.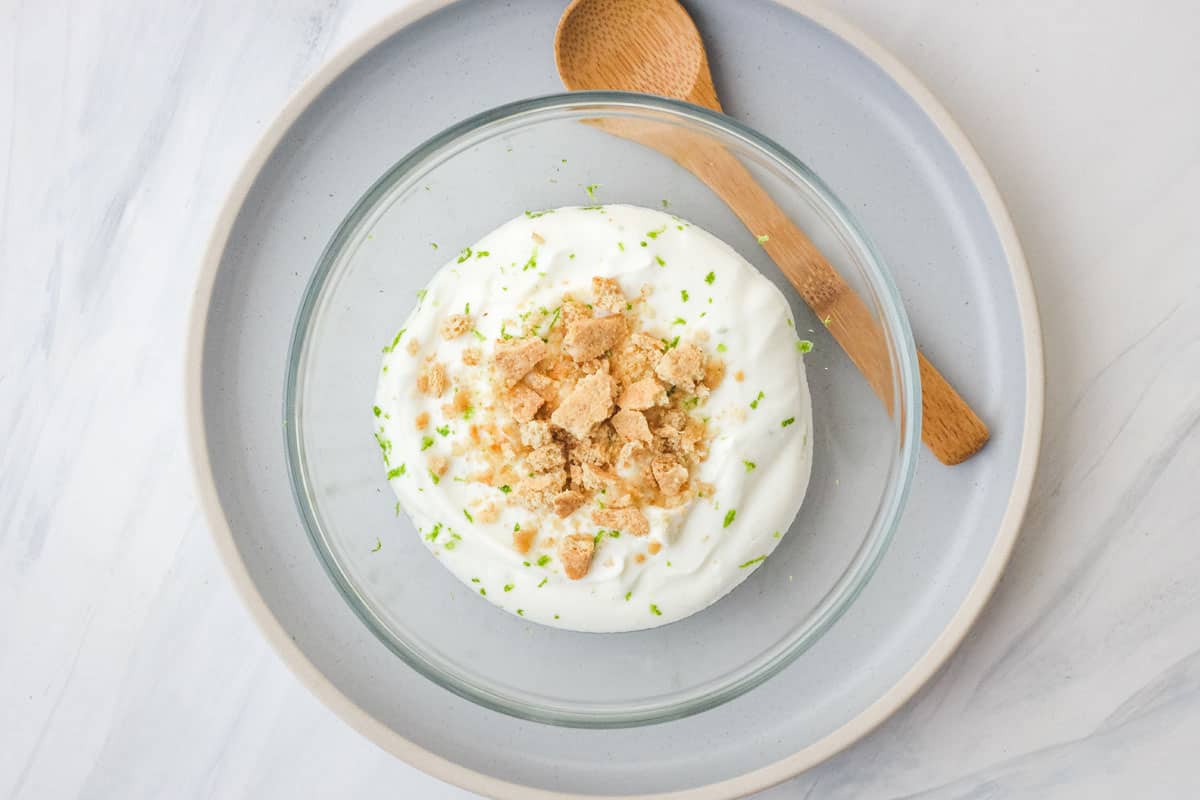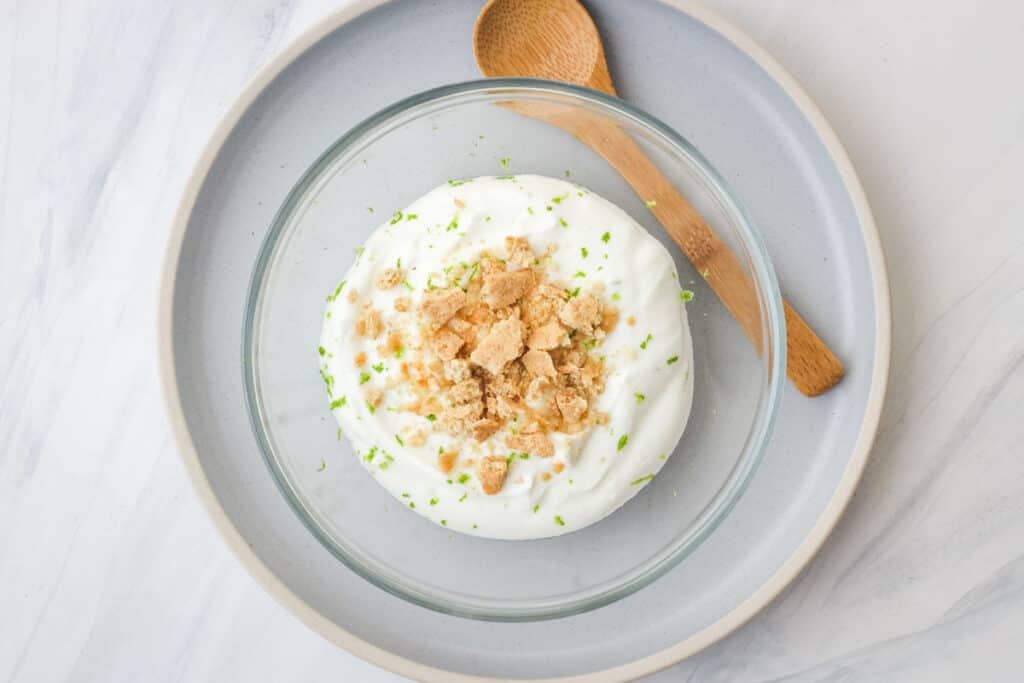 6. Lime Pie Yogurt
Combine 1/2 cup plain Greek yogurt + 1 teaspoon honey + 1/8 teaspoon lime zest + 2 teaspoons fresh lime juice and stir until smooth. Sprinkle with a tablespoon or two of crushed graham crackers.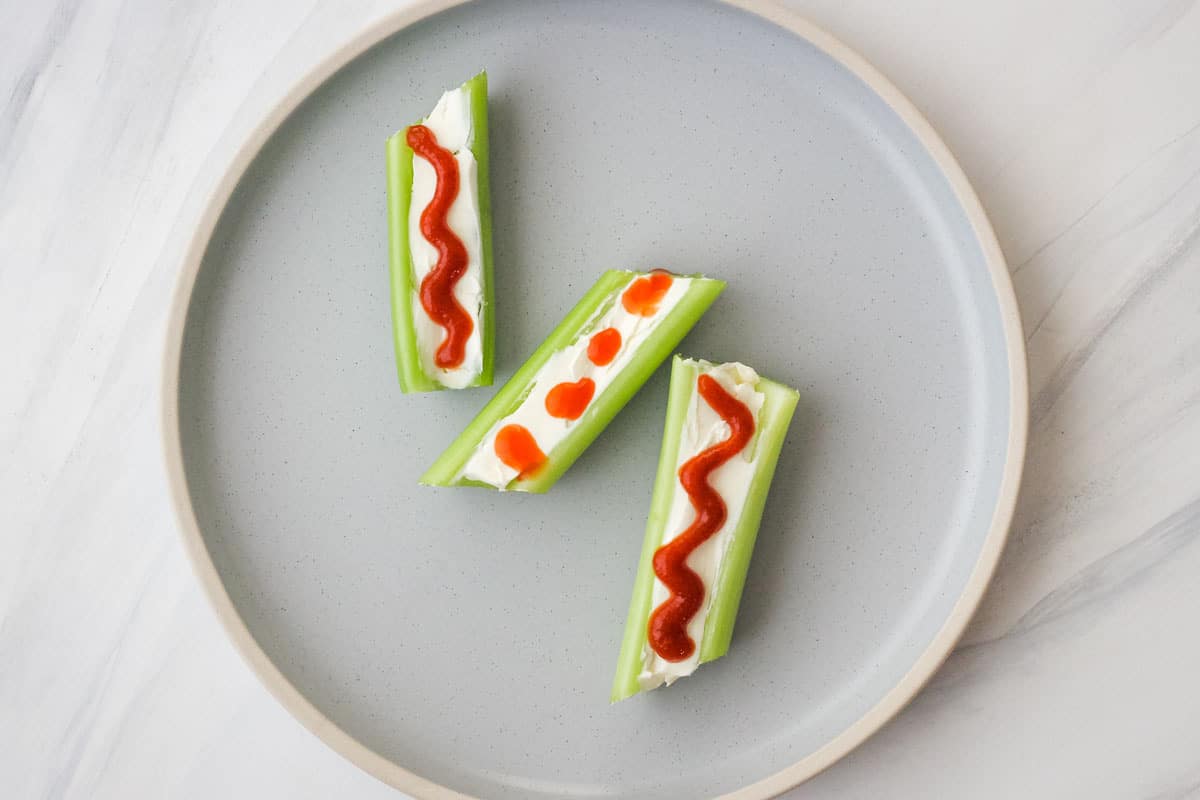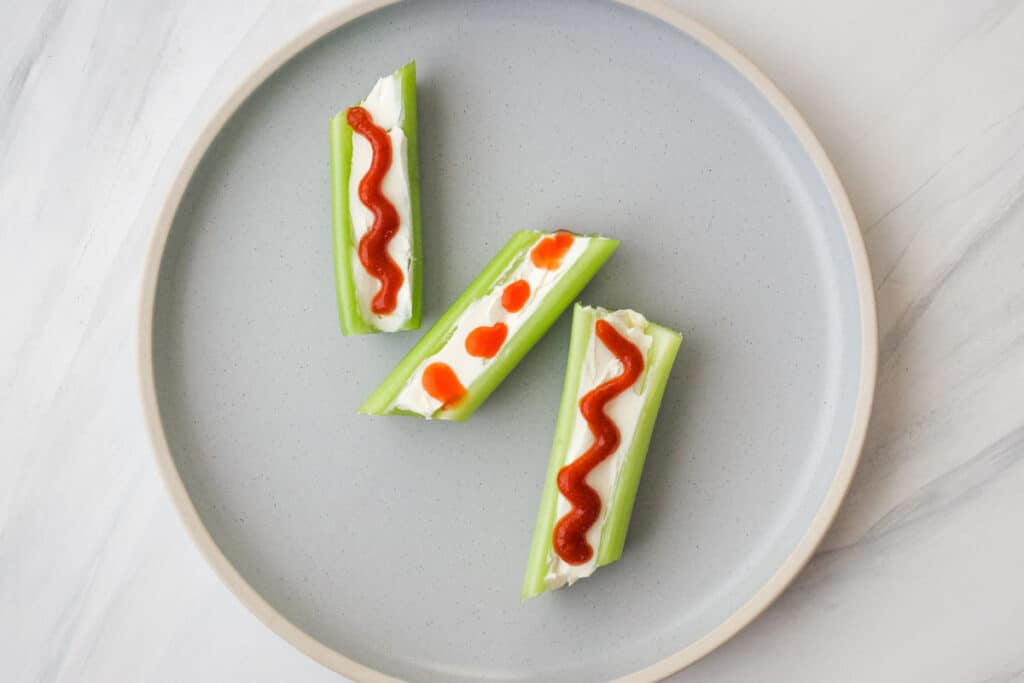 7. Spicy Celery Boats
Cut a large celery stalk cut into 3 or 4 pieces. Divide one tablespoon of Neufchatel cheese (or light cream cheese) across the celery. Drizzle with buffalo sauce, sriracha sauce, or your favorite hot sauce.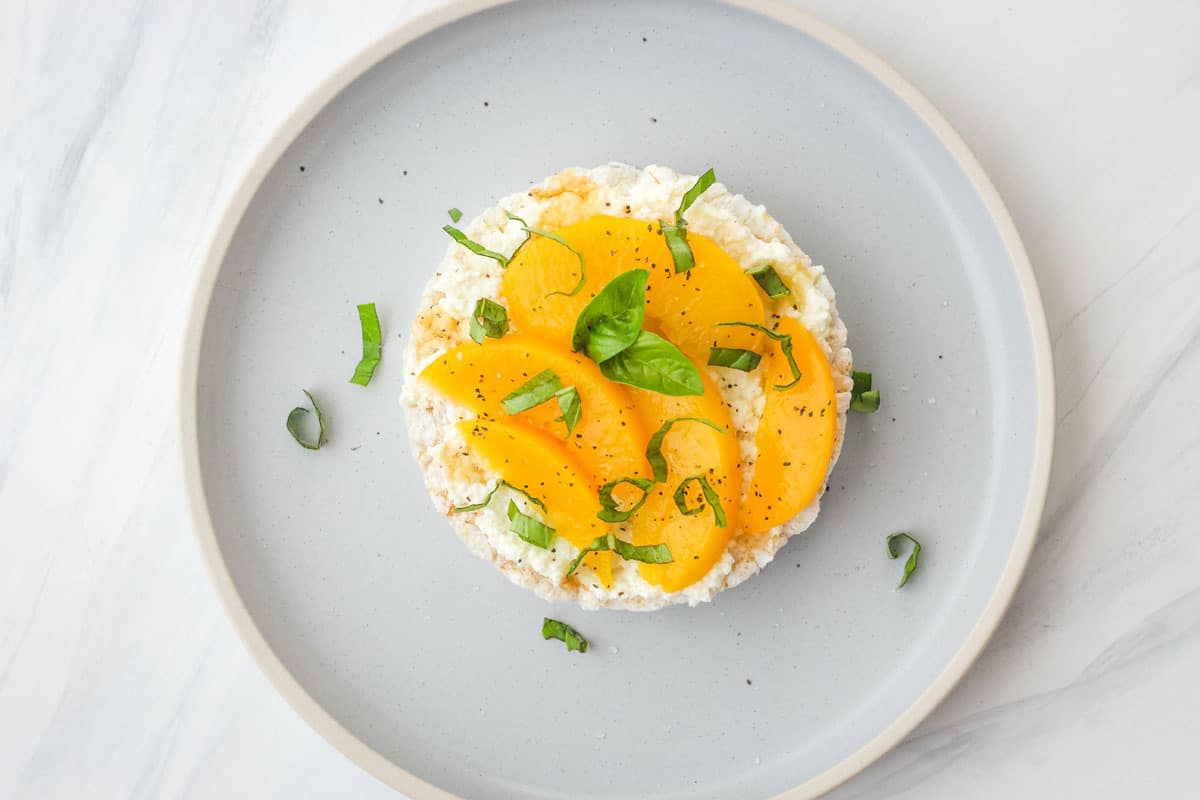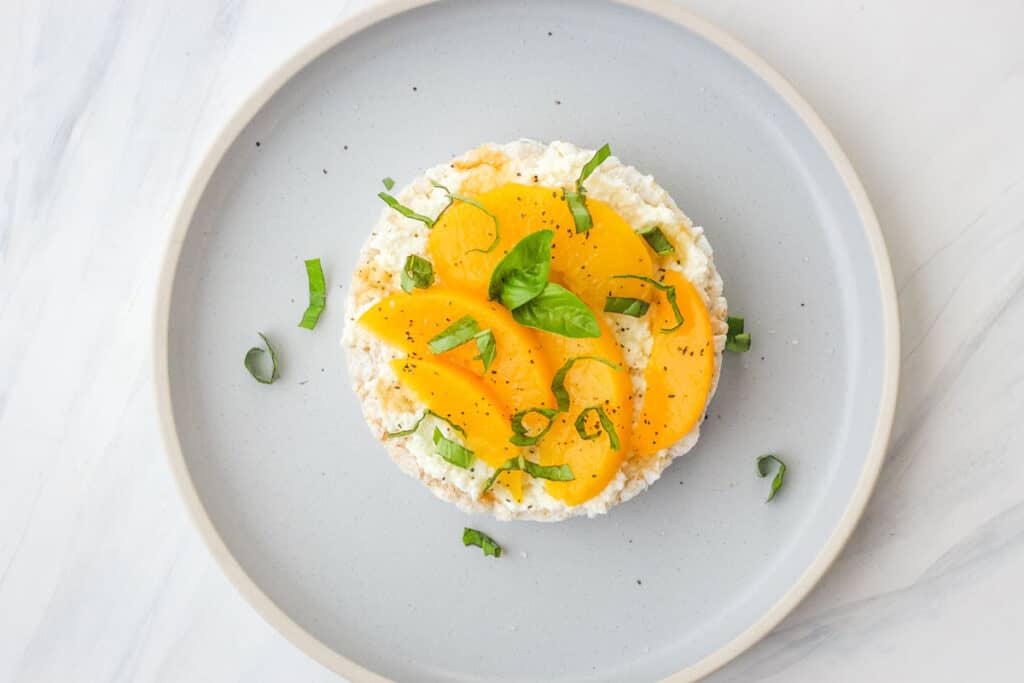 8. Creamy Peach and Basil Rice Cake
Spread 2 tablespoons of ricotta cheese on a rice cake, drizzle with honey, and top with peach slices (fresh or canned in juice). Thinly slice 2 basil leaves and sprinkle over, season with salt and black pepper.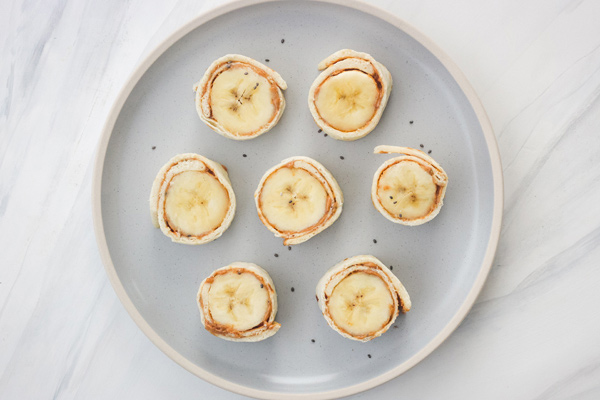 9. Peanut Butter Banana Pinwheels
Spread a spoonful of peanut butter on a small tortilla, sprinkle with chia seeds and cinnamon, then top with a small banana. Roll up the tortilla and slice into 1/2-inch pieces.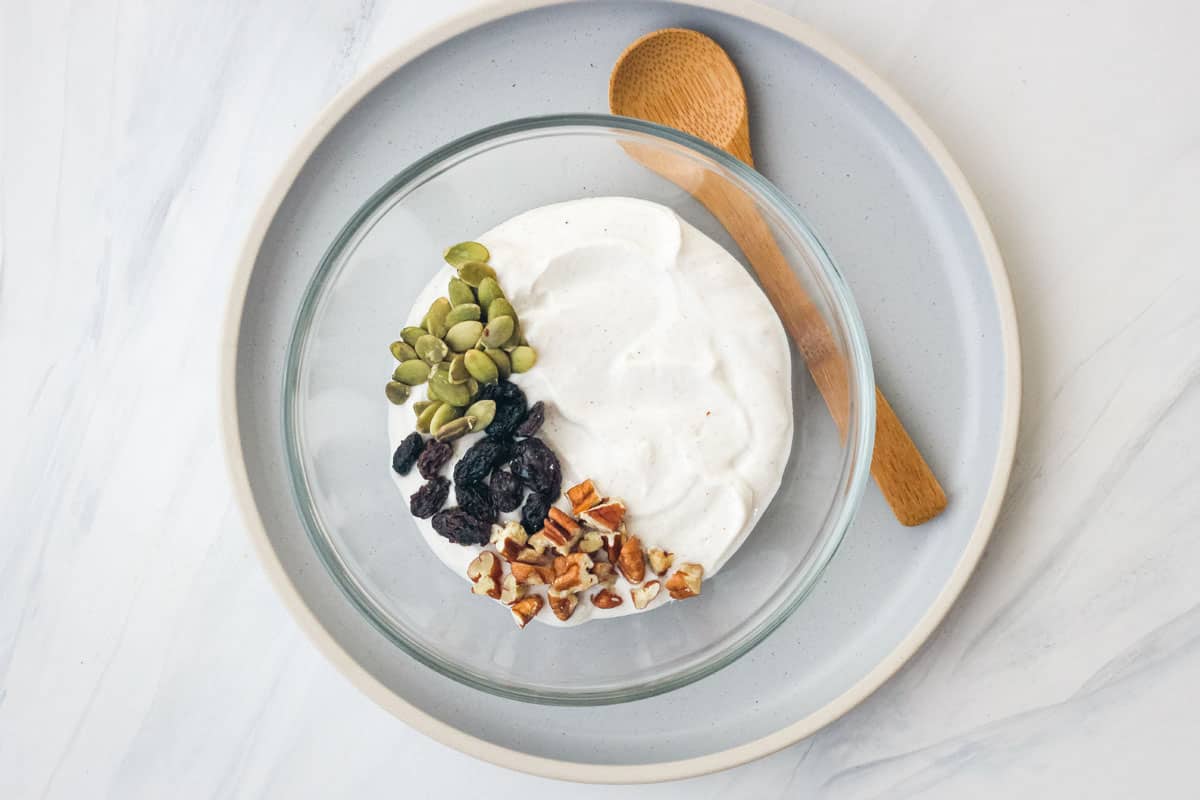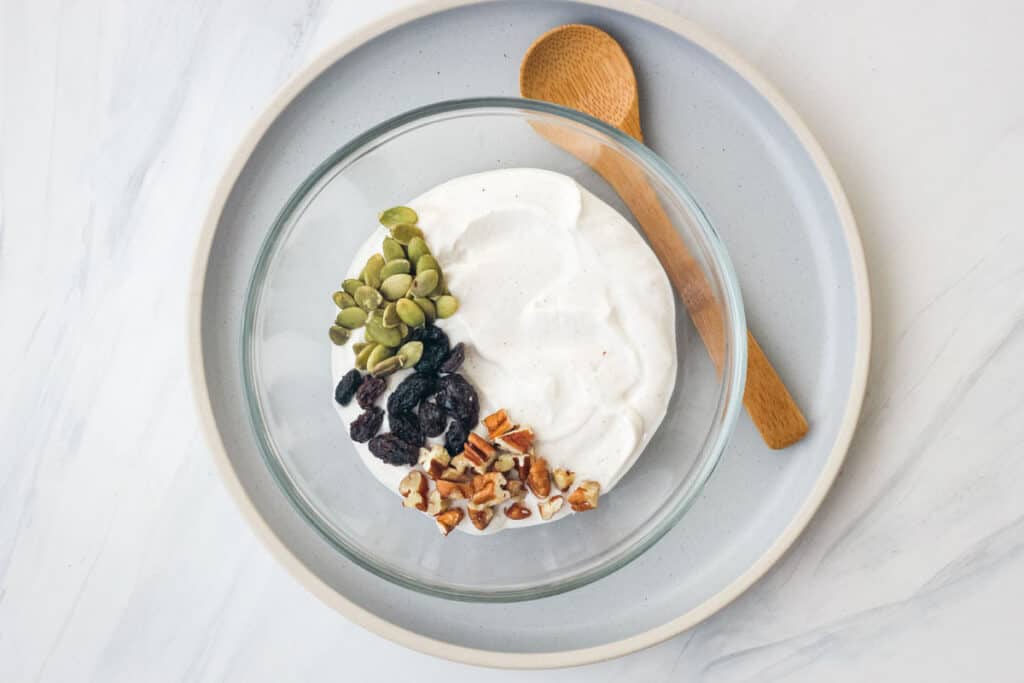 10. Cinnamon Trail Mix Yogurt
Stir together 1/2 cup plain Greek yogurt + 1/8 teaspoon vanilla extract + 1/8 teaspoon cinnamon. Top with chopped pecans, raisins, and pepitas (I used about 2 teaspoons of each one).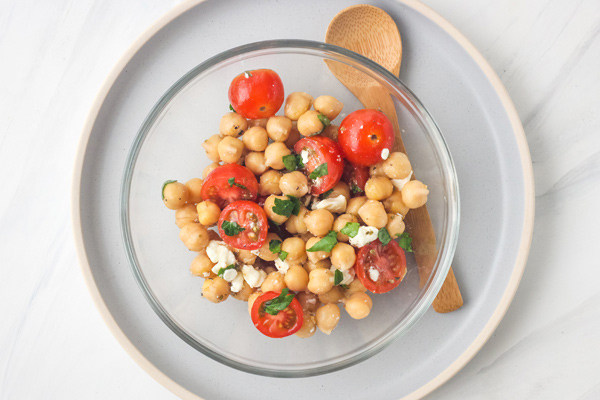 11. Quick Chickpea Salad
Combine 1/2 cup cooked chickpeas, 1 tablespoon crumbled feta, 5 to 6 halved grape tomatoes, 1/2 teaspoon extra virgin olive oil, 1 teaspoon red wine vinegar, 1/4 teaspoon dried oregano. Season with salt and pepper and sprinkle with chopped fresh herbs if you have some on hand.
This salad is super versatile and easy to adapt. Try adding chopped cucumbers or a little red onion, use balsamic vinegar, or make it more filling with diced avocado.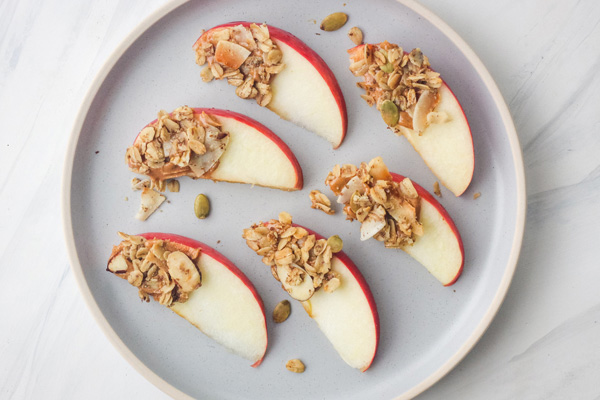 12. Granola Apple Wedges
Slice half an apple into wedges. Spread a little of your favorite nut butter on each slice and press into some small-batch almond granola or your favorite store-bought granola.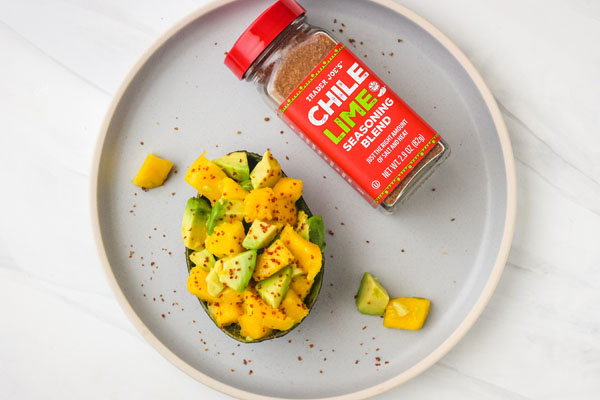 13. Chili-Lime Avocado and Mango
Chop half a small avocado and half a fresh mango into bite-size pieces. Sprinkle with chili-lime seasoning.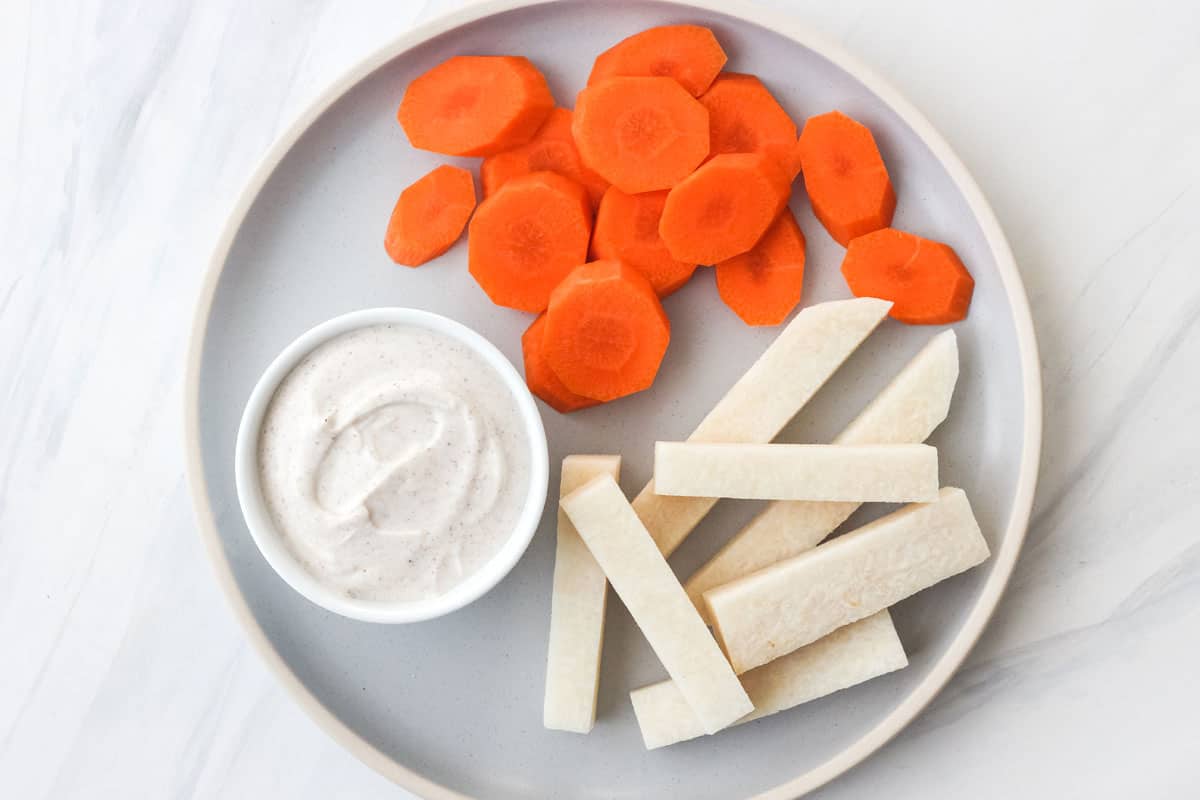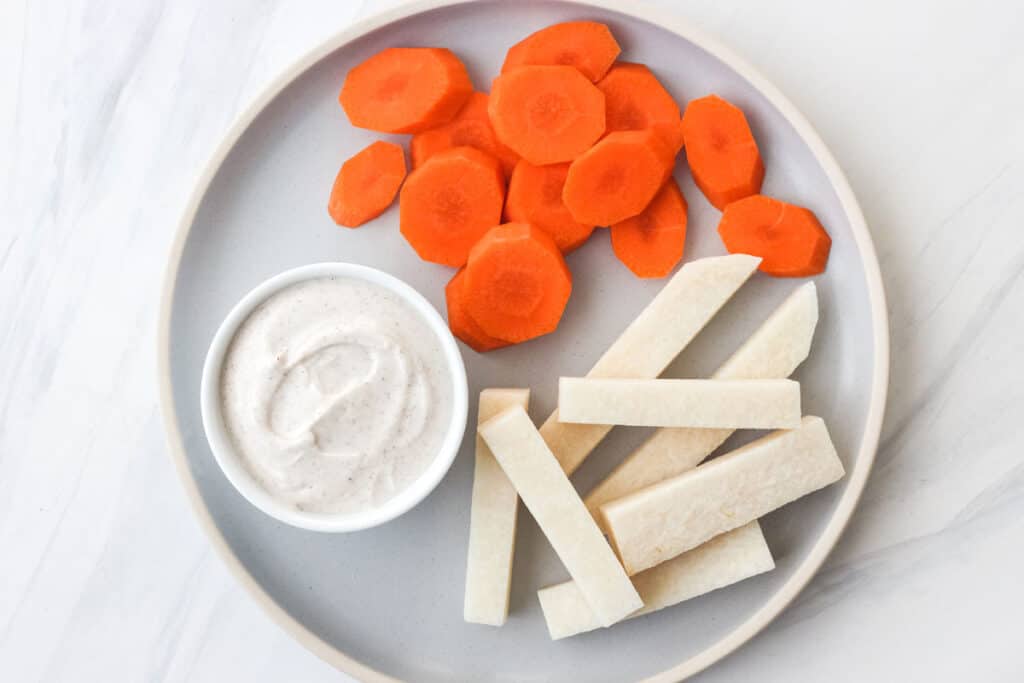 14. Cinnamon Maple Yogurt Dip
Whisk together ⅓ cup Plain Greek Yogurt + 1 teaspoon maple syrup + ¼ teaspoon ground cinnamon + ⅛ teaspoon vanilla extract. Serve with carrot chips or jicama sticks for dipping.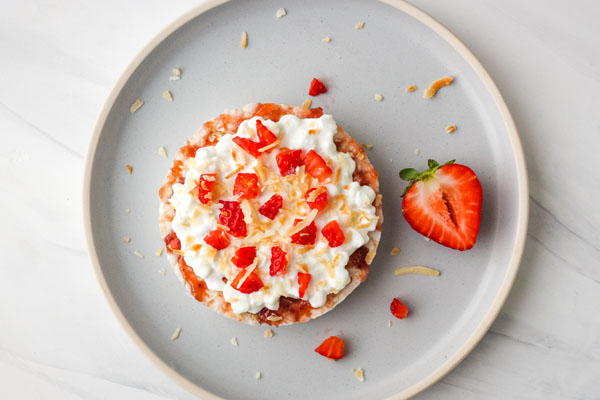 15. Sweet + Salty Rice Cake
Peanut butter topped rice cakes are a go-to snack in our house but some days call for a little zhooshing up!
Spread 1 teaspoon lower sugar strawberry preserves on a plain rice cake. Top with 3 tablespoons cottage cheese, chopped fresh strawberries, and 1 teaspoon unsweetened toasted coconut.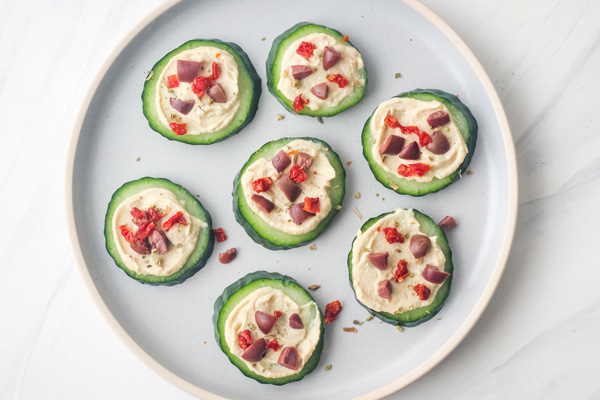 16. Cucumber Chips and Hummus
Spread cucumber slices with 1 to 2 tablespoons of hummus. Top with a couple of diced Kalamata olives and chopped sun-dried tomatoes, then sprinkle with fresh or dried oregano.
More veggie "chip" options: Try swapping the cucumbers for carrot rounds, radish halves, celery stalks, endive leaves, or seeded mini bell pepper halves.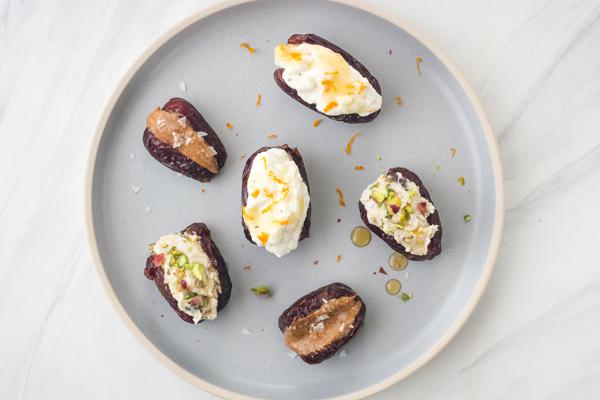 17. Mix-and-Match Stuffed Dates
Pit a few Medjool dates and add your favorite filling, below are some of our go-to combinations:
Almond Butter + Mandoline Salt or Sea Salt
Ricotta + Orange Zest + Black Pepper + Drizzle of Honey
Softened Goat Cheese + Chopped Pistachios + Cinnamon + Drizzle of Maple Syrup
The serving size is going to depend on how large your dates are and how hungry you are. Two dates are enough for me but Tim usually likes to have three.
How to Soften Hardened Dates: Place the number of dates you plan to eat in a bowl and cover with boiling water. Let sit for 10 minutes, then drain, dry, pit, and stuff.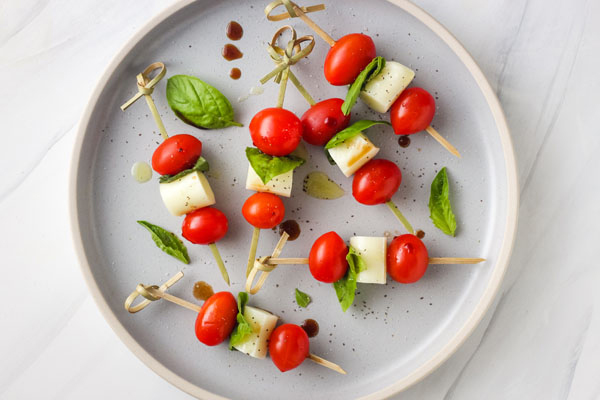 18. Caprese Skewers
Cut a piece of string cheese into ½-inch pieces. Skewer a small grape tomato, basil leaf, piece of cheese, and another tomato onto a toothpick. Repeat with the remaining ingredients. Drizzle bites with olive oil and balsamic vinegar. Sprinkle with salt and pepper.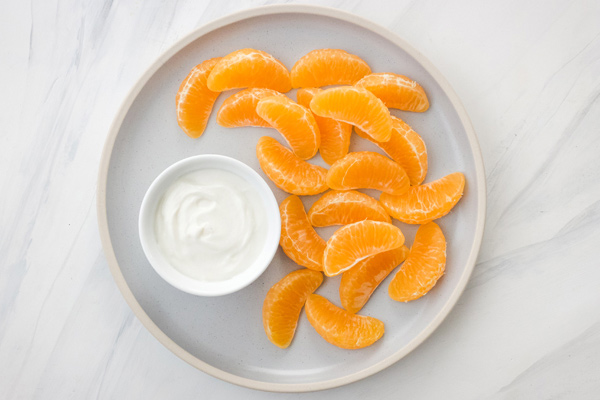 19. Creamsicle Wedges
Stir together 1/4 cup plain Greek yogurt, 1/4 teaspoon honey, and 1/8 teaspoon vanilla extract. Serve with orange wedges or clementine segments for dipping.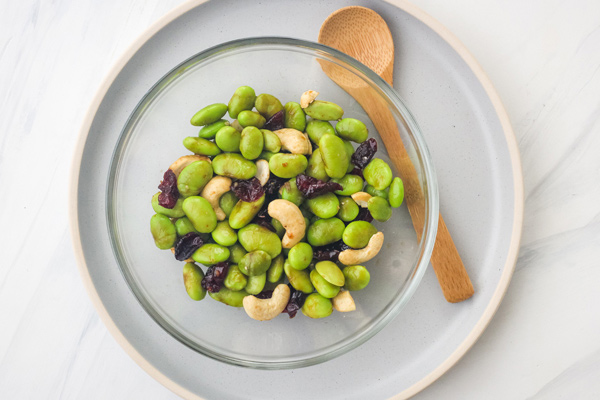 20. Edamame Salad
Toss 1/2 cup cooked and shelled edamame with 1 tablespoon dried cranberries, 1 tablespoon cashews, 1/2 teaspoon soy sauce, and 1/8 teaspoon sriracha sauce. Add a splash of toasted sesame oil if you've got it on hand.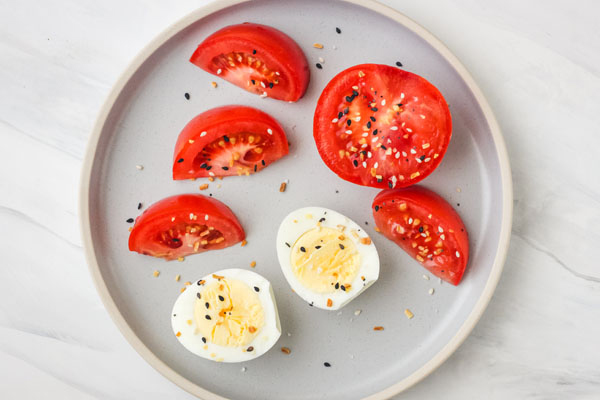 21. Everything Bagel Egg & Tomato
Top a sliced tomato and hard-boiled egg with 1/2 teaspoon Everything Bagel Seasoning. For a more filling snack spread the egg with a tablespoon of hummus and top the tomato with thinly sliced red onion and a few avocado slices.
Related Recipe: Instant Pot Mini Hard Boiled Eggs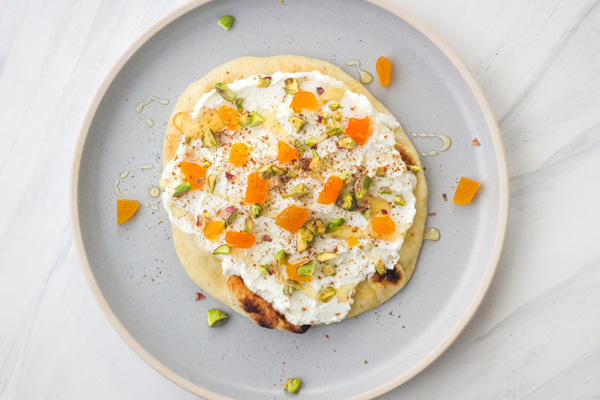 22. Apricot, Pistachio and Ricotta Mini Pizza
Spread a mini pita or naan with 3 to 4 tablespoons ricotta cheese, top with one or two chopped dried apricots, and a few chopped pistachios. Drizzle with a little honey and sprinkle with cinnamon.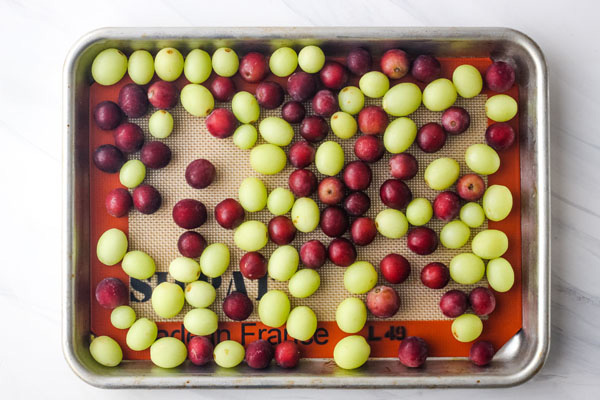 23. Frozen Grapes
Rinse 1 pound of grapes and dry well. Remove grapes from stems and place on a sheet pan lined with parchment or a silicone baking mat. Freeze until solid, about 2 to 3 hours. Store frozen grapes in a freezer-safe bag or sealed container.
Grab a handful of grapes and pair them with a piece of cheese or a cup of yogurt for a tasty snack.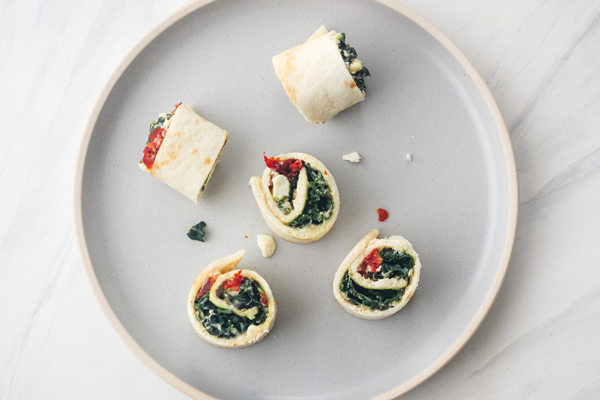 24. Hummus Pinwheels
Spread a small tortilla with hummus. Top with chopped sun-dried tomatoes, crumbled feta, and a kale leaf torn into pieces or a small handful of fresh spinach. Season with salt and pepper, then roll up and slice into 1/2-inch pieces.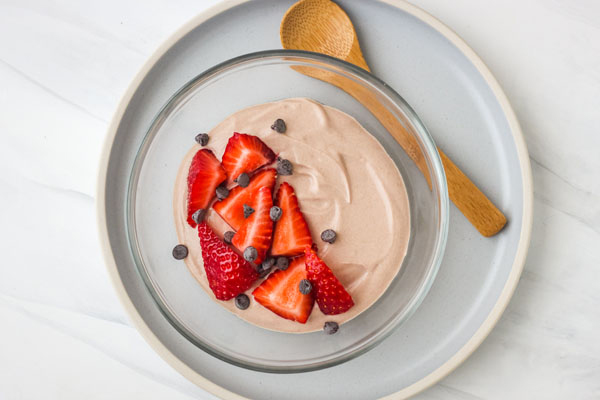 25. Chocolate Greek Yogurt
Combine 1/2 cup Greek yogurt + 2 teaspoons cocoa powder + 1 teaspoon maple syrup (honey or agave) and whisk until smooth. Top with fresh berries and a few mini chocolate chips if desired.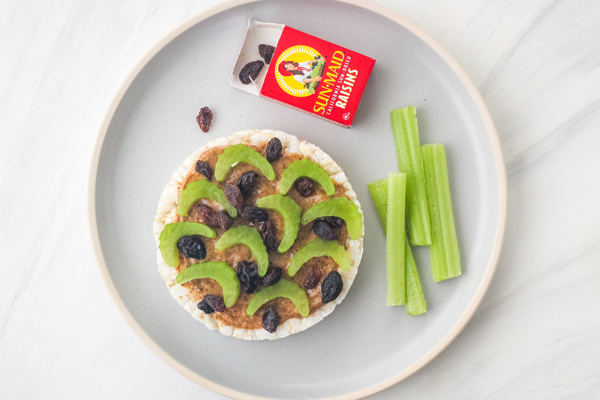 26. Ants on a Rice Cake
Spread a heaping spoonful of your favorite nut butter on a plain rice cake and top with sliced celery and raisins. Sprinkle with salt.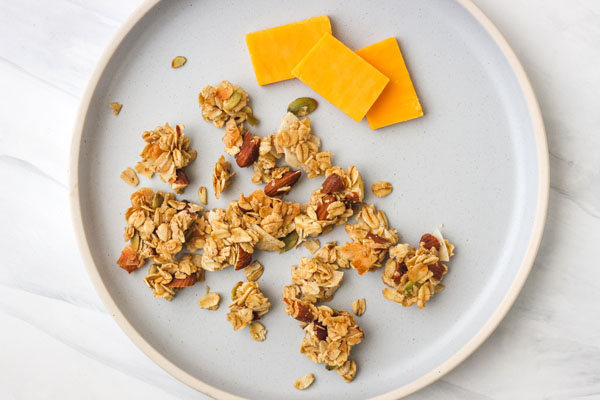 27. Granola + Cheese
Have you seen those snack packs of granola and cheese that are crazy expensive, like $5 for 3 tiny little containers?
You can make them at home by whipping up a batch of easy-to-customize toaster oven granola (or using your favorite bagged granola from the store) and cutting a block of cheese into cubes.
For a quick snack, combine 1 ounce of granola and 1-ounce cheddar cheese or a piece of string cheese.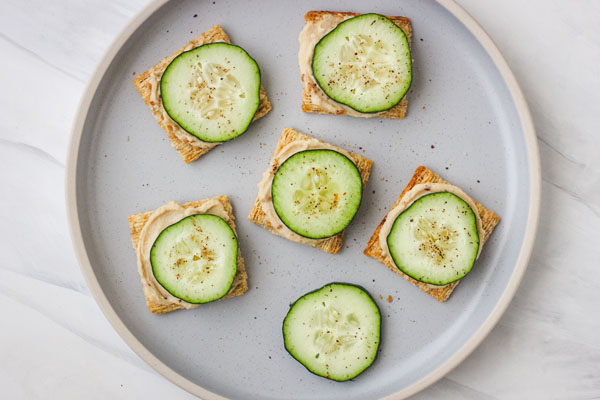 28. Cucumber Hummus Stacks
Spread crackers with plain hummus and top with cucumber slices. Sprinkle with your favorite seasoning, I used za'atar (it's so tasty with hummus) but any seasoning blend will taste great.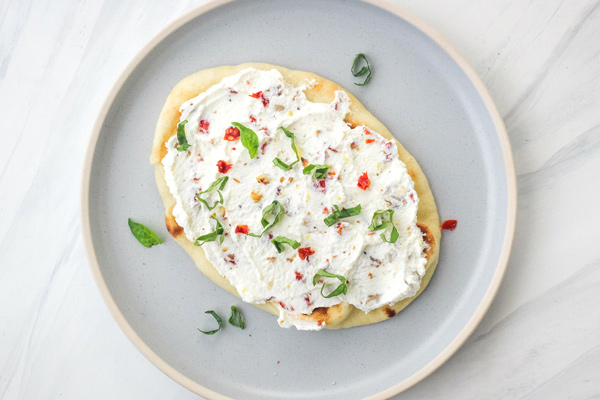 29. Sun-Dried Tomato and Ricotta Mini Pizza
In a small bowl, stir together 3 to 4 tablespoons ricotta cheese, 1 tablespoon chopped sun-dried tomatoes, 1 tablespoon chopped walnuts, a pinch of black pepper, and garlic powder. Spread mixture on a mini pita or naan and top with fresh basil and lemon zest.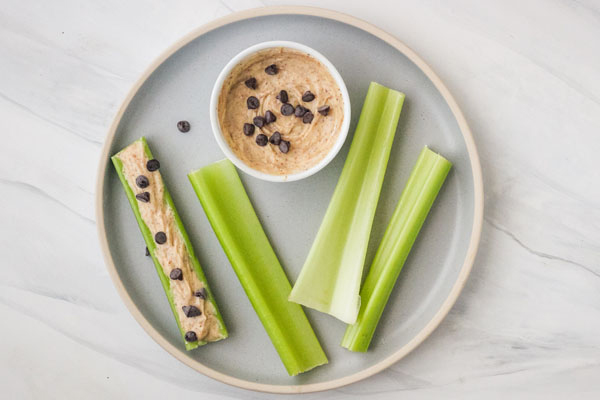 30. Yogurt Celery Sticks
Mix together 2 tablespoons of Greek yogurt + 1 tablespoon salted almond butter (or peanut butter) + 1/2 teaspoon maple syrup. Spread on celery sticks and top with mini chocolate chips or a sprinkle of cinnamon.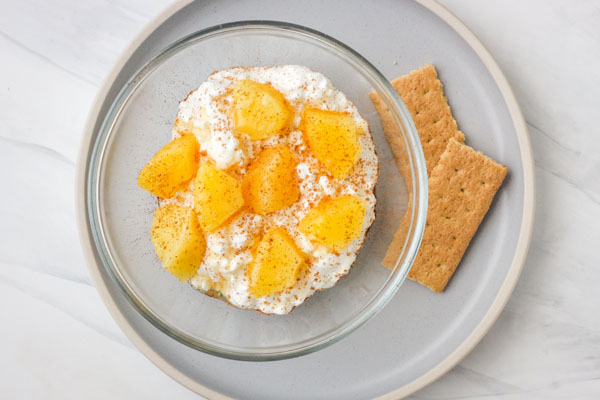 31. Cottage Cheese Parfait
Top 1/2 cup cottage cheese with 1/4 cup pineapple chunks. Sprinkle with cinnamon and drizzle with honey. Enjoy plain or with half a graham cracker for scooping.
More Easy Snacks and Small Bites