Healthy and filling, these Instant Pot Mini Salsa Quinoa Bowls make an easy vegetarian dinner for two. Perfect for busy weeknights!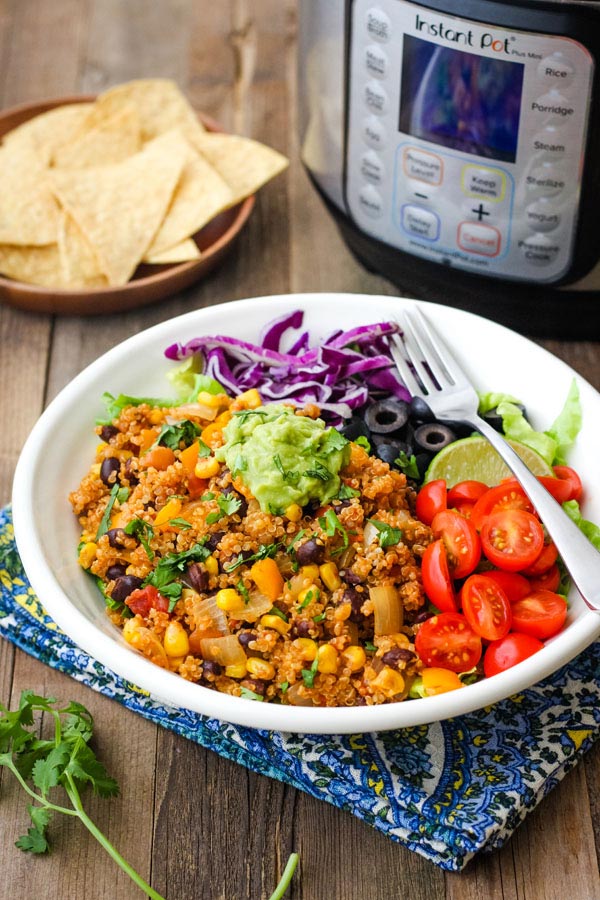 We've been playing with our 3-Quart Instant Pot again.
Last year, it became our must-have appliance for staples like oatmeal for two and hard-cooked eggs. This year we're going all-out and creating some easy meatless meals with it.
First up, are these Salsa Quinoa Bowls. They're a mashup of our 3-quart instant pot quinoa and the filling from our popular Spaghetti Squash Burrito Bowls.
The small-batch recipe is light on prep and combines basic ingredients (like salsa, quinoa, and black beans) into satisfying healthy bowls of deliciousness.
Loaded up with your favorite burrito or taco toppings (we like red cabbage, pepper jack cheese, guacamole, and fresh limes) they make a delicious dinner for two. And if you're cooking for one, the leftovers reheat well for lunch the next day!
Quinoa Salsa Bowl Tips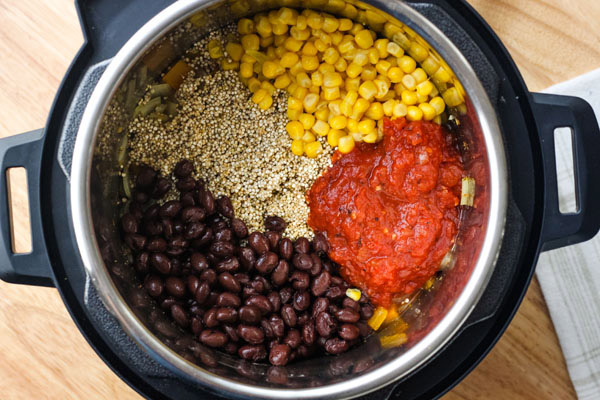 Making this recipe regularly for dinner, we've had our share of hits and misses. Below are a few tips for success and some answers to questions you might have.
Canned or frozen corn works great. No need to thaw the frozen corn either, just toss it in.
You can swap the cumin, oregano and chili powder for 1 teaspoon taco seasoning.
A few times we've skipped sautéing the vegetables and dumped everything into the pot. The veggies are less tender and it's not as flavorful as the original version but it's pretty darn close.
Can You Make This On The Stovetop Instead? Yes, you can! The only difference I've found is that you need to increase the water or broth to about 1 cup. (See the recipe card notes for more directions).
Can You Double The Recipe? So far, doubling the recipe in our 3-Quart IP has been one hot mess after another. It's mostly our fault (I think) but we've yet to double the recipe successfully.
~ Keep scrolling for step by step photos after the recipe ~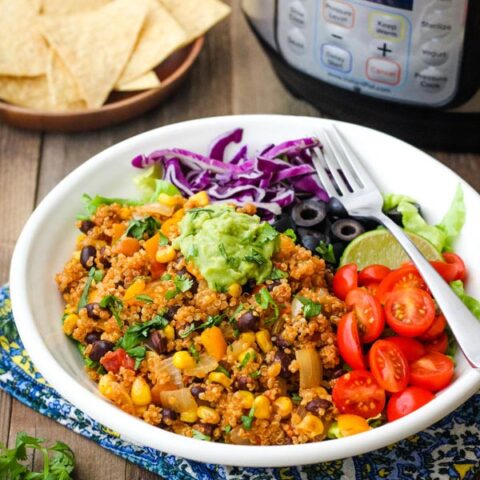 Salsa Quinoa Bowls
Natural Release Time:
12 minutes
Quick, healthy, and loaded with flavor these tasty bowls of deliciousness are easy to make in your 3-Quart Instant Pot or on the stovetop.
Ingredients
2 teaspoons Olive Oil
1/4 medium onion, diced
Half an orange bell pepper, diced
1/2 teaspoon minced garlic
1/4 teaspoon ground cumin
1/4 teaspoon dried oregano
1/4 teaspoon chili powder
1/4 teaspoon salt
1/2 cup water (or vegetable broth)
1/2 cup uncooked white quinoa, rinsed
1/2 cup prepared salsa
1/2 cup canned corn kernels, drained
3/4 cup cooked black beans, rinsed if using canned
Toppings:
Shredded Cheese, Guacamole, Greek Yogurt or Sour Cream, Black Olives, Diced Tomatoes, Cilantro, Sliced Green Onions, Shredded Lettuce or Cabbage
Instructions
Press SAUTE on your 3-Quart Instant Pot and add oil. Once the oil is shimmery, add onion and bell pepper and sauté until softened, about 3 to 4 minutes.
Add garlic, cumin, oregano, chili powder, and salt and sauté for 30 seconds more.
Press CANCEL to turn off the saute setting and add the water. Use a rubber spatula to scrape up any browned bits off the bottom of the pot.
Add the quinoa, salsa, corn, and black beans. Stir well to combine all of the ingredients.
Lock lid in place and turn the vent to sealing.
Select PRESSURE COOK, adjust the pressure to HIGH and set the cook time for 1 minute.
When the cook time ends, do nothing and allow the pressure to release naturally for 12 minutes.
Carefully release any remaining pressure, remove the lid, and stir the contents.
Divide quinoa mixture between two bowls and serve warm with your favorite toppings!
Notes
Stovetop Directions:
Increase the water (or broth) to 1 cup.
Sauté the onion and pepper in a medium pot over medium heat. Add garlic, cumin, oregano, chili powder, and salt and sauté for 30 to 60 seconds. Stir in the remaining ingredients and bring to a boil. Reduce heat to medium-low and simmer, covered, until all of the liquid has been absorbed, about 15 minutes. (You'll know the quinoa is cooked when it is translucent with little tail-like spirals). Fluff quinoa and serve with toppings.

Nutritional Information is an estimate of one bowl without any toppings.
Recommended Products
As an Amazon Associate and member of other affiliate programs, I earn from qualifying purchases.
Nutrition Information:
Yield:

2
Serving Size:

1
Amount Per Serving:
Calories:

231
Total Fat:

7g
Saturated Fat:

0.8g
Cholesterol:

0mg
Sodium:

575mg
Carbohydrates:

37.6g
Fiber:

5.7g
Sugar:

4.9g
Protein:

7.5g
How to Make Instant Pot Mini Salsa Quinoa Bowls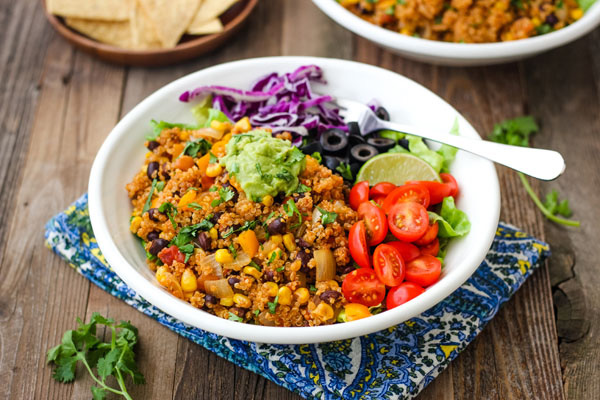 Start by pressing the Saute button and adjust it to Normal heating, or Medium depending on your machine. Add the olive oil to the inner cooking pot and heat until it is shimmering.
To see if the oil is hot enough, I like to drop a piece of pepper or onion into the pot. If the piece sizzles when it hits the oil, I know it's ready.
Add the pepper and onion and cook, stirring often, until the vegetables have softened, about 2 to 3 minutes.
Next, add the garlic, cumin, oregano, and salt and sauté for 30 to 60 seconds more.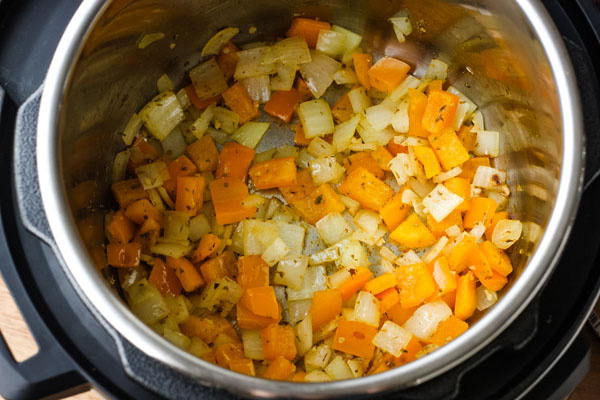 Press CANCEL and add the water. Use a rubber spatula or wooden spoon to scrape any browned bits off the bottom of the pot. This will help to avoid the dreaded Burn Notice.
Next, add the quinoa, salsa, corn, and black beans. Give it a good stir to combine.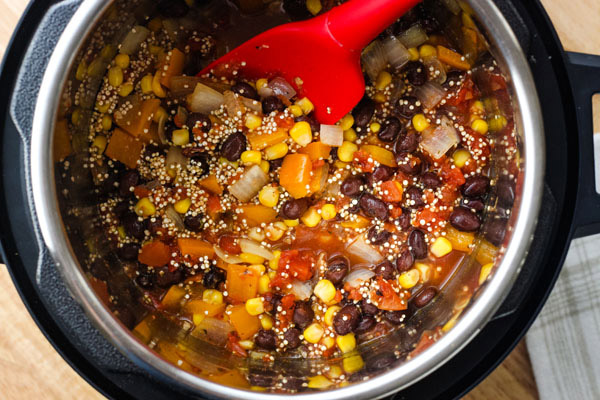 Lock the lid in place and turn the vent to the Sealing position.
Select Pressure Cook or Manual
Adjust the pressure to HIGH
Set the cooking time for 1 minute.
The machine will take about 6 to 7 minutes to come to pressure before it will beep and pressure cook for 1 minute.
After cooking, allow the pressure to release naturally for at least 12 minutes. Then, carefully quick-release the remaining pressure by turning the knob to the Venting position.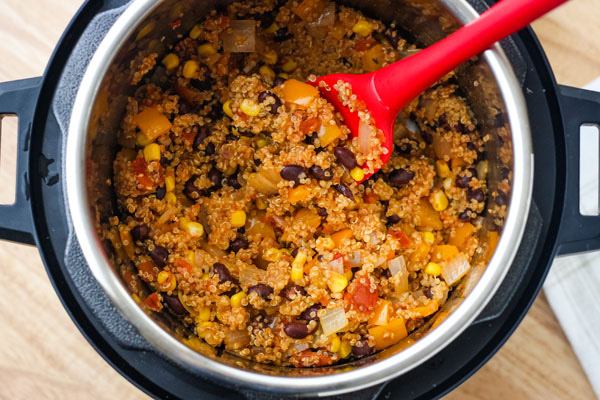 Unlock the lid and stir the quinoa.
Divide the contents between two bowls, add your favorite burrito toppings and dig in!