Easy Baked Egg Tostadas (30 Minutes!)
Baked Egg Tostadas are a quick and easy vegetarian breakfast for two. Load them up with your favorite fresh toppings like spinach, tomatoes, and salsa for a filling start to the day!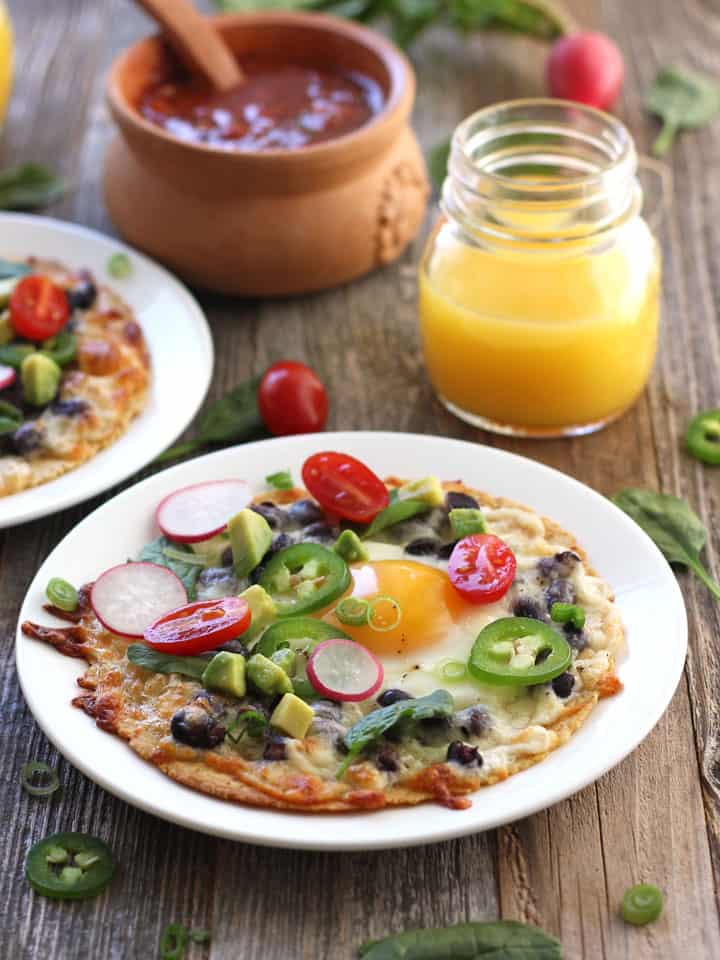 Some mornings you wake up craving a SATISFYING breakfast.
A hearty and warm meal that will actually keep you full until lunchtime finally rolls around.
But let's be real, weekday mornings are hectic. There's rarely enough time to get dressed and fed before work. Let alone make a healthy breakfast.
You don't have to settle for a bowl of cold cereal, friend, this quick and easy Baked Egg Tostadas recipe is here for you (and your hungry belly).
~ Keep scrolling for toaster oven tostada tips after the recipe ~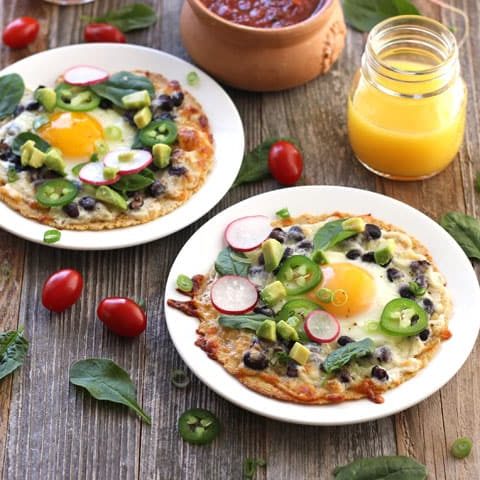 Baked Egg Tostadas
Load these breakfast tostadas up with your favorite Tex-Mex toppings for a filling start to the day!
Ingredients
2 Corn and Whole Wheat Blend Tortillas
Cooking Spray
6 tablespoons Shredded Mozzarella Cheese
1/4 cup Low-Sodium Black Beans, Rinsed
2 Eggs
Salt and Pepper, to taste
Optional Toppings:
Baby Spinach
Diced Jalapeño Peppers
Green Onions
Chopped Mango
Grape Tomatoes
Diced Avocado
Fresh Cilantro
Radishes
Salsa
Instructions
Preheat your oven or toaster oven to 375°F. Use the BAKE setting for the toaster oven.
Lightly brush or spray both sides of each tortilla with oil. Place tortillas on a toaster oven sheet pan and bake for 4 minutes to crisp slightly.
Remove baking pan but leave the oven on.
Divide the black beans and cheese evenly and arrange in a circle around the inside edge of each tortilla. It should look like the tortillas have bean and cheese wreaths.
Crack one egg into a ramekin or coffee cup and gently pour it into the center of a tortilla. The bean and cheese mixture should contain the egg but it's okay if a little leaks. Repeat with the remaining egg and tortilla.
Carefully return the baking sheet to the oven and bake for 12 to 15 minutes until the egg whites are fully set and the yolks are cooked as desired.
Transfer tostadas to plates, sprinkle with salt and pepper, pile on the toppings and enjoy!
Notes
As all ovens cook differently, you'll want to check on your eggs early the first few times you cook them.
Nutrition Information:
Yield:

2
Serving Size:

1 Tostada (without toppings)
Amount Per Serving:
Calories:

236
Total Fat:

10.8g
Saturated Fat:

5g
Cholesterol:

205mg
Sodium:

299mg
Carbohydrates:

19.6g
Fiber:

4.9g
Sugar:

0.7g
Protein:

15.2g
Tostada Ingredients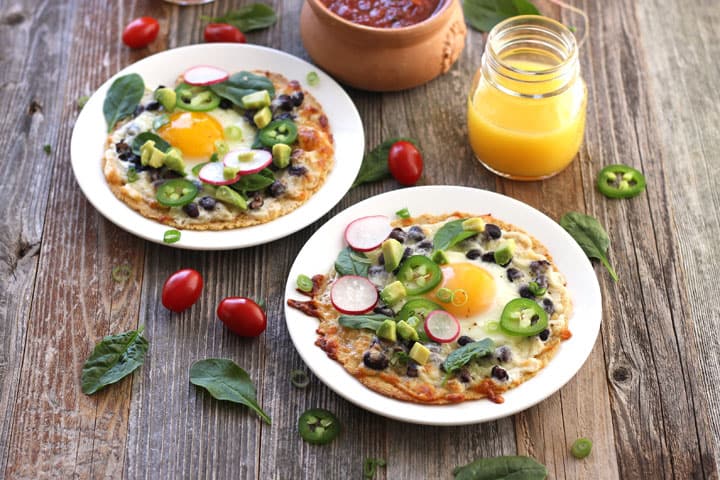 Tortillas: Regular corn tortillas work great but recently, we've been loving the Corn and Wheat Tortillas from Trader Joe's.
You get the best of a corn and flour tortilla in each yummy bite. The tostada edges are crunchy like tortilla chips while the center is softer and chewy like a quesadilla.
Beans and Cheese: These create a "dam" to contain the eggs while they bake. You can use any combo of beans and cheese or use avocado slices to make your dam instead.
Eggs: I like to crack each egg into a small ramekin or coffee cup and then slowly pour it into the center of the tortilla. Don't panic if a little egg escapes onto the cookie sheet.
Since ovens vary and cook differently, you'll want to check on your eggs early the first time you cook them.
Below are a few timing suggestions:
For a runny yolk with the whites cooked through bake about 11 to 12 minutes.
Bake for 14 to 15 minutes for hard-cooked yolks and whites.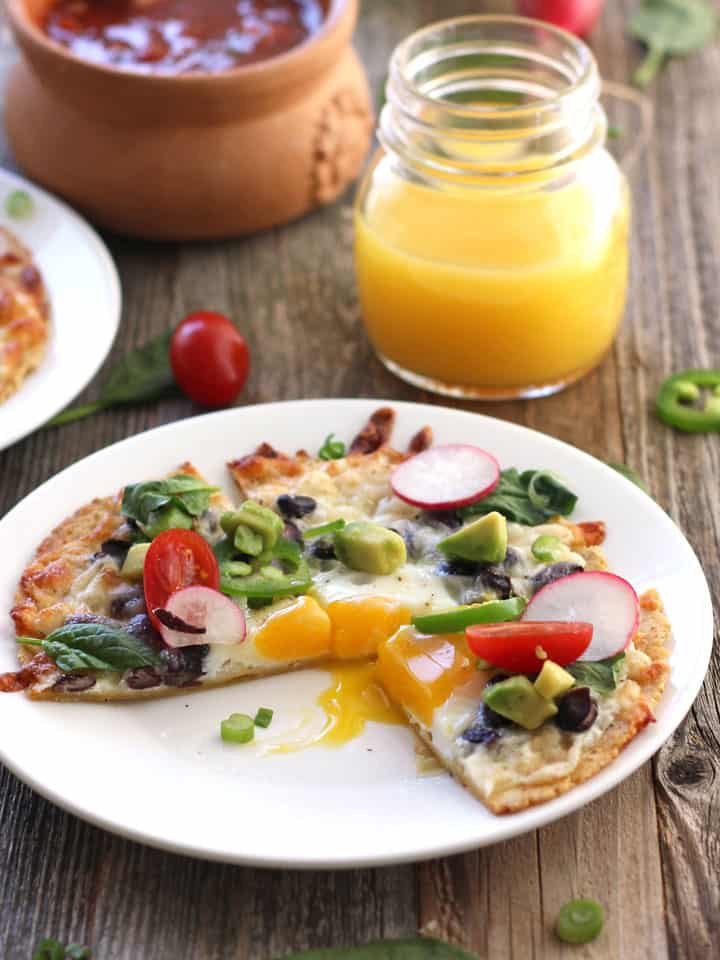 Toppings
This is a great opportunity to clean out the fridge and use up any random veggies and condiments.
A handful of baby spinach
Those few lonely grape tomatoes
Half an avocado
Black olive slices
That almost-empty jar of salsa
Any leftover Jalapeño Roasted Cauliflower or other roasted vegetables
The options are endless!
---
P.S. I have some super exciting news to share…I'm going to be contributing to the awesome Food Fanatic website!
It's home to recipes from the most creative food writers and recipe creators online. To say I'm humbled by the opportunity to be included in this group is a serious understatement but I can't think of another word.
What's so cool about Food Fanatic is how each blogger shares unique recipes in an area they are the most passionate/excited/fanatical about. I'll be contributing recipes for toaster oven cooking, starting with this tasty Baked Egg Tostadas recipe!