These easy Baked Egg Tostadas are a great toaster oven breakfast.  Load them up with your favorite fresh toppings like spinach, tomatoes and salsa for a filling start to the day!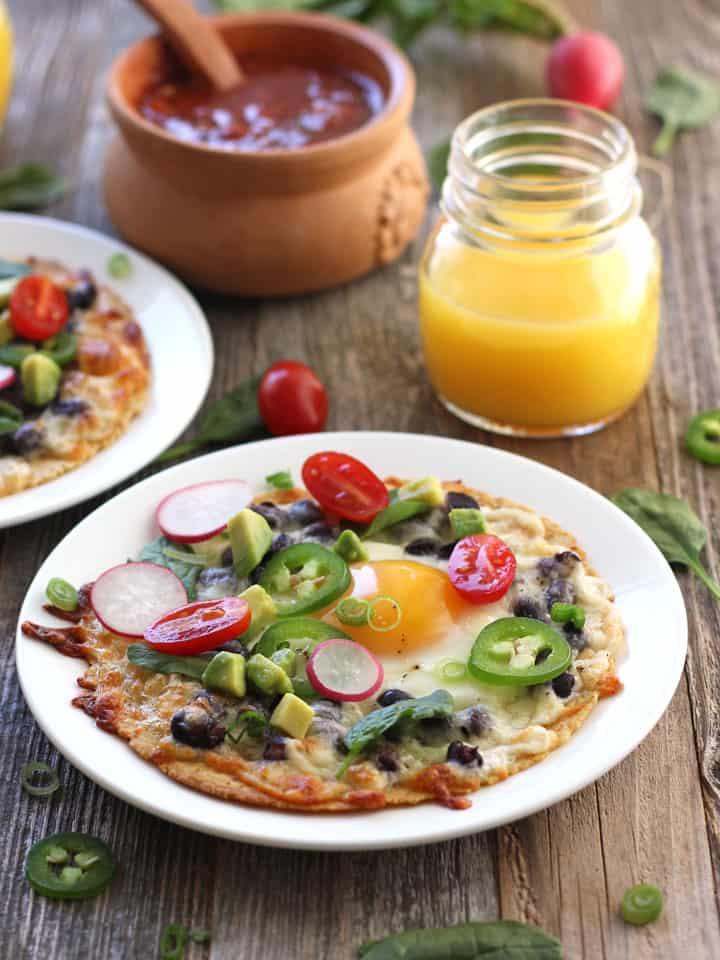 Some mornings I wake up craving a keep-me-full-until-lunch satisfying breakfast.  If it's the weekend and time is on my side I make a batch of rich and creamy Pineapple Coconut Twice-Baked Sweet Potatoes.
Unfortunately, my hearty breakfast hankerings tend to strike on a weekday and although I work from home I still have a schedule.  So there's barely enough time to get dressed and fed before work…womp, womp.  Rather than settling for a bowl of cold cereal I turn on the toaster oven!
That's right people your toaster oven is the key to a quick and indulgent weekday breakfast. Because they heat up so fast you can make two delicious baked egg tostadas in the time it takes to get ready for the day!  Imagine waking up next Monday morning and enjoying a warm tortilla topped with black beans, melty cheese and a baked egg.
Never been so excited about a Monday morning right?
We've been making these tostadas with regular corn tortillas for years but recently I have fallen for the Corn and Wheat Tortillas from Trader Joe's.  Their blend of corn masa and whole wheat flour combines the best of a corn and flour tortilla in each yummy bite.  The tostada edges are crunchy like a crispy taco shell while the centers are softer and chewy like a quesadilla.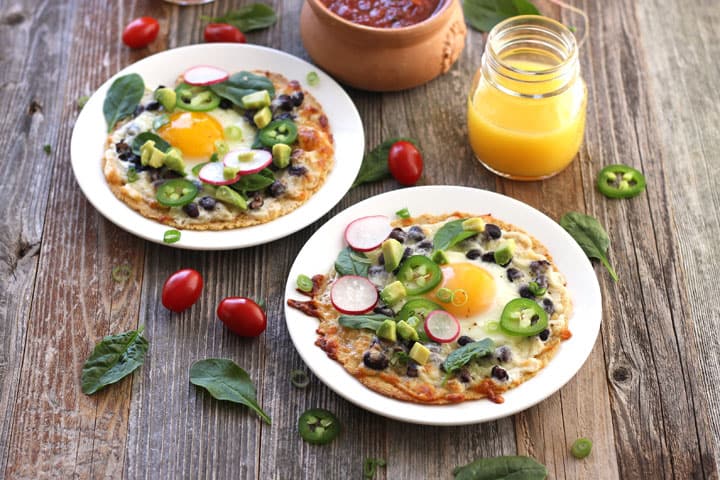 For the beans and cheese use any combo you like just don't skip them.  Because really your morning needs melty cheese and super important – those ingredients create a "dam" to contain the eggs while they bake.
I like to crack each egg into a small ramekin or coffee cup and then slowly pour it into the center of the tortilla. I'm sure you will build a mean bean and cheese "dam" but don't panic if a little egg escapes onto the cookie sheet.
When it comes to baking, 12 minutes gives you an egg where the whites are fully cooked and the yolk is still a little runny.  If you're not a fan of runny yolks 14 to 15 minutes should get you hard cooked egg whites and yolks.
Now the last and best part — Toppings!  This is a great opportunity to "clean out the fridge" and use up that last handful of baby spinach, a few lonely grape tomatoes and if you are so lucky to find yourself with leftover Jalapeño Roasted Cauliflower or even a Baked Potato throw those on for sure!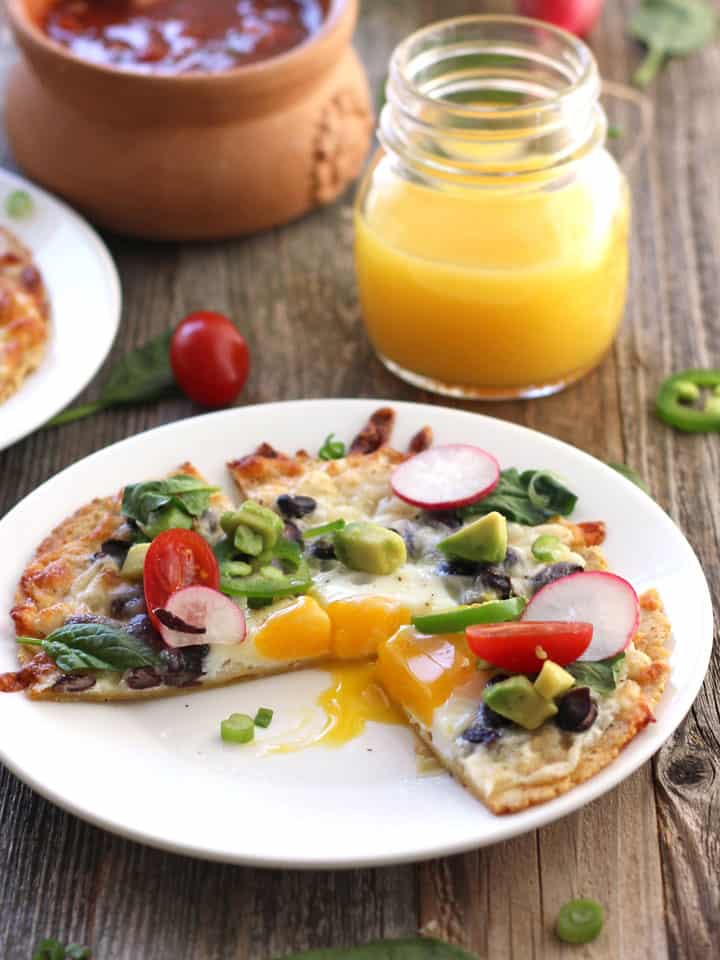 Guys I have some super exciting news to share…I'm going to be contributing to the awesome Food Fanatic website!  It's home to fantastic recipes from the most creative food writers and recipe creators online.  To say I'm humbled by the opportunity to be included in this group is a serious understatement but I can't think of another word 🙂
What's so cool about Food Fanatic is how each blogger shares unique recipes in an area they are the most passionate/excited/fanatical about.  Obviously I'll be contributing recipes for toaster oven cooking 🙂 starting with this tasty Baked Egg Tostadas recipe!  The recipe is below but you should definitely hop over to Food Fanatic to check out the other Fanatics and their delicious recipes.
Nutritional Information is an estimate for one bean, cheese and egg tostada without any toppings added.