Egg and Cheese Toasts are a quick snack or side that you'll want to make again and again. They're ultra-easy to throw together using your toaster oven and perfect for dunking in soup or pairing with a crisp green salad.
Barely a recipe, these egg and cheese toasts are so much fun! They're easy to customize with any type of bread, cheese, and seasonings you want.
How to Make Egg and Cheese Toasts
The egg is what makes these toasts different from your basic cheesy toast. It's lightly beaten and combined with shredded cheese. That mixture is then spread onto lightly toasted bread and popped in a 400°F toaster oven (or oven) until bubbly and golden brown.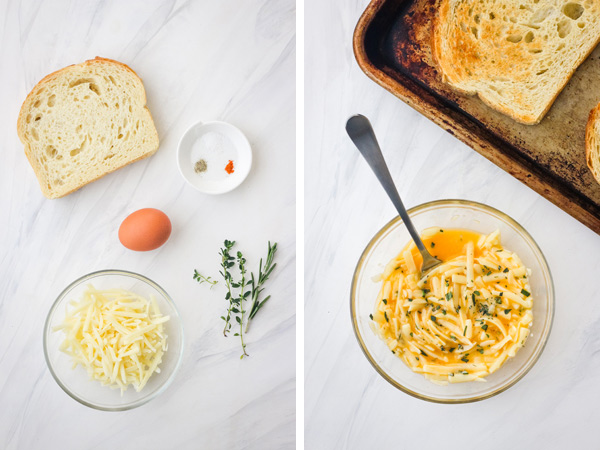 As everything bakes, the egg lightens up the cheese. Making it less gooey and more puffed and golden. Sounds delicious right?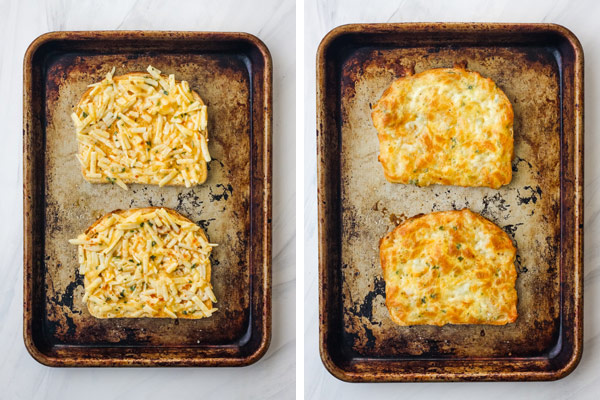 Well, this genius idea isn't mine. I stumbled across it in my favorite cookbook Vegetarian Cooking For Everyone by Deborah Madison and we've been loving it ever since.
Cheese Toast Variations
The toasts are great on their own but also incredibly versatile. Like blank savory canvases for all of your favorite toppings!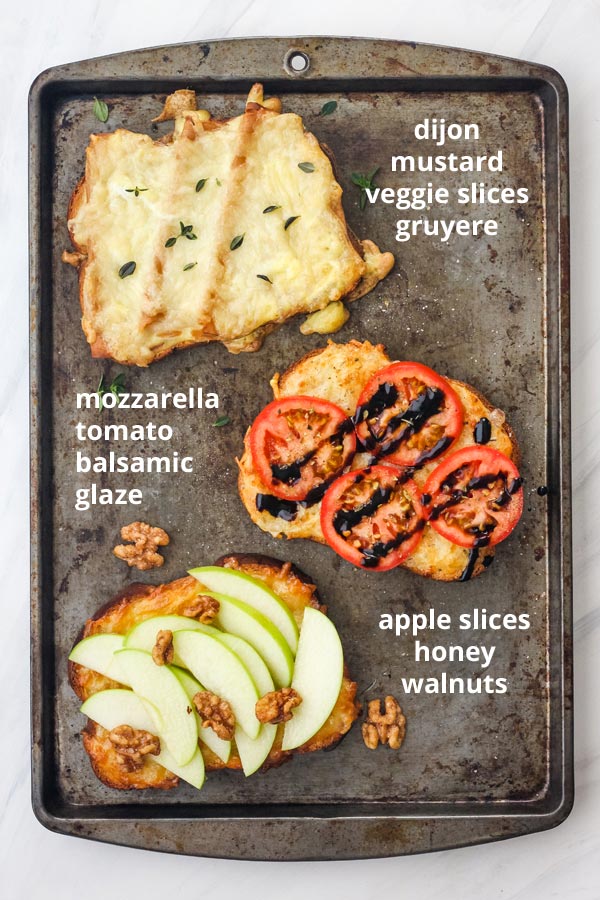 Below you'll find our basic recipe plus a few flavor variations we think you might enjoy.
Faux-Monsieur
Use Gruyere for the cheese, spread toasted bread with dijon mustard, and add a layer of veggie sandwich slices (we used Tofurky Smoked Deli Slices). *This rich and decadent toast was inspired by a reader named Ron who generously shares his cheesy creations with us 🙂
Tomato Toast
A perfect way to enjoy summer tomatoes! Use a combination of shredded mozzarella and parmesan cheeses tossed with Italian seasoning. Once baked, layer the toast with tomato slices and sprinkle with oregano, salt, and pepper. Add a drizzle of balsamic glaze if you're feeling extra.
Honey Apple Walnut
Top your cheesy toast with crisp apple slices, a generous drizzle of honey, and a handful of toasted cinnamon walnuts. This sweet and savory combo is the perfect way to start the day.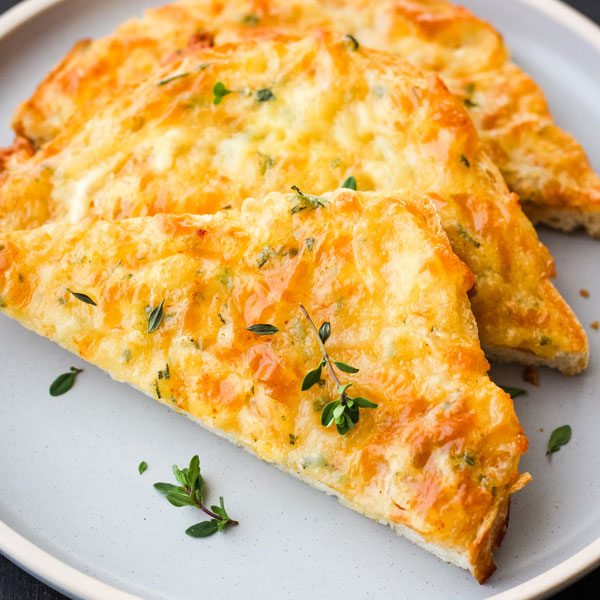 Whether you make them as a snack, soup dipper, or load them up for a quick breakfast, I hope you love these cheesy toasts as much as we do!
Looking for more cheesy inspiration? Check out these easy toaster oven grilled cheese sandwiches.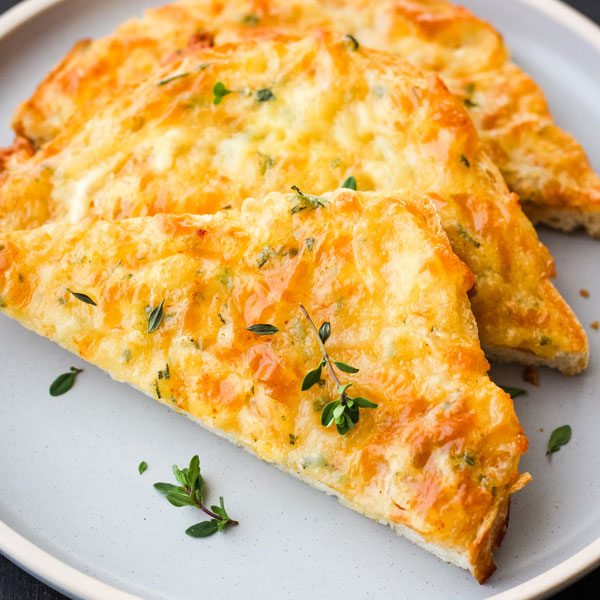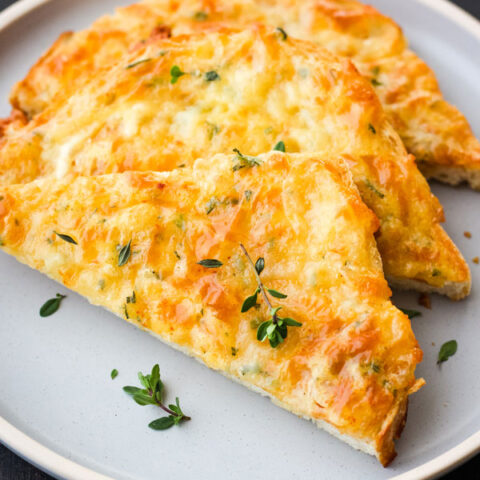 Egg and Cheese Toasts
Enjoy this savory toast as a quick snack or pair with a crisp salad or bowl of soup for a light and delicious lunch.
Ingredients
2 Slices Bread
1 Large Egg
1/2 cup (2 ounces) Grated Cheese, like cheddar, pepper jack, or gruyere
1 teaspoon finely chopped Fresh Herbs, like thyme or rosemary
Pinch Cayenne (optional)
Instructions
Lightly toast bread or broil for 1 to 2 minutes on each side.
Preheat oven to 400°F. If using a toaster oven adjust the cooking rack to the bottom placement and select the BAKE setting.
Crack the egg into a small bowl and beat with a fork until the yolk and white are combined. Mix in the cheese and fresh herbs if using. Add salt and pepper as desired. Spread mixture over the bread all the way to the crusts. Sprinkle with cayenne.
Bake until the cheese and egg mixture is puffed, bubbly, and starting to brown, about 10 to 12 minutes.
Notes
Adapted from the Baked Cheese on Toast with Wine recipe from Vegetarian Cooking For Everyone.
Nutrition Information:
Yield:

2
Serving Size:

1 Toast
Amount Per Serving:
Calories:

220
Total Fat:

12.9g
Saturated Fat:

7g
Cholesterol:

123mg
Sodium:

343mg
Carbohydrates:

12.5g
Fiber:

2.1g
Sugar:

1.9g
Protein:

13.9g