Peanut Lime Sauce For Two
Sweet, spicy, salty, and savory, this easy Peanut Lime Sauce for Two comes together in just 5 minutes! Use as a dipping sauce for veggies, salad dressing, or tossed with noodles.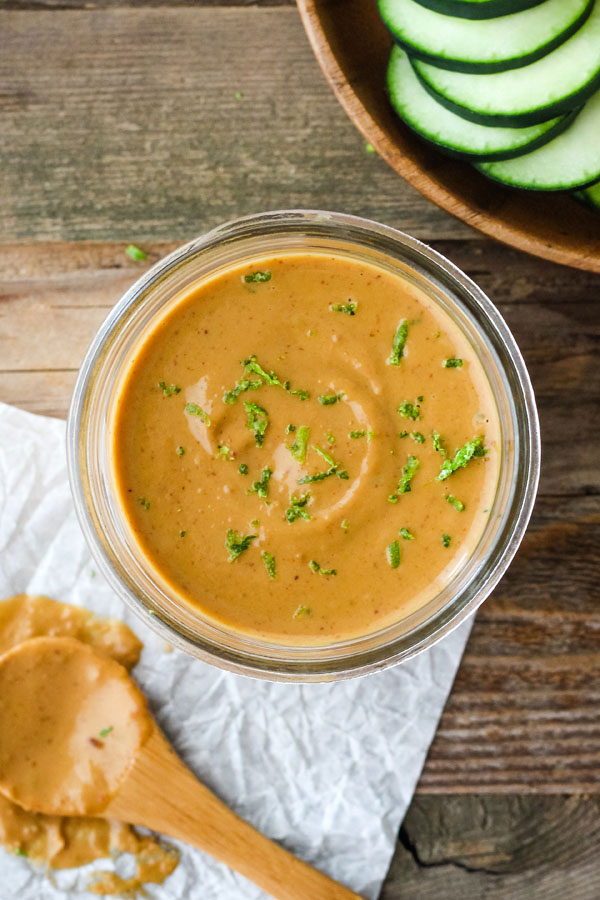 Specialty sauces and dips are the best! But if your household is small like ours getting through a bottle of salad dressing or giant jar of peanut sauce is a pretty big feat.
That's why we've started creating our own small batch versions. Recipes that make just a few servings so you don't have to suffer through eating the same dip for days or even worse – throw it out.
We've got a bunch of 2-serving sauces, dips, and dressings planned for you this year. First up is this easy Peanut Lime Sauce for Two.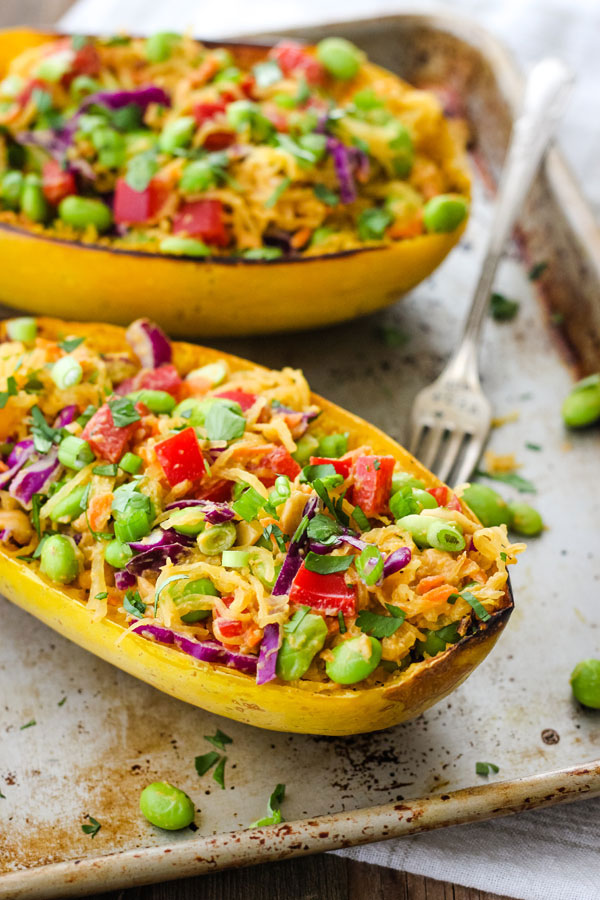 This is a basic recipe that calls for just a few common fridge and pantry ingredients. Think of it as a jumping off point for your own custom creation.
Try adding a 1/2 teaspoon of minced garlic or splash of toasted sesame oil (if you've already got an open bottle). It's really up to you and your tastebuds!
Although this is a small batch recipe, if you want to double the ingredients to make more, that's okay too. Whenever I cook these Veggie Spaghetti Squash Bowls with Peanut Sauce I always make extra sauce.
It's great for dipping raw vegetables or broiled tofu in and easily doubles as a dressing for zucchini noodles or this tasty summer corn and quinoa salad.
~ Keep scrolling for step by step photos & tips after the recipe ~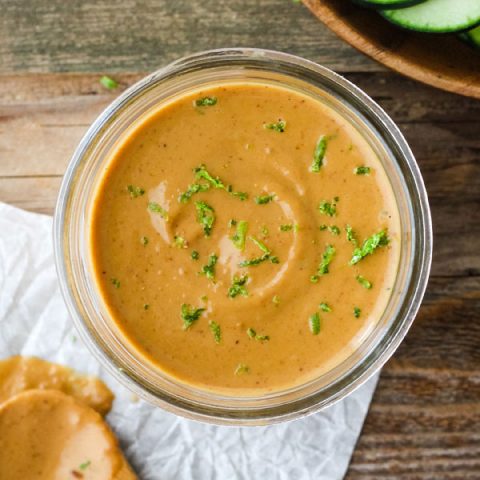 Peanut Lime Sauce For Two
An easy 5-minute peanut lime sauce for two.
Ingredients
2 tablespoons Natural Peanut Butter
1 tablespoon Soy Sauce
1 tablespoon Fresh Lime Juice
2 teaspoons Real Maple Syrup
1/2 teaspoon Fresh Grated Ginger
1/2 teaspoon Sriracha Sauce
1 to 3 teaspoons Water, as needed
Instructions
In a small bowl, whisk together the peanut butter, soy sauce, lime juice, maple syrup, ginger, and sriracha until well combined.
If the sauce is too thick, whisk in the water 1 teaspoon at a time until desired consistency.
Notes
For a stronger lime flavor, zest the lime before juicing and combine with the other ingredients. 
For a garlic lime sauce add 1/4 to 1/2 teaspoon of minced garlic.
Nutrition Information:
Yield:

2
Serving Size:

Half of Recipe
Amount Per Serving:
Calories:

122
Total Fat:

7.5g
Saturated Fat:

1g
Cholesterol:

0mg
Sodium:

469mg
Carbohydrates:

9g
Fiber:

1.5g
Sugar:

5.7g
Protein:

4.5g
How to Make Peanut Lime Sauce For Two
Step 1: Gather Up Your Ingredients
For this quick and easy sauce you'll need 6 Ingredients:
Nut Butter. I'm partial to the flavor of natural peanut butter but almond butter tastes great too.
Soy Sauce. We use a low-sodium variety. Traditional soy sauce, soy aminos, tamari, or coconut aminos are also good options.
Fresh Lime Juice. Like a strong lime flavor? Zest the lime before juicing and add it to the sauce. Whenever I have a lot of limes, I freeze the lime juice (and zest) in ice cube trays. The cubes are super convenient to have on hand for making salsa and sauces.
A Little Sweetness. Real maple syrup tastes the best IMHO but honey, agave, or brown rice syrup can be substituted.
Fresh Grated Ginger. The ginger paste that's available in tubes saves us a lot of time during the week. Unfortunately, the tubes are usually only good for a month. If you love the flavor of ginger but don't cook with it often try keeping a knob of fresh ginger in the freezer. Peel away some of the skin and grate a little, there's no need to thaw.
Sriracha Sauce. This gives the sauce a little kick at the end. If you like a spicier sauce, feel free to double the amount called for.
Step 2: Make Your Sauce
This part's super easy – just dump everything in a bowl or jar and whisk it together.
You may need to stir in a few teaspoons of water, coconut water, coconut milk, or more lime juice to get the sauce or dressing consistency you're going for.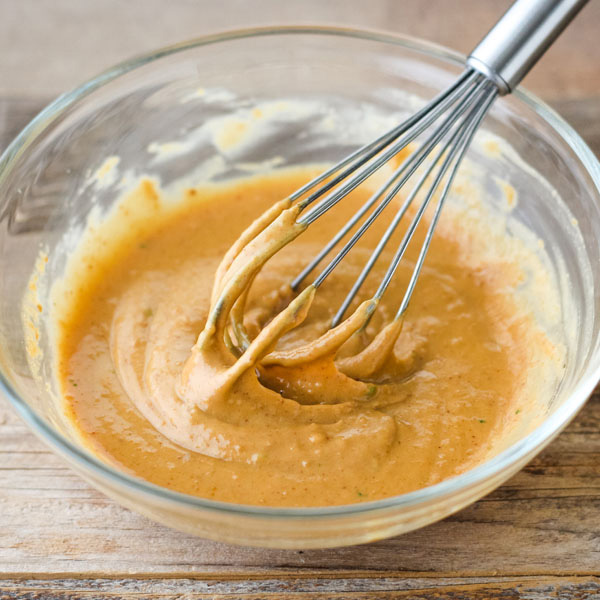 Start by whisking in the extra liquid a teaspoon at a time until the sauce is as thick or thin as you'd like.
How Do You Store Leftover Peanut Sauce?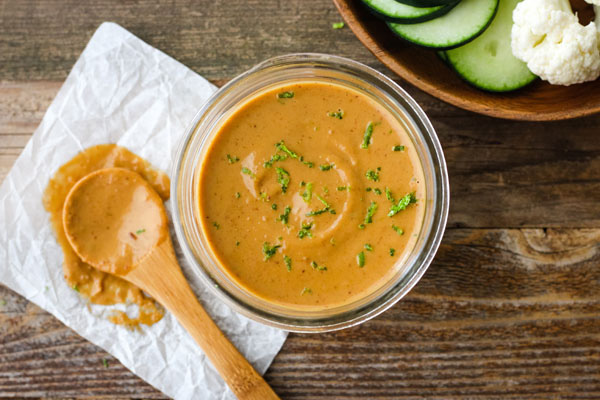 Toss any leftover sauce into a well-sealed container. It will keep for about a week stored in the fridge.
Bring the sauce to room temperature and stir well before using. When I'm impatient, I'll microwave the jar for 5 to 10 seconds to speed up the process. Just keep an eye on your sauce – if you microwave it too long it gets dried out and crusty.