Ditch bottled dressing and add a fun kick to your next salad with this quick and spicy Sriracha Vinaigrette. The recipe comes together fast (60 seconds!) and it's easy to customize for the level of fiery heat and sugary sweetness that YOU want.
Sweet & Tangy Sriracha Vinaigrette
Take a minute and say goodbye to your bottled salad dressing.
Because once you go Sriracha Vinaigrette you won't ever want to go back!
A staple in our house, this vinaigrette takes only a few minutes to throw together. You simply toss everything into a lidded jar (leftover Talenti containers work great) and shake.
60 seconds later…you've got one vibrantly colored homemade salad dressing that's tailored to your tastes and always ready to add a fun kick to any meal.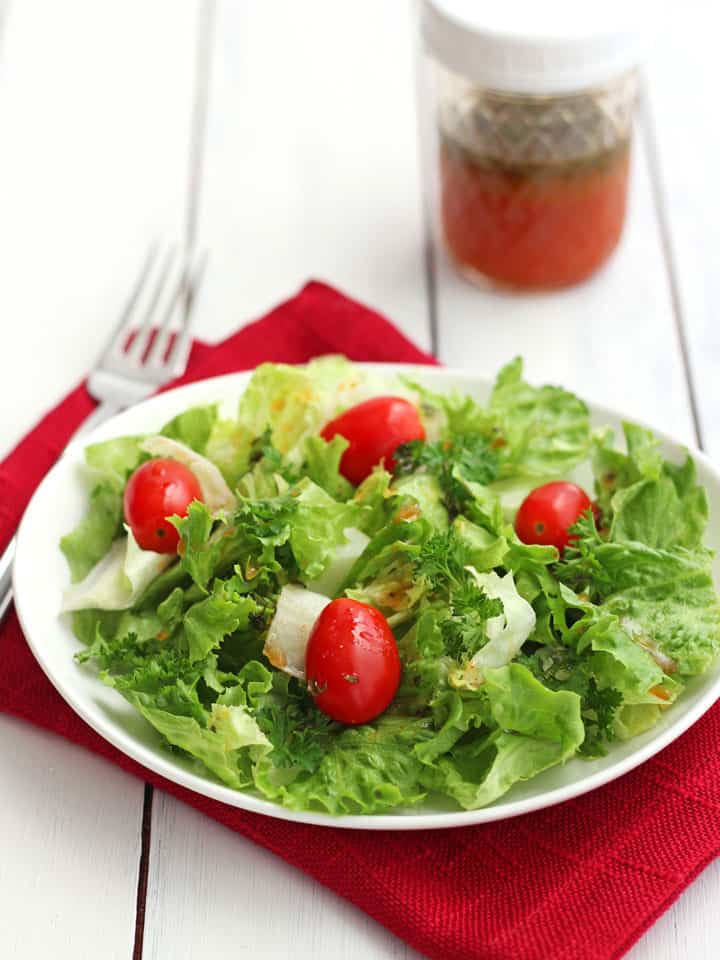 How Should I Store It?
Store your unused sriracha salad dressing refrigerated in a sealed container for up to 14 days.
The oil will usually harden in the fridge.
Set it on the counter for 10 to 15 minutes to come to room temperature and shake well before using.
~ Keep scrolling for substitutions and customizing tips after the recipe ~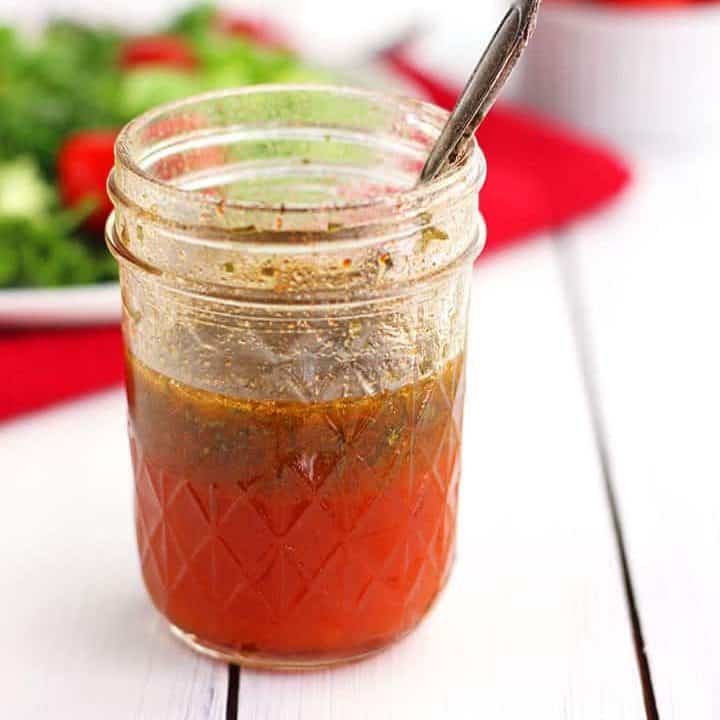 Sriracha Vinaigrette
Add a fun kick to your next salad with this quick and spicy vinaigrette. Customize it for your preferred levels of heat, oil, and sweetness.
Ingredients
1/4 teaspoon fine sea salt
1/8 teaspoon black pepper
1/2 teaspoon dried parsley flakes, (optional)
3 tablespoons extra virgin olive oil
1 tablespoon light agave nectar, (adjust higher or lower for your preference)
4 tablespoons white balsamic vinegar
1 to 3 teaspoons sriracha sauce
Instructions
In a small mason jar combine the salt, pepper, parsley flakes, olive oil, agave and vinegar. Secure lid on jar and shake well. Add sriracha sauce one teaspoon at a time until desired heat level is achieved shaking the jar well between additions.
Store leftover vinaigrette dressing in the refrigerator for up to 14 days. Bring to room temperature and shake well before each use.
Notes
If you prefer a more muted vinegar flavor up the olive oil to 4 tablespoons and reduce the vinegar down to 2 or 3 tablespoons.
If you like a sweeter vinaigrette increase the agave. Play around with the ratios until you find your sweet spot.
Recommended Products
As an Amazon Associate and member of other affiliate programs, I earn from qualifying purchases.
Nutrition Information:
Yield:

10 Tablespoons
Serving Size:

1 Tablespoon
Amount Per Serving:
Calories:

44
Total Fat:

3.6g
Saturated Fat:

0.5g
Sodium:

64.7mg
Carbohydrates:

2.7g
Fiber:

0.1g
Sugar:

2.4g
Nutritional information provided is an estimate generated by an online calculator. It should not be considered a substitute for advice from a professional nutritionist or your doctor.
How To Customize Your Sriracha Vinaigrette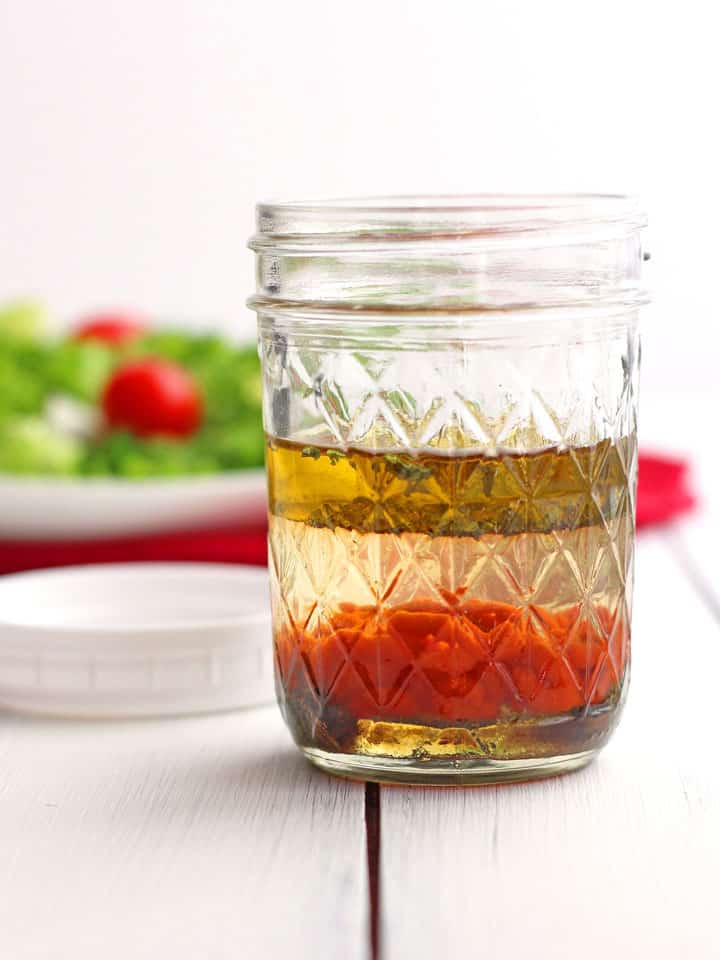 When it comes to vinaigrettes, it seems there are two camps:
We're a high vinegar house. Especially when it's a light and clean flavored white balsamic vinegar. (We ♥ you Trader Joe's)
If you prefer more oil, up the olive oil to 4 tablespoons and reduce the vinegar down to 2 or 3 tablespoons. Play around with the ratios until you find your sweet spot.
Speaking Of Sweet…
Like white sugar, agave syrup is sweet without having a strong flavor. It's great in this kind of recipe because it mellows the vinegar's tartness and the Sriracha's heat without covering up their taste.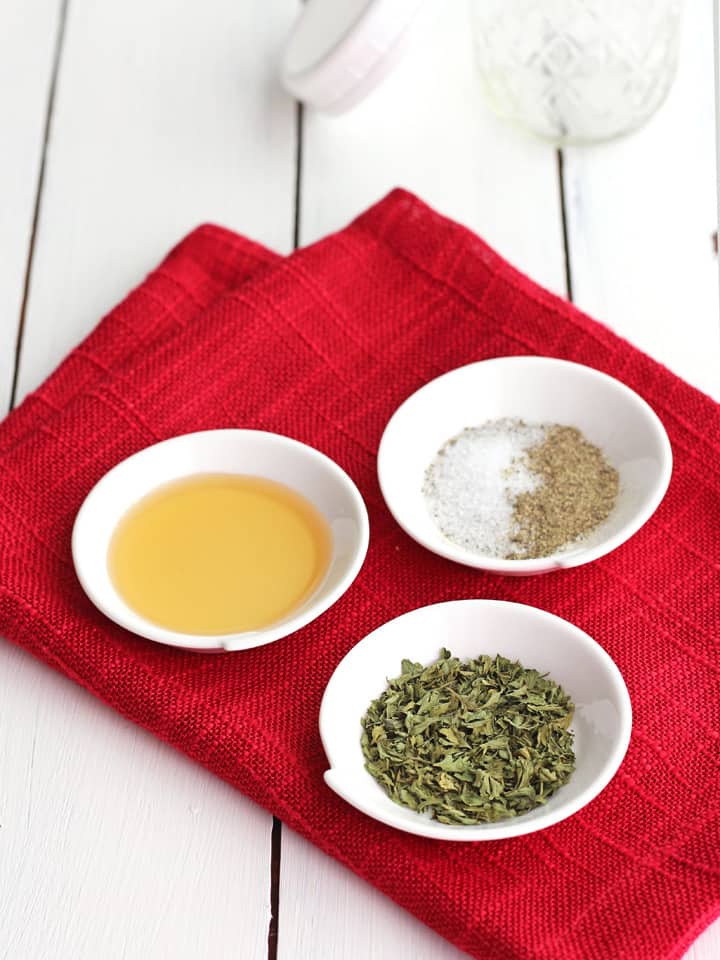 But if you don't have agave (or don't like it), you can substitute honey or maple syrup.
Or just skip the sweetener completely.
Recently, we've been making our salad dressing without any agave. It's bold, tangy and delicious but probably not for everybody.
What About Seasonings?
Most Sriracha sauces have quite a few spices that already taste great. So keep it simple with just salt, pepper and maybe parsley.
If you don't have parsley, don't sweat it, the vinaigrette tastes fine without it.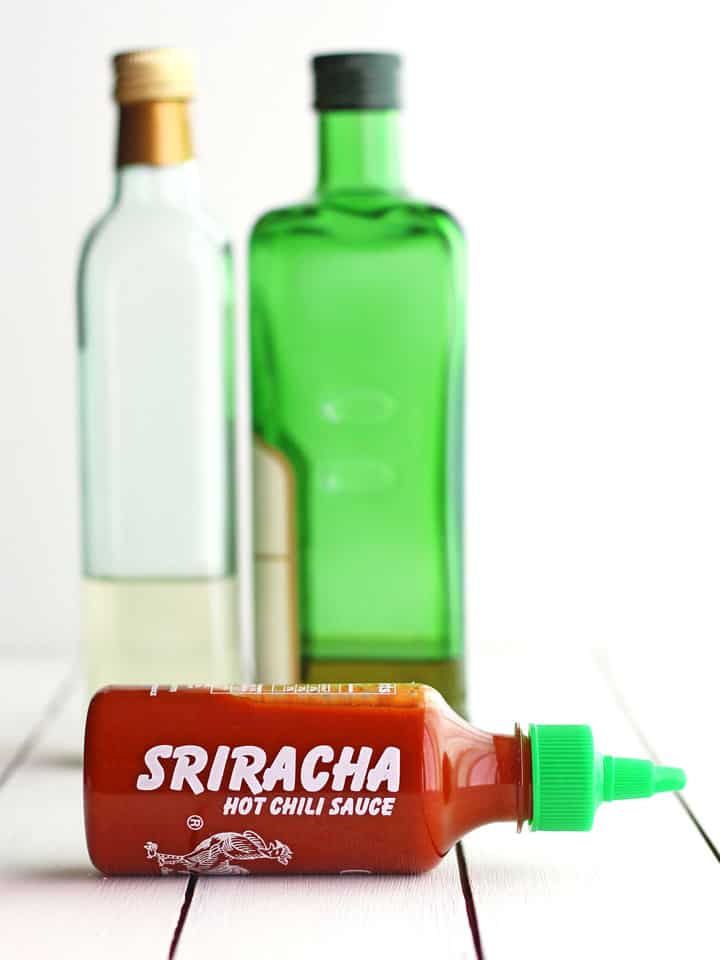 What is The Best Sriracha Sauce?
Our favorite brand is the Huy Fong Sriracha Hot Chili Sauce (green cap – big rooster).
In grocery stores, it can usually be found near the hot sauces or the soy sauces.
Looking for more tasty Sriracha recipes?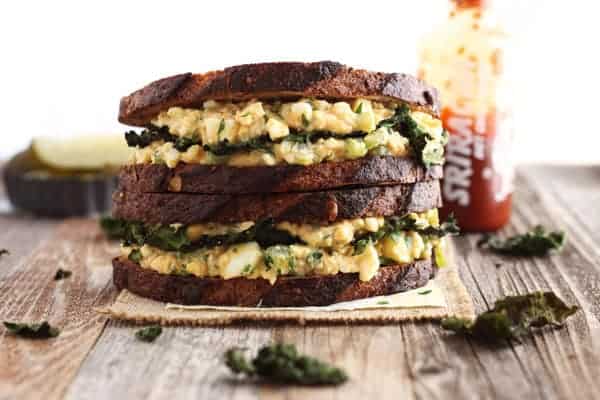 Sriracha Egg Salad Sandwich (With Garlic Kale Chips)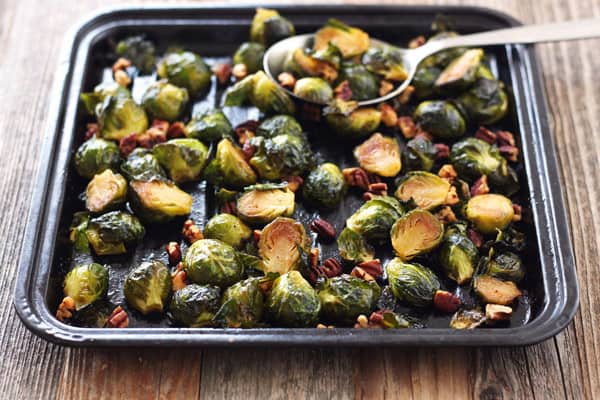 Sweet And Spicy Maple Roasted Brussels Sprouts with Sriracha