Blueberry Coffee Cake (Cake Mix Recipe)
Made with half a boxed cake mix, juicy blueberries, and a sweet cinnamon sugar topping this Blueberry Coffee Cake is perfect for small gatherings or everyday snacking. You can use sour cream or Greek yogurt in this recipe, either one will result in a super moist cake!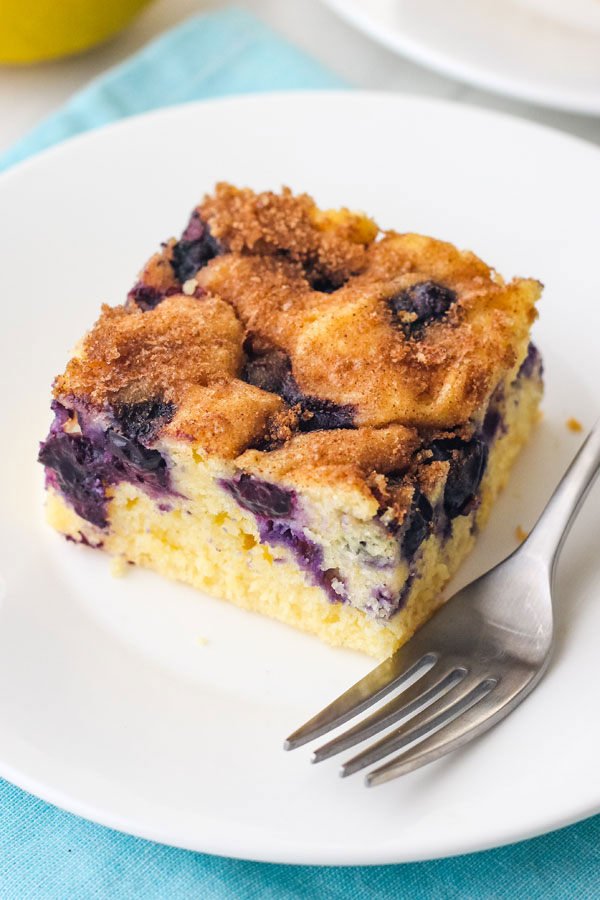 Dense yet tender and totally lacking in frosting, the simplicity of a coffee cake is hard to resist.
That's why when I came across a recipe for Cinnamon Coffee Cake in Ann Bryn's "The Cake Mix Doctor Returns" I grabbed a box of cake mix and headed straight to the kitchen to give it a try.
With only two cake-eaters in our house, I cut the recipe in half to fit an 8 x 8 pan and it baked up nicely. We loved the "from scratch" texture the doctored-up cake had but it was a little too sweet for us.
So I dialed back the cinnamon sugar, tossed in fresh blueberries, and added a touch of lemon to brighten things up.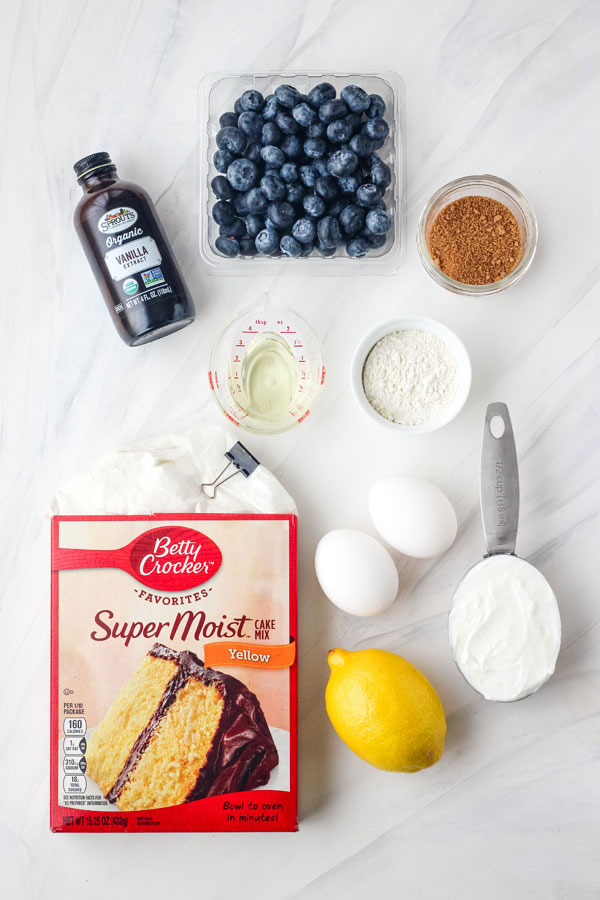 When we served the cake at a recent family gathering, everyone was surprised to find out it was made with a cake mix!
Ingredient Notes
Yellow Cake Mix – You'll need just half a box (7.62 ounces). If you've never divided a mix before, this post for how to make half a cake mix has helpful photos and tips for using a kitchen scale or measuring cups.
Blueberries – You can use fresh or frozen blueberries (just don't thaw them).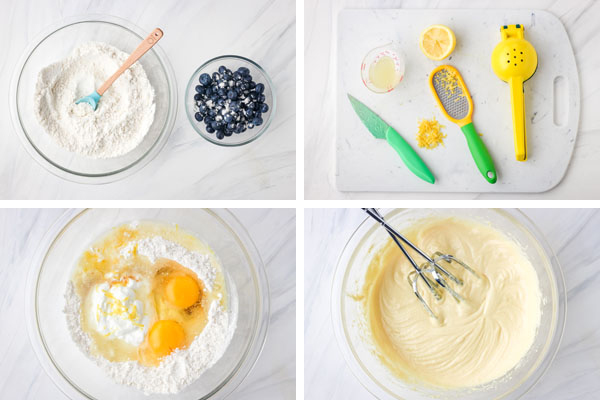 Lemon Zest and Juice – You won't taste the lemon much. It's more of a supporting player that highlights the blueberries and elevates the basic cake mix flavor. *If you'd like more of a lemony flavor, try substituting half a lemon-flavored cake mix.
Plain Greek Yogurt or Sour Cream – Both are good options but the Greek yogurt is definitely my favorite. It gives that cake a subtle tanginess and deliciously dense texture. The sour cream results in a lighter cake that's still moist and yummy.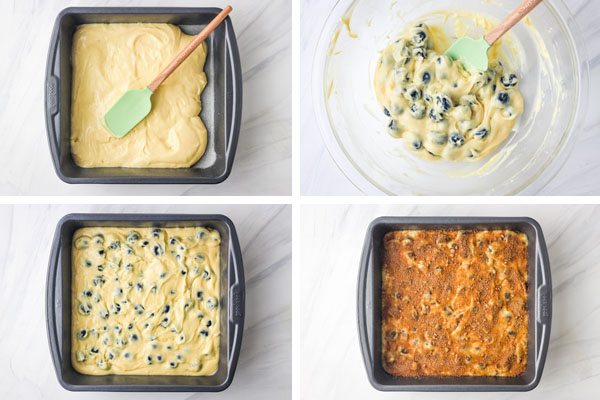 FAQ
How do I keep the blueberries from sinking?
While it's hard to fight gravity, we do have two tricks that will help.
The first is tossing the blueberries with a little of the dry cake mix.
The second is pouring 2/3 of the batter into the pan, then mixing the blueberries with the remaining batter and layering it on top.
Does this cake freeze well?
Yes! You can freeze it whole but we like to cut it into slices and then freeze it. That way when a craving strikes you can pull out just a single piece instead of having to defrost the whole cake.
Can I leave off the topping?
Sure! You'll end up with a moist blueberry cake that tastes great on its own or with a dollop of small batch whipped cream.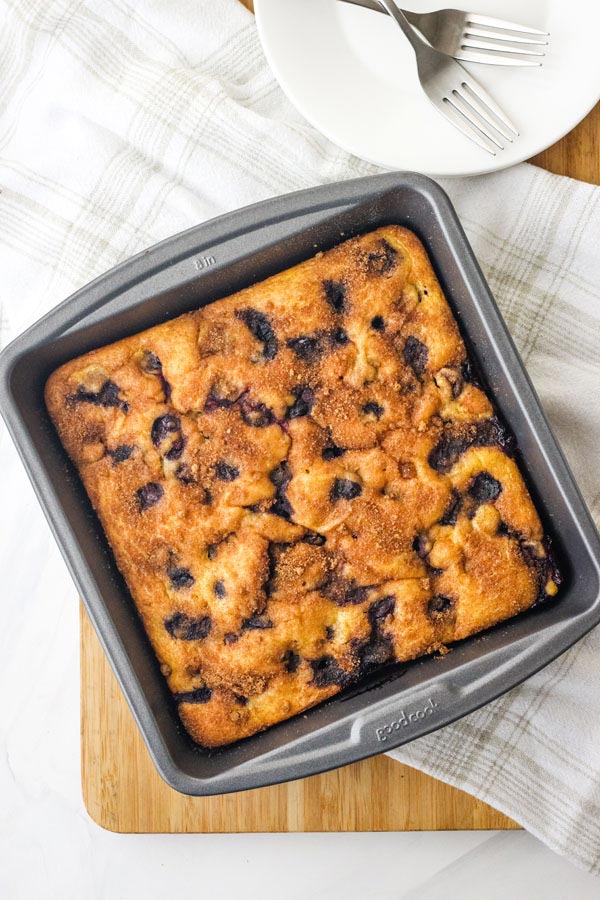 More Cake Mix Recipes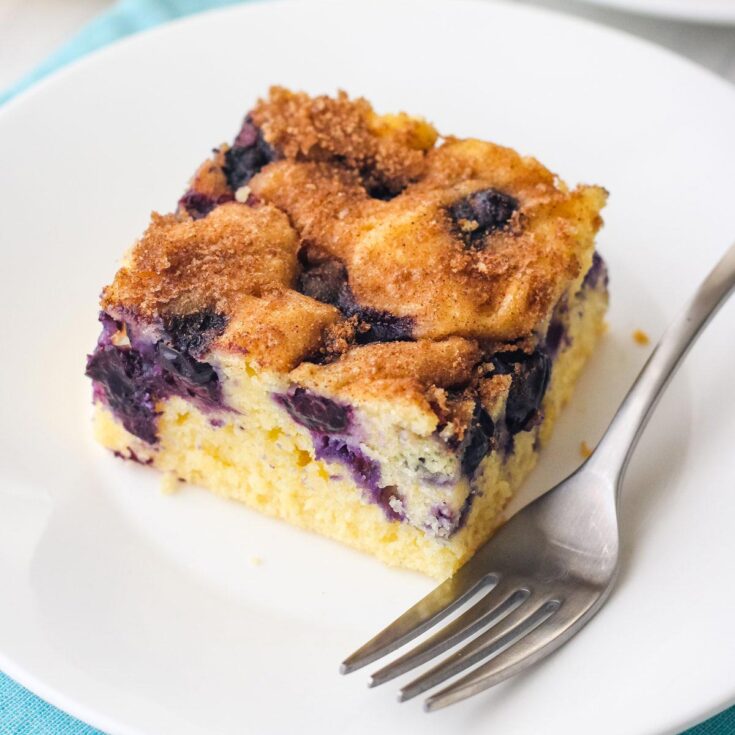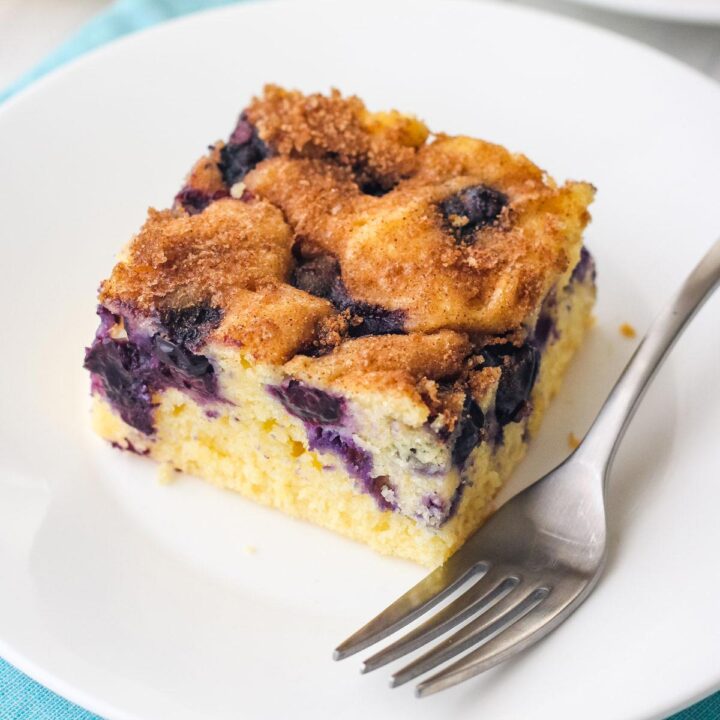 Blueberry Coffee Cake
Made with half a boxed cake mix and fresh or frozen blueberries, this easy Blueberry Coffee Cake is perfect for smaller households. Enjoy it with a cup of coffee or tea for a delightful afternoon treat.
Ingredients
For The Cake:
7.62 Ounces Yellow Cake Mix, about 1⅔ cups spooned and leveled (see note)
2 tablespoons (15 grams) All-Purpose Flour
1 cup (140 grams) Fresh Blueberries, rinsed and dried
1/2 cup (120 grams) Plain Greek Yogurt (low-fat or full fat will work)
2 Large Eggs (100 grams, weighed outside of shells)
2 tablespoons (28 grams) Vegetable Oil
1 teaspoon Lemon Zest
2 tablespoons Lemon Juice or Water
1/2 teaspoon Vanilla Extract
For The Topping:
2 tablespoons Packed Brown Sugar
1/2 teaspoon Ground Cinnamon
Instructions
Preheat the oven or toaster oven to 325°F. If using a toaster oven, adjust the cooking rack to the bottom placement and select the BAKE setting.
Grease and flour an 8 x 8 x 2-inch baking pan. Set aside.
In a large bowl, add the 7.62 ounces of cake mix and flour. Stir to combine.
Place the blueberries in a small bowl. Measure out 1/2 teaspoon of the cake mix/flour mixture, sprinkle over berries, and toss to combine.
To the cake mix and flour, add the yogurt, eggs, oil, lemon zest, lemon juice, and vanilla extract. Beat with a hand-mixer until all of the ingredients are well combined, about 1½ to 2 minutes, stopping to scrape down the sides once or twice.
Spoon about 2/3 of the batter into the prepared pan and spread with a rubber spatula. The batter will be thicker than you're usual cake mix, so take your time.
Fold the blueberries into the remaining batter in the bowl. Dollop the batter into the pan and gently spread and smooth into an even layer with your rubber spatula.
To make the topping, add the brown sugar and cinnamon to a small bowl and mix until combined. Sprinkle evenly over the batter.
Bake until a toothpick inserted in the center comes out clean and the top of the cake springs back when pressed, about 23 to 30 minutes. Begin checking on the cake after 23 minutes and add more time as needed, ours is usually done after 25 to 27 minutes.
Cool cake completely (or at least 20 minutes) before slicing and devouring.
Notes
Cake Mix: This recipe uses half of a 15.25-ounce boxed yellow cake mix. Half a box measures 7.62 ounces, 216 grams, or about 1⅔ cups spooned and leveled. Do not add the other ingredients on the box, just use half of the dry mix.

Frozen Blueberries: If using frozen blueberries do not thaw. You may need to increase the baking time by a few minutes.

Sour Cream: 1/2 cup of sour cream can be substituted for the yogurt.

Storage: The cake can be frozen or stored covered at room temperature for 2 to 3 days. The topping will soften after the first day.

Adapted from Anne Byrn's Cinnamon Sour Cream Coffee Cake.
Nutrition Information:
Yield:

9
Serving Size:

1 Slice
Amount Per Serving:
Calories:

177
Total Fat:

6.5g
Saturated Fat:

1.3g
Cholesterol:

42mg
Sodium:

182mg
Carbohydrates:

26g
Fiber:

0.5g
Sugar:

14.8g
Protein:

3.9g