Easy Small Batch Chocolate Cookies In 8 Fun Flavors
These small batch chocolate cookies are rich, fudgy, and let you get your chocolate fix without the tempting leftovers. Mix things up with one of our 8 tasty flavor combinations: from Campfire S'mores to Spicy Hot Chocolate your taste buds will never be bored. Get creative and bake a batch (or two) tonight!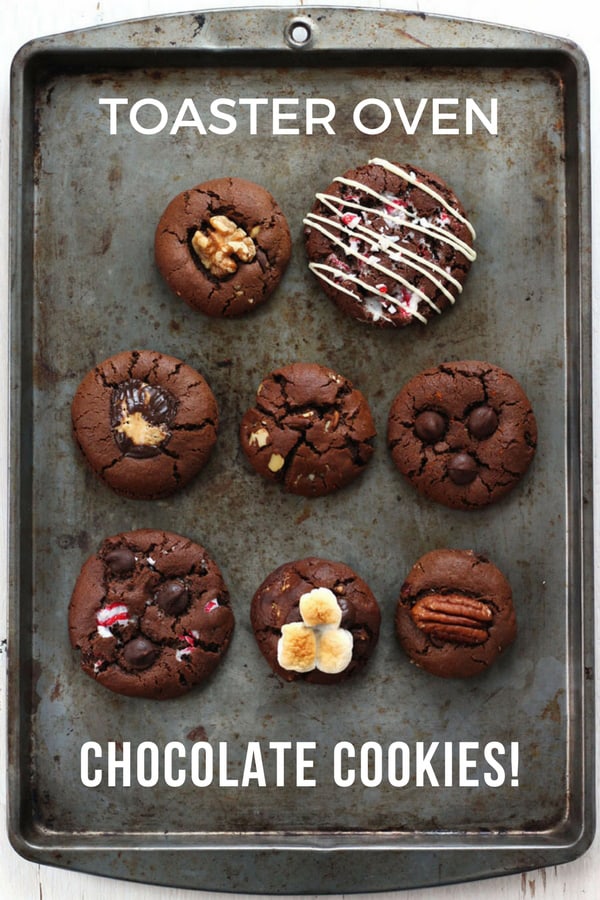 What's better than one delicious cookie recipe?
A classic, rich, double chocolate cookie recipe with 8 different fun flavor variations!
You can even split the dough and try 2 different flavors in one batch if you want. We like to make half Spicy Hot Chocolate or Peanut Butter and the other half is always S'mores!
3 Tips For Making Your Small Batch Chocolate Cookies
Don't skip the chill time. Your cookies will taste better and bake better.
Bake a test cookie. New ingredients, different toaster ovens, high-altitude, heck even humidity can affect how your cookies bake. Baking just one toaster oven test cookie will get you the perfect timing (for us it's 6 minutes + 30 seconds) and temperature for baking all of your chocolate creations.
Under-baking is your friend. It's super hard to tell when chocolate cookies are ready. By the time you can see browning on the edges they're already burnt! Instead, look for the tops to be mostly set but for the cookies to still be puffed in the center. You should be thinking, hmmm these seem like they're not done yet.
~ Keep scrolling to see the different flavors & get toaster oven tips after the recipe ~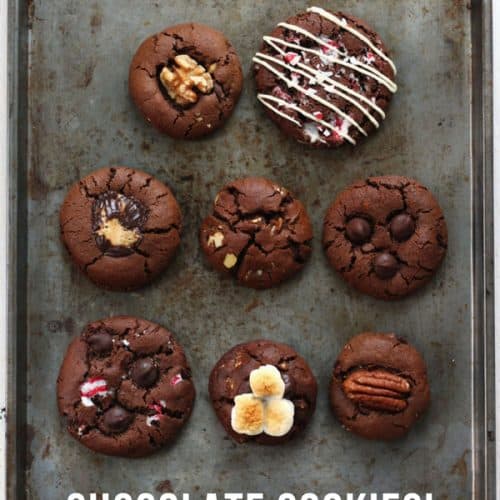 Small Batch Chocolate Cookies (8 Ways)
A delicious small batch cookie recipe with 8 fun flavor variations!
Ingredients
Small Batch Chocolate Cookie Dough
1½ tablespoons unsalted butter, softened
3 tablespoons dark brown sugar, substitute granulated white sugar or coconut sugar
1 large egg yolk, reserve white for another use
1/4 teaspoon pure vanilla extract
2 tablespoons unsweetened baking cocoa, (not Dutch-processed)
1/4 cup white whole wheat flour, substitute all-purpose flour
1/4 teaspoon baking soda
Pinch fine sea salt
2 tablespoons chocolate chips, plus more for topping cookies if desired
Walnut Brownie Cookies
1 tablespoon chopped walnuts
6 walnut halves
Chocolate Almond Cookies
Omit vanilla extract
1/8 teaspoon almond extract
2 tablespoons sliced or chopped almonds
Coconut Pecan Cookies
1 tablespoon shredded coconut, toasted
1 tablespoon chopped pecans
6 pecan halves
Peppermint Cookies
1 tablespoon crushed mints
White Chocolate Peppermint Cookies
Omit dark chocolate chips
1 tablespoon crushed mints
2 tablespoons white chocolate chips, melted
Spicy Hot Chocolate Cookies
1/2 teaspoon ground cinnamon
1/8 teaspoon ground cayenne pepper
S'mores Cookies
1 sheet graham cracker
18 mini marshmallows
Peanut Butter Chocolate Cookies
Omit dark chocolate chips
1 tablespoon natural peanut butter
1 teaspoon maple syrup
Instructions
In a medium bowl beat the butter and sugar with a hand mixer until light and fluffy (about 2 minutes). Beat in egg yolk and extract.
Place mixer on lowest speed and add cocoa powder, flour, baking soda and salt. Mix just until combined. Stir in chocolate chips and any additional mix-ins (see flavor variations in Notes section below).
Chill cookie dough for at least 10 minutes.
While the dough chills, preheat your toaster oven to 350°F and lightly oil your cookie sheet or line with a small silicone baking mat.
Roll chilled dough into 6 tablespoon-sized balls. Place on prepared cookie sheet at least 2 inches apart and lightly flatten.
Gently press extra chocolate chips into the top each cookie if desired.
Bake for 5 to 7 minutes until the cookies are set but the centers are still puffed and soft. Allow cookies to cool for 2-3 minutes before transferring to a cooling rack.
Notes
For Walnut Brownie Cookies: Stir chopped walnuts into dough before chilling. Press a walnut half into the top of each cookie before baking.
For Chocolate Almond Cookies: Substitute almond extract for the vanilla. Stir sliced or chopped almonds into dough before chilling.
For Coconut Pecan Cookies: Stir toasted coconut and chopped pecans into dough before chilling. Press a whole pecan into the top of each cookie before baking.
For Peppermint Cookies: Stir crushed mints into the dough before chilling.
For White Chocolate Peppermint Cookies: Omit the dark chocolate chips and stir crushed mints into the dough before chilling. Drizzle cooled cookies with melted white chocolate.
For Spicy Hot Chocolate Cookies: Add ground cinnamon and ground cayenne pepper with flour.
For S'mores Cookies: Crumble graham cracker sheet and stir into dough. After baking as directed above, immediately top each warm cookie with 3 mini marshmallows. Broil cookie just until the marshmallows are puffed and lightly browned, about 15 to 30 seconds.
For Peanut Butter Chocolate Cookies: Omit dark chocolate chips. In a small bowl stir together peanut butter maple syrup until a soft dough forms. Roll into six small balls. Flatten a chilled chocolate dough ball, place a peanut butter ball in the center and roll chocolate dough around it. Repeat with remaining dough and bake as recipe directs.
Nutrition Information:
Yield:

6
Serving Size:

1 cookie
Amount Per Serving:
Calories:

104
Total Fat:

5.6g
Saturated Fat:

3.2g
Cholesterol:

38.4mg
Sodium:

106.7mg
Carbohydrates:

14.2g
Fiber:

1.5g
Sugar:

9g
Protein:

1.7g
8 Fun Ways to Flavor Your Cookies!
1. Spicy Hot Chocolate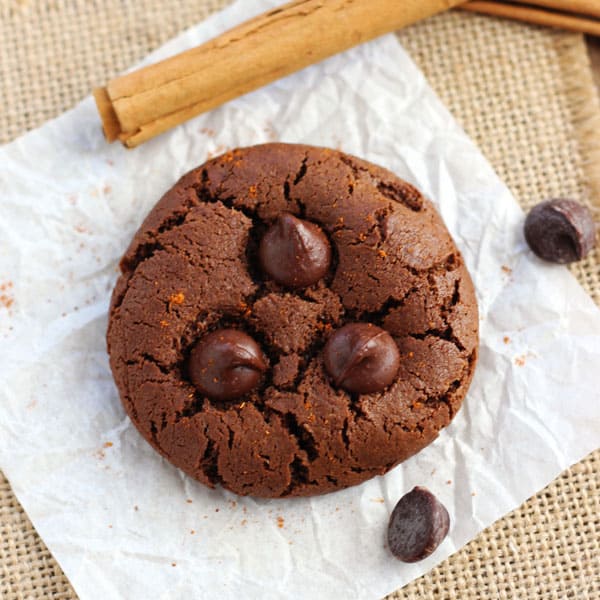 A surprising new favorite, these cookies deliver warm cinnamon, rich cocoa, melty chocolate chips and the spicy kick of cayenne pepper.
2. Walnut Brownie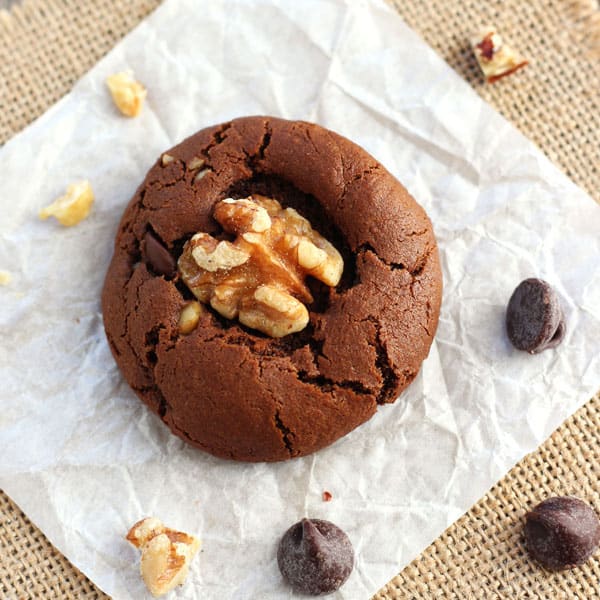 Chopped walnuts in a fudgy chocolate cookie, does it get better? Press a large walnut half into each cookie and slightly under-bake them to get that irresistible brownie-like texture.
3. Coconut Pecan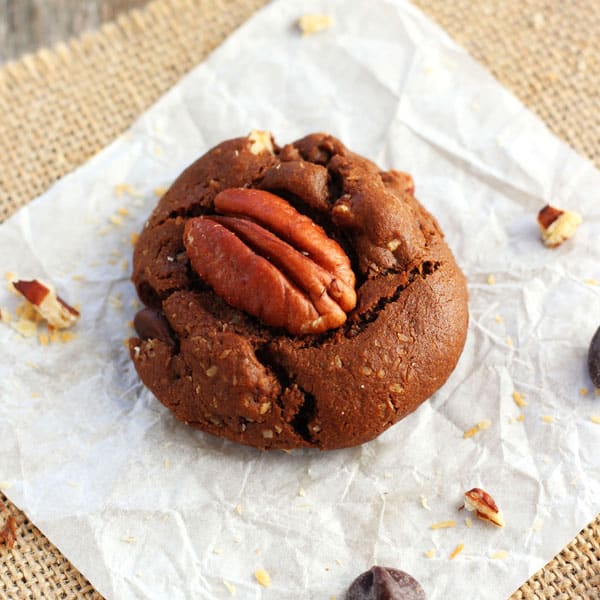 Toasted coconut, chopped pecans, and rich chocolate…Ooh-La-La. Take things over the top and into German cake territory with a drizzle of caramel syrup.
4. Peppermint Cocoa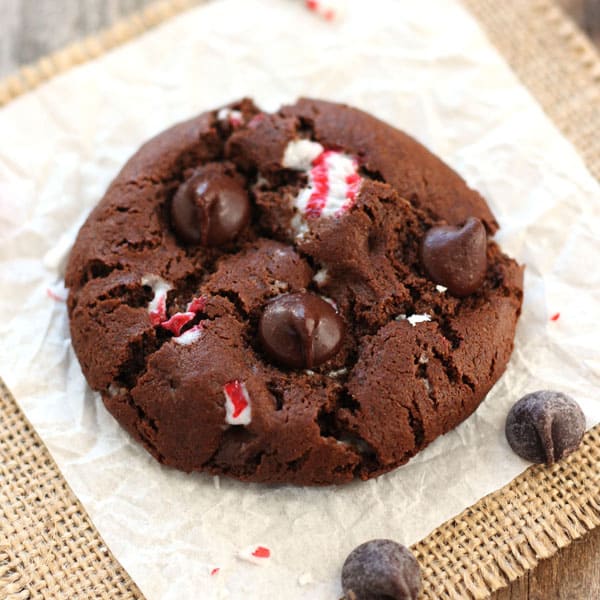 You don't have to wait until December to enjoy the irresistible flavor combo of peppermint and chocolate. The crushed mint candies melt into the cookies and then harden, giving them a flat shape that's crispy, chewy and delicious.
5. White Chocolate Peppermint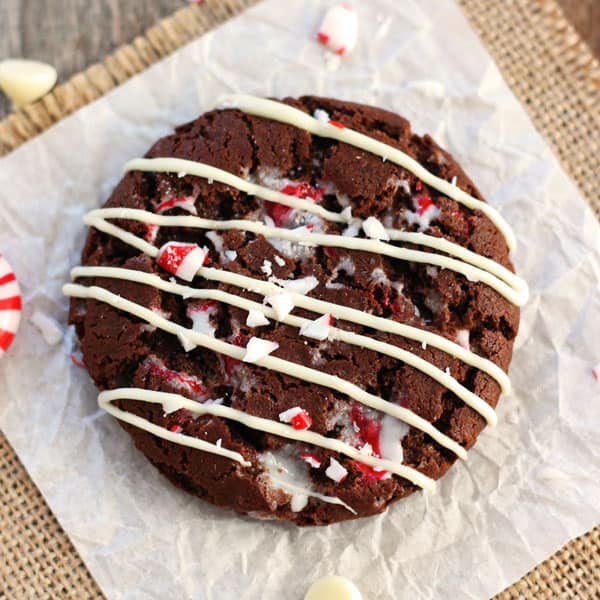 Plain chocolate cookies studded with crushed mint candies and a fancy drizzle of toaster oven melted chocolate. Crispy, chewy and perfect for Santa!
6. Peanut Butter Chocolate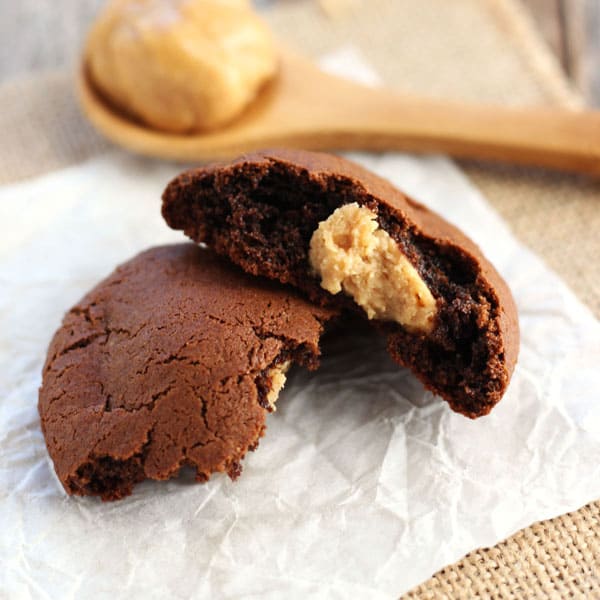 Soft and fluffy chocolate peanut butter heaven! These cookies will be a guaranteed winner with the PB lover in your life and they're so simple to make.
Just mix peanut butter with maple syrup to make a soft filling you can roll into balls. Then wrap the chocolate cookie dough around them and bake!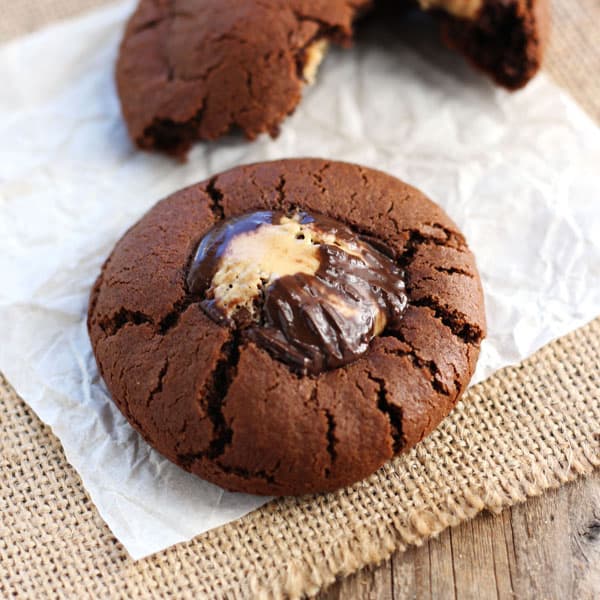 Level up your cookies by pressing half a peanut butter cup into the top of each one before baking.
7. Chocolate Almond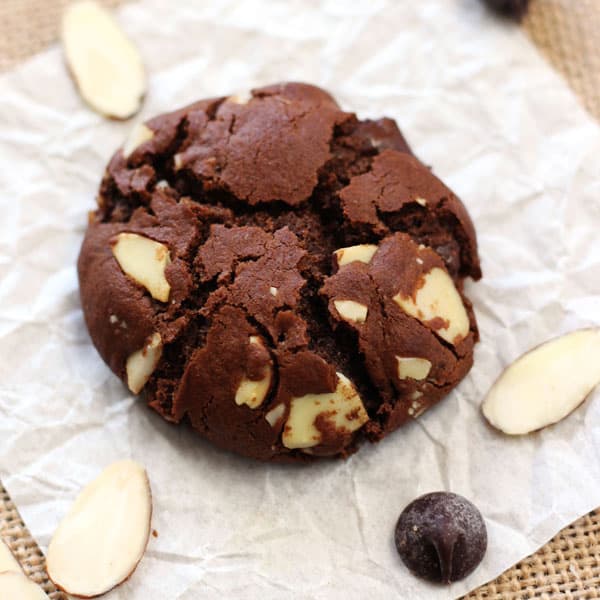 The most mature cookie flavor in the bunch. This one's all about the nuts, with almond extract and toasted almond slices.
The thin almond slices cause the cookies to burst out a little so if you'd like a more uniform looking cookie use chopped almonds instead.
8. Campfire S'mores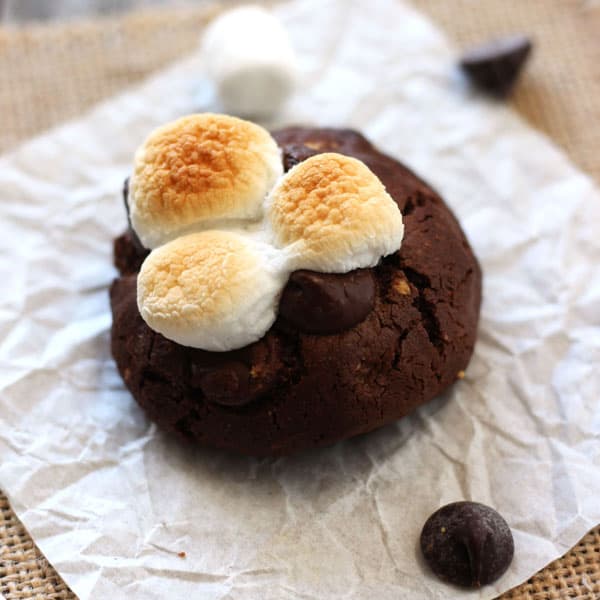 Winner of the title "Best Cookie Flavor In The Bunch" because neither of us wanted to share. With crushed graham crackers, melty chocolate chips, and broiled mini marshmallows, you won't want to share either!
If you're a big-time marshmallow + chocolate fan make sure to check this 3-ingredient Toaster Oven S'mores recipe.
So, which flavor are you going to make first?