Small Batch Apple Hand Pies
Apple Hand Pies are flaky pie crust pouches packed with tart apple, dried cranberries, and crunchy pecans tossed in a sweet cinnamon brown sugar coating. They make a great single-serving treat, just add ice cream!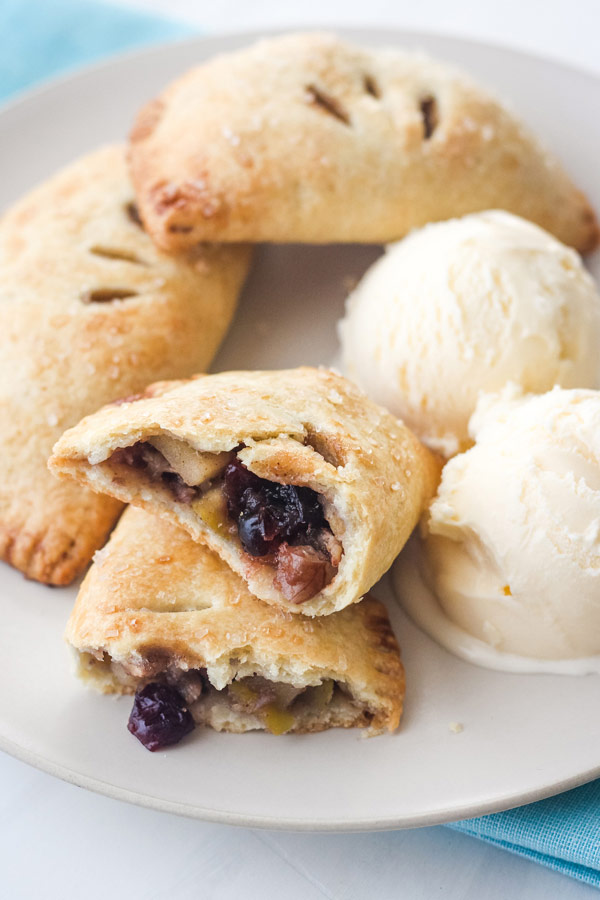 What's the best thing to do with leftover pie dough and half an apple? Make a small batch of apple hand pies!
Recently, we had a few random ingredients that needed to be used up after a whirlwind weekend of holiday recipe testing that included:
Craving something sweet, the leftover apple and pie dough caught my eye. A little Googling later, I came across a fun recipe for apple turnovers from Simply Recipes. After swapping a few of the ingredients and resizing the recipe for our small 2-person household I was in business.
How to Make Apple Hand Pies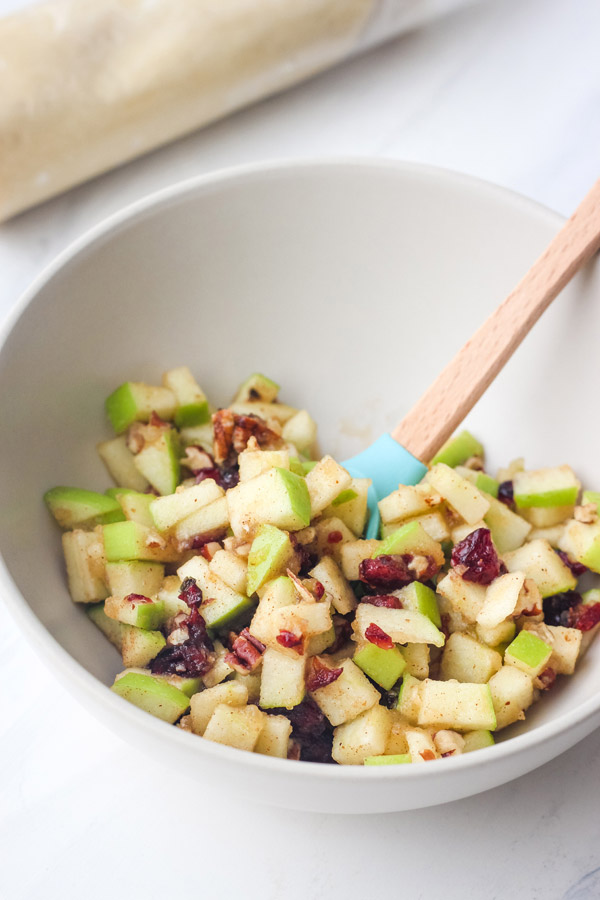 Step 1: Make The Filling
Before we get going, take a second and make sure you've thawed your pie dough according to the package directions. Remember you only need half of a roll/crust.
Okay, now for the filling, mix together the apple (chopped into small 1/4-inch thick pieces), dried cranberries, pecans, cinnamon, brown sugar, and a touch of cornstarch to thicken things up. Then stir in the applesauce.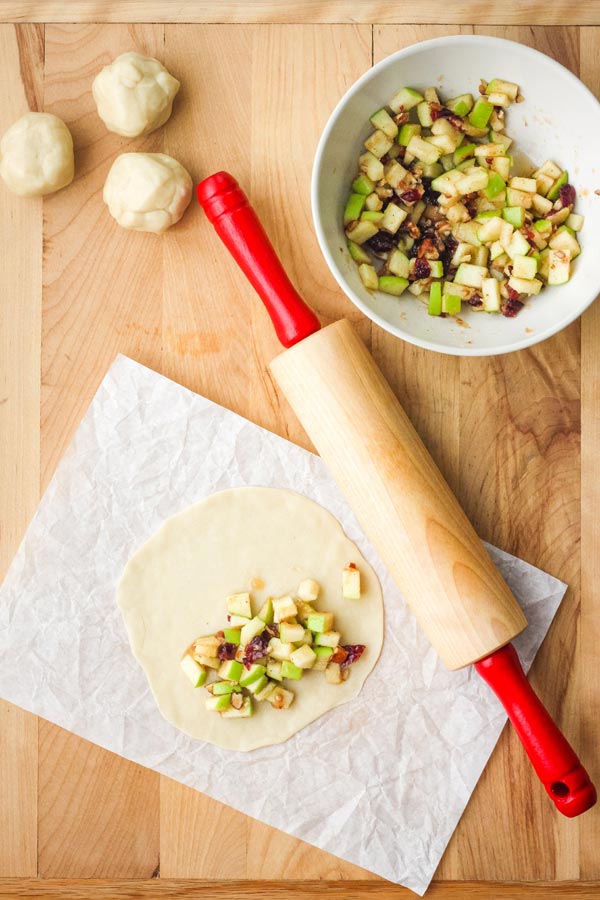 Step 2: Roll Out The Dough
Rather than rolling out a big piece and cutting circles, I find it's easier to divide the dough into 4 equal pieces. Then I roll each piece into a 5-inch circle on parchment paper or a flour-dusted board.
Quick Tip: If you've ever struggled with rolling out pie dough check out this post from Cooks Illustrated. Their "lift and rotate" method has completely transformed my dough rolling game.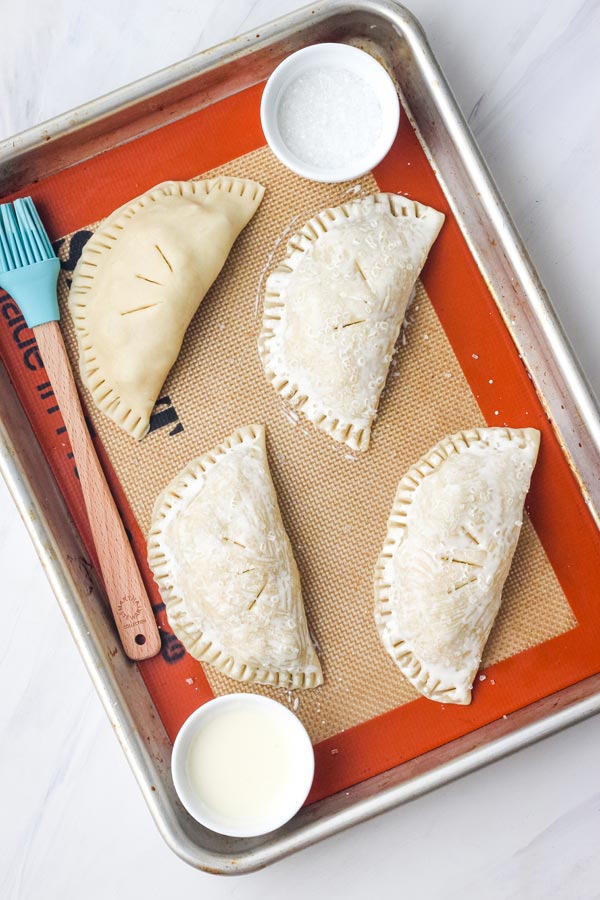 Step 3: Assemble and Maybe Freeze
Top one side of the circle with a quarter of the filling. Moisten the edges of the dough with water, then fold the other side over and press with a fork to crimp and seal the two together. Repeat with the remaining dough and filling.
Transfer the pies to a sheet pan lined with a baking mat (or lightly oiled). To let steam out while the pies bake, cut a few slits in the top.
Lastly, for a light golden crust brush with a little cream and sprinkle with sugar for a sweet crunch.
Why you should freeze your pies if you've got hot hands.
Once I've got the pies put together, I like to toss the pan into the freezer. Between the warmth of my hands and our unseasonably hot 90-degree fall weather, my dough is always too soft and warm at this point.
Freezing the pies for a few minutes before baking helps the fat in the dough to firm up. Resulting in the flakier (not crumbly) texture I'm looking for. If you're not battling over-warm dough, feel free to skip this step.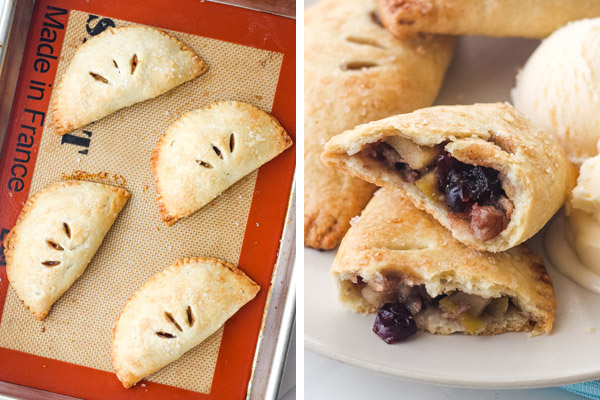 Step 4: Bake Your Hand Pies
We like to use our convection toaster oven to bake anything made with pie dough. Just like with our sweet potato hand pies, the forced warm air helps the crusts turn out lighter and flakier.
That said, you can also use a traditional toaster oven or full-sized oven and get great results! Since every oven is different, start checking on your pies after 14 minutes and add more time as needed until they are golden and you can see the filling bubbling in the vents.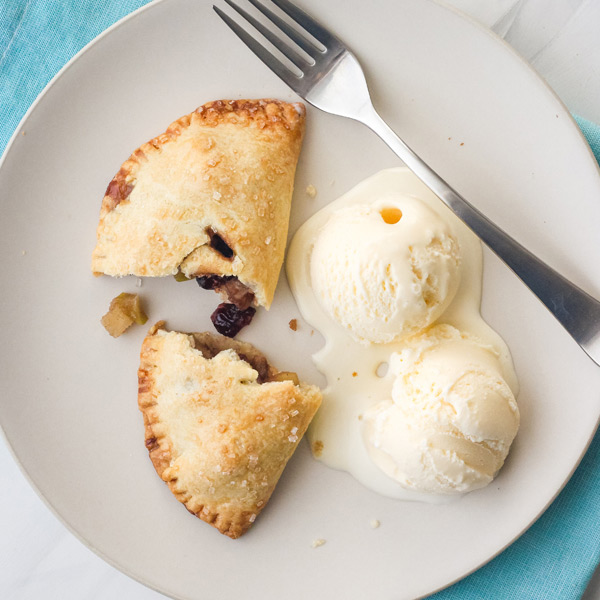 These flaky, crispy, sweet, and tart mini hand pies are the perfect fall treat. Thanks to their smaller size it's easy to get your apple pie fix without lots of leftovers.
If you do manage to have a few hanging around (I admire your self-control), they freeze and reheat wonderfully!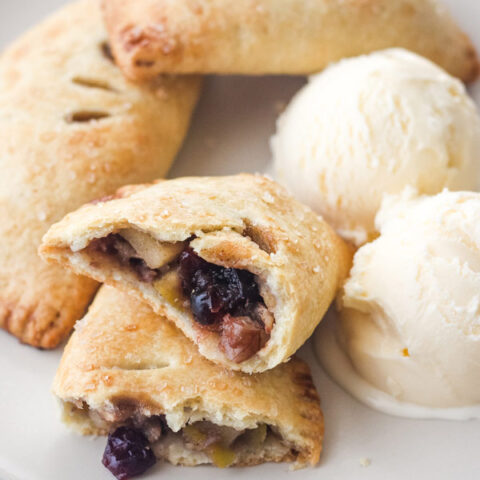 Apple Hand Pies
Half a roll of premade pie dough makes these mini hand pies a snap to throw together. Stuffed with pecans, dried cranberries, and a juicy cinnamon-apple filling, these delicious single-serving treats are the perfect way to enjoy pie if you're cooking for one or two people!
Ingredients
Half a Premade 9-inch Pie Crust, thawed as directed on package
Half a Medium Granny Smith Apple, cored and chopped into small 1/4-inch pieces
1 tablespoon Dried Cranberries, roughly chopped
1 tablespoon Pecans Pieces, roughly chopped
1 tablespoon Brown Sugar
1/8 teaspoon Ground Cinnamon
1/4 teaspoon Cornstarch (or 1/2 teaspoon flour)
2 tablespoons Unsweetened Applesauce
2 teaspoons Heavy Cream or Half and Half
Granulated Sugar for topping
Instructions
Adjust your oven's cooking rack to the middle position and preheat to 400°F or 375°F for convection/forced fan ovens. If using a toaster oven, select the BAKE setting.
Line a quarter sheet pan with a silicone baking mat or lightly grease.
Mix together the apple, cranberries, pecans, brown sugar, cinnamon, and cornstarch until well-coated. Stir in applesauce. Taste and add more sugar or spices as desired.
Divide the pie crust into four equal pieces and shape into balls.
Place a dough ball onto a piece of parchment or flour-dusted surface.
Roll into a circle that is about 5-inches wide. Repeat with remaining dough.
Spoon a quarter of the filling onto one side of each round. Moisten the edges of the dough with water. Then fold the un-topped dough over the filling side and crimp the edges with a fork to seal well.
Transfer the pies to your prepared pan.
Cut three small vents in the top of each pie to release steam during baking.
Lightly brush the pie dough with half and half or cream and sprinkle with sugar if desired.
Bake until golden brown, about 14 to 16 minutes.
Transfer baked pies to a wire rack to cool completely.
Enjoy pies warm or at room temperature, they taste great with vanilla ice cream!

Notes
Dough Temperature: For a light and flaky pie crust you want the butter in the dough to be cold when it goes into the oven. If it's warm in your house or you've handled the dough a lot, freeze the assembled pies for 10 to 15 minutes before baking.

Sugar: You can use dark or light brown sugar. Also, these pies are not super sweet, if you prefer a sweeter pie feel free to increase the sugar by 1 to 3 teaspoons.

Egg Wash: If you have half an egg to use up you can swap it for the cream. Beat the partial egg, then whisk in a teaspoon of water. Brush mixture onto the hand pies and bake as directed.

Toaster Oven Rack Placement: Use the middle rack position if available. If you're toaster oven only has two positions, use the bottom placement and check on your pies a little earlier.

Freezing Baked Pies: Place completely cooled pies onto a baking sheet lined with a silicone mat or parchment paper and leave in the freezer until frozen. Store pies in a freezer-safe bag until you're ready to eat.

Reheating Pies In Your Toaster Oven: Preheat toaster oven to 325°F. Place a small cooking rack inside a baking sheet and add pies to the rack. Cook until warmed through, about 5 to 7 minutes. Add a few extra minutes if the pies are frozen.

Source: Recipe lightly adapted from Simply Recipes.
Nutrition Information:
Yield:

4
Serving Size:

1 Hand Pie
Amount Per Serving:
Calories:

240
Total Fat:

15.3g
Saturated Fat:

7.7g
Cholesterol:

8mg
Sodium:

42mg
Carbohydrates:

24.6g
Fiber:

3g
Sugar:

8g
Protein:

2.3g