How To Roast Asparagus Spears in a Toaster Oven
These Toaster Oven Roasted Asparagus Spears are sweet, tender, and ready in just 15 minutes! Top with balsamic vinegar and chopped walnuts for a delicious vegetable side dish.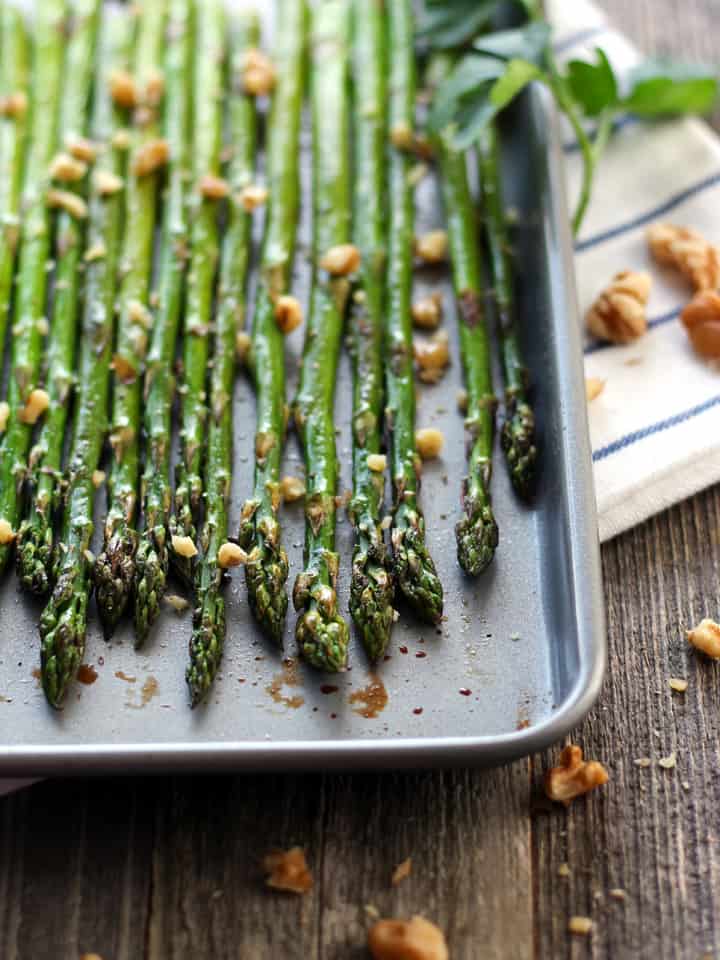 Oven roasting (or more specifically toaster oven roasting) is my favorite way to prepare asparagus. That's because it's super quick, requires little effort, and greatly enhances the flavor and sweetness of the asparagus.
We like to serve it alongside our Toaster Oven Egg Bake or Toaster Oven Tofu. Roasted asparagus also makes for a fun addition to spring veggie bowls, wraps, and hummus toasts.
Toaster Oven vs. Countertop Oven
To keep the spears intact and fit them in a little toaster oven you might need to make a smaller amount. A half-pound of asparagus was the most we could fit in an even layer on our little rimmed 1/8th sheet pan.
With a larger countertop oven like our Breville Smart Oven Pro (BOV845BSS) you can usually fit more. We were able to double the recipe and cook almost a whole pound of asparagus spears in the pan that came with it.
How To Cook Asparagus Spears in a Toaster Oven
1. Start by preheating the toaster oven to 425°F on the BAKE setting.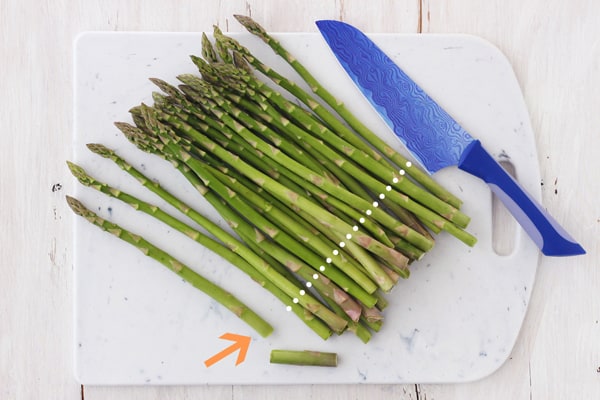 2. Then, cut (or snap) the tough woody ends off of the asparagus. To do this, I usually remove about 3/4 to 1 inch off of the bottoms of the spears.
2. Place the asparagus on a rimmed baking sheet with the tips all facing the same direction.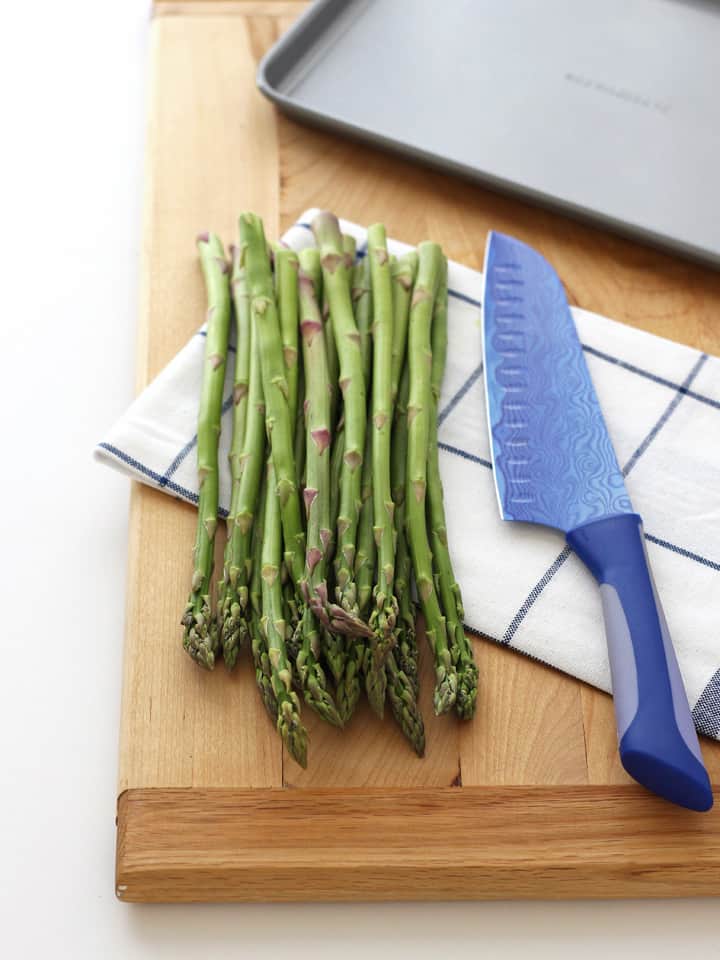 3. Drizzle over a small amount of oil and sprinkle with salt and pepper. Using too much oil will make the asparagus soggy and greasy.
To evenly distribute the oil, use your hand to roll the asparagus side-to-side on the pan. This way each piece will get coated with just the right amount of oil.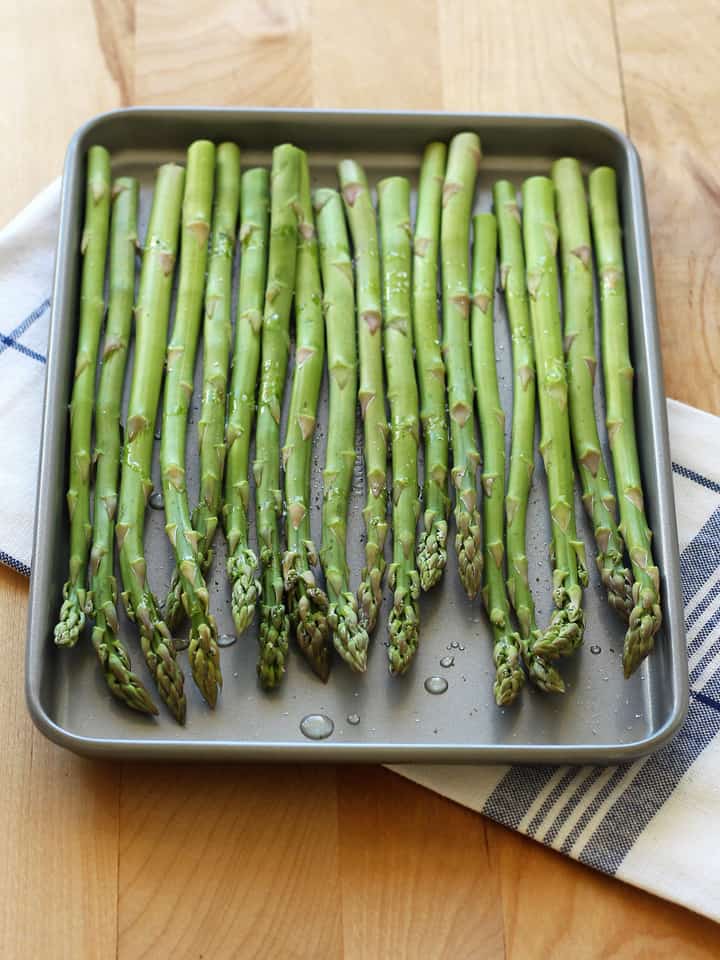 4. Now that we're all oiled up, toss that asparagus into your preheated toaster oven to roast for just a few minutes.
How do you know when the asparagus is cooked?
You're looking for it to be tender, lightly browned at the tips, and still slightly crisp. The thickness of your asparagus will determine the cooking time:
Thinner stalks are usually done in 7 to 9 minutes.
Thicker stalks can take about 10 to 11 minutes.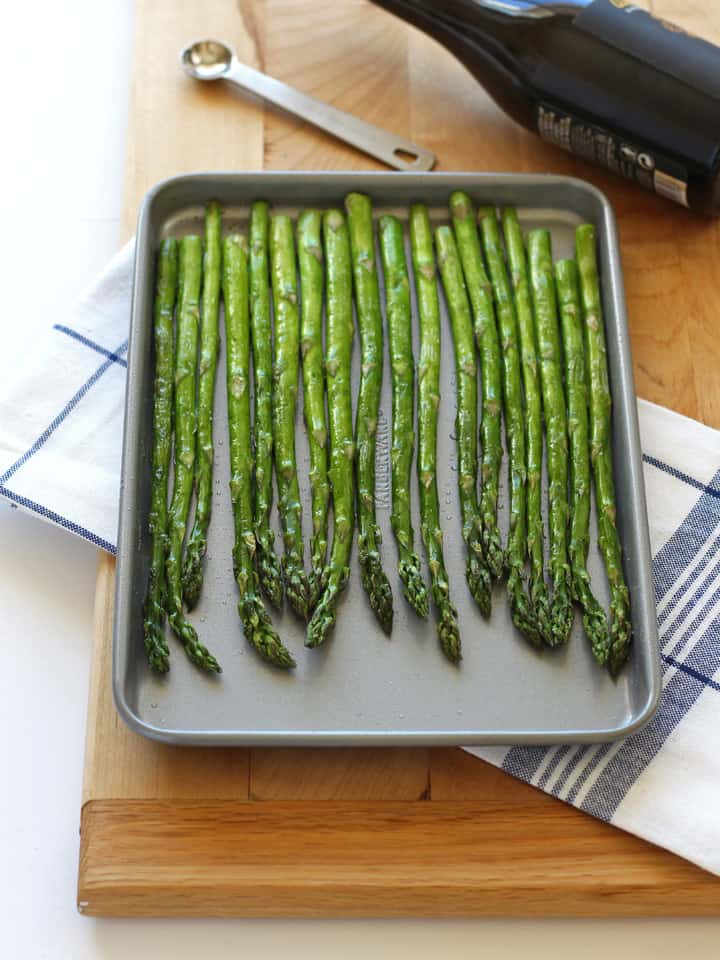 To avoid overcooking the asparagus, remove it from the toaster oven while it still has a vibrant green color.
5. Before you dig into those yummy-looking roasted asparagus spears give them a quick drizzle of balsamic vinegar and sprinkle over some buttery walnuts. Okay, now let's eat!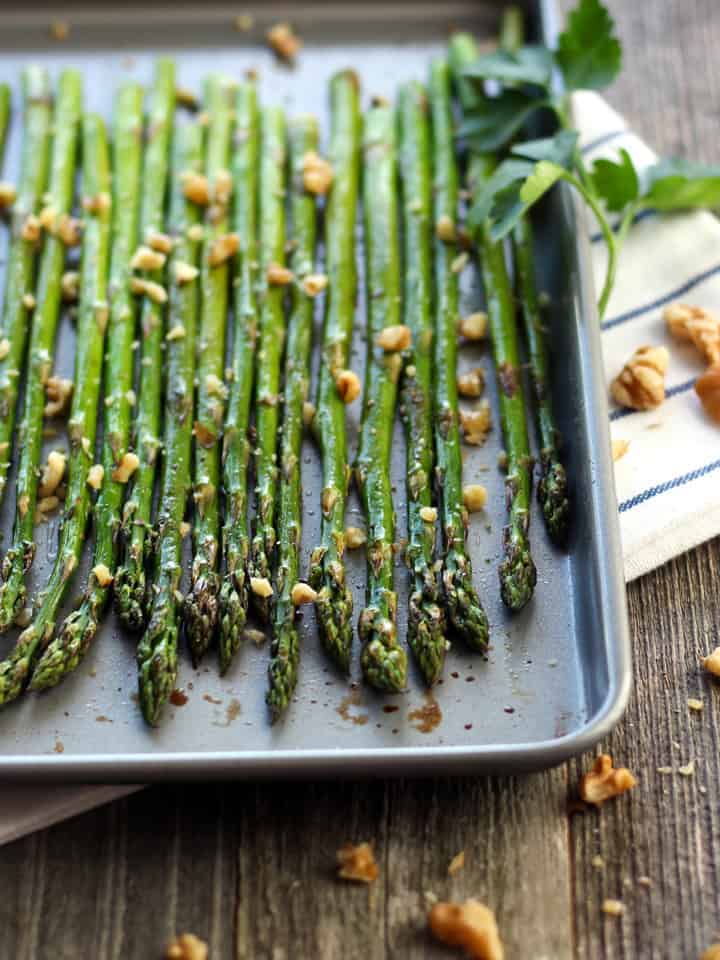 More Tasty Toaster Oven Vegetable Recipes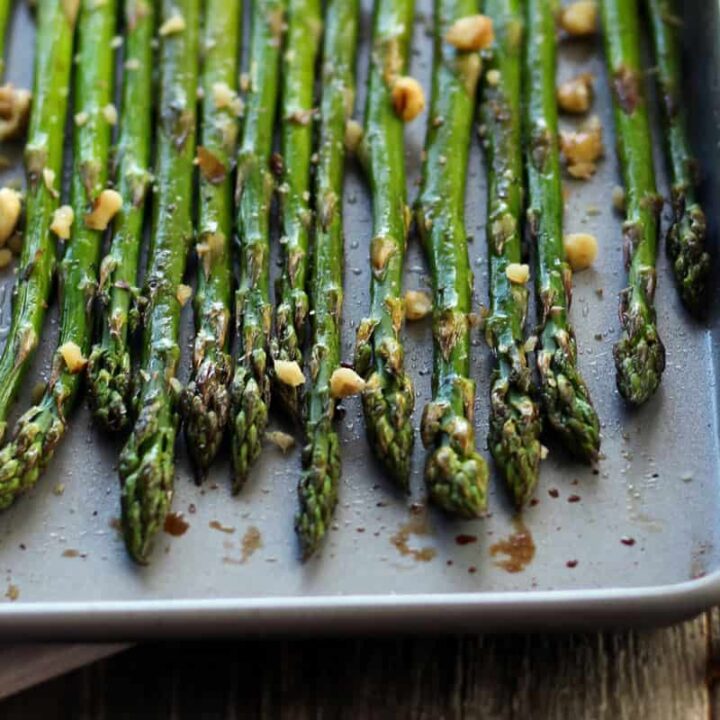 Toaster Oven Roasted Asparagus Spears
This easy side dish is perfect for any occasion. For even more flavor, add a sprinkle of feta or parmesan cheese.
Ingredients
8 ounces Fresh Asparagus Spears, washed and dried
1/2 teaspoon Olive Oil (substitute avocado oil or grapeseed oil)
Salt
Black pepper
1 teaspoon Balsamic Vinegar
1 tablespoon Chopped Walnuts
Instructions
Adjust the cooking rack to the bottom placement, select the BAKE setting, and preheat the toaster oven to 425°F.
Cut or snap any woody ends off of the asparagus. Arrange on a sheet pan with all of the tips facing the same direction.
Drizzle oil over the asparagus and sprinkle with salt and pepper. Roll the spears around the pan to evenly coat them in oil and seasoning.
Place the pan in the toaster oven (with the asparagus tips facing the door) and roast until fork tender but still slightly crisp, about 7 to 11 minutes.
Remove pan from oven. Drizzle the balsamic vinegar over the asparagus and sprinkle with chopped nuts. Then dig in!
Notes
Oil: For thinner asparagus use 1/2 teaspoon oil. If your asparagus is on the thicker side use 3/4 teaspoon oil.
Convection Toaster Oven: Reduce the temperature to 400°F. Begin checking for doneness after 7 minutes, adding more time as needed.
Nutrition Information:
Yield:

2
Serving Size:

Half of Recipe
Amount Per Serving:
Calories:

63
Total Fat:

4.1g
Saturated Fat:

0.4g
Cholesterol:

0mg
Sodium:

2.9mg
Carbohydrates:

5.3g
Fiber:

2.6g
Sugar:

2.6g
Protein:

3g