Toaster Oven Roasted Asparagus Spears drizzled with balsamic vinegar and a sprinkle of chopped nuts makes a quick and easy vegetable side dish for two.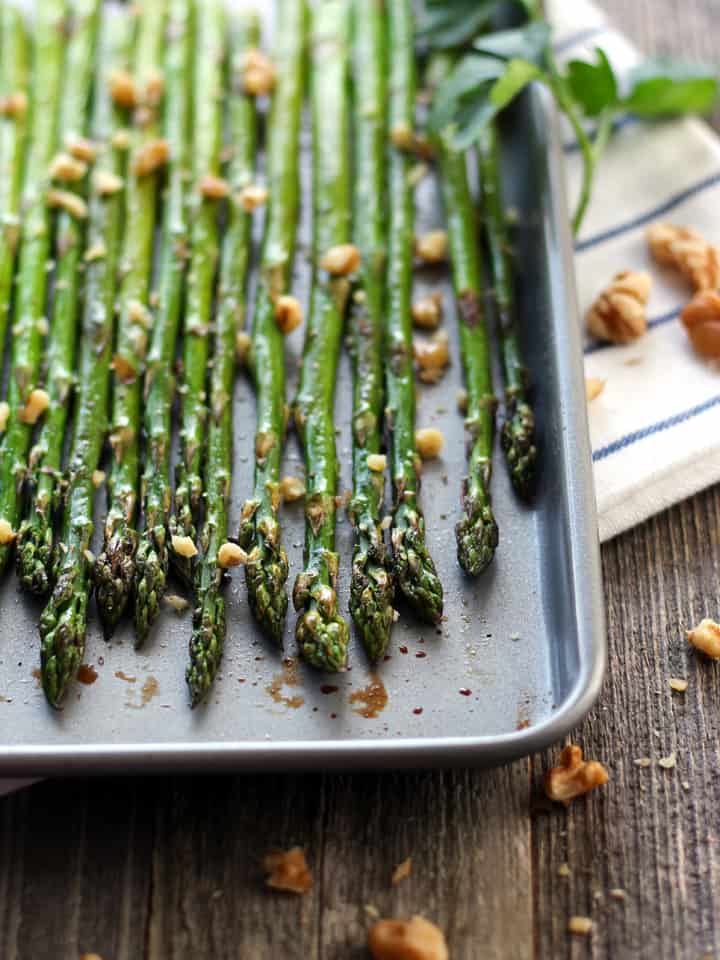 (this post contains affiliate links)
Although asparagus is at it's very best during spring months I'd never turn down an opportunity to enjoy a fresh bunch just because it's February.  Especially when it was on sale at every grocery store for Valentine's Day and California's strange winter climate's been delivering a light sweater springtime vibe.

So what's a gal to do with her affordable fresh asparagus?  That's right…Roast it Baby!
Oven roasting or more specifically toaster oven roasting is my favorite way to prepare asparagus because it's super quick, requires little effort and greatly enhances the flavor and sweetness of the asparagus.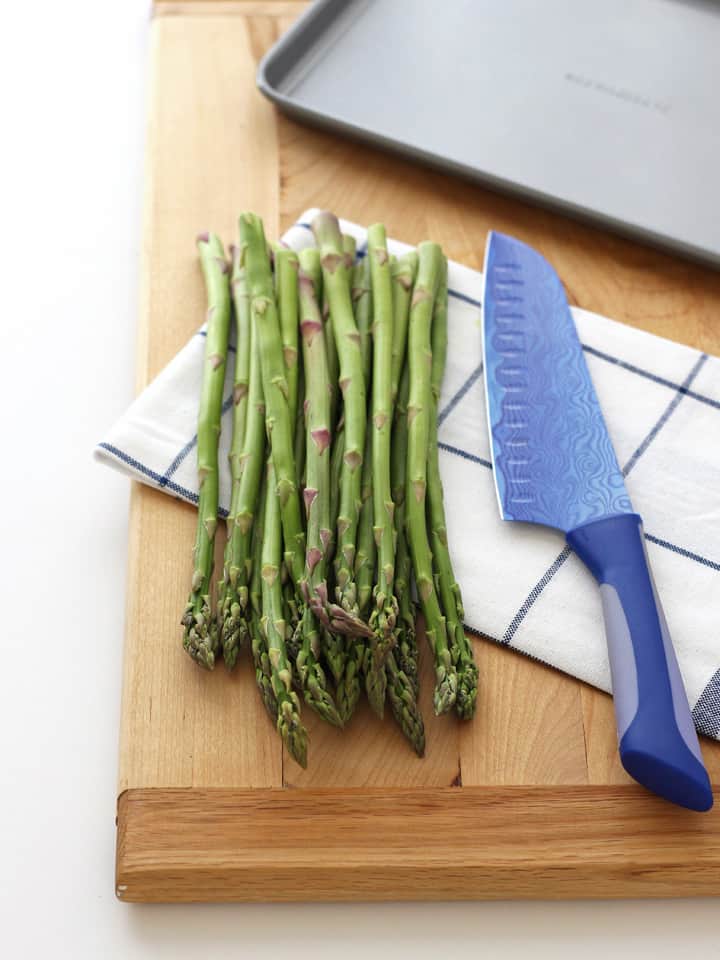 This is actually our second recipe for Roasting Asparagus in a Toaster Oven.
That yummy coconut oil and lemon recipe is great for roasting a bunch of asparagus in your little toaster oven.  But it requires chopping the beautiful spears into thirds and stirring the asparagus often to prevent steaming.
To keep the spears intact and fit them in a little toaster oven like ours you'll need to make a smaller amount.  A half-pound of asparagus was the most we could fit in an even layer on our rimmed toaster oven cookie sheet.  Keeping the asparagus in an even layer prevents them from steaming and becoming soggy and limp.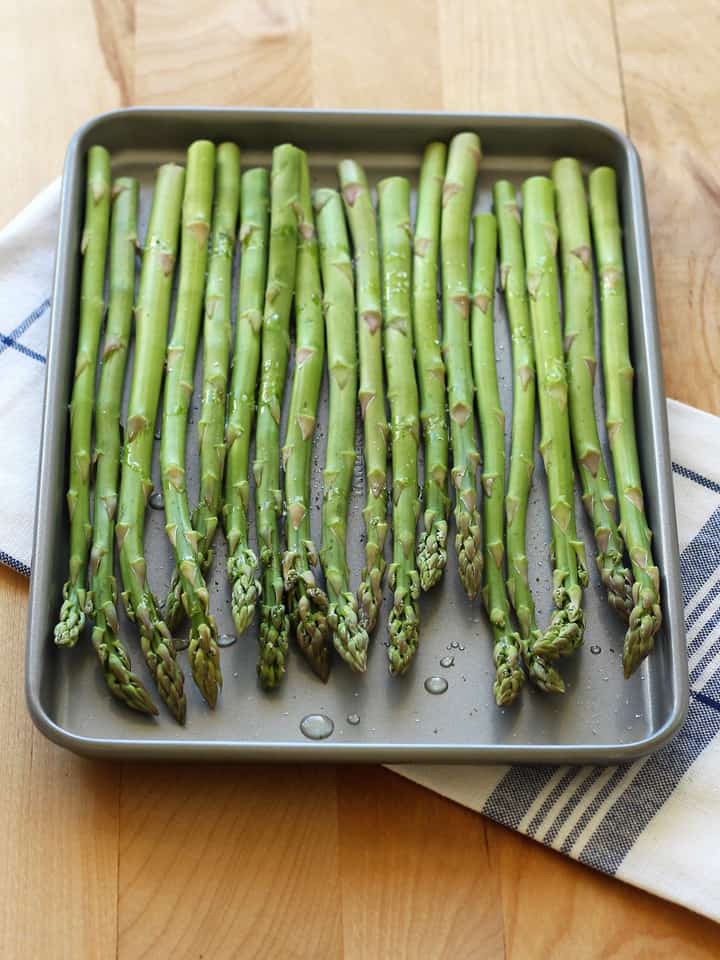 Less is more in the oil department too.  Once you have placed the washed and dried asparagus on your cookie sheet drizzle it with a small amount of your favorite oil (we used grape seed) and sprinkle with salt and pepper.
To evenly distribute everything use your hand to roll the asparagus side to side on the pan.  Each piece will get coated with just the right amount of oil.
In case I've given you the wrong idea, I having nothing against oil it's delicious.  I am firmly against greasy vegetables though 🙂
Now that we're all oiled up, toss that asparagus into your preheated toaster oven to roast for just a few minutes.
You're looking for it to be tender, lightly browned at the tips and still slightly crisp.  In our toaster oven thinner stalks are usually done in 7 minutes and about 11 minutes for large/thicker stalks.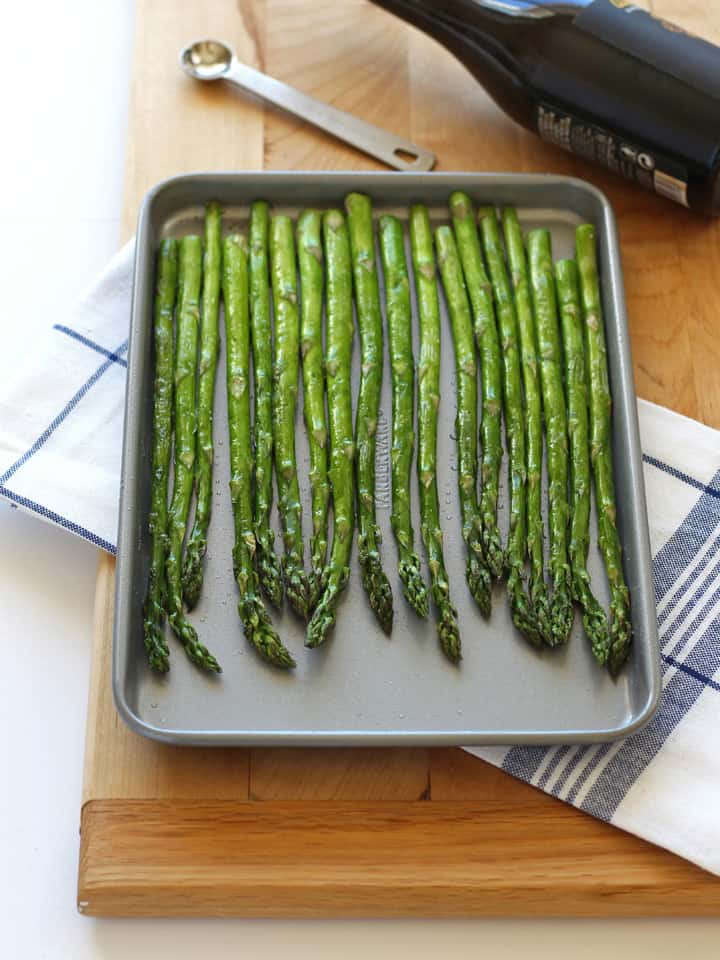 Wanna start digging into those yummy looking roasted asparagus spears?
Wait just one more second while we quickly turn them into a fancier "that came from your toaster oven!" side dish with a drizzle of quality balsamic vinegar and tablespoon of chopped walnuts.
Okay, now lets eat!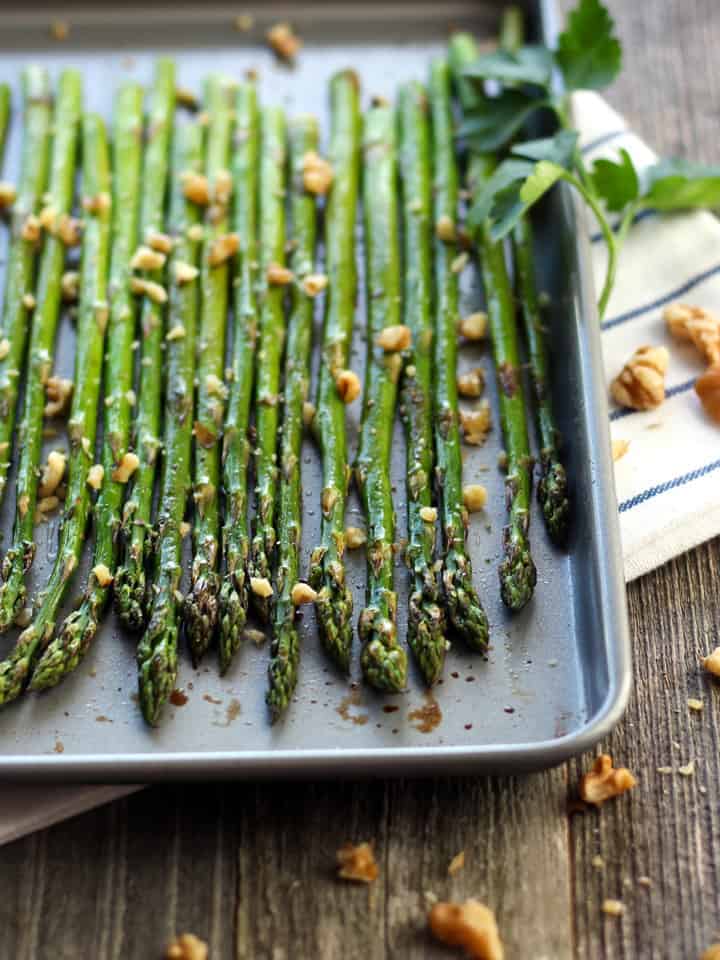 How do you like your asparagus, are you a roasting or steaming fan?  I'm curious about white asparagus, have you every tried it?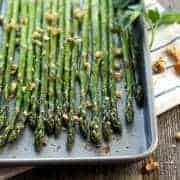 Toaster Oven Roasted Asparagus Spears
15 minutes for two servings of perfectly roasted asparagus spears using your toaster oven. Drizzle with balsamic vinegar and top with chopped walnuts for a delicious vegetable side dish.
Ingredients
8

ounces

fresh asparagus spears

, washed and dried

1/2

tsp

grape seed oil or olive oil

(or your favorite cooking oil)

Fine grain sea salt and black pepper

1

teaspoon

balsamic vinegar

1

tablespoon

chopped raw walnuts
Instructions
Preheat your toaster oven to 425 F and cut or snap the ends off the asparagus.

Place asparagus on a cookie sheet with the tips all facing the same direction.

Drizzle oil over asparagus and sprinkle with salt and pepper. Roll the spears around the pan to evenly coat in oil and seasoning.

Place cookie sheet in toaster oven with the tips facing the door and roast at 425 F for 7 to 11 minutes until fork tender but with a slight crispness.

Remove pan from oven, drizzle balsamic vinegar over asparagus and sprinkle with chopped nuts.
Recipe Notes
For thinner asparagus use 1/2 teaspoon oil. If your asparagus is on the thicker side use 3/4 teaspoon oil.
Nutritional information is an estimate for 1 of 2 servings.