Toaster Oven Potatoes Au Gratin For Two
Rich, creamy and over the top indulgent, toaster oven potatoes au gratin are the ultimate comfort food. This small batch recipe makes just two generous servings (meaning no leftovers) so treat yourself and use the good stuff: cream!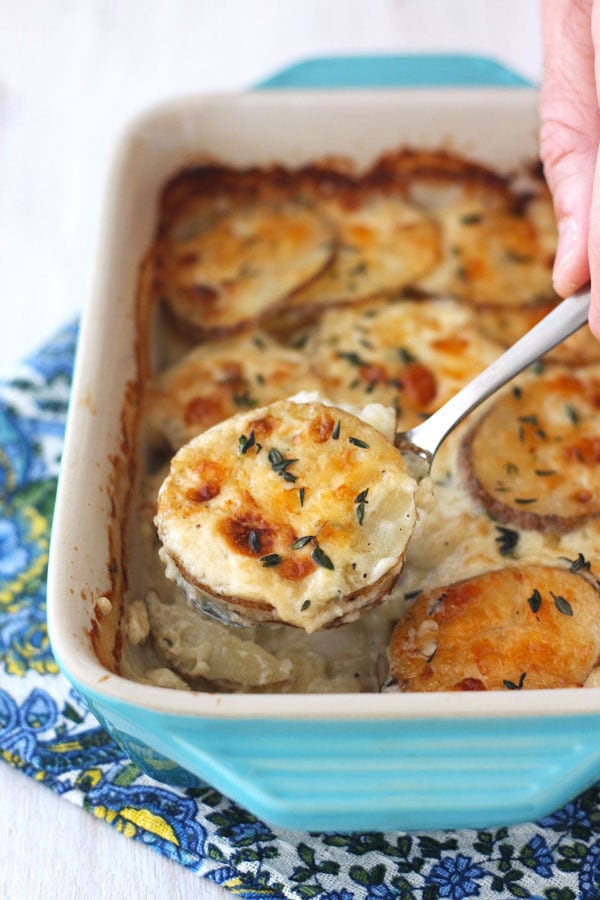 (In addition to a tasty potatoes au gratin recipe, we're sharing about our favorite toaster oven pans and baking dishes. We earn a commission if you purchase through the links in this post.)
Well…this is going to be an adventure.
Those were my thoughts as we excitedly read our first reader-requested recipe for Toaster Oven Potatoes Au Gratin. (Thanks again, Lynda!)
It may be a common dish to most but I grew up in a house where special occasions and holiday meals always came with a big helping of creamy mashed potatoes.
No complaints here, I ♥ mashed potatoes.
But it means that aside from a strange boxed version (powdered cream and dehydrated potato slices?), I'd never made potatoes au gratin before.
After looking through all of our cookbooks and reading a bunch of recipes online it was clear that everyone from Julia Child to Bobby Flay had their own unique and "correct" way of doing things when it came to au gratin potatoes.
Not gonna lie, I was overwhelmed.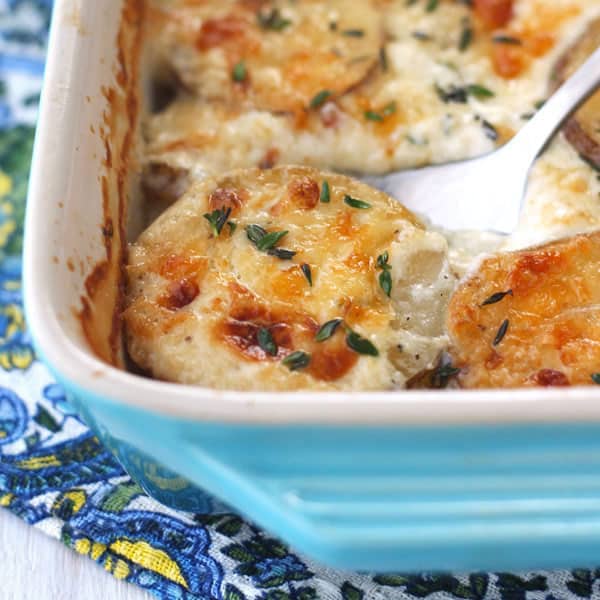 Thankfully, I came across this article from Epicurious.
It's a MUST-READ if you've never made potatoes au gratin before. I promise you'll feel empowered and less intimidated making this classic dish.
With my confidence boosted, we dove into resizing and cooking different recipes over the last few months. From Julia's to America's Test Kitchen, Pioneer Woman's and more.
Right now, our little toaster oven recipe is still evolving.
We haven't had a chance to try it with Yukon potatoes or sweet potatoes.
Or with a cheese sauce instead of the cream.
Sauteed spinach, kale, or mushrooms sounds like fun too.
But Lynda made her suggestion in July and it's almost Thanksgiving in the US. So below is our basic small batch recipe and what we've learned so far about baking potatoes au gratin in a toaster oven.
~ Keep scrolling for step by step photos & toaster oven Au Gratin Potatoes tips after the recipe ~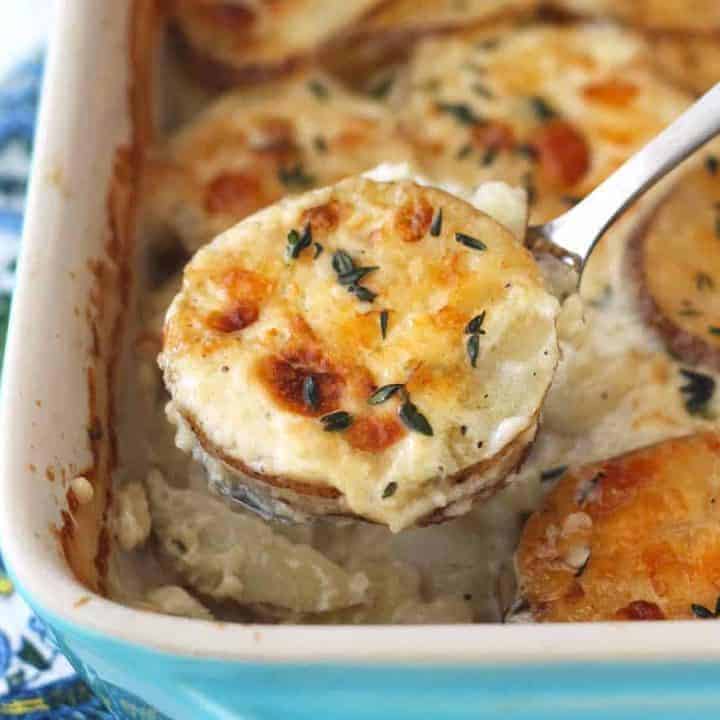 Toaster Oven Potatoes Au Gratin For Two
Total Time:
1 hour
10 minutes
Luscious, creamy, rich, and indulgent potatoes au gratin for two. No tempting leftovers to worry about with this small batch recipe!
Ingredients
1/2 teaspoon Butter, softened
1/3 cup to 1/2 cup Cream, (substitute half and half, whole milk or some combination of the 3)
1/2 teaspoon Fresh Thyme
1/4 teaspoon Fine Sea Salt
1/8 teaspoon Ground Black Pepper
1/8 teaspoon Flour
Pinch ground Nutmeg
1 Shallot, peeled with the root end trimmed
2 small Russet Potatoes, (about 8 to 9 oz total), peeled if desired
1/3 cup shredded Sharp White Cheddar Cheese
Instructions
Adjust your toaster oven's cooking rack to the middle position and preheat to 350°F on the "Bake" setting. Rub the bottom and sides of a shallow 7x5 baking dish with the butter.
Whisk together the cream, thyme, salt, pepper, flour, and nutmeg.
Using a sharp knife or mandoline, cut the potatoes into thin slices (about 1/8-inch thick). Then thinly slice the shallot.
Arrange half of the potato slices slightly overlapping in your prepared dish, layer half of the shallot on top of the potatoes. Whisk the cream again and pour half of it over everything. Repeat with remaining potato, shallot, and cream. Press down on the top layer of potatoes to submerge them in the cream. Top with cheese.
Bake dish covered for 35 to 40 minutes until the potatoes are tender (test with a knife or fork), carefully remove the cover and bake for 10 to 15 minutes more until the top is bubbly and golden.
Rest at least 10 minutes before serving with more fresh thyme.
Notes
There are helpful tips below the recipe, we'd suggest looking those over prior to making this recipe.
If you are worried about spills or drips, bake the dish on a toaster oven cookie sheet to catch any drips.
Adapted from all of the recipes in print and online we could get our hands on 🙂 we've linked to many of them in the post for your reference.
Nutrition Information:
Yield:

2
Serving Size:

Half of Dish
Amount Per Serving:
Calories:

249
Total Fat:

14.8g
Saturated Fat:

9.3g
Cholesterol:

50mg
Sodium:

372mg
Carbohydrates:

225g
Fiber:

1.6g
Sugar:

0.9g
Protein:

7.7g
How to Make Potatoes Au Gratin For Two
#1. Use a baking dish that's shallow and butter it well. This cute little 7 x 5 Le Creuset baking dish worked best for us. If you've got a shallow casserole dish with a lid that's even better since the pan will be covered during 2/3 of the cooking.
Related: 9 New Ideas for Toaster Oven Baking Dishes, Pans and Accessories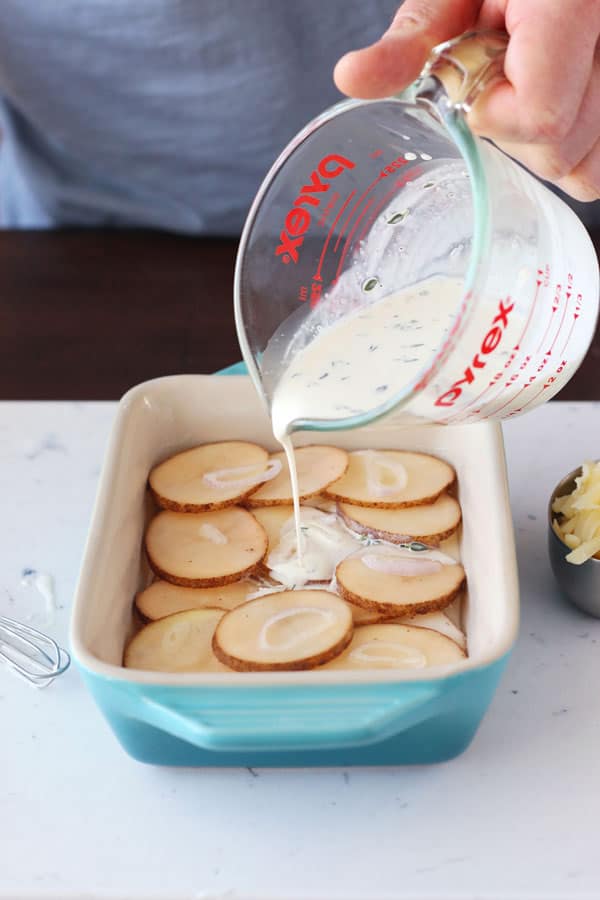 #2. You don't have to heat the cream. Okay, you probably should (supposedly it infuses more flavor into the sauce) but we tried America's Test Kitchen's Potato Gratin recipe from their Cooking For Two Cookbook (where you heat the cream) and this recipe (where you don't) and both tasted great.
#3. Gruyere isn't the only cheese you can use. Almost every single recipe I read said to use it but at $13.00 per pound, Gruyere cheese was a little rich for my frugal blood.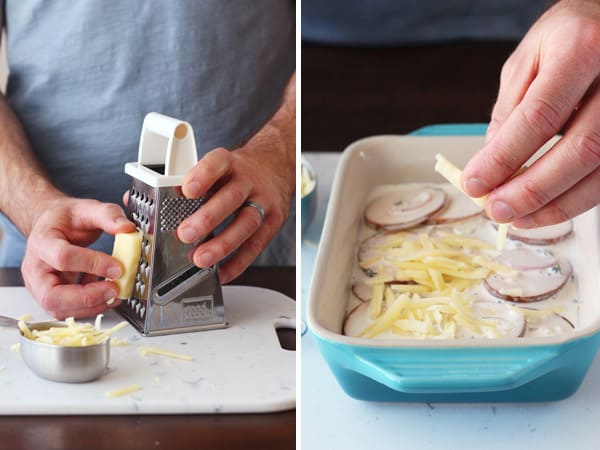 After trying a few kinds of cheese we found that a sharp white cheddar was affordable and delicious. Even buying organic, it cost less than half of the Gruyere's price and was easy to use up topping baked potatoes and in a few batches of Southwestern Twice Baked Potatoes.
Because we liked the recipes made with real cream and less cheese best, our little recipe only has the cheese on top but if you want to add more between the layers, go for it!
#4. Garlic is good but shallots are better. In such a tiny recipe, even a small amount of minced garlic was overpowering. If you really like garlic but don't want it to be the only thing you taste try this tip from Julia Child: rub the baking dish with half a clove of garlic before buttering.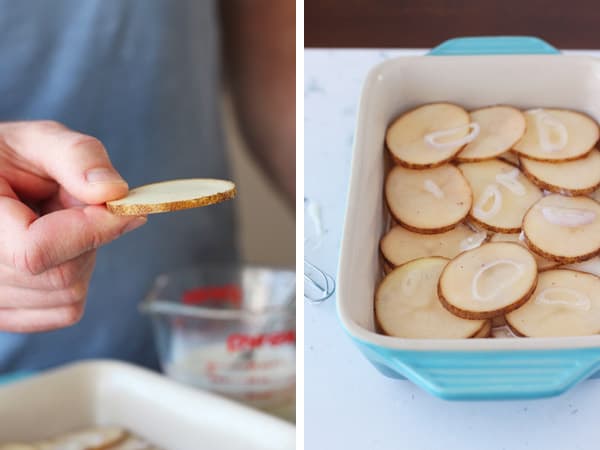 Instead of garlic, we preferred the flavor of a small shallot. Thinly slicing the shallot and layering it with the potato slices gave the dish a robust flavor and a tiny bit of texture too.
#5. Prep the potatoes last. Whether you use a mandoline or thinly slice the potatoes with a knife they'll start browning after a few minutes (like apple slices do). If you slice your potatoes first all your gorgeous pieces will be a pinkish-brown color before you can even ponder if you should heat the cream or not.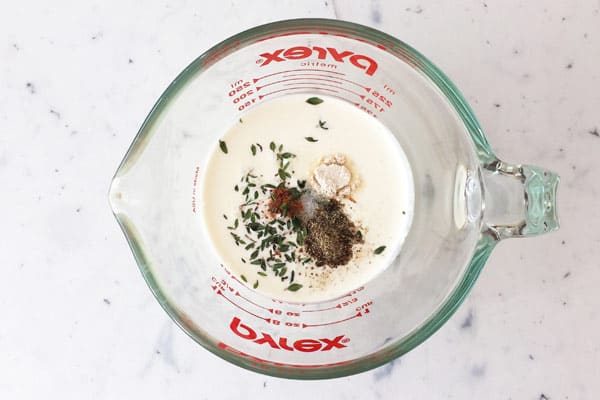 Toaster Oven Potatoes Au Gratin Tips
The middle rack work's best. If your toaster oven only has two positions then go with the lower one.
If there are three or more placements, for us, the middle led to the most evenly cooked potatoes.
Lower and slower is the most consistent. The suggested temperature for cooking au gratin potatoes varies from 350°F to 400°F.
400° was way too hot.
375° was okay and pretty fast (about 40 minutes total) but a few times our potatoes got overcooked and mushy after just 25 minutes.
350° was our sweet spot, it takes a little longer but we've never had mushy potatoes at that temperature.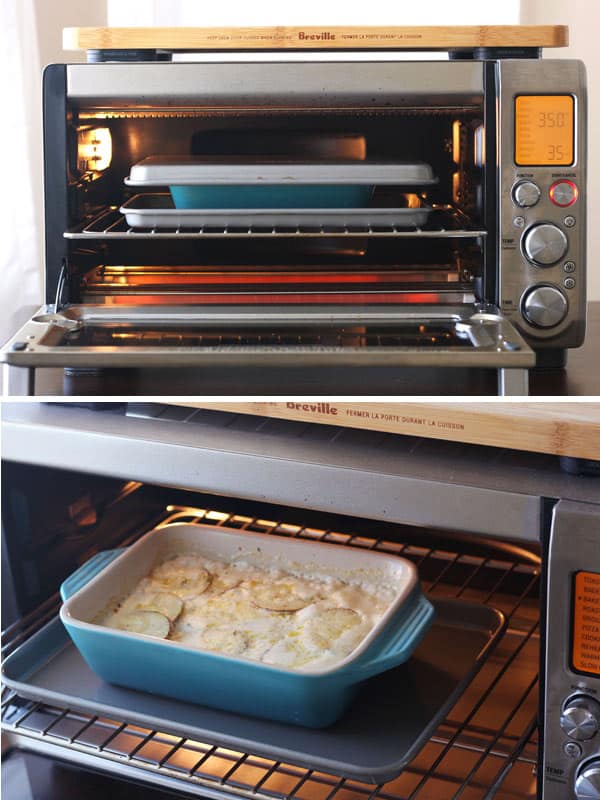 Cover your pan until the potatoes are tender. The first recipe we tried instructed to cook the potatoes uncovered the whole time. What a mess that made on the ceiling of our toaster oven! Covering the pan keeps things cleaner while creating a steamy cream hot tub for your potatoes to bake in.
Use an extra pan to keep things clean. Try and leave at least 1-inch of space between the potatoes/cream and the top of the pan to help prevent the sauce from bubbling over. If you are worried about spills, bake the dish on a toaster oven cookie sheet.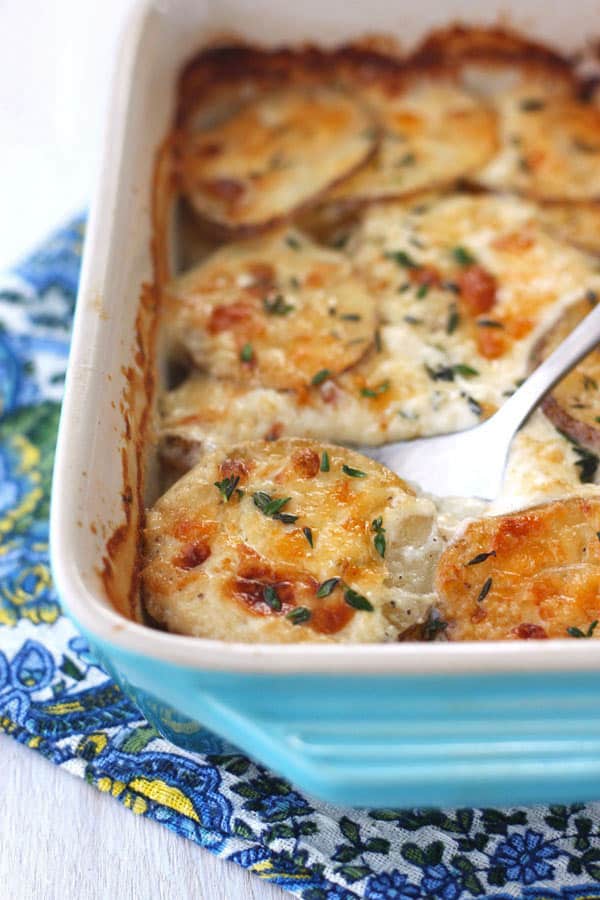 Learning and experimenting with all of these different recipes was so much cheesy creamy fun. We plan to keep trying different variations and would love it if you'd do us a favor and share your potatoes au gratin tips and tricks in the comments for us newbies.