10 Quick and Easy Sweet Potato Toppings
Turn an already irresistible baked sweet potato into a satisfying meal with just a few extra ingredients. We've got 10 tasty vegetarian ideas to get you started!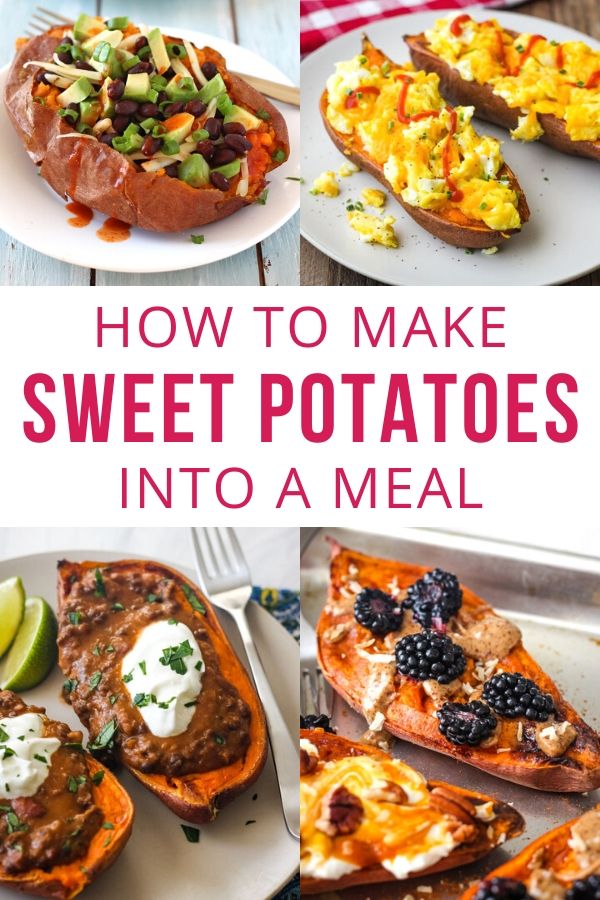 While the classic baked potato makes a great base for toppings, sweet potatoes really are the more versatile veggie.
Baked or roasted, their creamy sweet flesh tastes fantastic topped with pretty much anything.
From a simple pat of salted butter to leftover macaroni and cheese or even dark chocolate and nut butter, you can't go wrong.
Below you'll find some of our favorite sweet potato creations. Don't worry if you're short on ingredients, they're very flexible and easy to adapt to what you have on hand.

5 Ways to Cook Sweet Potatoes
Sweet Potato Toppings

1. Madras Lentils, Greek Yogurt, and Lime Wedges
For a fun chili alternative, pour a packet of microwaved Mandra Lentils over baked sweet potatoes. Topped with tangy Greek yogurt (or feta) and a squeeze of fresh lime juice, it'll be your new go-to comfort food.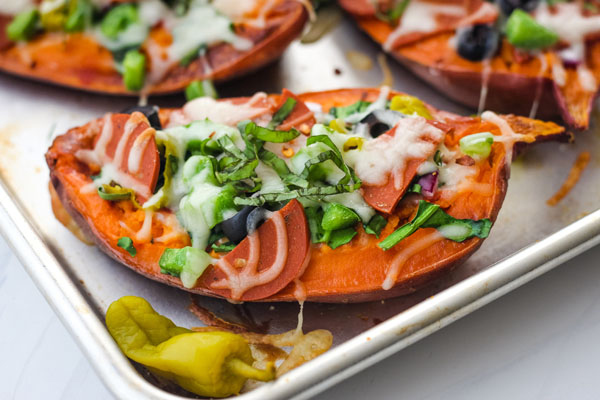 2. Pizza Sauce, Mozzarella Cheese, and ALL the Toppings
Clean out your fridge and pile on the toppings! Veggie pepperoni, black olives, bell pepper, and pepperoncini are our favorites but feel free to use anything you've got on hand. Get the full recipe: Pizza-Stuffed Sweet Potatoes

3. Almond Butter, Blackberries, and Toasted Coconut
Craving a PB&J? Skip the bread and top baked sweet potatoes with almond butter and berries instead. For added texture, toss on toasted coconut or a handful of your favorite granola.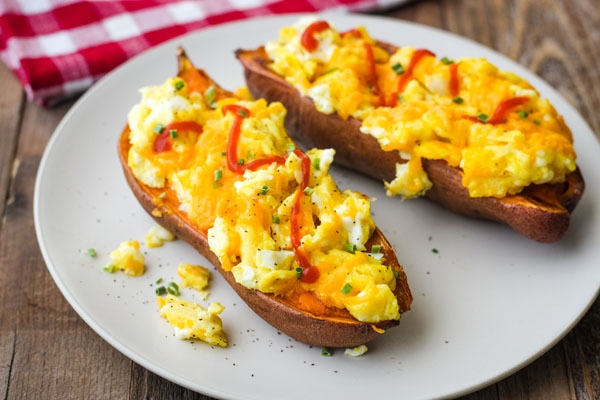 4. Scrambled Eggs, Cheese, Chives, and Sriracha
Make breakfast for dinner! Pile cheesy scrambled eggs (we usually do 2 eggs per person) onto baked sweet potatoes and garnish with spicy sriracha sauce and chives.

5. Refried Beans, Jalapeno, Corn, and Cheese
Who needs chips when you've got roasted sweet potato rounds topped with crispy jalapeno slices, refried beans, corn, and shredded cheese? Get the full recipe: Sweet Potato Nachos

6. Ricotta, Berries, and Maple Syrup
Mix orange zest with ricotta and dollop on a cinnamon-sprinkled sweet potato. Top with fresh berries and a liberal drizzle of maple syrup. Simple, sweet, and delicious!

7. Tempeh, BBQ Sauce, and Guacamole
Crisp up some tempeh, douse it in BBQ sauce, and dump it on baked sweet potato halves. A dollop of fatty guac keeps this vegan-friendly dish from being too sweet. Get the full recipe: BBQ Tempeh Stuffed Sweet Potatoes

8. Peanut Lime Sauce, Veggies, and Edamame
Sweet edamame, crisp fresh veggies (cabbage, carrots, and bell peppers), and cashews drenched with this easy peanut lime sauce for two. Like a crunchy nutritious salad – but better!

9. Cinnamon, Pineapple, and Coconut Butter
Stuff sweet potatoes with cinnamon, pineapple, pecans, and raisins then drizzle with creamy coconut butter for a seriously yummy (and filling) breakfast or brunch. Get the full recipe: Vegan Coconut Pineapple Twice-Baked

10. Black Beans, Pepper Jack Cheese, and Avocado
Give your next Taco Tuesday a sweet potato upgrade! Load them up with black beans, refried beans or cooked soy chorizo. Then pile on your favorite toppings like pepper jack cheese, avocado, and hot sauce.
How About Dessert?

Sweet Potato Casserole Bites
Top cinnamon baked sweet potato slices with mini marshmallows, broil until golden and sprinkle with chopped pecans. Tastes just like Thanksgiving!

Streusel Topped Sweet Potatoes
If marshmallows aren't your thing, swap them for a sweet and crispy oat crumble. Get the full recipe: Streusel Topped Sweet Potatoes
Looking for more tasty dinner ideas? Check this list of 50+ Vegetarian Recipes For Two!