Instant Pot Mini Quinoa is light, fluffy, and a delicious way to add protein to any meal. Make a small batch for two or double the recipe for meal prepping.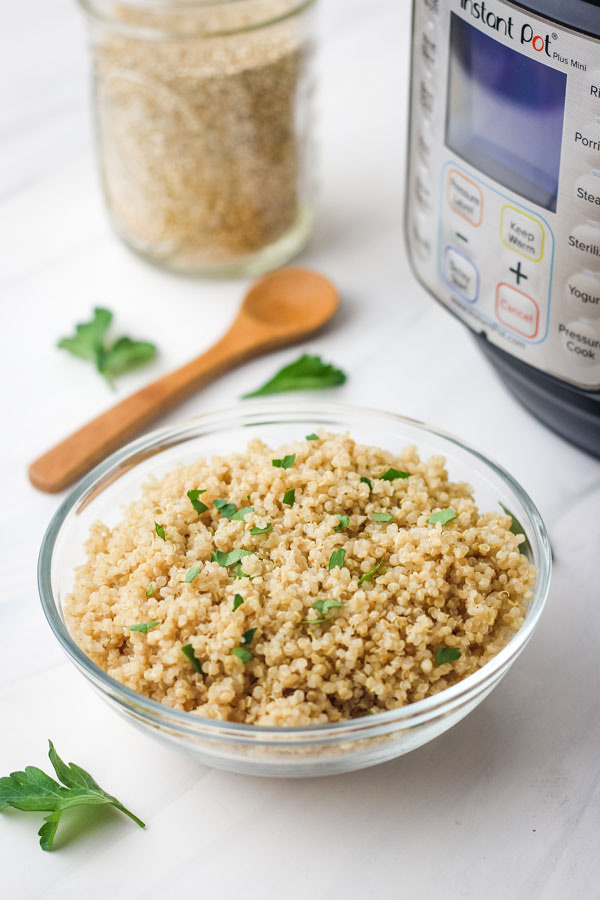 If you're like me and watching pots on the stovetop isn't your strong suit, then you're going to love making quinoa in your 3 Quart Instant Pot Duo Plus. You just toss everything in and forget about it.
Like making oatmeal for two in the instant pot, cooking quinoa won't take you less time but it is incredibly easy and yields great results. The quinoa comes out perfect every time: light and fluffy (never mushy).
I use this easy instant pot recipe to cook the quinoa for our Quinoa and Zucchini Noodles Salad and this filling vegan Summer Corn & Quinoa Salad.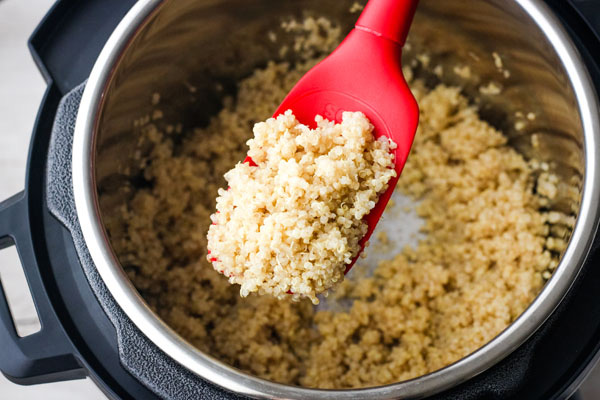 3 Easy Ways to Upgrade Your Quinoa
Toast the quinoa for a few minutes (using the Saute setting) before cooking to bring out more of its nutty flavor.
Substitute vegetable broth for the water.
For sweet breakfast-style quinoa, add a cinnamon stick and a splash of vanilla extract to the pot before cooking.
~ Keep scrolling for step by step photos & cooking tips after the recipe ~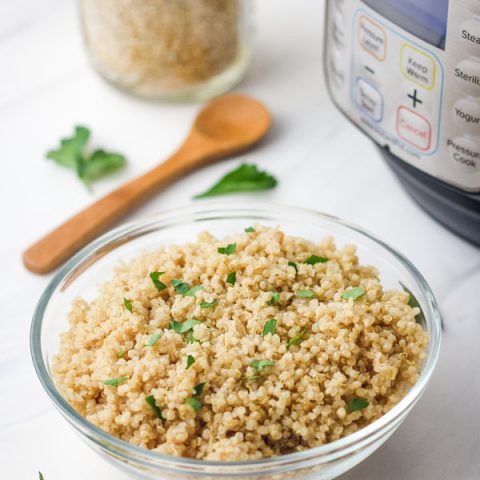 Instant Pot Mini Quinoa
Yield:
1 1/2 cups cooked quinoa
Natural Pressure Release:
12 minutes
Instant Pot Mini Quinoa is an easy hands-off way to cook perfectly light and fluffy quinoa. 
Ingredients
1/2 cup uncooked Quinoa
3/4 cup Water
Instructions
Add quinoa to a fine-mesh strainer and rinse well.
Spray the inner pot of your 3 qt Instant Pot with cooking oil and add the quinoa and water to the pot.
Close and lock the lid. Make sure the steam release handle is pointed towards the Sealing position.
Select the Pressure Cook or Manual button and adjust the settings to cook on High Pressure for 1 minute.
When the cooking time is up, wait for 12 minutes. If the float valve has not dropped down, manually release the pressure.
Carefully open the lid turning it away from you as you lift it up.
Fluff the quinoa with a fork and enjoy warm or cold.
Notes
Recipe makes about 1½ cups cooked quinoa.
If you prefer more tender quinoa, increase the water to 1 cup.
Meal Prepping? You can double the ingredients to make a bigger batch. The Cook Time and Release Time will stay the same but the appliance will take a few minutes longer to come to pressure.

Nutrition Information:
Yield:

2
Serving Size:

1 (3/4 cup serving)
Amount Per Serving:
Calories:

160
Total Fat:

2.5g
Saturated Fat:

0g
Cholesterol:

0mg
Sodium:

0mg
Carbohydrates:

30g
Fiber:

3g
Sugar:

3g
Protein:

6g
How to Make Quinoa in a 3qt Instant Pot
Step 1: Rinse The Seeds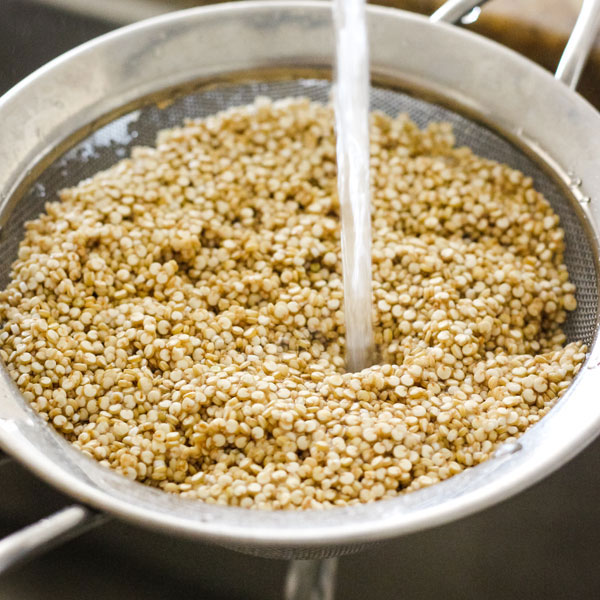 Quinoa seeds have a natural outer coating called saponin that's bitter tasting (it repels bugs). Removing the coating is easy, you just need to rinse it off.
Pour the quinoa into a mesh strainer and rinse under cool water until the water runs clear. You don't need to stress about getting it dry or anything – just give the strainer a good shake to remove most of the excess water.
Step 2: Fill Your Instant Pot Mini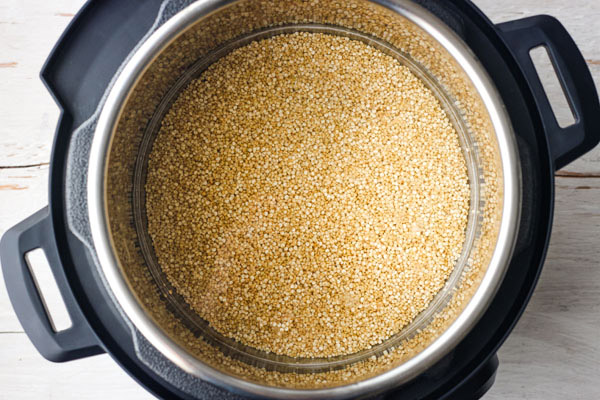 To keep the quinoa from sticking to the pot, spray the bottom of the inner cooking pot with a little cooking oil. I usually forget to do this and have to scrub a few stuck-on pieces off.
Next, add 3/4 cup water and the rinsed quinoa to your 3 Quart Instant Pot's inner cooking pot. If you prefer softer quinoa, increase the liquids to 1 cup total.
Because we use our cooked quinoa for all kinds of things, sweet and savory, I prefer to not add any salt or spices. If you'll be serving the quinoa plain you might want to add 1/4 teaspoon kosher salt.
Step 3: Pressure Cook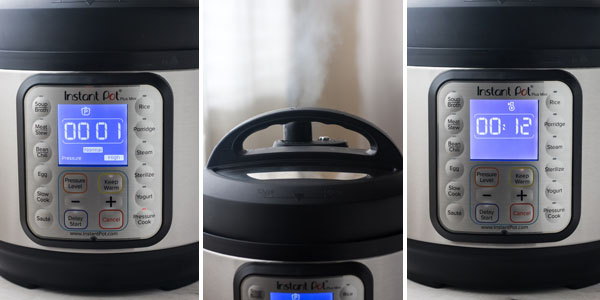 Lock the lid on the pot and turn the steam release handle so it's facing the Sealing position.
Press the Pressure Cook button and set the machine to cook on HIGH PRESSURE for 1 MINUTE.
The machine will start to come to pressure, this usually takes ours about 8 minutes. Once it reaches pressure it will cook for 1 minute. (During this time you might hear some clicks and noises as the machine adjusts the pressure)
Once the cooking time is up, let the machine naturally release the pressure for about 12 minutes. (Right when our machine finishes the 1-minute cook time it usually lets out a small burst of steam on its own).
After 12 minutes, if the float valve (little metal pin) has not dropped down on its own, turn the release handle so it's facing the venting position to release any remaining pressure.
Step 4: Get Fluffy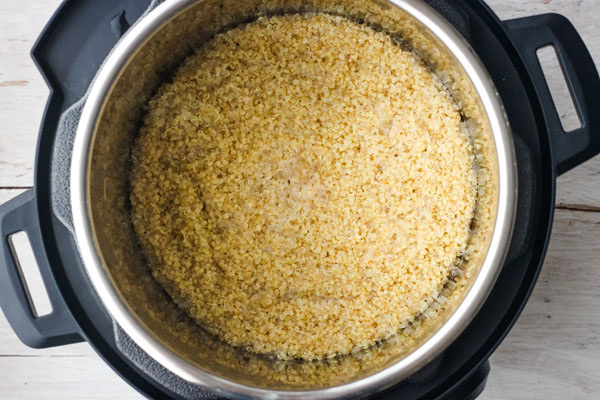 Carefully open the lid and let any steam clear. The seeds should be translucent now and have little tail-like spirals.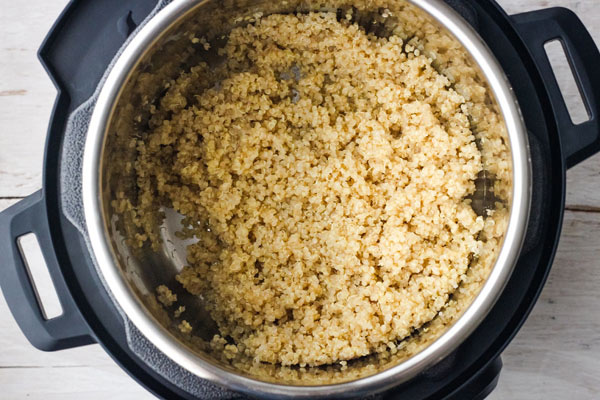 Use a fork to fluff the quinoa, season, and enjoy.
3 Quart Instant Pot Recipes & Tips
Make perfect easy-to-peel hard cooked eggs in just 25 minutes!
Get even more out of your little Multi-Cooker with these 9 helpful accessories.
Make a batch of sweet and earthy beets in 30 minutes or less.