Toaster Oven Potato Wedges
With soft pillowy middles and crispy edges, these toaster oven potato wedges are irresistible. Serve them as a side, enjoy them as an appetizer, or just snack on them straight from the pan – you can't go wrong!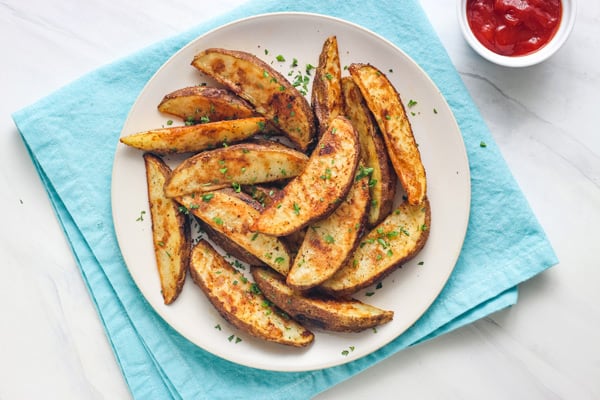 These thick-cut potato wedges are a recipe we come back to again and again. They're simple but indulgent and make a great addition to any meal (especially this broccoli ranch salad).
Best of all, you can cook them in your toaster oven or air fryer!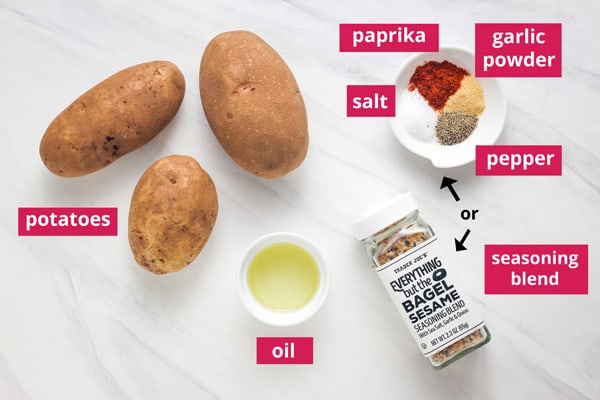 Recipe Ingredients
Potatoes: Starchy Russets are a classic choice but Yukon Gold potatoes are a good option too. Try to use similarly sized potatoes if you can, that way the wedges will all cook at the same rate.
Oil: Olive oil tastes best. Avocado oil and vegetable oil will work but they don't add much flavor to the wedges.
Seasonings: A coating of garlic powder, smoked paprika, salt, and black pepper gives the wedges a yummy steakhouse vibe. Or you can use a seasoning blend – Everything Bagel is very tasty.
Step-By-Step Instructions
1. To start, adjust the toaster oven's cooking rack to the bottom placement, select the BAKE setting, and preheat the oven to 425°F.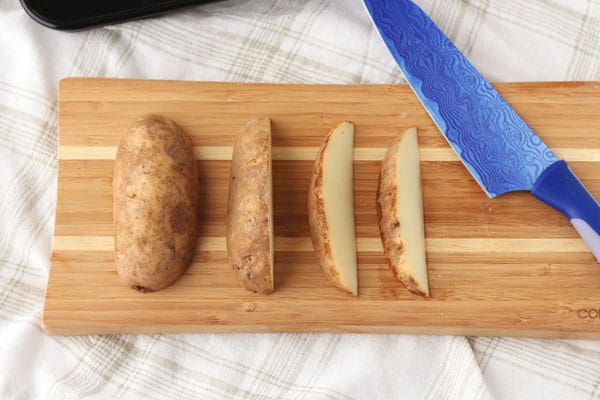 2. Next, slice the potatoes into wedges. For medium and large potatoes, start by slicing the potatoes in half lengthwise. Then, slice each half into quarters. You should have 8 wedges for each potato.
If you're working with smaller potatoes, you'll want to slice those into quarters only. That way your fries won't be too thin.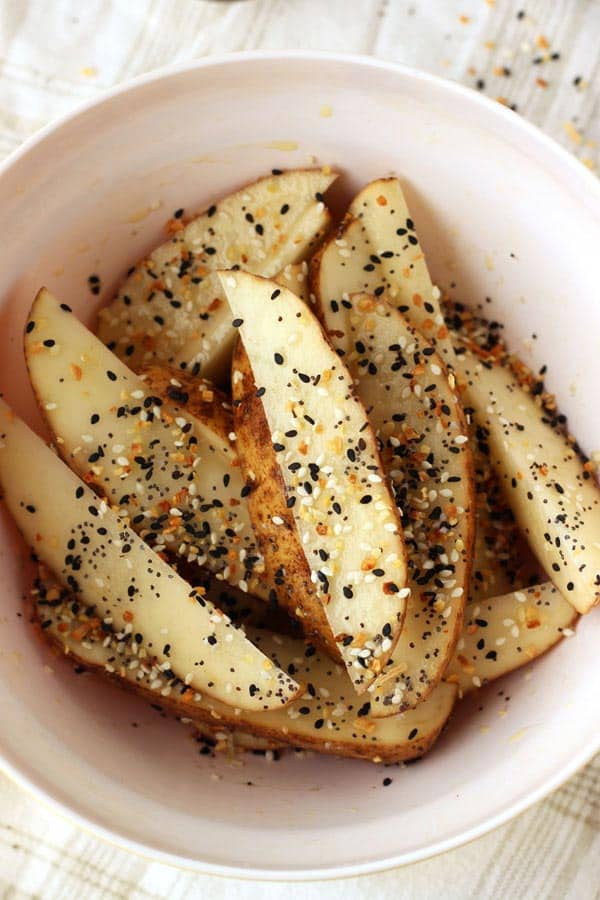 3. Add the sliced potatoes to a large bowl. Drizzle the oil over the potatoes and sprinkle with your seasonings of choice. For the potatoes pictured we used a tablespoon of Trader Joe's Everything But The Bagel Seasoning.
With clean hands, toss everything together to make sure all of the potatoes are coated in the oil and seasoning.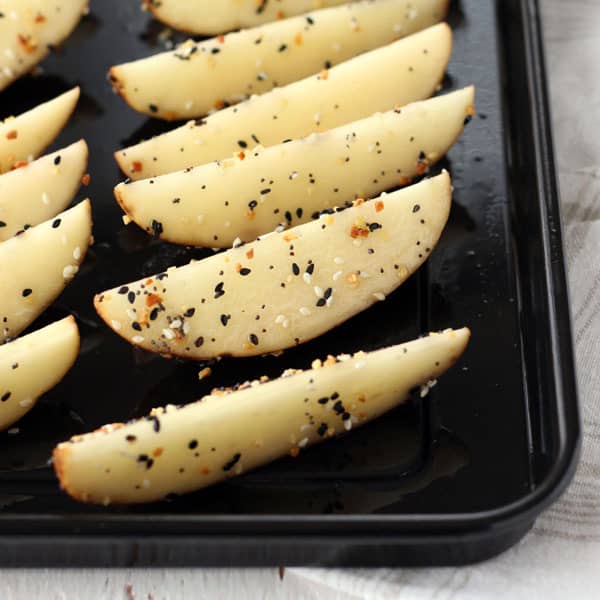 4. Arrange the wedges with their skins touching the pan and the wedge portion facing up. This will keep the fries from sticking to the pan and tearing.
5. Bake for 15 minutes, then carefully remove the pan and use a fork to knock the wedges onto their sides so they'll crisp up more evenly.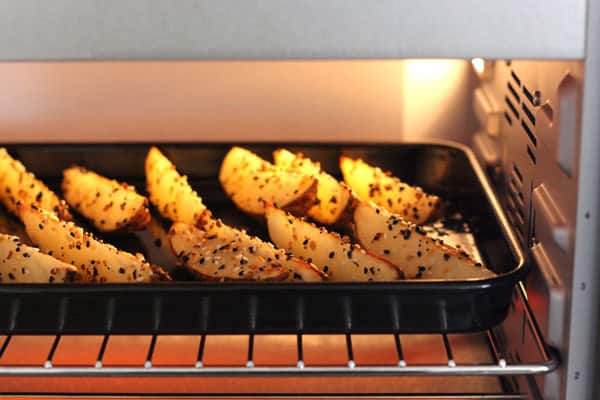 Since all toaster ovens bake differently, this is also a good time to take note of how the fries are cooking:
Already browned all over, reduce the temperature to give the center of the wedges enough time to bake through.
Barely any browning, try turning the temperature up to help them along.
6. Continue baking the potatoes until they are fork-tender, golden, and crisped on the edges. This should take about 15 to 20 minutes but could be longer depending on how thick your wedges are and how crispy you like them.
7. Once ready, let the wedges cool for a few minutes. Then, dig in!
Convection Toaster Oven Adjustments
The rule of thumb when cooking with a convection toaster oven is to reduce the temperature by 25°F and check on the food early. But that's not always necessary.
When I make these wedges in our convection toaster oven I like to start the wedges at 400°F. Then increase the temperature to 425°F after the first 15 minutes of cooking.
The first time you make the wedges, start them at 400°F and then adjust the cooking time and temperature as needed.
Learn More >>> Everything You Need to Know About Convection Toaster Ovens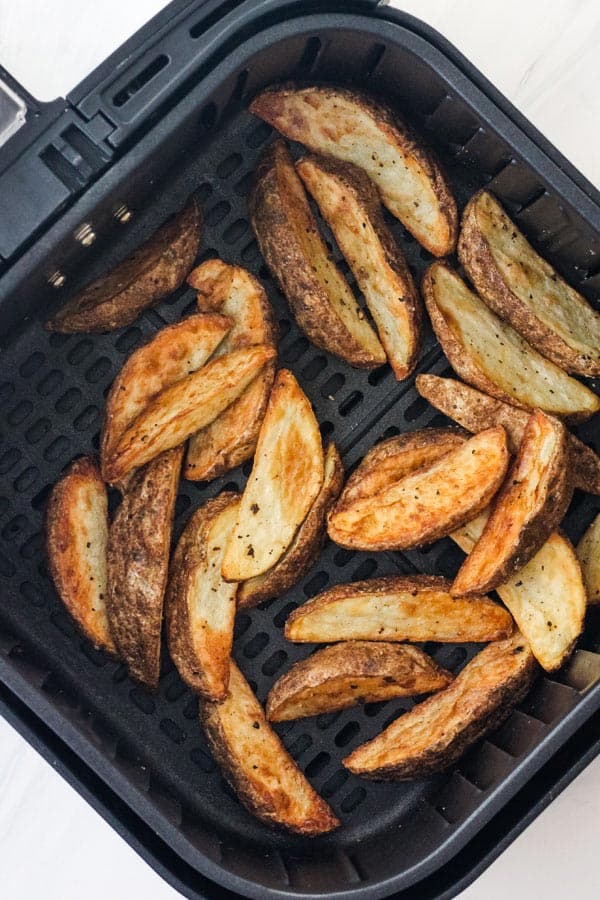 Can you air fry potato wedges?
Yes, and they taste delicious! Here are a few changes that you'll want to make to the recipe:
Preheat the air fryer to 400F for about 5 minutes.
Oil and season the wedges as directed, then arrange them on their sides (instead of upright) in the air fryer basket.
If you're using an air fryer toaster oven, make sure there is a pan under the basket to catch any oily drips.
Cook for 10 minutes, then carefully flip the wedges, and continue cooking until tender and crisp, about 5 to 10 minutes more.
In our drawer-style air fryer, the wedges were ready after just 15 minutes.
Air fryer toaster ovens tend to take a little longer. The batch we made in the Ninja Foodi 13-in-1 Dual Heat Oven using the Air Roast setting were ready after about 20 minutes.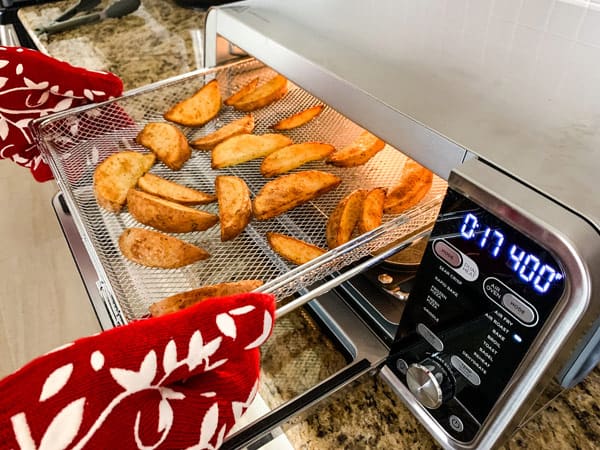 More Toaster Oven Potato Recipes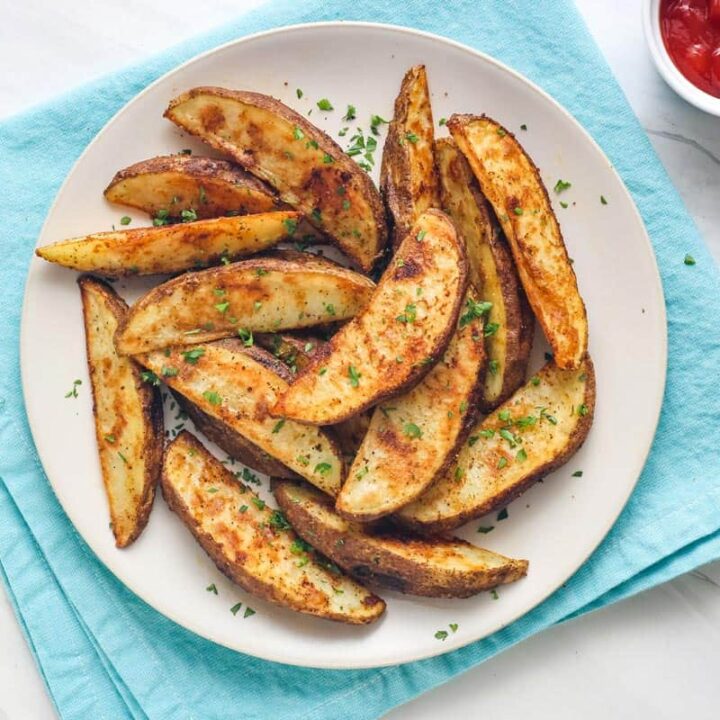 Toaster Oven Potato Wedges
With crispy edges and creamy middles, these wedges taste like a mashup of baked potatoes and french fries! Try sprinkling the baked wedges with grated parmesan cheese or just enjoy them with your favorite dipping sauce - it's impossible to go wrong. 
Ingredients
2 Medium Russet Potatoes (about 13 ounces or 370 grams), scrubbed and dried well
2 to 3 teaspoons Olive Oil
½ teaspoon Salt
¼ teaspoon Black Pepper
¼ teaspoon Garlic Powder
¼ teaspoon Smoked Paprika
Instructions
Adjust the cooking rack to the bottom placement, select the BAKE setting, and preheat the toaster oven to 425°F.
To cut the potato wedges: slice the potatoes in half lengthwise and then slice each half into quarters. You should have 8 wedges total for each medium or large potato. Cut smaller potatoes into quarters.
In a large bowl combine the wedges, oil, salt, pepper, garlic powder, and paprika. With clean hands toss everything well making sure to coat all of the pieces with the oil and seasonings.
Arrange the seasoned wedges in a single layer, with the skins facing the pan.
Bake for 15 minutes then carefully remove the hot pan. Use a fork or tongs to tip each wedge onto its side. Continue cooking until the fries are browned, crisped, and fork-tender, about 15 to 20 minutes more.
Let the wedges cool for a few minutes, then devour.
Notes
Potatoes to Oil Ratio: You want the potatoes to be well coated but not swimming in the oil. We usually start with 2 teaspoons and then add more if needed.

Convection: Reduce the temperature to 400°F, check on the wedges after 15 minutes, and increase the temperature to 425°F if you feel they are not cooking/browning fast enough.

Air Frying: Preheat air fryer at 400°F for 5 minutes. Add seasoned wedges to the air fryer basket and cook for 10 minutes. Flip and continue cooking until tender and browned, about 5 minutes more for a drawer-style air fryer and 10 minutes more for an air fryer toaster oven.

Cooking method adapted from Creme De La Crumb's Parmesan Wedges.
Nutrition Information:
Yield:

2
Serving Size:

8 wedges
Amount Per Serving:
Calories:

188
Total Fat:

4.9g
Saturated Fat:

0.7g
Cholesterol:

0mg
Sodium:

590mg
Carbohydrates:

33.9g
Fiber:

2.6g
Sugar:

1.3g
Protein:

4.1g