Toaster Oven Baked Potato Wedges
Toaster Oven Baked Potato Wedges are much healthier and way better tasting than takeout. Toss with Everything Bagel seasoning for the ultimate snack, side dish, or appetizer.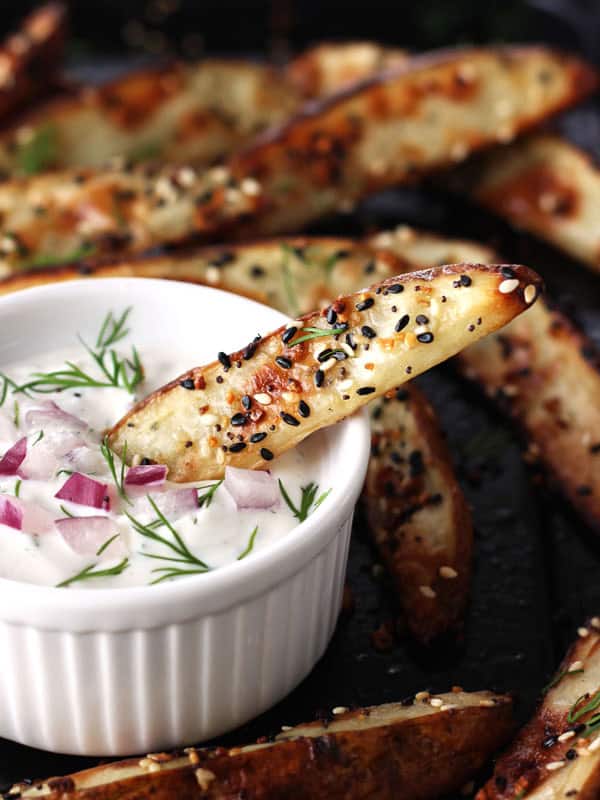 Even with just salt and pepper, they're addictive. Potato wedges are the perfect cross between a baked potato and french fries. Like these super popular roasted sweet potato rounds, they're crispy on the outside but creamy and tender inside.
So why haven't we shared the recipe sooner?
A Sticky Potato Situation
It's important to Tim and I that you have the best chance of recreating the same tasty recipe results in your toaster oven or countertop oven as we did in ours.
Since we're home cooks and not trained chefs, that means lots of recipe testing. If we can't get the same results at least 3 times, that recipe doesn't get posted.
We've been making these crispy potato wedges for years. But every second or third batch some would stick, tearing the wedges and leaving half of the french fry on the pan.
More oil just made them soggy and using a silicone baking mat kept the wedges from crisping enough.
Then, I saw this post from Creme De La Crumb. Instead of laying the potato wedges on their sides, she places them skin-side-down on the baking sheet. Pure Genius!
After giving the method a few tries, we found that knocking the wedges over onto the pan halfway through the cooking time leads to the best all-over-browning.
Finally, an easy recipe for crispy potato wedges that won't stick!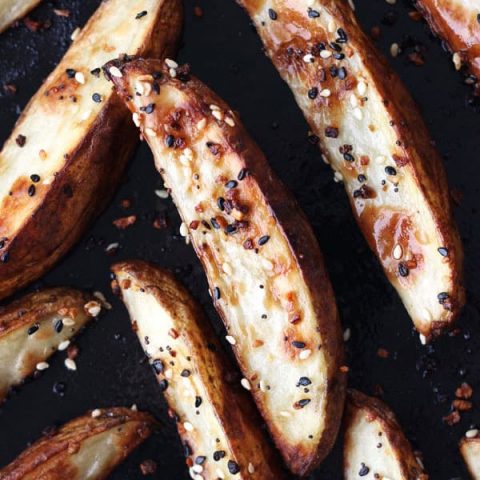 Toaster Oven Baked Potato Wedges Recipe
Easy to customize, these crispy and creamy baked potato wedges taste better than takeout.
Ingredients
3 teaspoons oil, (olive oil, coconut, canola, etc.)
12 to 16 ounces russet or baking potatoes, scrubbed well, dried, and sliced into wedges
1 tablespoon Everything Bagel Seasoning
Instructions
Adjust the cooking rack to the bottom position and preheat your toaster oven to 400 degrees F.
Rub 1 teaspoon of the oil over a baking sheet or roasting pan.
Place potato wedges in a large bowl and toss with remaining 2 teaspoons oil (use your hands to rub the oil all over and coat well). Add seasoning and toss again.
Arrange wedges in a single layer, with skin sides facing down, and bake for 15 minutes.
After 15 minutes remove pan from the toaster oven and using a fork or tongs tip each wedge onto its side.
Return to toaster oven and cook until golden and crisped, about 15 to 20 minutes more.
Serve potatoes wedges warm with yogurt dill sauce (recipe below) for dipping.
Notes
Convection Toaster Ovens: Reduce the temperature to 375 degrees F. Bake wedges upright for 15 minutes then cook on sides for an additional 10 minutes or until crispy.
How To Cut The Wedges: Slice potatoes in half lengthwise and then slice each half into quarters. You should have 8 wedges total for each medium and large potato. Cut smaller potatoes into quarters.
Nutritional information is an estimate for 1 of 3 servings made with everything bagel seasoning.
Cooking method adapted from Creme de la Crumb.
Nutrition Information:
Yield:

3
Serving Size:

1/3 of Recipe
Amount Per Serving:
Calories:

256
Total Fat:

5g
Saturated Fat:

1g
Sodium:

320mg
Carbohydrates:

46g
Fiber:

4g
Sugar:

2g
Protein:

5g
What About Seasoning And Dip?
You can go simple with a few heavy shakes of sea salt and black pepper.
But if you've got a Trader Joe's nearby their Everything But The Bagel seasoning blend was meant for these potato wedges. And what goes better with Everything Bagels?
A tangy Greek yogurt dip made with:
pungent garlic
fresh dill
and chopped red onion.
The combo is fantastic, though it is garlic breath city. Probably not the best idea before a big job interview or first date. But as a late night snack for yourself or with your sweetie, it's perfect!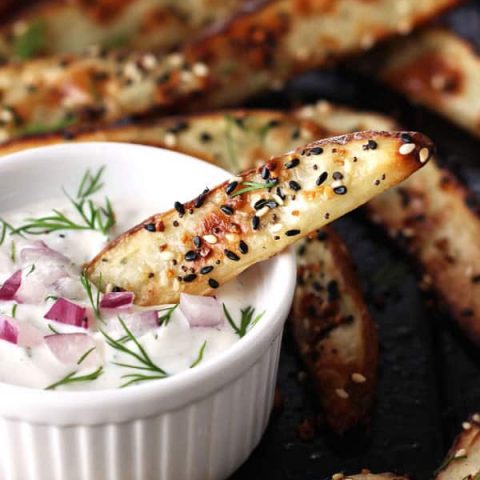 Yogurt Dill Dipping Sauce
A tangy yogurt dip with garlic and fresh dill.
Ingredients
1/2 cup nonfat plain Greek yogurt
1/8 teaspoon garlic powder
1/8 teaspoon fine sea salt
1/8 teaspoon ground black pepper
1/2 teaspoon lemon juice
2 tablespoons fresh dill weed
2 tablespoons red onion or shallot, finely chopped
Instructions
In a small bowl stir together Greek yogurt, garlic powder, sea salt, pepper and lemon juice.
Stir in dill and shallots.
Serve with warm toaster oven baked potato wedges.
Notes
Nutritional Information is an estimate for 1 of 3 servings of dip.
You can substitute 2 teaspoons dried dill for the fresh dill.
Nutrition Information:
Yield:

3
Serving Size:

1/3 of Recipe
Amount Per Serving:
Calories:

29
Total Fat:

0.1g
Cholesterol:

1mg
Sodium:

83mg
Carbohydrates:

3g
Sugar:

1.5g
Protein:

4.2g
Toaster Oven Potato Wedges 101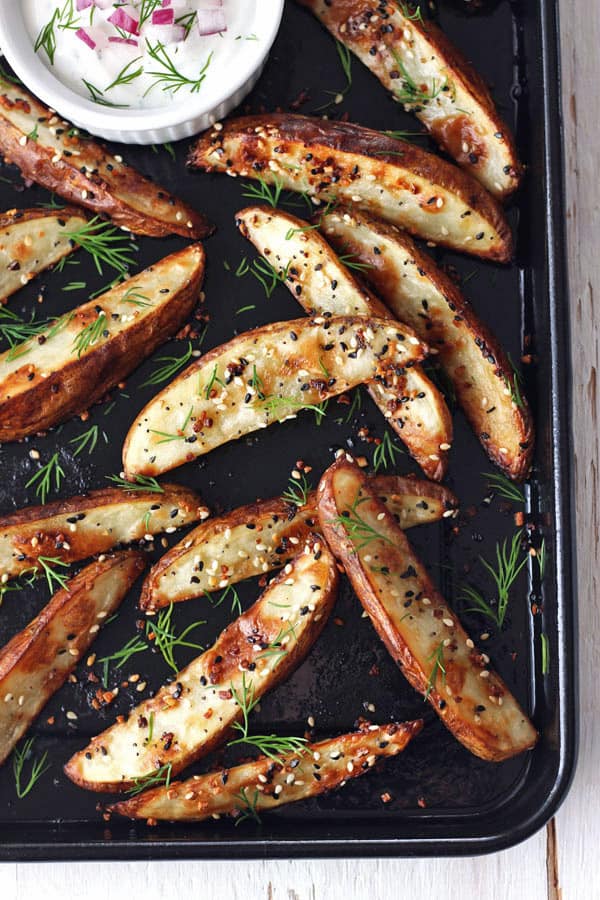 STEP 1 – Preheat The Toaster Oven and Prep Your Pan
Adjust the cooking rack to the lowest position, select the BAKE function, and preheat your toaster oven to 400 degrees F. If you're cooking with a convection toaster oven, reduce the temperature to 375 degrees F.
Rub 1 teaspoon of the oil on your pan, this will help to keep the wedges from sticking during baking.
STEP 2 – Slice and Season Your Potato Wedges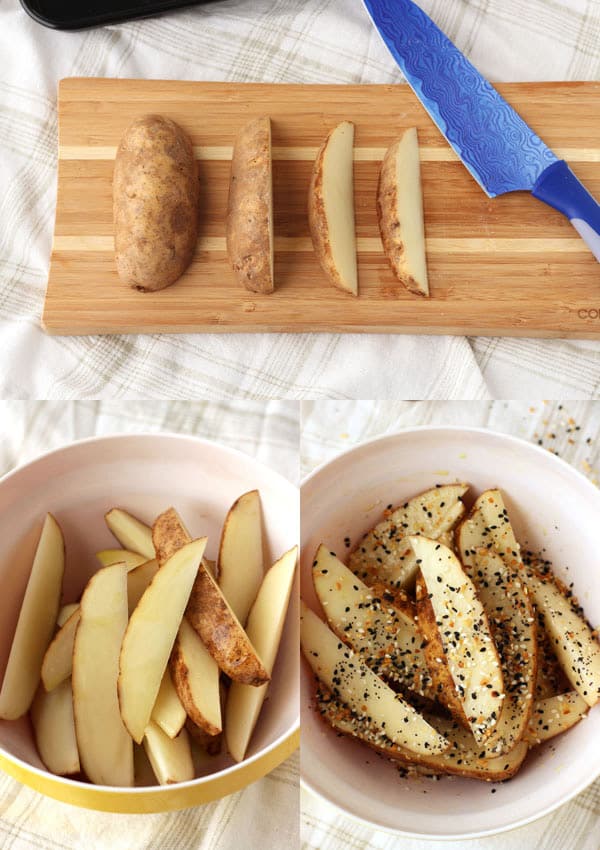 For large potatoes, start by slicing the potatoes in half lengthwise. Then, slice each half into quarters. You should have 8 wedges for each potato.
If you're working with small spuds (like red potatoes) you'll want to slice those into quarters only. This way your fries won't be too thin.
Now add the wedges to a large bowl and drizzle with the remaining oil. Just like with these Quick Baked Potatoes, use your hands to rub the oil over the potatoes. It will ensure all of them get coated well and help the seasoning stick.
Lastly, add your seasoning of choice and toss the wedges once more.
If you don't have a Trader Joe's nearby and want to make your own Everything Bagel seasoning blend we found a recipe on food.com and one on thekitchn.com. Both look delicious!
STEP 3: Bake Your Wedges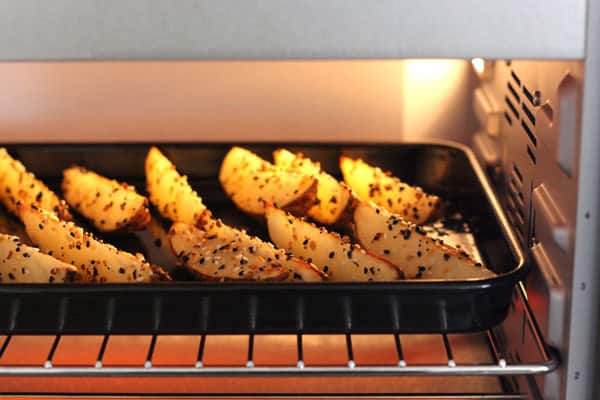 Arrange the wedges on your oiled pan in even rows with their skins touching the pan. Then pop them in the oven to bake.
After 15 minutes you'll want to take the pan out and use a fork or spatula to knock each wedge over onto its side. You can skip this part if you want but we've found it really helps the wedges get nicely browned and crisped on the outside.
Continue baking the potatoes until they are fork-tender, golden, and crisped. This should take about 15 to 20 minutes more depending on your oven.
Let the wedges cool for a few minutes while you prepare your favorite dipping sauce. Then, dig in!