Toaster Oven Blueberry Muffins
Toaster Oven Blueberry Muffins with crunchy tops and tender middles. Whip up a batch in less than 30 minutes using fresh or frozen blueberries.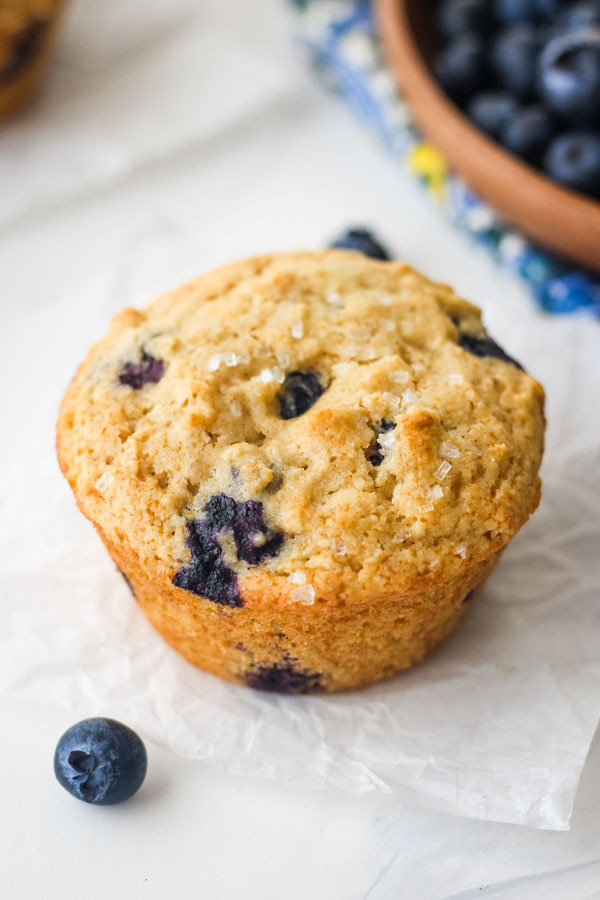 We bake a batch of toaster oven muffins almost every week in our house. I love that you can enjoy just one or two and toss the rest in the freezer.
Reheated in your toaster oven and slathered with butter, they make a delicious snack or dessert. (Since, you know, they're basically unfrosted cupcakes)
Some weeks I make mini banana muffins using this toaster oven banana bread recipe. If we're craving something more savory, cornbread zucchini muffins always scratch that itch (especially if you stir in a little parmesan cheese).
But during the summer, we're ALL about the juicy berries.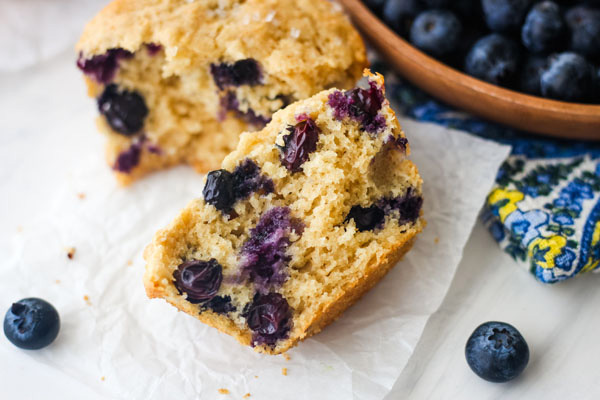 Below is our go-to recipe for baking blueberry muffins in a toaster oven or countertop oven. It's a basic small batch recipe that makes just 6 muffins and calls for simple pantry and fridge ingredients.
You can use fresh or frozen berries (just don't thaw them). Frozen wild blueberries are my favorite because they're smaller so you get even more delicious berry flavor in each bite.
This recipe is also easy to adapt to what you have on hand. If you happen to be out of something, keep scrolling after the recipe card we've included LOTS of ingredient substitutions.
Happy Baking!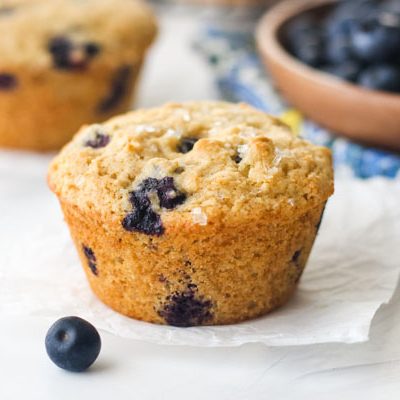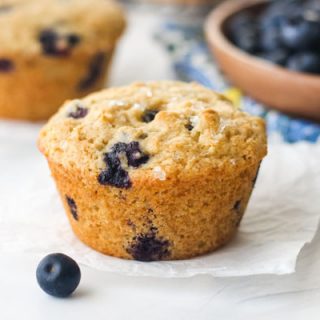 Toaster Oven Blueberry Muffins
Small batch blueberry muffins you can bake in a toaster oven.
Ingredients
Cooking oil spray
1/4 cup ricotta cheese (or plain yogurt, Greek yogurt, or sour cream)
1/4 cup milk
1 large egg, beaten
1/3 cup granulated sugar
3 tablespoons canola oil
3/4 teaspoon vanilla extract
1 cup flour
1½ teaspoons baking powder
1/4 teaspoon salt
2/3 cup fresh or frozen blueberries (do not thaw)
Sparkling Sugar, for topping, optional
Instructions
Adjust the cooking rack to the bottom position (for small ovens) or middle position (for large ovens) and preheat your toaster oven to 375°F on the BAKE setting.
Coat a 6-cup muffin tin with cooking oil spray.
In a large bowl whisk together the ricotta, milk, and egg. Add the sugar, oil, and vanilla, and whisk until smooth.
In a small bowl combine the flour, baking powder, and salt. Add the blueberries and gently toss to coat.
Fold the dry ingredients into the wet and mix until a few streaks of flour remain.
Scoop batter into prepared pan and sprinkle the tops with a little sugar.
Bake until a toothpick inserted in the center comes out clean or with a few crumbs attached about 15 to 17 minutes.
Remove muffins from oven and allow to cool in the pan for 5 minutes before transferring to a wire rack to cool completely.
Notes
For Convection Toaster Ovens reduce temperature to 350F. Muffins be done earlier or take the same amount of time - so check on the early and add time as needed.
Recipe Adapted from Joy of Cooking.
See post for ingredient substitutions.
For Blueberry Lemon Muffins: Stir in 1/2 teaspoon fresh lemon zest and 2 teaspoons lemon juice.
Nutrition Information:
Yield:

6
Serving Size:

1 muffin
Amount Per Serving:
Calories:

163
Total Fat:

8.2g
Saturated Fat:

1g
Cholesterol:

32mg
Sodium:

134mg
Carbohydrates:

19.20g
Fiber:

0.8g
Sugar:

15.1g
Protein:

4.2g
Toaster Oven Blueberry Muffins Ingredient Substitutions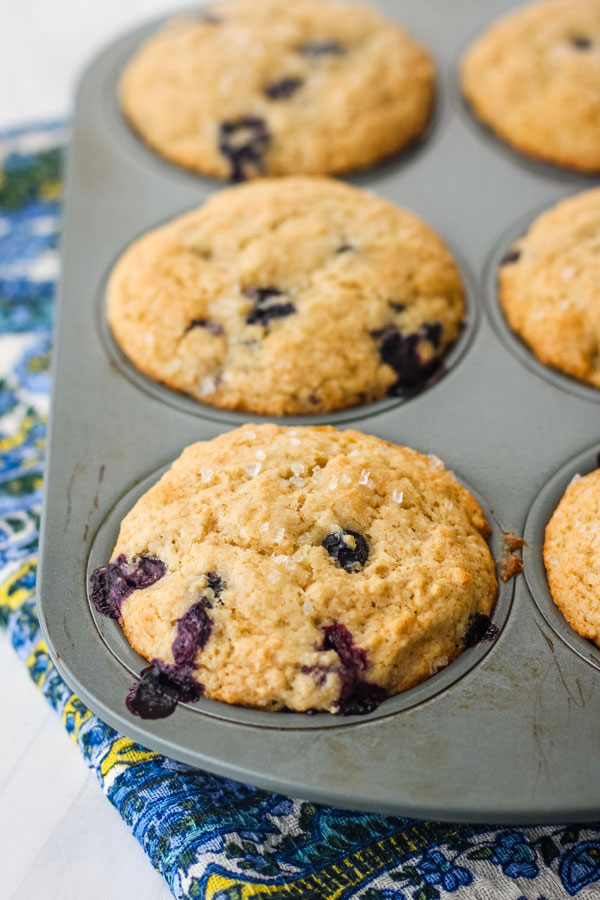 FLOUR:
For super tender muffins use All Purpose Flour.
Muffins made with white whole wheat flour will be a little heartier. FYI: The muffins pictured in this post were made with WWW flour.
If you're craving tender whole grain muffins – try a 50/50 split of All Purpose Flour and either White Whole Wheat Flour or Whole Wheat Pastry Flour.
I'm not sure if ALL gluten-free flour blends will work but the muffins we've made with Bob's Red Mill 1-to-1 Gluten Free Flour always turn out light and fluffy.
DAIRY:
I LOVE to make these muffins with whole milk ricotta, the crumb is so tender and flavorful. If we're out of ricotta, I reach for regular or Greek 2% yogurt or sour cream.
Skim milk, whole milk, cream, and almond milk will all work. If you ever find yourself with a little canned coconut milk, making muffins is a tasty way to use it up.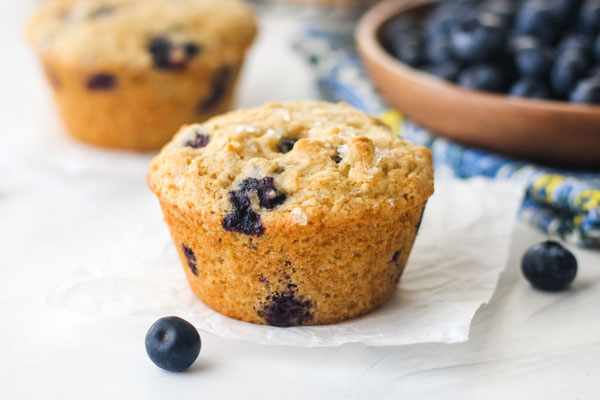 OIL:
Neutral oils like canola or grapeseed are easy options.
I actually prefer to make these muffins with coconut oil but I hate waiting for the egg, milk, and yogurt to come to room temperature so the oil doesn't harden. If you have more patience than me, give it a try. The subtly sweet coconut flavor is delish!
You can also substitute melted butter for the oil, just make sure it's cooled before adding to the batter (so you don't accidentally cook your egg).
SUGAR:
You can use white sugar, brown sugar, or a mix of the two.
If you want to add extra sweetness and crunch to your muffins, sprinkle the tops with sparkling sugar or coarse sugar.
Also, if you prefer a less sweet muffin, you can reduce the sugar to 1/4 cup.
I tried a batch substituting all of the sugar with a sugar-replacement called Swerve. I thought the muffins tasted just okay. But Tim really enjoyed them and said he'd never have guessed they were sugar-free.
FRUIT:
You can substitute any combo of fruit or nuts you'd like for the blueberries, just keep the total around 2/3 cup. My all-time favorite combo is canned pineapple + unsweetened shredded coconut. Chopped strawberries with lemon zest are pretty delicious too. Get creative with your flavors and have some fun!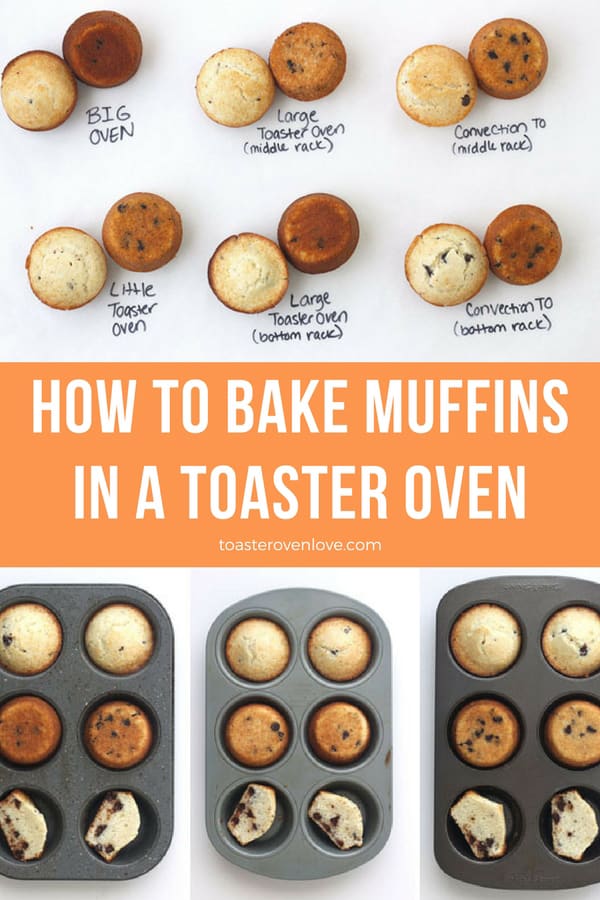 If you're looking for more toaster oven muffin tips check out Our Big Fat Toaster Oven Muffin Experiment.