Small Batch Cake Mix Cookie Bars
Thick, chewy, and super delicious, these Small Batch Cake Mix Cookie Bars are a quick and easy treat you can bake in your oven or toaster oven. With boxed cake mix as the base, your flavor options are endless!
You may also like this Blueberry Coffee Cake or these 2-Ingredient Cake Mix Pumpkin Muffins, both use half a cake mix.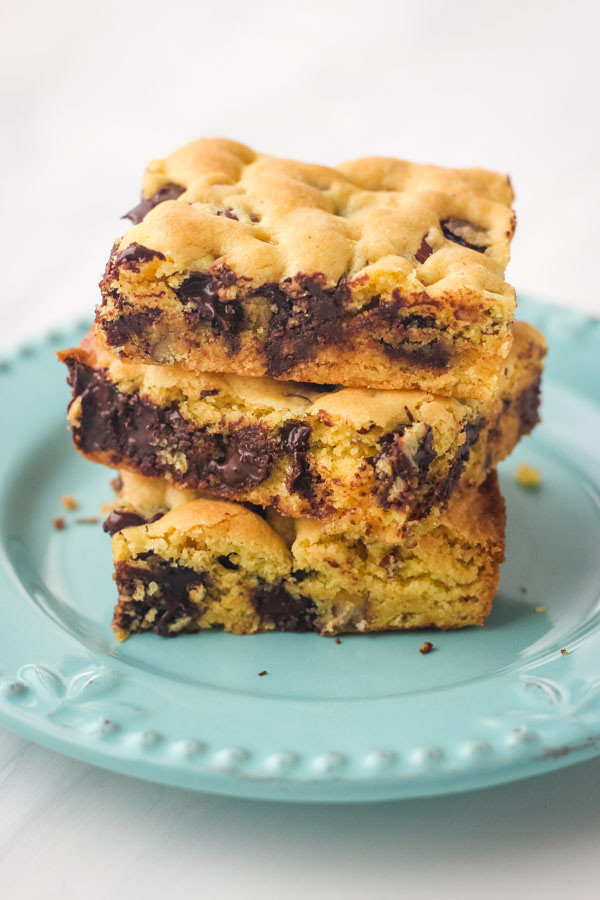 Last month I tried baking these Small Batch Cake Mix Cookies in our smallest toaster oven and quickly ran into a problem.
The cookies spread (a lot) during baking so I could only fit two on the little sheet pan. At that rate, it was going to take forever to bake a whole batch.
So I grabbed a baking pan, dumped all the batter in, and came up with a tasty solution: Small Batch Cake Mix Cookie Bars!
This smaller version of your traditional cake mix cookie bars is made with just half a cake mix, an egg, and oil. *If you've never divided a box of cake mix before, this post for how to make half a cake mix has some helpful photos and tips.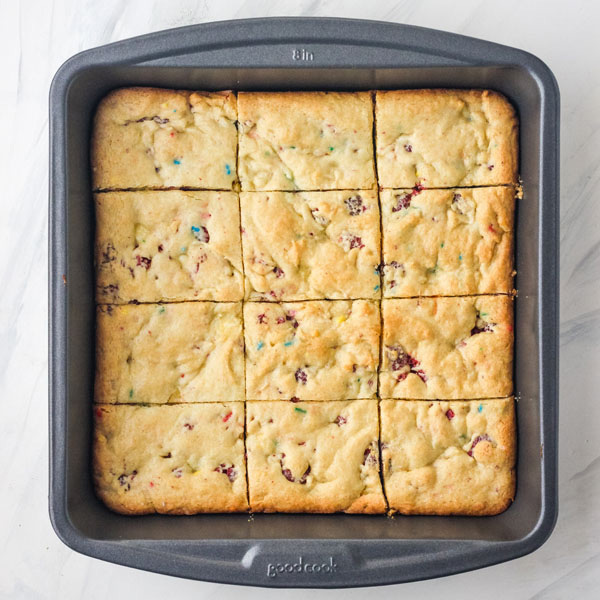 Baking Pans
One thing to note is that the type of pan and oven used will determine how thick the bars end up and how fast or slow they will bake.
Of all the batches we've baked, the ones cooked in an 8 x 8 square pan have turned out the best. They took about 14 to 15 minutes in our countertop oven and in our traditional 'big' oven.
I used the 10.75 x 7.5 cake pan from one of our Toaster Oven Pan Sets to make a batch using convection (with the temperature reduced to 325°F). Because the batter was spread out more it was ready faster (after about 12 minutes) and resulted in thinner (but still delicious) bars.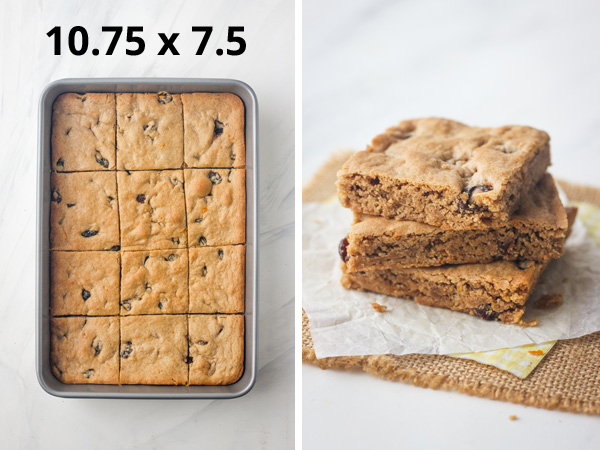 A deeper pan will likely take longer to bake. The batch I made in our 8½ x 4½ loaf pan took about 20 minutes. While they were thick and fudgy in the middle the edges and top were way overcooked. Next time I use that pan, I'll try lowering the temperature to 325°F.
Our smaller toaster oven is less wattage and tends to bake slower. The batch I made in our 8.5 x 6.5 Nordic Ware Compact Oven Pan took over 20 minutes.
To keep from overbaking our bars in any oven, I start checking on them after 12 or 13 minutes and then add more time as needed.
Top Tips
The batter is super thick and sticky. It's easiest to spread evenly in your pan if you use a silicone spatula.
The bars will continue cooking as they cool. To keep from overbaking, take the bars out of the oven once they are set but still soft.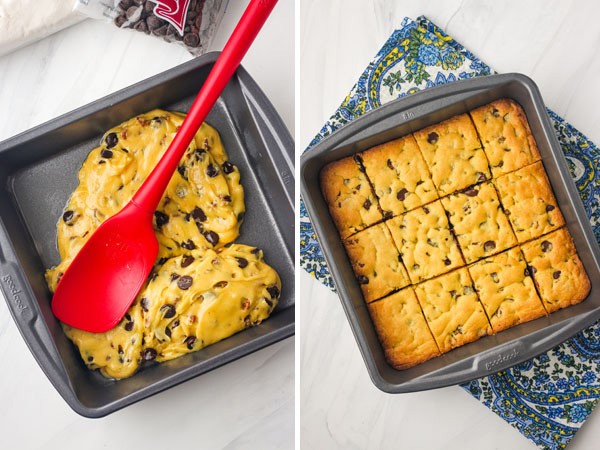 Wait to slice them until they have cooled completely. I like to use a plastic knife since it's less likely to damage the pan and makes nice even cuts.
Try experimenting with different flavored cake mixes and mixins. Lemon cake with freeze-dried raspberries is perfect for spring. Spice cake with raisins and orange zest has a fun autumn vibe. And chocolate cake with a swirl of peanut butter is crazy delicious!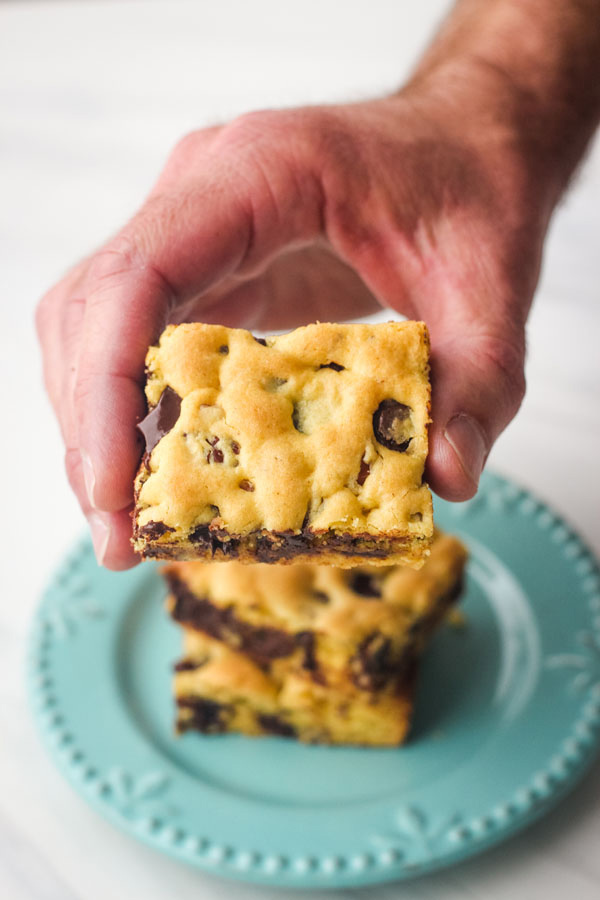 Tim and I like to cut the bars into 12 smaller pieces as they are very sweet. Since it's just the two of us, we usually enjoy a few and toss the leftovers in the freezer.
They defrost pretty quick and taste extra indulgent served with a scoop of vanilla ice cream.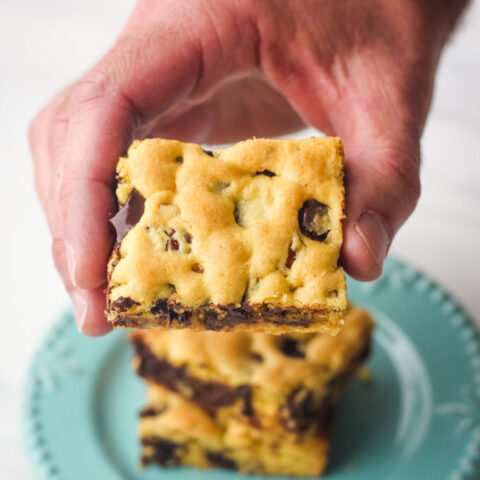 Small Batch Cake Mix Cookie Bars
Transform half a cake mix into something special with these thick and chewy bars. We like to add chocolate chips and pecans but you can use whatever mixins you want!
Ingredients
1 Large Egg
3 tablespoons Neutral Oil (see note)
7.62 Ounces Yellow Cake Mix, about 1⅔ cups (see note)
1/3 cup Semi-Sweet Chocolate Chips
1/4 cup Toasted Pecan Pieces
Instructions
Preheat your oven to 350°F. If using a toaster oven adjust the cooking rack to the bottom position and select the BAKE setting.
Coat an 8 x 8 baking pan with cooking oil spray, set aside.
In a large bowl whisk together the egg and oil. Stir in the cake mix until well combined. Fold in the chocolate chips and chopped pecans. (The mix will be very thick and sticky)
Transfer batter to the prepared pan and use a silicone spatula to spread into an even layer. Alternatively, you can lightly moisten or oil your hands and press the batter into the pan.
Bake until the edges are golden brown and the center is set but still soft, about 15 to 22 minutes depending on the type of pan and oven used. To avoid over-baking, begin checking for doneness after 13 or 14 minutes and add more time as needed.
Allow the pan to cool completely before slicing into bars and gobbling up!
Notes
Oil: We've made these cookie bars using canola oil, olive oil, avocado oil, and grapeseed oil. An equal amount of melted and cooled butter can also be used.

Cake Mix Measurements: This recipe uses half of a 15.25-ounce boxed cake mix. You can find tips for dividing a box of cake mix here.

Mixes: Yellow cake mix has that great cake batter-style flavor but you can use any variety you want. We've tried Betty Crocker and Pillsbury mixes. Other brands may or may not give the same results.
Nuts: Add any type of nuts you want. We used pecans because they were in the pantry and are very tasty with chocolate. Here's how to toast nuts in a toaster oven. If you don't like nuts, omit them.

Pans: See post above for different pan ideas and baking time changes.

Convection Adjustments: Reduce the temperature to 325°F. Begin checking for doneness after 11 or 12 minutes and add more time as needed.
Storage
Store cooled cookie bars in a sealed container for up to 3 days.
To freeze cookie bars, cool them completely and add to a freezer-safe bag in a single layer. For the best flavor, eat within 3 months.
To defrost frozen cookie bars, leave at room temperature for about 10 to 15 minutes.

Nutrition Information:
Yield:

12 Cookie Bars
Serving Size:

1 Cookie Bar
Amount Per Serving:
Calories:

147
Total Fat:

8.3g
Saturated Fat:

1.9g
Cholesterol:

16mg
Sodium:

117mg
Carbohydrates:

17.2g
Fiber:

0.5g
Sugar:

9.9g
Protein:

1.9g