Vegetable Pot Pie For Two
This Vegetable Pot Pie For Two Recipe is the perfect dinner to warm you up on a chilly night. It features tender veggies in a creamy homemade sauce topped off with a flaky buttery pie crust!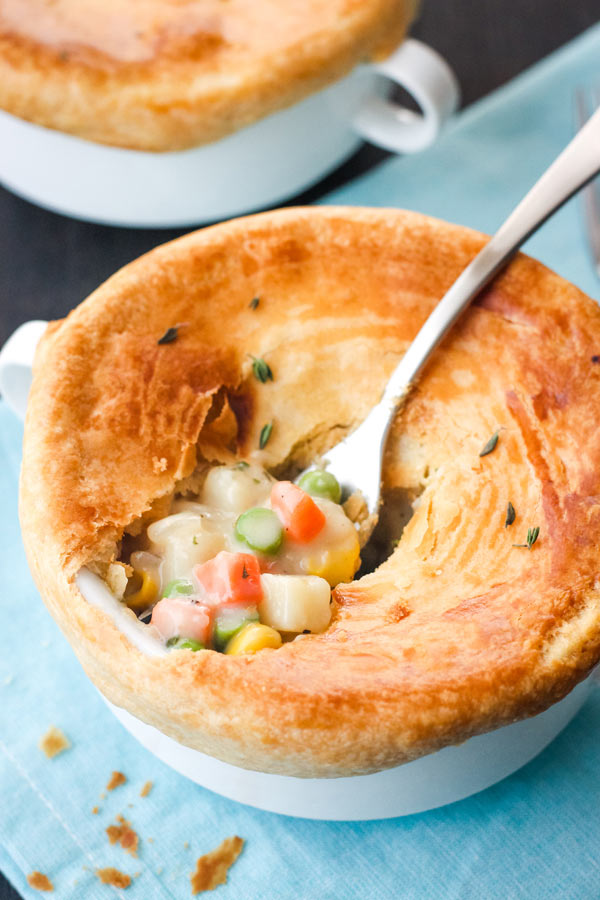 Like these Spaghetti Squash Burrito Bowls or a Stuffed Acorn Squash, when I'm craving cozy vegetarian comfort food this vegetable pot pie recipe always delivers.
It takes some time to throw together, but the steps are pretty straightforward:
Chop and saute a few vegetables.
Make a quick herb sauce.
Throw the creamy veggie filling into a baking dish.
Top it off with premade pie crust.
Bake until golden, buttery, and delicious.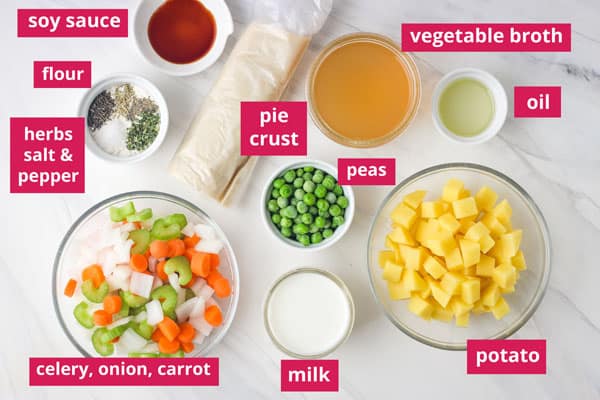 Here's What You'll Need
Half a roll of store-bought Pie Dough: Yep, just half. If you're not sure what to do with the other half, may I suggest these small-batch apple hand pies?
Pantry Staples: Olive oil, salt, flour, and dried herbs. We use thyme, parsley, and rosemary – they make quite a flavorful trio.
Vegetables: Chopped onion, carrot, celery, and potato. Plus a handful of frozen peas too!
Whole Milk and Vegetable Broth: to make a creamy sauce.
Soy Sauce: Just a splash adds an earthy, almost 'meaty' flavor to this meatless dish.
Veggie Shortcuts
Chopping fresh vegetables can be a little time-consuming. If you're looking to speed things up you can omit the carrot, celery, potato, and peas and substitute about 2 to 2 ¼ cups of canned or frozen mixed vegetables.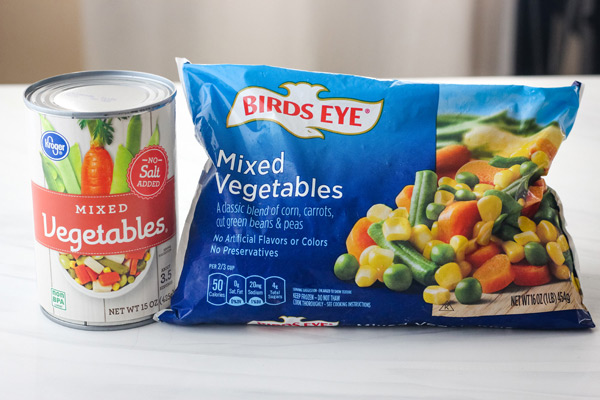 To Use Frozen Vegetables: Measure out what you need, thaw and drain the veggies, and stir them in once the sauce has thickened.
Canned Vegetables: Drain the vegetables into a colander. To keep them from getting mushy, wait to stir them in until the sauce has thickened to your liking. Since canned veggies tend to look a bit lethargic I still toss in the frozen peas for a pop of bright color.
How to Make Vegetable Pot Pie For Two
1. Chop the onion, carrot, celery, and potato. If the vegetable pieces are too large they will take forever to cook. So try to chop them about 1/4-inch thick.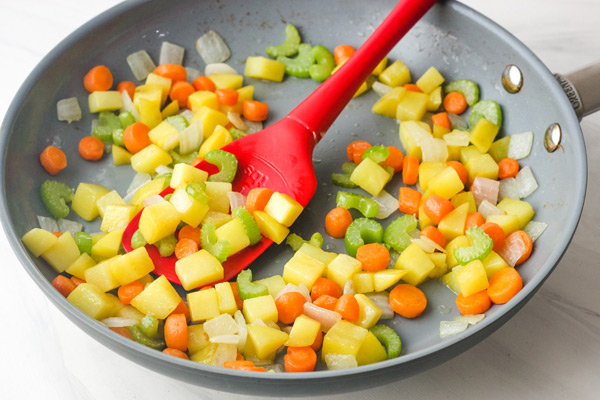 2. Heat the olive oil (or butter if you prefer) in a skillet, add the veggies and sauté them until tender, about 7 to 10 minutes.
Potato Tip
Once the vegetables appear softened grab a fork and double-check that the potatoes are tender. Nothing ruins a pot pie like crunchy potatoes!
3. Sprinkle the flour, salt, and dried herbs over the cooked vegetables. Give everything a good stir to make sure all of the veggies are coated and cook for 1 minute.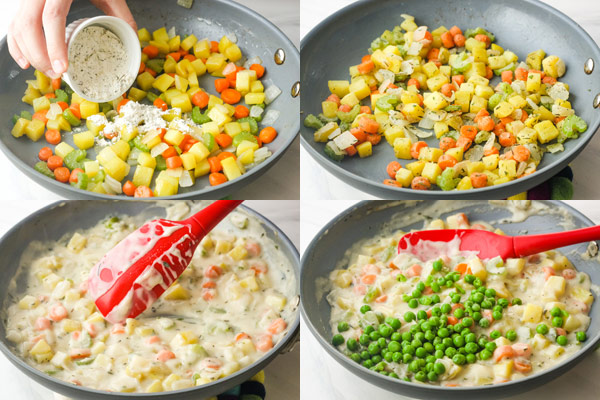 4. Slowly stir in the broth and milk. You'll want to be a little aggressive with the stirring here to make sure the flour dissolves into the liquid. This will help to prevent clumps in your sauce. 
5. Turn up the heat, and simmer for a few minutes, stirring often, until the sauce has thickened. Once the sauce has thickened enough to coat the back of a spoon, dump in the peas and remove the pan from the heat.
If the sauce ends up a little too thick, slowly whisk in more vegetable broth, 1 tablespoon at a time, until it's your desired thickness. 
6. Roll out the crust and pour the filling into your pan. Cover the filling with the dough, pressing down the edges against the baking dish to seal.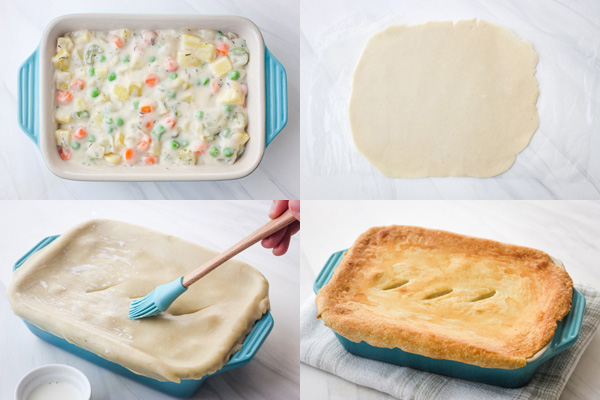 7. Cut vents in the crust (to let the steam out). Then lightly brush the pie dough with milk, cream, half and half, or an egg wash. 
An egg wash is a good option if you have half an egg leftover from another recipe as it will give you the shiniest golden-colored crust.
We always have milk or half and half on hand so that's what I tend to use. If you're curious as to how different washes affect pastry dough, Epicurious has a quick article that does a great job of breaking each one down. 
8. Once you've got your pie assembled, bake it at 375°F until the filling is bubbly and the crust is golden about 20 to 25 minutes. Let the pot pie sit for 10 minutes before dishing it up and digging in!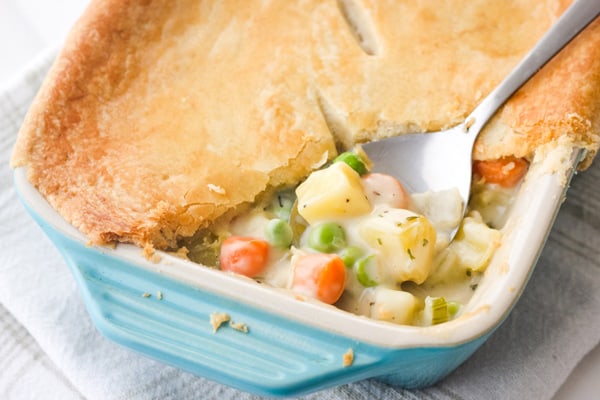 Baking Dish Options
As written, this recipe makes about 20 ounces of filling. I usually cook it in a 7 x 5-inch stoneware baking dish that holds 22 ounces. For a pair of cute individual pot pies, grab two 12-ounce ramekins or gratin dishes.
Quick Tip: Place the ramekins on a rimmed sheet pan before baking. It will make it easier to remove them from the oven and the pan will catch any spillover!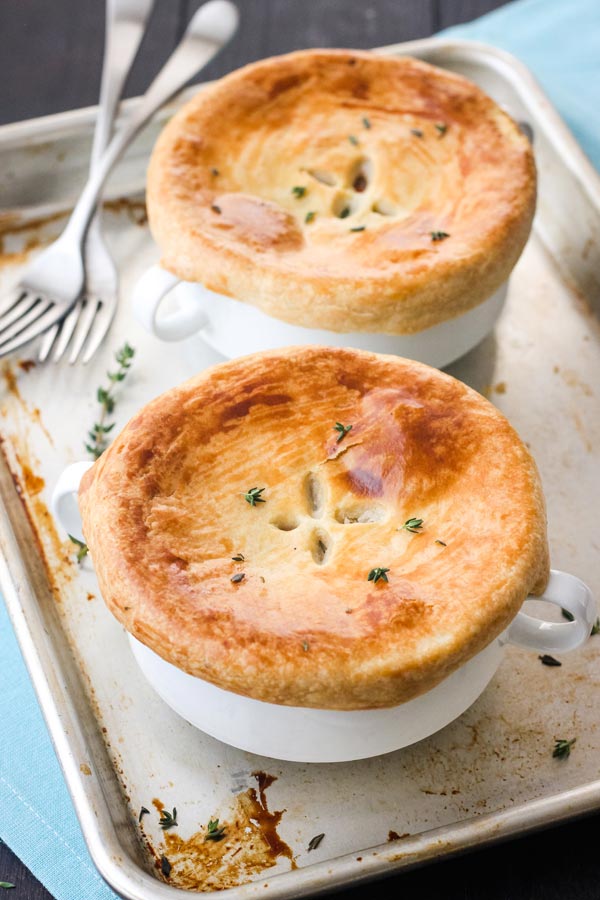 More Tasty Vegetarian Comfort Food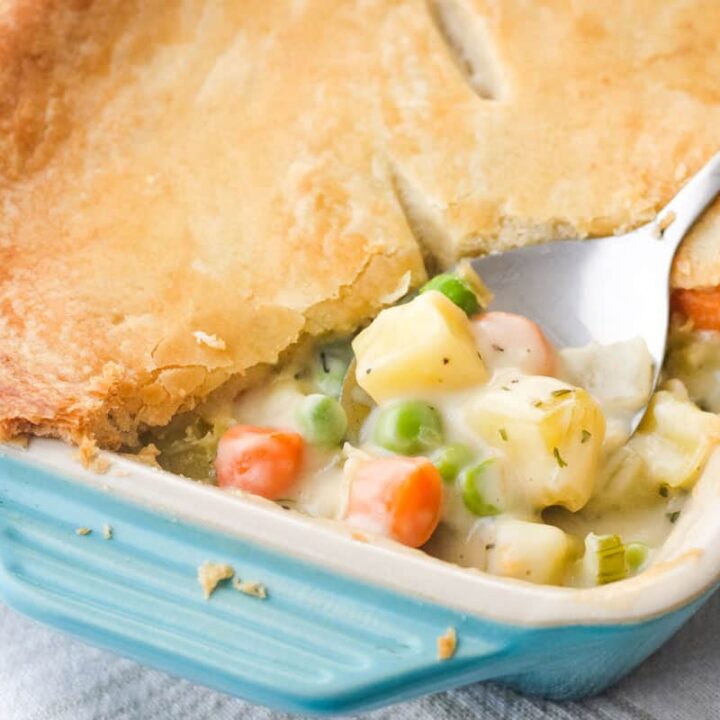 Vegetable Pot Pie For Two
Perfect for special occasions, this vegetable pot pie for two is cozy, comforting, and will make your house smell amazing! To save time try substituting frozen or canned mixed vegetables. 
Ingredients
Half a Premade 9-inch Pie Crust, thawed as directed on package
Half a Small Onion, diced (about 1/2 cup)
1 Large Carrot, peeled and diced (about 1/2 cup)
1 Celery Stalk, diced (about 1/2 cup)
1 Small Potato (6-7 ounces), peeled and diced (about 1 cup)
1 tablespoon Olive Oil
2 tablespoons Unbleached All-Purpose Flour
1/4 teaspoon Fine Sea Salt
1/4 teaspoon Dried Thyme
1/4 teaspoon Dried Parsley
1/8 teaspoon Dried Rosemary
1/8 teaspoon Black Pepper
3/4 cup Vegetable Broth
1/2 cup Whole Milk, plus more for brushing the pastry
1/2 teaspoon Soy Sauce
1/4 cup Frozen Green Peas, thawed
Instructions
Remove the thawed pie dough from the fridge and place it on the counter while you gather and prep your ingredients.
Chop the onion, carrot, celery, and potato into small 1/4-inch thick pieces.
Preheat the oven to 375°F. If using a toaster oven adjust the cooking rack to the bottom position and select the BAKE setting.
Heat the oil in a 10-inch skillet over medium-high heat.
Add the diced onion, carrot, celery, potato, and a few pinches of salt and pepper.
Sauté until the vegetables are tender, about 7 to 10 minutes, depending on how large they are.
Sprinkle the flour and seasonings over the vegetables, stir to coat everything, then cook for 1 minute.
Slowly whisk in the broth, milk, and soy sauce. Stir well to incorporate the flour and make sure that no lumps form.
Increase the heat to medium-high and cook, stirring often, until the sauce comes to a simmer and has thickened, about 4 to 5 minutes.
Remove pan from heat and stir in the peas.
Taste the filling and make any adjustments to the seasoning as desired.
Spoon the filling into an ungreased 7 x 5-inch baking dish or two 12-ounce ramekins.
Roll out the dough so it hangs a little bit over the baking dish or ramekins. Press the edges to seal the dough. Cut 3 or 4 small slits to vent and lightly brush the dough with milk or cream.
Bake until the filling is bubbling and the crust is golden brown, about 20 to 25 minutes.
Let the pie(s) cool for at least 10 minutes before serving.
Notes
Potato: Any potato works well in this recipe, we've used red, gold, and russet potatoes.

Carrot: 5 to 6 medium baby snack carrots can be substituted for the whole carrot.

Mixed Vegetables: About 2 to 2 ¼ cups of canned or frozen mixed vegetables can be substituted for the carrot, celery, potato, and peas. For the best results, drain canned vegetables and thaw and drain frozen vegetables before adding to the thickened sauce just before topping and baking.

Sauce Tip: If your sauce is too thick, add more vegetable broth, 1 tablespoon at a time, to the heated pan until desired thickness.

Storage: Once baked, refrigerate the cooled leftovers in a covered container for up to 3 days.

Microwave Reheating: Heat in 30-second increments until the filling is hot (165F), about 1 to 2 minutes. Go slow, if the pie crust gets overheated it will turn soft and gummy.

Toaster Oven Reheating: Allow the pot pie to come to room temperature, about 15 minutes. Preheat the toaster oven to 325°F, transfer the pot pie to an oven-safe baking dish. Heat until the filling is warmed, about 15 to 25 minutes. Cover crust if it begins to over brown.

Nutrition Information:
Yield:

2
Serving Size:

Half of Recipe
Amount Per Serving:
Calories:

622
Total Fat:

35.3g
Saturated Fat:

16.2g
Cholesterol:

16mg
Sodium:

470mg
Carbohydrates:

68.8g
Fiber:

8.8g
Sugar:

11.8g
Protein:

10.1g