BBQ Tempeh Stuffed Sweet Potatoes
Made with creamy baked sweet potatoes and hearty tempeh, these BBQ Tempeh Stuffed Sweet Potatoes are a quick and easy weeknight dinner for two. Ready in just 35 minutes!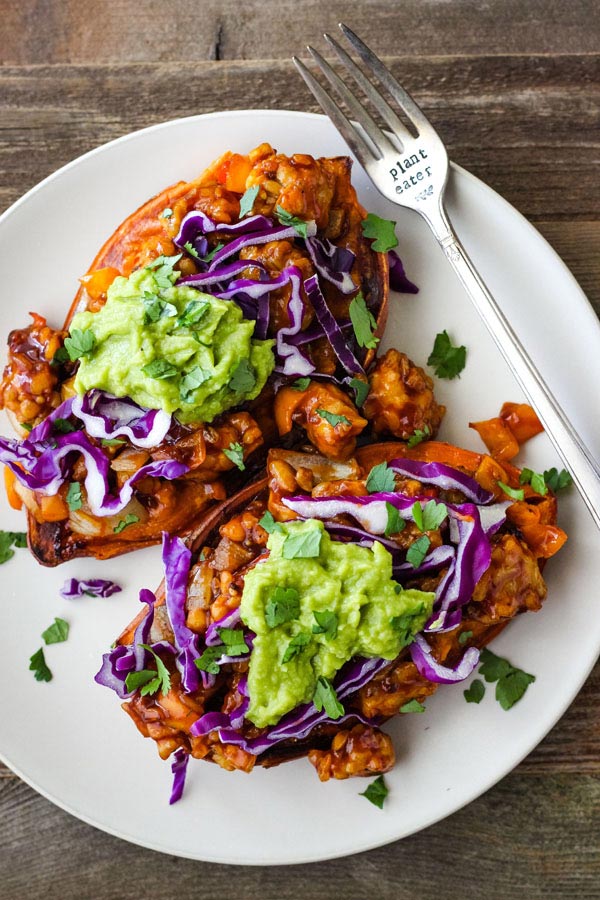 It's hard to go wrong with sweet potatoes – I mean you can smother them in refried beans for a plate of healthy sweet potato nachos. Or mash one up with cinnamon, stuff it in pie crust, and bake flaky sweet potato hand pies.
Right now, these vegetarian
BBQ Tempeh Stuffed Sweet Potatoes
are my favorite way to enjoy this tasty tuber. They have plenty of protein, are packed with flavor (the
tempeh
filling tastes like takeout!) and are super easy to throw together.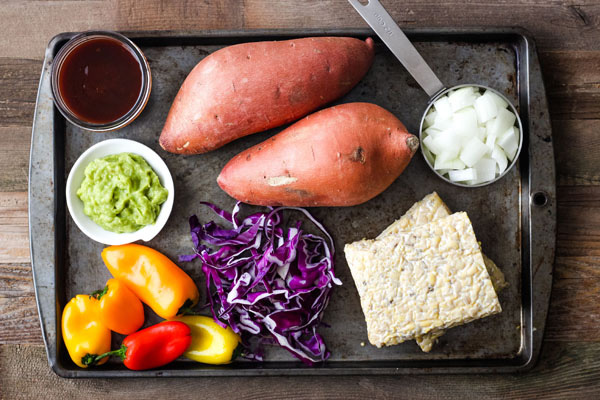 Here's what you'll need to make these loaded sweet potatoes:
Red or orange sweet potatoes work best in this recipe (some stores call them yams).
Tempeh? It's a cake of fermented soy and grains. Don't focus too much on that previous sentence, just know it's got a nutty flavor, toothy texture, and tastes DELICIOUS coated in BBQ sauce or tossed in a quick tempeh salad.
Speaking of BBQ sauce, we like the Sriracha Garlic variety from Trader Joe's. It's the perfect blend of spicy, tangy, and sweet.
Bell pepper, onion, and shredded cabbage for some crunchy healthy goodness.
Lastly, guacamole or mashed avocado. Just a little bit keeps the dish from being overly sweet.
Looking over the ingredients and steps, the recipe may feel a little intimidating at first. This crazy popular recipe for spaghetti squash burrito bowls has the same effect.
Trust me, once you start cooking you'll see it's EASIER than it looks!
~ Keep scrolling for step by step photos & tips after the recipe ~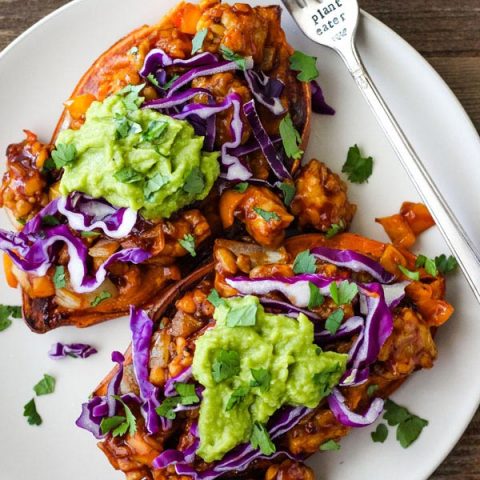 BBQ Tempeh Stuffed Sweet Potatoes
A vegetarian entree that's hearty, flavorful, and incredibly satisfying.
Ingredients
For the Sweet Potatoes:
2 Medium Sweet Potatoes, 7 ounces each
1 teaspoon Olive Oil
Salt and Pepper
For the BBQ Tempeh Filling:
2 teaspoons Olive Oil
1/2 cup Chopped Onion
5 Mini Bell Peppers, or half a large Yellow, Orange or Red Bell Pepper
1 8-ounce package Tempeh
6 tablespoons Barbecue Sauce
For Serving:
Shredded Cabbage, or Lettuce
Guacamole, or Avocado Slices
Fresh Cilantro
Instructions
Bake the Sweet Potatoes:
Preheat oven to 400°F. If using a toaster oven, select the BAKE setting and adjust the cooking rack to the bottom placement.
Slice sweet potatoes in half lengthwise and place on a baking sheet. Drizzle with oil and use your hands to rub oil onto the potatoes and pan.
Bake sweet potatoes (with interiors facing the pan) until they are fork-tender, about 25 to 30 minutes.
Make the Filling:
Remove tops and seeds from mini bell peppers, chop into 1/2-inch pieces.
Heat olive oil in a skillet over medium heat, add onion and bell pepper. Crumble tempeh into the pan. Cook, stirring occasionally until the vegetables have softened and the tempeh is browned in spots about 8 to 9 minutes.
Remove skillet from heat, add BBQ sauce. Stir well, taste, and adjust seasoning as desired.
Assembly:
Mash the flesh of the sweet potatoes with a fork, season with salt and pepper.
Top sweet potatoes with the tempeh mixture, red cabbage, guacamole (or avocado slices), and cilantro. Serve warm and enjoy!
Notes
Convection Toaster Oven Adjustments: Bake sweet potatoes at 400°F but begin checking for doneness after 20 minutes, adding more time as needed.
Nutrition Information:
Yield:

2
Serving Size:

2 topped sweet potato halves
Amount Per Serving:
Calories:

660
Total Fat:

18.5g
Saturated Fat:

3.1g
Cholesterol:

0mg
Sodium:

967mg
Carbohydrates:

101.7g
Fiber:

17.7g
Sugar:

24.9g
Protein:

23.4g
Step by Step Photos and Tips

STEP ONE: Get Your Sweet Potatoes Baking
This recipe uses our go-to method for making quick baked sweet potatoes.
First, slice your sweet potato in half lengthwise. Lightly oil the halves, place them face down on a baking sheet and toss the pan in a 400°F oven or toaster oven.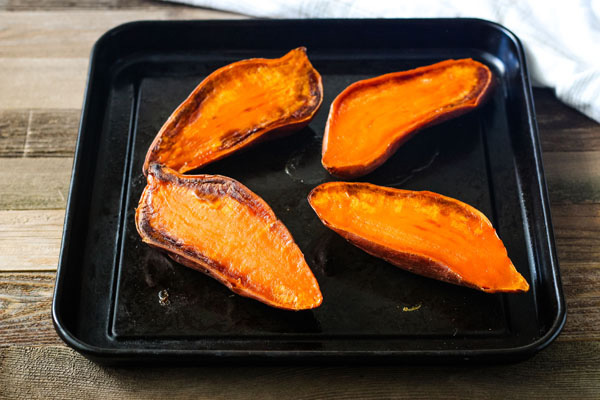 About 25 minutes later (larger potatoes will take a few minutes longer) you've got baked sweet potato halves that are fork-tender and ready to be topped.
STEP 2: Make Your Filling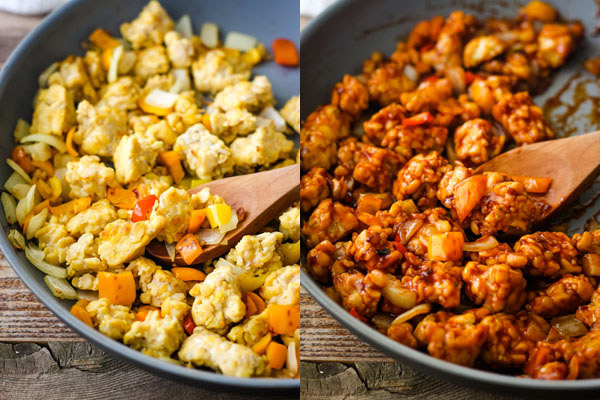 While the sweet potatoes bake, chop your veggies and prep the tempeh. I like to crumble the tempeh into thicker chunks but if you prefer a finer crumble that'll work too.
Pour a little oil in a skillet over medium heat, add the chopped onion, peppers, and tempeh. Once the veggies soften and the tempeh is browned (that should take about 8 or 9 minutes) it's time to add the sauce.
To keep the barbeque sauce from sputtering all over your stovetop you'll want to remove the pan from the heat before stirring it in.
STEP 3: Put It All Together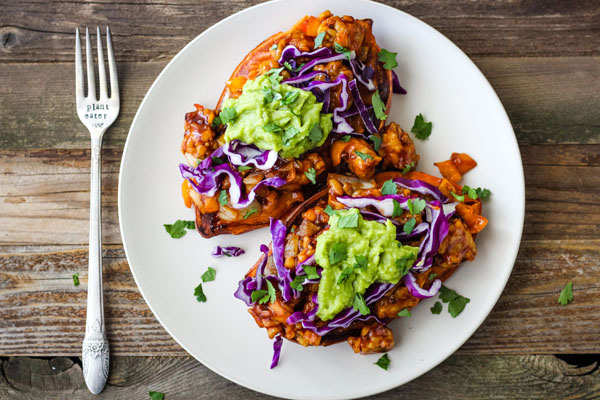 Mash the sweet potato flesh down a bit with a fork and season with salt and pepper. Then, pile on the tempeh filling. Top with lots of crisp shredded cabbage (or lettuce), a dollop of creamy guacamole, and dig in!