Instant Pot Mini Split Pea Soup
Affordable and delicious there's a lot to like about this hearty Vegetarian Instant Pot Split Pea Soup. Top of the list (before the simple preparation or subtle smoky flavor) is how well the Instant Pot cooks the peas.
For us, it's always been a time gamble cooking pea soup on the stovetop. That's because you never really know how long it'll take for your dried peas to break down. Maybe 60 minutes? 90 minutes? With a pressure cooker, all of that uncertainty disappears.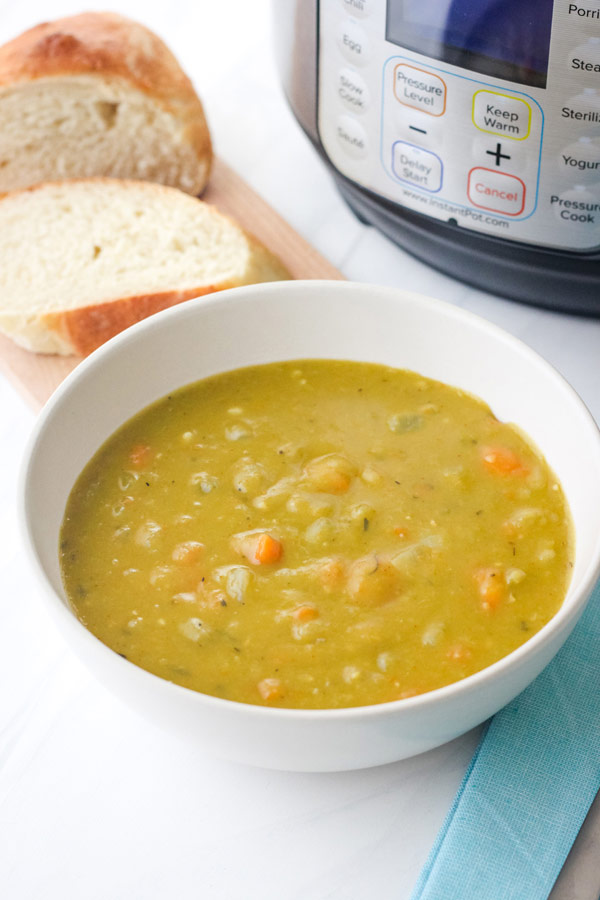 Using our little 3-Quart Instant Pot Duo Plus, this recipe takes me 50 minutes from start to finish. With only 10 minutes of that being actual pay-attention-hands-on prep.
I've made it countless times with a variety of dried peas. From fancy organic ones to super cheap bulk bin peas, and most recently with an old bag I rescued from the back of our pantry (it was sporting a 2019 best by date).
Regardless of age or type, the peas consistently break down. Resulting in a small batch of vegetarian split pea soup that's all kinds of cozy and super easy to customize.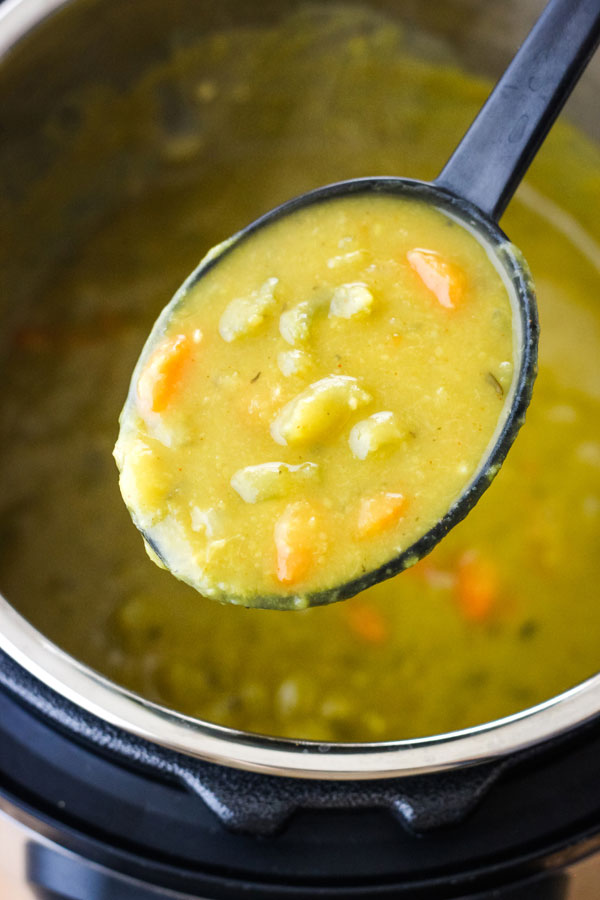 Recipe Tips and Variations
This simple soup is a great opportunity to get creative. Below are a few tips and ideas for whipping up your own unique version.
Salt: Taste your finished soup before adding extra salt. The salt level is going to vary based on the type of ingredients used. When I use a homemade broth or a low sodium option I usually want a little extra salt. When I make this recipe with a bouillon cube, no extra salt is needed.
Herbs: We like the thyme on its own but you could try adding oregano or parsley too.
Make it With Potatoes: A peeled and diced yellow potato makes a nice addition. Pieces that are about ½-inch thick turn out great – soft and tender but not mushy.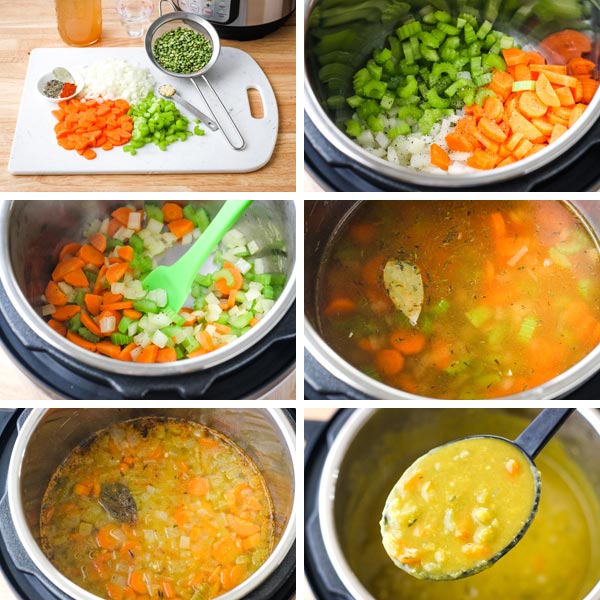 Thickness: Using only the broth called for in the recipe will result in a fairly thick soup. I like to toss in an extra 1/4 cup of water for a slightly thinner consistency. Either way, the cooked soup will thicken more as it sits. If it's too thick for your liking, stir in a few tablespoons of water to loosen it up a bit. Oh and if you're not into a chunky soup, feel free to go at it with an immersion blender.
Make Things Smokier: If you miss that smoky (aka hammy) flavor of traditional split pea soup add a splash of liquid smoke or vegan Worcestershire sauce.
Brighten Things Up: Conversely, if you're craving a lighter more vibrant flavor add a squeeze of lemon juice or a splash of red wine vinegar to the finished soup.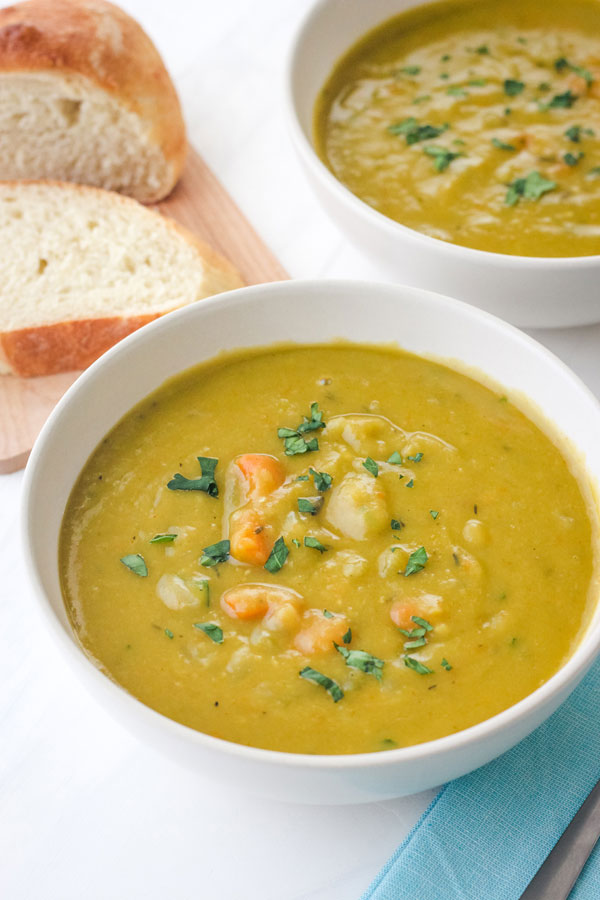 Toppings and Serving Ideas
I like my split pea soup finished with fresh parsley or thyme, a heavy pinch of red pepper flakes, and served with a piece (or two) of crusty bread for dipping. For a bit more flair, try topping the bowls with a handful of toaster oven baked croutons, parmesan crisps, or toasted pine nuts.
While this soup is surprisingly filling on its own, you can also serve it with an egg and cheese toast, salad, or half a sandwich (like this yummy roasted red pepper, carrot, and hummus sandwich) for a more substantial meal.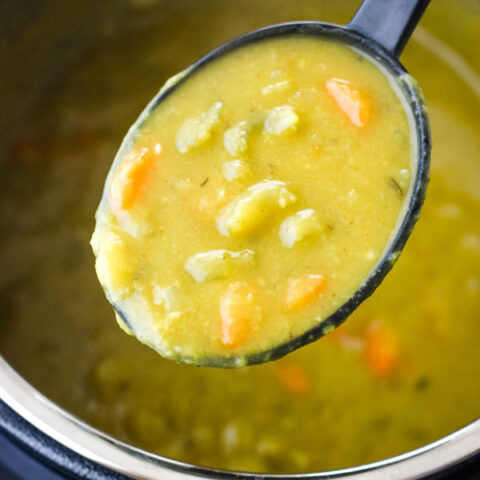 Instant Pot Mini Split Pea Soup
Natural Pressure Release:
15 minutes
This hearty vegetarian soup gets a boost of flavor from garlic, thyme, and smoked paprika. For a "meatier" taste try adding a splash of soy sauce, liquid smoke, or vegan Worcestershire sauce.
Ingredients
1 teaspoon Olive Oil
1 small Onion, diced (1/2 cup to 3/4 cup)
1 large Celery Rib, diced (about 1/2 cup)
1 large Carrot, peeled and diced (about 1/2 cup)
Salt and Black Pepper, to taste
1/2 teaspoon Minced Garlic, (1 clove)
1/4 teaspoon Dried Thyme
1/4 teaspoon Smoked Paprika
3/4 cup (150 grams) Dried Split Peas, picked over and rinsed
2 cups Vegetable Broth
1/4 cup Water (optional - see note)
1/4 teaspoon Low-Sodium Soy Sauce (optional - see note)
1 Dried Bay Leaf
Instructions
Select Sauté and add olive oil to the pressure cooker pot.
Once the oil is shimmering, add the onion, celery, and carrot. Season with a few pinches of salt and pepper, and cook, stirring occasionally until the onion has softened, about 3 or 4 minutes.
Add the garlic, thyme, and smoked paprika, and cook for 30 seconds more. Then press Cancel to turn off the Sauté function.
Add the peas, vegetable broth, water, soy sauce, and bay leaf and stir to combine.
Lock the lid in place and ensure the valve is turned to the Sealing position. Select Pressure Cook, adjust the pressure to HIGH, and set the time to 15 minutes.
After cooking, allow the pressure to release naturally for 15 minutes, then turn the valve to the venting position and quick release any remaining pressure.
Unlock the lid. Remove the bay leaf and discard. Give the soup a good stir. If it looks a little thin, leave it for a few minutes and the soup will thicken as it sits. Taste and adjust seasoning with more salt and pepper as desired.
Ladle soup into bowls and serve topped with fresh parsley or thyme and a pinch of red pepper flakes.

Notes
Water: I like to add 1/4 cup of water along with the broth for a medium-thick soup. If you prefer a thicker soup, omit the water. After cooking, if it's thicker than you prefer, just stir some of the water into the warm soup and it will thin out. 
Soy Sauce: It adds a deeper savory flavor to the soup and a nice punch of salty seasoning. For a smokier, more meaty flavor try adding a little liquid smoke or vegan Worcestershire sauce too.
Potato: If you want to add a medium (5-ounce) yellow or red potato, peel and dice into 1/2-inch thick pieces and stir in with the vegetable broth.
Acid: If the finished soup feels a little flat or like something is missing add a squeeze of lemon juice or a splash of red wine vinegar. 
Recipe developed using a 3 Quart Instant Pot Mini Duo Plus.
Nutrition Information:
Yield:

2
Serving Size:

1 Bowl (about 14 ounces)
Amount Per Serving:
Calories:

311
Total Fat:

3.3g
Saturated Fat:

0.5g
Cholesterol:

0mg
Sodium:

265mg
Carbohydrates:

53.1g
Fiber:

21.4g
Sugar:

9.8g
Protein:

19.2g