Greek Yogurt Ranch Dip and Dressing For Two
This creamy Small Batch Greek Yogurt Ranch Dip is easy, nutritious, and takes only a few minutes to throw together. It's great for dipping veggies and with a little milk stirred in makes a tasty salad dressing too!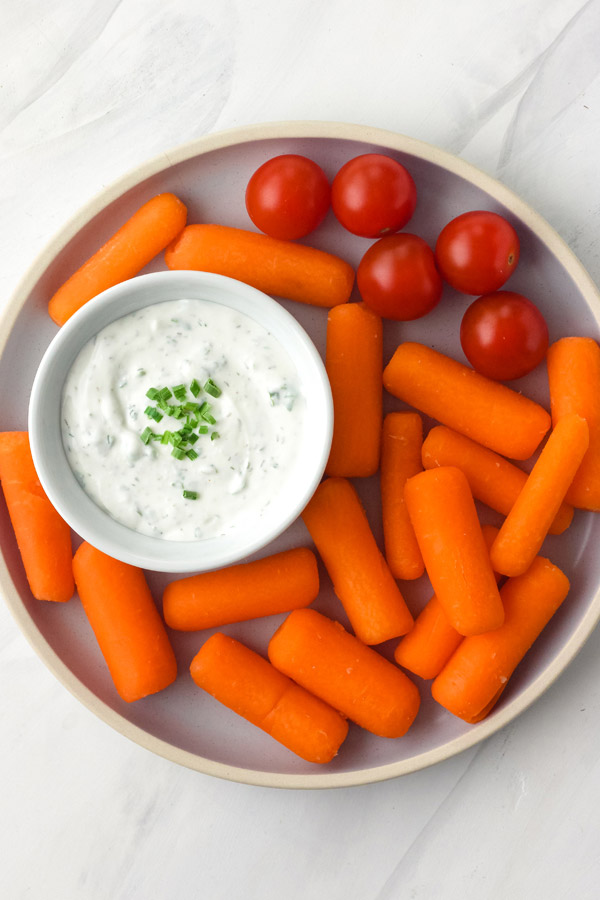 If you've seen our sriracha vinaigrette recipe then you already know we're big fans of homemade dressings and dips.
They take minutes to whip up and are simple to customize. Plus you can make only what you need and avoid throwing out a bunch of half-empty bottles.
After seeing your enthusiastic response to our peanut lime sauce for two and tzatziki sauce for two it's clear we're not the only ones who appreciate a good small-batch sauce or dressing.
So today we're sharing this super quick recipe for Greek Yogurt Ranch Dip For Two.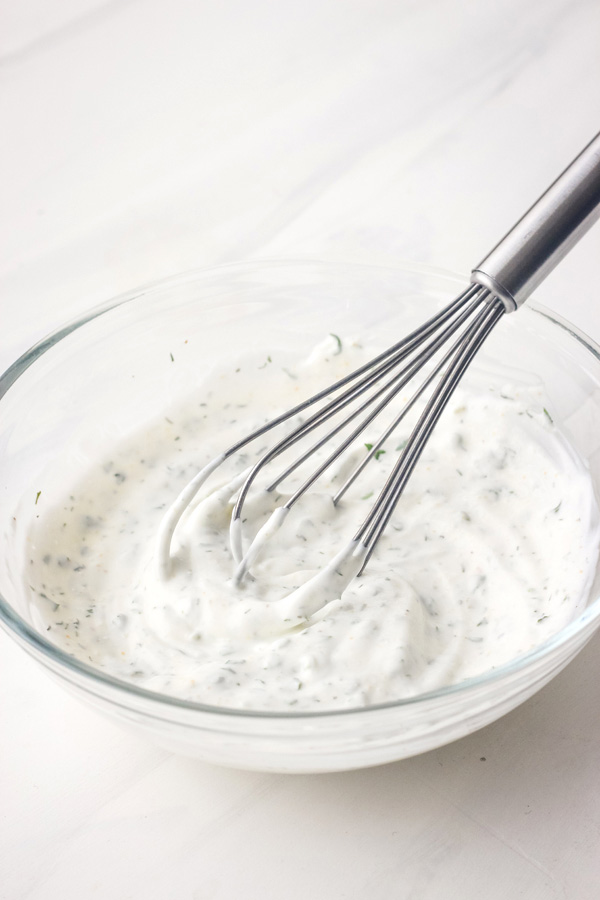 It's great for dipping raw veggies and anything potato-related like potato wedges, potato skins, or these yummy sweet potato rounds.
You can also thin the dip with a few teaspoons of milk (or buttermilk) and turn it into a salad dressing. The thinner dressing is perfect for drizzling over a corn and tomato pasta salad or tossing with zucchini noodles.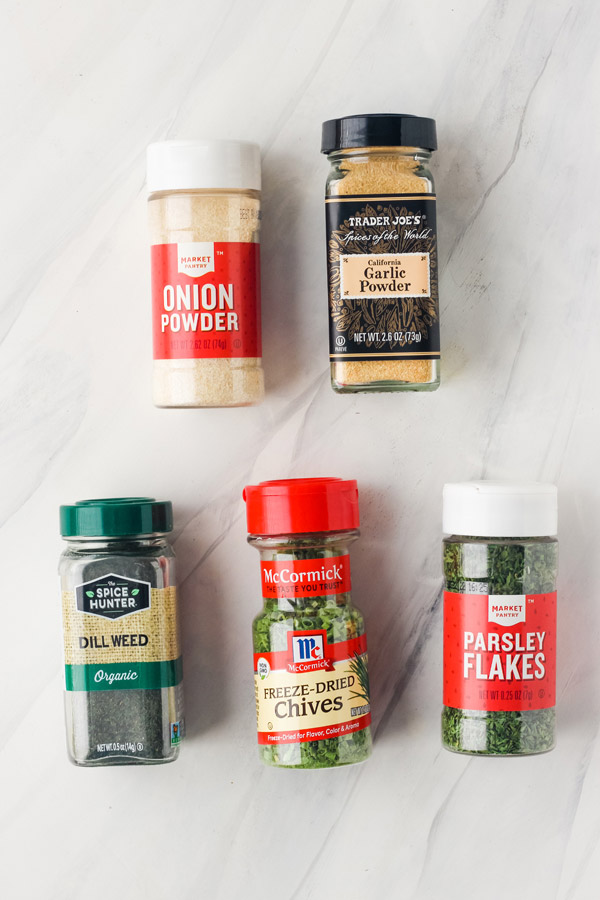 Can fresh herbs be used instead of dried?
We created this recipe using dried herbs. Mostly because there's zero chance of us ever having all of these fresh herbs on hand at one time.
To make this recipe with fresh herbs increase the amount of each herb by 3x the amount called for. For example, instead of using 1/2 teaspoon dried parsley, use 1½ teaspoons chopped fresh parsley.
Do you need all the herbs?
Maybe? The variety of different herbs and seasonings are what give the dip it's familiar ranch flavor. It's really going to depend on you and your taste buds.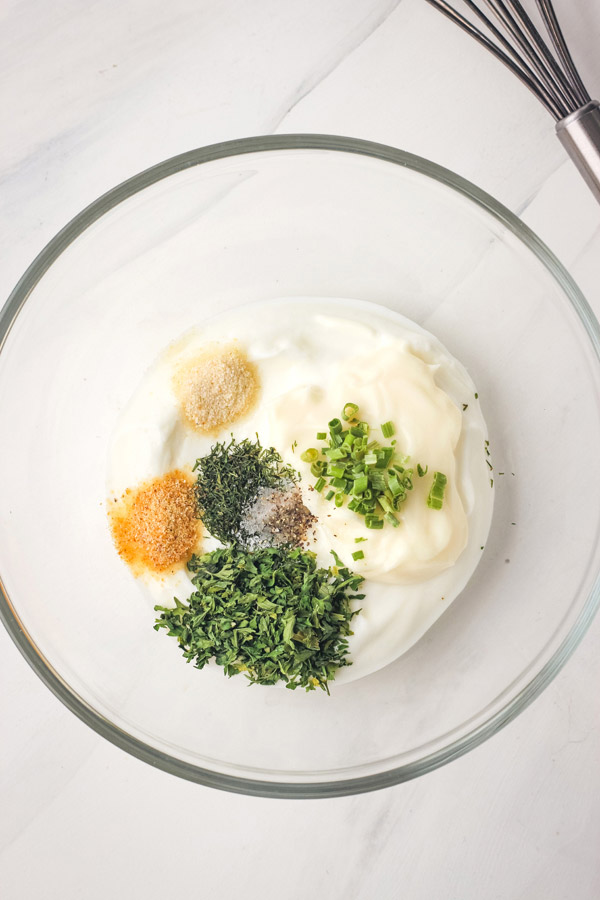 Can I leave out the mayo?
Again, that's gonna be a maybe. The mayo gives the dip/dressing a little tang and richer texture. It also works as an emulsifier, binding the yogurt and other ingredients together.
I'm not a big mayo fan so I usually make the recipe with just 1 teaspoon of mayo. Tim loves it in the dip and likes to use a whole tablespoon when he makes it.
How do I turn the dip into Greek Yogurt Ranch Dressing?
You can thin the dip into a dressing by whisking buttermilk or milk into the dip, a little at a time until it's a pourable consistency.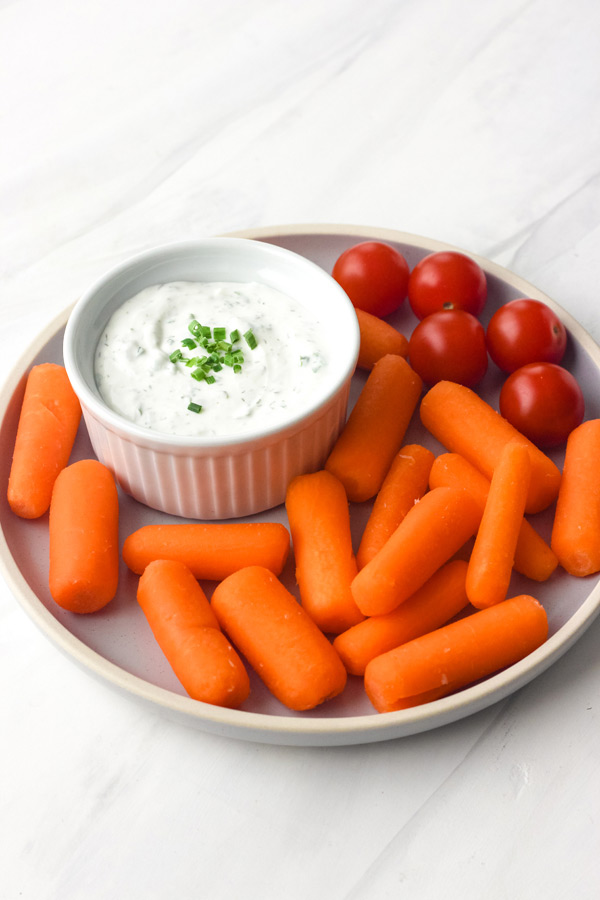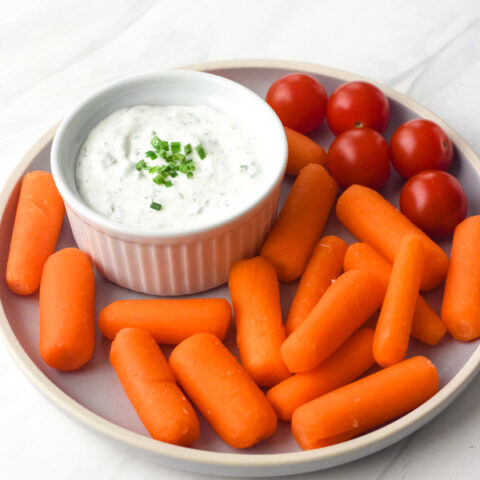 Greek Yogurt Ranch Dip For Two
This small-batch ranch dip takes minutes to make and is great for dipping veggies. You can even turn it into a delicious salad dressing with just a few teaspoons of milk!
Ingredients
1/4 cup 2% Plain Greek Yogurt
1 to 3 teaspoons Mayonnaise
1/2 teaspoon Apple Cider Vinegar
1/2 teaspoon Dried Parsley
1/8 teaspoon Dried Dill Weed
1/8 teaspoon Dried Chives
1/8 teaspoon Garlic Powder
1/8 teaspoon Onion Powder
1/8 teaspoon Fine Sea Salt
Pinch Black Pepper
Instructions
Add all of the ingredients to a small bowl or mason jar and whisk until smooth. Taste and adjust salt, pepper, and other seasonings as desired.
Refrigerate until ready to use.
Notes
To Make Salad Dressing
Thin dip by stirring in milk or buttermilk, one teaspoon at a time, until desired consistency.
Flavor Additions
For a fun spicy kick add a pinch of cayenne pepper or splash of hot sauce.
For an extra dimension of earthy flavor add 1/4 teaspoon of vegan Worcestershire sauce. Our favorite brand is Annie's.
Storage
Refrigerate dip/dressing in a sealed container for about 1 week.
Nutrition Information:
Yield:

2
Serving Size:

About 2 Tablespoons of Dip
Amount Per Serving:
Calories:

40
Total Fat:

2.4g
Saturated Fat:

0.7g
Cholesterol:

5mg
Sodium:

141mg
Carbohydrates:

1.4g
Fiber:

0.1g
Sugar:

1.2g
Protein:

3g