What is an Eighth Sheet Pan?
If you've purchased a small toaster oven and are having trouble finding pans for it, an eighth sheet pan might be for you. It's so versatile, we've rounded up over 15 ways you can put this handy pan to use in your little oven!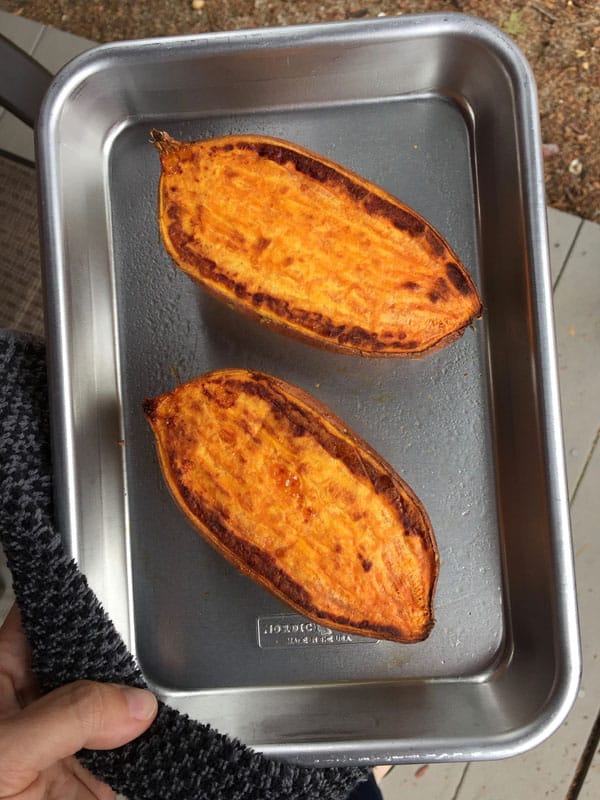 Most pans marketed as toaster oven sheet pans are usually thin and flimsy. Even worse, some warp dramatically when heated. If you've ever baked cookies with a pan that bent and all of the dough slid to one side then you know what I'm talking about.
That's why when I'm cooking with our larger toaster ovens I always reach for a rimmed quarter sheet pan.
They're solid and sturdy and good for everything from roasting veggies to baking a batch of sweet potato hand pies. And don't even get me started on the sheet pan meals!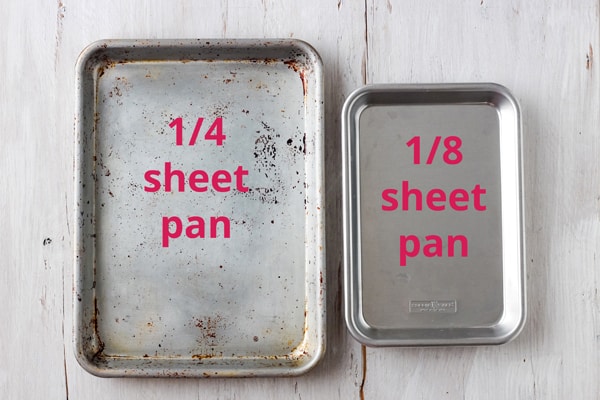 But they're way too big for smaller ovens. So I was excited to learn that the manufacturer of our favorite quarter sheet pan (Nordic Ware) sells a scaled-down version.
It's called an eighth sheet pan and is perfect for smaller toaster ovens.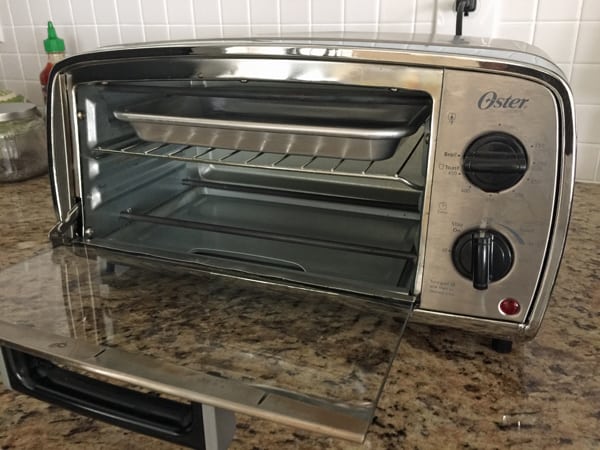 What Is an Eighth Sheet Pan?
Nordic Ware's eighth sheet pan (or ⅛ sheet pan) is about half the size of a quarter sheet pan.
Pan Measurements
Interior Dimensions: L: 9.4 in. x W: 6.3 in. x H: 1.1 in.
Exterior Dimensions: L: 10.1 in. x W: 7.0 in. x H: 1.1 in.
The pan is made from a heavy aluminum that cooks evenly and doesn't bend or warp. While it's not dishwasher friendly, it does clean up nicely with soap and hot water.
Not sure if this pan will fit in your toaster oven? Our toaster oven measuring guide will help you figure that out.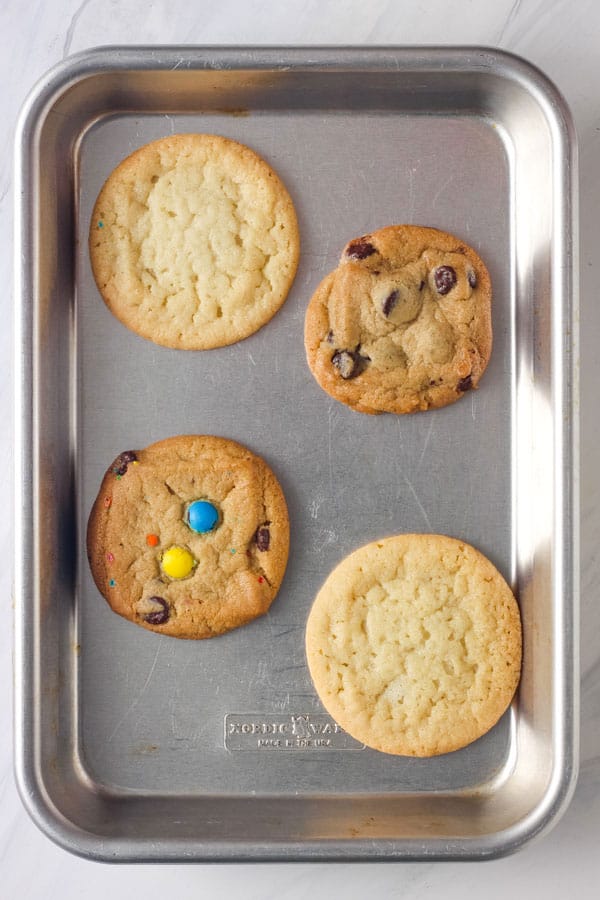 What Can You Cook With An Eighth Sheet Pan?
It's great for heating up appetizers, baking potatoes, cooking a meal for one person, and more. To give you some ideas we've rounded up a bunch of the ways that we use this little pan in our toaster ovens.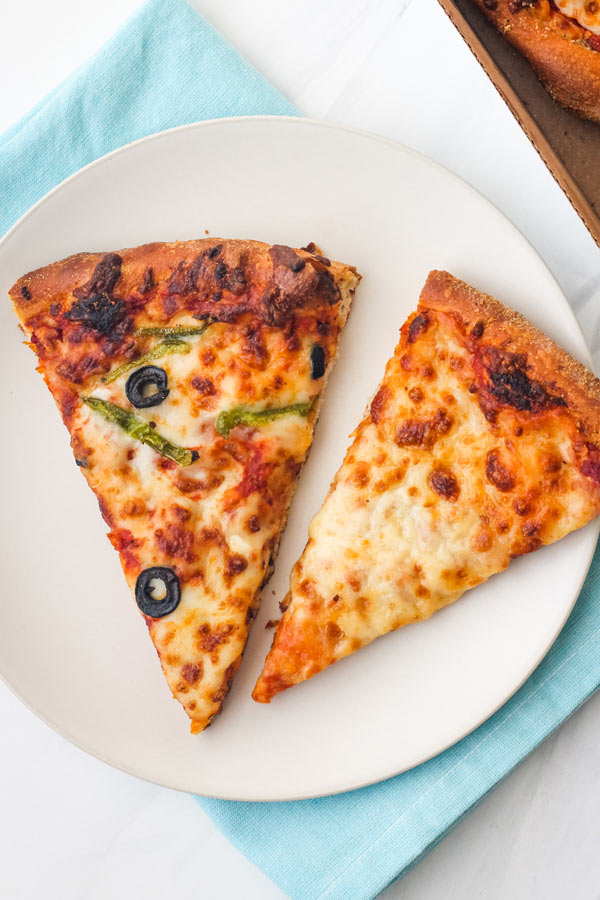 1. Reheating Leftovers – Terrific for reheating a slice of pizza, fries, veggie nuggets, falafel, and more.
2. Making A Classic Treat – Cinnamon toast is buttery, crispy, and so incredibly comforting. We like to add a little orange zest and broil the slices at the end to caramelize the sugar.
Even better you can prep the bread ahead of time and freeze the slices. Whenever a craving strikes, just grab a frozen slice and pop it in the toaster oven!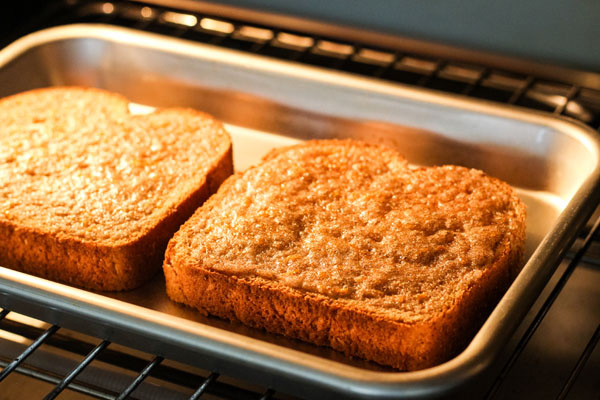 3. Upgrading Recipe Ingredients – Like toasting nuts, coconut, and oats to give them a better flavor and texture.
4. Making Nachos – Both the sweet (apple nachos) and savory (veggie nachos) varieties.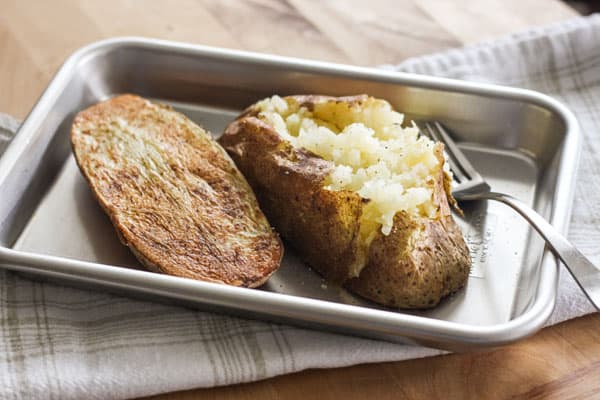 5. Baking All The Potatoes – We can usually make one large or two small baked potatoes or baked sweet potatoes on a pan this size.
If you're using our quick baked sweet potato or faster baked potatoes method where you slice the spud in half lengthwise before cooking, you'll probably only be able to fit one medium to large potato.
6. Broilling – Quickly cook and caramelize zucchini slices, jalapenos, and marinated tofu. Or treat yourself to a toasted peanut butter and jelly sandwich.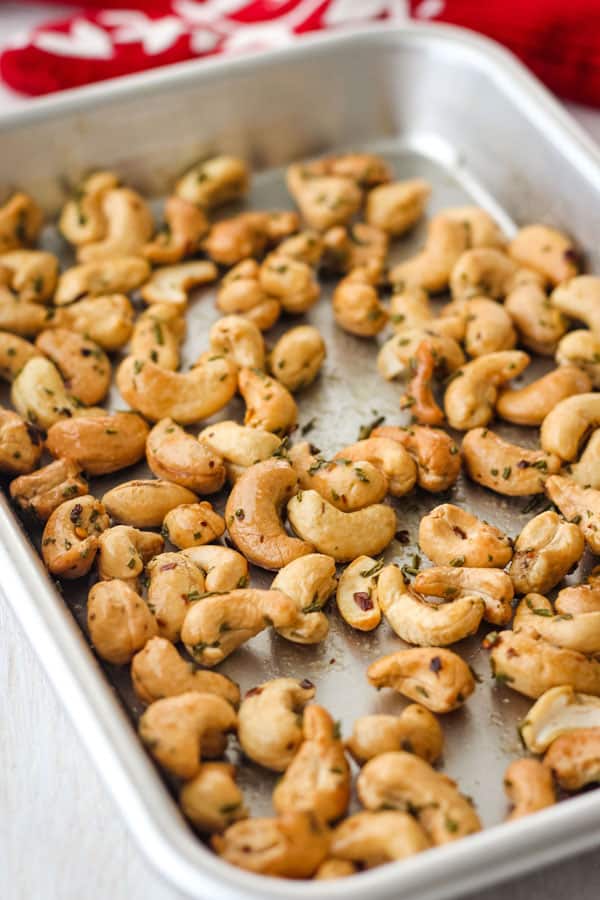 7. Indoor S'mores – These toaster oven s'mores are the easiest dessert ever. If you're a fan of salty-sweet flavor, try swapping the graham crackers for Saltines!
8. Roasting Veggies – From asparagus spears to carrots, broccoli, roasted red peppers, and more this little pan is great for cooking up a small batch of vegetables.
9. Making a Grilled Cheese Sandwich – preheating the pan before you add your sandwich turns it into a mini griddle! You can make a classic toaster oven grilled cheese, this no-flip version, or try these make-ahead frozen grilled cheese sandwiches (they're nice for busy days).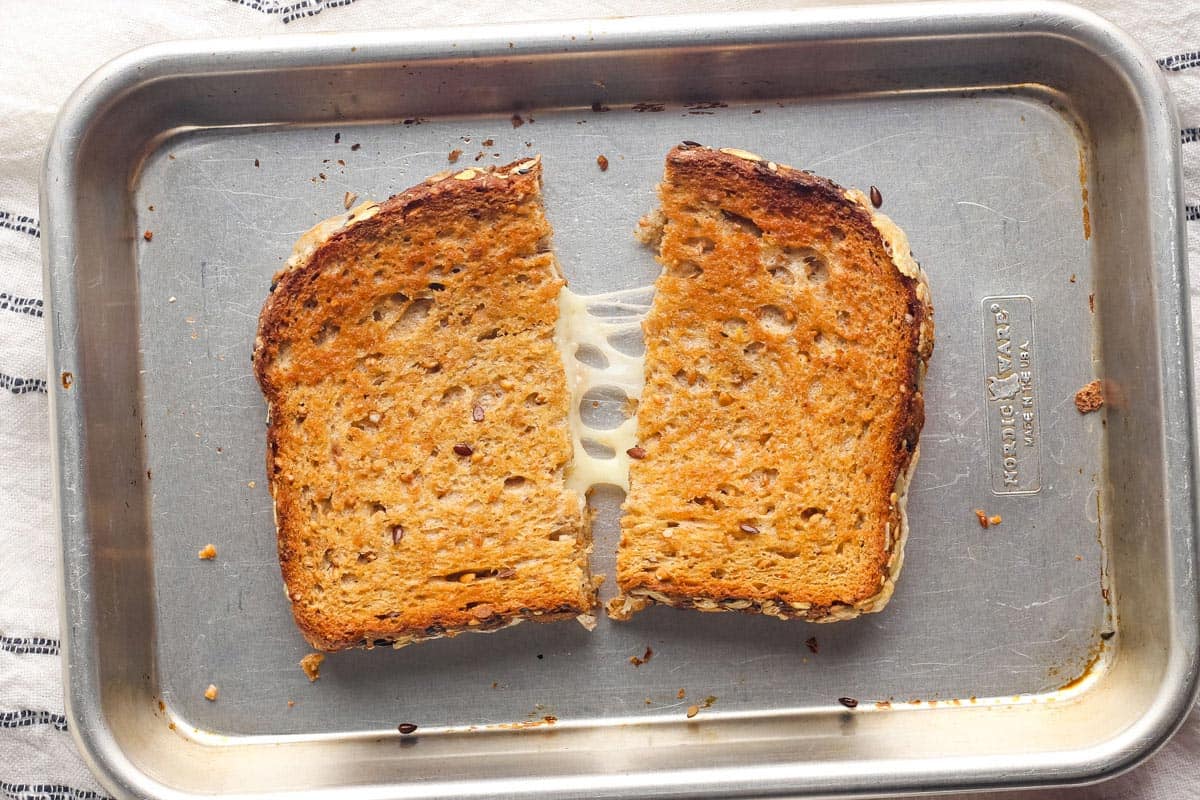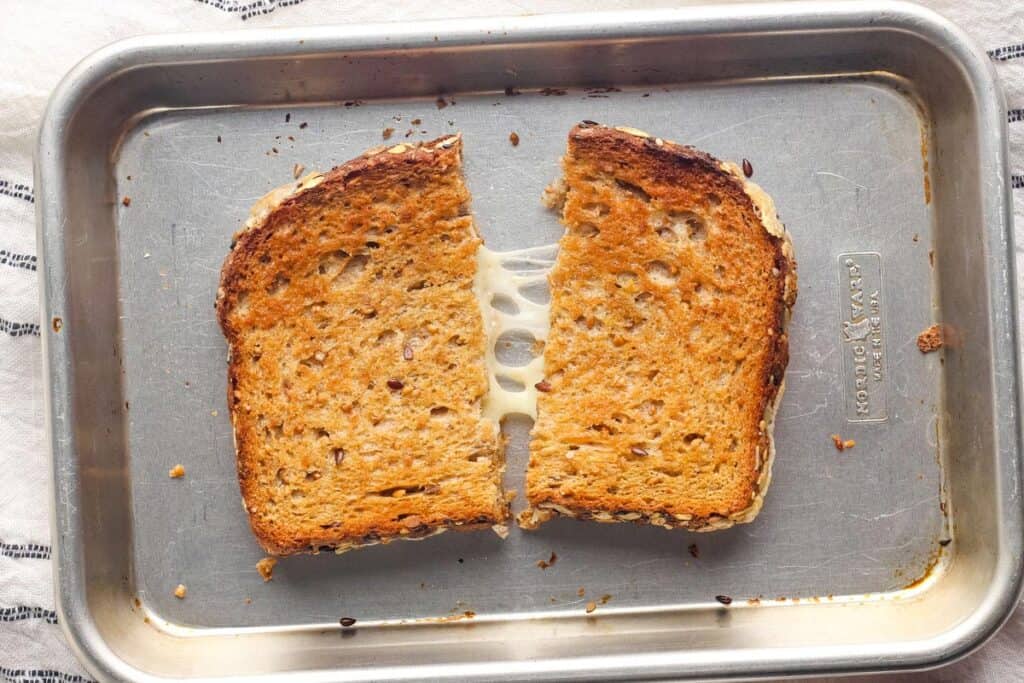 10. Quick Soup and Salad Toppings – Make a half-batch of crispy baked tortilla strips or toaster oven croutons.
11. Reheating Muffins – Turn leftover muffins and biscuits into a crispy buttery treat by reheating them in the toaster oven.
12. Cooking Frozen Snacks – Taquitos, single-servings of fries or tots, jalapeno poppers, samosas, homemade frozen bagel bites…the list goes on and on.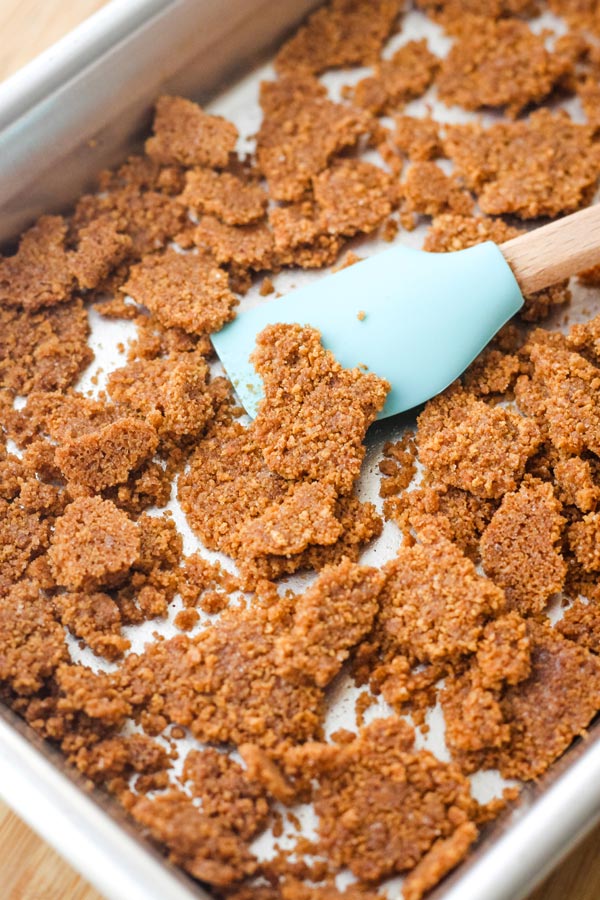 13. Small Batch Baking – This is my go-to pan for baking a few cookies (store-bought or homemade), making a crispy graham cracker crumble topping, or whipping up a pair of buttery toaster oven biscuits for two.
14. Handy Foil Alternative – Our favorite small baking dish for things like casseroles and egg bakes doesn't have a lid. So if I ever need to cover it during cooking, I just pop this little ⅛ pan over it.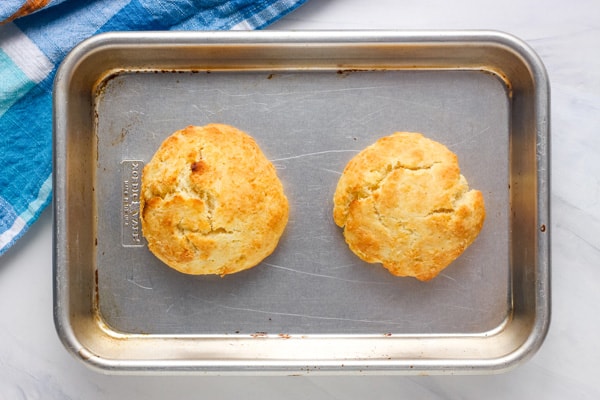 15. Homemade Spiced Nuts – With just a few ingredients you can make small batches of rosemary cashews, cinnamon walnuts, or curry spiced cashews. They're a fun salad topping, are good for snacking, and make a nice neighbor gift during the holidays.
16. Avoiding Spills – Placing ramekins on a small pan (like we did with these cake mix mini cakes) makes them easier to get in and out of the toaster oven without accidentally knocking one over.
*The pan's also handy if you're cooking a dish where you're worried it might bubble over and make a mess (lookin' at you potatoes au gratin for two). Just slide the pan under your small baking dish and it will catch any drips.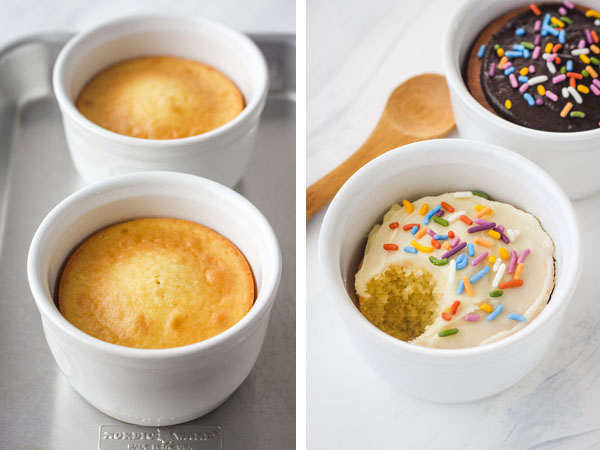 Where Can I Buy One?
You can usually find eighth sheet pans online at sites like Amazon or buy the pan directly from the manufacturer (we bought ours from Nordic Ware).
Recently, I've started seeing them pop up at stores like Walmart, Bed, Bath, and Beyond, and even at the grocery store. In the comments below, Cindy said she found a pair at her local Goodwill for just $.50 each!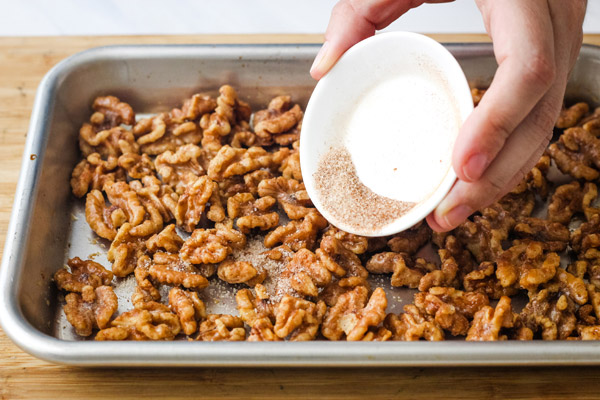 We really like the Nordic Ware pans but lots of other manufacturers have started offering eighth sheet pans. So if you've got a favorite manufacturer for larger pans, check with them first.
Quick Gift Idea
Need a gift for your favorite toaster oven fan? Package the pan with a colorful kitchen towel or a fun cookbook like the Ultimate Cooking For One Cookbook or one of these Cooking For Two Cookbooks.
Just think how excited your special someone will be receiving a gift they'll actually use!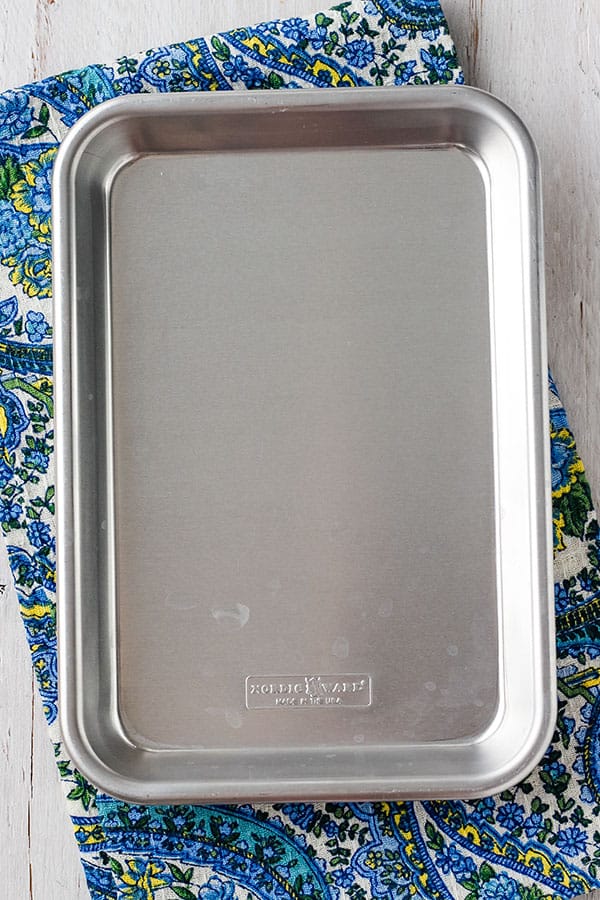 Other Toaster Oven Resources
Looking for more ways to make the most of your toaster oven? Check out these helpful articles: