4 Surprising Things I'll Never Use In Our Toaster Oven
Over 3 years ago, when I first researched and wrote this post my goal was to help people that were new to cooking with a toaster oven. At the time, there was a lot of conflicting information about what should and should not go in a toaster oven. Since then things have gotten even more confusing so I've given this post a mini update to reflect how we choose to handle glass baking dishes, parchment paper, and more when cooking with our toaster oven. (Originally published 3-12-2017, last updated 9-11-2020.)
Back in 2017, I said our readers are the best. I still think that's true.
Not only do they send nice and friendly emails, they ask great questions like "How Do I Use A Convection Toaster Oven?"
Those questions take me weeks to research and write about. Always leading to another question that needs to be answered first.
Because before you can become a toaster oven cookie baking expert you have to know how to check the accuracy of your toaster oven's temperature.
And every time Tim and I learn something new about how to use our toaster oven too!
Today's article is about something that comes up often…what we do and don't use to cook in our toaster oven.
What Should You Never Use In A Toaster Oven?
Most toaster oven manuals agree that you should always leave out items made from the following materials:
Paper (including towels and plates)
Cardboard
Plastic (including lids and containers)
Styrofoam
What About Everything Else?
When we got our first toaster oven, Tim and I had no clue about how to cook with it.
It was startling to learn that some of our baking dishes and kitchen tools had specific directions stating not to use them in a toaster oven. I mean, when was the last time you actually read the outside of a box of parchment paper?
So to make things easy, we created 3 questions for anything we're considering putting in our toaster oven:
Does the toaster oven manufacturer say it's okay to use that type of dish, pan, or accessory in their oven?
Does the product manufacturer say it's okay to use their product in a toaster oven?
Do I feel comfortable using it?
After answering those questions about the bakeware in our cabinets here are 4 things I'll never use in our toaster oven and the reasons why.
1. Glass Bakeware
While there may be companies that say their glass dishes are safe for a toaster oven, the majority do not. Even more confusing, a company can offer a single product line that's marketed as okay for toaster oven use (for example Pyrex's recently released Littles) while ALL of their remaining dishes are not. Clear as mud right?
So here's what I know.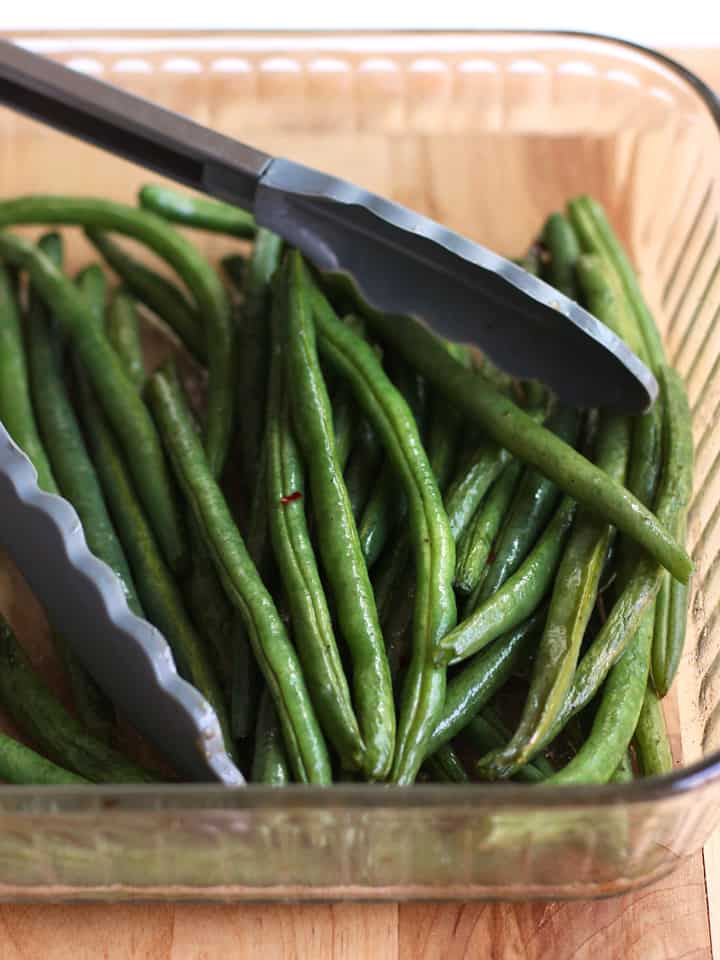 This 8 x 8 glass Pyrex® baking dish was the first time I learned why most glass dishes are not recommended for toaster oven cooking.
After making a double-batch of our balsamic roasted cranberries I was cleaning up the dish and noticed something disturbing.
The glass was splintered and frosted in the corner. Almost like it had shattered within itself.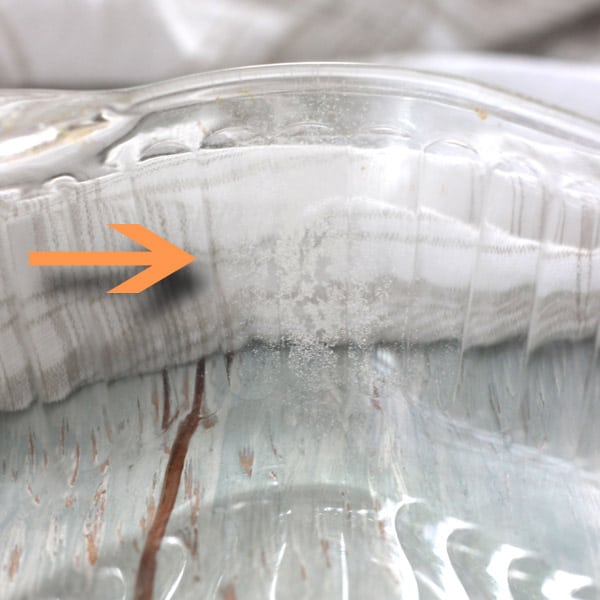 I'd never seen anything like that before and headed to the Google box for answers. I spent a few hours reading in-depth articles like this one from La Jolla Mom and viewing lots of photos of baking dishes shattered inside of ovens. Seriously, how do you even begin to clean that up?
In addition, I looked up the manufacturers for the specific glass baking dishes that we owned. Both Anchor Hocking and Pyrex have general Use and Care Guides stating their dishes should not be used in a toaster oven. (Souce: Pyrex® Safety and Usage Instructions and Anchor Hocking FAQ)
According to what I read, there are many reasons that can cause some glass baking dishes to randomly shatter (or fail) during or after use. Putting the dishes in a toaster oven is usually listed as one of them. (Source: Anchor Hocking Bakeware FAQ).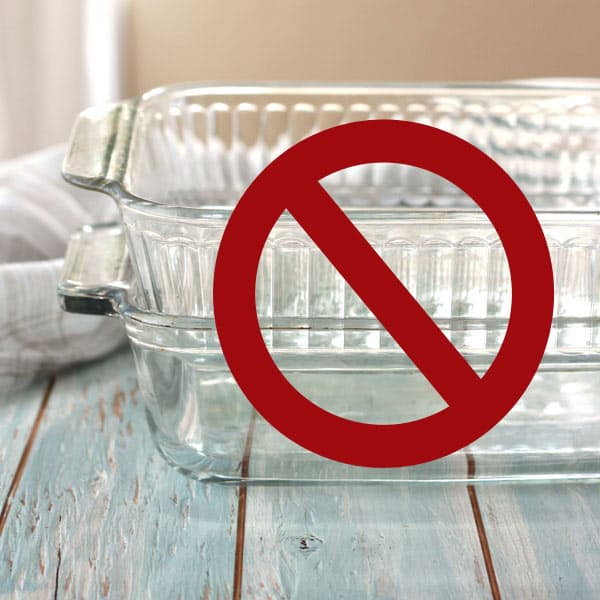 But what if a glass baking dish is designed for the toaster oven?
If the manufacturer specifically states a dish can be used, and the toaster oven manual says it's a material that can be used, then I've just got to decide if I feel comfortable using it.
At this point, I'd have a lot of questions like:
What's the company's track record with shattering? (For this I'd check Facebook and Twitter)
If some of their glass dishes are not for the toaster oven, what makes these ones different?
Does the baking dish come with a warning that it could shatter if I don't follow a list of precautions that's longer than the manual for my toaster oven?
For me personally, I'm not sure if I'll ever feel comfortable using glass in my countertop oven.
Setting aside the obvious pain in the rear of cleaning up a mess of shattered glass, my biggest concern is that glass could get in the convection fan area. I have no way to access that area and would not be able to clean it out.
With so many other available options, I don't want to take the risk of ruining our countertop oven. It was a much bigger investment than any baking dish.
You can see some of the metal and stoneware dishes we use instead of glass in this post for 10 New Ideas for Toaster Oven Baking Dishes, Pans and Accessories. (FYI: You don't need any of the dishes mentioned to cook with your oven, we do the majority of our cooking on the sheet pan that came with our toaster oven.)
What about older glass dishes?
Honestly, I have no clue. The internet is a large place. There may be someone who is very enthusiastic about historical bakeware manufacturing and is able to speak to every single individual piece ever made. I cannot.
2. Mason Jars
A few years ago mason jars hit their peak.
Suitable for more than just canning, you can find mason jars being used for creative on-the-go salads, overnight oats and some people are even baking cute little pies and cakes in them.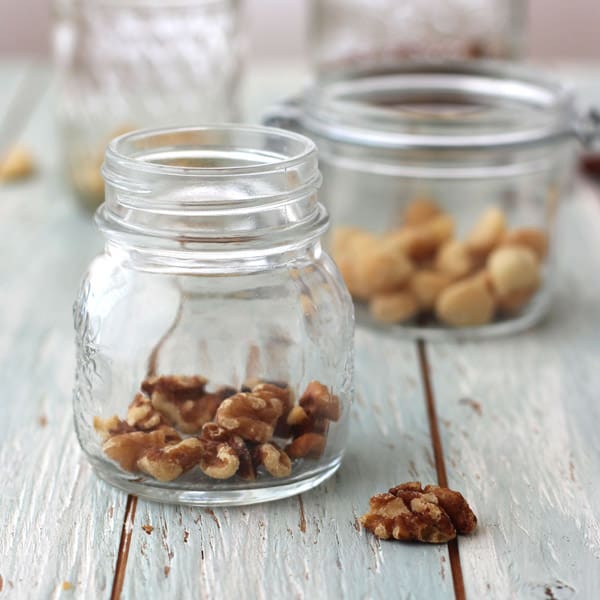 Unfortunately, Ball® the leading mason jar manufacturer says the glass in their jars "is not tempered for oven use and is not meant to be used as bakeware" in their FAQ. *They've since updated their website and moved the page I used to link to but you can read a similar statement from them on this mason jar article from Country Living.
While mason jars are fine for storing yummy Rosemary Cashews, transporting salads, and making fridge oats they're not meant to be used in the toaster oven.
3. Parchment Paper
If you read our cookie baking tips post then you already know that most parchment paper manufacturers, including Reynolds Kitchens, say you should not put parchment paper in a toaster oven.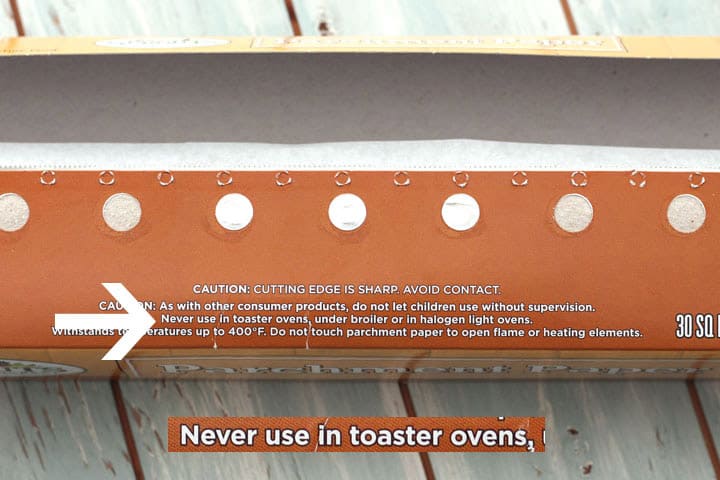 Instead, we like to lightly oil the pan or use a small silicone baking mat.
4. Coffee Mugs or Coffee Cups
If you're cooking for just one or two people, individual treats like these cake mix mini cakes or mug cakes are a fantastic idea for getting your sugar fix without a bunch of tempting leftovers.
But coffee mugs are probably not the best tool for making these desserts in your toaster oven.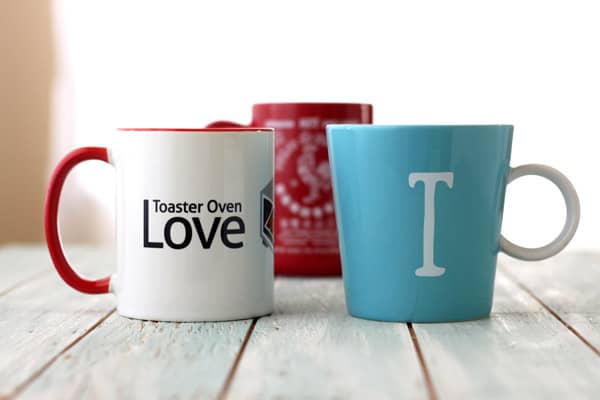 That's because most mugs rarely have Temperature and Use directions printed on them. So, I'm going to keep my favorite Sriracha mug out of the toaster oven and use a ramekin instead.
The Maybe Department – Aluminum Foil
Some manufacturers will include specific instructions for using aluminum foil in their manuals and sample recipes.
Others warn against it entirely.
Most manuals note that if used, do not let the foil touch the toaster oven's heating elements or walls. That's because aluminum foil can char or melt onto surfaces and catch fire in certain situations.
The best place to find out if foil use is recommended for a specific toaster oven is directly from the toaster oven manufacturer. If that info is not in the manual send them an email.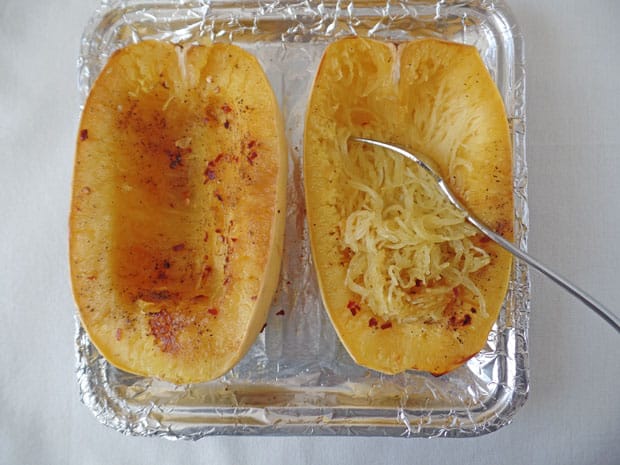 A Personal Choice
While we've used foil before, we've been trying to reduce our household waste and have been avoiding it for a few years now. Covering casseroles with a sheet pan has been working well for us and I don't mind scrubbing our roasting pans.
Keep Your Crumb Tray Naked
ALL toaster oven manuals do agree on one thing. Covering your crumb tray with aluminum foil is a recipe for disaster.
Why?
According to the Breville Smart Oven Pro's Manual, it will cause "overheating of the oven" which sounds scary on its own but then consider the following:
A layer of accumulated grease can be heated high enough to start a fire in your toaster oven.
Food that has fallen onto the foil will be elevated closer to the heating elements and could catch on fire.
NEW! This post about using foil in a toaster oven has lots more foil talk and links to some great toaster oven cooking tips!
Here's What We Use In Our Toaster Oven
*Always review the manual that came with your toaster oven and follow the manufacturer's recommendations for materials that are acceptable to use in your specific oven.
There are two places I always check to see if it's a good idea to use one of our pans or dishes in the toaster oven:
The toaster oven manual. Look to see if the manufacturer has included a list of different types of cookware/materials that can be used in their toaster oven.
The Use & Care Guide for the baking dish. Unfortunately, I used to toss those when I bought our dishes. But after looking online it seems like most can usually be found on the product manufacturer's website.
If you don't have the manual or need more information, you can always reach out to the manufacturer directly.
Metal Baking Pans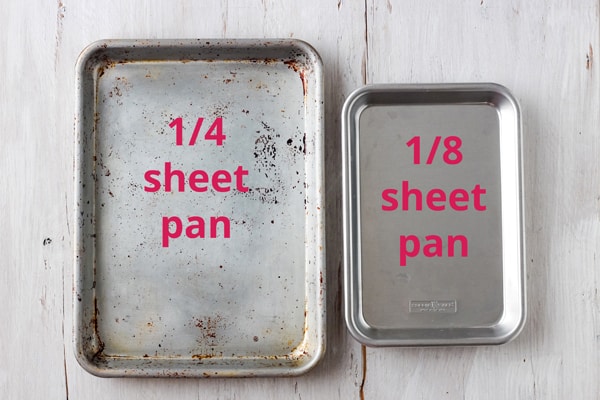 For most of our cooking, a sheet pan gets the job done. You can see some of our favorite pans here: Toaster Oven Sheet Pans
We've also put together a post with all of the Toaster Oven Pan Sets and Bakeware we've collected over the years.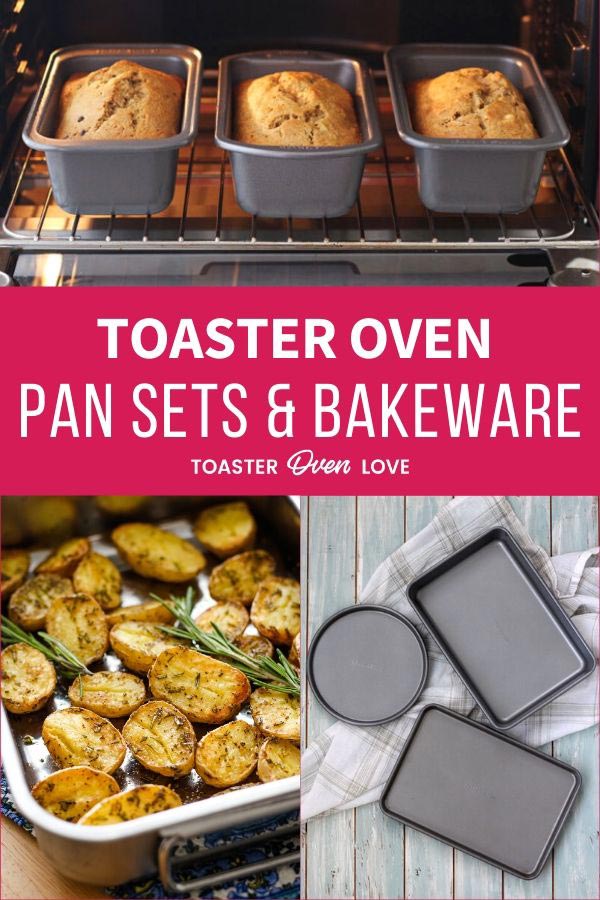 Metal Ramekins?
An awesome reader named Susan emailed this week asking if we knew of any good metal ramekins. We were stumped at the time.
Then we stopped by Michaels because what's a weekend without a trip to the craft store right? A quick trip down their baking aisle delivered these cute little square metal pans.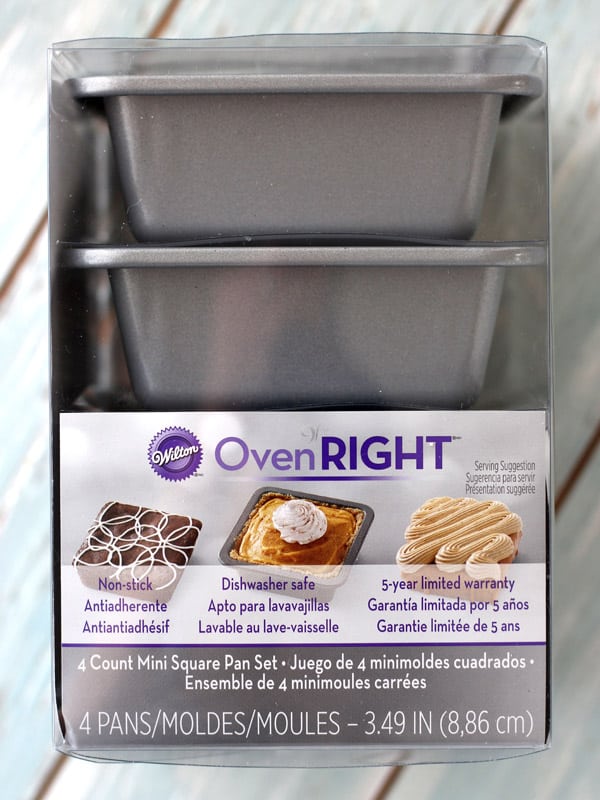 A set of four was around $11 before our 40% off coupon! Each pan is 3.49 inches, can hold up to 8 ounces.
To see these mini pans in action check out this moist and deliciously spiced Toaster Oven Carrot Cake.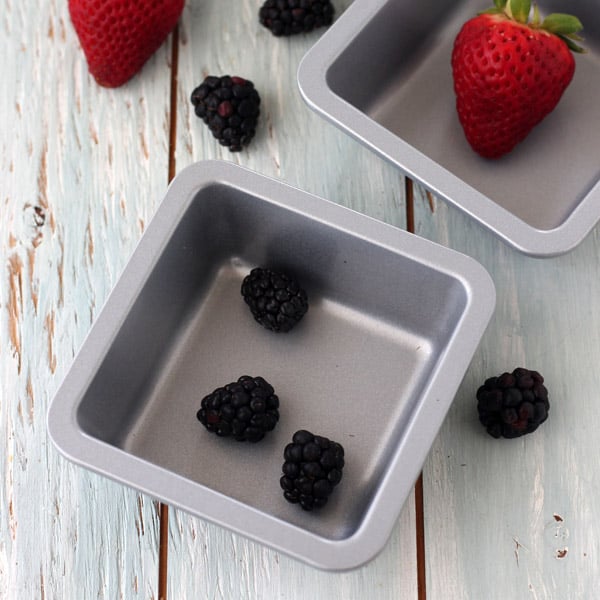 Cast Iron
We've had a lot of fun using mini cast iron pans to cook up tasty toaster oven dishes like this mini berry skillet cake or a toaster oven frittata for two.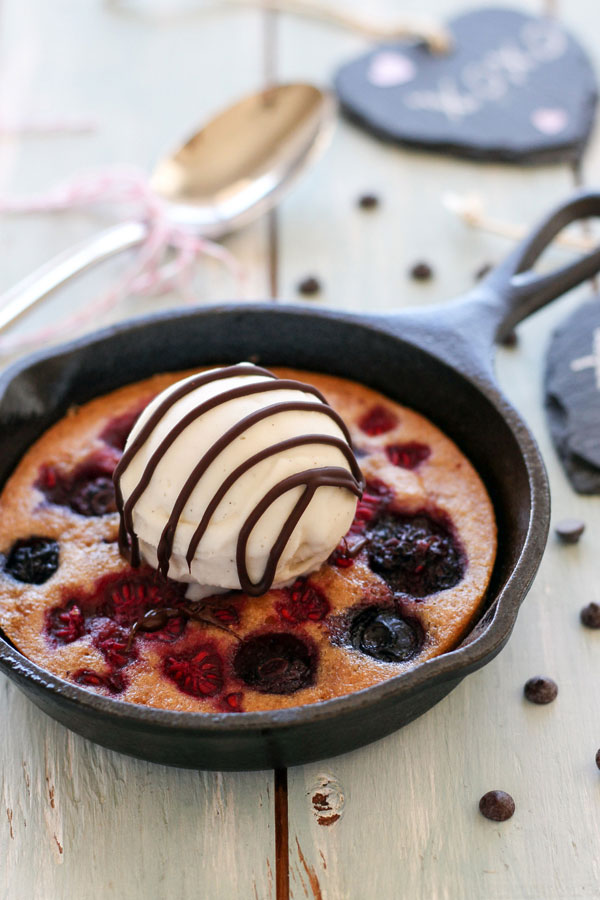 Yesterday, while at Target we spotted a display full of smaller cast iron pans.
One thing to note about cast iron is that it's very heavy.
If the wire cooking rack is made with thinner tines it may not be able to support the weight of a heavier cast iron dish and could bend or sag.
Stoneware and Ceramic Dishes
All stoneware and ceramic dishes have the potential to crack in a toaster oven due to the uneven heating of the elements.
For every piece a manufacturer told me could be used, I guarantee you will able to find someone online saying it broke in their toaster oven.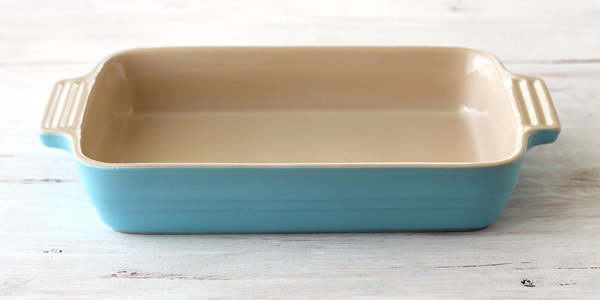 I found this beauty, a 10 x 7 inch (that's an interior measurement the handles make it closer to 12 inches) Le Creuset casserole dish for $19.99 at our local Homegoods. So far we've roasted baby carrots in it and made a tasty mixed berry compote.
The dish heated both recipes evenly during cooking and was a breeze to clean up.
After reading a few reviews about the stoneware cracking I emailed Le Creuset directly. Two days later they replied saying that as long as I could fit the dish in my toaster oven it was okay to use.
We also own an assortment of ceramic and ceramic-coated stoneware ramekins and dishes.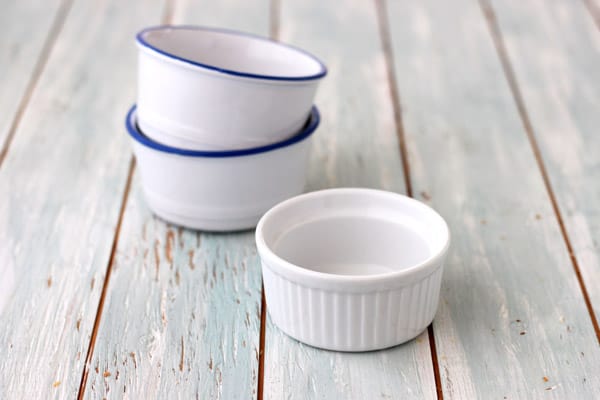 Most of them don't have any heating or use instructions on the bottom. Though I was able to confirm with Sur La Table that the ceramic creme brulee dishes I purchased from them were okay to use in the toaster oven.
Why you should always check the Use & Care Guide for your baking dish!
Last year when I was checking out our dishes I read a general Corningware FAQ (*they've since deleted this page) that had a statement that it's okay to use them.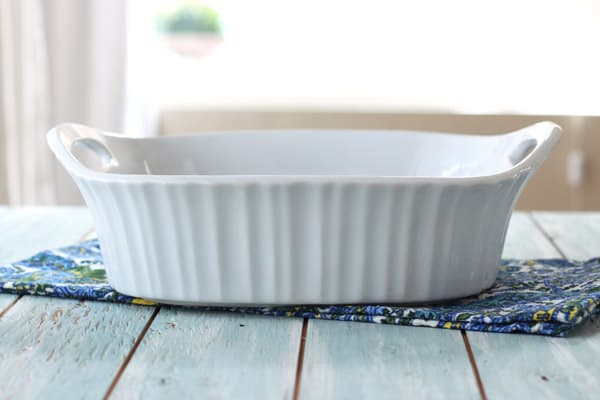 So I felt alright about using our French White casserole dish in the toaster oven…But then while I was looking for an answer to a reader's question I came across a different FAQ that says "All CorningWare® stoneware bakeware items are breakable" and should not be used…
on stovetop, under a broiler/griller, under a microwave browning element, in a toaster oven, or on or near any other direct heating source…
So even though a company may have a general FAQ, it might be different for the SPECIFIC DISH you want to use.
Corningware, like a lot of companies, has individual use and care directions for each of its pieces. The best way to know if a particular dish is recommended for use in the toaster oven is to visit their website and search for that baking dish.
On the product page click on the Care & Use tab in the middle and look for instructions or warnings about toaster oven use.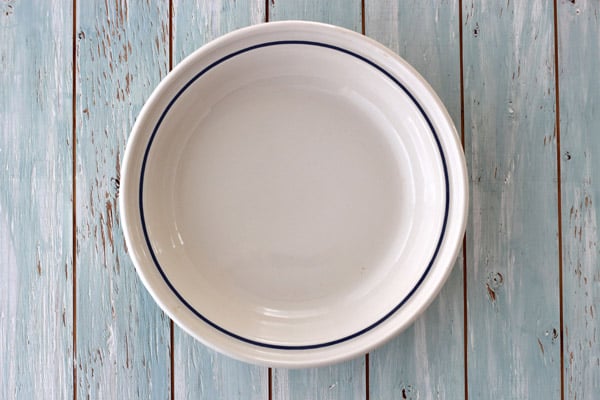 With ceramic and stoneware dishes the yes and no's will always vary.
If the Use & Care guide can't be located, contact the product manufacturer directly.
Take our 15-year-old ceramic pie dish from Longaberger.
I had high hope for it since the bottom states it's okay to use in the oven, dishwasher, microwave, and freezer.
But Tim gave them a call and a very nice CS Rep verified it was not okay for use in the toaster oven. She explained that because of how close the heating elements are to the pan it could heat unevenly and damage the ceramic.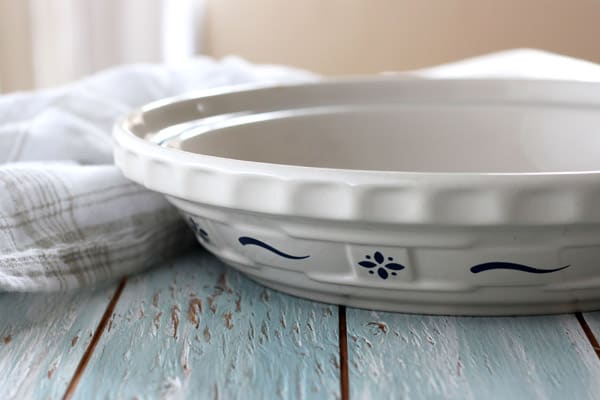 Using the Broiler
One last thing worth mentioning is that with the exception of the Le Creuset baking dish none of our other stoneware or ceramic dishes are rated for use under a broiler.
If we're looking to crisp up an item or melt cheese with the broiler I find using the roasting pan that came with our toaster oven or a metal pan works great.