Just a few simple ingredients are all you need to make these delicious Cinnamon Walnuts. They're crisp and buttery with a not-too-sweet maple cinnamon flavor that will keep you coming back for more. The simple small batch recipe makes a fantastic party snack or holiday gift!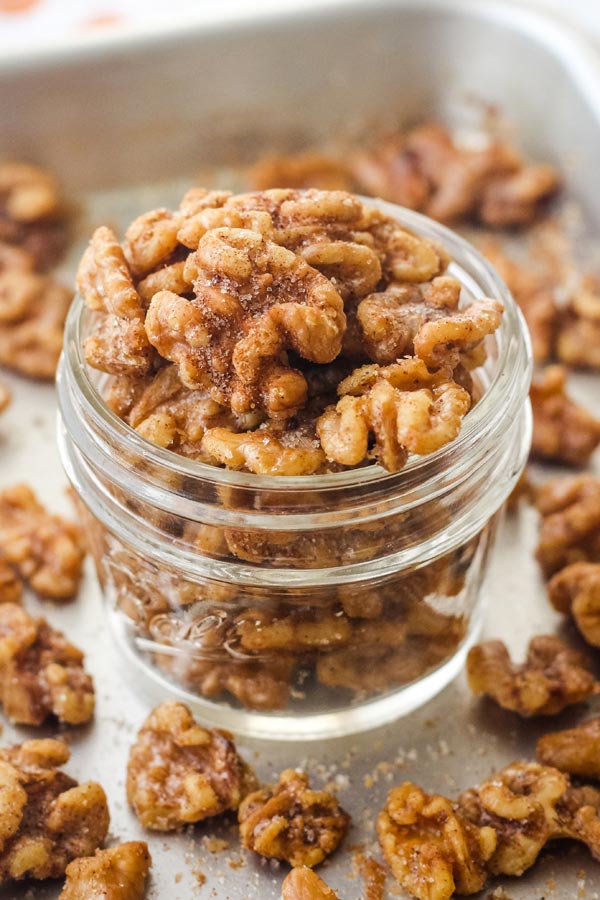 If you're looking for a fun snack, these cinnamon walnuts check all the boxes: they're indulgent but not overly sweet. Are easy to make. And they taste delicious!
We like to add them to bowls of oatmeal and yogurt but these crunchy nuts also make a great addition to snack platters.
Similar to these flavorful spiced cashews, the small-batch recipe makes just one cup of seasoned nuts but it can easily be doubled if you want more.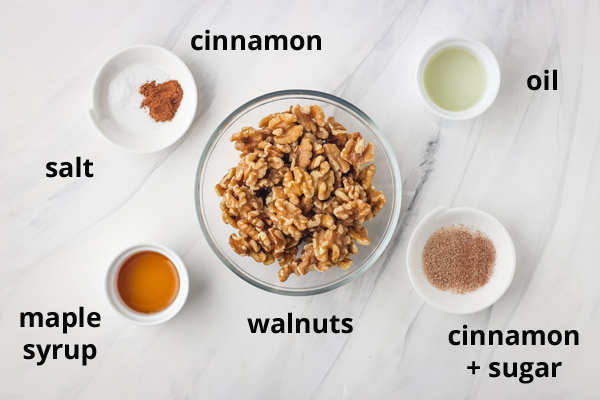 Recipe Notes
Walnuts Halves: It's okay if there are a few smaller pieces in the mix but the nuts will toast more evenly if they're mostly the same size.
Oil: You can use any oil you want. A basic olive oil is my go-to but grapeseed, coconut oil, or canola oil will also work.
Step-By-Step Instructions
1. Start by adjusting your toaster oven's cooking rack to the bottom placement. Select the BAKE setting and preheat to 325°F.
2. Next, mix together the maple syrup, oil, cinnamon, and salt. You want a thick and well-combined mixture. That way each nut gets coated with a yummy maple-cinnamon-salty flavor.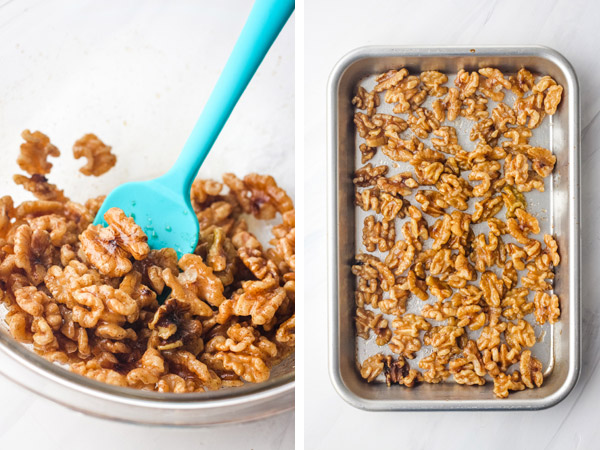 3. Now add your nuts and stir well to coat them. Then stir them again. You want to get all that syrupy goodness into every little walnut nook that you can.
4. Pour the walnuts onto a greased pan and spread in an even layer. A little 1/8 Sheet Pan is my go-to for small jobs like this. It fits nicely in our toaster oven and the rimmed edges help to keep the nuts from escaping when you stir them.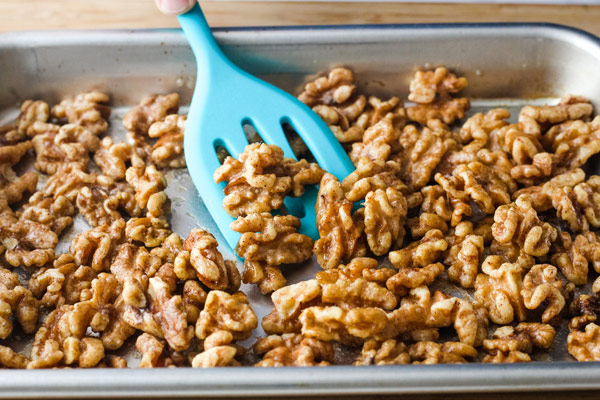 5. Pop the pan in the oven and go wash up. After about 7 minutes, carefully pull out the pan and give the nuts a few good stirs.
You'll notice a little bubbly syrup on the pan. Use your spatula to scoop up all that deliciousness and stir it onto the nuts.
6. Pop the pan back into the oven and repeat the stirring every 3 or 4 minutes until the nuts are golden and toasted.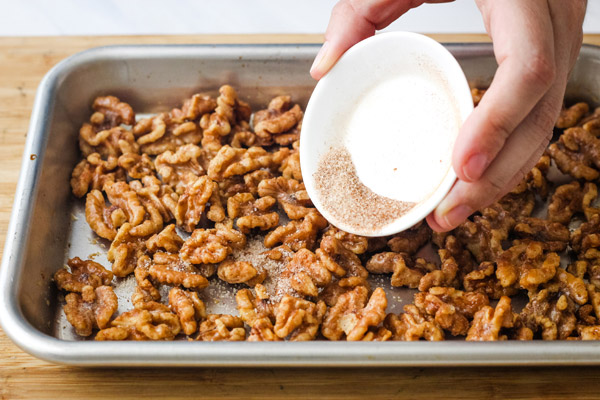 7. You'll know they're ready when your house smells amazing and the walnut flesh is toasted with a deeper color.
8. As soon as the nuts come out of the oven, give them a dusting of cinnamon sugar and let them sit for 30 minutes. While they cool, the nuts will develop a light and crispy coating.
Once they're completely cooled I usually store the nuts in a jar in the pantry. If you keep them anywhere in your eye line, I guarantee they won't last long!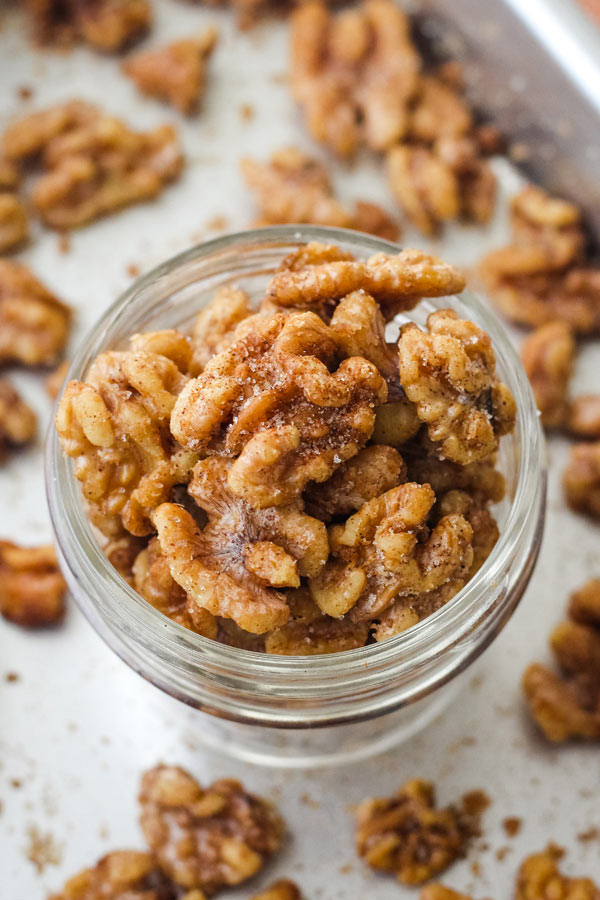 More Toaster Oven Snacks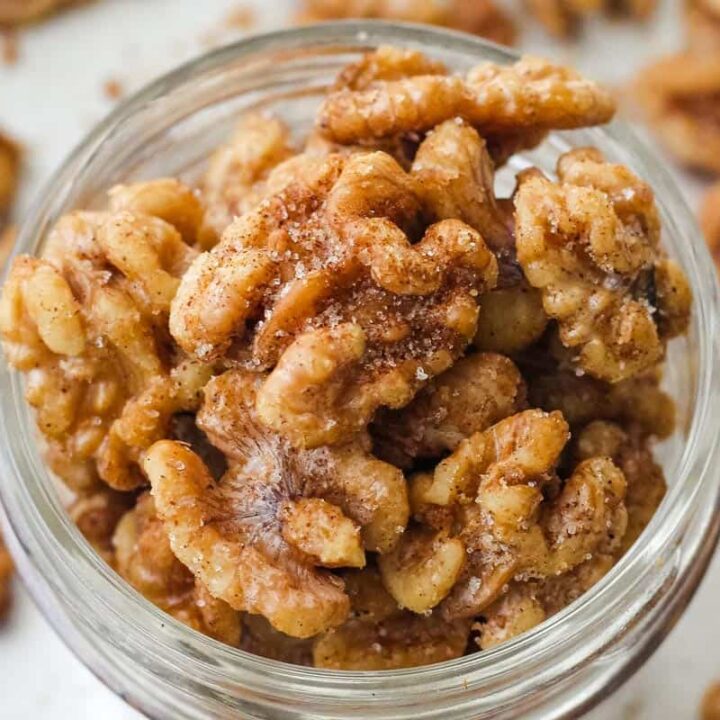 Cinnamon Walnuts
Maple syrup and a dusting of cinnamon sugar give these toasted buttery walnuts a lightly sweet and crispy texture. Perfect for gifting, they can be enjoyed on their own, atop baked sweet potatoes, or sprinkled on your morning oatmeal. 
Ingredients
2 teaspoons Maple Syrup
1½ teaspoons Olive Oil (see note)
1/4 teaspoon and 1/8 teaspoon Ground Cinnamon, divided
1/8 teaspoon Fine Sea Salt
1 cup Shelled Raw Walnuts
1/2 teaspoon Organic Granulated Sugar
Instructions
Adjust the cooking rack to the bottom placement, select the BAKE setting, and preheat the toaster oven to 325°F. *In a traditional oven use the middle rack placement.
Lightly coat a small rimmed sheet pan with cooking oil spray and set aside.
In a large bowl, whisk together the maple syrup, olive oil, 1/4 teaspoon of cinnamon, and sea salt. Add the walnuts and stir well to coat.
Pour the nuts onto the prepared pan and arrange them in a single layer.
Cook until the nuts are toasted, stirring occasionally, about 13 to 17 minutes total.
While the nuts are cooking, combine the granulated sugar and remaining cinnamon.
When the walnuts are ready, remove the pan from the oven and immediately sprinkle with the cinnamon-sugar mixture. Wait 30 seconds, then give the nuts a stir and spread into a single layer.
Leave nuts on the pan to cool completely (about 30 minutes), they will crisp up further as they cool.
If you manage to not devour them all in one sitting, store any leftovers in a well-sealed container.

Notes
Oil: We like to use a basic olive oil for this recipe. Extra-virgin olive oil works too it just has a more pronounced flavor that you may or may not like. Melted coconut oil is another good option but it may give the nuts a subtle coconut flavor.

Storage: Store leftover nuts in a sealed container at room temperature for 7 days or freeze for up to 2 months.
Nutrition Information:
Yield:

4
Serving Size:

1/4 cup
Amount Per Serving:
Calories:

199
Total Fat:

18.3g
Saturated Fat:

1.2g
Cholesterol:

0mg
Sodium:

59mg
Carbohydrates:

5.6g
Fiber:

2g
Sugar:

2.8g
Protein:

6.8g